MXA'S WEEKEND NEWS ROUND-UP: WHAT HAPPENED WHILE YOU WERE SHOVELING SNOW, DODGING TORNADOS OR BASKING IN THE SoCAL SUN

Justin Brayton (left) made the podium, but more significantly, Justin and Kevin Windham (fourth) kept James Stewart off of it?which cost Bubba a lot of points. Photo: Hoppenworld
ST. LOUIS SUPERCROSS RESULTS
450 CLASS:
1. Ryan Villopoto…Kawasaki KX450F
2. Ryan Dungey…KTM 450SXF
3. Justin Brayton…Honda CRF450
4. Kevin Windham…Honda CRF450
5. James Stewart…Yamaha YZ450F
6. Davi Millsaps…Yamaha YZ450F
7. Jake Weimer…Kawasaki KX450F
8. Brett Metcalfe…Suzuki RM-Z450
9. Marvin Musquin…KTM 350SXF
10. Nick Wey…Kawasaki KX450F
11. Broc Tickle…Kawasaki KX450F
12. Matt Goerke…Suzuki RM-Z450
13. Mike Alessi…Suzuki RM-Z450
14. Bobby Kiniry…Yamaha YZ450F
15.Justin Sipes…Kawasaki KX450F
16. Kyle Chisholm…Kawasaki KX450F
17. Gavin Faith…Honda CRF450
18. Jimmy Albertson…Suzuki RMZ450
19. Cole Seely ….Honda CRF450
20. Josh Hansen…Kawasaki KX450F
250 EAST
1. Justin Barcia…Honda CRF250
2. Ken Roczen…KTM 250SXF
3. Blake Wharton…Suzuki RM-Z250
4. Darryn Durham…Kawasaki KX250F
5. Justin Bogle…Honda CRF250
6. Jake Canada…Honda CRF250
7. Malcolm Stewart…KTM 250SXF
8. Kyle Cunningham…Yamaha YZ250F
8. Hunter Hewitt…Suzuki RM-Z250
9. Blake Baggett…Kawasaki KX250F
10. Alex Martin…Honda CRF250
11. Matt Lemoine…Kawasaki KX250F
12. Hunter Hewitt…Suzuki RM-Z250
13. Cole Thompson…Honda CRF250
14. A.J. Cantazaro…KTM 250SXF
15. Jeff Gibson…Honda CRF250
16. Austin Politelli…Honda CRF250
17. P.J. Larsen…KTM 250SXF
18. Bradley Ripple…Honda CRF250
19. Phil Nicoletti…Honda CRF250
20. Tyler Bowers…Kawasaki KX250F

Marvin Musquin made his first-ever 450 Supercross start…and finished in the top ten. Photo: Hoppenworld
450 POINTS STANDINGS
(After 9 of 17 races)
1. Ryan Villopoto…205
2. Ryan Dungey …192  
3. James Stewart…152
4. Chad Reed…128  
5. Kevin Windham…123
6. Jake Weimer…120
7. Justin Brayton…116
8. Brett Metcalfe…113
9. David Millsaps…109
10. Mike Alessi..98
250 EAST POINTS STANDINGS
(After 3 of 8 races)
1. Justin Barcia…75
2. Ken Roczen…57
3. Darryn Durham…56  
4. Blake Wharton…56
5. Justin Bogle…43
6. Jake Canada…41
7. Blake Baggett…40
8. Hunter Hewitt…31
9. Malcolm Stewart…29
10. Kyle Cunningham…28
ST. LOUIS SUPERCROSS TIMED QUALIFYING BREAKDOWN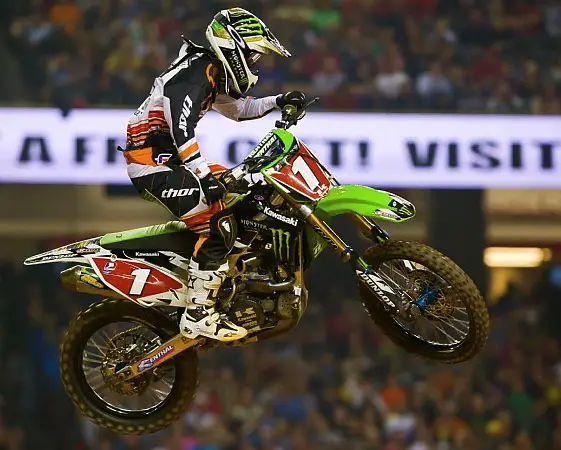 Ryan V edged out Ryan D in Saint Louie qualifying.
As the Supercross series rushes into its second half, the circus moved to St. Louis (with Daytona on the horizon). The fastest 250 East qualifier was Justin Bogle who edged out Justin Barcia and Ken Roczen. Meanwhile, in the 450 class Ryan Villopoto was the fastest of the 450s again.
THE TEN FASTEST 250 EAST QUALIFIERS
   1. Justin Bogle…51.6
   2. Justin Barcia…51.7
   3. Ken Roczen…51.9
   4. Darryn Durham…52.4
   5. Kyle Cunningham…52.5
   6. Blake Baggett..52.64
   7. Jake Canada…52.7
   8. P. J. Larsen…52.8
   9. Blake Wharton…52.86
   10. Malcolm Stewart…52.9
Other notables: 16. Phil Nicoletti; 17. Tyler Bowers; 20. Austin Politelli; 22. Kyle Peters; 23. Jeff Gibson; 28. Lance Vincent.
250 PENALTY BOX
No 250 riders lost their fastest laps timed for unsportsmanlike conduct, jumping when the red lights were on or failing post-qualifying sound tests.
WHO DIDN'T MAKE THE 250 WEST CUT
Only the top 40 make it to the 250 East night show (out of the 68 who tried in St. Louis) and the difference between making the program and going home is often hundreds of a second. Cody Robbin's 56.78 gave him the final and 40th spot in the night program. Here are the next closest, but not close enough, five.
   41. Bracken Hall…56.8
   42. Chad Cook…56.8
   43. David Ginolfi…56.9
   44. Michael Akaydin…57.2
   45. Tyler McEwen…57.3
THE TEN FASTEST 450 QUALIFIERS
   1. Ryan Villopoto..50.2
   2. Ryan Dungey…50.5
   3. Kevin Windham…50.8
   4. James Stewart…51.1
   5. Justin Brayton…51.2
   6. Marvin Musquin…51.5
   7. Davi Millsaps…51.9
   8. Cole Seely…52.9
   9. Nick Wey…52.0
   10. Kyle Chisholm…52.3
Other notables: 13. Josh Hansen;  15. Mike Alessi; 22. Jimmy Albertson;  30. Austin Howell; 34. Daniel Blair; 39. Ryan Clark.
450 PENALTY BOX
No 450 riders lost their fastest laps timed for unsportsmanlike conduct, jumping when the red lights were on or failing post-qualifying sound tests.
WHO DIDN'T MAKE THE 450 CUT
Only 57 riders tried to make the 40-man night show in the 450 class?which meant 174 had to go home empty handed. Auston Albers was the 40th fastest and last qualifier (with a 56.23) to make the big show. Here are the next five riders who didn't make the cut.
   41. Tevin Tapia…56.35
   42. Matt Schneider…56.6
   43. Adam Enticknap…56.7
   44. Cameron Stone…57.0
   45. Myles Tedder…57.1
BEN TOWNLEY WINS THREE IN A ROW IN NEW ZEALAND CHAMPIONSHIPS, BUT HE FINALLY LOST A MOTO


Ben Townley has a three-prong plan for 2012: The New Zealand Championship, the Australian Championship and get back to the USA. Photo: Carlton Dry
Ben Townley went 1-2-1 to win round three of the New Zealand National Motocross Championship andfinally lost a moto?to former GP rider Josh Coppins, who went 2-1-2. Cody Cooper was third, but there is on one round to go in Taupo on March 18.
In the 250 class, Scott Columb defeated ageless Darryll King, Shaun Fogarty, Peter Broxholme and Rhys Carter. King still leads the 250 title chase by one point over Scott Columb.
RESULTS: PUKEKOHE 450 CLASS
1. Ben Townley…1-2-1
2. Josh Coppins…2-1-2
3. Cody Cooper…3-6-3
4. Justin McDonald…10-3-4
5. Hamish Dobbyn…4-5-7
6. Hayden Clark…5-7-8
7. Matt Hunt…8-9-7
8. Michael Phillips…16-4-6
9. Mason Phillips…6-10-10
10. Brad Groombridge…12-8-9
NEW ZEALAND 450 POINTS STANDINGS
(after 3 of 4 races)
1. Ben Townley…222
2. Josh Coppins…201
3. Cody Cooper…168
4. Justin McDonald…149
5. Michael Phillips…141
6. Hamish Dobbyn…140
7.  Brad Groombridge…115
8. Mason Phillips…111
9. Nick Saunders…102
10. Matt Hunt…86
DAVI MILLSAPS SHOWS "WHO'S DA MAN" IN THE ATLANTA SAND SECTION

AMA AMATEUR CHAMPIONSHIP BANQUET MOVED …CUZ EVERYONE WANTED TO COME TO COLUMBUS INSTEAD OF LAS VEGAS

The AMA will move the 2012 AMA Championship Banquet to the Aladdin Center in Columbus, Ohio on January 19, 2013. The top three finishers in AMA-sanctioned motorcycle and ATV 2012 national championship competition will be honored at this years banquet. Class champions will receive medals and No. 1 plates at the banquet, while second- and third-place finishers also will receive awards. The winners of special annual awards, such as the AMA Grand Championship Athlete of the Year and the AMA National Championship Athlete of the Year awards, will be announced as well.
Columbus' Aladdin Center, located adjacent to the expansive Easton Town Center shopping complex and only 20 minutes from AMA headquarters and the AMA Motorcycle Hall of Fame, offers free parking, easy access to Interstate 270 and is a short drive from Port Columbus International Airport.
24 RIDERS GET TO GO TO CAMP CARMICHAEL SOMETIMES AROUND THANKSGIVING


Suzuki is offering Suzuki amateur motocross racers the chance to attend the first-ever Suzuki Camp Carmichael – a special riding school withRicky Carmichael at his private training facility in Tallahassee, Florida. It'sa slim chance, but a chance just the same.
To be eligible, riders must purchase a new RM or RM-Z motocross bike, sign up for the 2012 Suzuki Motocross Contingency Program at www.suzukicycles.com/racing and then go racing. For every contingency dollar they earn, racers earn one point toward the Camp contest. On Sepember 31, 2012, the 24 riders (12 85cc riders and 12 250/ 450cc riders) with the most points will win a spot at Suzuki's Camp Carmichael (where they will receive one-on-one instruction from Ricky himself). Throughout the season, racers can monitor their contingency dollars and Camp points by visiting www.suzukicycles.com. The winners will be announced on October 15, 2012.
Not that long ago, Suzuki offered every Suzuki buyer a free motocross school with three-time National Champion Tony D
QUICK LOOK AT THE ST. LOUIS TRACK DURING THE FIRST 450 QUALIFIER

SEE THE THOR'S BABY-FACED AMATEUR RACERS IN ACTION: RYDER DIFRANCESCO, STILEZ ROBERTSON  & SEAN CANTRELL

DUBYA TO BE THE OFFICIAL WHEEL & SPROCKET SUPPLIER TO KTM'S AMATEUR TEAM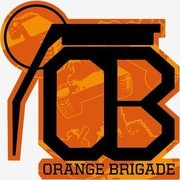 Dubya USA has been named the official wheel and sprocket supplier to KTM's Orange Brigade amateur motocross team for the 2012 season. Dubya has opened their entire catalog to the team, including parts from leading brands like Talon, Kite, D.I.D and Excel. "Dubya is committed to supporting the future of motocross," said Dubya founder Kristin White Anderson. "Working with amateur programs like KTM's Orange Brigade lets us do our part to bring up the next generation of motocross racers." Visit Dubya's website at www.dubyausa.com for more information or download their catalog from the iTunes app store by clicking the following link: itunes.apple.com/us/app/dubya/id501993969?mt=8
DAYTONA IS WORKING ON THE SUPERCROSS TRACK ALREADY


Here's a look at some of the numbers behind the construction of this year's Daytona Supercross By Honda course:
  4 ? Number of tractors working to spread the dirt (1 front loader, 1 crawler, 2 skid steer)
  8 ? Number of dump trucks used to transport loads of dirt
  29 ? Number of jumps on the track up three from last year
  204 ? Number of dump truck loads of dirt used to build the course on the tri-oval grass
  128 ? Number of man-hours needed to complete the construction of the course
  420 ? Number of 2 x 9 Styrofoam blocks which will be used for safety along the course
  3200 ? Feet of the Supercross course from start to finish
  4500 ? Yards of dirt needed to build the Supercross track
ARE YOU AN ANGLOPHILE? EVEN IF YOU ARE A FRANCOPHOBE, YOU'LL WANT TO SEE THE CLASSIC HAWKSTONE PARK INTERNATIONAL FROM LAST WEEKEND

MATRIX HAS A SPECIAL KEVIN WINDHAM GIVE-AWAY OFFER FOR MARCH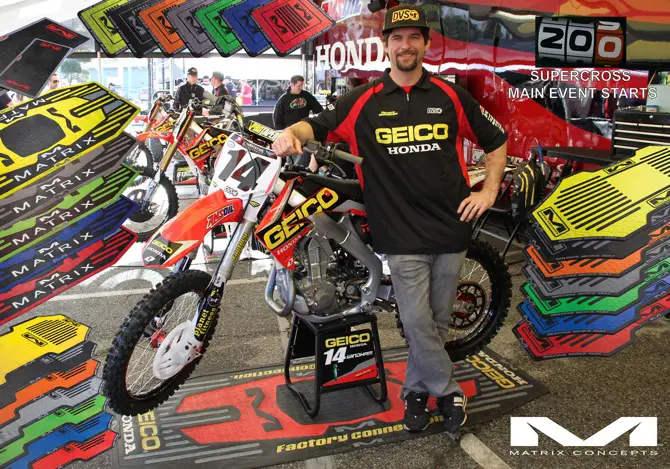 In celebration of Kevin Windham's 200th start, Matrix Concepts would like to give away a free M5 Stand Mat or a M4 Bench Top Mat (your choice) with any Mat purchase from www.MatrixRacingProducts.com. Just select your Mats and enter coupon code: "March" and Matrix will discount your order upon invoicing. (Discount will not show in shopping cart). www.MatrixRacingProducts.com
HART & HUNTINGTON OWNER CAREY HART ANALYZES HIS TEAM'S SEASON SO FAR…IT'S BEEN A GREAT & A BAD YEAR ROLLED UP IN ONE


ARE YOU AN FRANCOPHILE? EVEN IF YOU ARE AN ANGLOPHOBE, YOU'LL WANT TO SEE FRENCH-BASED BUD KAWASAKI'S DYLAN FERRANDIS, LVIA LANCELOT, DAVID HERTRETEAU & VALENTIN TEILLET


SPEED'S RATINGS ARE UP FOR LIVE SUPERCROSS

Speed scored its highest household rating to date for a Monster Energy Supercross event, as Saturday night's live event from the Georgia Dome in Atlanta was up 24 percent from a year ago (0.47 vs. 0.38) and averaged 630,000 viewers (peaking at 738,000), according to Nielsen Media Research. Through five races this season, Supercross on Speed is up 13 percent with households, 31 percent with Men 35-54 and 27 percent with Men 18-49. The median age of Speed viewers is 52-years-old.
For comparison, primetime network shows, like "Modern Family" are seen by 11 million viewers, and the rain-delayed Daytona 500 had 13.7 million viewers. On cable TV, which Speed is, an episode of "Pawn Stars" will draw 5 million viewers, "American Pickers" 4 million and "Basketball Wives" 2 million. However, the total numbers are not comparable because what is considered a hit show on one channel would be a loser on another.
The next race is scheduled for Saturday, March 3 at 5:30 p.m. (Pacific) and 8:30 p.m. (Eastern) from St. Louis. For more information on Speed moto-racing.speedtv.com/ama-supercross-motocross/
DARRYN DURHAM: THE LEAST KNOWN RIDER ON THE BEST KNOWN TEAM IN MOTOCROSS

TWEET-CITY: THE ELECTRONIC MIMEOGRAPH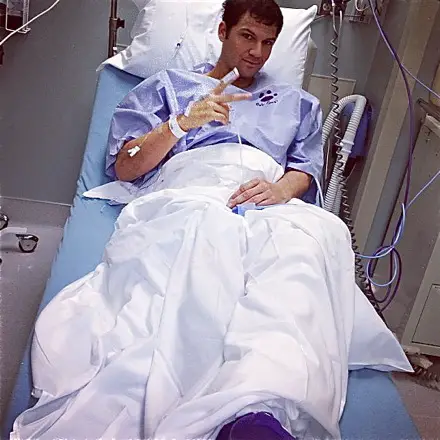 AUSSIE NEWS FOR OZ FANS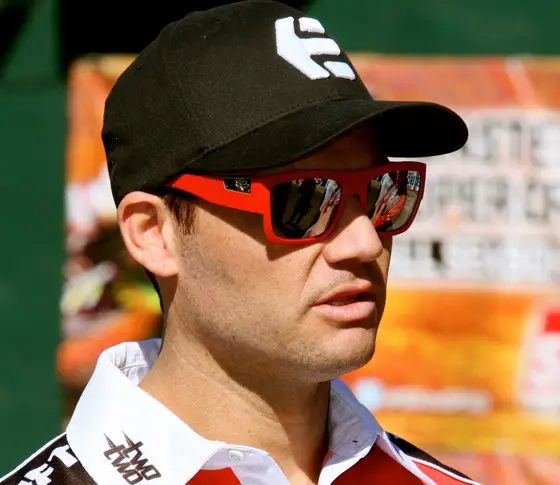 The AMA Nationals start in 10 weeks. It is unlikely that Chad will be ready.
Chad Reed: Chad Reed has been waiting for the swelling to go down, but had surgery on Thursday morning to repair the broke tib/fib and his torn anterior Crusciate ligament (ACL). The bones will heal quicker than the ACL.
Tye Simmonds: Tye Simmonds will leave the JDR/KTM team before the 2012 Australian Motocross Championships start on April 1. Simmonds has been a KTM rider since he was on a 65. His plan is to race a privateer Honda CRF450 in Australia in 2012 and try to return to the USA in 2013.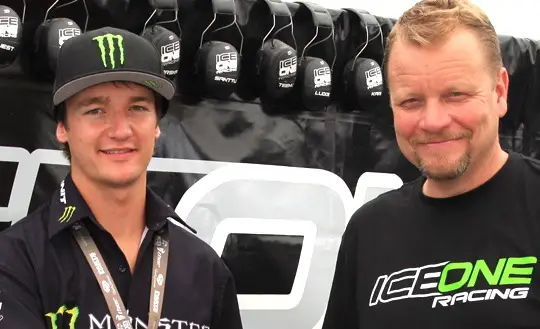 Dean Ferris (left) moved from Australia for a ride with IceOne racing.
Dean Ferris: Dean Ferris got a ride on the GP circuit with Kimi Raikonnen's IceOne team, but he broke his elbow when he ran into a lapper at a Spanish National race. Ferris had surgery on his elbow in Belgium and hopes to be ready for the start of the GP season on April 9.
Michael Byrne: Byrne crashed in pre-season testing and fractured the C-6 vertabra in his neck. He has missed every race so far, but should be okay for the Nationals (or the last few Supercrosses).
Jake Moss: Jake Moss will go the privateer route in the 2012 Australian Nationals with his new Campbell Mining Services Honda CRF450.
Cody Mackie: Cody's stint as a fill-in rider at Jeff Ward Racing is over and he has returned to Australia.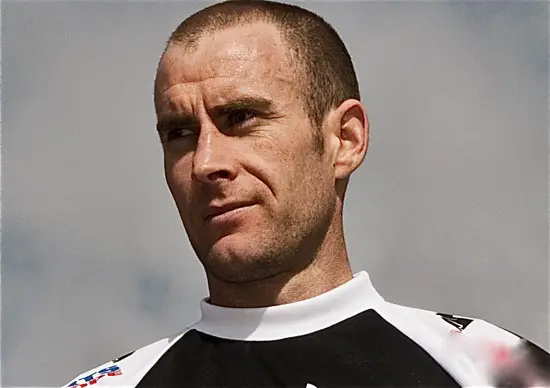 Josh Coppins: Josh will race his last season for Yamaha of Australia.
Josh Coppins: First and foremost, Josh Coppins is not an Aussie. He's a Kiwi. After returning from the GPs last year Josh has raced both the Australian and New Zealand Nationals, but has decided that 2012 will be his last season.
THE 2012 AMA SUPERCROSS POINTS CHASE: ONLY 35 RIDERS HAVE POINTS, BUT SOME OF THEM HAVE BEEN ELIMINATED FROM TITLE CONTENTION ALREADY


Everybody starts with the same amount of points (zero), but from the drop of the gate at race 1, the spread begins to grow. Photo: Hoppenworld

When a rider wins an AMA Supercross he is awarded 25 points. Second place gets 22, third 20, fourth 18 and fifth 16. After that the points are paid in one point increments from 15 points for sixth down to 1 point for 20th.
AND NOW FOR THE MATH
If the winner earns 25 points per race and there have been 9 races (through St. Louis), the maximum points that a rider who won every race could have is 225. Ryan Villopoto has earned 205 points and Ryan Dungey has 192 points. There are 8 races left in the 2012 series?which means that there is a maximum of 200 points still left…and no rider is eliminated until he falls 200 points behind (at this point in the series).
When a rider falls 25 point behind the leader, he is one whole race behind the leader (which means that he only has 7 races left to catch up). When he falls 50 points back, he is two full races in arrears (and his magic number is reduced to 6 races). If he falls 75 points behind, he is three races back and only has 5 races left to catch the leader. And so it goes through 100 point (four races back), 125 points (five races back) and 150 points (six races back).
Starting this coming weekend in Daytona many riders will reach the point of no return?where they will be eliminated from the Championship no matter what they do in the remaining races. Here is a quick summary of where every 450 rider is to date.

Ryan Villopoto?the points leader.
POINTS LEADERS (1st & 2nd)
Rider ……………….points…behind
1. Ryan Villopoto……..205…..0
2. Ryan Dungey ……..192….13

James Stewart?53 back.
50 POINTS BACK: TWO RACES BEHIND (3rd)  
3. James Stewart……152….53

Chad Reed?77 back.
75 POINTS BACK: THREE RACES BEHIND (4th through 9th)
4. Chad Reed…………128….77
5. Kevin Windham…..123….82
6. Jake Weimer………120….85
7. Justin Brayton……..116….89
8. Brett Metcalfe……..113….86
9. David Millsaps…….109….96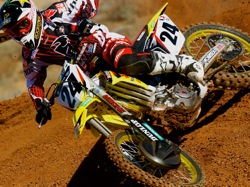 Brett Metcalfe?86 back.
100 POINTS BACK: FOUR RACES BEHIND (10th though 12th)
10. Mike Alessi………..98….107
11. Josh Hansen……..87….118
12. Kyle Chisholm……82….1231

Nick Wey?136 back.
125 POINTS BACK: FIVE RACES BEHIND (13th through 15th)
13. Broc Tickle………..69….136
14. Nick Wey…………..66….136
15. Andrew Short…….59….146
150 POINTS BACK: SIX RACES BEHIND (16TH)
16. Bobby Kinery……..31….174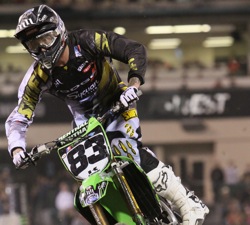 Kyle Partridge?176 back.
175 POINTS BACK: SEVEN RACES BEHIND (17th through 32nd)
17. Kyle Partridge……29….176
18. Matt Goerke………26….179
19. Weston Peick…….25….180
20. Ivan Tedesco……..21….184
21. Cole Seely…………17….188
22. Trey Canard……….14….191
23. Cody Mackie………14….191
24. Marvin Musquin….12….193
25. Justin Sipes……….12….193
26. Jason Thomas……10….195
27. Jimmy Albertson…10….195
28. Chris Blose………….9….196
29. Gavin Faith………….8….197
30. Jeff Alessi…………..7….198
31. Ryan Morais………..6….199
32. Josh Grant…………..6….199

Gavin Faith?197 back.
200 POINTS BACK: EIGHT RACES BEHIND (33rd through 35th
33. Tommy Hahn……..4….201
34. Nico Izzi…………….3….202
35. Ben Lamay…………2….203
WORLD TWO-STROKE CHAMPIONSHIP ONE MONTH AWAY: $4500 PURSE FOR THE PRO CLASS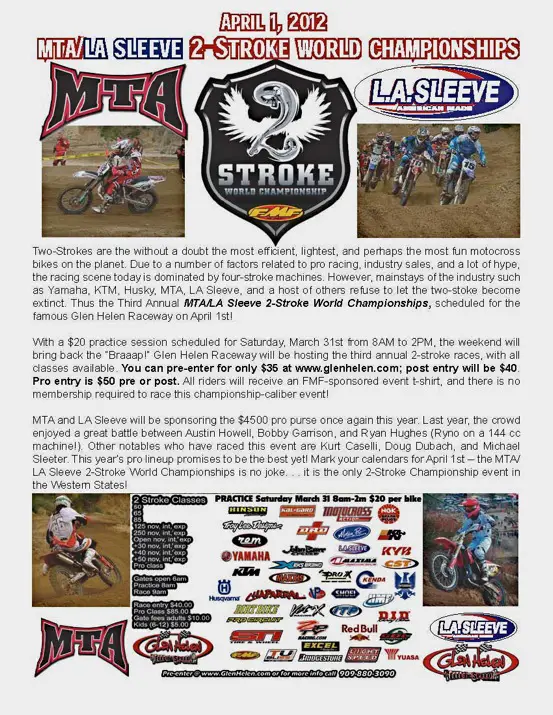 RICKY CARMICHAEL DAYTONA AMATEUR SUPERCROSS CHAMPIONSHIP RETURNS TO DAYTONA BIKE WEEK


Sanctioned by the AMA,  in partnership with MX Sports, the Ricky Carmichael Daytona Amateur Supercross Championship, features two days of amateur racing at the Daytona International Speedway on Sunday and Monday, March 11-12. Classes are available for youth riders on 50cc bikes all the way up to Vet and Senior classes. The race will follow a qualifying format with heat races and last-chance qualifiers seeding the main event in each class. To register for the 2012 Ricky Carmichael Daytona Amateur Supercross Championship, visit https://secure.tracksideonlineresults.com/daytonasx/.  
AMA HALL OF FAME MUSEUM DAYTONA BREAKFAST



This year's 24th annual AMA Motorcycle Hall of Fame Breakfast at Daytona, which features Hall of Famer and 1993 500cc World Grand Prix road racing Champion Kevin Schwantz, will once again include the popular silent auction to benefit the Hall of Fame. Special items available for the auction are still rolling in, and among them is an authentic Nichole Cheza flat-track racing helmet (complete with racetrack roost spots), a Bill Werner "Pair of Nines" race shirt honoring racers Gary Nixon and Jay Springsteen, special signed posters from past Hall of Fame events, an autographed copy of Buzz Kanter's Indian Motorcycles book and much more.
The silent auction is open to attendees at this year's breakfast, which is set for Friday of Bike Week, March 16, in the Daytona International Speedway infield at the prestigious 500 Club building. Tickets are available online at www.motorcyclemuseum.org, or by calling (800) 262-5646.
WHO IS THE TOP TEXAN? GIVE US EIGHT MONTHS AND WILL LET YOU KNOW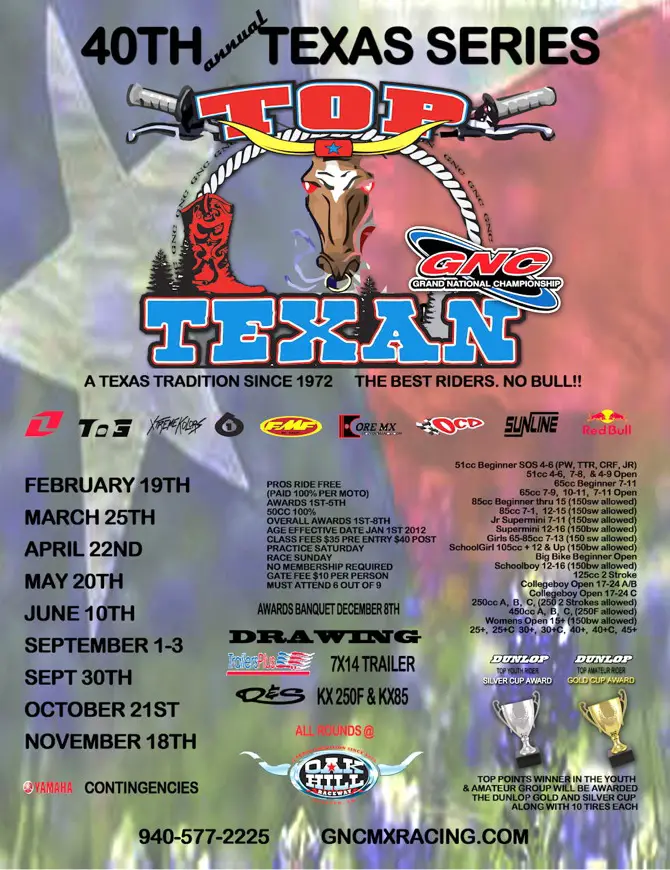 For more info go to www.gncmxracing.com
WORCS ROUND THREE: IT'S THE WORLD'S BIGGEST, FASTEST & LONGEST MOTOCROSS
Two days of  high-speed desert dueling from Mesquite, Nevada, with Mike Brown, Boby Garrison, Kyle Summers, Colton Haacker and Taylor Roberts (with the narration by Destry Abbott).

ASCOT FLAT TRACK REUNION ON MAY 12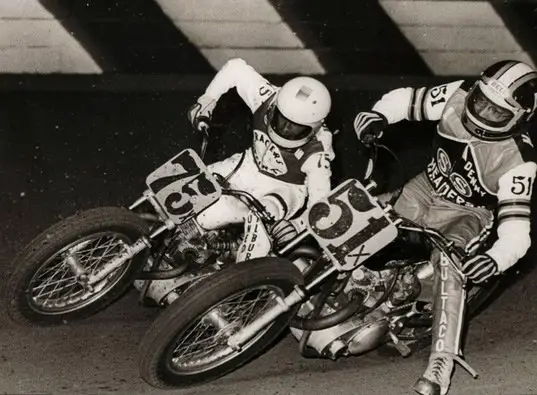 To celebrate the spirit and commemorate the great dirt track racers from SoCal's Ascot Raceway, the Wally Parks NHRA Motorsports Museum will host the first-ever Ascot Reunion. Everyone can come and see displays and meet the Ascot Half-Mile, TT and Short Track riders from the 1950s-1990s.
Everyone is encouraged to attend and display a Class C race bike and memorabilia from that and all other eras, in the expo area. No awards or judging?just a lot of Grand National-level bench racing. The Grand Marshall is Sammy Tanner. The Wally Parks NHRA Motorsports Museum is located at 1101 W. McKinley Ave., Building 3A, Pomona CA, 91768. Admission is $10 and the reunion runs from 9 a.m. to 4 p.m. Call (909) 622-2133 for info or go to www.museum.nhra.com
HUSQVARNA ANNOUNCES 2012 MOTOCROSS CONTINGENCY PROGRAM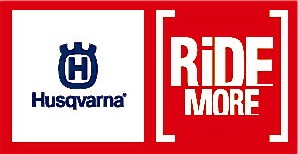 Husqvarna is committed to supporting racers of all types, with over 100 different motocross, off-road, dirt track and supermoto events included, and pay outs spread among more classes than ever before. The payout for motocross is $4,850,000.
That payout includes Loretta Lynn, Branson, Mammoth Mountain, World Mini, NESC, WMX, CMC, PAMX, NMA and the World Vet Championship. The pay outs vary by class and event, but as an example?winning any Expert class at the World Vet pays $1000 (1st), $750 (2nd), $350 (3rd) down to 10th place. A World Vet Intermediate class pays, $400 (1st), $300 (2nd), $150 (3rd), $100 (4th), $50 (5th) and the Novice classes pay $300, $200, $100, $50 and $25. For more info about events and pay outs visit www.Husqvarna-MotorcyclesNA.com/contingency.php.
THIS WEEK'S BIRTHDAY BOYS


Mar. 1…Dan Reardon


Mar. 1…Harry Kullas
Mar. 3…Shawn Norfolk
Mar. 3…Justin Brayton


Mar. 4…Malcolm Smith
Mar. 4…Sandy Egger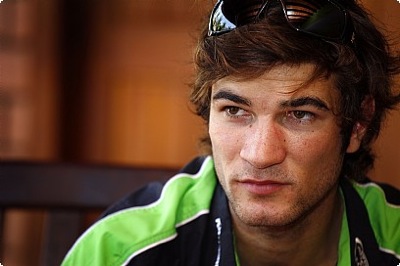 Mar. 4…Xavier Boog
Mar. 6…Paul Buckley


Mar. 6…Eddie Cole
Mar. 7…Beau Bamburg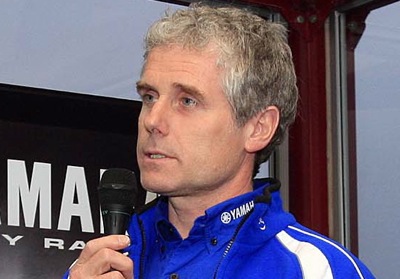 Mar. 9…Michele Rinaldi
Mar. 10…Donnie Hansen
WHERE THE KTM AMATEUR SUPPORT TRUCK WILL BE IN 2012


The KTM Amateur Racing Trackside Support crew will travel to ten major amateur racing events throughout the 2012 season in order to assist KTM amateur riders with technical assistance and parts support.
All KTM amateur riders attending the event are encouraged to visit the KTM Amateur Support crew and introduce themselves to the team. The Amateur Racing Support crew is equipped to help sell parts to riders in need and to provide technical assistance free of charge.
KTM AMATEUR TRACKSIDE SUPPORT CREW EVENTS:
   1. Freestone Spring Championship – February 28 – March 3, 2012
   2. Oak Hill Grand National Championship – March 3-9, 2012
   3. Millcreek Spring Classic – March 12-17, 2012
   4. Daytona Amateur Supercross – March 6-7, 2012
   5. World Mini Grand Prix – April 9-15, 2012
   6. Mammoth Mountain Motocross – June 22 – July 1, 2012
   7. Ponca City MX – July 20-26, 2012
   8. Loretta Lynn's AMA Amateur National Motocross Championship – July 29 – August 4, 2012
   9. Mini Olympics – November 19 – 24, 2012
   10. Amateur Open – TBD
If you are a KTM amateur racer attending one of these amateur racing events please ensure that you are registered with XTRM to earn awards through KTM's contingency program. For more details on XTRM and a completed list of all eligible race series please visit www.xtrm.com/ktm.

FOR SPANISH MOTOCROSS FANS ONLY: SUPER 8 MOVIE OF THE 1980 TROFEO MONTESA RACE FROM CIRCUITO DEL VALLES (YOU CAN SEE THE MONTESA WORKERS ON STRIKE EARLY IN THE FILM)


Carrera final del 5§ Trofeo Montesa en el Circuito del Valles (Sabadell / Terrassa). 12 y 13 Abril 1980, Barcelona (Espa¤a). Coincidiendo con la prueba del Campeonato del Mundo de Motocross. Los trabajadores de Montesa se manifestaron en la parrilla de salida tras 6 dias de huelga. Agusti Vall y Mariano Navarro con Montesa Cappra 125 VF y Joaquim Su¤ol con el prototipo de Montesa Cappra 125 VG que nunca se lleg¢ a comercializar.


PRO CIRCUIT'S MARCH SALE


For more info go to www.procircuit.com

UPDATED LIST: EVERY AMA NATIONAL NUMBER (FROM 1 TO 997)


38 was 125 last year, 5 was 1 and 70 was 194.
It is easy to find out who's number 11 (Kyle Chisholm) or 21 (Jake Weimer) or even 54 (Weston Peick), but have you ever tried to find out who is AMA National number 714? The answer is Shawn Rife.
To make life easier, MXA has compiled a complete list of active AMA National numbers for 2012 (Up through the St. Louis Supercross). We will update it with every event and add more names and numbers as young riders enter the AMA circuit.
1. Ryan Villopoto (450 MX/SX)
1. Dean Wilson (250 MX)
1. Broc Tickle(250 West)
1. Justin Barcia (250 East)
2. Ryan Villopoto (will not be used in 2012)
3. Mike Brown
4. Available to former Champs only
5. Ryan Dungey
6. Available to former Champs only
7. James Stewart
8. Available to former Champs only
9. Ivan Tedesco
10. Justin Brayton
11. Kyle Chisholm
12. Blake Baggett
14. Kevin Windham
15. Dean Wilson
16. John Dowd
17. Eli Tomac
18. Davi Millsaps
19. Kyle Cunningham
20. Justin Barcia
21. Jake Weimer
22. Chad Reed
23. Gareth Swanepoel
24. Brett Mecalfe
25. Broc Tickle
26. Michael Byrne
27. Nick Wey
28. Tyla Rattray
29. Andrew Short
30. Alex Martin
31. Martin Davalos
32. Tommy Hahn
33. Josh Grant
34. Cole Seely
35. Darryn Durham
36. Kyle Regal
37. Malcom Stewart
38. Marvin Musquin
39. Tye Simmonds
40. Gannon Audette
41. Trey Canard
42. Ricky Dietrich
43. Christian Craig
44. Jason Anderson
45. Nick Paluzzi
46. Les Smith
47. Chris Blose
48. Jimmy Albertson
49. Justin Bogle
50. Nico Izzi
51. Travis Baker
52. Ben Lamay
53. Ryan Sipes
54. Weston Peick
55. Lance Vincent
56. Austin Stroupe
57. Jake Canada
58. Will Hahn
59. Vince Friese
60. Matt Lemoine
61. Austin Howell
62. Travis Sewell
63. Colton Facciotti
64. Matt Boni
65. Ryan Morais
66. Jason Thomas
67. Scott Champion
68. Shane Sewell
69. Jimmy DeCotis
70. Ken Roczen
71. Kevin Rookstool
72. Jarred Browne
73. Josh Clark
74. Tyler Bowers
75. Josh Hill
76. Calle Aspergren
77. Lowell Spangler
78. Tommy Weeck
79. Tyler Medaglia
80. Kyle Keylon
81. Robert Kiniry
82. Justin Sipes
83. Kyle Partridge
84. Killy Rusk
85. Robert Marshall
86. Taylor Futrell
87. Matt Goerke
88. Ben Evans
89. Tyler Bright
90. Bryce Vallee
91. Dalton Carlson
92. Hunter Clements
93. A.J. Catanzaro
94. Cole Siebler
95. Chris Plouffe
96. Kyle Peters
97. Jeremy Medaglia
98. Tye Hames
99. Sean Hackley
100. Josh Hansen
102. Chris Gosselaar
105. Matt Moss
112. Ryan Marmont
117. Kelly Smith         
119. Max Anstie
124. Ryan Clark
125. Daniel Blair
126. Hunter Hewitt
129. Vernon McKiddie
132. Kyle Beaton
133. Myles Tedder
143. Michael Horban
149. Casey Hinson
153. Gregory Crater
160. Cole Thompson
166. Dakota Tedder
170. Michael Leib
171. Cole Siebler
173. Travis Johnson
174. Chase Spears
175. Bruce Rutherford
187. Bryce Huffman
192. Cameron Lansing
200. Michael McDade
202. Tanner Young
208. Donald Vawser
211. Tevin Tapia
212. Auston Albers
214. Jason Kueber
216. Jared Boothroyd
219. Ryan Rangel
222. Chris Howell
224. Heath Harrison
225. Tyler McEwen
227. Cole Martinez
232. Billy Laninovich
244. Ryan Zimmer
247. Teddy Parks
251. James Justice
260. Nicholas Myers
275. Jeff Gibson
276. John Jelderda
285. Tony Archer
293. Brian Sjogren
304. Bradley Ripple
308. Nick Jackson
311. Jesse Rangas
312. Teddy Maier
314. Alex Ray
329. Chad Gores
333. Cody Mackie
335. Seth Caldwell         
337. Jeremy O'Driscoll
338. Zach Osborne
339. Michael Thacker
346. Brandon Marley
352. Kevin Markwardt
354. Chris Johnson
357. Jacob Locks
374. Cody Gilmore
377. Christophe Pourcel
382. Preston Thomas
383. Brandon Rangel
384. Carl Schlacht
385. Adam Gulley
386. Aaron Gulley
393. Daniel Herrlein
394. Tanner Moore
404. Zack Freeberg
407. Adam Chatfield
409. Dillon Huddleston
412. Levi Kilbarger
415. Nicholas Schmidt
423. Brandon Gillespie
429. Richard Rinauro
435. Scott Agostini
438. John Cal Baker
443. Jeffrey Mort
446. Frank Lettieri
447. Deven Raper
451. Rashidi Kerrison
459. Conrad Weiland
461. Dave Ginolfi
464. Mitchel Alcorn
480. Cory Green
498. Cody Robbins
501. Scotty Wennerstrom
505. Sean Lipanovich
508. Nick Click
512. Jorge Bujanda
513. Danny Pacini
516. Brian Foster
522. William Wichers
533. Gannon Audette
536. Erik Meusling
544. Morgan Burger
546. Kevin Urguhart
548. Broc Schmelyun
564. Jeremy Huddleston
565. Preston Mull
570. Beau Hudson
572. Zach Jaynes
583. Tyler Sjoberg
587. Dustin Kendall
599. Ronnie Hapner
606. Ronnie Stewart
617. Gavin Faith
619. Mark Weishaar
620. Brad Nauditt
639. David Buller
643. Jake Oswald
647. Parker Eckman
652. Dustin Pipes
655. John Pauk
659. Justin Freund
668. Billy Jurevich
675. Kyle Hussey
697. Kyle Goerke
670. Dylan Schmoke
702. Cameron Stone
707. Alex Millican
708. Joe Perron
712. Justin Starling
713. Chad Cook
714. Shawn Rife
715. Phil Nicoletti
718. Matt Schneider
722. Adam Enticknap
726. Gared Steinke
727. Rhett Urseth
735. Travis Pitt
750. Jared Hicks
752. Bryce Stewart
758. Jason Potter
764. Cody Lee
771. Terren O'Dell
772. Robert Noftz
773. Walt Van Olden
774. Preston Tilford
783. Beau Burnett
788. Matt Vonlinger
792. Bracken Hall
793. Yuta Ikegaya
794. Yoshiki Inagaki
800. Mike Alessi
801. Jeff Alessi
812. Luke Vonlinger     
831. Ryan Smith
848. Kendall Mason
854. Landen Powell
862. Ozzy Barbaree
865. Dario Marrazzo
870. Cyrille Coulon
878. Eric McKay
880. Canaan Barrilleaux
887. Daniel Sanders
902. Jesus Macias
903. Antonio Balbi
906. Killian Auberson
911. Tyler Bowers
915. Adrien Lopes
918. Michael Akaydin
919. Shawn Rhinehart
927. P.J. Larsen
929. Travis Bell
941. Angelo Pellegrini
943. Carlos Oros
945. Michael Stryker
952. Adam Conway
956. Blake Wharton
964. Dominque Thury
965. Travis Bright
968. Jackson Richardson
971. Nathan Malyszek
972. Michael Picone
973. Jean Baptiste Marrone
976. Josh Greco
979. Jonathon Withrow
981. Austin Politelli
985. Erdenebileg Khaliunbold   
986. Topher Ingalls
992. Jean Ramos
996. Filip Thuresson
997. Linus Sandahl