MXA WEEKEND NEWS ROUND-UP: THE SECRETS OF '15 ARE BUILT ON THE FACTS OF '14
 RUMORS, GOSSIP & UNFOUNDED TRUTHS

Mike, come home where you belong.
Mike Alessi: Mike has renewed his deal with his current team. This is not news because Mike has few other options left, apart from starting his own team — it all has something to do with combustible bridges. The press release says that Mike might race the AMA Supercross series, AMA Nationals, Canadian Nationals and the FIM GP series. What, No MotoGP? Most likely Mike will race the complete Supercross series, then one or two AMA Nationals before going back to Canada.
Travis Pastrana: It is only fitting that Travis Pastrana makes his return to motocross, albeit in a weirdly configured version of the sport, when he races the Red Bull Straight Rhythm race in Pomona, California, on Saturday, October 4. Travis has been Red Bull's go-to guy for over a decade. Pastrana says that he will race a 500cc two-stroke
The Art Of Moto Premiere: "The Art of Moto" has been officially selected to screen at the Temecula Valley International Film & Music Festival.  "The Art Of Moto" will have two showings: Thursday, September 18, at 5:00 p.m. and Saturday, September 20, at 7:00 p.m. For more info go to www.theartofmotofilm.com.
ART OF MOTO TRAILER

Zero Motorcycles: No, they haven't released an all-new, electrode-breathing, mega-amp motocross bike, but they have signed on with the AMA Hall of Fame to become the official ring supplier for the new class of 2014 inductees (Tom White, Pierre Karsmakers, Scott Summers, Mike Larocco, George Barber, Byron Hines and Robby Muzzy).
Troy Lee Amateur team: Troy Lee Designs has signed 14-year-old Amateur Champion Sean Cantrell to a multi-year deal. Sean will compete in the 250 B and Schoolboy classes in 2015 next to TLD teammate, Justin Hoeft, who will race in the A class.

World Vet Championship: With famous wheelbuilder Dubya throwing its support behind the 2014 World Vet Championship, riders can expect a bigger and better event this year. The World Vet will be held on November 1-2, 2014, and there will be a warm-up race (to test the track layout), the REM Octobercross, on the World Vet track on Saturday, October 25. For more info go to www.glenhelen.com
Honda: American Honda has filed a recall with NHTSA on 126,000 Honda Goldwing motorcycles. The rear brake of the Honda Goldwing may drag after the brakes have been released. Honda's recall affects 2001-2010 & 2012 GL1800 & GL1800A.
MXA PRODUCT SPOTLIGHT: HODAKA MOTORCYCLES: THE COMPLETE STORY

"Hodaka Motorcycles" is filled with over 300 photos, many of them very rare looks into the origins of the company. Not to be overlooked are the color illustrations of Hodaka's colorful model names and their whimsical decals. If you are only vaguely familiar with Hodaka the machine, you will always remember the model names— Super Rat, Wombat, Combat Wombat, Super Combat, Road Toad, Dirt Squirt and Thunderdog.
VERDICT: A must-have book for anyone who started riding in the 1970s on a Super Rat. "Hodaka Motorcycles" Is divided into 13 chapters and starts at the very beginning—with Yamaguchi. $50.00—www.strictlyhodaka.com or call (802) 375-0212.
TEAM AUSTRALIA REPLACES INJURED DEAN FERRIS WITH LUKE CLOUT FOR MXDN



2014 Australian 250 National Champion Luke Clout.
Press release: Motorcycling Australia (MA) can officially confirm Luke Clout will step in to the Australian MX of Nations team for the injured Dean Ferris.Nominated reserve and current Australian 250cc Motocross Champion, Luke Clout will join Matt Moss and Chad Reed in Latvia to ride the MX2 class for Australia. Yamaha have worked together globally with very short notice to confirm the support of a YZ250F and final preparations are now underway for Australia's charge at the MXoN title. While the withdrawal of Ferris is unfortunate, Mark Luksich, Chair of the MX/SX Commission is confident that Clout has more than enough talent to come in to the team. "It's always disappointing to have injuries affect the team but we are fortunate to have a strong group of riders that nominated for this year's event and having Luke available to join the team to replace Dean is terrific."
MEET THE SWEDE WHO ISN'T FREDRIK NOREN — FILIP BENGTSSON

JESSE MASTERPOOL CHALLENGE ON SEPTEMBER 26-28 AT HIS 956 FACILITY

For more info go to www.masterpoolchallenge.com
BIG WEEKEND IN MEXICO, FRANCE & JAPAN… THE REST OF US, NOT SO MUCH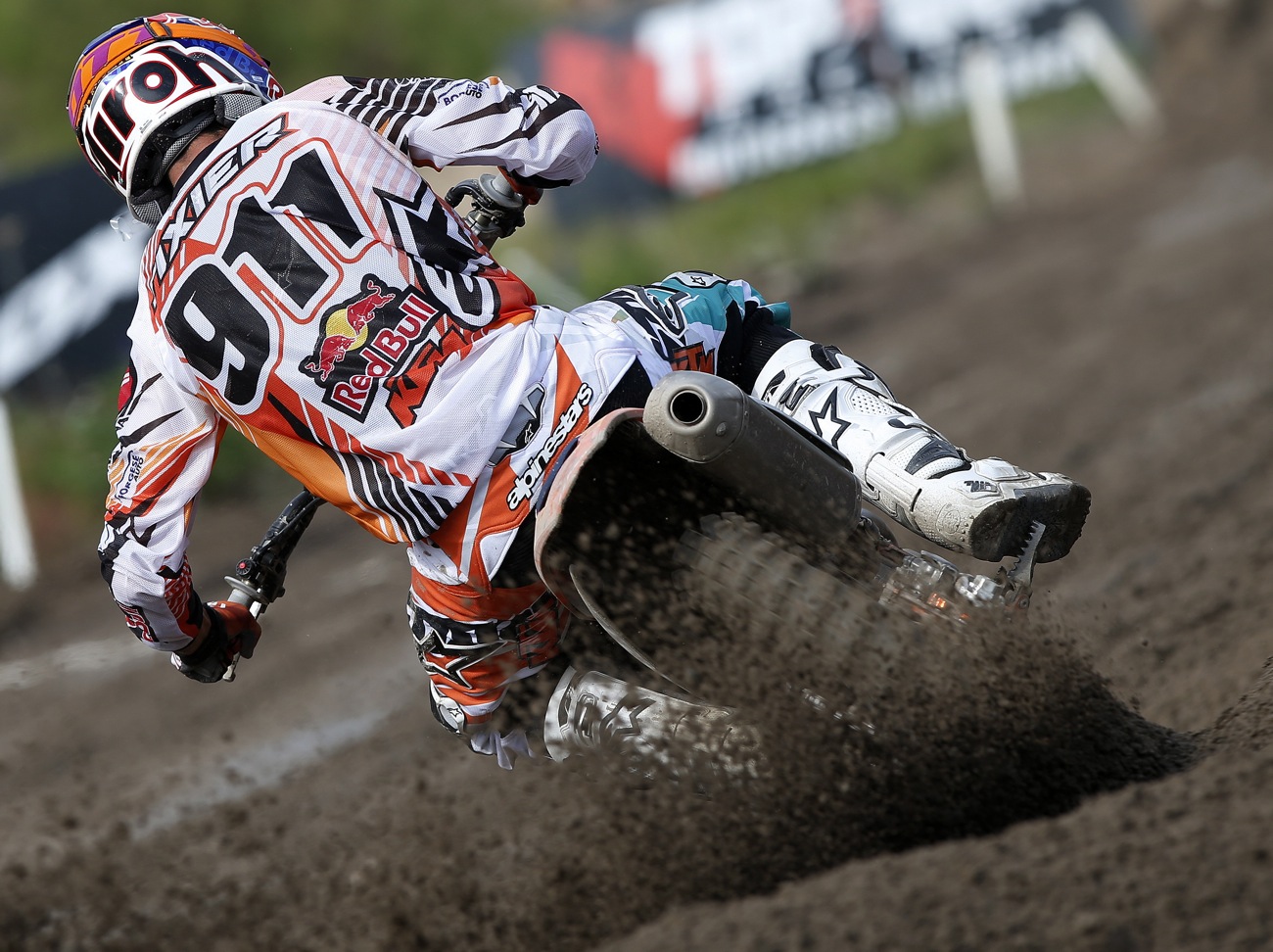 This will be most important weekend in Jordi Tixier's life, but if it doesn't work out for him he still had a great season.
2014 250/450 WORLD MOTOCROSS CHAMPIONSHIP
September 14…Mexico
2014 FIM SIDECAR MOTOCROSS WORLD CHAMPIONSHIP
September 14…France
September 21…Germany
2014 WORLD OFFROAD CHAMPIONSHIP (WORCS) SERIES
September 12-13… Glen Helen
October 17-19…Primm
2013 ALL-JAPAN MOTOCROSS CHAMPIONSHIP
September 14………Meihan
October 5…………..Hiroshima
October 26…………Sugo
2014 MAXXIS BRITISH CHAMPIONSHIP
September 21….Foxhill
2014 MOTOCROSS DES NATIONS
September 28….Latvia
2014 RED BULL STRAIGHT RHYTHM
October 4….Pomona, CA
2014 BRANSON USA CHAMPIONSHIP
Oct. 8-14………Branson, MO
2014 GEICO ENDUROCROSS  CHAMPIONSHIP
October 4…Denver, CO
October 11…Salt Lake City, UT
October 18…Everett, WA
November 15…Boise, ID
November 22…Ontario, CA
2014 MONSTER CUP
October 18….Las Vegas, NV
2014 AUSTRALIAN SUPERCROSS CHAMPIONSHIP
October 10……….Bathhurst
October 11………..Bathhurst
October 18………..Phillip Island
October 19………..Phillip Island
November 8………Brisbane
2014 CANADIAN ARENACROSS CHAMPIONSHIP
October. 24-25…………Armstrong, BC
November 7-8…………..Cloverdale, BC
November. 28-29………Chilliwack, BC
December. 5-6…………..Chilliwack, BC
2014 REM OCTOBERCROSS (FORMERLY COMMOTION BY THE OCEAN)
October 25……………..Glen Helen, CA
2014 WORLD VETERAN MOTOCROSS CHAMPIONSHIP
November 1-2…………….Glen Helen, CA
2014 PARIS SUPERCROSS
November 15-16……………..Bercy
ALL-NEW HUSQVARNA FS450 SUPERMOTO BIKE IN ACTION

 2014 BOYESEN TWO-STROKE SHOOTOUT AT SLEEPY HOLLOW ON  SATURDAY AND SUNDAY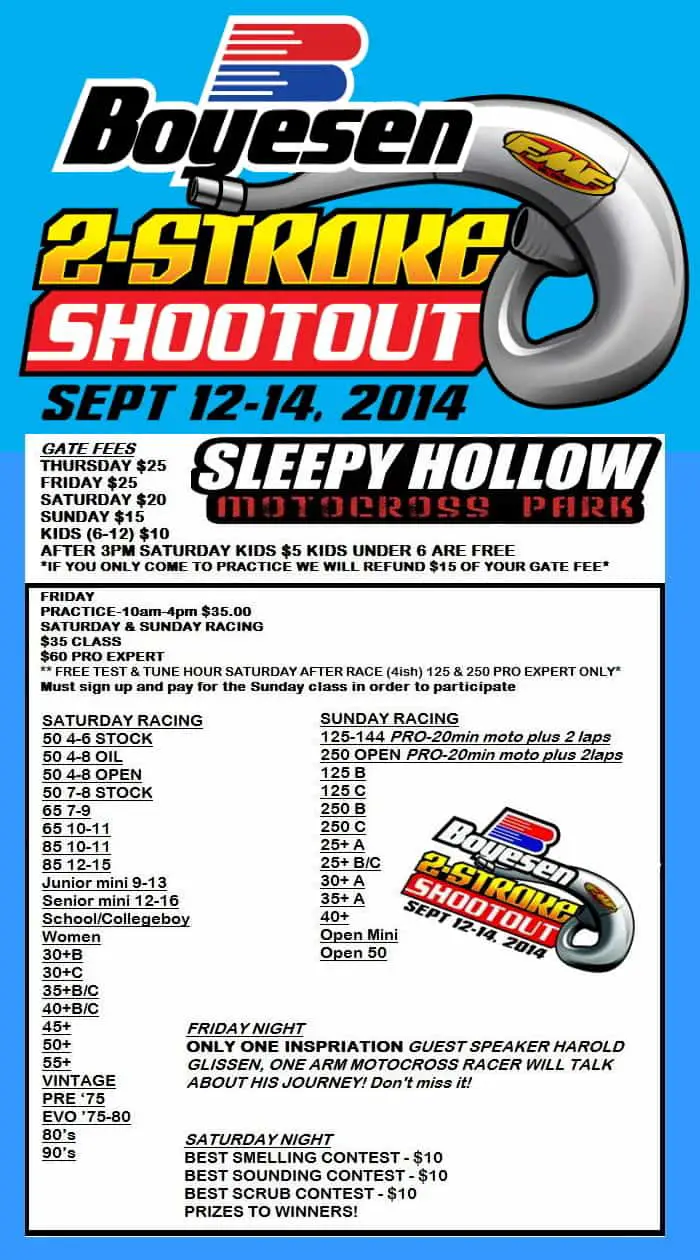 For more info go to www.sleepymx.com.
THE MANY FACES OF GLEN HELEN

The Glen Helen Ecology Institute.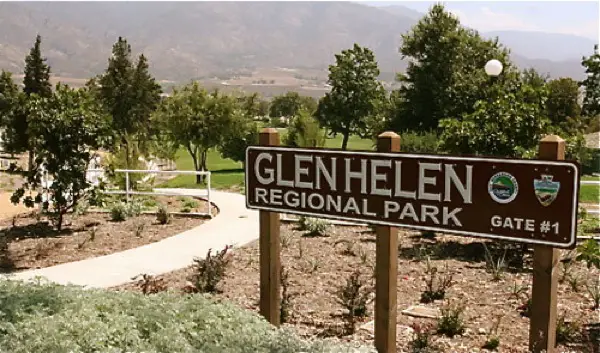 The rock concert, water park and fishing park.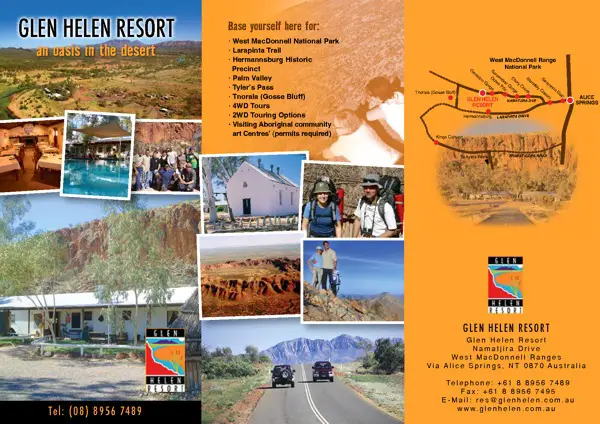 The Outback Oasis in the Desert.
THIS WEEK'S BIRTHDAY BOYS & TWO GIRLS

Sept. 12…Jeffrey Herlings 1994
Sept. 12…Robbie Horton
Sept. 12…Ryan Huffman 1974
Sept. 12…Dean Baker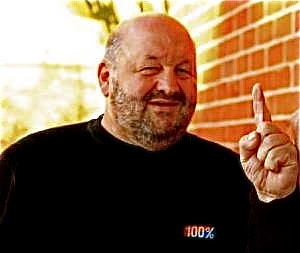 Sept. 13…Bevo Forti
Sept. 13…Davey Castillo

Sept. 13…Jeremy Albrecht
Sept. 14…Tommy Hofmaster
Sept. 14…Herjan Brakke 1988
Sept. 14…Darcy Lange 1982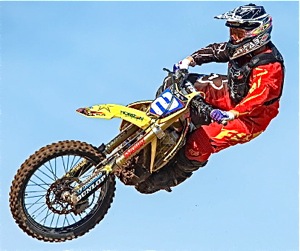 Sept. 14…Jessica Patterson 1983
Sept. 15…Charlie Mancuso

Sept. 15…Robbie Bell 1985
Sept. 15…Charlie Mancuso
Sept. 15…Rich Winkler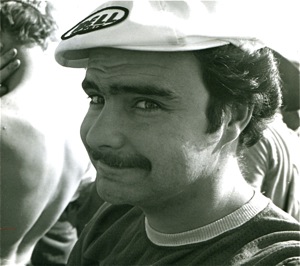 Sept. 15…DeWayne Jones 1950
Sept. 15…Cliff Palmer 1971
Sept. 16…Jason Raines

Sept. 16…Mark Barnett 1960
Sept. 17…Danny Smith 1979
Sept. 17…Chad Johnson

Sept. 17…Trey Canard 1990
Sept. 18…Juha Salminen
Sept. 18…Tarah Gieger 1985
PREVIEW OF THE ALL-NEW 2015 X GAMES EVENT

GUTS RACING'S PATENTED VELCO-ON SEAT COVER…NO MORE STAPLES

For more info go to www.gutsracing.com
MEMORIES OF THE WAY WE WERE: LEATHER BOOTS
Anyone who was anyone in the early days of motocross wore Hi-Point Champion boots. In a later incarnation they were known as Alpinestars Super Victory boots — and Alpinestars still offers them. No one wears leather boots today. Oops, we forget to look at the three oldest members of the MXA wrecking crew — because all of them still wear leather boots, four decades after they started racing.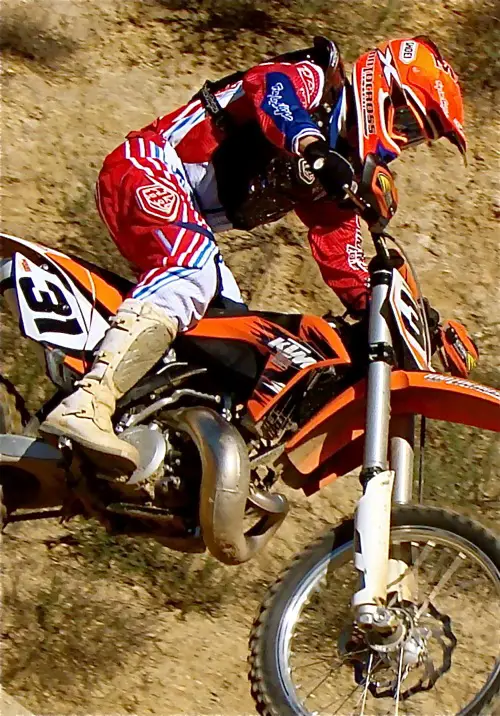 AMA Hall of Famer Lars Larsson.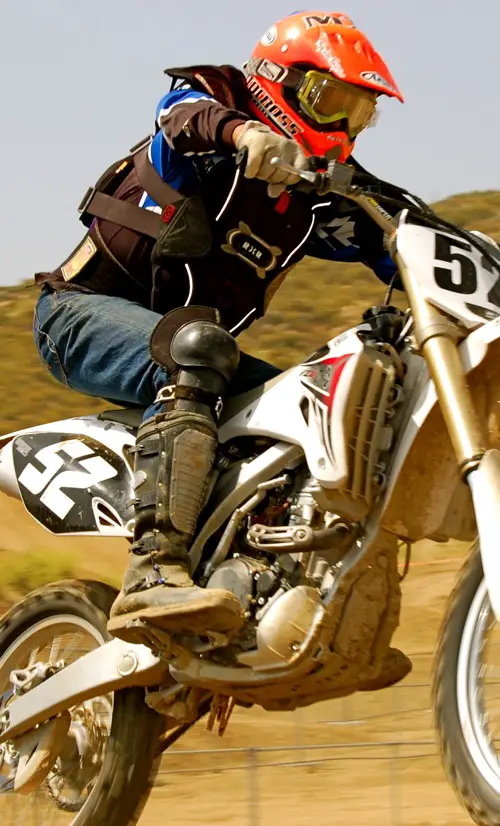 AMA Hall of Famer Feets Minert.

Not allowed anywhere near the AMA—Jody Weisel.
AUSTRALIAN AND CANADA PROVE THAT 250 TWO-STROKES CAN RACE WITH 250 FOUR-STROKES

Every race organization's rules should read, "Displacement: 250cc regardless of engine type."
Canada and Australian allow 250 two-strokes to race against 250 four-strokes in their National Championships and the sky hasn't fallen. In fact, some of the higher placed riders have switched back and forth between two- and four-strokes and they haven't blown the field away on the smoker. It's time that the AMA and MX Sports set the displacement at 250cc and let someone race a 250cc steam engine if they want. It will not only lower the cost of racing in the Nationals, but equalize the field between the haves and have-nots.