MXA'S WEEKEND SCUTTLEBUTT NEWS ROUNDUP
Click on images to enlarge
• BEN TOWNLEY COMES OUT OF RETIREMENT AGAIN TO WIN KIWI SUPERCROSS
Ben Townley, 31, borrowed a Suzuki RM-Z450 from the local dealer and won all three races at the New Zealand Supercross Championship in Winton, New Zealand. Townley, who last year raced an injury-plagued year in the 450 World Championships for Team Suzuki, has retired and un-retired several times during his career in Europe, America and Australia. Townley said of his borrowed bike, "Winton Motorcycles were amazing. They were so helpful. I've only been on a bike five or six times over the past few weeks, so my fitness is not at its best. I'm only going to be riding a few selected events this summer." By "summer," he means winter in the USA.
• MORE NEW ZEALAND NEWS: JOSH COPPINS WINS BURT MUNRO CHALLENGE
Josh Coppins, 39, a two-time 450 MXGP runner-up and second at the 2017 Dubya World Vet Championship, put away the disappointment of getting a flat in the Neww Zealnd Supercross race in Winton, won by Ben Townley, to win the fabled Burt Munro Challenge Festival of Speed in Invercargill, New Zealand three days later. This was the second time that Coppins has won the Burt Munro Trophy, named the famous 1962 land-speed record holder from the Bonneville Salt Flats. Coppins led from start to finish in the 50-lap Burt Munro Trophy race, lapping everyone except second-place Johnny Racz.
• MIKE BROWN SAYS HE'S RETIRED
Mike Brown, 44, said after the final AMA Endurocross of the 2016 season, last week in Ontario, California, that he was finally going to call it quits on his racing career. However, at the end of almost every season for the last 5 years Mike has said the same thing—but also seems to show up on the starting line the next year.. Brown raced his first AMA Pro race in 1990 and his last one in 2012. Mike won the 2001 AMA 125 Nationals Championship. Mike also raced the Grand Prix series, finishing third twice in the 125 World Championships in 1999 and 2000. In 2007 he returned to the GP circuit to finish 7th in the 450 World Championships. After Mike put motocross on the back burner, he switched to offroad racing. He won the WORCS titles in 2009 and the gold at the X Games Enduro X events in 2012 and 2015. In his final season of racing the AMA Endurocross series, Mike finished 4th behind Colton Haaker, Cody Webb and Ty Tremaine.
• KYLE PETERS TO STAY IN AUSTRALIA FOR SUZUKI
Journeyman American racer Kyle Peters has signed to race for the Wilson Coolair Motul Suzuki team in the 2017 Australian Nationals and Supercross series. He will team with Aussie Luke Wilson. Peters replaces Todd Waters who moved to the Crankt Protein Honda team. The 10-race Australian National series starts on April 1-2 and ends on August 19-20. Then, the 7-race Supercross series picks up on September 9 and doesn't end until Novermber 12.
Peters has never raced an AMA 450 Supercross, but has competed in 33 AMA 250 East/West rounds. Peters highest finish ever was 2nd at Indianapolis in 2013. He was in the top ten at every 2016 250 West round and finish 8th in the series. His outdoor results are not as good, he only has one top ten in 41 starts in the AMA 250 Nationals. Kyle Peters said about his decision, "When I first arrived in Australia it was meant to be for three weeks, but once I got there and I saw just how competitive both motocross and Supercross were, I made sure people knew that I wanted to be back there racing full-time in 2017."
2017 AUSTRALIAN NATIONAL CHAMPIONSHIP
April 1-2………………….Wonthaggi, Victoria
April 23…………………..Appin, New South Wales
May 7……………………..Connondale, Queensland
May 21……………………Horsham, Victoria
May 28……………………Murray Bridge, South Australia
July 2……………………..Nowra, New South Wales
July 16……………………Shepparton, Victoria
July 30……………………Port Macquarie, New South Wales
Aug. 13…………………..TBA, Queensland
Aug. 19-20………………Coolum, Queensland
2017 AUSTRALIAN SUPERCROSS CHAMPIONSHIP
Sept. 9…………………..Queensland
Sept. 23…………………Queensland
Oct. 14…………………..TBA
Oct. 26…………………..South Australia
Nov. 4…………………….Victoria
Nov. 11-12……………..New South Wales
• KURT CASELLI RIDE DAY ON DECEMBER 10 AT GLEN HELEN
The 4th Annual Kurt Caselli Memorial Ride Day presented by Rocky Mountain MC/ATV is Saturday, December 10th, 2016 (starting at 9:00 a.m.). Join the Kurt Caselli Foundation for a great time with family and friends. Festivities include: Glen Helen National Track, Caselli Team Challenge race,  Off-Road Loop With Timed Special Test,    Kids Only Practice On The Main Track, Pee-Wee Track, Great Raffle Prizes & Give Away's and Live Auction. For more info go to www.kurtcaselli.com.
• KYLE CUNNINGHAM WINS CHEMNITZ SUPERCROSS IN GERMANY
Gavin Faith won the first night in Saxony and Nick Schmidt won the second night, but after two nights of racing it was Kyle Cunningham's 2-2 that earned him the "King of Chemnitz" crown. In the 250 class, Adrien Malaval scored a 3-1 weekend in front of Luca Nijenhuis' 1-4 and Julien Lebeau's 2-3.
RESULTS FRIDAY NIGHT
1. Gavin Faith…….USA
2. Kyle Cunningham…….USA
3. Charles Lefrancois…….Fr
4. Jace Owen…….USA
5. Jesse Wentland…….USA
6. Filip Neugebauer…….Cze
7. Boris Maillard…….Fra
8. Cade Clason…….USA
9. Dominique Thury…….Ger
10. Steve Mages…….USA
11. Steven Clarke…….Eng
12. Austin Politelli…….USA
RESULTS SATURDAY NIGHT
1. Nick Schmidt…….USA
2. Kyle Cunningham…….USA
3. Chris Blose…….USA
4. Steven Clarke…….Eng
5. Dominique Thury…….Ger
6. Steve Mages…….USA
7. Jesse Wentland…….USA
8. Borris Maillard…….Fra
9. Sullivan Jaulin…….Fra
10. Charles Lefrancois…….Fra
11. Jace  Owen…….USA
12. Gavin Faith…….USA
OVERALL CHEMNITZ RESULTS
1. Kyle Cuningham………2-2
2. Jesse Wentland………5-7
3, Charles Lefrancois…….3-10
4. Gavin Faith…….1-12
5. Dominique Thury…….9-5
• SIOUX FALLS, SOUTH DAKOTA. POLICE GET AN OFF-ROAD BIKE…SORT OF

The Sioux Falls, South Dakota, police department have been donated a Triumph Tiger XR for use during patrols—and for enforcement in parks, bikes trails and offroad areas. Lets hope these are smooth bike paths because this is not an off-road bike by industry standards. The Triumph Tiger XR weighs 414 pounds and has a three-cylinder 800cc engine. The Triumph was leased to the police department for $1 a year by local Triumph dealer Vern Eide Triumph. Lieutenant Jeff Garden said that the off-road motorcycle will be an asset to the fleet, "Pretty much every day it's going to be in use."
• PROMO VIDEO FOR NEXT WEEKEND'S GENEVA SUPERCROSS
• 2017 GRAND PRIX SCHEDULE CHANGE: SAN MARINO OUT
Charlotte is still on the MXGP schedule, but will be held on a Monday this year. Glen Helen is not on the 2017 schedule.
The San Marino GP previously scheduled on July 9, 2017, has been canceled — it could be reschedule in 2018. Additionally, the Italian GP in Trentino on April 16, 2017, will be moved to Maggiora's date (which was scheduled for June 25). Maggiora and Trentino will just switch dates—with Trentino moving to June 25th and Maggiora on April 16. Expect more changes.
REVISED 2017 FIM MOTOCROSS WORLD CHAMPIONSHIP
Feb. 25…………………….Qatar (Saturday)
Mar. 5………………………Indonesia
Mar. 19…………………….Argentina
Apr. 2………………………Mexico
Apr. 16……………………..Maggiora, Italy (Date change)
Apr. 23…………………….Holland
May 7………………………Latvia
May 21…………………….Germany
May 28…………………….France
June 11…………………….Russia
June 25……………………Trentino, Italy (Date change)
July 2……………………….Portugal
July 9……………………….San Marino (Cancelled)
July 23……………………..Czech Republic
Aug. 6……………………..Belgium
Aug. 13…………………….Switzerland
Aug. 20…………………….Sweden
Sept. 3………………………USA (Monday)
Sept. 10……………………Holland
Sept. 17…………………….France
• MXA'S KTM CRANK NUT WARNING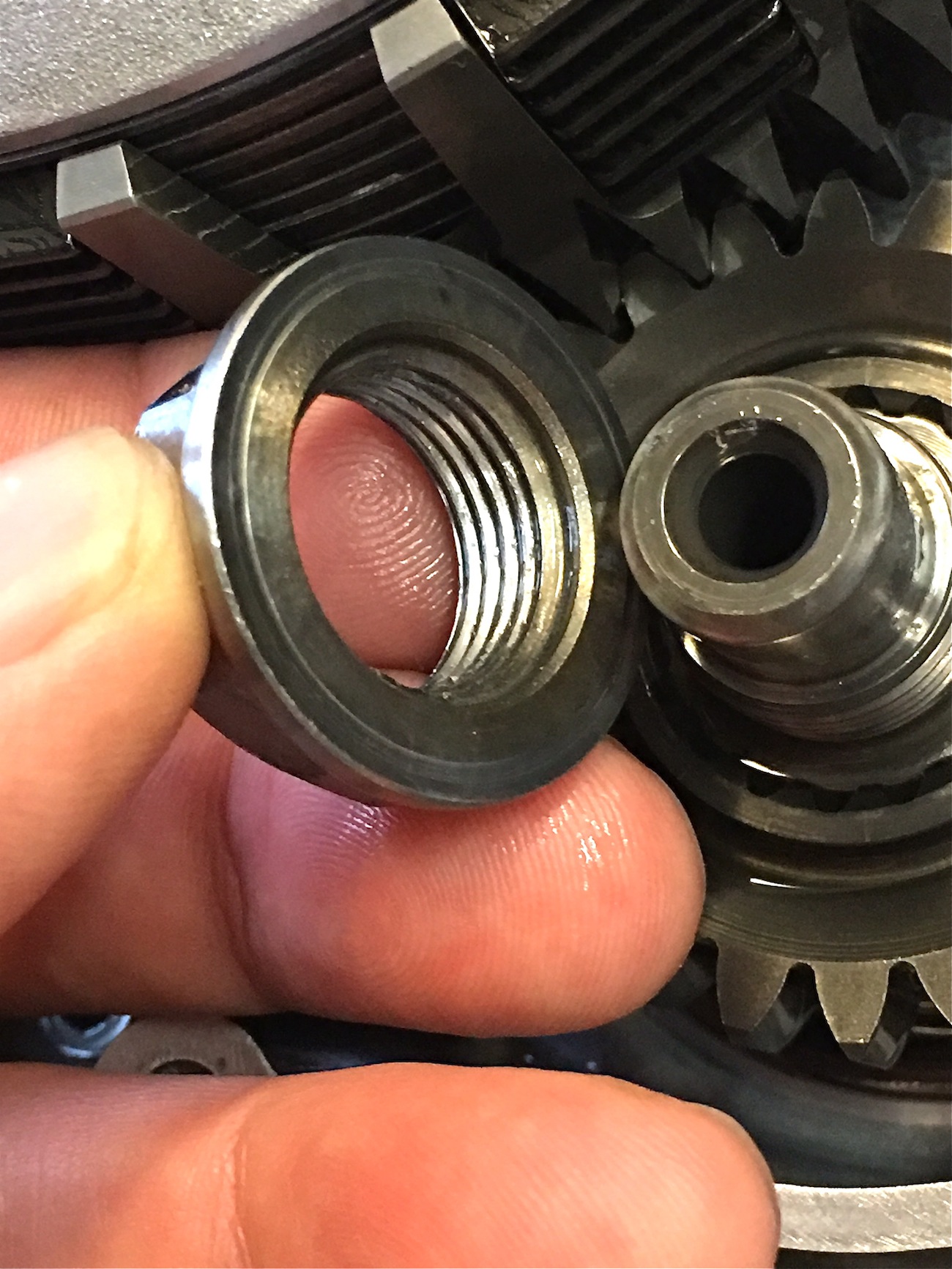 The offending nut.
Last weekend at the REM races, N2-Dirt's Brian Bolding found five KTM 350SXF's with loose crank nuts on the clutch side. This nut cannot fall off the end of the crank, but it can spin against the case, wear enough aluminum away to clog the oil lines and even allows the snap ring and crank seal to walk out. We recommend that you check the nut on the end of the your KTM 250 or 350 crank — it does require draining the water and removing the impeller to get to. The first signs are some strange engine noises, followed by the cam chain tensioner's hydraulic lines getting clogged and eventually a ton of aluminum in your oil filter (you may have to cut the oil filter open to see it). We talked to KTM and expect a KTM dealer bulletin to be sent out. This only affects KTM 250SXF and 350SXF engines and not the 450SXF.
• THE FINAL RACES OF 2016

GENEVA SUPERCROSS
Dec. 2-3………………………Geneva, Switzerland
2016 REM MOTOCROSS
Dec. 3………………………….Glen Helen, CA
Dec. 10………………………..Glen Helen, CA
Dec. 17…………………………Glen Helen, CA
OTHG CHRISTMAS TOY DRIVE MX
Dec. 4………………………….Perris, CA
KURT CASELLI RIDE DAY
Dec. 10…………………………Glen Helen, CA
• NICE TOUCH! A RARE POST-RACE THANK YOU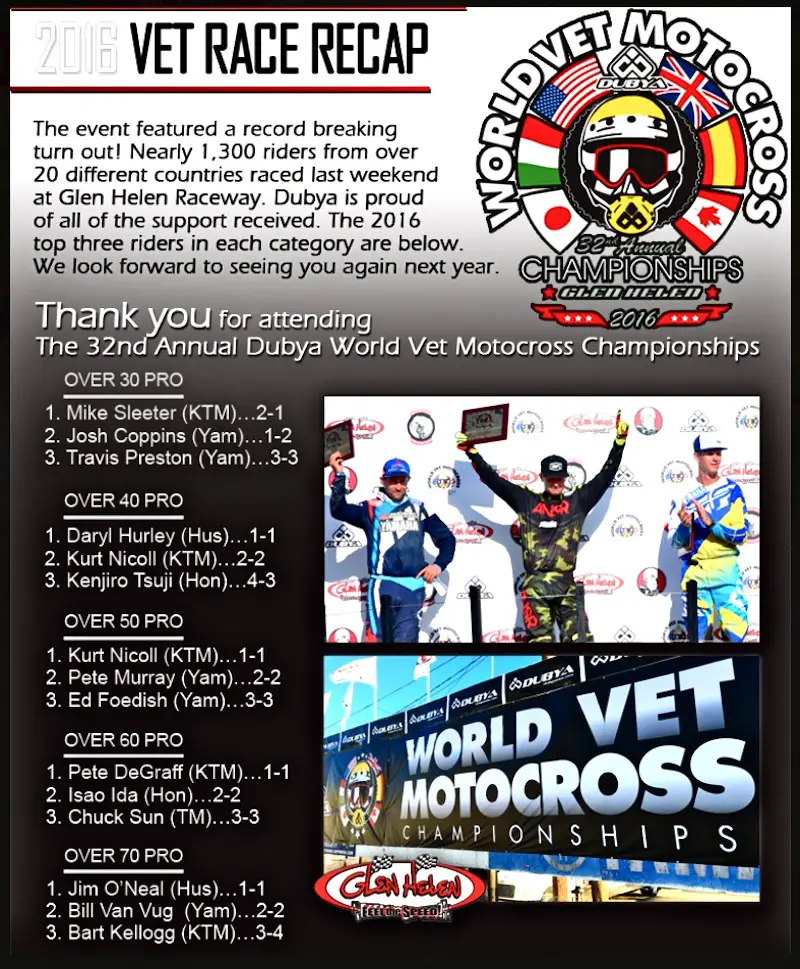 The 2016 Dubya World Vet Championship may be over, but its nice to see that the organizers took the time to thank the 1300 riders who showed up.
• HUSQVARNA PRODUCT SPOTLIGHT: WAVE SEAT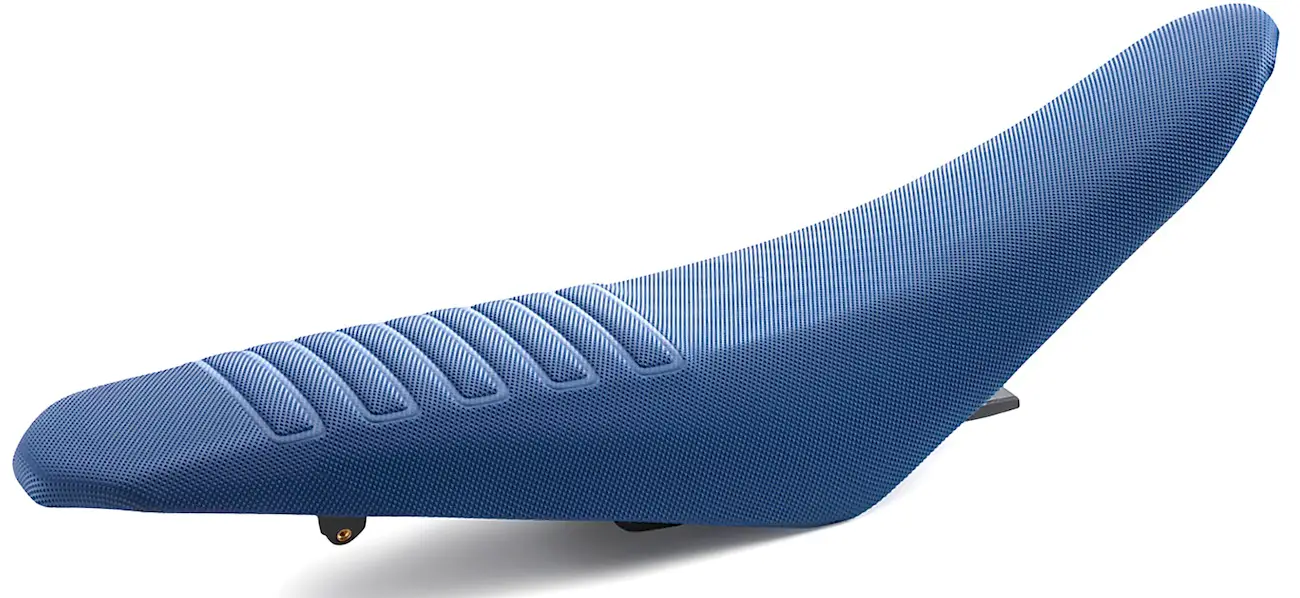 This specially designed 2016-17 Husqvarna Wave Seat provides great freedom of movement, but still offers a perfect hold. The "wave surface" acts as a step even though there isn't one. It is only offered in the standard seat height and is available for all 2016-17 model TC/FC/TX/FX/TE and FE models. The retails price is $124.99. For more info see your friendly local Husky dealer.
• 2017 DAKAR RALLY COURSE IN DETAIL
• 2016 MINI O'S CHAMPIONS
250 Pro Sport…Justin Cooper
250 A…Sean Cantrell
250 B…Garrett Marchbanks
250 B Stock…Austin Winslow
250 C…Antonio Calavano
250 C Stock…Shane Donlon
450 Pro Sport…Justin Cooper
450A….Sean Cantrell
450 B…Carter Halpain
450 B Stock…Kobe Heffner
450C…Cole Tompkins
450C Stock…Hunter Schlosser
Schoolboy (12-16)…Jalek Swoll
Schoolboy (13-16)…Garrett Marchbanks
College (16-24)…Juan Luzzardi
Supermini (12-15)…Dilan Schwartz
Supermini (13-16)…Seth Hammaker
85 (12-13)…Nathanael Thrasher
85 Stock (12-13)…Nathanael Thrasher
85 Senior (12-15)…Carson Mumford
85 Senior Stock (12-15)…Nathanael Thrasher
125 Two-Stroke…Austin Black
Over 25…Ricky Renner
Over-30…Brad Smith
Over-40….John Grewe
Over-50…John Grewe
Photos: Debbi Tamietti, Motul Suzuki, Suzuki World, Husqvarna, Vern Edide Triumph, MXA, Robert Reisinger and John Basher