MXDN FOLLOW UP, VILLOPOTO'S & TEDESCO'S SMOKERS | MID-WEEK REPORT

#WHIPITWEDNESDAY


Rider: Kevin Windham
Year: 1999
Photographer: MXA Archive
TWO-STROKE SPOTLIGHT: VANESSA SMALE'S 2016 YAMAHA YZ125
"Here's a mod list and lot's of pics of my 2016 Yamaha YZ125👍. I did a complete frame up nut and bolt rebuild/deep clean/semi-polished frame/engine, fully serviced/greased linkage/rear shock/swingarm/steering/bearings/axles and engine mounts with 50/50 grease and copperslip mix, all fastener's torqued to specs as per the manual etc.
Brand New ex-team-Samsung-Yamaha Gold Talon wheels with carbon fiber hubs/stainless bulldog spokes/black spline drive nipples/new Pirelli Scorpion tires/brake discs and inner-tubes which I bought direct from team owner Roy Emberson.
New X-trig rocs triple clamps with phds bar mounts
Suspension work: Kashima coatings on upper fork tubes and shock body/black DLC coating on lower tubes and shock shaft/hard anodizing on axle lugs/shock caps/adjusters/clickers/shock rod end/new Zeta quick adjust fork caps/new Zeta aluminum fork pistons/new Zeta bottom fork protectors/standard ti rear spring/standard fork springs/SKF fork seals with standard dust seals/valving set for 13 stone.
New carbon fibre 6.5 liter fuel tank. Note: this tank uses 2010-2013 YZ250F radiator shrouds.
Renthal 997 Twinwall bars
New Carbon ignition cover
New Pro Carbon front numberplate
New front/rear brake pads
New Vertex piston kit
New V-force 3
New HGS pipe/silencer
New BUD racing cylinder head
New Genuine Yamaha airbox
New plastics and graphics
New Bolt fastener kit
New Fusion USA seatcover
New Sunline gear lever
New Works Connection rear brake return spring

New titanium Pro footpegs
VGC GYTR clutch cover
New Renthal R3 o-ring chain
New Dirt Tricks Zirconium Chromium 49t rear sprocket
New GYTR talon groovelite 13t front sprocket
New Acerbis carbon look chain guide
New TM Designworks swingarm chain slider
New billet chain adjuster blocks
New Titanium chain adjuster nuts/bolts
New titanium barrel/ignition cover/clutch cover/case saver/water pump cover/cylinder head mount/top/bottom shock mount fasteners
New titanium rear axle nut
New Pro Carbon bashplate
New Pro Carbon rear disc cover
New carbon shock mudflap
New Pentek billet front sprocket guard/case saver
New fastec racing billet rear brake caliper guard
New Apico billet brake/clutch lever's
EDITORS NOTE: Please keep those submissions coming. If you would like your bike to be featured in the "Two-Stroke Spotlight," please email me at [email protected]. All I ask is that you give a breakdown of your bike and a detailed description of the build. Please also send a few photos of your steed. By submitting your bike for the "Two-Stroke Spotlight," you agree to release all ownership rights to the images and copy to MXA. Please don't email me spam or try selling me Taylor Swift concert tickets or email me spam. I already celebrate T-Swizzle's entire collective, and there will be "bad blood" if you send me junk mail. See what I did there? Happy submitting your smoker.
WHAT THE MXA WRECKING CREW IS UP TO
We asked Ryan Villopoto if he would let us test his YZ125 he raced this year at some of the 125cc All-Star races that were hosted at select outdoor Nationals. He said, "No problem," as he is done with it until next year. 
Villopoto's engine was a pretty standard build by Pro Circuit. 
We had our chief test rider, Dennis Stapleton shake down the tiddler. 
This was supposed to be Ivan Tedesco's TC125 to race at the 125cc Dream Race up in Washougal. It didn't get finished in time. That meant we got to break it in first. 

The Pro Circuit TC125 powerplant was faster than Villopoto's YZ125, although the powerband was narrower making it harder to ride. 
Dennis Stapleton lets the TC125 eat.
MXA's video guy, Travis Fant captures Dennis' thoughts on Villo's YZ125. Make sure to subscribe to MXA's YouTube channel so you don't miss the video.
MILESTONE LAST WEDNESDAY | photos by Josh Mosiman

Man's best friend at the track supporting his rider. 
Ryder DiFrancesco and Hunter Yoder prepare for Monster Cup. 
Yoder getting sideways.
Ryder looks over at Ryan Villopoto with his dad and Donnie Hansen.
Ryan putting in laps to get ready for the Australian Supercross. 
Ryder and wrench. 
Weston's Autotrader RM-Z450. 
MXA's Editor, Jody Weisel taking notes on the testing day.
Ryan getting some whoop practice in.
MXA | MOTO | TRIVIA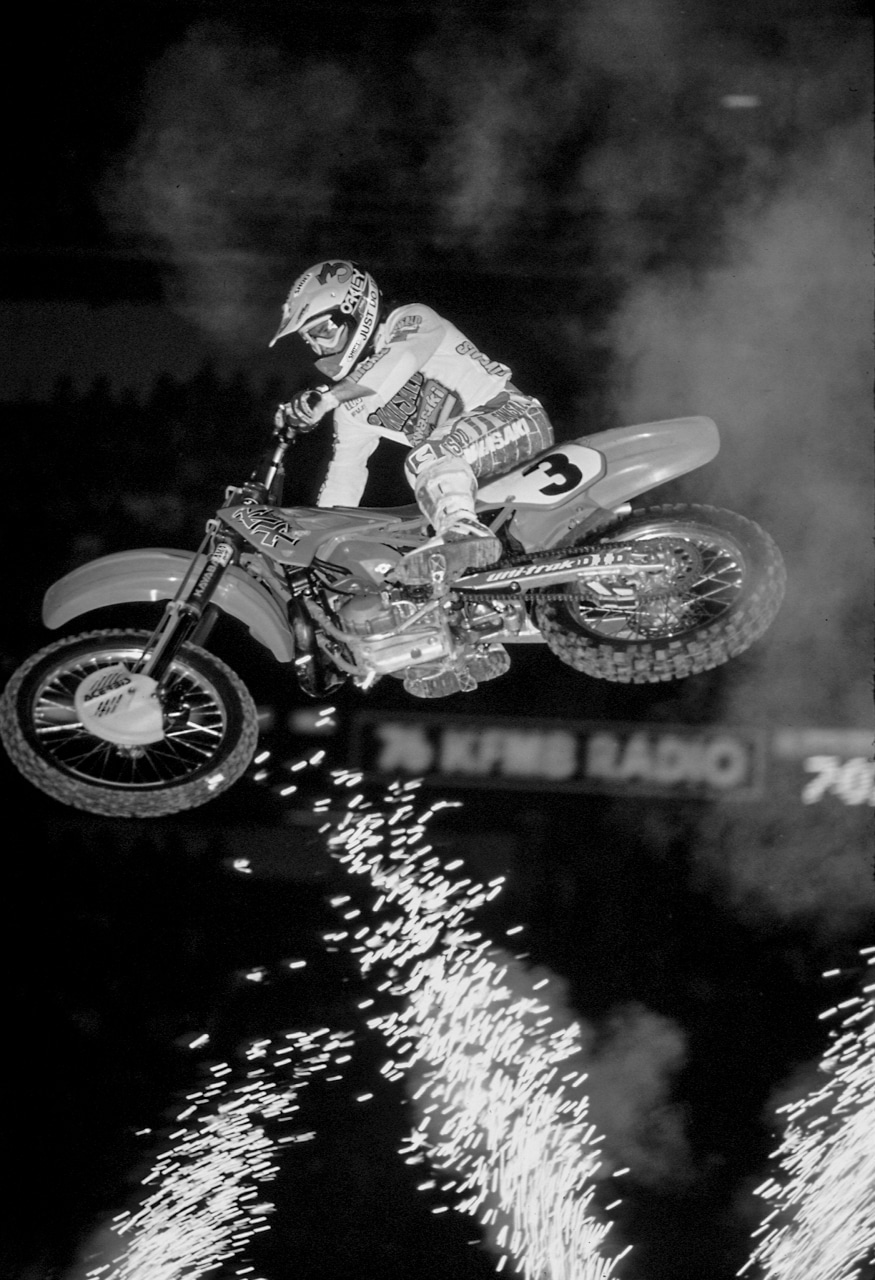 Name the rider. Answer at the bottom of the page.
CRAIGSLIST FIND | CLEAN 2015 KAWASAKI KX450F
Looking for a clean 2016 KX450F? This might be it. 

LOST BUT NOT FORGOTTEN | PROTOTYPE ALUMINUM FRAME YZ125
The Japanese were trying to hide the updated aluminum frame by painting it blue so no-one would notice. 
MXA'S SNAP CHAT FEED
If you are a Snap Chat user then add us to your stories. Get sneak peaks of everything moto. Our Snap Chat name is motocrossaction. Or just take a Snap of the picture above and it will add MXA automatically to your feed.
TALK MOTO WITH MOTO MINDED PEOPLE. JOIN MXA'S FACEBOOK GROUP CHAT

We love everything moto and want to bring all moto junkies together into one place to share their two cents, ideas, photos, bike fixes, bike problems and much more. To check it out first you must need to or already have a Facebook account. If you don't, it isn't much work and you could even have an alias so nobody knows it is you. To join click HERE. After you request to join we will accept your request shortly after.
2018 MOTOCROSS des NATIONS THROUGH DENNIS STAPLETON'S LENS
Supporting something that matters. #two-strokesmatter
France winning five times in a row is a big achievement. However, to best USA's winning streak they will need 7 straight more wins.
Fans came from far and wide. 
This guy blended in well.
Eli Tomac practicing a start. 
Tony Cairoli (left), Jeffrey Herlings (center), Gautier Paulin (right).
Italy's Alessandro Lupino.
The engine of Eli Tomac's KX450 after the race. 
Ken Roczen went 9-25 on the day. 
Travis broke the cases on his factory RM250 engine and had to race with the stock engine in his second race. 
Bikes were overheating left and right.
Dylan Ferrandis rode great.
The crowd takes to the track after the race is over.
Team France's bikes. 
Celebration time.

JOIN MXA'S FLIPBOARD PAGE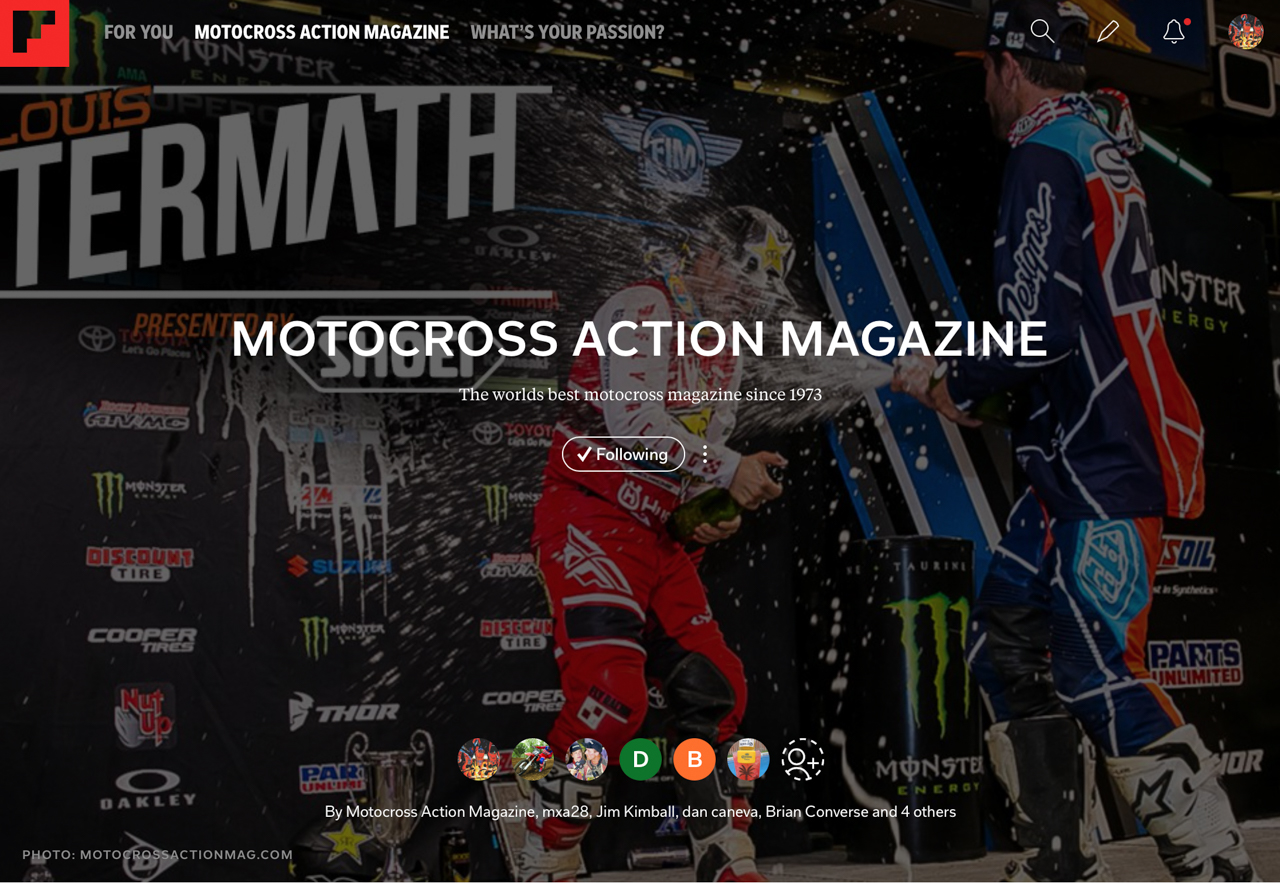 If you use Flipboard make sure to subscribe to the Motocross Action page for all the updates on our website. Click HERE to check out the page.
CLASSIC PHOTO
Nick Wey back in 1999 aboard a Pro Circuit KX125. 
MXA QUESTION OF THE WEEK ANSWER
The answer was Stefan Everts and the winner of the FXR swag is Ben Stevenson.

---
Moto Trivia answer: Jeff Ward.