MXDN IRON! WE RIDE RYAN DUNGEY'S FACTORY RED BULL KTM 450SXF
When wanted to ride Ryan Dungey's KTM 450SXF works bike we had a plan. It was a simple plan. We called KTM team manager Roger DeCoster and asked if he would give us Dungey's bike.
Roger asked, "When would you like it? What track do you want to ride it at? Who will ride it? Do you want his Supercross suspension or his outdoor suspension? Do you need me, or will Carlos Rivera and Tom Moen do?" To which we replied, "Thursday. Glen Helen. Jody, Dennis, John and John. Outdoor. Carlos and Tom are fine." That was it?done deal.

The similarities between Ryan Dungey's works KTM 450SXF-FE and the 2013 KTM 450SXF are remarkable.
A word about the bike: no bike in 2012 has engendered as much controversy, public interest and Internet palaver as Ryan Dungey's works KTM 450SXF-FE. Since the bike didn't exist 12 months ago?and really only exists today because of the necessity of meeting the AMA's homologation rule?the public is enthralled by details about this ground-up race bike.

WE WOULDN'T BE OVERSTATING THE CASE TO SAY THAT RYAN DUNGEY'S WORKS KTM 450SXF-FE?AND THE 2013 PORODUCTION THAT GREW FROM IT?HAS BEEN ROGER DECOSTER'S BABY FROM DAY ONE.

Dungey's bike has some ultra-trick Pankl parts internally, but  with mapping, head porting and a pipe you could come close.
We wouldn't be overstating the case to say that Ryan Dungey's works KTM 450SXF-FE?and the 2013 production bike that grew from it?has been Roger DeCoster's baby from day one. Roger always had it in the back of his mind that he would hire Ryan Dungey away from Team Suzuki, but there was a fly in the ointment. Roger didn't have a 450cc Supercross bike to sweeten the pot in a Dungey deal?and without a fuel-injected, 450cc motocross bike Ryan would never agree to wear orange.
Job one for Roger was to get KTM to agree to build a totally new 450cc motocross bike. It's no secret that they didn't want to do that. The Austrians had placed all of their eggs in the 350SXF basket and, on a corporate level, they planned to discontinue the 450SXF as early as 2013, but by 2014 for sure.
Roger's task?should he accept it, and he did when he signed a three-year contract to lead KTM to the top of Supercross and the AMA Nationals?was to convince KTM's management to build Dungey a brand-new machine, one that was not on the corporation's five-year plan, three-year plan or one-year plan.

We expected Dungey's massive 52mm, all-aluminum, WP Cone Valve forks to be rigid. Not so! They were very nice.
Amazingly, Roger did just that. DeCoster got the support of KTM's upper management, a generous budget from the Austrian bean counters and a support team that he stole from the ruins of Team Suzuki. Once KTM committed themselves to Roger DeCoster's accelerated six-month plan, they had to build not a single works bike but 400 copies to sell. One bike would have been tough, 400 was almost impossible. Roger's plan was a dangerous gamble, and KTM's upper echelon had to be asking themselves three soul-searching questions: (1) What if the prototype is no good? (2) What if we can only make 399 copies? (3) What if Dungey gets smoked?
The rest is history. Dungey won KTM its first-ever 450 Supercrosses, 450 National and 450 AMA Nationals Championship. Which brings the MXA wrecking crew and Ryan Dungey's works KTM 450SXF-FE onto a collision course. We have ridden the production-based "Factory Edition" and the 2013 production bike, but the fans real interests lie not in riding the replicas, but in the real deal. The MXA wrecking crew has ridden virtually every works bike made, and Ryan Dungey's fuel-injected KTM 450SXF-FE is the works bike of the moment. 
When Tom Moen and Carlos Rivera unloaded Ryan Dungey's bike in the pits, the MXA wrecking crew circled it like sharks on chum. Before we rode it, we had a flurry of questions that had to be asked…and answered. Here they are.
HOW MUCH DOES IT WEIGH?
227 pounds. We know this for a fact, because after Dungey won the 2012 Atlanta Supercross, the AMA impounded the bike and weighed it. This is 16 pounds lighter than the current KTM 450SXF. The AMA weight limit is 220 pounds and most factory bikes come in at around 222 pounds. Why is Dungey's bike 5 pounds heavier? Electric start.
The 2013 production bike weighs 240 pounds.

KTM?offers its factory riders three different front calipers. Ryan chooses the powerful 28mm piston, but sets it up soft.
WHERE DID KTM LOSE THE WEIGHT?
Any weight-loss plan starts with losing grams instead of pounds. The majority of bolts on Dungey's bike are either aluminum or titanium?depending on the stress they take. The Red Bull graphics are printed on super-thin vinyl. The Selle Dalla Valle saddle has a special open-cell foam that makes it feel like a feather. The subframe is titanium and considerably lighter and more durable than the stock aluminum one. The engine uses special Pankl parts to save weight. Plus, the new engine is die-cast instead of sand-cast.
WHAT WAS THE BIGGEST WEIGHT SAVER?


This is the battery that starts Dungey's KTM 450SXF.

KTM contracted a battery company (we'd guess Shorai) to build them a small, lightweight, lithium-iron phosphate battery that saves almost three pounds. Additionally, the starter is total loss, which means that KTM removed the charging system from the starter, and the battery must be replaced or recharged as it wears down.
HOW MUCH OF DUNGEY'S ENGINE IS WORKS?


Ryan's chassis is the most neutral handling bike we've ever tested. No head shake. No oversteer. No understeer. Perfecto.
If you think about it, everything about Dungey's bike, chassis and engine is works, because his bike is number one of a series that is represents all of the 2013 KTM 450SXFs. The real question is, how much of Dungey's bike is works compared to the "production bikes?
Very little. KTM claims that Ryan's works bike uses the stock Del West valves, five-speed transmission, pork-chop crankshaft, diaphragm clutch, cylinder head (although ported), electric starter, center cases and castings. As for the works parts, aerospace and Formula 1 supplier Pankl provides the piston and connecting rod, while Italian electronics company GET supplies the programmable ignition.
HOW MANY MAPS ARE IN DUNGEY'S BLACK BOX?


All of KTM's factory bikes, in Europe and America, run Italian-made Kite hubs. The brake rotor is a 260mm Moto-Master.
One. Ryan's mechanic, Carlos Rivera, says that Ryan only needs one map at a time?the best one. If he is switching maps at the track on race day, then something is drastically wrong in testing. Additionally, KTM doesn't rely on traction control as much as some other factory bikes. Carlos explained that there are times when traction control could help, but that those times are offset by an equal number of times when it hinders performance. Those included step-on and step-off tabletops (when you need instant snap), flat-track corners (where spinning the rear wheel helps get the bike turned) and in varying dirt conditions (where you want the engine wound up for maximum output).
WHAT'S THE TRICKEST PART ON RYAN'S 450SXF-FE?
KTM mechanic Carlos Rivera says, "The electric start. At first, I was unsure about it, but now I think it is the best part of the bike. When Ryan crashed at Atlanta, he was pressing the button as he got up. If you blinked, you wouldn't have known he was down. Riders with kick-starters would have been there a long time. I think electric start is a big advantage in a title chase."
IS THE ELECTRIC START TRICKER THAN THE CONE-VALVE FORKS?
Maybe. Every MXA test rider marveled at the 52mm, aluminum, WP Cone Valve forks. These jumbo beauties ooze coolness. You should note that we called them "aluminum" forks. Why? Because every part of Dungey's forks are made from aluminum; the stanchions, lugs, 22mm X-Trig triple clamps, cartridge rods and fork legs. The only steel parts on the WP forks are the steel 0.49 kg/mm fork springs. They do not come on the production KTM 450SXF.
WHAT ABOUT THE SHOCK?
Dungey's bike is equipped with the dual-adjuster WP SXS "Trax" shock. It features not only high- and low-speed adjusters, but is equipped with KTM's unique "dropout" feature. What exactly is a dropout shock? Internally, the shock speeds up the rebound in order to settle faster and allow the rear tire to maintain better contact with undulating ground. As soon as the wheel leaves the ground, a valve opens to let the shock extend. It's designed to work in small chop and braking bumps while compressing fully and allowing the spring to take the brunt of the impact over jumps and large hits. It was originally called a "dropout shock" because it provides negative travel to help follow the ground?the name was changed to "Trax" for marketing purposes.
Guess what? Dungey runs the Trax shock (with a 5.4 kg/mm spring), but he disables the dropout feature for Supercross.

HOW EXOTIC ARE RYAN'S WHEELS AND BRAKES?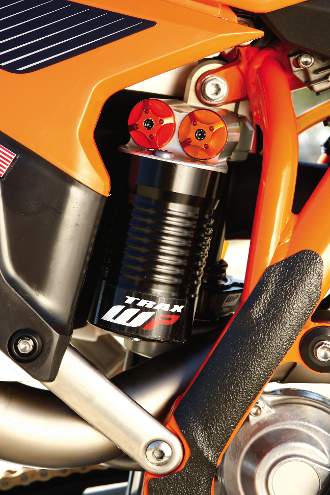 Don't let all the fancy dials wow you. The trickest part of the WP Trax shock is the dropout feature?which Ryan disables.
With the exception of the works Brembo caliper (the 28mm piston version), the KTM brakes weren't oversize or overly massaged. In a change from stock, Ryan runs a 260mm Moto-Master front rotor instead of the stock 260mm Braking disc. The wheels are built up from Italian-made Kite hubs laced with D.I.D. spokes to D.I.D. Dirt Star LT-X rims. These are the same wheels, brakes and hubs that KTM has been using for several years on both the AMA and GP circuits.

HOW MUCH HAS THE FRAME BEEN MASSAGED?
"We use a stock frame right off the production line," says Carlos. "We don't add any extra gusseting, but we do weld on skid-plate tabs and special Roger DeCoster-designed footpeg mud guards before sending it out to be powder-coated orange. And, we insist on a very light powder coating to save weight."

TEST RIDE: WE HAD A GREAT TIME
Four MXA test riders got to spend as much time as they desired on Dungey's 450SXF-FE. We didn't drain our brain trying to put together a pool of test riders?every MXA editor volunteered. That gave us an AMA Pro, a 450 Intermediate, a Vet Novice and an Old-Timer. This is MXA's standard-issue test-rider combo, because it provides the widest spectrum of talent. It should be noted that when testing works bikes, MXA's Pro test rider likes massive horsepower and stiff suspension, while the regular folk want something softer and more manageable. Not this time…for a change, we all agreed!
Ryan Dungey's bike is effortless to ride (for the terminally fast or chronically slow). We've never ridden a factory bike that was so well balanced. Nothing could shake Dungey's KTM up. It had a super-flat profile that never pushed on the flat, tucked in the rough or wiggled at speed. This is one of the best overall chassis' that we have ever ridden. It doesn't require any extra effort from the rider?it's as simple as point-and-shoot. It tracks like it's on rails and, best of all, it seems to know where the best line is without any coaxing. No understeer. No oversteer. No head-shake.
As for the engine, it didn't take us long to realize why Dungey looks so smooth and controlled all the time. And, why he comes charging to the front in the late stages of every race. His engine is super manageable. Yes, it is powerful. Yes, it does produce tons of torque. Yes, it has good over-rev. But, and this is a big but, it does it in such a sweet, no-rush, hooked-up manner that you are going fast without any of the nasty sensations of speed, like vibration, noise and blurred vision. You don't get tired because you are one with the powerband, not just a passenger on the overpowering locomotive. Although the fuel-injected, single-overhead-cam, rocker-arm engine produces the typical brisk hit off the bottom, it wasn't jolting. Ryan Dungey's engine is easy breezy to make the most of. You gas and you go?nothing more.

THE GYROSCOPIC FORCES ASSOCIATED WITH SPINNING CAMS, A PUMPING CRANK AND FLAILING VALVES AFFECT MOVEMENT AROUND THE PITCH, ROLL AND YAW AXIS.

The offset on Ryan Dungey's X-Trig triple clamps was a stock 22mm (stamped into both parts). The bar mounts were solid.
We expected Dungey's WP suspension to be stiff. This is the way of the world for AMA factory stars; their milieu puts greater demands on their forks and shocks than what normal Joes?even fast ones?ever endure. So, we were a little surprised to find that every test rider thought that the forks, though stiffer than what they typically run, were actually usable at every speed. Unlike most factory forks, Ryan's 52mm WP forks wanted to move, and when push came to shove they went up and down?and they did it with aplomb. The greatest compliment to Dungey's suspension was that every test rider felt that he could take it to a local race and use it as it was.
If we had any quibbles with Ryan's race bike, they were that his gearing was taller than we liked and his front brake had a spongy feel at the lever. On the positive side, Ryan's throttle was silky smooth. We asked Carlos what parts he used to get such a sensitive feel. Carlos said that all the throttle parts were stock, but that the feel came from peeling the thick coating off of the throttle cables so that they could be more pliable. We got our X-acto knives out immediately.

Ryan Dungey's factory mechanic Carlos Rivera answers question for MXA's Dennis Stapleton.
We should make special note of the weight. The bike is 13 pounds lighter than the off-the-showroom 2013 KTM 450SXF?and that weight savings is evident in motion. However, what is equally significant is the reduced rotating mass of the drivetrain. The gyroscopic forces associated with spinning cams, a pumping crank and flailing valves affect movement around the pitch, roll and yaw axis. With only one cam instead of two, every test rider mentioned how much better Dungey's 450SXF felt in roll than the current double-overhead-cam engine.
The MXA wrecking crew is not easily impressed. We've ridden the bikes of Ryan Villopoto, Chad Reed, Kevin Windham, James Stewart, Dean Wilson, Max Nagl, Kyle Cunningham, Justin Brayton, Trey Canard and virtually every other bike with a big-name rider attached to it through the annals of motocross history. Without pulling any punches, Ryan Dungey's 2012 KTM 450SXF works bike was the best all-around package we have ever seen. His setup?in terms of bars, levers, pedals and seat height?is almost flawless. If KTM is looking for a new test rider for next year's production bikes, he's already on their payroll.