MXGP: GIANT ITALIAN GRAND PRIX PHOTO GALLERY
Click on images to enlarge
Photos by Massimo Zanzani
450 CLASS
It may look like Arminas Jasikonis (27) has the holeshot, but its a rare day when Tony Cairoli (222) doesn't grab the lead off the start…and this day was no different.
Cairoli swept both motos, as was expected in Italy, but his young opponents all faltered in their pursuit. Tony has a 67-point lead over Gautier Paulin.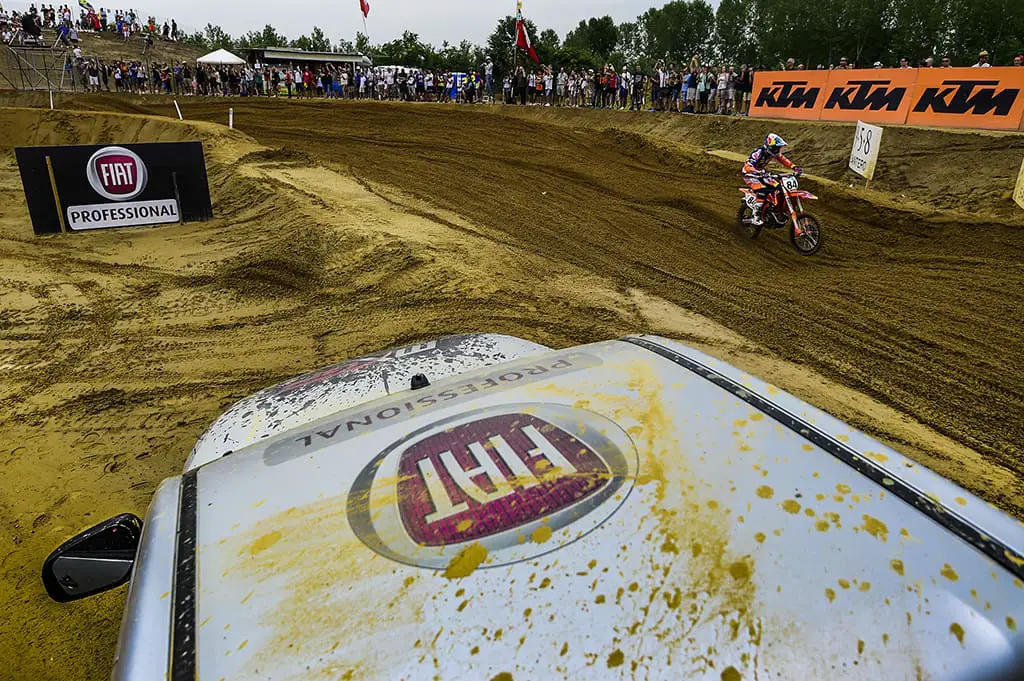 The Ottobiano track was sandy, but Jeffrey Herlings (84) was not the sand master here—Tony Cairoli was. Herlings went 2-2, but is still 96 points behind Cairoli.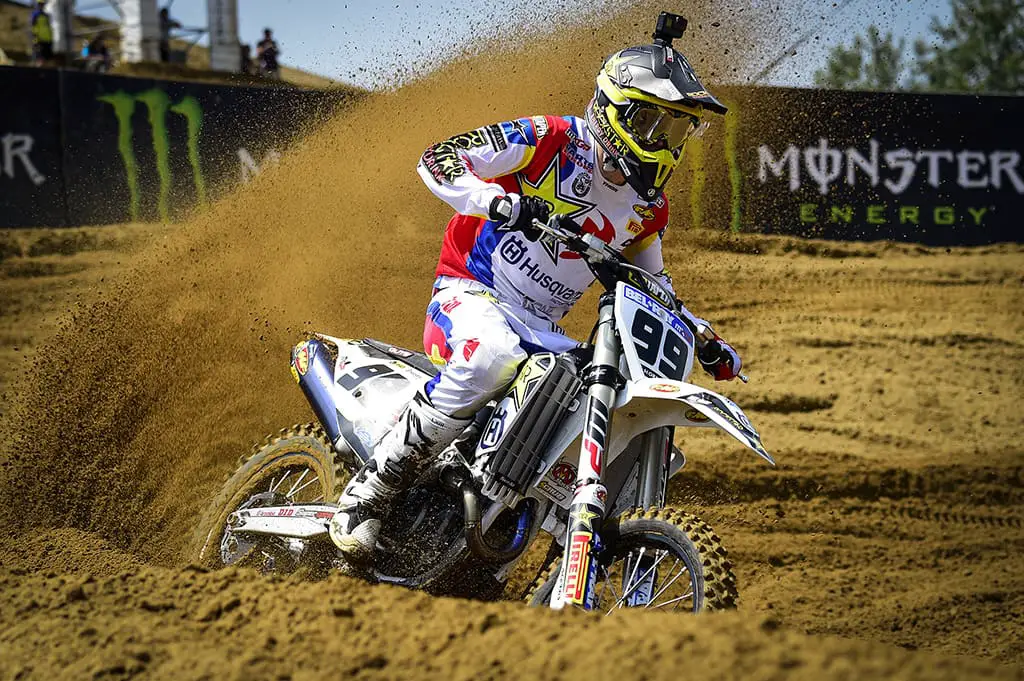 Brit Max Anstie, who isn't even in the top ten in 450 GP points, finally made his mark with a third overall. Max is 12th overall, but missed two GPs with injuries.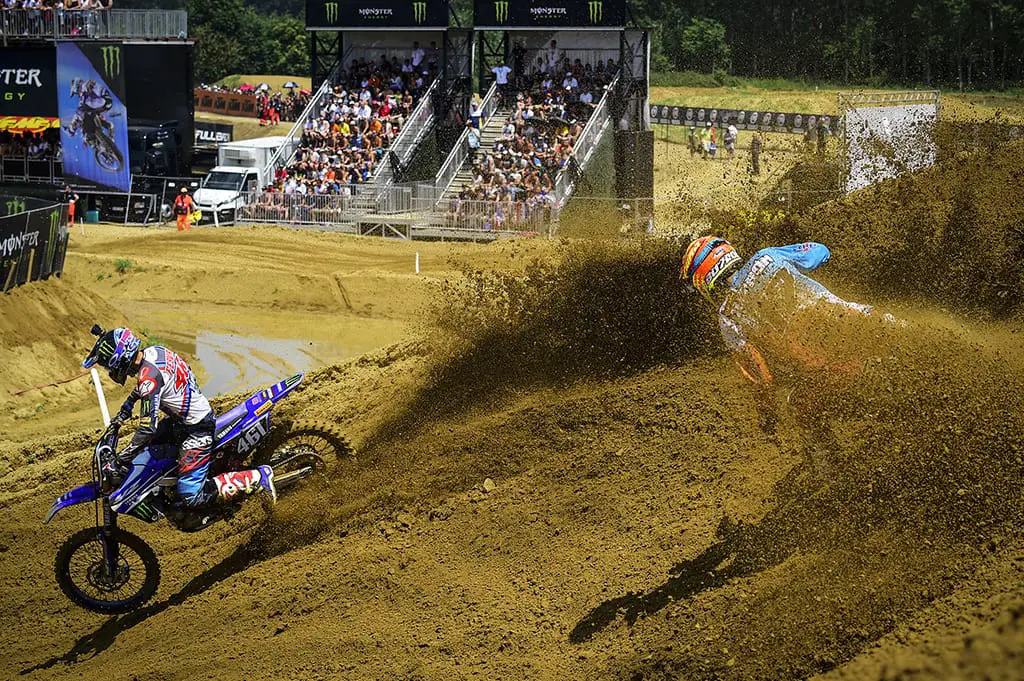 Roman Febvre (461) went 4-6 for fourth overall. Here, Romain is chased by Spaniard Jose Butron who was 14th.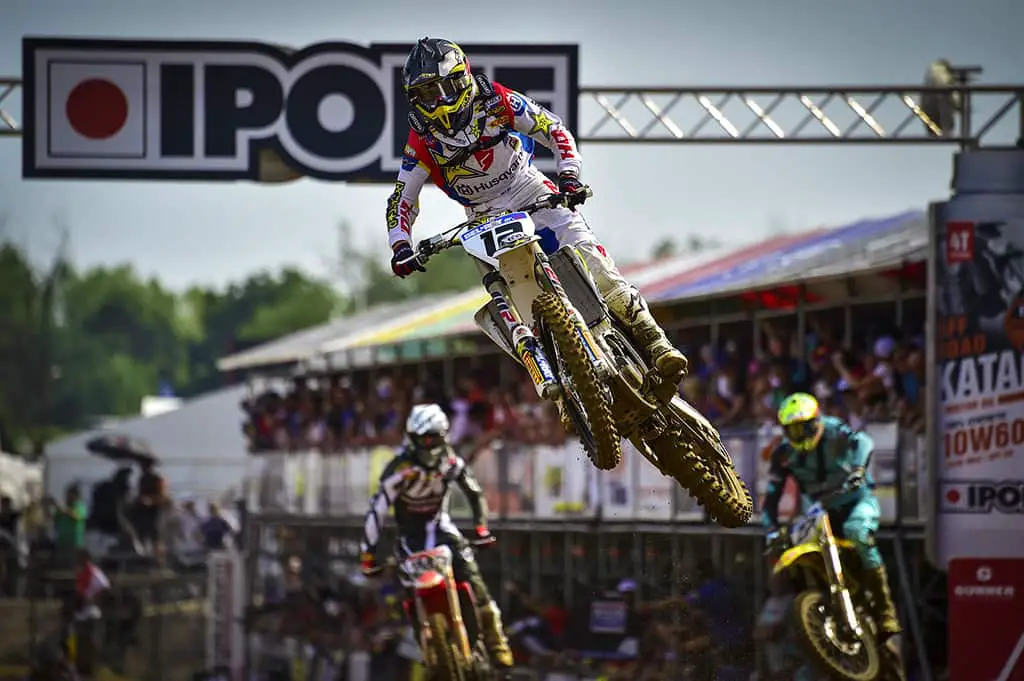 Max Nagl (12) was fifth in Italy. A couple years ago Nagl looked like he was the fastest man in the 450 class (and then got hurt). In 2017 he is already three full races out of the points lead.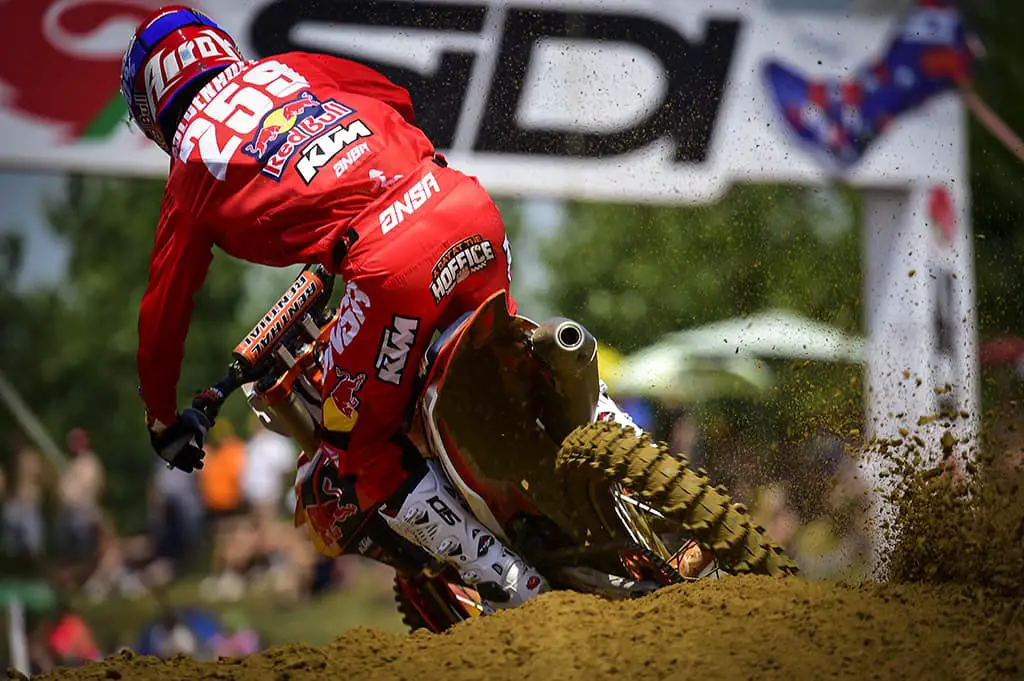 Glenn Coldenhoff, with a "Day at the Hoffice" on his butt patch, went 6-13 at Ottobiano.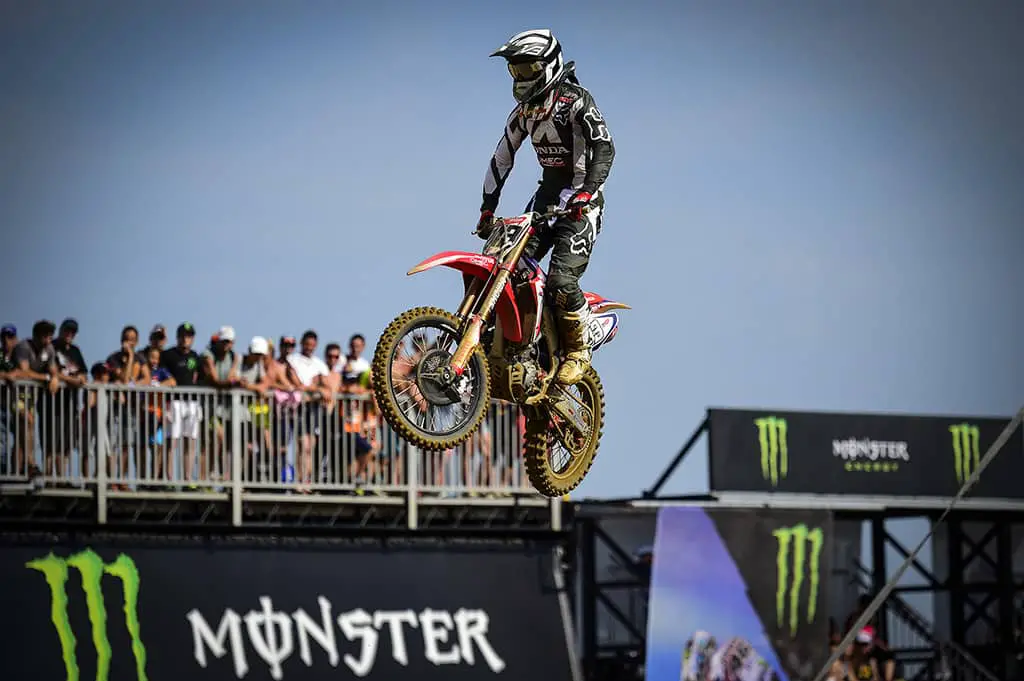 Current 450 World Champion Tim Gajser is back from injury. He went 10-11. Gajser had to sit out France and Russia after concussion.

Arminas Jasikonis is a big boy. Jasonikos has been the sole Suzuki RM-Z450 rider since teammate Kevin Strijbos was injured at round 6. Jasikonis is racing the prototype 2018 Suzuki RM-Z450. Jasikonis wasn't allowed to race in Qatar because of visa issues.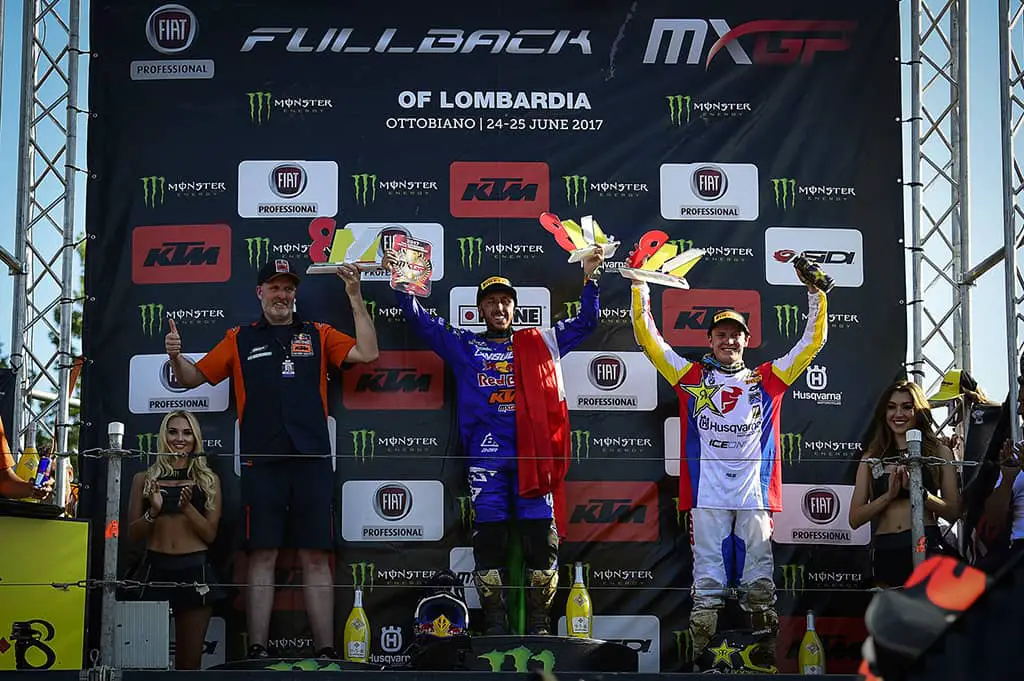 The 450 podium: Dirk Geukens (getting the manufacturer award), Tony Cairoli (Center) and Max Anstie.
RESULTS: 450 ITALIAN GRAND PRIX
1. Antonio Cairoli…1-1
2. Jeffrey Herlings…2-2
3. Max Anstie…5-3
4. Romain Febvre…4-6
5. Max Nagl…7-4
6. Gautier Paulin…3-10
7. Clement Desalle…8-7
8. Arnaud Tonus…9-8
9. Glenn Coldenhoff…6-13
10. Tim Gajser…10-11
FIM 450 WORLD CHAMPIONSHIP STANDINGS
(After 11 of 19 Rounds)
1. Tony Cairoli…431
2. Gautier Paulin…364
3. Clement Desalle…361
4. Jeffrey Herlings…335
5. Tim Gajser…282
6. Romain Febvre…275
7. Jeremy Van Horebeek…261
8. Max Nagl…255
9. Evgeny Bobryshev…245
10. Arnaud Tonus…227
250 CLASS
When the 250 GP season started, with Jeffrey Herlings finally moving to the 450 class, no one knew who the 250 Champion would be. Jeremy Seewer was a favorite and has held onto second in 250 GP points with rides like he had in Italy. His 1-2 took the gold.
Pauls Jonass has held the points lead for the majority of the season. His 5-1 in Italy cost him some points to Seewer, but he still has a 38-point lead.
American Thomas Covington had a 4-3 day in Italy for third overall, but is a distant seventh in 250 GP points.
Benoit Paturel has the speed to win a GP. His 2-7 was good enough for fourth overall. Paturel is fifth in 250 GP points, but only 9 points out of fourth.

Dutch riders always rise to the occasion when sand is involved. Bas Vaessen was fifth in Italy.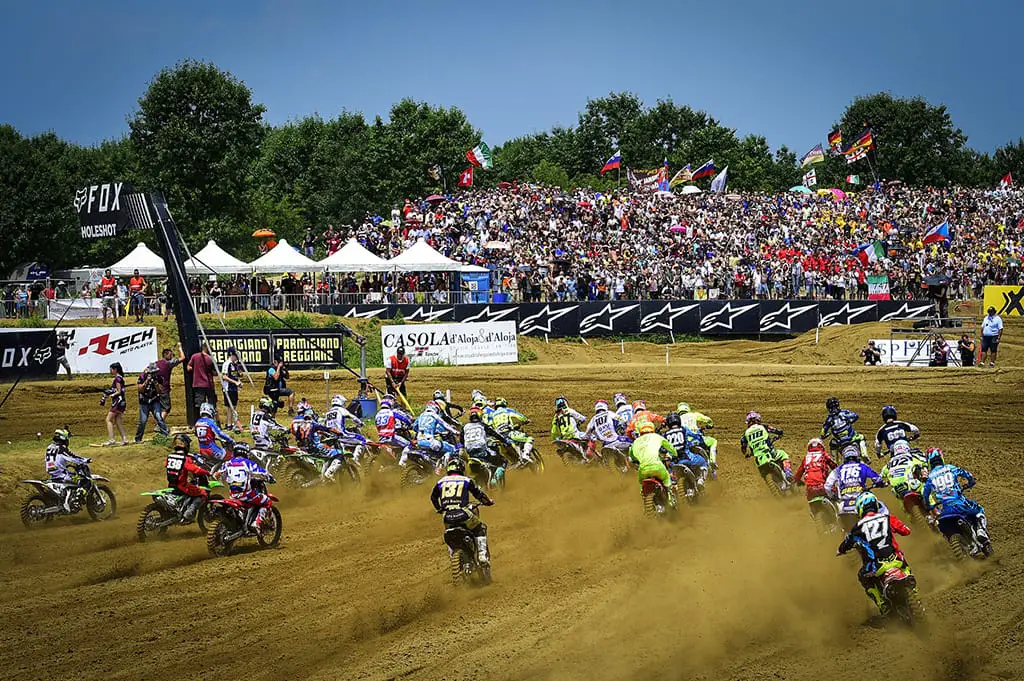 Luka Cmkovic (131) and Anthony Rodriquez (127), who is filling in at Team HRC Honda for two races, may have misjudged the drop of the gate. Cmkovic finished 31st, while Rodriquez went 16-16.
Thomac Kjer Olsen won the EMX250 Championship last year and has surprised a lot of 250 GP regulars this year. Olsen was ninth in Italy, but is still third in 250 Grand Prix points. Fourth in points, Julien Lieber went went 3-10 at Ottobiano and closed to gap to Olsen to only 4 points.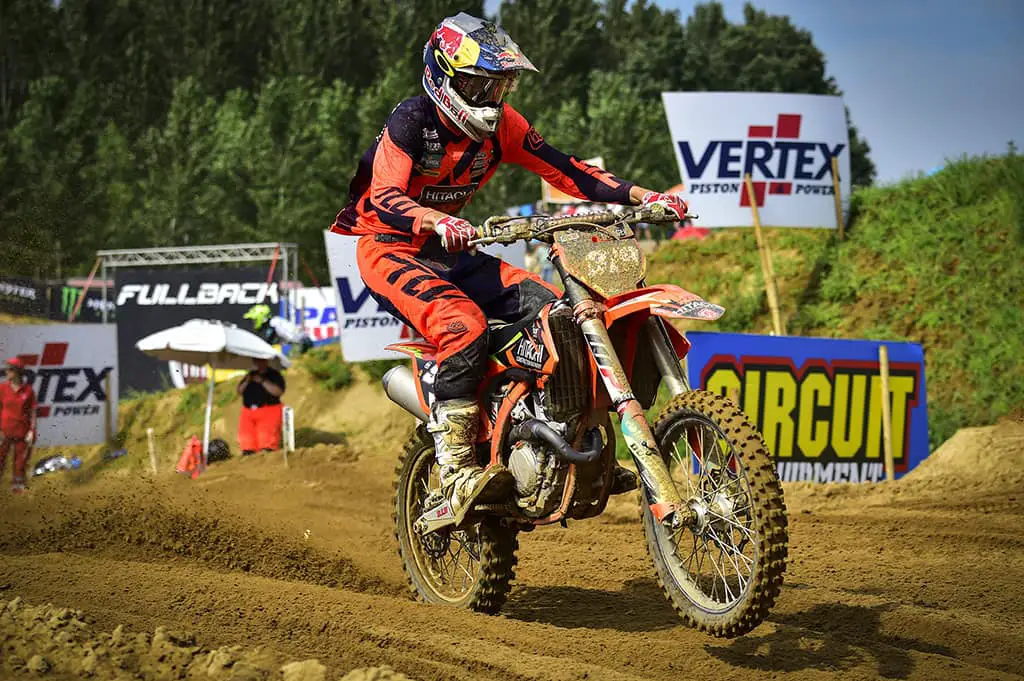 Ben Watson (919) was the first British rider in 13th overall. He was also the only British rider in the 250 class at Ottobiano.
The 250 podium: Pauls Jonass (left), Jeremy Seewer (center) and Thomas Covington (right).
RESULTS: 250 ITALIAN GRAND PRIX
1. Jeremy Seewer…1-2
2. Pauls Jonass…6-1
3. Thomas Covington…4-3
4. Benoit Paturel…2-7
5. Bas Vaessen…7-4
6. Julien Lieber 3-10
7. Alvin Ostlund…8-5
8. Brian Bogers…5-9
9. Thomas Kjer Olsen…10-6
10. Brent Van doninck…9-12
FIM 250 WORLD CHAMPIONSHIP STANDINGS
(After 11 of 19 Rounds)
1. Pauls Jonass…454
2. Jeremy Seewer…416
3. Thomas Kjer Olsen…343
4. Julien Lieber…339
5. Benoit Paturel…330
7. Thomas Covington…263
6. Jorge Prado…233
8. Brian Bogers…212
9. Hunter Lawrence…199
10. Brent Van doninck…195