MY AFTERNOON WITH MIKE GOODWIN: THE FATHER OF SUPERCROSS & A CONVICTED KILLER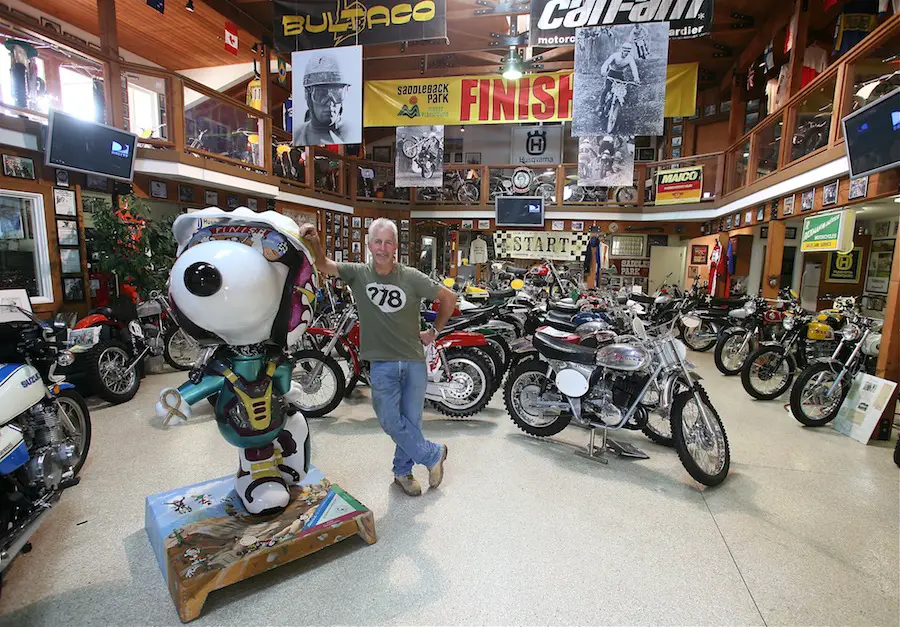 Tom White in his "Early Years of Motocross Museum."
By Tom White
The High Desert State Prison in Susanville, California, houses over 5000 of the worst felons in California's prison system. Murderers, rapists, bank robbers and child molesters are the residents of this relatively new, state-of-the-art penitentiary located 90 miles north of Reno, Nevada, off highway 395.
Cellblock B is home to prisoner Number B-147U, who, in 2007, was convicted by a Pasadena jury for conspiring the brutal killings of motorsports legend and racing promoter Mickey Thompson, and his wife Trudy in 1988. Number B147U is serving two life sentences without the possibility of parole. His outside name is Mike Goodwin — perhaps one of the richest and most powerful men in the sport of motocross…before he went to prison for murder. Recently I heard that Mike Goodwin had applied for a new trial. This brought back memories of my 2011 trip to visit him in prison. Here is that story.
WHO IS MIKE GOODWIN?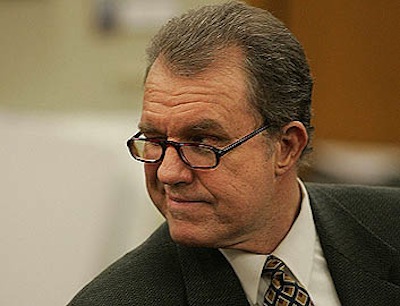 Mike Goodwin at his trial.

Supercross has grown to become the second biggest motorsport in America. Its roots can be traced back to 1972 when rock concert promoter Mike Goodwin contacted the Los Angeles Coliseum management and proposed holding a motocross-type event in the stadium.
Goodwin was a rock and roll promoter and he knew from staging big music events that motocross fans would flock to a motorcycle race if it was easy to get to, had comfy seats and hot dogs only a few feet away. The rest is history. The Superbowl of Motocross was born. Unfortunately, a few years later Mike Goodwin and Mickey Thompson formed a business partnership to promote races and that business deal ran afoul…and in the end, Mike Goodwin was forced out of the sport that he invented. The animosity from that split, which cost Goodwin millions, is the reason that he became a suspect of the murder-for-hire killing of Mickey Thompson and his wife Trudy in the driveway of their home.
WHY VISIT A DOUBLE MURDERER IN PRISON?
Larry Huffman, Mike Goodwin and Brad Lackey at the Pasadena Supercross.
The idea to visit Mike Goodwin in prison actually came from my good friend Larry Huffman. Larry was hired by Goodwin to announce the inaugural Superbowl of Motocross in 1972. Huffman proved to be a great choice as he understood that the announcer was an entertainer and his primary job was to entertain and educate the crowd.
Larry Huffman was inducted into the AMA's Motorcycle Hall of Fame in 2008 for his vocal contribution to motorcycle racing. Larry is, quite possibly, Mike Goodwin's strongest advocate and is convinced that Goodwin's murder trial in Los Angeles County had major flaws. These include the beliefs that the case should have been thrown out due to lack of evidence (other than circumstantial), and most important, Huffman is convinced that Mike Goodwin is innocent of conspiring to have the Thompson's murdered.
Larry Huffman also wanted another friend to join us on the visit — Bryon Farnsworth. Farnsworth is a past editor of both Cycle and Cycle World magazine, worked for BSA back in their heyday, and later helped develop the KX and KDX line of motorcycles for Kawasaki. My friendship with both of these men goes back over 40 years. Both have previously visited Goodwin in prison before, and, like Huffman, Farnsworth also feels Goodwin is innocent of the murders.
As a semi-retired guy, spending time with good friends is important to me, but I also had a real interest in finding out what a state prison was like and I figured the best way was to visit first-hand, but not as an inmate! Visiting a prison is a complicated process, you can't simply show up; you have to send a request to visit to the inmate and he/she will have the Department of Corrections forward you a form to fill out that allows them to run a background check on you.
My "Early Years of Motocross Museum" has always motivated me to know more about the trailblazers in our sport. The museum has occupied much of my semi-retirement time since I sold White Brothers in December of 2000 to the Motorsport Aftermarket Group. Those of you that have visited the museum (which houses over 170 motorcycles, hundreds of photographs, and a huge collections of programs, brochures, and documents) know that the focus is on Edison Dye — The Father of American Motocross. Check out the museum webpage at www.earlyyearsofmx.com.
And even though Mike Goodwin is a convicted murderer, he is also "The Father of Supercross." Since I am own a museum and have a major interest in the AMA's Motorcycle Hall of Fame,  where I am chairman of the MHOF Motocross/Supercross committee, you could say that I am pretty vested in the history of our sport and a so-called "authority" on the matter.
I also wanted to see Mike Goodwin again. You see, back in the mid 1970s, when White Brothers was just getting going, we traded ads in the Superbowl of Motocross program with Mike for working on his Husky. My brother Dan and I also attended several Saddleback Safari rides where Goodwin was present. The Saddleback Safari was started by Vic Wilson, founder of Saddleback Park, and initial invitees were a small group of industry and celeb racers. The three-day riding excursion started out in June Lake, California, and ended in Hawthorne, Nevada. Let's just say that it was a wild time with a theme of "What's on the road, stays on the road!" Goodwin fit in nicely to this theme.

FRIDAY, MARCH 4, 2011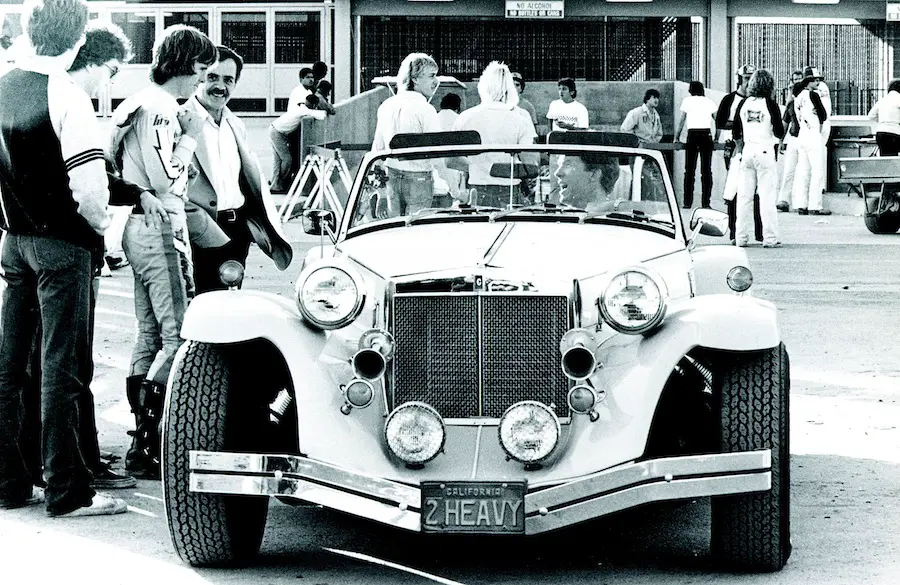 Mike Goodwin in his custom-built Clenet stops to chat with Bob Hannah and the AMA's Mike DiPrete.
Larry Huffman, Bryon Farnsworth and I met at the Ontario Airport for our flight to Reno via Oakland. The plan was to pick up a rental car in Reno and drive to the Sands Hotel, where we would have a late lunch with two of Goodwin's past associates, spend the night at the Sands, and then drive to Susanville, California, on Saturday. At 3:00 p.m. at the dinner at the Sands, we were joined by John Bradley. John Bradley had once worked for Stadium Motorports, Goodwin's company, for several years up to its bankruptcy in 1987. John has been one of Goodwin's biggest advocates, but alleged broken promises, along with past and present business deals, had recently turned the relationship into "love/hate."
Though John Bradley had visited Goodwin in prison several times, he stated he never wanted to visit him again. He did want Goodwin to get a new trial as he believed the first trial had major flaws and is "ninety percent convinced" that Goodwin wasn't responsible for the Thompson's murders. Barbara Woodward Rainey, the Sands Hotel Events Coordinator, also joined us a few minutes later. She had also worked for Goodwin and, like Bradley, had lots of stories. The overriding sense I got is that they really liked the man despite all the crazy stories and failed business deals. Both wanted to hear from us after our Sunday visit with Goodwin at the prison.
SATURDAY, MARCH 5, 2011

The High Desert State Prison entrance.
We slept late in our upgraded and inexpensive rooms at the Sands (thank you, Barbara) and, after breakfast, headed off on the 90-mile journey to Susanville, California, where the prison is located. Susanville is located in the high desert above Reno at the base of the mountains and has a population of around 14,000 (not including the inmates at the two prisons located within city limits). Most of the residents either work for the nearby Indian Casino or at the prisons. Traveling with Huffman and Farnsworth is very entertaining, to say the least. Huffman uses his announcer magic at every possible opportunity. At the California vehicle checkpoint, he questioned the officer with such catchphrases as, "Who did you anger to get a job like this?" I thought the guy was going to pull us over for a vehicle inspection and body cavity search! But instead, the officer just laughed it off. Farnsworth is 75-years-old, but going on 13, and he makes sure to comment on everything and everybody. Needless to say, the old boys had lots of laughs on this road trip! Saturday night was spent in the casino bar watching the Daytona Supercross.
INSIDE THE CONFINES OF THE HIGH DESERT STATE PRISON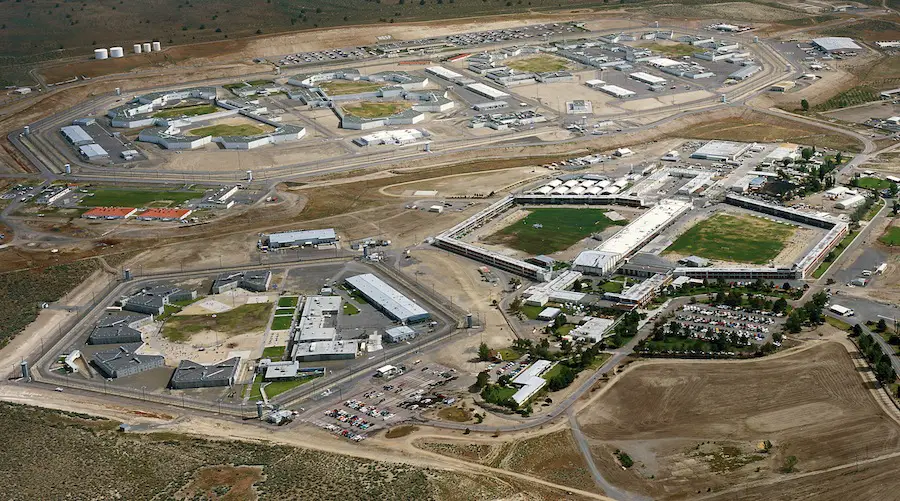 You don't want to come here to visit and you certainly don't want to live here.
Visitors must line up at the front gate to the prison. The guards open the gate to visitors at 7:30 and visitors identifications are checked and verified that they have been approved as a visitor.  Visitor numbers are assigned so that the earliest arrivees get processed first. We couldn't believe it, but Huffman again asked another authority figure, the prison gate guard, "Who did you anger to get this job?" Guess we were lucky this guy also had a sense of humor, so no "body cavity" search.
Once inside the prison, we were directed to drive to the visitors' center where civilian employees enlightened us on the "do's and don'ts" of visiting a prisoner. You are allowed a maximum of $50.00 in bills — all one-dollar bills, change is allowed, but no pennies. You must have a picture ID, but you can't carry your wallet. No cell phones, cameras, note pads, pens, pencils or recorders of any kind are allowed. You're allowed to wear one ring and one watch, as long as you list them on the visitor's form before entering.
At 8:00 a.m. sharp we were allowed to walk the 200 yards to the prison's Visitor Admission Center. Larry, Bryon and I were placed in visitor group 19. We waited for around 20 minutes to be processed. While we waited, we got a good chance to check out the other visitors: most were family members that were waiting to see their husbands, fathers, sons or boyfriends. I can tell you, before that day, I had never felt any compassion for either the criminals in jail or their families. That changed. One of the ladies in the admission center was an attractive blond woman in her late 30s, and we all noticed her. She was visibly upset to be there and Mr. Personality, Larry Huffman, sat down next to her and struck up a conversation. Larry discovered that she had just found out that her boyfriend was incarcerated at the prison and had driven over 400 miles on Saturday so she could visit him this morning. As is the case with so many of the loved ones of prisoners, she had very little money and spent the night in a small trailer that her mom owned in Susanville. No heat, no blankets, just a miserable night is what she described to Larry. Why do nice people (and in her case — hot!) hook up with losers and criminals?
I really wanted to get a picture taken of our group with Goodwin. Although you can't take a camera in, there is a vending machine on the wall of the admission center and, for $2.00, you can have a lower-level security volunteer (who is also an inmate), take the picture between 10:30 a.m. and 11:00 a.m. I purchased three $2 tokens so that I could get two group shots (one for me and one for Goodwin) and one photo of Goodwin and I. If you forget to buy the token in advance of admission to the cell block visiting room, you are out of luck.
They finally called up visitor group 19 and we were processed in. We all had to fill out a visitor form, the guards verified our IDs, and we followed much the same procedure as TSA airport screening as we prepared to pass through a metal detector. The guards were very professional at all times, and quite nice to us with inklings of senses of humor, although Larry was wise enough not to try the "Who'd you anger to get this job" bit on these actual jailers.
We had to go through two more electric and barbed wire fence areas that are controlled by the officers, eight visitors at a time, before we were allowed into the prison area where we walked to the cell block B visitor center. My understanding is that there are four cell blocks in the High Desert State Prison, and the B block is for the "Sensitive Needs Inmates." I'm quite sure that means the most dangerous convicts. Once again the guards verified our visitor form and picture ID which they kept while we visited our inmate. We were let into the actual inmate visitor center at around 8:45 and directed to the officer at the front of the room sitting at a desk, it reminded me of grammar school. He made a call to the cell block and we waited in anticipation to see prisoner Number B-147U — Mike Goodwin, the Father of Supercross and a convicted murderer.
THE FATHER OF SUPERCROSS AND CONVICTED MURDERER ENTERS THE ROOM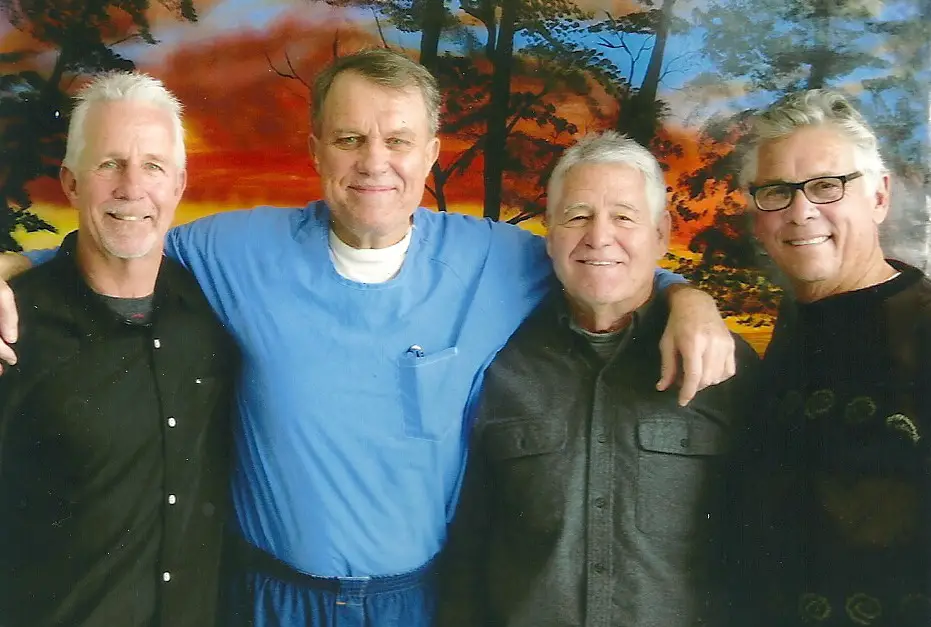 Tom White, Mike Goodwin, Bryon Farnsworth and Larry Huffman pose for a prison snapshot.
It seemed like an eternity before Mike Goodwin showed up. In the meantime, we perused the room. The approximately 2000 square-foot visitors center was much like a large school classroom. Guards were at the front of the room and behind a desk. Along the side walls of the room were vending machines where you could use your dollars to purchase sodas, coffee, soups, etc. Other machines had staples like sandwiches, burritos, cookies, ice cream, and other desserts. The floor had a taped line around the vending machines that inmates were not allowed to cross while their visitors inserted the dollar bills. The rules stated that inmates could just point to their favorite selections. Also, no interaction between families and their inmates with other inmates was allowed.
There were maybe 20 visitors in the room waiting for their inmates, mostly young families representing our diverse California culture. I noticed a very attractive black woman with two little girls, probably 3 and 9 years of age. The girls were well dressed and excited to see their dad. Another visitor was a 20-something white woman waiting with her young son and daughter. She seemed very emotional about the reunion with her husband. Again, this experience gave me real empathy for the love ones that pick these jailhouse losers and suffer the economic and emotional toll that the relationship spawns.
At 9:00 a.m., Mike Goodwin was finally escorted into the visitor center by the guards. My initial impression was that he looked better than I expected, though he wore a yellow vest that said "hearing and ambulatory impaired." Goodwin walks with a cane though he didn't bring it into the visitor center, he is missing a front tooth thanks to another prisoner, and is nearly blind in one eye. Mike was very emotional upon seeing Larry and Bryon and short hugs were in order. We were assigned table 11, a six-foot diameter table with four chairs. He shared that we were his first visitors in over a year — only Huffman, Goodwin's 97-year-old father, and John Bradley had visited him during his four years of incarceration at High Desert Prison (although he was held, pending trial for several more years in Orange County and Los Angeles County jails). He asked us to join hands and join him in prayer. He prayed for all of us to be happy, healthy and that he would eventually get out of prison. The next 5-1/2 hours were spent discussing his pre-incarceration life, Supercross and motocross, life in prison, the Thompson murders, and his attempt to get a new trial.
GOODWIN SHARES HIS SUPERCROSS YEARS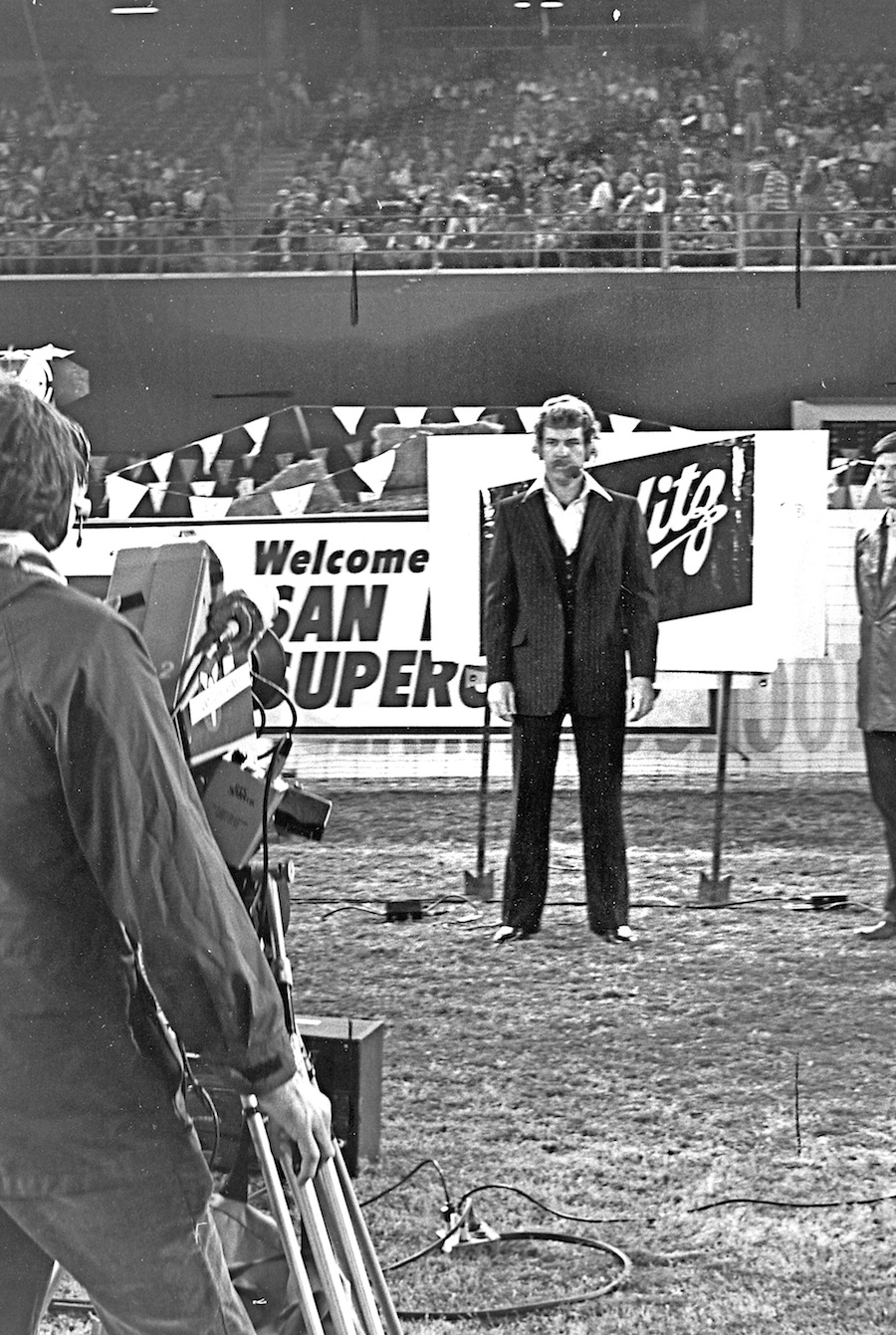 Mike Goodwin being filmed at the San Diego Supercross.
I'll give Goodwin some credit here: He is openly candid about the wild, drunken adventures he had in the '70s and early '80s. I got the impression that back in the day, he would have ridden a snake if he could hold onto it. His life was all about money, partying, sex and power (in no particular order). He has deep regrets for the grief that he has caused his ex-wife Diane, saying he had ruined her life. If he gets out and things go the way he hopes, he wants to make amends on a personal and financial level. I could go on and on about the wild adventures he shared with us, but most of that is not fit for print.
He doesn't read any motocross magazines as he says they remind him of the how the sport has grown. Knowing that he was such an important part of the early years hurts him deeply. Goodwin shared a story about a Supercross that he held at the Pasadena Rose Bowl in the early 1980s. Goodwin's first attempt at a real stadium whoop section was built by laying telephone poles across the track and covering them with dirt. Apparently Bob Hannah complained about the new whoop section, so Goodwin hopped on his Husqvarna and proceeded to try to ride over them at speed. The first attempt resulted in him crashing, but he was able to get over them the second time, so the whoop section stayed. Mike finished sharing the Supercross stories and then claimed that he really liked many of the riders and really misses some of the relationships he formed.
PRISON LIFE FOR MIKE GOODWIN
Goodwin's cell is an 8′ x 10′ room without windows. He shares it with an inmate named Eddie. His previous cell mate threatened to kill him if he woke him early and wouldn't allow Goodwin to type on his electric typewriter when he was present in the room, so Goodwin is happy to have Eddie now. Goodwin claims to spend nearly every waking moment typing and studying law books for his appeal to get a new trial. He wakes up every morning at 6:30 a.m. and goes to the cafeteria to pick up his breakfast of oatmeal and also picks up his lunch at the same time, a bologna sandwich, and then returns to his cell. After eating dinner in his cell, he spends the remainder of the evening typing legal briefs, usually past midnight. Goodwin doesn't ever go into the prison yard for exercise, saying that $100 will get you killed in prison and he feels that his enemies would gladly pay that amount for his demise.
In prison, as in "normal" life, cash is king. Goodwin has been able to earn extra cash by doing legal work for other inmates. On one of my visits to the vending machine to get Mike an ice cream during our visit, a mother who was visiting her son in the visiting center asked me if the ice cream was for Mike. I said yes, and she exclaimed, "Please let me buy it for Mr. Goodwin. He is our Jailhouse Attorney and he is helping my son."
GOODWIN SAYS HE IS WRONGFULLY IMPRISONED
It wasn't a surprise to me that Goodwin claimed he wasn't guilty of hiring or conspiring the murder of the Thompsons since he's claimed innocence all along. According to Goodwin, Mickey Thompson had many enemies, and Goodwin's theory is that the Thompsons were killed in a robbery of $250,000 in gold coins that he claims Thompson had purchased in the weeks before his death.
Though witness testimonies claimed two black men on bicycles were seen at the murder scene, Goodwin claims that another witness saw two white men on bicycles carrying white bags on the bike trail behind the Thompson's house immediately after the reported time of the crime, and later loading the bicycles and white bags into a Ryder van parked not far from the Thompsons' home.
Goodwin also mentioned another conspiracy theory that suggests that Thompson had threatened a motorcycle gang thought connected with the murder of Colleen Campbell's son, Scott. Scott Campbell was killed in what was believed a drug deal gone bad. Campbell was apparently lured by two men, Larry Cowell and Donald Dimasio, to fly with them to Fargo, North Dakota. Scott never made it to Fargo, and instead, Dimasio broke Campbell's neck and his body was dumped out of the private plane somewhere over the Pacific Ocean between Los Angeles and Catalina Island. Note: Colleen Campbell is Mickey Thompson's sister.
Mike Goodwin spoke at length about Colleen Campbell and her vendetta to get him convicted. It is no secret that Campbell is well connected and knows how the system works. Mrs. Campbell is a former San Juan Capistrano, California, councilwoman, mayor, and is active in Orange County politics. Campbell was the one that helped the police find her son Scott's murderers, according to the lead investigator, Anaheim Police Detective Larry Flynn. Campbell has been a huge proponent of victim's rights after she and her husband were not allowed inside the courtroom during the trial of Scott's murderers.
According to Goodwin, it was Colleen Campbell's influence that prevented him from getting a fair trial and that her influence extended all the way to the judge, the prosecutor, and the detectives investigating the case. According to "Justice on Trial's" John Bradley, lead detective Sergeant Michael Griggs allegedly wrote a memo stating that "outside forces" were interfering with his investigation. Mike Goodwin cites that the jury instructions given by Judge Teri Schwartz were improper and that alone should be grounds for a new trial. He is working on a motion for a new trial based on his defense not being allowed to present evidence of other suspects, that the jurors were given misleading instructions, and that the rules for a jury viewing of the crime scene were improperly changed at the last minute. This is just the tip of the iceberg on defects in his trial that Mike claims prevented him from getting a fair hearing.
As I listened to Goodwin, a man that the lead investigator asserts is a "master manipulator," I tried to weigh everything I had heard, knowing that he was convicted by a jury of his peers for conspiring the murders of two people. I believe that Mike Goodwin could sell ice cubes to Eskimos, as the saying goes. He says he is innocent of conspiring the murder of the Thompsons. I'm neither the smartest man on the planet nor the dumbest, but I can tell you that I've very seldom spent time with anybody as smart, quick, and focused as prisoner Mike Goodwin. I have to believe that out of the 5500 inmates at the High Desert State Prison, he has got to be the sharpest.
Mike Goodwin is absolutely convinced that he will be out of jail in the next year (in retrospect, he's still in jail four years later). According to him, in the 240 years of our legal system in America, he is the only person to be convicted of first-degree murder by conspiracy without the actual killers ever being identified or found. He eludes that he will not spend the remainder of his life in prison (he was 66 when I visited him and is 70 now). He says, "Take that anyway you want."
MY CLOSING THOUGHTS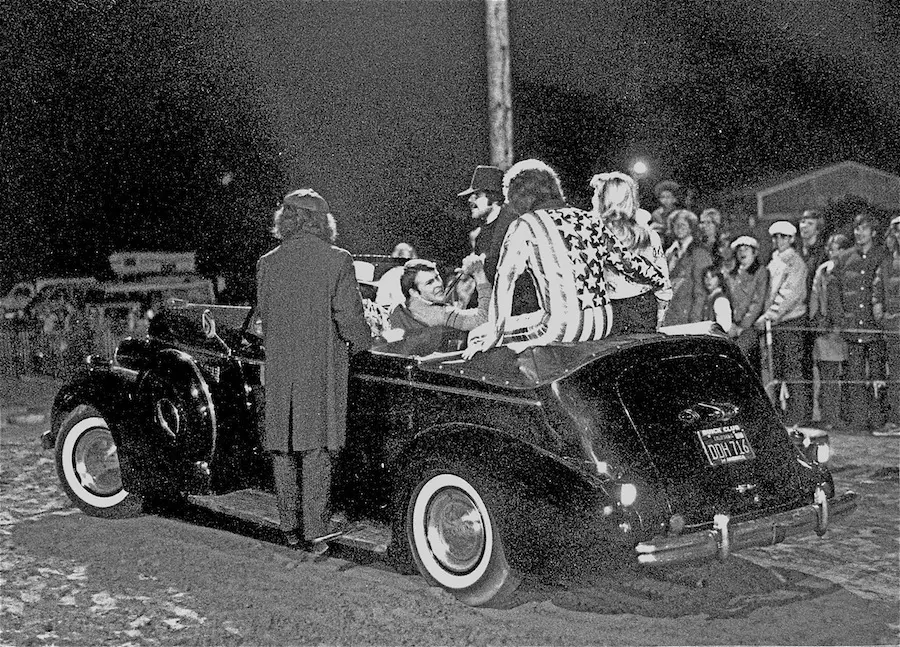 Mike Goodwin, in the front seat, brings jumper Super Joe Einhorn into a stadium in a vintage car.
Though I do not know Colleen Campbell personally. I do know Mickey and Trudy Thompson's son Danny. In 2001, Pace Motorsports allowed me, along with Danny Thompson, to present the Mickey Thompson Lifetime Achievement Award to Edison Dye at the Anaheim Supercross. Danny and I presented the award again in 2002 to Bruce Brown, and again in 2003 to Jeremy McGrath. To Colleen and Danny, I can't imagine the pain of losing a son, a father, or a brother and my heart goes out to both of you for your loss. I'm just not sure that "The Father of Supercross" Mike Goodwin was the conspirator in the Thompsons murder and if just 5 percent of what Goodwin says is true, when and if he is granted a new trial this whole sordid incident from our sport's past can be put to rest — one way or the other.


Click here to subscribe to MXA: https://hi-torque.com/motocrossaction