NO FANS AT 2020 REDBUD & WASHOUGAL NATIONALS WHILE TICKET SALES OPEN FOR LORETTAS
NO FANS AT THE 2020 REDBUD & WASHOUGAL NATIONALS WHILE TICKET SALES OPEN FOR LORETTA LYNN NATIONAL, WW RANCH NATIONAL & IRONMAN NATIONAL
The latest updates for the 2020 Pro Motocross season are in and now MX Sports has confirmed that fans will not be allowed at the RedBud or Washougal Nationals, however, the gates are still open for fans to show up to the first ever Loretta Lynn National and the WW Ranch and Ironman Nationals. We're glad to know that every effort is being made to go racing with fans on the sidelines, but we still aren't holding our breath. This season is full of situations that make us go "we'll believe it when we see it." Read below for the official press release: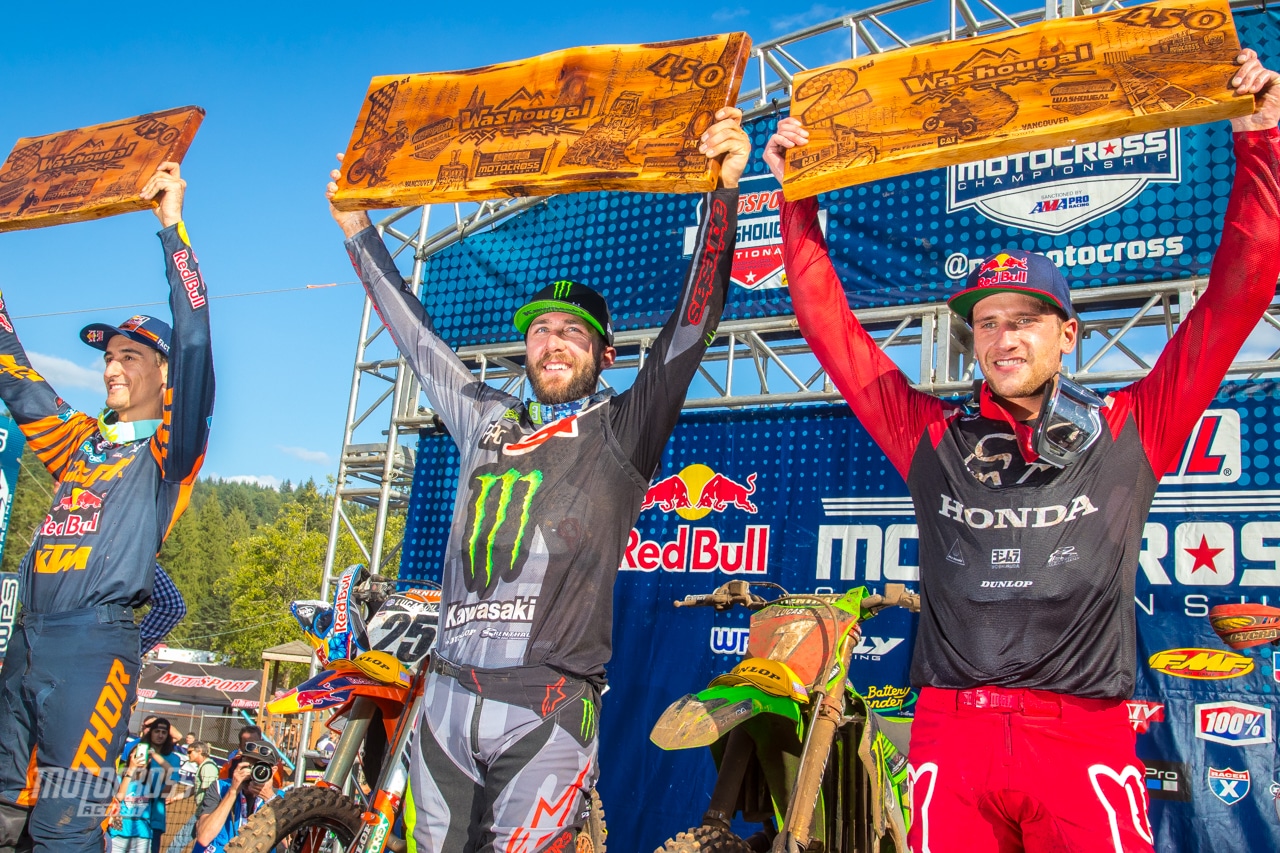 Podium pictures won't look like this at the 2020 Nationals. Social distancing and masks are going to be a thing for this season.
MORGANTOWN, W.Va. (July 28, 2020) – With the start of the 2020 season approaching, MX Sports Pro Racing has announced that tickets to select rounds of the Lucas Oil Pro Motocross Championship, sanctioned by AMA Pro Racing, are now available. Due to limitations surrounding COVID-19, spectator attendance at designated events will feature limited capacity, where access will be confined to public areas and social distancing guidelines will be implemented. The 2020 season officially gets underway with the inaugural Circle K Loretta Lynn's National on August 15, for which ticketing is now open.
"We're pleased to have the opportunity to reopen the ticket purchasing process for our passionate and loyal fans. We commend them for their patience in waiting for the start of the 2020 Lucas Oil Pro Motocross Championship. It's been a challenging year for all of us, but a return to racing is just around the corner, and fans will have the chance to let out all those months of pent up energy by cheering on their favorite riders once again," said Davey Coombs, President of MX Sports Pro Racing. "Even though things are going to look and feel a little different this season, we eagerly await the ability to bring American motocross back to those who serve as the lifeblood of the industry."
Luckily the riders helmets qualify as a "face covering." So they don't have to socially distance from each other on the track which is nice.
In addition to Loretta Lynn's, tickets are also available for both the Ironman National(August 29) and GEICO Motorcycle WW Ranch National (September 26). Tickets for the remaining rounds of the 2020 schedule will be made available at a later date. Moreover, due to the inability to host large gatherings in certain states, spectators will not be permitted at every event. Currently, the MotoSport.com Washougal National (August 22) and the RedBud National (September 4 & 7) will be exclusive to competitors.
Additionally, MX Sports Pro Racing has confirmed that the dates for the first ever RedBud doubleheader will move from September 5 and September 8, to Friday, September 4, and Labor Day, on Monday, September 7, in an effort to better accommodate the needs of participants.
"After thorough communication with our participating manufacturers and teams, it is in the best interest of all parties to move up the dates of the RedBud National on Labor Day weekend," said Roy Janson, Managing Director of MX Sports Pro Racing. "There are several benefits to making this change, both for the competitors and the series, and should make for a more compelling scenario for this historic event."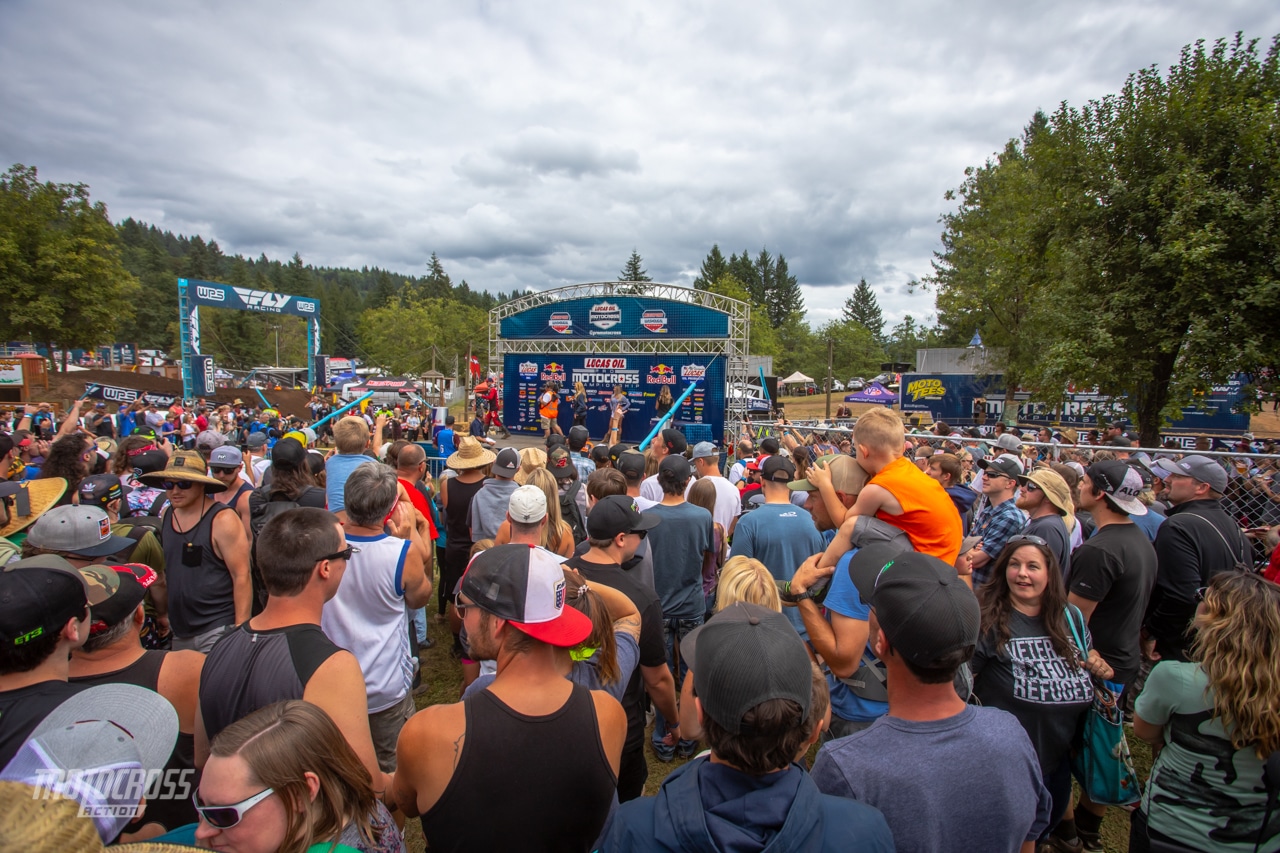 We can't wait for racing to be back. Even if fans aren't able to congregate like normal, it'll still be good for the industry to have the Pro riders on live TV again.
Due to the continually evolving nature of implementing a 2020 season, MX Sports Pro Racing will honor any event tickets that were purchased prior to the temporary postponement of the season. Full refunds may be issued to individuals who either cannot attend the updated race date, or for those who purchased tickets to an event that has been canceled. Concerned parties are encouraged to contact each event organizer directly, either through the track website or via a direct message on Facebook.
How to Watch Pro MotocrossThe Lucas Oil Pro Motocross Championship is televised onNBC, NBC Sports Network, and MAVTV, and is exclusively streamed live on the NBC Sports Gold subscription service. Every round features live coverage of the first motos of the 450 Class and 250 Class on MAVTV, while second moto coverage of most rounds can be seen on NBC Sports Network. Additionally, exclusive network broadcast coverage of select events will be showcased on NBC. Live and on-demand coverage, including an exclusive live stream of qualifying, can be seen on NBC Sports Gold via the "Pro Motocross Pass" for a one-time purchase of $59.99.