NOBBY-GATE IS FINALLY OVER: IT ONLY TOOK A FAKE VOTE & THE BESMIRCHING OF THE AMA HALL OF FAME'S REPUTATION TO GET IT DONE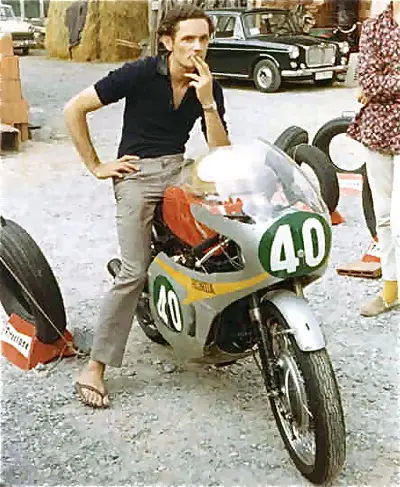 A Young Nobby Clark.
The AMA has announced that famed Grand Prix motorcycle tuner Derek "Nobby" Clark has been reelected, after being elected and unelected, by the AMA Motorcycle Hall of Fame. Clark, one of the world's elite road race mechanics, was a part of 17 World road race Championships and he worked with some of the greatest motorcycle racers in history, including Mike Hailwood, Giacomo Agostini and Kenny Roberts.
Clark was elected to the AMA Hall of Fame a few months ago, but was unceremoniously dumped two weeks later in an AMA bureaucratic mess. It would have ended there but the public furor, including the resignation of Kenny Roberts, Dick Mann, Ed Youngblood, Dave Despain and others from the Hall of Fame, caused the AMA Hall of Fame officials to blink.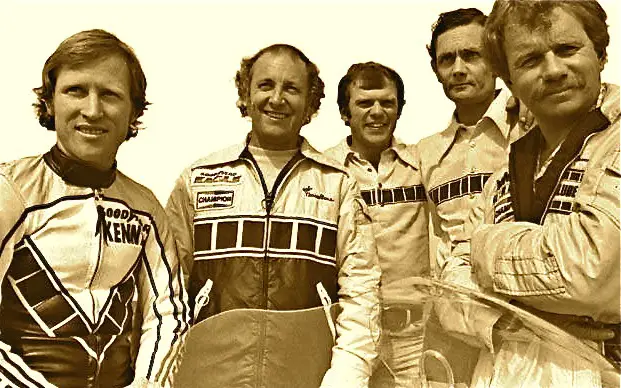 Nobby Clark (second from right) with Kenny Roberts, Kel Carruthers, Trevor Tilbury and Ken Clark (far right).
To stop the uproar, the Hall of Fame came up with a meaningless, face-saving, one-person election, in which the only name on the ballot was Nobby Clark. This was a transparent attempt by the the so-called leaders of the Hall of Fame to shift the blame away from their incredibly poor management and decision making by holding a fake election process. It was unnecessary to have a second vote for Nobby Clark, since he had already been voted in the the Hall of Fame members.
Now that Nobby has been elected, ejected and reelected, the Hall of Fame can continue to be run by the same bureaucrats (Rob Dingman and Jeff Heininger) that caused the problems in the first place. In MXA's opinion, Nobby Clark should have been in the Hall of Fame on the first ballot…and Dingman and Heininger should resign.
As for Nobby Clark, he's in the Hall of Fame but the men who supported him by resigning aren't…and no one can take the AMA Hall of Fame seriously if Kenny Roberts and Dick Mann aren't in it.