MXA RETRO TEST: 2001 SERVICE HONDA CR134 THAT WE HATED TO RIDE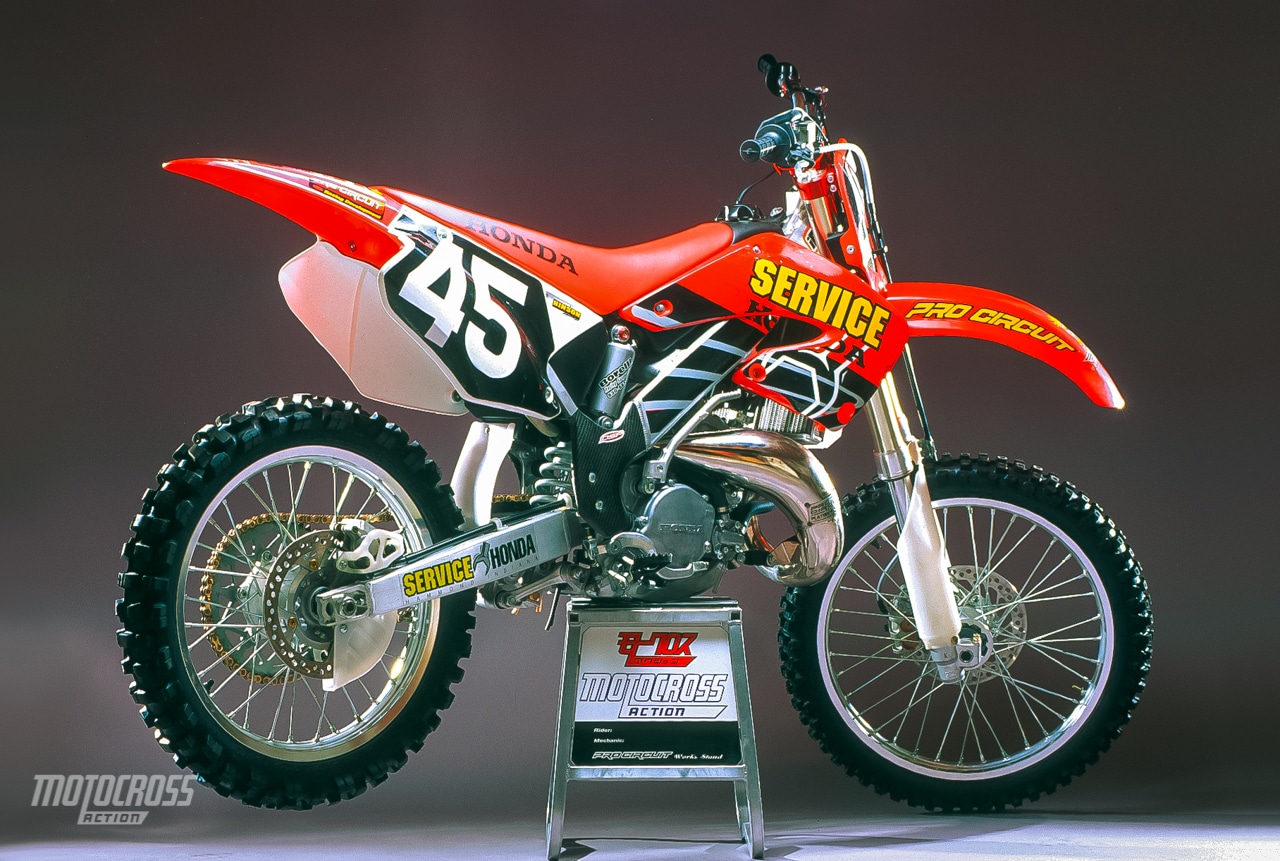 This test is reprinted directly from the November 2000 issue of MXA. Get your MXA subscription today.
QUESTION ONE: WHY BUILD A 134cc HONDA?
Why 134? Because in the 2000 AMA Amateur rule book, a 134cc displacement is legal in the 125 Modified class. The AMA passed this over-bore rule back in the day when bikes had steel liners, wore out quickly and needed to be bored out to eighth-over to make them fresh again. In the age of Nikasil liners, this rule is archaic and outdated. On the other hand, if everybody else is going to run a 134, you'd be a fool to show up on the starting line with anything less.
The MXA wrecking crew has raced a lot of 134cc kit engines. In most cases they are faster than their down-sized brethren. So much faster that it is like cheating (which it would be in an AMA National).
QUESTION TWO: WHO IS SERVICE HONDA?
Service Honda rose to fame building aluminum-framed CR500s. Service Honda specializes in taking twin-spar CR250 frames and shoehorning water-cooled CR500 engines into them. The result is a CR500AF (AF for aluminum frame).
Since there aren't droves of people standing in line to turn two motorcycles into one, Service Honda also works on the complete spectrum of Honda products—and that includes building a CR134 two-stroke version.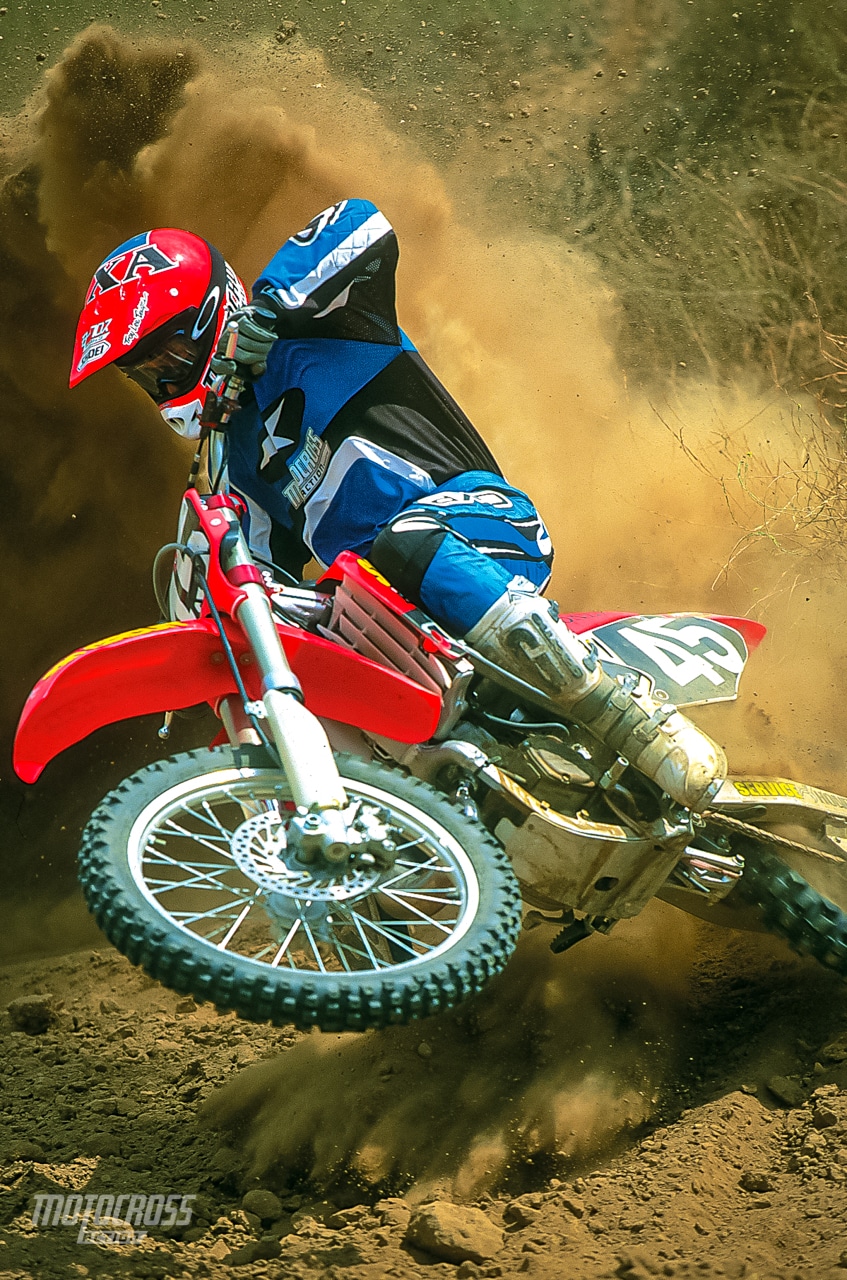 QUESTION THREE: IS THE SERVICE CYCLE CR134 FAST?
No, it's slow. Dead slow. And we mean dead! The first Service Honda CR134 we tested lasted approximately 30 minutes before it blew itself to smithereens. This didn't surprise us, because we've tried big-bore CR125s before and they have proven to be touchy animals—suffering from all kinds of assorted teething problems. When Service Honda bored out the CR125 cylinder, they failed to account for the fact that the exhaust port would get larger and the possibility of the rings snagging or power valve catching would greatly increase.
We contacted Service Honda to give them an opportunity to make the bike right. They were depressed. They wanted to give up. They wanted to blame us. They dragged their feet for two months. But finally they sent out a second cylinder.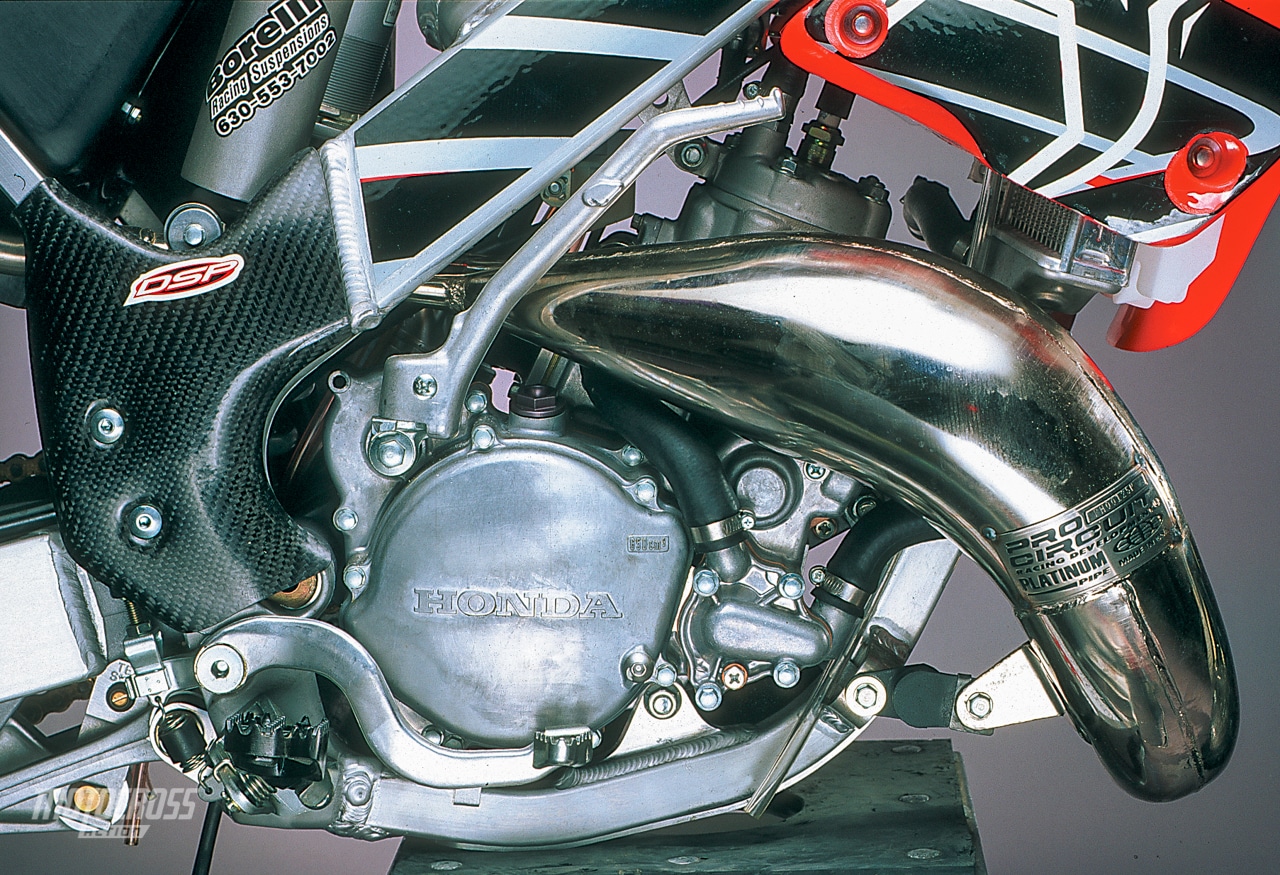 The MXA wrecking crew enlisted a Honda R&D mechanic to build the engine back up, rejet it and baby it through part two of the test. We even borrowed an HRA (Honda Racing America) test rider to do the jetting trial runs. We weren't taking any chances.
QUESTION FOUR: HOW WAS THE SECOND INCARNATION OF THE CR134 ?
Better than the first, but only average (and we mean average for a stock CR125). Across the board, Service Honda's CR134 runs no better a stock 2000 CR125. It does offer a little more oomph at one spot on the curve. Surprisingly, there is no bottom and no top. Don't even think about trying to rev this engine. The big piston is very reluctant to get any serious momentum going. If you catch every shift perfectly, while the power is still in the midrange, the bike is faster than the stock 2000 CR125. But, it was never faster than our 2001 CR125.
QUESTION FIVE: HOW DOES IT COMPARE TO A YZ134?
There is no comparison. A stock YZ125 will beat the Service Cycle CR134, so it shouldn't come as a surprise that a YZ134 slaughters it. Our experience with YZ134 engines is that they are almost flawless, with plenty of bottom, mid and top.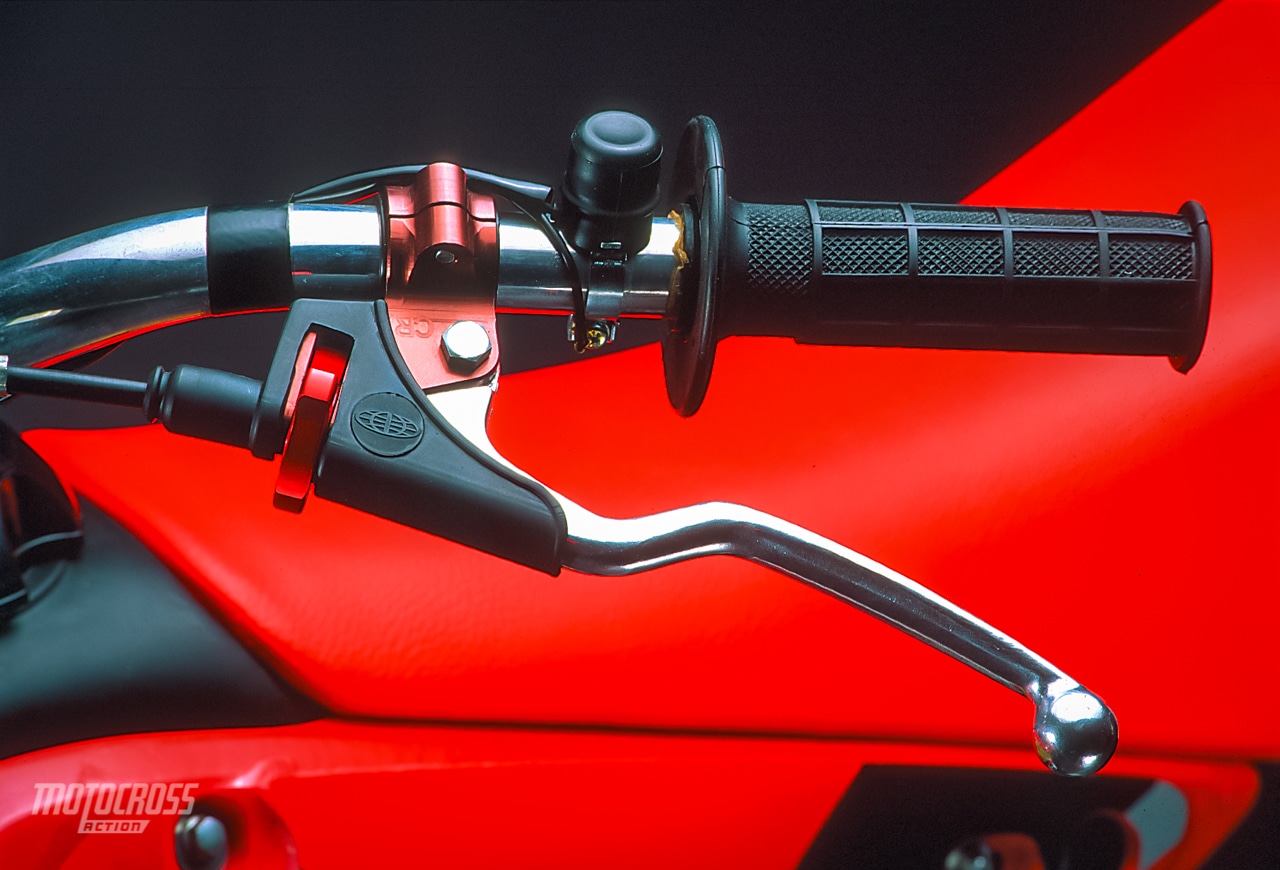 QUESTION SIX: WHAT IS THE CR134 POWERBAND LIKE?
Just imagine a bike that produces power in one distinct rpm range.
(1) Low-end: If you thought, like we thought, that adding 9 more cc's would give the CR125 more bottom, you thought wrong. The extra cc's actually magnify the fact that the CR125 has no bottom by making the dead zone more pronounced.
(2) Middle: Luckily, when you do get into the midrange, you'll know that you have found the sweet spot of the CR134 powerband. The midrange isn't exceptionally broad, but it is healthy. Every test rider was impressed with the middle of the powerband and would do anything short of tap dancing on the shift lever to stay there.
(3) Top-end: Where is the rev? The MXA wrecking crew would gladly have traded a lot of the mid for a smidgen of top. This bike has absolutely no rev. And if you try to find it, the CR134 engine will protest.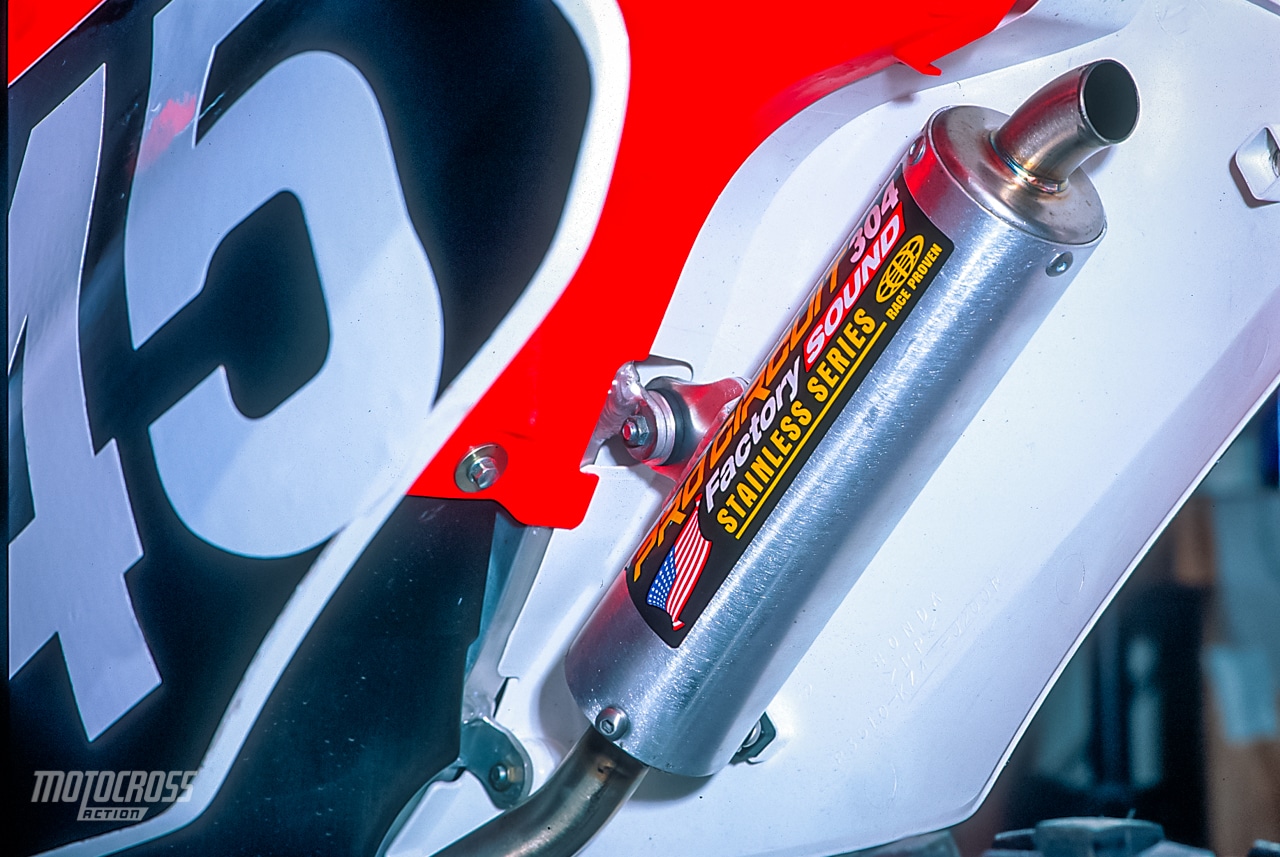 QUESTION SEVEN: WHAT ABOUT THE JETTING?
Big bore engines are a challenge to jet and CR125's in particular are among the most difficult bikes to fine tune. After trying a million different needles, clip positions, main jets and pilot jets looking for the perfect spec, we finally settle on this set-up for our locale.
Mainjet: 350
Pilot jet: 45
Needle: 6BEG21-70
Slide: 4.5
Clip: 2nd
Air screw: 1-1/8 turns
QUESTION EIGHT: HOW ARE THE BORELLI FORKS?
When Service Cycle over-bored the engine, they also sent the suspension out to Borelli to have it modified. Borelli is not exactly a household name outside of the Midwest, but the MXA test crew has seen some of the best suspension concepts in the last year come from Illinois, so we had high hopes. Those hopes were dashed quickly. In our opinion, the Borelli-modified forks offered little over stock CR125 forks. They had all the bad traits with none of the good. They hung down in their stroke, suffered from serious midstroke harshness and absolutely refused to get full stroke.
QUESTION NINE: WHAT ABOUT THE REAR SUSPENSION?
We loved the stock 2000 CR125 rear suspension. For once Honda had moved away from its traditional thud-style of shock absorption. After a few races on the Borelli-modified Kayaba shock, we'd just as soon go back to the stocker. The modified shock was over-damped, hung up at mid-stroke and deflected off every bump. The dead-feeling shock didn't do much for test rider confidence. We would much rather have a shock that is a little overactive than a dead one.
QUESTION TEN: HOW DOES IT HANDLE?
Thanks to the new frame the CR125 received in 2000, Service Honda's CR134 handles quite well despite the suspension fighting it. Regardless all of their mistakes, Service Honda did the CR134 right when it came to handlebars and triple clamps. The stock triple clamps, which in our book are among the best in the OEM business, were replaced with Applied's triple pinch bolt bottom clamp and oversized rubber-mounted top clamp. The standard steel bars were replaced with Tag Metal's ultra-strong T2 bar.
QUESTION 11: WHAT WAS THE BEST GEARING?
Service Honda got it right. They ditched the stock 52-tooth rear sprocket and replaced it with an AFAM 53-tooth rear sprocket. We can't even imagine what it would have run like with the taller 52-tooth sprocket.
QUESTION 12: WHAT DID WE HATE?
The hate list:
(1) Engine: A stock 2000 CR125 engine isn't much to write home about, but hopped up by Service Cycle it wasn't worth licking the stamp. In Service Cycle's defense, some engines are reluctant warriors in the over-bore battle. Yamahas like to be bored out, Hondas don't.
(2) Jetting: It's an iffy proposition on any big-bore, but the pumped up Service Cycle CR125 was especially challenging.
(3) Suspension: For 2000, Honda's suspension engineers had made some serious gains in the suspension settings—Borelli lost them.
QUESTION 13: WHAT DID WE LIKE?
The like list:
(1) Triple clamps: The OEM's are nice, but Applied's red factory look-a-like clamps are a lot cooler and still offer rubber mounting.
(2) DSP guards: Honda's aluminum frame can't handle a lot of abuse. We don't mean it will break, but it will get ugly in a hurry. DSP's carbon fiber frame guards are molded to fit and keep the frame fresh.
(3) Clutch: A bike with serious horsepower must have a Hinson clutch. Service Honda's CR134 doesn't have the horsepower, but it does have the Hinson basket.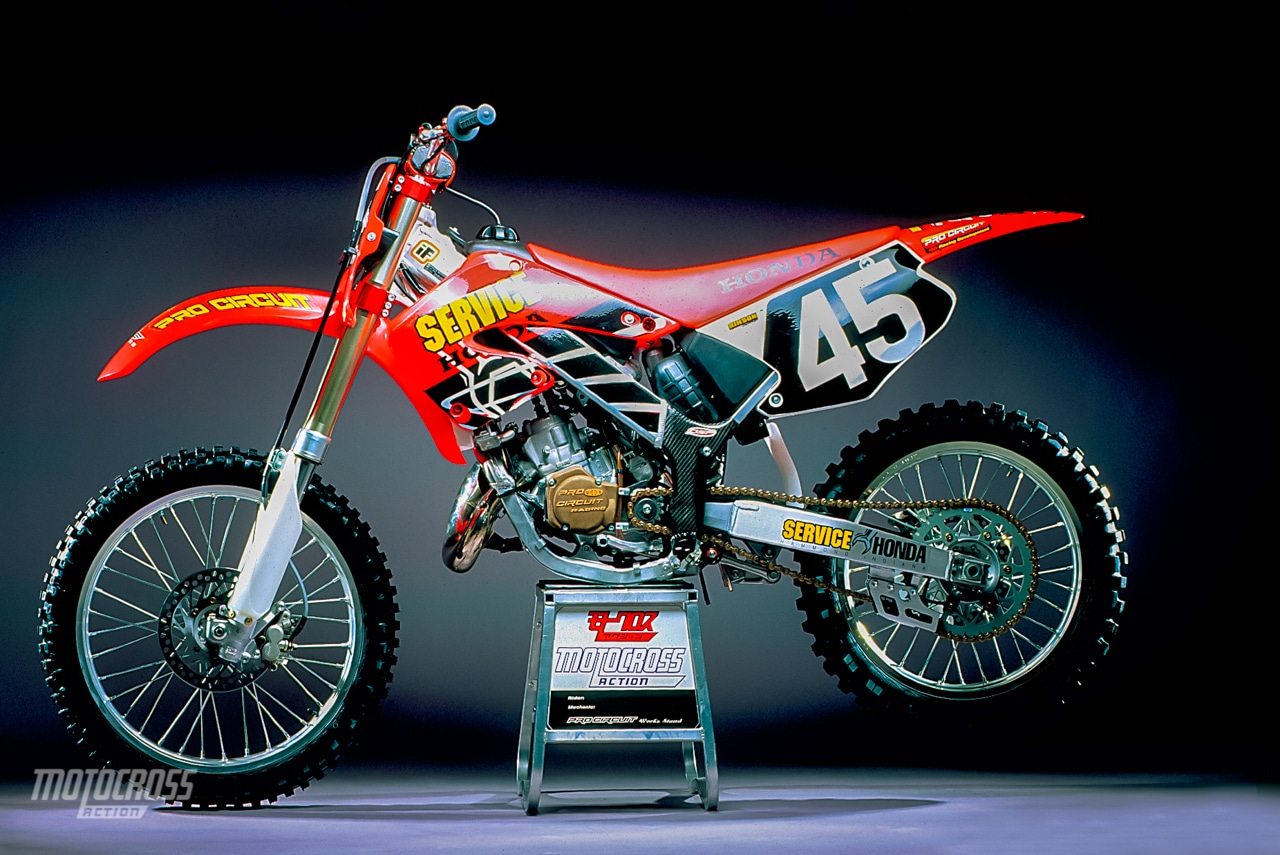 QUESTION 14: WHAT DO WE REALLY THINK?
Service Honda bit off more than it could chew. They wanted to be a big-time player in the frame kit world of 125 two-stroke racing, but when their first effort exploded they had second thoughts. They should have had first thoughts! This is a classic example of all that can go wrong with a hopped-up bike.