ON THE RECORD: COMPLETE TEST OF THE 1999 TM 125 MX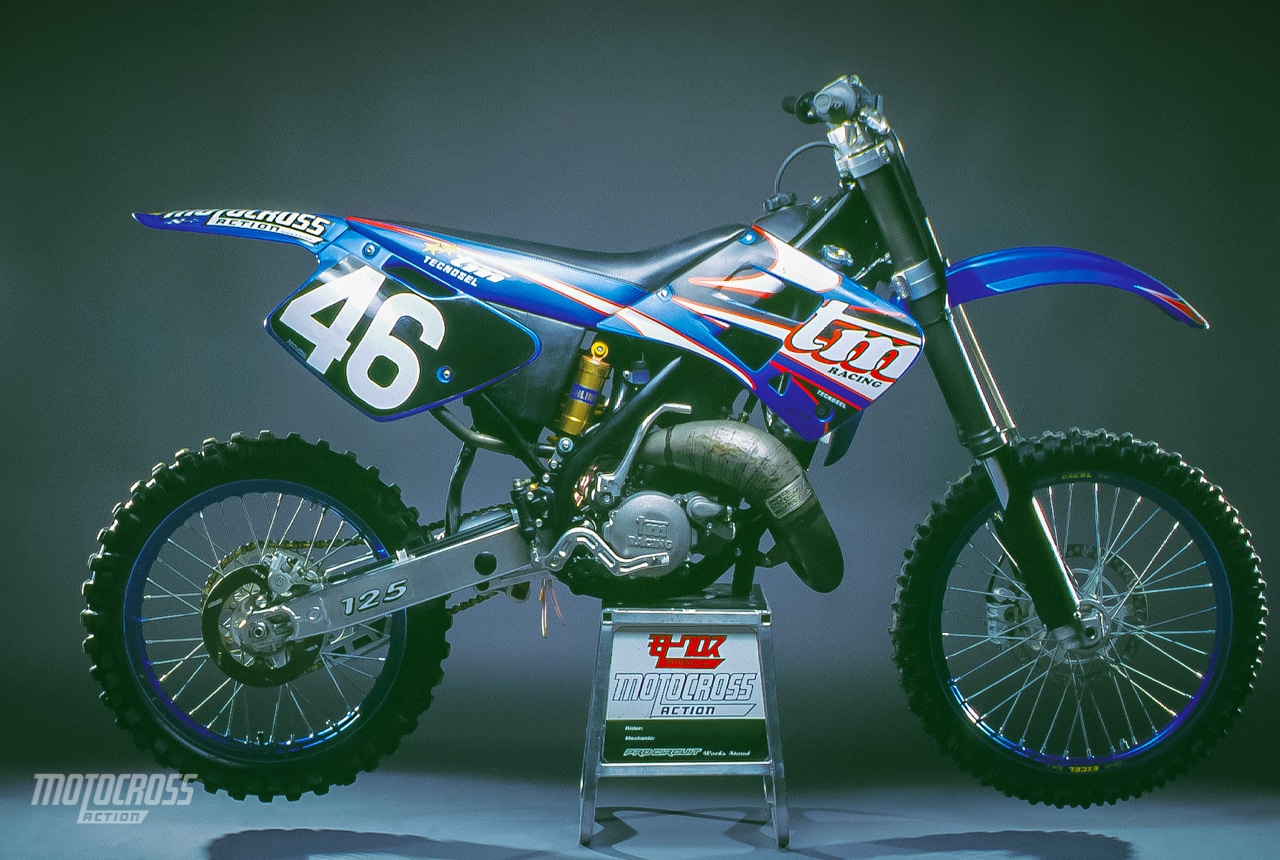 A close look at the 199 TM 125MX will reveal plenty of changes from the 1998 model. However, if you are like most people you won't recognize those changes because you've never seen a TM before.
This test of the 1999 TM 125MX is from the May 1999 issue of Motocross Action Magazine.
Interested in buying a new 1999 TM 125MX? Don't know anything about it? Here are a few facts:
Engine: Water-cooled, 123.5cc two-stroke, reed-valved engine.
Bore and Stroke: 54mm by 54.4mm.
Transmission: Six-speed, wet clutch.
Suspension: 12.1 inch Paioli 46mm upside-down and 12.6 Ohlins shock.
Wheelbase: N/A.
Claimed weight: 94 kg.
Price: $6000.
Those are the tech specs, but these are the questions that most riders want answered.
QUESTION ONE: IS THE '99 TM 125 FAST?
Yes. Think of it as a '99 Suzuki without the over-rev. The real question is, is it so fast that you should sell your current 125 and plunk down 60 Benjamin Franklins on Italian machinery? No, but if you laid down $1201 more than you would for a '99 YZ125, you wouldn't be embarrassed on the track.
QUESTION TWO: WHAT DID TM CHANGE ON THE '99?
What didn't they change would be a better question. Being a small factory has perks that the big manufacturers, for all of their "economy of scale," just can't compete with. Since TM doesn't make thousands of 125's at one time, they have the ability to make creative changes when the mood strikes them. They can take what they've learned from racing or testing and apply it to the next bike on the production line. Perhaps they don't implement changes this rapidly, but they aren't bound by a surplus of parts that must be used before they can make a change.
The list of goodies that made their way from the '98 GP effort to the '99 production bike is impressive. New Paioli forks, aluminum fuel tank, steel perimeter frame, redesigned saddle, alloy steering stem, revised shock linkage, updated shock valving, 270mm front brake rotor, several different pipes, more efficient silencer, bigger radiator and a new Keihin carb were all incorporated into the '99 parts book.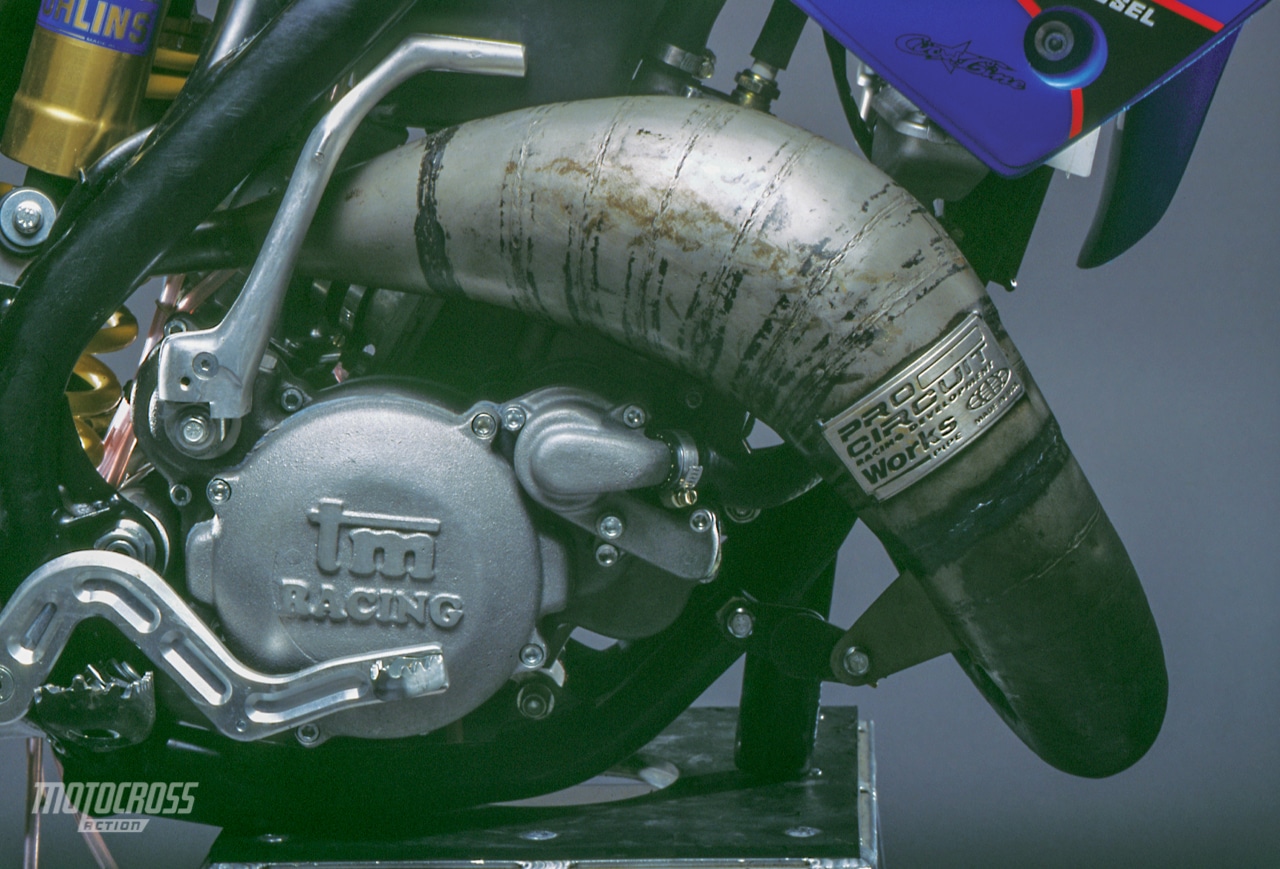 The 1999 TM 125MX doesn't come stock with a Pro Circuit pipe, but with the stock TM pipe it took a week to get up to speed. The Pro Circuit pipe gave the TM125 the midrange hit it needed
QUESTION FOUR: WHAT DO ALL THE CHANGES MEAN?
In truth, they mean that racing a TM125 is as close as the average rider will ever get to riding a full-on works bike. The production TM shares more components with TM's GP bikes than any bike from the Big Four.
The changes also produced a TM that is appreciably better than the last one we tested. MXA's last TM experience was bad for us and bad for TM. After we wrote a scathing review of their bike, they didn't want us to test any more of their bikes and we didn't want to be forced to ride any of them. The '99 model bike increased their confidence and succeeded in changing our previously negative opinion.
QUESTION FIVE: WHAT'S IT LIKE TO RIDE A TM 125?
A learning experience. The TM125 has three educational quirks.
(1) Test riders had to come to terms with the Euro handling. Although the 1999 TM turned light years better than its predecessor, it still had a tendency to push on flat turns. Additionally, the front fork deflected with alarming ease off of rocks, ridges and rills. The front wheel would snap to full lock for no obvious reason. This got our attention.
(2) The power comes on in RM-like bursts — sort of. Blessed with a stout midrange powerband, the TM churns out a healthy chunk of thunder. However, there is no low-end and, unlike the RM125 that its midrange emulates, no over-rev. We tested two TM125 pipes. The stock pipe produced lots of top-end rev, but less low and mid. The aftermarket pipe (that TM advised we use) was considerably stronger in the middle, but signed off sooner. Of the two choices, every test rider preferred the harder hitting midrange pipe.
(3) With a jumbo-sized front brake rotor, test riders thought the TM would stop on a lira. It didn't. The problem is brake pad related. KTM uses the same basic brake set-up, and after switching to the new green pads, their braking stepped up to the plate. TM should steal KTM's brake pads. The rear brake is very touchy. You have two choices: on or off.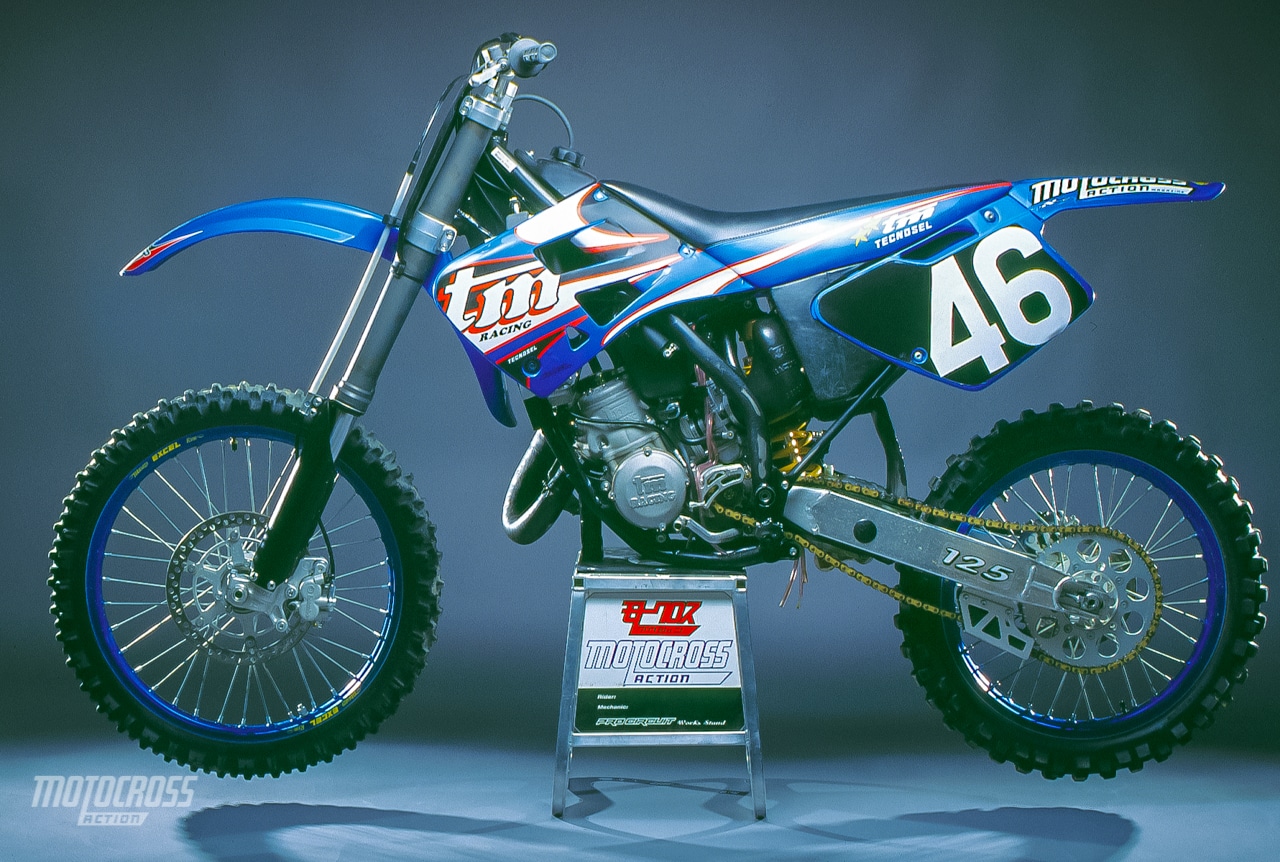 The best parts of the 1991 TM 125 were the midrange powerband, Ohlins shock, Alloy gas tank,  and readily available Japanese plastic. The worst part? The rest of the bike.
QUESTION FOUR: WHAT ABOUT THE SHIFTING?
Midrange engines depend on slick-shifting trannies to make the bark work. TM needs to spend more R&D dollars on their gearbox. It misses a lot of shifts, especially when you are trying to rush them (and that pretty much defines racing). The shifter shape is atrocious. It looks like a pretzel. The only way to guarantee a shift was to shift early and back off a notch.
QUESTION FIVE: HOW GOOD IS THE HYDRAULIC CLUTCH?

Let it be known that TM was the first to equip their bikes with a Magura hydraulic clutch — KTM copied them. The bad news is that although TM was first, they aren't the best. The TM's clutch actuation is more of a light switch than KTM's. This problem is caused by a combination of plates, springs and leverage ratios more than simple hydraulics.
Just like the shift lever, the clutch lever was also a test rider complaint. It was described as a Chinese torture mechanism. The quick fix? Use a grinder to smooth off the square edges and the clutch lever will be bearable.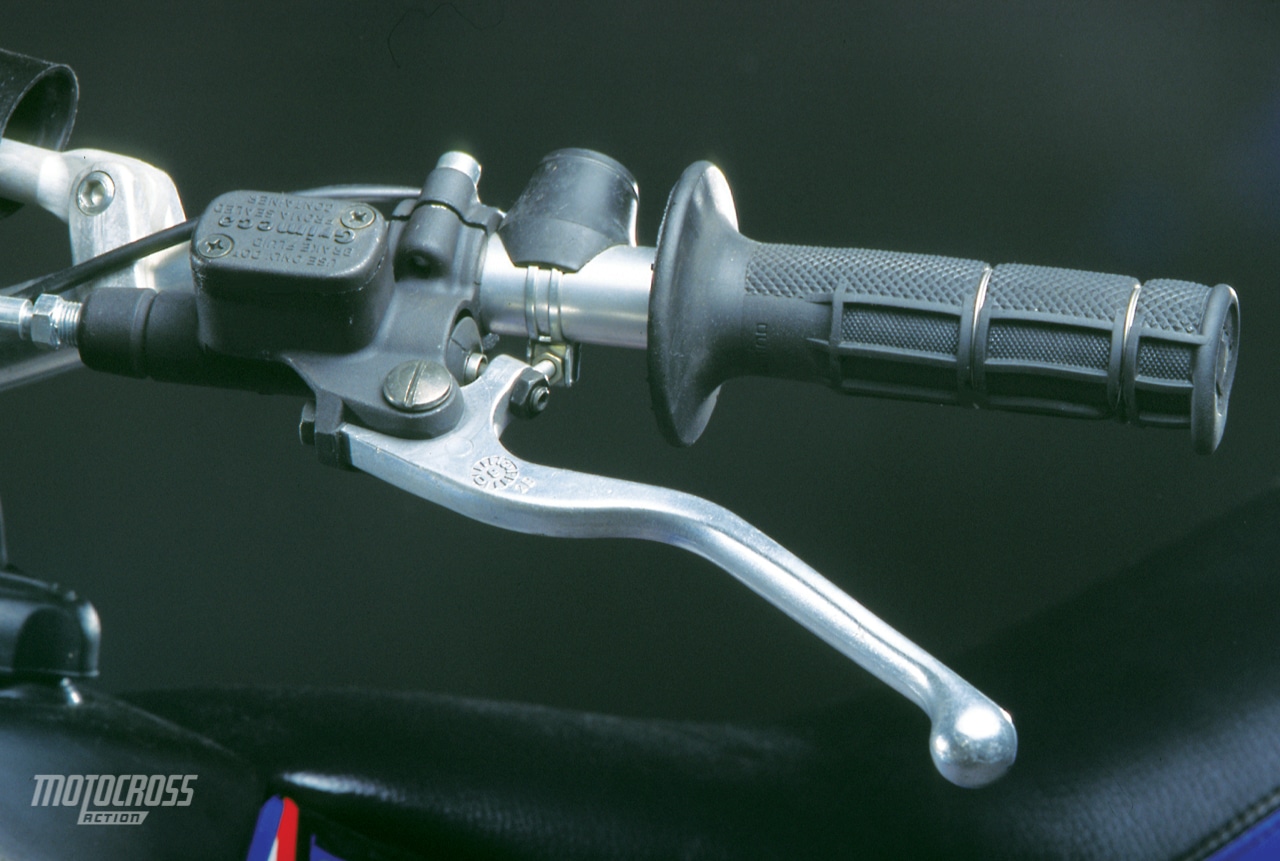 We filed the clutch lever down and sanded out the square shape.
QUESTION SIX: WHAT ABOUT THE JETTING?
Surprise! No Dellorto carb. TM spec'ed a 38mm Keihin PWM. We dropped the stock 7.0 slide for a richer 6.0 slide and felt that the TM was in the ballpark for our sea level SoCal racetracks.
What was our best jetting?
Mainjet: 175
Pilot jet: 52
Needle: N1EC
Slide: 6.0 (7.0 stock)
Air screw: 1 1/2 turns
Clip: Groove number 3
Notes: Be sure to change the slide. The bike is ridable with the stock 7.0 slide, but the motor will have a lethargic feel in the midrange.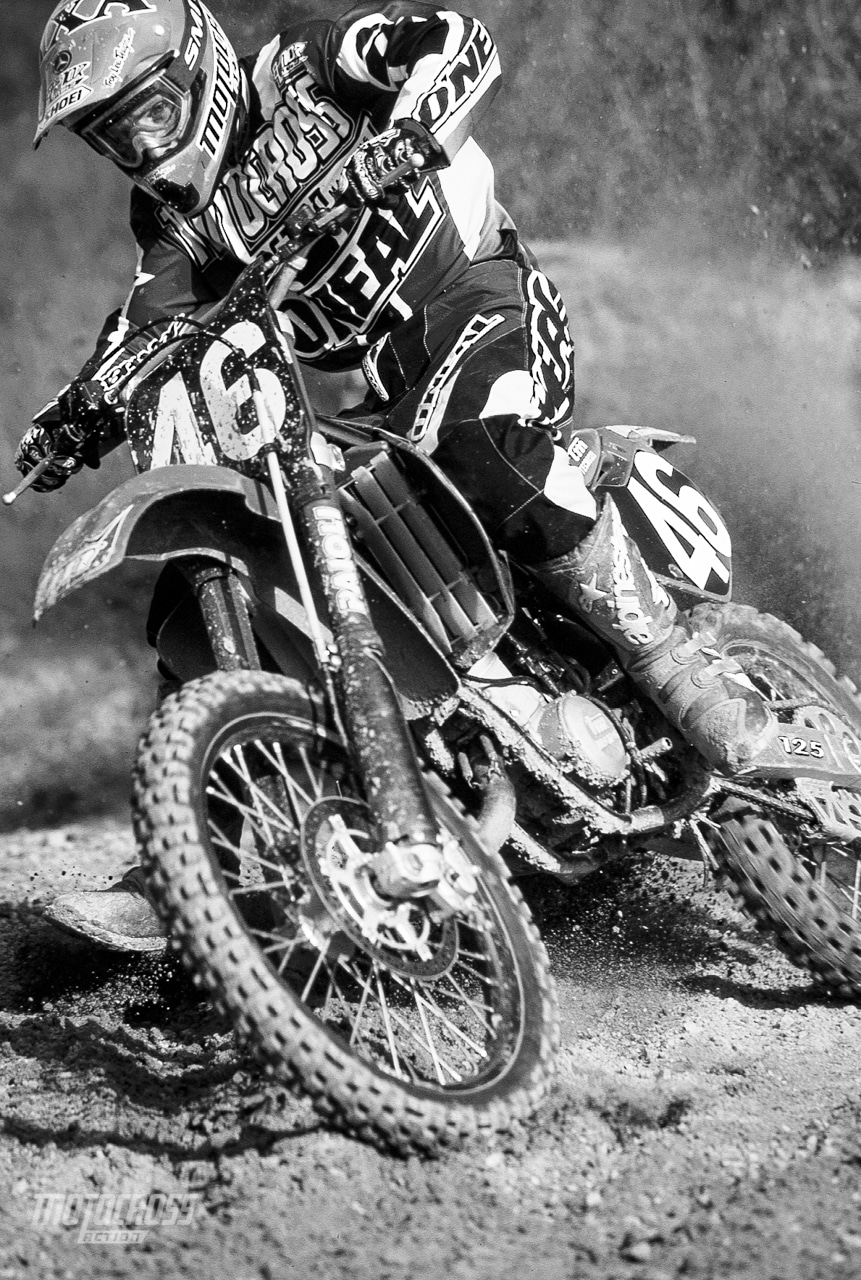 QUESTION SEVEN: HOW GOOD ARE THE PAIOLI FORKS?
A better question might be what are Paioli forks? They are the Italian forks normally seen on mopeds, scooters and small Italian street bikes. Mechanically, they have Kayaba-style internals and Paioli externals.
Consumers get a choice of 46mm upside-down Paioli forks or 50mm conventional Marzocchi's. MXA's test bike came with Paioli's, but we wish it had the 'Zokes instead.
We complained about the forks loudly enough that TM made a fork upgrade midway through our test period. We looked forward to the Fed-Ex shipment from Italy. Unfortunately, the updated '99 valving performed with the same low amplitude harshness, deflection and spikes as the first set. We have had great luck with the new 50mm Marzocchi fork. We can't recommend the Paiolis.
QUESTION EIGHT: WHAT ARE THE BEST FORK SETTINGS?
The best fork setting is to spec Marzocchi forks, but this is what we ran (and disliked) in the Paioli upside-down forks.
Spring rate: .40 kg/mm (5mm preload)
Oil height: 95mm
Compression: 17 clicks out
Rebound: 12 clicks out
Fork leg height: 8mm above the top of the triple clamp
Notes: MXA's criticism of the TM forks has to be counter balanced by the fact that the buyer doesn't have to run Paioli forks.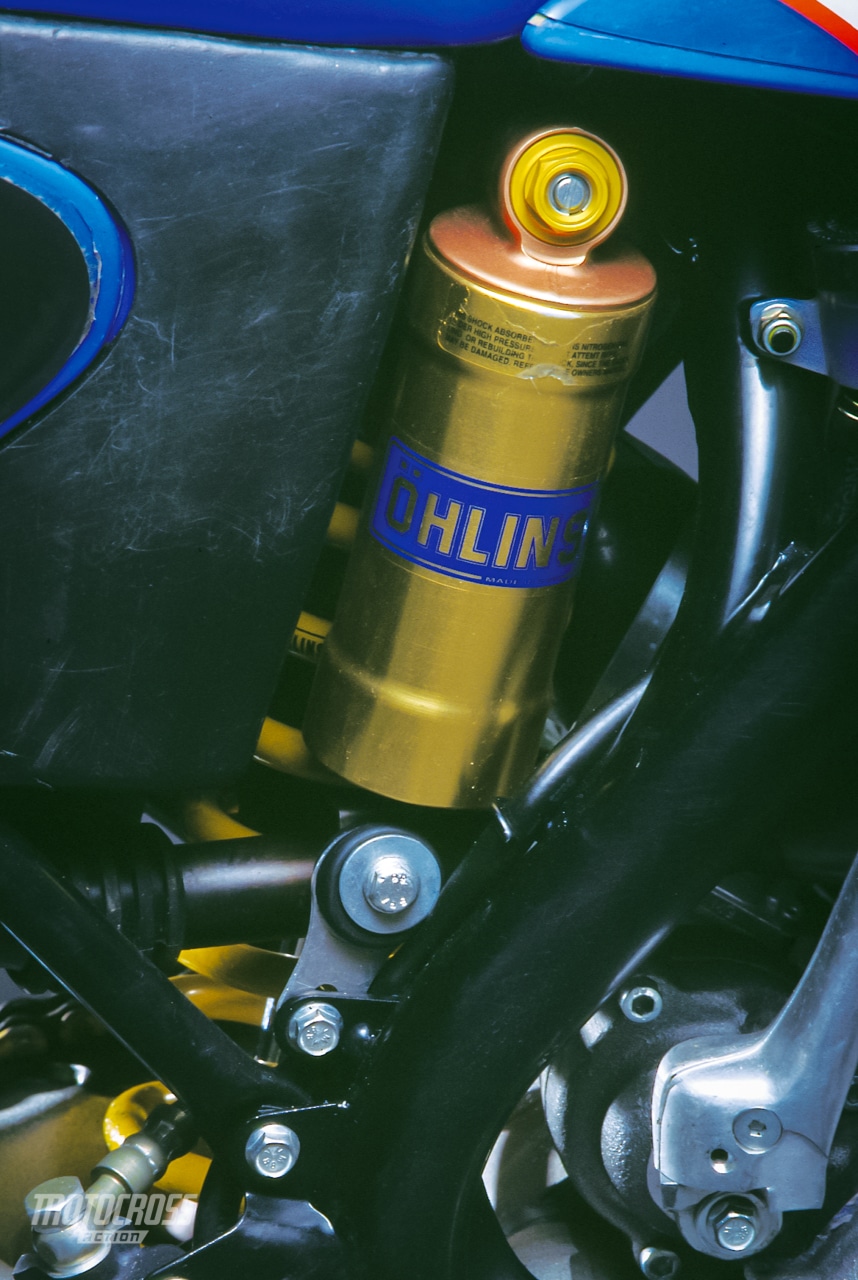 QUESTION NINE: WHAT ABOUT THE REAR SUSPENSION?
Good news! The Ohlins shock was significantly better than the Paioli forks. Given the fact that the shock had to do double duty —to make up for the fork's inability to absorb any bump smaller than a jump — the Ohlins could only work better if mated to the Marzocchi forks.
QUESTION TEN: WHAT WAS OUR SHOCK SET-UP?
This was our best shock set-up.
Spring rate: 5.0 kg/mm
Race sag: 100mm
Compression: 18 clicks out
Rebound: 14 clicks out
Notes: The TM likes to have the rear end set up with 100mm of sag or less.
QUESTION ELEVEN: WHAT DID WE HATE?
The hate list:
(1) The forks. Paioli versus Marzocchi is no-contest.
(2) The brakes. There's nothing worse than a bike that goes faster than it can stop. TM took the right step with an oversized front rotor, they just need to find the right pads to go with it.
(3) Rear brake pedal. It is tucked in so far that you have to train yourself to find it (and to use it gently).
(4) The levers. They're square edged, uncomfortable and located a little too far away from the handlebar for small-handed 125 pilots.
(5) Shifting. Worse than even the least accurate Japanese 125.
QUESTION TWELVE: WHAT DID WE LIKE?
The like list:
(1) Ergonomics. The TM has a roomy feel to it. You won't be cramped by the layout.
(2) Aluminum tank. You don't see alloy tanks anymore. It was nostalgic to ride a bike with an aluminum tank again.
(3) Perimeter frame. Unfortunately, TM painted the ovalized, steel, perimeter frame black. It's a clean design that would stand out more in a brighter color.
(4) Brake pedal. We hate how far the brake pedal is tucked in, but this is the kind of workmanship we wish we'd see more of.
(5) Plastic. You won't break the bank buying special TM plastic. Most of the plastic has been borrowed from competing Japanese builders.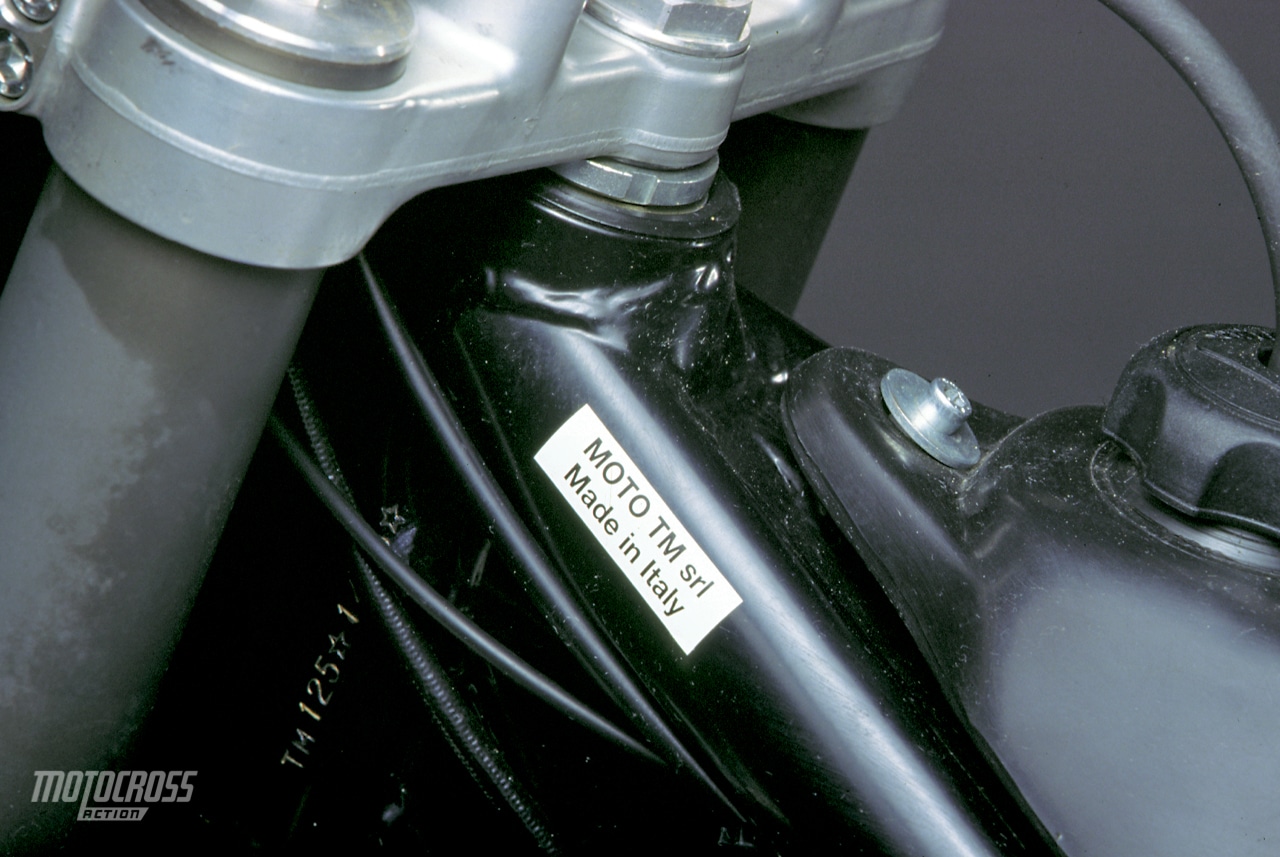 QUESTION THIRTEEN: WHAT DO WE REALLY THINK?
Let's review.
Engine: The power is significant, but its breadth is not. This is a gun-and-run motor that demands that the rider stir the gearbox and wring out the throttle.
Handling: Not as bad as most Italian bikes, but it still has a hitch in its get-along. Not a quick turner, it has superb straight-line stability (until the front wheel hits a pebble)
Suspension: Once you have a good set of forks on the front, the rear will be even better. Plus, more absorptive forks might help the cornering and deflection problems.
Overall rating: Even with the litany of complaints, the MXA wrecking crew would choose to race the TM 125MX before we'd volunteer for several Japanese brands. Choosing to ride a TM carries with it all the risks of small, cottage industry, works-style production. This is not a mass-produced machine. It's very much a work in progress.