ONE PHOTO & ONE STORY: ELI TOMAC & HANGTOWN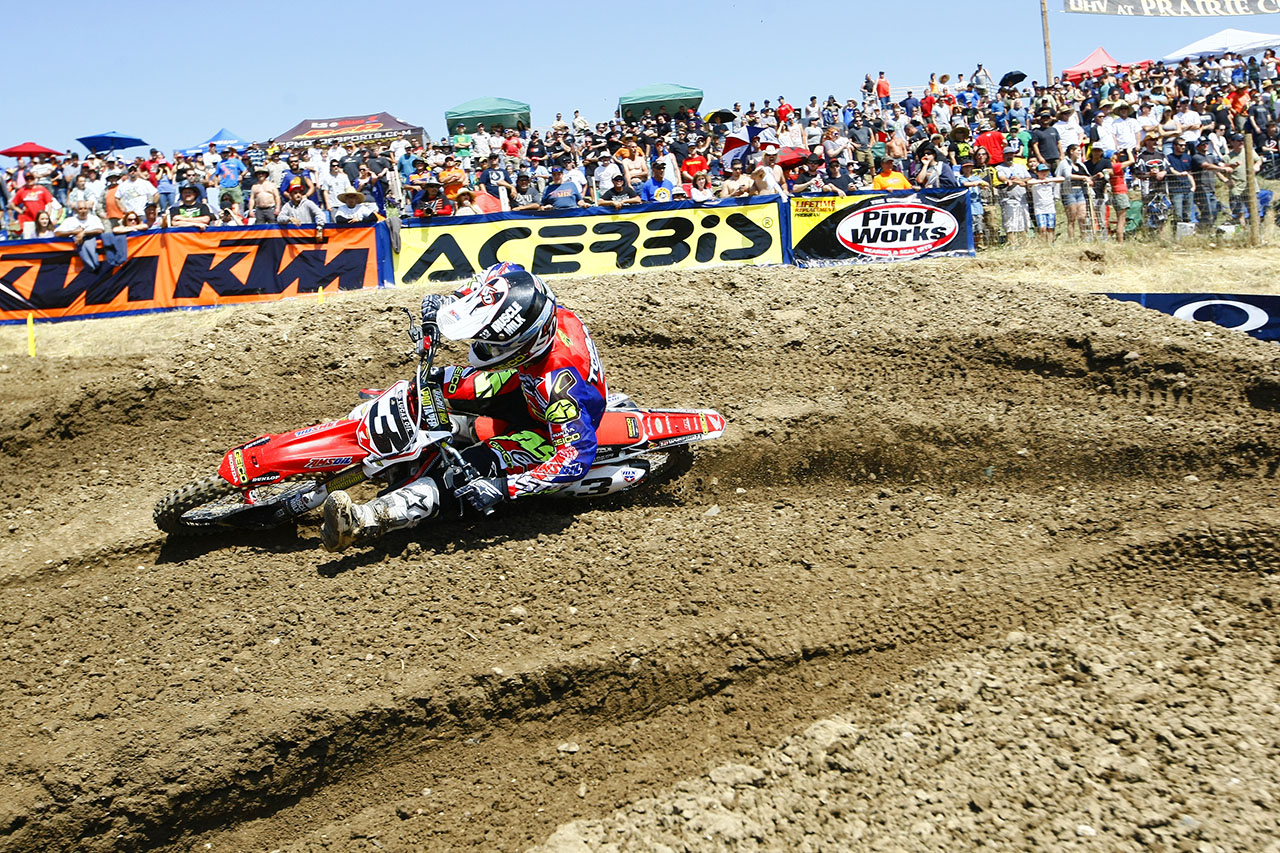 By John Basher
Eli Tomac's favorite track on the planet–outside of his compound in Cortez, Colorado–has to be Hangtown in Rancho Cordova, California. Tomac is practically synonymous with the place due to his extraordinary accomplishments there. He won his very first Professional race–the 2010 AMA 250 National opener on May 22, 2010. The pimple-faced rookie shocked the establishment, going 3-1 for the overall. Then there was Eli's dominant performance one year ago, when he blew away the field on a sun-drenched day, carving arcs and sailing over the massive Fly 150 triple with ease. In the in-between years, Tomac has been only slightly less phenomenal at Hangtown. Take a look at Eli Tomac's statistics from the Hangtown National.
May 22, 2010–Tomac was committed to racing the 250 Nationals, and he had plenty of time to prepare for his first Pro venture. A decorated Amateur, a good result at Hangtown was expected of Eli. Only no one would have predicted that he would take the overall and win the second moto by five seconds over Trey Canard (and 15 seconds ahead of Christophe Pourcel). Unfortunately, Tomac wilted in the Texas sun two weeks later. The heat index was well over 100 degrees, and the (then) 17-year-old buckled from exhaustion eight laps into the second moto while leading. He would deal with heat-related issues the rest of the outdoors.
WILL TOMAC BE ABLE TO PUT A RATHER SHAKY SHOWING IN THE SUPERCROSS SERIES OUT OF HIS MIND AND EMBRACE THE CHALLENGE OF WHAT'S TO COME THIS WEEKEND AND BEYOND?

A 2.8 index–Eli's overall finishes at Hangtown since 2010 have been first, fourth, fifth, third, missed the opener (in 2014, due to injury), and first. His average overall finish has been 2.8–basically third place. In motos, Tomac's average finish is 3.2. He has only finished one moto outside of the top five–a 10th in the second moto in 2012.
The 1:53:513 gap–It still seems impossible that Eli Tomac would gap second place by a combined two minutes over the course of two motos last year. We're talking about Tomac rocketing away from Ryan Dungey, the two-time AMA 450 National Champion. He straight up made Dungey look silly. No one had anything for Eli on May 16, 2015. Watching in person, I hadn't seen that dominant of a performance since James Stewart in 2008 or Ricky Carmichael in 2004. Tomac was unstoppable.
ARE TOMAC'S OUTDOOR SETTINGS DIALED IN DESPITE MOVING TO MONSTER ENERGY KAWASAKI AFTER BEING SO COMFORTABLE ON THE GEICO HONDA LAST YEAR? THOSE QUESTIONS WILL BE ANSWERED ON SATURDAY AFTERNOON.
Will Eli Tomac be able to put a rather shaky showing in the Supercross series out of his mind and embrace the challenge of what's to come this weekend and beyond? Are Tomac's outdoor settings dialed in despite moving to Monster Energy Kawasaki after being so comfortable on the Geico Honda last year? Those questions will be answered on Saturday afternoon. Whatever happens, we should expect to see a rejuvenated and highly motivated Eli Tomac pulling into the gate at Hangtown. Whether that smile remains is another story. Bring on the outdoors!