ONE PHOTO & ONE STORY: EVOLUTION OF THE WHIP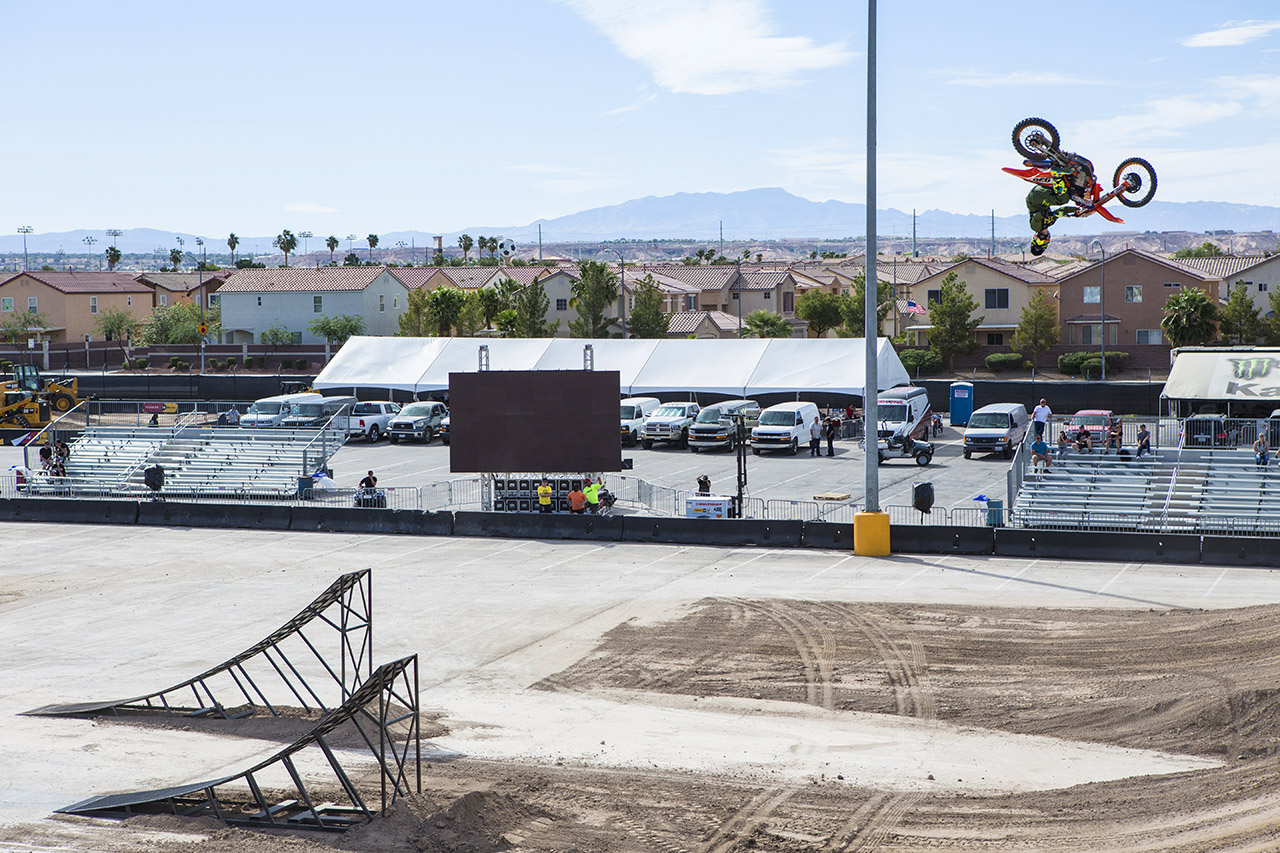 Tom Parsons goes upside-down during practice before the Biggest Whip contest at the Monster Energy Cup this past weekend.
By John Basher
What constitutes a great whip? Are you the old school type, preferring the classic curl over style of Kevin Windham or Ricky Carmichael? Or do you get excited when seeing a gravity defying turn-down whip–when a rider somehow navigates the front of his bike to point toward the take-off ramp? There's also the turn-up whip, which is very stylish, if a bit lost on the average motorcycle viewer. That question had to be answered by Jeremy McGrath, Seth Enslow, Mike Mason, Drake McElroy and Brian Foster this past weekend at the Monster Energy Cup High Rollers Best Whip contest. My job as head judge was to make sure they got it right. Now 11 years into my secondary job as a peace keeper/whipping post/sound board/judge, it has been a fun ride. I've traveled the world, experienced a variety of cultures, made some money and, most importantly, worked with the best in freestyle motocross. Cast aside any false pretenses you have about freestyle riders, because those opinions are wrong on the whole. Freestyle riders, in most cases, are friendly and nice. In fact, professional motocross racers could learn a thing or two from freestyle guys.
The boys of air are genial and mostly understanding of their placement at the end of a contest; although, as with any judged sport, resentment is sure to follow. However, by compiling a list of the sport's experts, the judging panel provides validity and fairness. It's hard to argue with judging when there aren't any hidden agendas or favoritism. The guys I mentioned above were solid this past weekend. Each brought their own speciality to the table, and I think the High Roller event competitors understood that. If only the gusting winds had taken note that we were holding a freestyle event that boasted $100,000 in prize money. Mother Nature had other ideas. Somehow the riders forged ahead, boosting a variety of jumps ranging from 70 to 110 feet in length, as well as a massive quarterpipe.
"THE EVOLUTION OF THE WHIP HAS COME A LONG WAY SINCE THE EARLY DAYS OF MOTOCROSS. THAT MUCH WAS EVIDENT IN WATCHING JEREMY McGRATH–AN EXCELLENT WHIPSTER IN HIS OWN RITE–REACT TO THE LATEST GENERATION OF WHIP MASTERS. HE CRINGED AND THEN, ONCE RIDER PUT WHEEL TO DIRT, 'SHOWTIME' GRABBED HIS HEAD IN DISBELIEF."
Of the three events–QuarterPipe Big Air, Biggest Whip, and Freestyle–whip was toughest to judge. There were 17 riders in total. The judges had to pare down the list to eight riders after the six minute jam session. From there, a five minute jam session presented the next obstacle, as Mason, McGrath and crew had to choose the top three. In the final, the three riders had two opportunities to hit the 80-foot ramp. The judges wisely chose Tom Parsons, Jarryd McNeil and Destin Cantrell for the final. In the end, it was Parsons and his ridiculous upside-down whips that earned gold.
The evolution of the whip has come a long way since the early days of motocross. That much was evident in watching Jeremy McGrath–an excellent whipster in his own rite–react to the latest generation of whip masters. He cringed and then, once rider put wheel to dirt, "Showtime" grabbed his head in disbelief. The trio of Parsons, McNeil and Cantrell were somehow bending the law of gravity and returning to earth without crashing. Even more impressive was the fact that they were bringing their best effort in 20 mile an hour wind gusts. It was unreal. How much farther will these guys be able to crank their bikes? The sky's the limit.