ONE PHOTO & ONE STORY: FINDING WAYS TO GO FASTER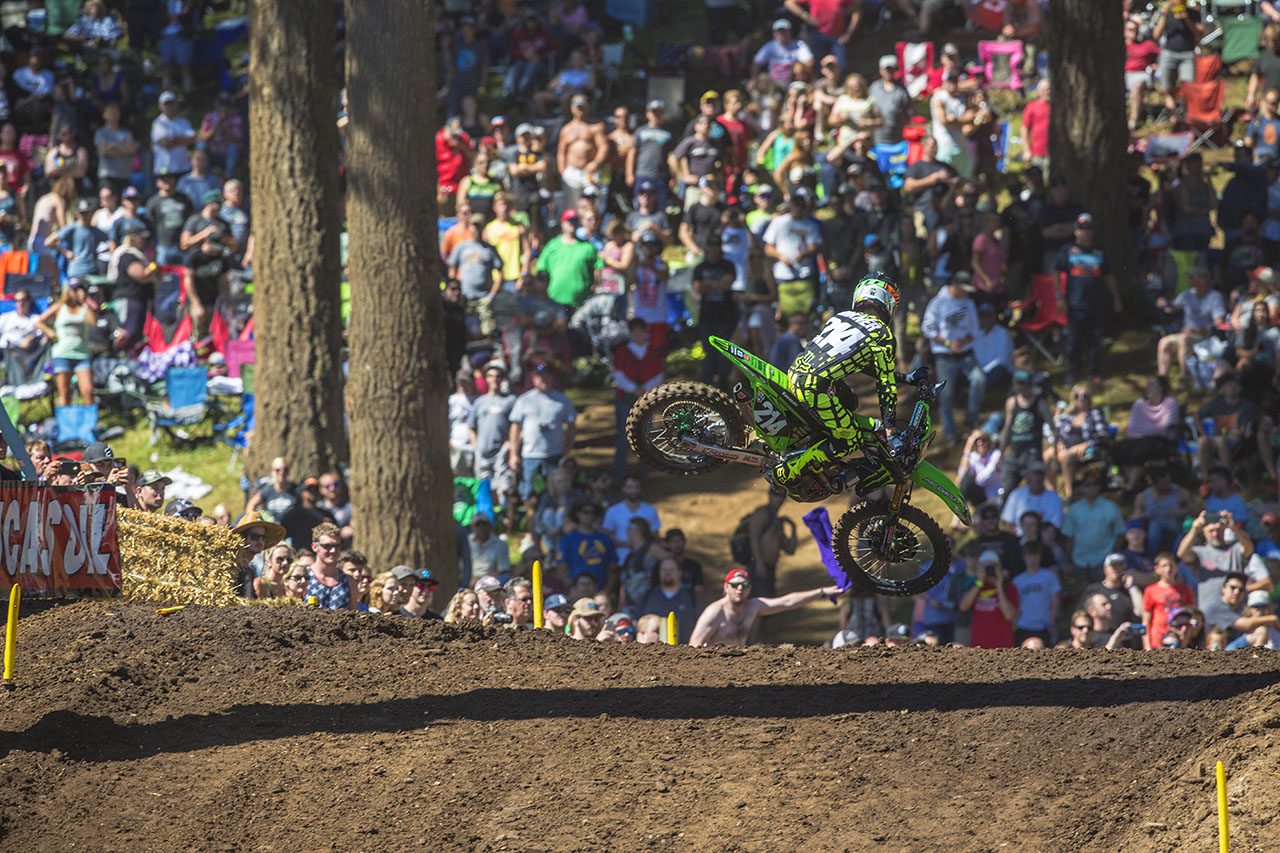 By John Basher
Many think that going fast is all about hammering the throttle and holding on for dear life. While there's much more to it than that, it's hard to disagree with that caveman-way of thinking. However, at a certain level in racing, motocross becomes much more exacting. Any Novice with a death wish and porridge for brains can turn on the throttle and roost away from the competition. That strategy only works for so long. Things like technique and forethought start to matter. The very best racers break down the track into sections.
Anyone who has ridden a motorcycle understands that a track forms different lines. Some of those lines are good, while most are either mediocre or downright awful. The goal for any racer is to get around the track as quickly as possible. You're probably thinking, 'Everybody knows that, John. You're just looking to boost your word count on this story by stating common knowledge.' Unfortunately, not every rider grasps the concept of going fast around a track. Some just circle the track to hit jumps. Others ride to impress their girlfriend. In this day and age, I'm sure some even ride in order to try and catch a Pokemon. By the way, my wife almost got taken out in the grocery store yesterday by some pimple-faced teenagers who were fixated on their phones trying to catch Pikachu in the bread aisle. Don't kids have something better to do? When I was their age I was busy building tree houses and dousing strangers with my Super Soaker 50. I didn't have enough money for the mother of them all, the Super Soaker 200. But I digress.
"GAINING A SLIGHT ADVANTAGE CAN MAKE THE DIFFERENCE BETWEEN FINISHING FIFTH AND CASHING A $100,000 BONUS CHECK FOR WINNING A 450 SUPERCROSS MAIN. WHEN IT COMES TO RACING, EVERYONE WITH A VESTED INTEREST IN A RIDER–FROM THE TEAM MANAGER TO MECHANIC, COACH, MAN FRIEND AND FAMILY–LOOKS AT SEGMENT TIMES."
Believe it or not, motocross is scientific. Pro racers spend thousands of dollars (some in the neighborhood of $50,000 or more) for trainers. Then there are the nutritionists and riding coaches. Pro's are employing these guys, not just because they need write-offs for Uncle Sam, but because at the top level it's very hard to find a competitive edge. Even the best in the world, like Ryan Dungey and Ken Roczen, pay people to help them get better. Gaining a slight advantage can make the difference between finishing fifth and cashing a $100,000 bonus check for winning a 450 Supercross main. When it comes to racing, everyone with a vested interest in a rider–from the team manager to mechanic, coach, man friend and family–looks at segment times.   
What are segment times, exactly? They are a list of times recorded by a rider's transponder in various sections of a track. For example, last weekend's Washougal National was broken into four segments–the finish line to the holeshot line; the holeshot line to the fly-off jump after the second turn; the fly-off to the big single following the infield triple; and the single jump to the finish line. The AMA records every rider's lap and segment times for both motos, and then breaks those times into the fastest individual and segment times. There are enough numbers to make a statistician's head spin, but they offer a glimpse into the race.
While I was lobbing questions at Pro Circuit Kawasaki rookie Austin Forkner after practice this past weekend, Austin was staring at a piece of paper. I asked what he was analyzing. It turned out to be a chart of the fastest individual segment times. Forkner stated, "I'm losing time in segment three (the fly-off jump through the downhill flyaway and infield triple), so I'll change up my lines in that section for the first moto. Then I'll take a look at the segment times after the first moto and see if that made a difference." Forkner got a bad jump off the start in the first moto and worked up to 10th. He hovered inside the top ten in total segment times that moto. However, with a great start in the second moto and a clear track in front of him after the Cooper Webb/Joey Savatgy debacle, Austin Forkner wasn't worse than third fastest in any segment and actually was fastest in the same section he had struggled with in morning practice.
Austin Forkner won the first moto of his Pro career by dedicating himself to racing, training endlessly, having a championship-caliber bike, a great support system and also help from Lady Luck when Savatgy, Webb and Jeremy Martin got tied up. However, had it not been for Austin analyzing his individual segment times and making adjustments in line selection, he very well might have gotten caught in the latter stages of the second moto by Alex Martin. Instead, Forkner powered away and into the record book.