ONE PHOTO & ONE STORY: KAWASAKI KX134 TWO-STROKE FEVER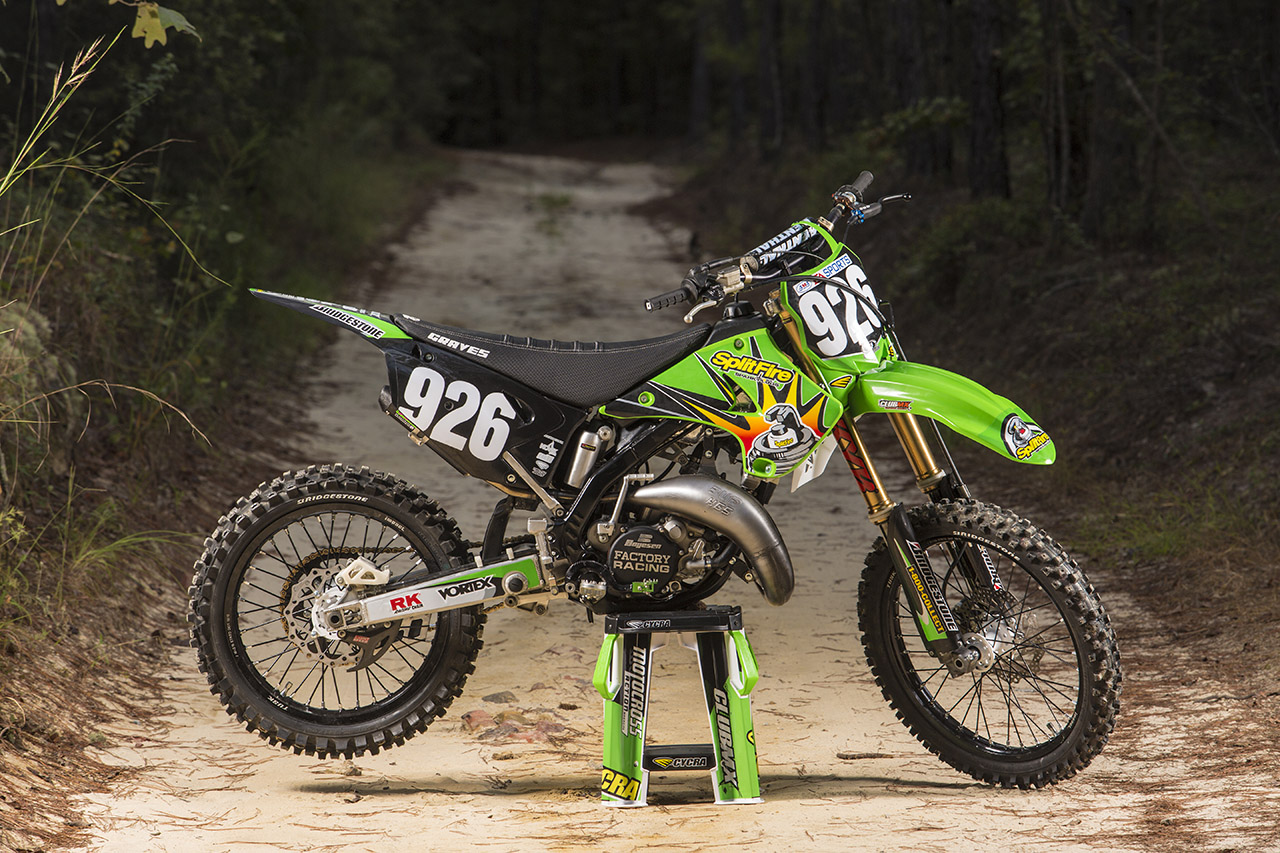 By John Basher
Merriam-Webster defines sickness as, "A disordered, weakened, or unsound condition." How else would you explain spending countless hours and gobs of money on an archaic bike that last showed racing promise over a decade ago? Yet something about two-strokes pull me in, as Lloyd Christmas famously said in Dumb and Dumber, "like a tractor beam, sucked me right in." Fortunately, I'm not alone. Maybe it's because I'm spreading the sickness of two-stroke fever among my friends. In the past two months alone, I've converted several over to the premix side. One ride of the forbidden fruit–my oh-so-cherry 2005 Yamaha YZ125–and all of a sudden my buddies want more.
Ben Graves operates ClubMX Practice Facility in Chesterfield, South Carolina. ClubMX was formed by Zach Osborne and Brandon Haas in 2009. The 100-acre facility has several outdoor and Supercross tracks, along with cabins, a pond, workshop, bike storage space, RV hookups, fitness center and more. It's motocross nirvana for serious racers looking to improve their craft. ClubMX is a fantastic place. If you don't believe me, be sure to attend their open house on November 5-6. Ben Graves knows how to operate and fix heavy equipment, work with the sand and clay that make up the Practice Facility track, tend to the grounds and run the business side of things. However, what really makes Ben shine is his knowledge of all things motocross. As a former Pro, Graves can still ride at a good clip. He has become a valued test rider.
"BEFORE LONG I STARTED RECEIVING CELL PHONE PHOTOS OF A TATTERED KAWASAKI KX125. IT LOOKED LIKE IT HAD BEEN TIED TO A CAMPER AND ROLLED OFF A CLIFF. SURELY THIS WASN'T BEN'S VISION OF THE ULTIMATE 125."
A few months ago I built up a 2007 Suzuki RM125. That bike appeared in the August 2016 issue of MXA. I asked Ben Graves to ride the bike for photos. He obliged. Half an hour after the shoot was over I couldn't get him off the thing. That day rekindled Ben's love for 125cc two-strokes. Little did I know that I had created a monster. Fast-forward two months, and Graves began sending my cryptic text messages about wanting to find himself. I figured he was turning the Practice Facility into a self-help camp. Before long I started receiving cell phone photos of a tattered Kawasaki KX125. It looked like it had been tied to a camper and rolled off a cliff. Surely this wasn't Ben's vision of the ultimate 125.
Graves finally let me in on his secret. He aimed at building a replica Pro Circuit Kawasaki KX125 in 1996 garb. Off he went into the wild blue yonder, scouring the internet for parts and calling in favors. The bike started taking form after Graves got the engine back from ex-factory wrench, Shawn Ulikowski. Long ago the engine was punched out to 134cc, and with it a special head and piston was used for more power. Those items went the way of the dinosaur, but Graves' KX tiddler still had some life left. Ulikowski was able to resurrect the little engine that could. Ben was back in business.
I know more than most that bolting on anodized doo-dads and shiny parts rarely does much to the bike's overall performance. Form should follow function. Ben Graves understand that, and his bike was a reflection of his beliefs. So while Throttle Jockey made Graves a custom set of Splitfire graphics and Cycra Racing shaved down his KX134 side panels, Ben always kept an eye on performance.
Enter his pal, Paul Mundt, who knows the inner workings of the motocross industry. Paul has been racing for decades. His rolodex is full of power players in motocross, include the late great Eyvind Boyesen. Mundt could talk the ears off an elephant, but that's part of his charm. He's been there and done that. As nice as Paul is, his collection of bikes–replete with factory trickness–really make an impression. Somehow he secured a set of KYB forks off Grant Langston's championship-winning 2007 Yamaha YZ450F outdoor bike. Lo and behold, Paul gifted the forks to Ben Graves. Hey, what are friends for?
The 48mm KYB stanchions fit right in the stock Kawasaki KX125 triple clamps. All well and good, but Graves faced a grave issue (I couldn't write a story about Ben without using his name as an adjective). He was faced with buying a Yamaha front wheel and brake system in order to match the wheel spacing. Partly out of creativity and dumb luck, he used a Honda front wheel and brake. The Honda wheel/Yamaha lug pairing was close. Ben figured out the wheel spacing in no time.
Look for a full breakdown of Ben Graves' 2005 Kawasaki KX134 in an upcoming issue of Motocross Action magazine. We'll tell you exactly what Ben did, how he did it, and if the results were worth the trouble. Should you attend the ClubMX open house on November 5-6, you'll be able to see Graves rip around on his prized KX134. Maybe, just maybe, he'll let you ride it. Be careful, though, because two-stroke fever is running rampant 'round ClubMX these days.