ONE PHOTO & ONE STORY: MAKING AMENDS WITH A BEAST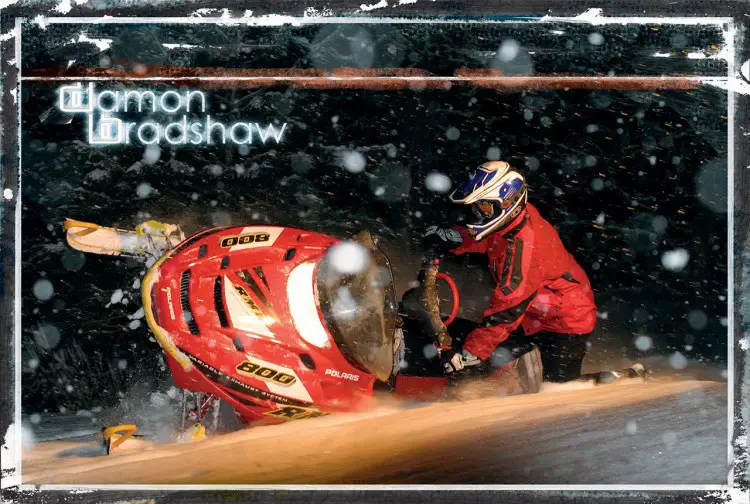 By John Basher
Very few people know Damon Bradshaw like I do. It's funny to make that statement, given that I've only ever spent three days with him and wasn't involved in the moto scene back when he raced. Yet spending uninterrupted time with a person at a log cabin in the mountains of Idaho can be revealing. The passing hours have a way of eroding away the niceties and false pretenses (not that Bradshaw had much in that regard to begin with), leaving two human beings with nothing to hide behind. No sooner had I arrived in Boise, Idaho, that I realized the following three days would be the best of times or the worst of times.
Add Damon Bradshaw to the list of MXA haters. He very well might have been the magazine's biggest adversary. It's fact that one time Bradshaw threw rocks at an MXA photographer after falling down and seeing that his picture was being taken. Damon refused interviews with MXA, and any words spoken by the "Beast from the East" in regard to the magazine were of the profane and vulgar type. The only reason Damon and MXA editors hadn't come to blows was likely because Bradshaw retired and faded away from the spotlight.
Somehow I had wrangled my way into Bradshaw's inner sanctum. It was no small feat, given that time hadn't tamped the flames of Damon's hatred towards us. Fortunately, I was inconspicuous to Damon. We didn't have a history, which worked in my favor. Upon our first meeting he was guarded and aloof. He slowly opened up while we chatted about common interest topics. Bradshaw was becoming jovial and funny, a fire cracker with a long fuse. He didn't seem like the angry pit bull I had read about in magazines.
MY KNUCKLES STARK WHITE AND FEAR WRITTEN ALL OVER MY FACE, DAMON TOOK DELIGHT IN SCARING ME TO DEATH. THAT'S WHEN I HEARD A TERM THAT HAS HAUNTED ME SINCE THAT JANUARY DAY IN 2006. WHILE HOWLING WITH EXCITEMENT, DAMON LOOKED ME SQUARE IN MY PANICKED EYES AND SAID, "WHAT'S WRONG, SISSY BRITCHES?"
The next day I sat in the back seat of his friend's massive four-wheel drive truck while Damon and his buddy cracked jokes in the front on our way into the Idaho mountains. I was in the midst of two good ol' boys who knew how to have a good time, mainly because they didn't care about details. We hammered up the mountains through deep snow, spinning and sliding out around the corners en route to Bradshaw's cabin. My knuckles stark white and fear written all over my face, Damon took delight in scaring me to death. That's when I heard a term that has haunted me since that January day in 2006. While howling from excitement, Damon looked me square in my panicked eyes and said, "What's wrong, Sissy Britches?" From that moment forward my nickname was Sissy Britches. How degrading.
Of course the name calling opened up Pandora's Box. It gave me the opportunity to start ribbing Bradshaw about everything I could think of. We went back and forth the rest of the trip, trading one insult for another. It was awesome. Needless to say, your skin better be mighty thick if you're in the company of Damon Bradshaw.
That evening we decided to coordinate a photo shoot in the snow outside his stately log cabin abode. I used workshop lights to illuminate a small area beyond his garage and snapped away as Damon cut a deep swath through the snow. He effortlessly pitched the Polaris snowmobile on its side. It was easy to see that Bradshaw's natural talents didn't stop at motocross.
The following day we rode snowmobiles through the Idaho wilderness. It was a great adventure, filled with laughs and the occasional tongue lashing ("Don't let off the throttle, Sissy Britches, or you're going to bury the snowmobile track! I'll leave your worthless hide here until spring."). Fortunately we all made it back to Damon's cabin with enough time to drive back down the mountain before a snowstorm socked us in. My last day with Bradshaw was spent flying around with him in his Piper Cub. The flight was equal parts exhilarating and scary. Make sure to check back in a future "One Photo & One Story" web feature for the follow-up to my trip with "The Beast from the East."