ONE PHOTO & ONE STORY: POINTING OUT OF 250 SUPERCROSS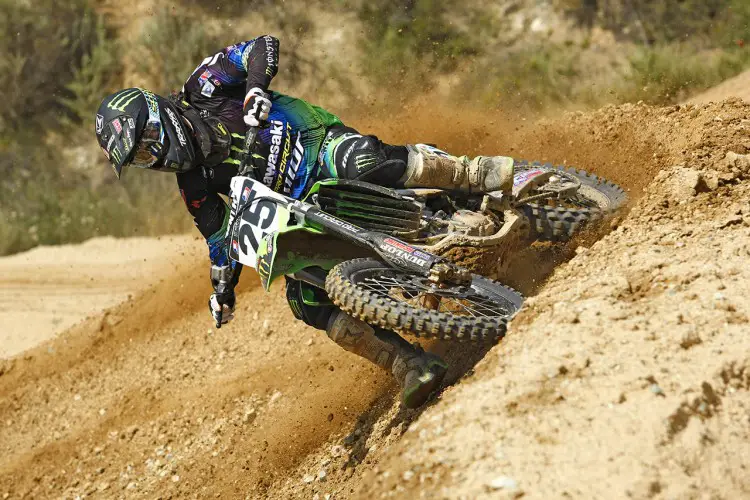 By John Basher
Have you ever heard of a rider taking a dive? Feigning injury? Missing in action for no apparent reason? These things happen in 250 regional Supercross virtually ever year. History reveals a number of riders, many well known, who employed these creative tactics in order to remain eligible for the 250 East/West Supercross series; i.e. not be forced to move up to the 450 Supercross class. There's no reason to call out the riders who took dives—they know who they are. Plus, some riders are best suited to a smaller displacement and might not have had a career if bounced from the 250 class. Taking dives is an art form. It has to be done in such a way that you don't bring your reputation into disrepute or get fired by the team you stiffed (by not trying to race up to your potential while on their dime).
The AMA has changed the 250 East/West (previously the 125 East/West) rules many times. The last change came in 2009 and that rule remains in effect for 2016. It states, "Effective with the 2007 season points, riders earning at least 135 250SX Championship points in a nine-race season, 120 250SX Championship points in an eight-race season, or 105 250SX Championship points in a seven-race season, in three season of 250SX competition will be ineligible for the 250SX class." That's plain and simple, if you earn more than the prescribed number of points over any three years (not necessarily consecutively), you are out.
However, there are two other rules that can effect the eligibility of riders who win their respective Championships. Those are highlighted below:
e. AMA 250SX Regional Champions may defend their championship's the following season, with the following clarifications…
2. A rider that wins a 250SX Championship will be eligible to participate in the 250SX class for a maximum of three years total regardless of what year he/she won the title. (i.e. if a rider wins the Championship in their third year of 250SX competition, they will be ineligible for the 250SX class regardless of points and therefore not eligible to defend their 250SX Championship title).
3. After a rider wins a second Championship, in either region, the rider will be ineligible for the 250SX class, regardless of points or number of years in class.
WHAT'S THE TICKLE TRAP? IN 2011, BROC TICKLE WON THE 250 WEST CHAMPIONSHIP FOR THE FIRST TIME. CONVENTIONAL WISDOM WOULD SAY THAT TICKLE COULD DEFEND HIS TITLE IN 2012. WRONG.
What does all of this mean? (1) Both the East and West regions have a nine-race series for 2016, so the 135-point threshold is in play. The Las Vegas final will be a combined East/West shootout event that will award points towards both East and West Championships. (2) Cooper Webb won the 250 West in 2015. This is his last year of eligibility, because he was given one year to defend the title. He must move to the 450 Supercross class in 2017. (3) There are several riders who are in danger of falling into the "Tickle Trap." What's the Tickle Trap? In 2011, Broc Tickle won the 250 West Championship for the first time. Conventional wisdom would say that Tickle could defend his title in 2012. Wrong. Broc was victim of the clause that stated if a rider wins a regional title in his third year or beyond, he is ineligible to defend the title. Conversely, Trey Canard won the 250 East in his rookie season of 2008. He was still allowed to race for two more seasons, because a rider is "eligible to participate in the 250SX class for a maximum of three years total regardless of what year he won the title."
Everyone, including Broc Tickle's boss, Pro Circuit's Mitch Payton, was surprised that Tickle was ineligible to race the 250 East/West class in 2012. Broc was under contract and therefore Payton had to honor the deal, even though he didn't have a 450 program in place. Tickle did reasonably well in his first 450 Supercross season, placing as high as sixth (Salt Lake City) and finished ninth overall. The Broc Tickle photo that accompanies this story was taken of Broc on his Pro Circuit KX450F at Pro Circuit's upper Supercross test track at Glen Helen on March 29, 2012.
Things turned out well for Tickle. He landed a RCH Suzuki rider in 2013, and has been on the factory-backed team since then. Unfortunately, a rash of injuries have held the Cary, North Carolina native back from reaching his full potential–Tickle is currently nursing a broken wrist. He should be back at the gate in the next few weeks.
Of the 250 Supercross competitors in 2016, there are several whose career paths may change depending on how they fare this indoor season. Those riders are highlighted below:
Joey Savatgy: The Pro Circuit Kawasaki rider broke the 120-point threshold for the first time last year (the 250 East comprised eight rounds). He has already accumulated 134 points this season–one point shy of breaking the 135 point threshold–with two rounds remaining. Barring injury, Savatgy should use up his second year of eligibility in 2016. That will give him one more year in 250 Supercross. However, there's a catch. If Joey wins the 250 West title this year he will be forced out of the class for 2017. He will need to make up 11 points in two races in order to win the 250 West…and then look for a 450 ride.
Justin Hill: Troy Lee Designs KTM rider, Hill, will get bumped up to the 450 class in 2017 if he wins the 250 East title this year. Justin has raced 250 Supercross since 2013, making this his fourth year in the class. He would be ineligible thanks to the "Tickle Trap."
The other one-and-done riders: Malcolm Stewart, Martin Davalos, Jeremy Martin, Shane McElrath, Matt Bisceglia, or Tyler Bowers will automatically get moved up to the 450 class next year if they win the 250 East title. All of these riders will have at least three years of experience racing 250 Supercross once the gate drops in Atlanta. One racer may earn more than a title this season. The victor's career will change after he hoists the AMA number one plate. Winning is never a bad thing, unless that rider unknowingly falls into the "Tickle Trap" and can't find a factory ride for 2017 (think Tim Ferry in 1998).
Cooper Webb: He's headed to the 450 class no matter what happens in the 2016 AMA 250 West title chase.  No worries, he's got a 450 ride lined up.