ONE PHOTO & ONE STORY: THE DIGITAL PHOTOGRAPHY BOOM

Click on image to enlarge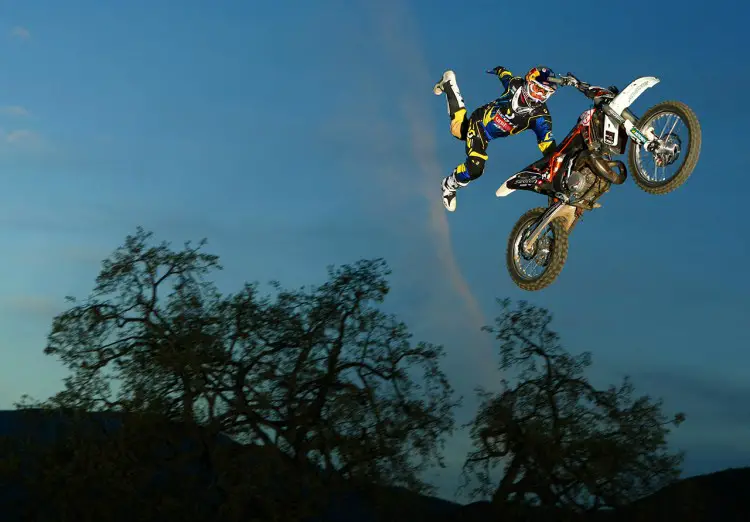 By John Basher
Motocross is a tough activity to photograph. Sure, the subject material is unlike anything else in the world, but to capture something unique is challenging. It's great to see so many young aspiring photographers buying digital cameras and heading out to practice tracks around the country. Many have the drive and dedication to make a name for themselves. Thanks to the advent of digital technology the act of shooting a good photo has never been easier. How strange it sounds that getting a great motocross photo is hard, despite the ease of taking a photo. I suppose it's comparable to riding a motorcycle. The vast majority can twist the throttle, but very few can go fast.
In the old days–that is to say before the digital photo revolution–a photographer had to understand the inner workings of a camera. I still remember learning the intricacies of the camera from my high school photography teacher, Mrs. Renee Weber Wrotniak. I processed film in the darkroom and produced black-and-white prints by following a series of steps. Imagine having to do that now. Attention spans are getting shorter and shorter. An image of kids losing their minds before getting through the Stop Bath process runs through my mind. Sorry kids, but the light from your cell phone screens will ruin your images.
When I landed a gig at Motocross Action I put the darkroom behind me. Gone were the hours spent inhaling rotten-egg smelling Fixer solution. Instead my time was spent walking up to the front of MXA's palatial towers with supply list in hand to get dozens of rolls of Fujichrome Velvia 50 color slide films. That film was the cat's meow in 2004. I don't know how many thousands of dollars MXA spent on film processing fees in those days. Typically the turnaround time on a roll of film was two days, depending on whether I drove the film down to the processing facility or lazily waited for the film processor to pick the rolls up at the office. It's hard to believe film photography was king a decade ago. It's more baffling to think that it took several days to see the results of a photo shoot. After that I had to look at every single photo on a slide projector to check sharpness. A slide loupe was my best friend.
"THE IDEA OF 'SPRAY AND PRAY' WASN'T FINANCIALLY FEASIBLE. YOU HAD 36 OPPORTUNITIES TO GET THE SHOT BEFORE HAVING TO RELOAD THE FILM CARTRIDGE. SO, YES, THERE'S SOMETHING TO BE SAID FOR KNOWING WHAT YOU'RE DOING BEHIND THE LENS. HOWEVER, THE GLORY DAYS OF FILM PHOTOGRAPHY ARE LONG GONE."
I do miss certain aspects of film photography. The process, while not fast by any means, was scientifically so cool. It also took an experienced and learned photographer to get a good shot. The idea of "Spray and Pray" (an unendearing term photographers use for holding down the shutter button and shooting bursts in the hope of getting a good photo) wasn't financially feasible. You had 36 opportunities to get the shot before having to reload a film cartridge. So, yes, there's something to be said for knowing what you're doing behind the lens. However, the glory days of film photography are long gone.
It's nice to see that photography has grown in popularity with the advent of digital cameras. Like I said, it's great how young motocross enthusiasts are picking up a camera and shooting photos of their buddies. Different generations bring a unique perspective on what makes a good photo. These kids are the "Scrubbing Generation" of digital photography. They're in your face and unafraid of failure. Maybe their only downfall is in trying to become "InstaFamous," a term for being popular on Instagram.
I like digital photography. New technology and trends have taught me to reinvent myself as a photographer again and again. It has also made me broke! Camera equipment isn't cheap, and the payoff for selling photos isn't what it once was. Fortunately the passion is still there. Take this photo of Mat Rebeaud from 2011. We had a sunset photo shoot set up at Wyvern Ranch outside of Piru, California. The Swiss freestyle rider ran through his usual bag of outstanding tricks while I used a Hensel Porty strobe pack to illuminate him at 30 feet up. The photo created a memory that I'm now sharing four years later. That's what photography is all about for me. Do yourself a favor and pick up a camera (big props if you go the film route). It will open your mind to new opportunities.