ONE PHOTO & ONE STORY: WHAT BIKES WOULD YOU OWN?

Click on image to enlarge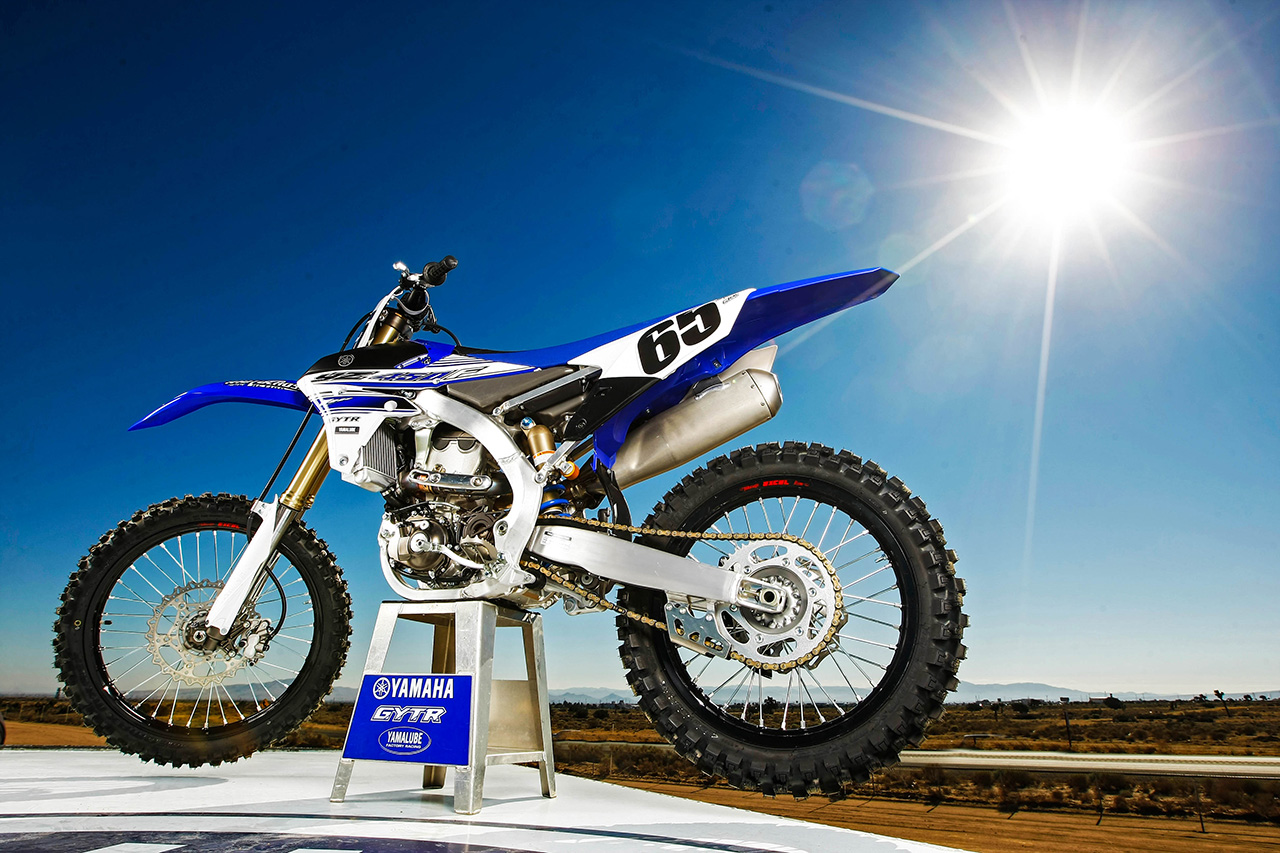 By John Basher
If you're of the mindset that all modern motocross bikes are the same–save for the color of their plastic–then you're wrong. Saying that a 2016 Honda CRF450 and 2016 KTM 450SXF are identical is to plead ignorance. For starters, the Katoom makes 4-1/2 more peak horsepower more than the Honda. It's a difference that can be felt by a neophyte rider. Then there's the matter of suspension performance, handling, cornering and braking. So while the gap between brands has narrowed in the past decade (save for the botched Kawasaki/Suzuki alliance), it's obvious that different motorcycles are just that–different.
What's your favorite 450 four-stroke? That's not actually a fair question. Some riders fancy themselves on a 250 four-stroke, 125cc two-stroke, or maybe even a 500cc two-stroke relic from a time of long ago (just after the Apple I was invented but before the dreaded Cube). The fact that there are so many options further strengthens the point about motocross bikes being different. It's too bad that the majority of manufacturers turned their backs on two-strokes, because the market would be packed with choices. It's also too bad the economy took a swan dive off a springboard into an empty pool. But I digress.
WHAT'S FUNNY ABOUT 250 FOUR-STROKES, OR MAYBE THE TRACKS I RIDE, IS
THAT ALMOST EVERY JUMP ON EVERY TRACK CAN BE CLEARED BY HITTING IT
WIDE OPEN IN THIRD GEAR. WHY IS THAT? WHATEVER THE REASON, A 250F
USUALLY TAKES THE GUESSWORK OUT OF JUDGING THE DISTANCE OF
MOST JUMPS. FOR THAT I'M THANKFUL.
In order of riding preference, a 125 two-stroke is at the top of the list. The joy of wringing out the small displacement machine can make a person feel superhuman. A cacophony of sound bellowing from a finely tuned 125 is music to my ears. My second choice would be a 450 four-stroke. It's the ultimate racer's bike–capable of matching up against modified equipment and slightly faster riders. A 450 gives me the ability to twist the throttle harder and subsequently get a shot of adrenaline to the chest. In third place are 250 four-strokes. As fun as they are fast, there's excitement in trying to keep momentum moving forward in order to clear the next jump. What's funny about 250F's, or maybe the tracks I ride, is that almost every jump on every track can be cleared by hitting it wide open in third gear. Why is that? Whatever the reason, a 250F usually takes the guesswork out of judging the distance of most jumps. For that I'm thankful. As for my very last choice of bike, a 250 two-stroke takes the cake. To me, that type of machine is too hard to jump accurately, too explosive for my tastes, and just too much of a good thing.
Maybe a more appropriate question would be this; if you could have four bikes in your garage, which ones would you choose? According to recent bike sales, odds are you'd buy a KTM 450SXF, Yamaha YZ250F, KTM 350SXF, and Yamaha YZ450F (shown above). In 2016 KTM and Yamaha distanced themselves from the rest of the pack in terms of offroad bike sales, with KTM gaining major ground recently in the motocross segment. I guess I'm not the everyman, because only one of those bikes is on my list (the Yamaha YZ250F). My other three choices are a Yamaha YZ125 (best bike ever), Kawasaki KX450F (I know how to set one up to near perfection), and a Kawasaki KX250F (it has the best powerband in the 250F class). My garage would be complete with those four bikes. I'm 25 percent there after recently picking up a Yamaha YZ125 for dirt cheap.
On a side note, there's a funny story about the above picture of the 2016 Yamaha YZ450F that I shot. Yamaha unveiled their new bike at Competitive Edge in Hesperia, California, on July 8th of this past year. Hesperia has good taco shacks and enough tumbleweeds to satisfy a spaghetti western film, but the place isn't that picturesque. So instead of photographing the bike with the track or a patch of scrub brush behind the blue machine, I somehow convinced the Yamaha staff to let me shoot the bike on top of their semi. It wasn't easy getting the YZ450F on the roof. We got the bike up as high as we could with the mechanical lift gate, and then used a loading ramp to push the bike the rest of the way. Things got sketchy, as we nearly dropped the thing onto the desert floor 15 feet below. Fortunately it worked out. Otherwise we would have ridden a brand-new bike with crushed radiators and bent handlebars.