P.J. LARSEN'S AUSTRALIAN RACE REPORT:
PJ Larsen Race Recap ? Round 5 Australia Super X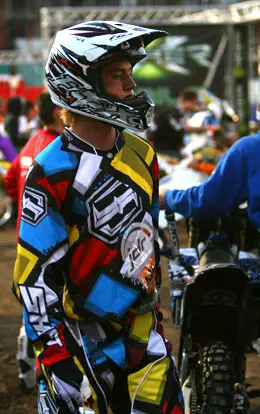 The rain has been threatening us all season long and at the fifth round in Dunedin, New Zealand, we got poured on! The rainfall was so heavy that they canceled practice and based our gate picks for the qualifiers off of the championship point standings.
    We were given a few sighting laps before our heat race and then we were off to line up for the start of the event. I had a terrible start in the first heat race but came through the pack pretty quick and had moved up to 4th by the first lap. I moved into 1st on the second lap and continued to carefully navigate my way around the rutted track out front. I took the win and then sat on the sidelines to watch the track deteriorate more as the remainder of the qualifiers took off.
    The promoters decided to run two 7 lap main events. In the first race, I again had a horrible start. I managed to work my way up into 3rd by the end of the race to salvage points after my rough start.
    I started inside the top ten in the next final and was feeling confident until a rider crashed in front of me and I ran into them. I lost a few positions while trying to maneuver around them and then quickly got back into the race. I took my time to pass riders and tried to be patient through the mud. I was able to work my way up into 2nd by the end of the race.
    At the end of the night, my 2-3 scores earned 3rd overall. I was happy with the way the night turned around after so many bad starts. Best of all, I still have a 4-point lead in the championship race. I am looking forward to our team's hometown race at Parramatta Stadium next weekend where I hope to grow my points lead.
    Thanks to my JDR Motorsports/Motorex/KTM Team, MxRad, Shift, Scott, Pirelli, FMF, my trainer Brad Johnson, my chiropractor Steve Navarro and Ryno Organics.