PASHA'S KTM 150SX: ENGINE-BUILDER SHOOTOUT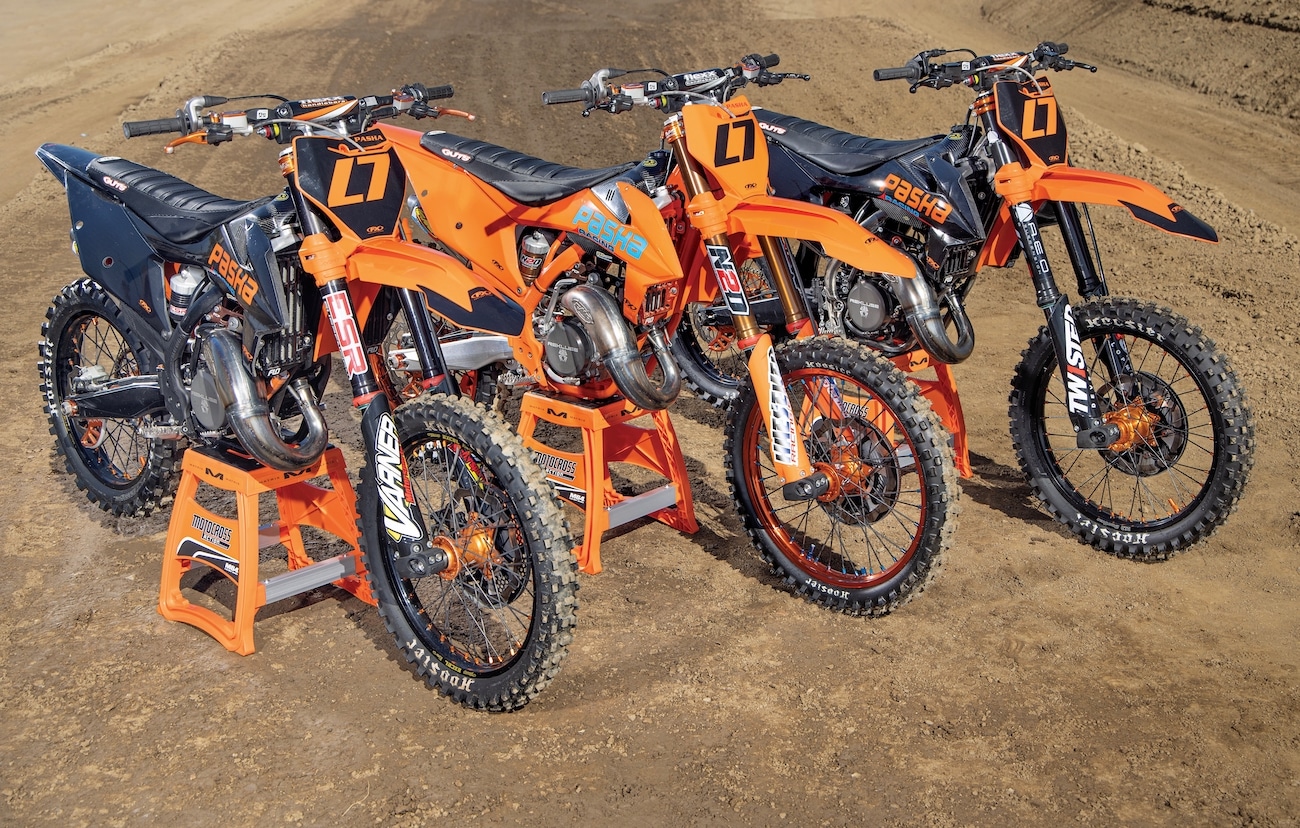 Pasha Afshar is responsible for thrusting thousands of dollars into the motorcycle industry in the past three years. A significant amount of the money comes from his own pocket. He's not only spent big cash hopping up his own race bikes, but he's poured thousands of dollars into his Pasha 125 Open races, handed out big cash prizes to inspire riders, young and old, to line-up at Glen Helen on big-bore 125 two-strokes in the Pro, Over-30 and Over-50 classes at the World Two-Stroke Championship, World Vet Championship and selected "Saturday at the Glen" races. 
Thanks to Pasha's over-the-top marketing, there's more money pouring into our industry from fellow two-stroke lovers who've spent money in the aftermarket, building their hot-rod 125s for Pasha's races. Not to mention all of the riders who've bought 125s after watching videos and reading articles about riders like Mike Alessi, Jeremy McGrath, Mike Brown, Ryan Morais, Doug Dubach, Kurt Nicoll and many more two-stroke buccaneers.
PASHA'S CRAZY SHOOTOUT CONCEPT
Take it from us, testing motorcycles is no easy task. MXA is constantly working to limit the variables when testing products and bikes to ensure that we are able to report the most accurate results. Every year we conduct production bike shootouts and, in 2019, we assembled a project bike shootout with a KTM 125SX, Yamaha YZ125 and Husky TC125  built by Pro Circuit, Twisted Development and R&D Racing. Each engine builder had a completely different brand of bike with different parts on it. 
However, for this KTM 150SX Shootout, Pasha had a concept to eliminate as many variables as possible, making it a true head-to-head battle between engine builders—and nobody else. These were not MXA test bikes and we had no say in what parts Pasha used or who he had assemble them, but we do know that he paid for all the engine work out of his own pocket. 
Would we have picked different engine tuners? Well, we did in our 2019 Project Bike shootout—but this wasn't our project, it was Pasha Afshar's. Pasha loves two-strokes and does not sell motorcycle parts of any kind. He supports the sport by sponsoring riders, lending out bikes, funding bike builds and paying large purses for his series of 125 two-stroke races for which he does not take a penny.
You might think it would be tough to get three different engine builders to agree to use the same fuel, carburetor, pipe, clutch and reeds, but since Pasha bought all three bikes, paid the bills for all three engines and, after some grumbling, Jamie Ellis, Terry Varner and Jim Haeseker agreed to the terms. They understood that this was a true engine builder shootout where the best tuner would win. 
THE THREE BIKES
Since Pasha is the owner and end user of all three test bikes in this shootout, he fashioned all three with the parts that he personally uses. The whole idea was kicked off with just one KTM 150SX that was built by controversial Varner Racing. Pasha raced this bike in his own events, and often shared it with other riders who he wanted on the line in the Pro class.
When, Pasha found out that KTM was switching to fuel-injection for 2023, he searched for one additional, brand-new, carbureted, 2022 KTM 150SX to build up. This time Pasha decided to send KTM 150SX bike number two to Jim Haesaker in Northern California. Haesaker is known for building high rpm screamers and Pasha dropped this brand-new bike off just days before the 2022 Hangtown National. MXA has no business relations with Terry Varner or Jim Haesaker, but we do have a close connection to the builder of the third KTM 150SX—Jamie Ellis.
How did Pasha end up with a third 150? He got a call from off-road racer Cooper Abbott (son of off-road legend Destry Abbott). Cooper had put $27,000 into a KTM 150SX to race in the Pasha 125 Open class at the 2022 World Two-Stroke Championships, but Cooper signed a contract with Sherco (a Spanish off-road motorcycle manufacturer) just two weeks before the event and couldn't ride the bike anymore. It looked exactly like one of Pasha's other bikes with black plastics and an orange front fender. Of course, Pasha couldn't resist and he picked it up for $11,000. This bike's engine was built by Jamie Ellis at Twisted Development. Jamie writes a column every month for MXA and helps us with technical issues when called upon
With three KTM 150SXs, Pasha's next move was to tell Jody his grand plan for a shootout of his three identical KTM 150SXs—only with a different hot-rod engine in each one. Jody like the idea and assigned Josh Mosiman, Travis Fant, Trevor Nelson, Josh Fout, Brian Medeiros and Daryl Ecklund to set up a test day at SoCal's Perris Raceway for the MXA wrecking crew to do a true-to-life engine builder shootout on Pasha's dream bikes. And these truly were Pasha's dream bikes—there were no concerns for what the MXA test riders might have preferred in terms on handlebars, suspension set-up, tire choices or graphics. The MXA test riders were passengers on a bus driven by Pasha.
THE TEST PARAMETERS
From the top to bottom, here's the list of the aftermarket parts that Pasha wanted on each bike: FMF Works Fatty pipes and Shorty silencers, V-Force 4R reed valves, Lectron Billetron 38mm carburetors, VHM head a with the motocross chamber installed, Rekluse torque drive clutches, Vertex pistons, stock cranks, stock rods and stock CDI's. As for fuel, Pasha uses two gallons of Sunoco Maximal fuel mixed with 3 gallons of 91 octane pump gas with Yamalube-R pre-mix at a 32:1 ratio.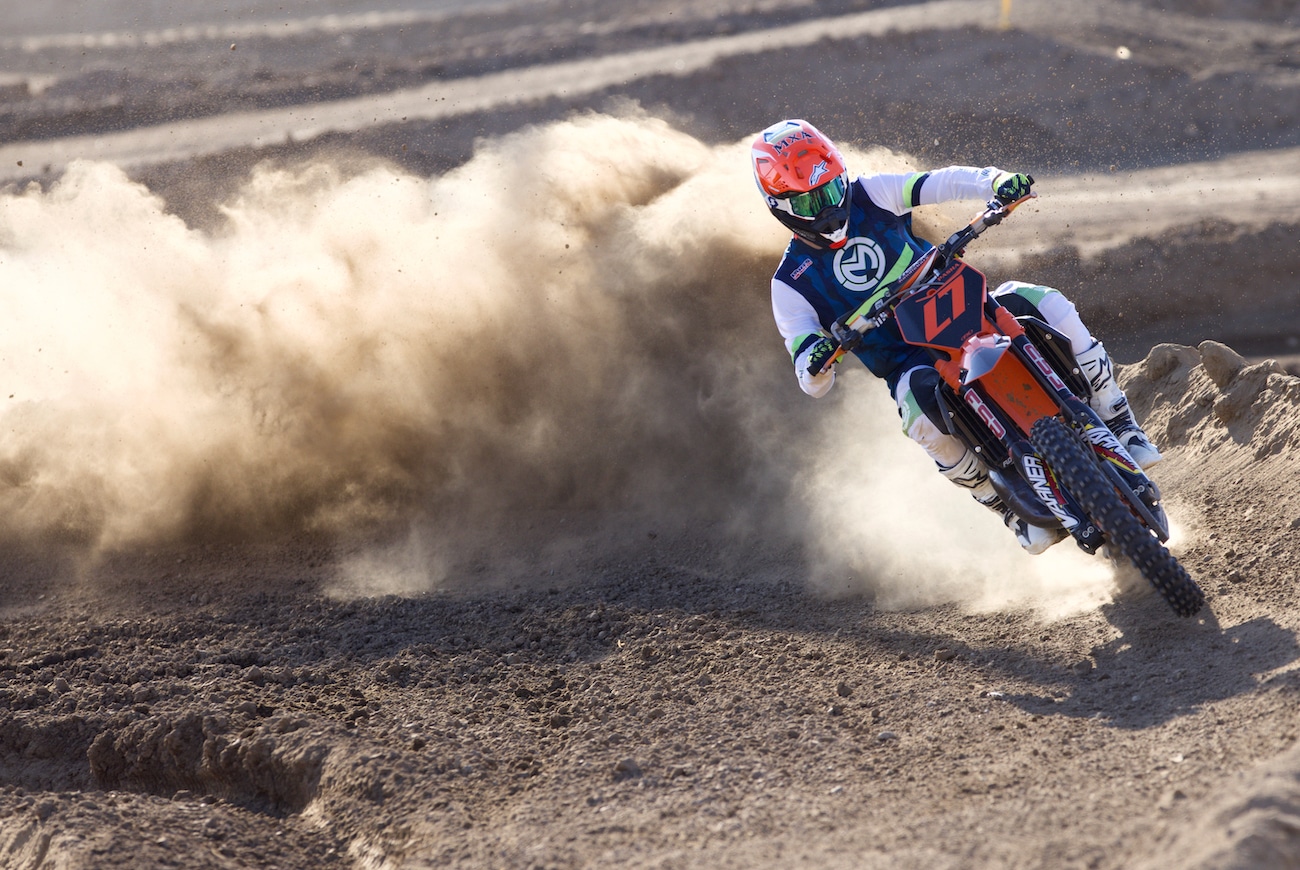 The bikes were outfitted with Guts Racing RJ wing seats, FastCompany Flexx handlebars, aftermarket triple clamps (two Neken SFS and one Powerparts Factory clamp), WP suspension with coated air forks re-valved to Pasha's spec, WP shocks (with coated shock shafts and 48 N/mm springs), Dubya wheels, Hoosier X30 tires, Dirt Tricks sprockets (13/50 gearing), D.I.D Gold chains, factory Brembo front brakes with oversized front brake rotors, TM Designworks Guide and Slide kits on two of the bikes and an SK chain guide on the Twisted bike, P3 Carbon fuel tank covers, KTM Powerparts rear brake rotor guards, Raptor titanium footpegs and Acerbis plastics with Factory Effex graphics. 
Additionally, there were three different suspension tuners involved in the shootout as well (AEO, ESR, N2D), but we didn't focus on suspension in this test because it was clear right away that each suspension company valved the WP components for Pasha and not for MXA's 135-, 155- and 175-pound Pros who would be testing the bikes. The suspension was too soft for our test riders on the jumpy Perris Raceway track, but it worked great for Pasha at Glen Helen, which was the intended track for each setup. 
HAESEKER RACING KTM 150SX
Jim Haesaker is best known for being Gared Steinke's engine builder. Although Stankdog doesn't have the most family-friendly brand, you can't deny his skills on a motorcycle. Known for racing 125 (and sometimes 250) two-strokes in Supercross and at the Nationals, Jim Haeseker has helped Steinke run with the best four-strokes on a 125. Jim teamed up with Al Posey, another knowledgeable Northern California engine builder, for nearly a decade now, and they worked together on the KTM 150SX build.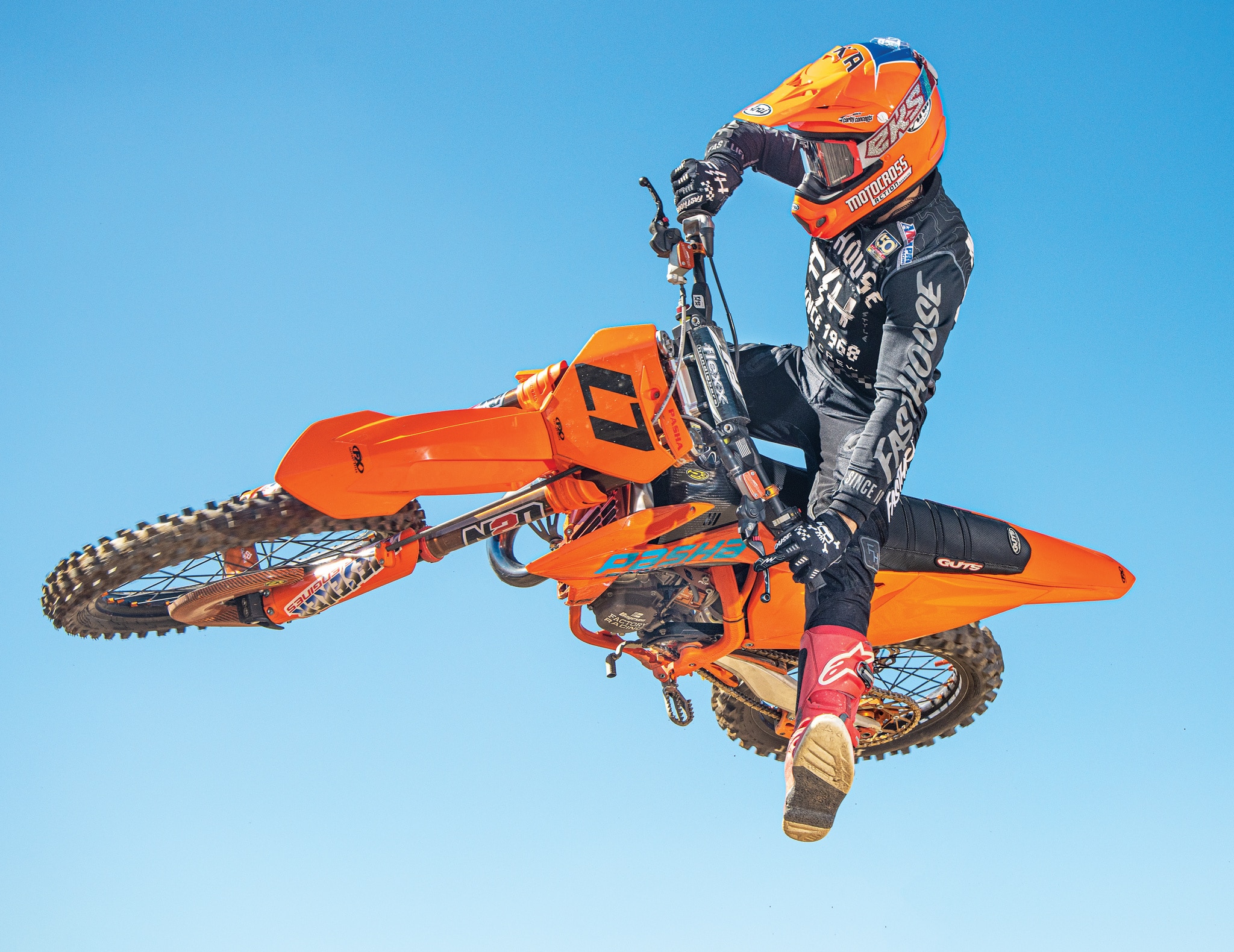 Pasha drove over six hours to the Haeseker shop in Northern California to drop off the engine for one last tune-up. While there, Pasha got to see the elbow grease that Haeseker puts into his engines. Every inch of the Haeseker engine was polished to an almost chrome-like finish, which reduced friction and heat, while boosting power.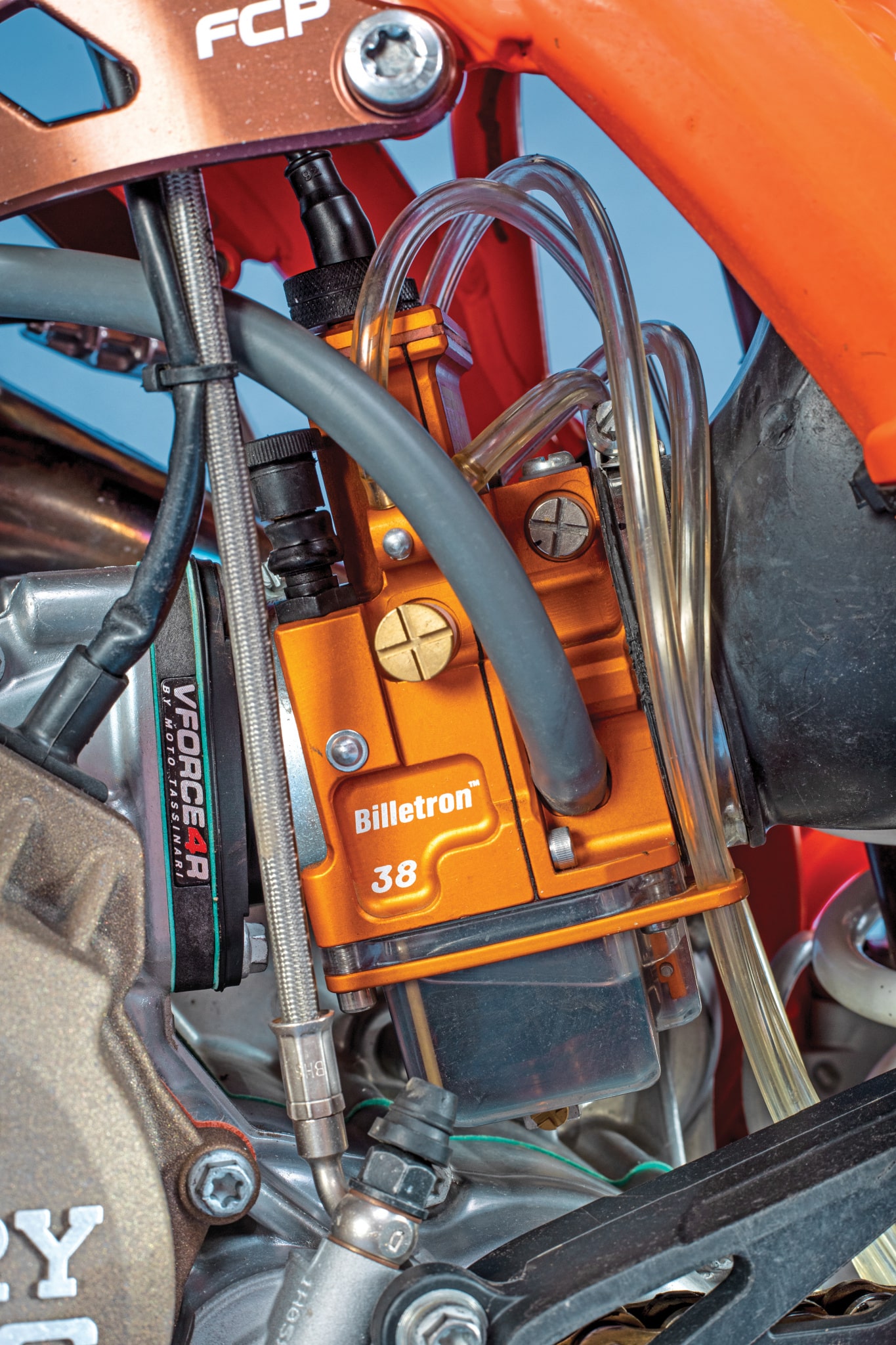 On the track, the Haeseker 150SX was a high-rpm screamer that ran crisp and clean without any hiccups. However, our main complaint with this engine was that it lacked torque coming out of the corners. The Haeseker engine was a pro-oriented engine with a power window that was focused mostly on top. The stock KTM 150 engine uses the same bottom end as a 125, only it uses a KTM Powerparts cylinder, cylinder head, piston, power valve, combustion-chamber insert, control covers and power-valve flap. Based on our experience testing KTM 125s and 150s, every test rider agrees that the 125 is easier to ride. While the 150 is faster, but has a narrower power window. Since Gared Steinke is limited to racing a 125 two-stroke (and not a 150) in the 250 class at the Nationals and Supercross, Jim Haeseker has more experience with that bike and we expect that his 125 engines would have a wider power window than his 150 offerings. 
VARNER RACING KTM 150SX
Terry Varner has a vast history with two-stroke engines. He's most notably remembered for building all of Mike and Jeff Alessi's two-stroke engines throughout their amateur careers, and even building the CRF450 that Mike turned Pro on as a privateer. Varner was as famous as a tuner could be back then, but Terry fell on hard times, damaging his business and his reputation. Pasha offered Varner a chance to redeem himself, by including his engine in this shootout.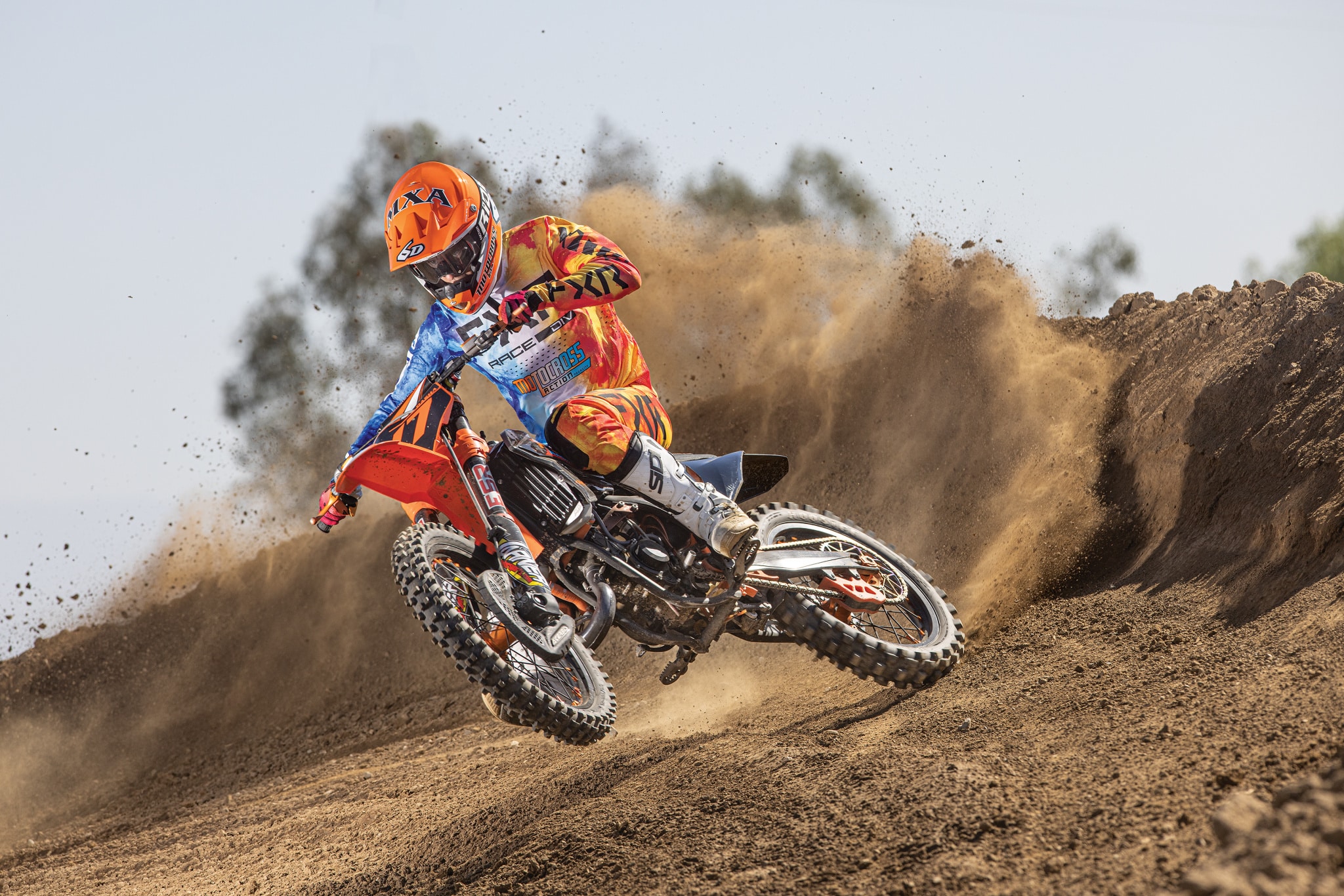 After the first lap on the Varner-built 150, our testers thought they had found a winner. The Varner-built 150 had an insane amount of power, but like the Haeseker engine, it took skill to keep it the meat of the power. The FMF Works pipe and Shorty silencer emitted beautiful two-stroke music from the Varner 150, which encouraged our testers to over-rev the bike.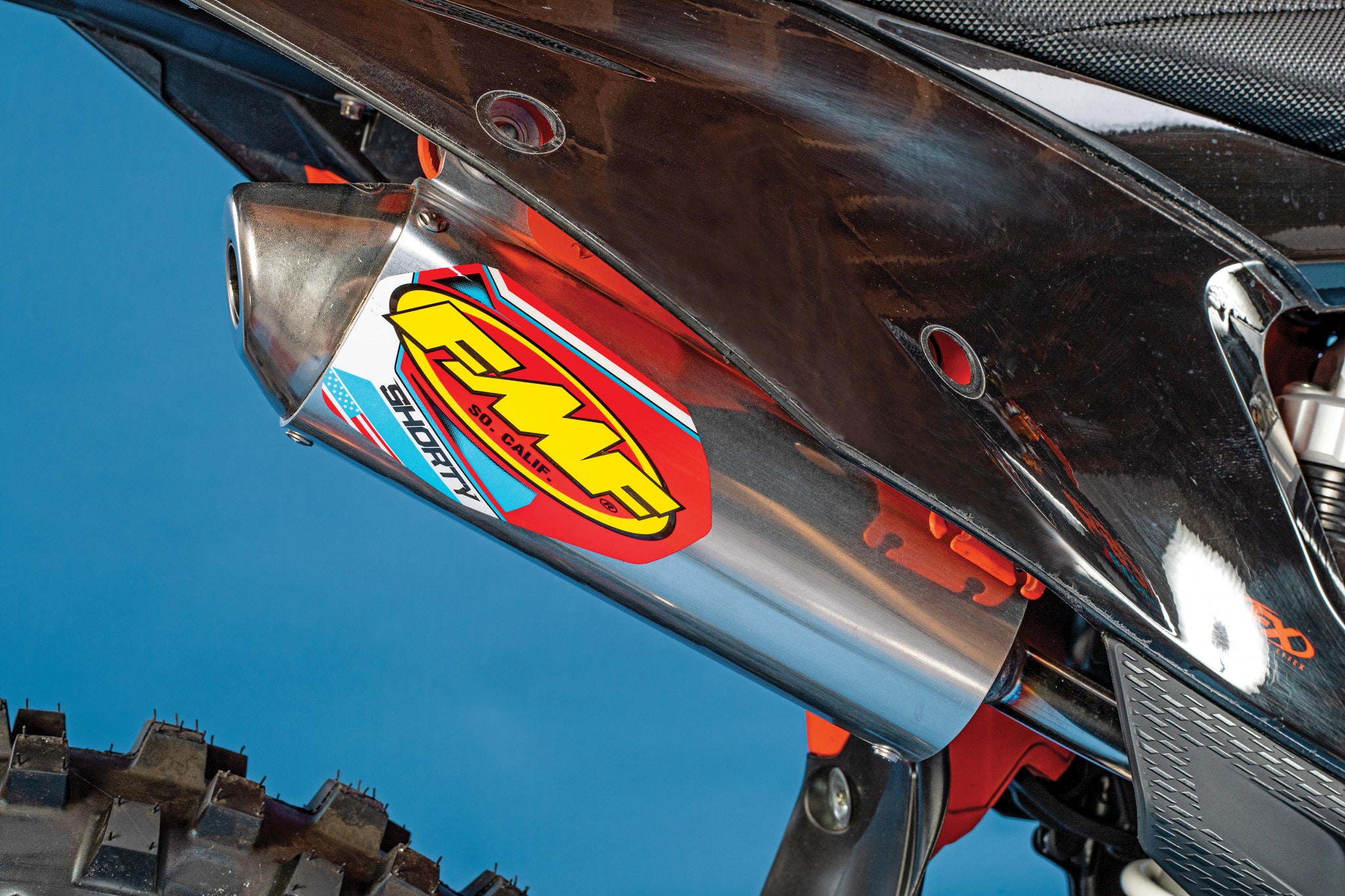 After the testing was complete, we discovered that the KTM power valve was stuck open during our test day—explaining why the power was hard to manage. The KTM power valve begins to open at 5000 rpm and continues until it's fully open at 7500 rpm (with stock settings and springs). This delayed opening of the exhaust valve is meant to meter the power, making it easier to manage coming out of corners.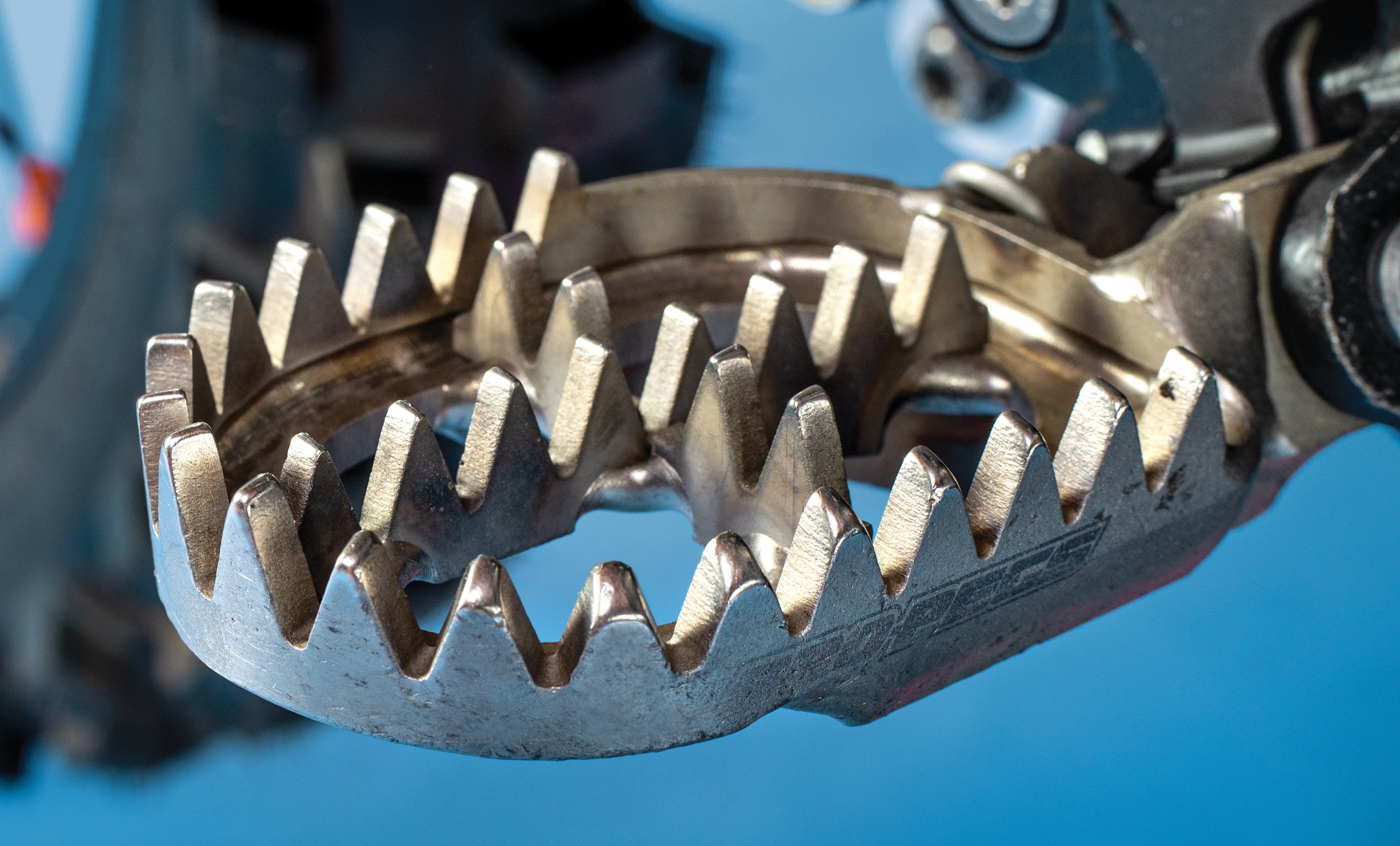 With the valve stuck open, the power kicked on like a light switch and pulled hard. It was a pro-focused power that, surprisingly, was still good. It has been a while since the MXA wrecking crew has tested a Varner-built two-stroke, but he's still legit and we know one reason why Mike Alessi is so good at starts. Because of the light-switch power, this bike felt the fastest. 
TWISTED DEVELOPMENT KTM 150SX
Jamie Ellis was out of the country during our test, but his right-hand man, Jim Braho, filled in as our Twisted Development representative for the day. Jamie Ellis is well-known in the motocross and Supercross world for creating power for any rider or team in need. Over the past ten years, Twisted has taken over the privateer pits as the most popular engine builder in Supercross and the AMA Nationals. Jamie also built all of Haiden Deegan's KTM mini bikes, Superminis and 125 engines up until he signed with the Star Racing Yamaha team. Still, our favorite aspect about Jamie is that he writes a column in MXA every month, turn to page 62 to read his "Twisted Logic" column.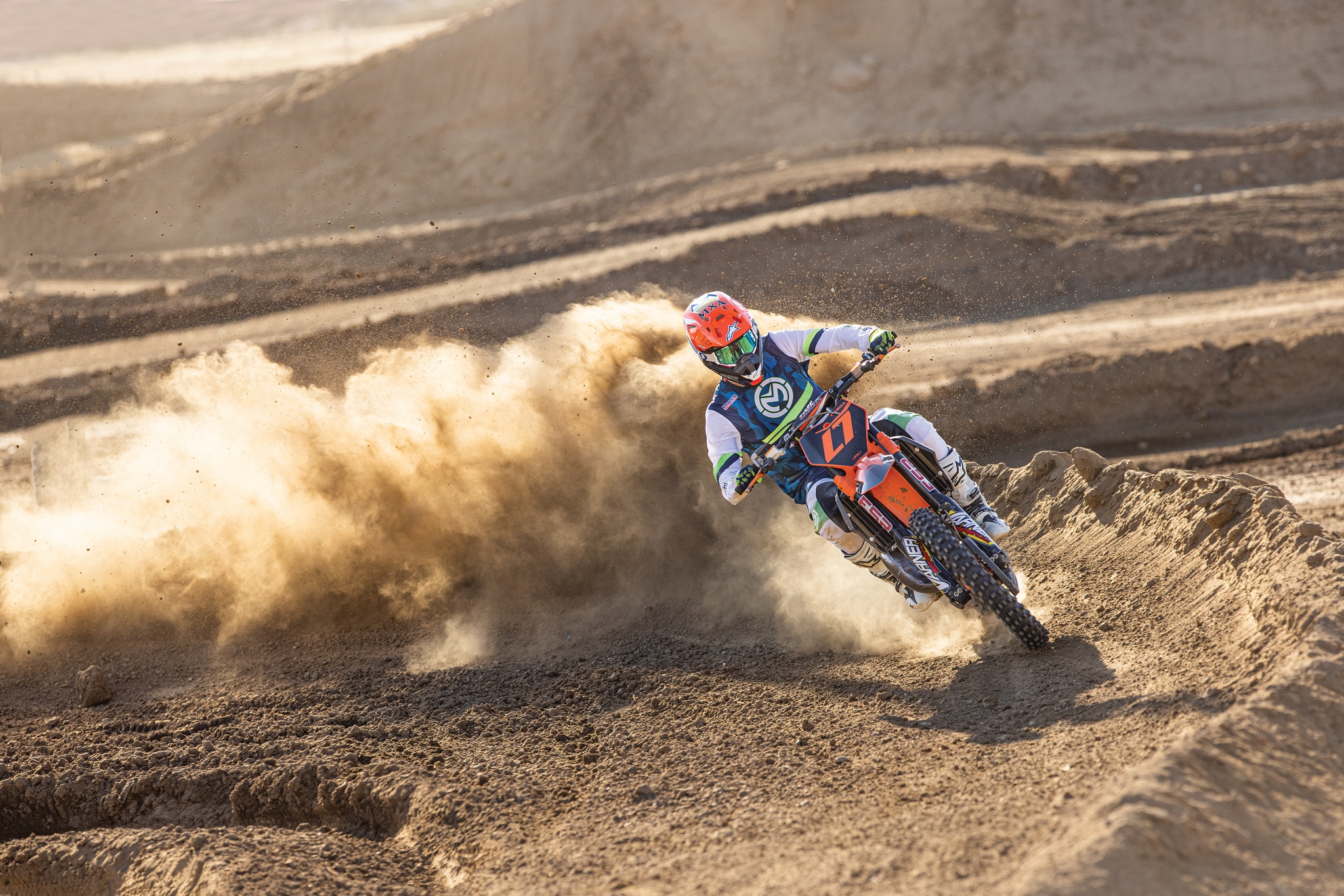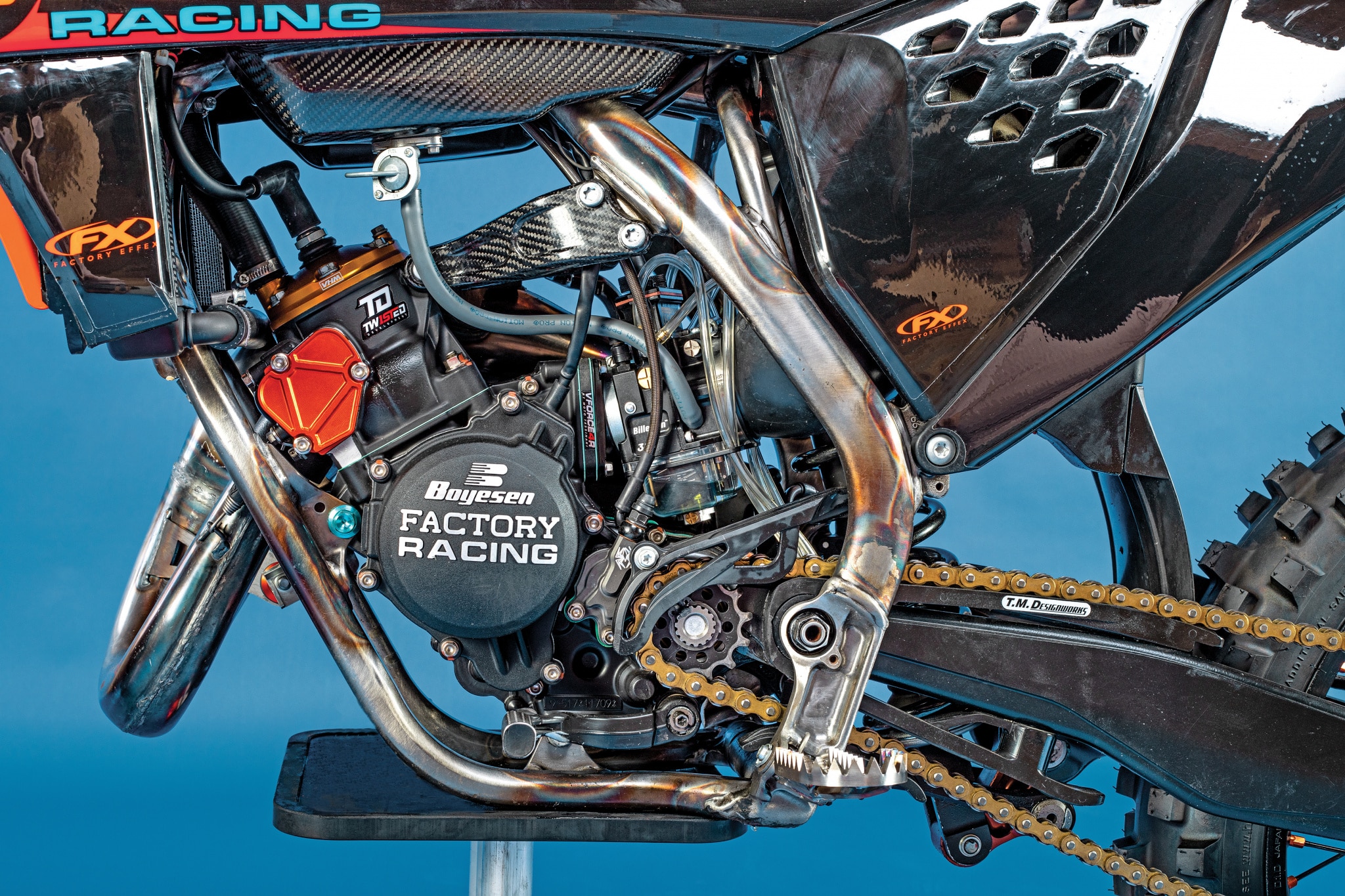 The Twisted Development's KTM 150SX came from Cooper Abbott with a beautiful chromoly steel frame that had the black paint sandblasted off and was then clear coated, giving it a raw metal look. It also had Pasha's signature coated black swingarm with black plastics and an orange front fender. It also had carbon fiber engine mounts instead of FCP and KTM Powerparts triple clamps instead of Neken. These came from Cooper Abbott and Pasha didn't feel the need to change them. Jamie Ellis wanted to run VP MRX02 in his engine, but we had to stick to Pasha's original rules of running the same fuel in each bike, along with all of the other performance parts. 
On the track, the Twisted Development 150SX was the easiest bike to ride. It wasn't the fastest on top, but it was the smoothest and most user-friendly. On a tight track like Perris, rideability goes a long way while peak horsepower holds less value since the corners are tightand the straightaways are short. Each tester had an easier time riding the Twisted bike. 
THE ENGINE BUILDER SHOOTOUT RESULTS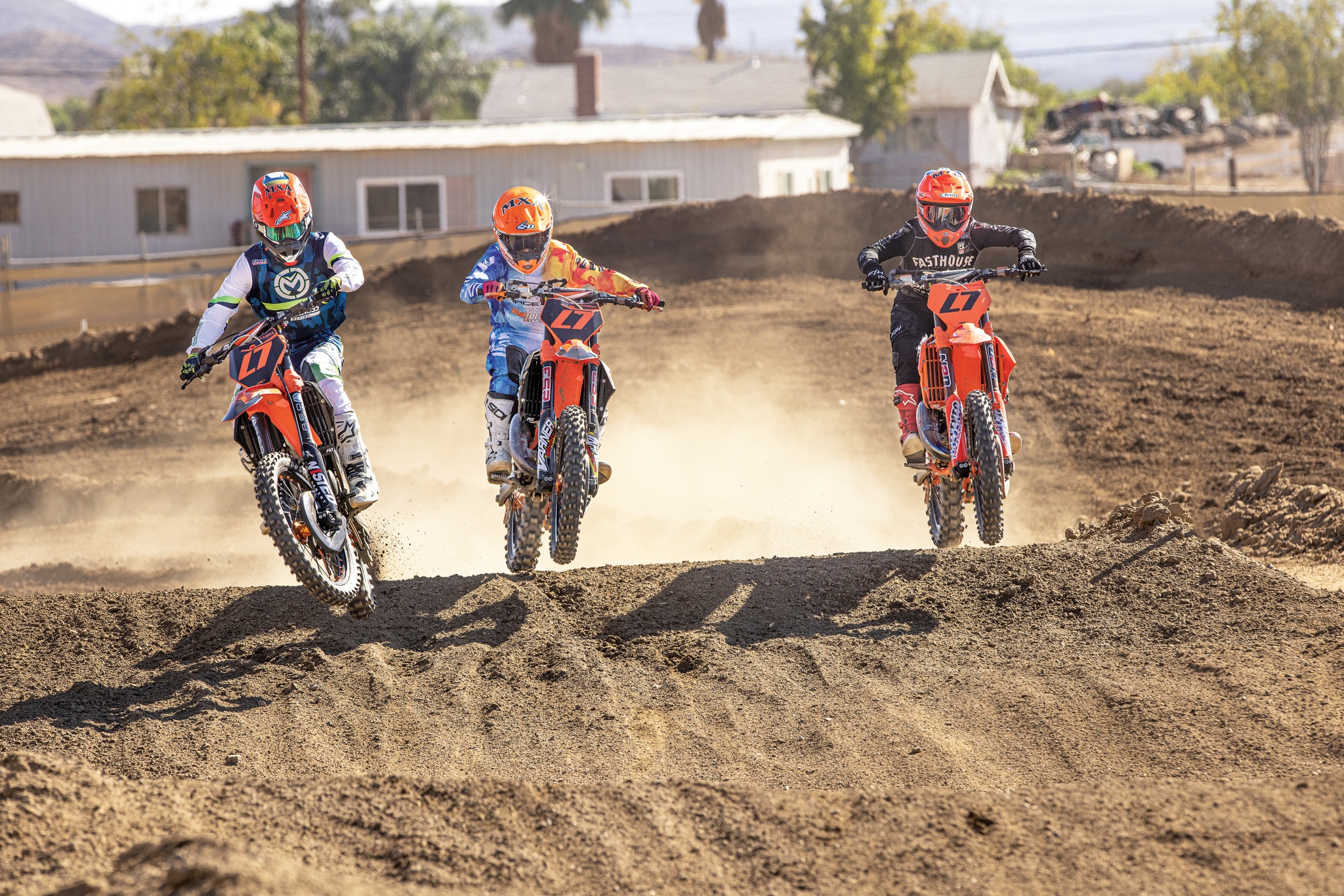 After a long day of riding, we were impressed with how the three KTM 150s worked on the track. No, our testers didn't like the Flexx handlebars or Pasha's suspension settings on any of the bikes, but we didn't line up this shootout to gripe about Pasha's personal favorite parts, we were laser-focused on the engines. After implementing strict, NASCAR-like parameters on the parts each builder could use, we ended up with three different motorcycles that each had their own power character—with their own set of pros and cons. 
The Varner bike was fast, but it took the most effort and skill to ride. The Haeseker bike had a power delivery that was crisp and clean, without any hiccups. It was the smoothest to shift and featured incredible top-end power, but it lacked on the low end. The Twisted bike had a great bottom-end connection and a strong midrange, but it didn't feel as fast on top.
If tested without comparison, our test riders would've been more than happy to go to the starting line with any of the three bikes. However, after switching back and forth multiple times, the majority of test riders pointed to the Twisted bike as their top pick. Still, with three engine builders staring down the MXA test riders, the best way to settle the score was in an old-fashioned stopwatch war. 
The methodology with simple. We picked one test rider and instructed him to go all-out on each bike, doing his best to use the same lines each lap. Even with the dry and rough track conditions and the pressure of everyone's eyes on the only rider on the track, the time difference between the three bikes was within half a second. Varner–1:55.24, Haeseker–1:55.09, Twisted–1:54.79. In the end, the Twisted Development-built 150SX scored the quickest time with the Haeseker second and Varner third. 
It's not often that a rider can go back-to-back on three different bikes and score lap times so incredibly close. The results simply show that even though the Twisted bike was the clear winner, these three bikes were evenly matched.
\