PERSPECTIVE: SAN DIEGO SUPERCROSS FROM THE STANDS
Click on images to enlarge
Photos by Jon Ortner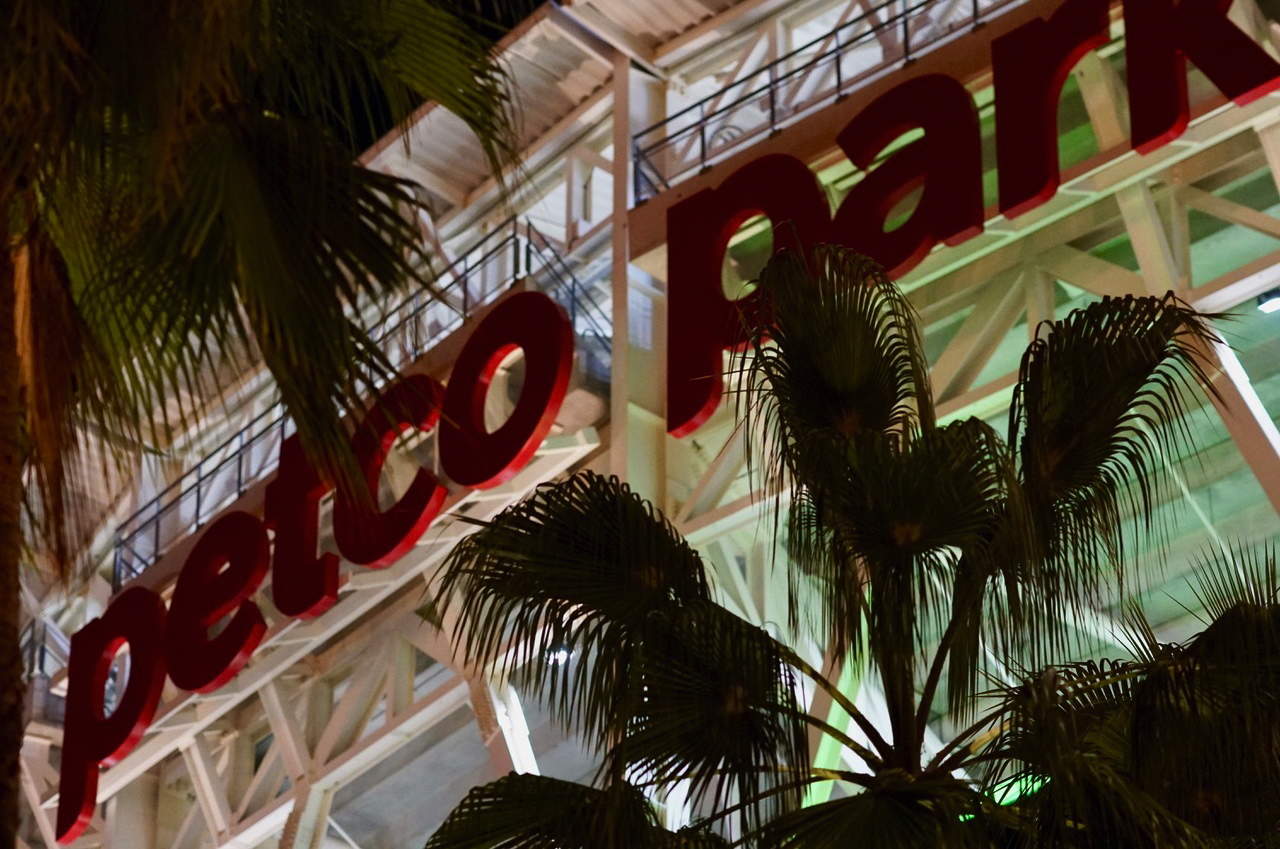 San Diego's Petco Park is a beautiful stadium and even the palm trees look happy on a cool night in SoCal. Last year San Diego had two rounds of the AMA Supercross series, but this year it was one and done.
Jon Ortner is a man about town. The former AMA Pro makes his living as an artist, but he moonlights as a drummer in a Santa Barbara band (playing the Cajon, what did you expect?), ladies man, motocross racer, part-time MXA test rider, motocross school instructor and philosopher who waxes poetically about all things dirt bike. Jon wanted a full press pass for the San Diego round and was surprised when overworked Supercross press relations man Sean Brennen didn't feel that making the top 20 in an AMA National in 1985 was good enough bona fides to hand out the valuable passes. Not deterred, Jon took up station in the expensive seats and decided to capture the night. After Sean Brennen sees these photos, he'a probably going to call Jon and offer him a spot in the team managers two-story track side tower this weekend—which begs the question is why is there a two-story building the center of a Supercross track blocking the spectators view? Enjoy the spectators view.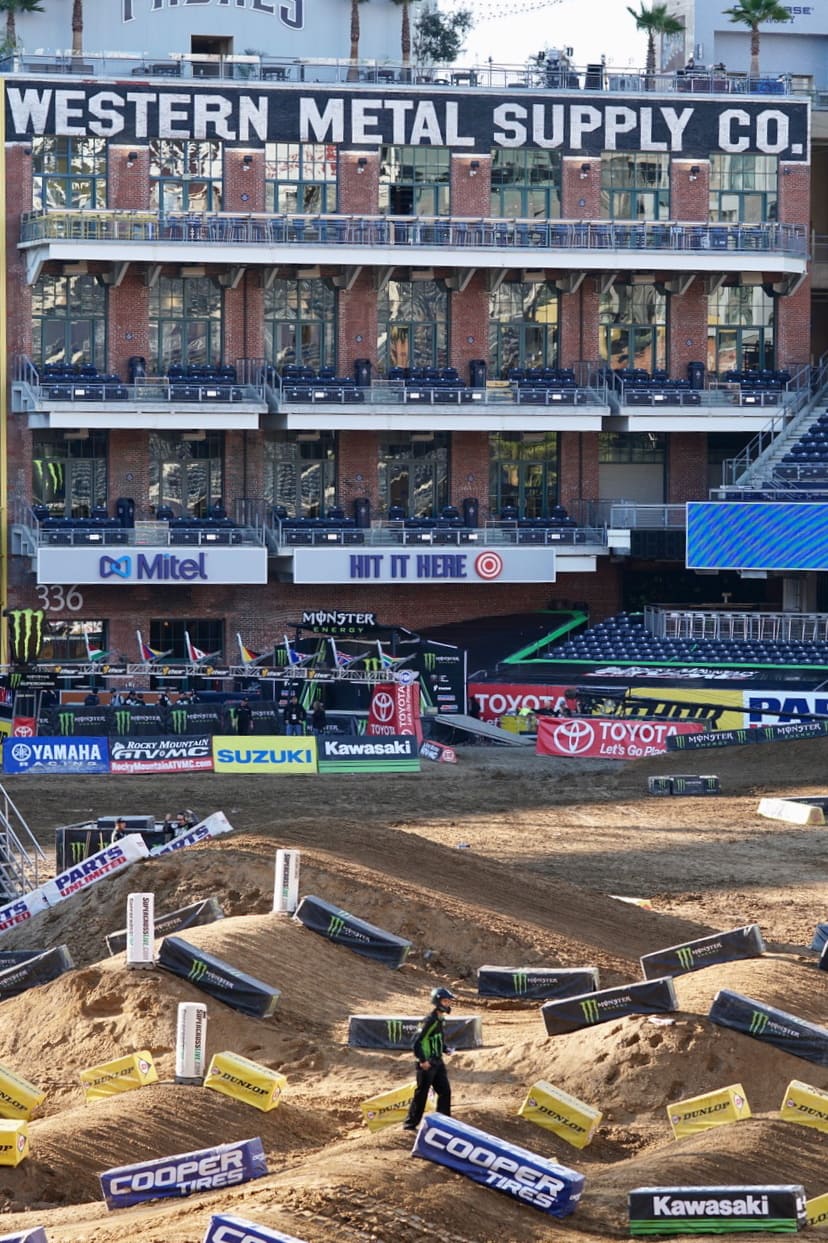 When they built Petco Park, the historic Western Metal Supply Building was in the way. But rather than tear if down the stadium built it into the design—as luxury boxes.
You can't shoot a lot of action shots from the stands, especially with a Brownie box camera after the sun sets. Jon captured this snap on Cooper Webb during the day time practice session. The city buildings make Petco a very urban Supercross.
You may not know Chris Cole (left) and Brett Helm (right), but they are two guys who love motocross and will do whatever it takes to help the sport grow. We only have one question…
…Why is Brett hanging out with Chris Cole when lovely Erin is waiting for him in the stands.


Jon Ortner couldn't snap his photo of the Enticknap brothers until they were sure that their camoflage caps were properly backwards on their heads. Once they were sure that the elk couldn't spot them, Adam and Tyler posed. Great guys. They follow in the footsteps of many brothers who have raced Supercross at the same time.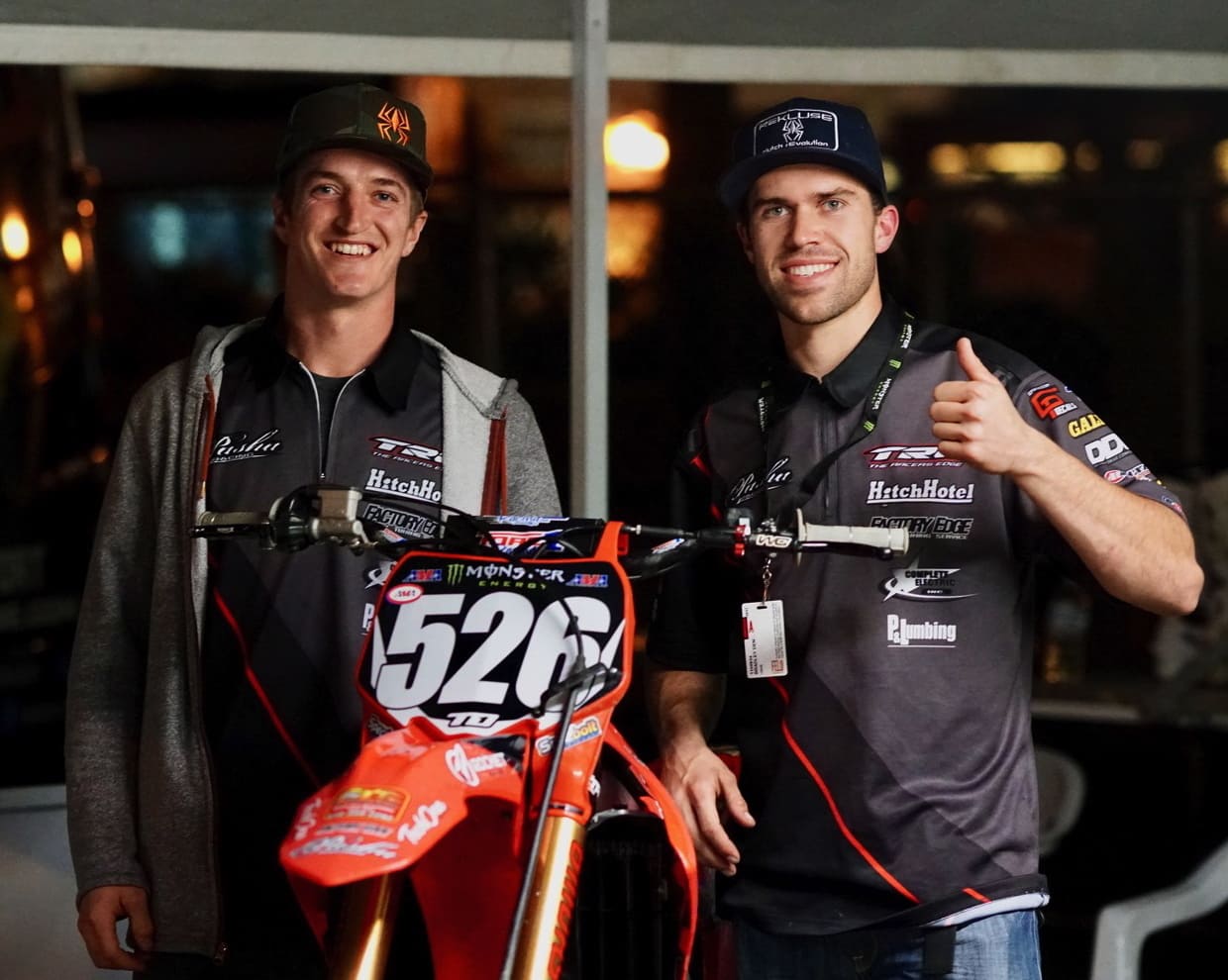 Colton Aeck (right) is sponsored by Pasha Racing, The Racers Edge, Hitch Hotel and Rekluse. Like all privateers he is on a shoestring budge. His mechanic is Bradley Denton (right), who is a motocross racer helping out a buddy during the 250 West series. Pasha Afshar is a mover and shaker in Hollywood, but he is also a motocross racer. Pasha likes to help out deserving riders and since Pasha doesn't sell any products, it is just a gift to the sport he loves.
Jon shoots a photo of his buddy, MXA's Daryl Ecklund, walking across the track. Sean Brennen gave Daryl the press credentials and photo vest that Jon was sure should have gone to him.
Geico Honda's Jeremy Martin discusses the days events, while the football game plays on the semi's big screen.
Justin and Brian Muscutt are from Northern California, but Justin is down in SoCal so that he can race and ride everyday to advance his Pro career. Dad makes the long drive on the weekends.
Security must have been lax at Petco Park. Only one of these guys has proper credentials. The others two just have fancy jackets. Tony Parsons (left) is impersonating an important Dakar Rally racer, while Gene Boere (right) borrowed a KTM team jacket. The guy in the middle is an actual KTM mechanic — David O'Connor.
Troy Lee raises a glass to toast Jon Ortner's success in the 1995 AMA 500 Nationals. Troy appreciates talent when he sees it.
Troy is thrilled to see his rider, Shane McElrath, make a last lap pass get to the front of the 250 West race.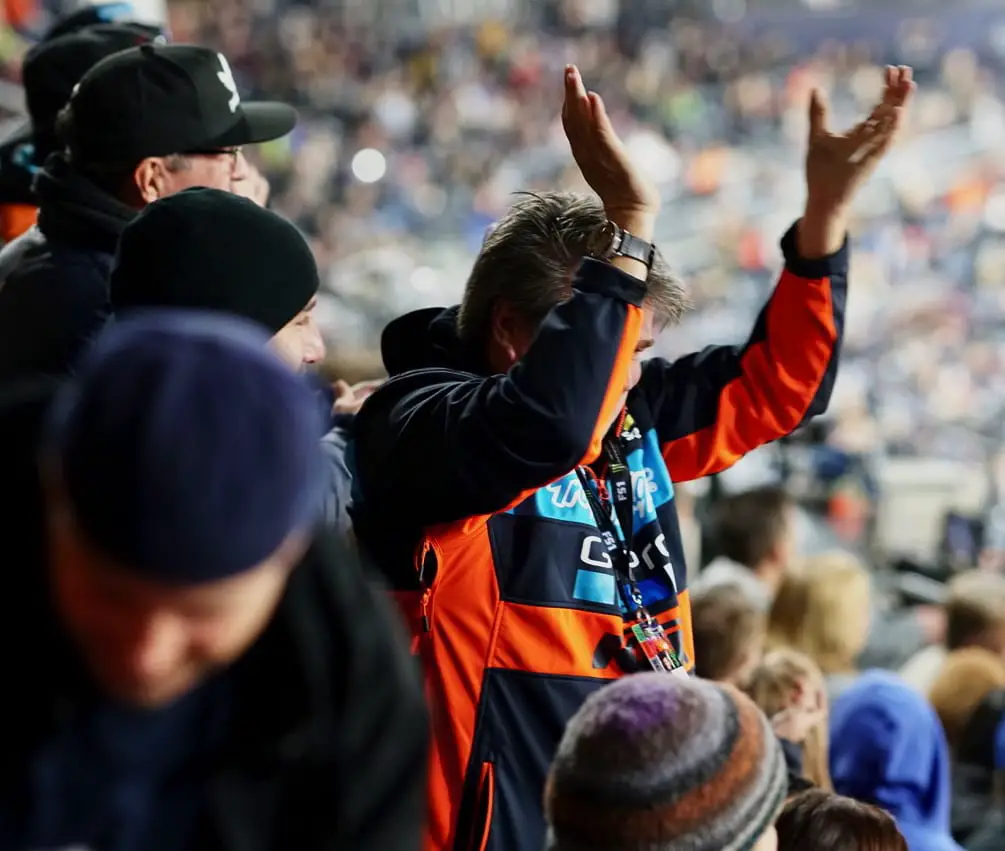 When the checkered flag falls Troy celebrates Shanes's second straight victory in the two-week-old AMA Supercross series.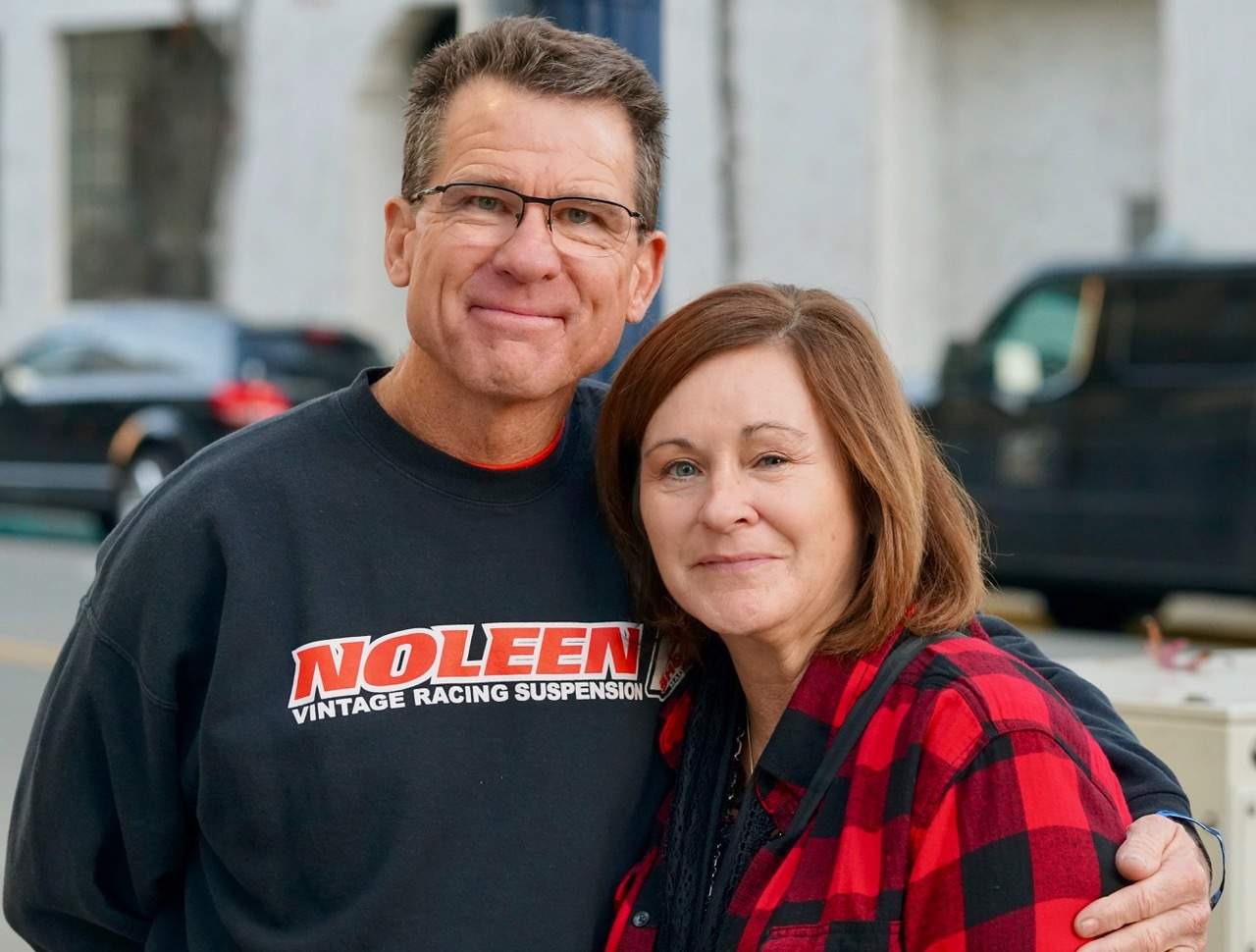 Clark and Lois Jones have been in the sport all their lives. Clark was an AMA Pro and Lois is the sister of four-time National Champion Gary Jones (it's just a coincidence that they were both named Jones). Clark only raced 19 AMA Nationals in 1979-80, but finished in the top 20 15 times and top ten 4 times. There are four members of the Jones family that have scored AMA points (Gary, Dewayne, Justin and Clark). After his AMA Pro days and gig as an MXA test rider, Clark started Noleen J6 Racing which made its name in both motocross and mountain bike suspension.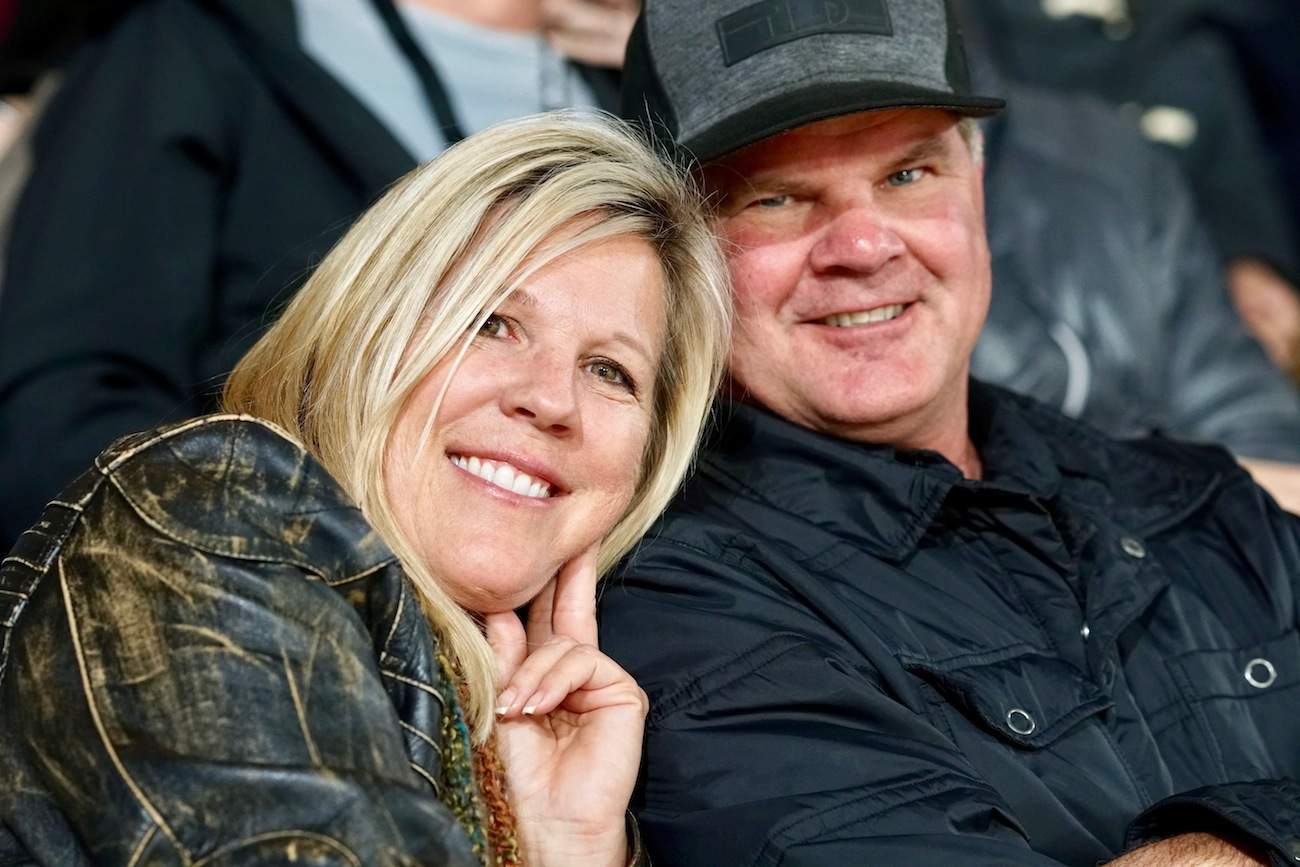 Speaking of family ties, Troy Lee's sister, Carrie, married former Pro and MXA test rider Bill Keefe (right). Their son Tyler is the team manager of the Troy Lee Designs KTM team (Tyler raced the 250 West in 2007).
One last practice shot from the stands—this time of Cole Seely.