PHIL ALDERTON: ONE DAY IN THE LIFE OF A MOTOCROSS RACER
Editors note: This story was written by the Phil Alderton in 2006 about his love of racing. Phil passed away in 2012 and many people miss him and many riders owe him a big thank you.

My name is Phil Alderton. I am 48 years old. I am and have been many things: a father, son, brother, husband and boyfriend. I have been a student and a business man. I have been employed and unemployed, I have been a success and a failure. And, to most of the people in the motorcycle, I have been a team owner and a mover-and-shaker in AMA Pro racing. But, first and foremost, I am a motorcycle racer. I have been one for 35 years. It is what defines me.
My story starts on a Friday in the middle of this summer. I had not ridden my motorcycle, a 2006 Honda CRF450, in 23 days. I wanted to, but I had been unemployed for two months and money was tight. I had been living with my girlfriend in Beverly Hills for the better part of the last year, while I worked on repairing my life from a few high-profile business setbacks. My girlfriend Angie and I had rediscovered each other last summer and we have had a great time together. Angie has been very supportive and understanding of my situation. However, my current financial conditions had become a strain on both of us. To make matters worse, I had gotten stopped for making an illegal U turn about two weeks ago and since I was driving on a suspended license, my truck was towed and impounded for 30 days. It never rains, that it pours!
Phil would come back to racing for himself after years of supporting famous riders at Honda of Troy, Yamaha of Troy and Suzuki of Troy. Phil held his own AMA National number back in the day.
I have been spending my time interviewing for a new job and trying to get my drivers license situation worked out. For the most part things have been going slow. Worse of all, I haven't been able to race and have been too discouraged to do much of anything else. About a month ago I won the AMA Regional qualifier for the National Amateur Championship at Loretta Lynn's Dude Ranch in Tennessee. In the middle of my troubles the race was breathing down my neck and I had done nothing to prepare.
I had a pretty good interview regarding a job in Newport Beach when my phone rang on the way home. It was my friend Michael "The Rock" Rigdon calling to suggest that we go to the weekly REM race at Glen Helen the next day. The Rock said he would pick me up, which was good considering that with my transportation woes I had no way to get myself or my motorcycle there. I had already written off the going to Loretta Lynn's due to a lack of preparation and funds. At first I told the Rock "No." I don't like to race without preparation. Additionally, the fact that Southern California was in the middle of a heat wave meant that the temperatures in the Inland Empire were going to be in the triple digits. I wasn't that gung-ho to abuse my body. The Rock pointed out that spending the day sitting around the house feeling sorry for myself wasn't all that good either and that I really needed to get out and "do something."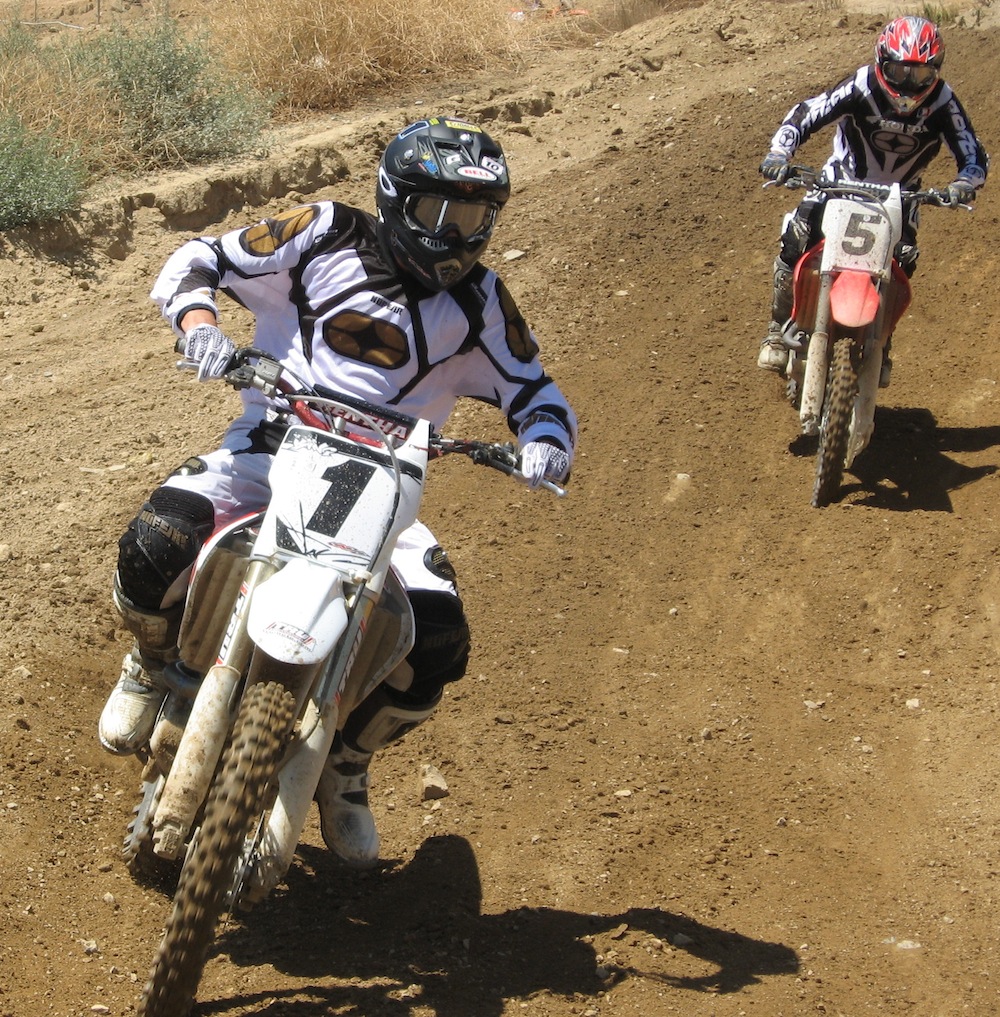 Phil on a different day…on a different bike.
FEELING TENTATIVE AT 110 DEGREES
I've known The Rock since I was 15 years old and while I often feel that he should worry more about himself than me, I had to admit he was probably right and reluctantly agreed. The Rock picked me up at 7:00 a.m. Saturday morning and after a brief stop at the convenience store for supplies we were on our way. By the time we got to the track the temperature had already broken 100 degrees. As I put my riding gear on to get ready for practice a little before 9:00 a.m. I was already sweating bullets. I was in practices two and four, so the track had already started to wear in and form lines as I started the first of my two 15-minute sessions. I felt awkward and stiff from not riding. The heat was also affecting me. I rode out the first practice session trying to take it easy. I came back to the pits and the Rock told me I looked good. He asked how I felt. I told him I felt like someone who hadn't ridden in three weeks. Normally the second practice goes better because I've loosened up a little and gotten to know the track layout. Unfortunately, in the second practice session I felt worse. The temperature was nearing 110 degrees and the fact that I had done nothing physically for three weeks was taking it's toll. After I returned to the pits, the Rock asked me a few question, but I said nothing.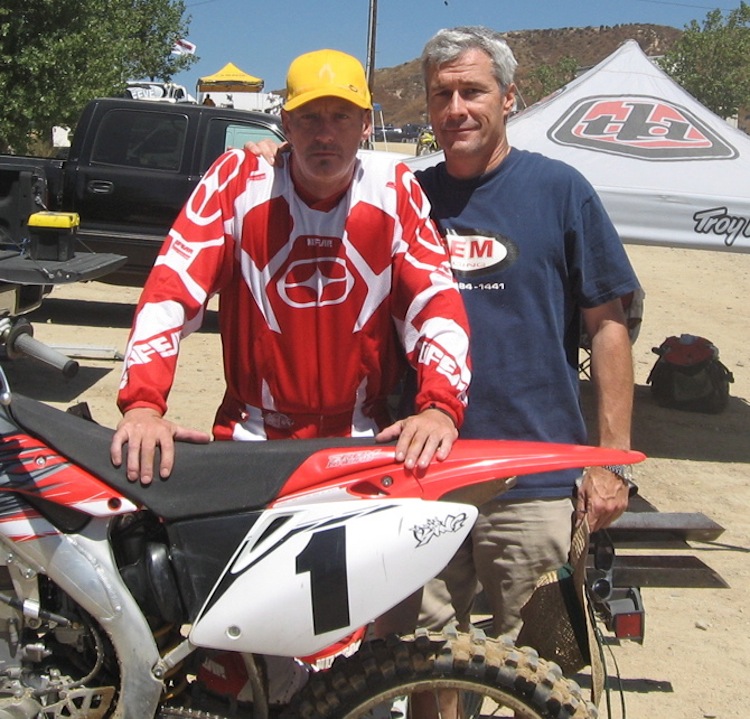 Phil and his buddy Michael "the Rock" Rigdon.
As I changed in to all white vented gear, every little bit helps, I thought about my decision to come and race today. I was already tired and knew the heat was going to take it's toll. I felt stupid for showing up. I had no desire to ride, let alone compete. I figured I would just go out and ride, get it over with and go home. I got down to the starting line late. All the good spots were taken. My only choice was to go to the very last outside spot. Normally I like to do a couple practice starts in the giant pit area behind the starting gate, to blow out the cobwebs, but this time there simply wasn't enough time. I barely had time to settle in, spin my rear wheel a few times on the concrete pad and look up at the starter.The start of a motorcycle race is unique. If you do it right the entire world is shut out of your mind. In the split seconds between the board going sideways and the gate dropping, everything is silent and the world goes into slow motion. Total concentration is an understatement. When the gate drops everything goes into hyper-drive as the combined horsepower of a charging brigade accelerates from 0 to 60 in about three and a half seconds. This is the moment I live for.As the board started to go sideways, I clicked my bike in to second gear and held the throttle wide open; releasing the clutch just enough for it to grab a little. I stared at the pins that hold the gate on my left and when they moved I fed the clutch out slowly and smoothly while keeping the throttle pinned.
Phil (1) and Steve Pfaff (612) get to the starting line early, while Bryan Friday (43) hangs back.
SEEING DOUBLE AT 112 DEGREES
My reaction time was quick and I got an early jump over the rest of the field. As I left the pad I was a good half a bike length ahead of everyone. I accelerated hard, leaning off the rear end of the motorcycle. I knew it would be difficult to get to the corner first because everyone to my left had less ground to cover going in to the left hand jog that was the first turn. Midway down the start chute I started to see movement in my peripheral vision. Three riders were on the inside of me, but I kept my throttle pinned and shifted to third gear and started to drift in to the left hander under full power. I swung wide and got through in fourth place, passed one of the guys going down the short straight to the next tight right hand corner. I braked hard and downshifted all the way to first gear and turned tight to the inside. The second place guy drifted a little wide and I was able to pull up next to him while exiting the corner. There was a small jump going up the hill towards the next left hand corner. I was accelerating so hard that I couldn't get the motorcycle to shift. It wouldn't shift with that much load on the transmission. So I just kept it pinned and let it over revving. I'm not sure what the guy next to me was doing, but I was able to inch ahead and dove in to the next corner just ahead of him. I made the jog to the right and went up the hill just behind the leader, ducking to the inside left as we made the corner and went down the hill in to the sweeper at the bottom.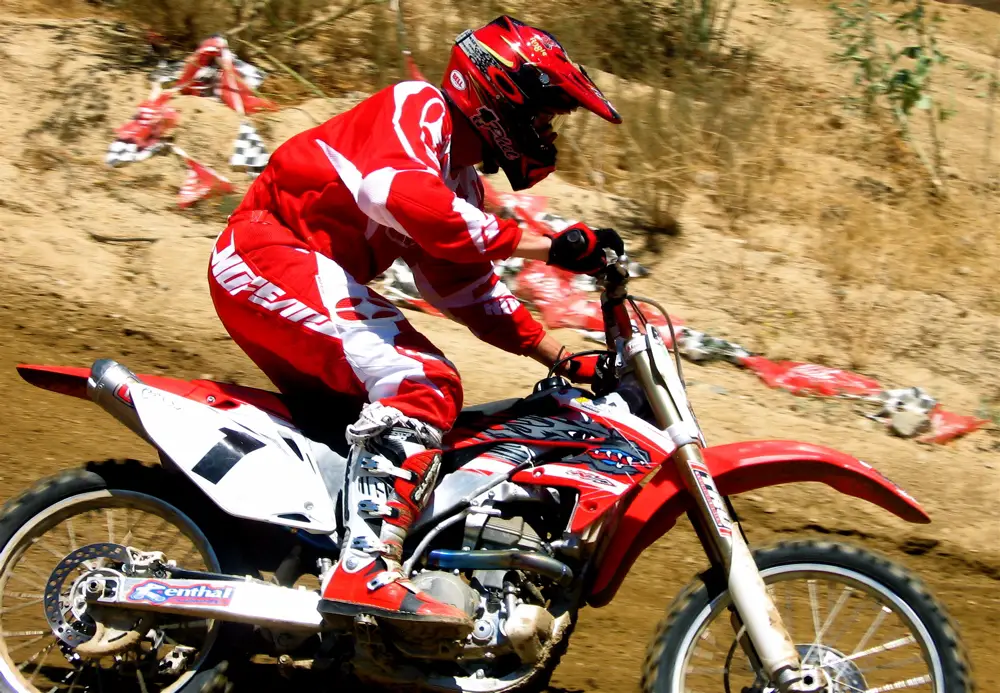 Phil Alderton (1) on his Honda CRF450.
I was in second and we were only three corners into the race. I pulled up to within a bike length of the leader and at the bottom of the hill dove to the inside as the leader drifted a little wide. I went underneath him, straightened up coming out of the turn and upshifted. Daylight. I jumped off the knuckle at the top of the hill, clicked my bike a little sideways and dropped off the hill into the back section of the track in the lead. From the drop of the gate until I went into the lead probably took 20 seconds. It was all instinct; 35 years of racing instinct had taken over the moment the gate fell. I didn't even think, I just went.I had 15 minutes of racing ahead of me and the temperature was now at 112. On the good side, my motorcycle was working well and I was leading. I knew the heat would work against me, perhaps more than it would against the guys who raced week in and week out. I decided to put my head down and charge to put as much distance between myself and the pack as I could before I got tired. I worked through the back of the course until I came out to the front part by the pit area. Lap times were about two and a half minutes and as I completed the first lap the Rock signaled to me that I was pulling away. I pushed hard for another lap and next time around I had a seven second lead.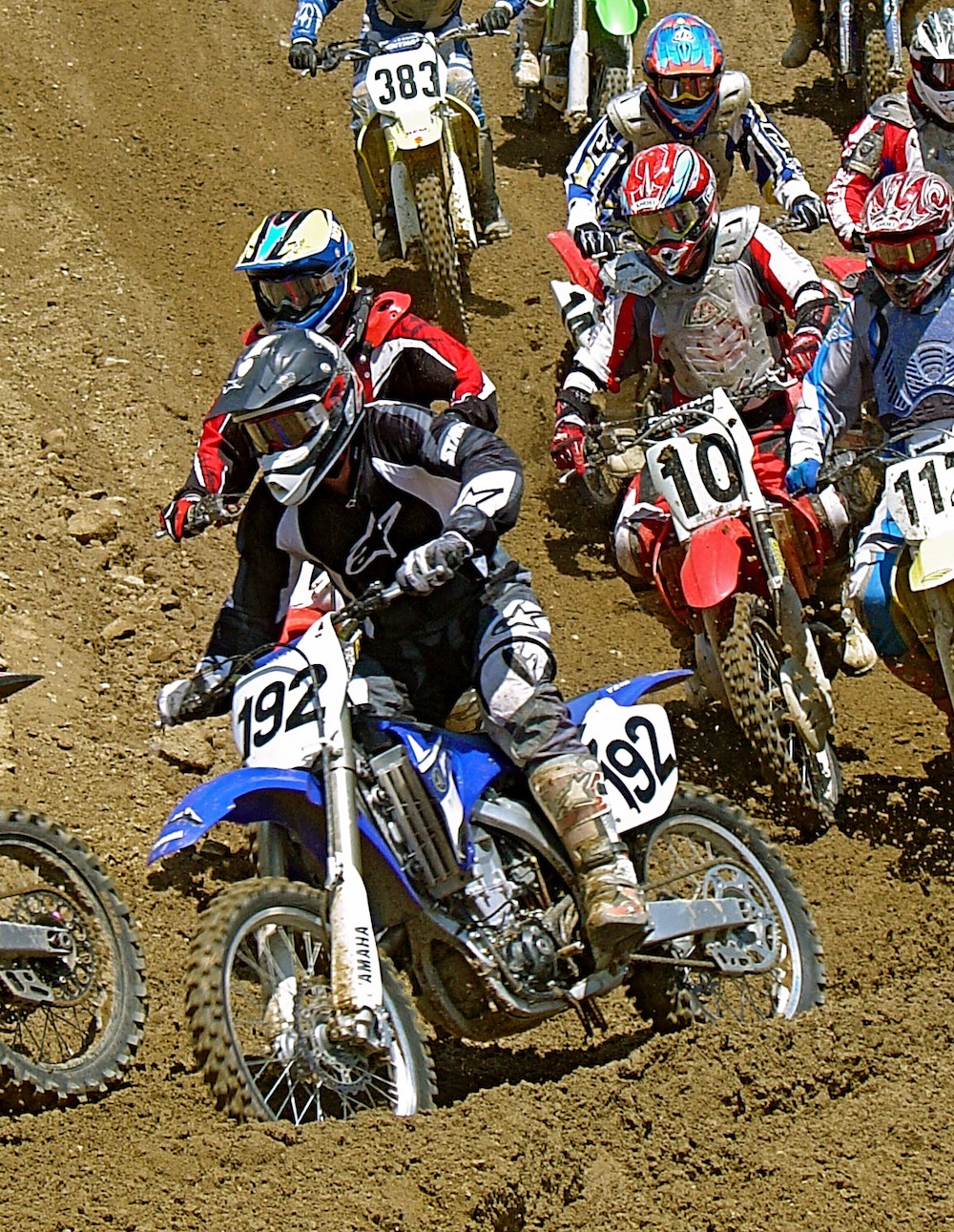 Phil on MXA's Yamaha YZ450F at a later race.
My confidence was building and I caught a glimpse of the guy in second place. It was Tim Murphy. I've raced against "Murph" a lot over the last year and he's pretty decent. I feel like I have an advantage over him most of the time, but sometimes he'll surprise me and just not let go. Or even worse, shoot past me when I'm not expecting it. Murph's a good clean rider and a really nice guy, but I wasn't going to let him beat me. I came around the next lap and maintained the same margin. By halfway I had decent lead, but the effort and the heat were taking their toll. Suddenly I noticed that my breathing was becoming labored. The next lap around I had lost a second to Tim Murphy. I told myself that it was okay because soon we would get the white flag. At the white flag I was noticeably slower and Murphy was noticeably closer. I was getting light headed and starting to see black spots. I knew I could be in trouble.
Motorcycle racing is inherently dangerous to begin with. Throw in the heat and the risk grows. I've seen National riders actually pass out while racing in extremely hot and humid conditions. It just sneaks up an you and next thing you know you're laying on the ground wondering what happened. Heat stroke is for real. Although I was having trouble focusing, I took a few deep breaths and drove forward, once again blocking everything out of my mind and letting my instinct take over. I didn't look back. I crossed the finish with my lead still intact. I slowed down immediately after taking the checkered and draped myself over the bars as I headed back to the pit area. I was able to lift my motorcycle on to the stand and started fumbling to get my helmet off. Luckily, The Rock was there by the time I got back and he helped me take off my helmet and walked me over to a plastic tarp that we had layed in the dirt under some shade and helped me get the rest of my gear off.
I was exhausted and on the verge of getting sick. I lay motionless for a while. Probably 30 minutes. I started coming around a little and getting some fluids in me. I also forced down some cold fruit. I felt like I had been hit by a truck. I discussed the race with the Rock and told him that I was really surprised that I had been able to win. I wasn't expecting it. The Rock cleaned my helmet and prepped my bike for the second moto while I got out a fresh jersey and goggles. I had to go out and do it again in less than an hour.
FINDING STRENGTH AT 118 DEGREES
As I headed for the starting line for moto two I had recovered somewhat. I had a much better gate pick for the second race due to the fact that I had gotten there earlier. I elected not to practice my start. The sun was beating down on me as I sat on the line. The Rock swept my gate area and packed the soft dirt on the other side of the concrete pad. I focused on the fact that if I could put out maximum effort for another 15 minutes I might be able to pull off the win and go home feeling good.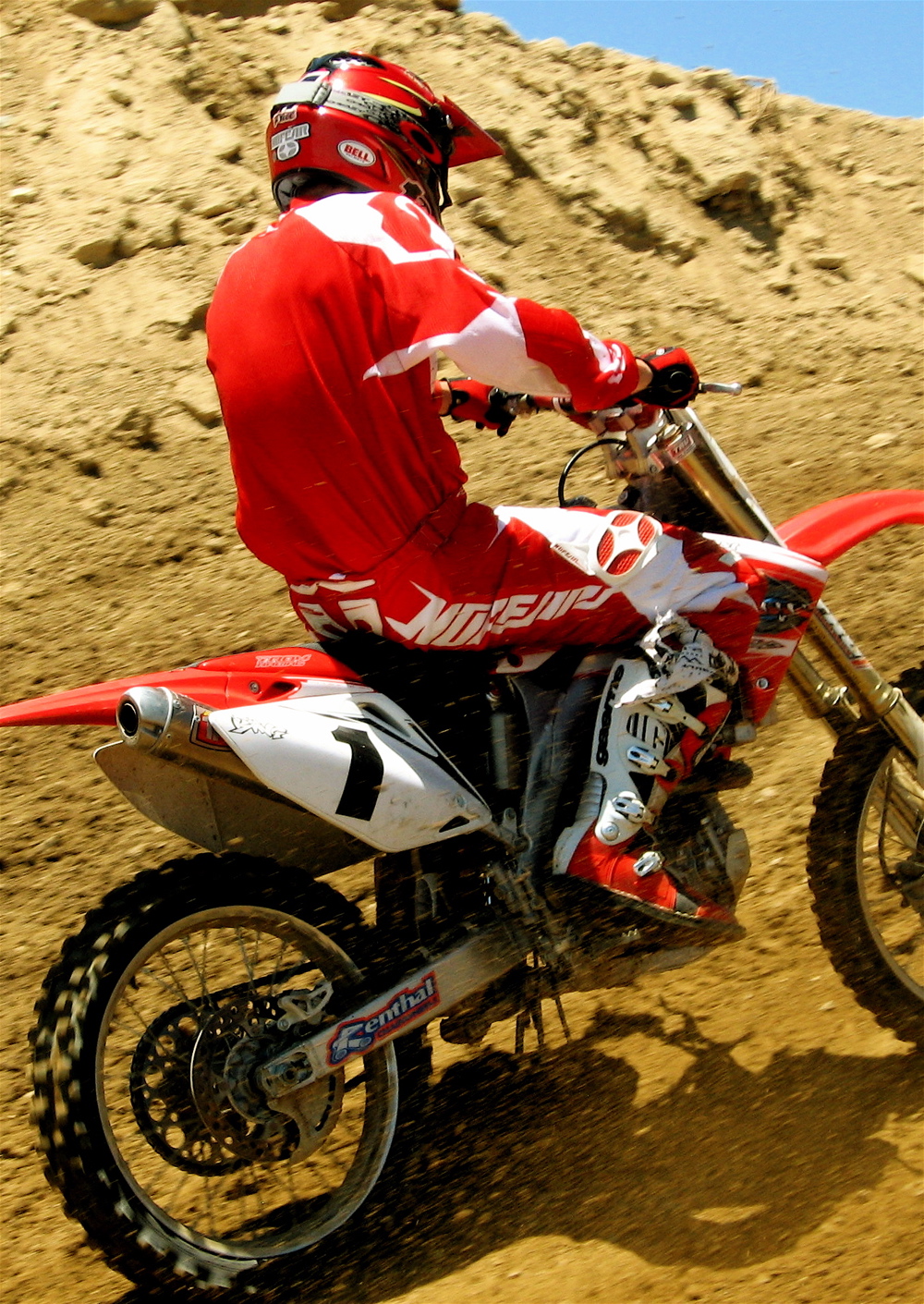 Glen Helen had five weekends of over 100 degree weather when Phil showed up to race.
One of the things that Iike about racing is the fact that once you are lined up behind the gate on your motorcycle with your gear, helmet and goggles on, everyone is equal. You could be a doctor, lawyer or Indian Chief. You could be a millionaire or a pauper. Social status means nothing. It's man and machine against man and machine. And with my current financial situation that suited me just fine.When the gate dropped and I let my clutch out a little too quickly and got some wheel spin on the concrete. I came out of the gate about equal with the rest of the field, but muscled my way into the lead as I shifted to third gear halfway down the chute. I clicked down into second gear this time going into the tight right hander, fanned my clutch to keep the revs up and pulled about a two second lead as I exited the turn under full throttle. At that point it was over except for the running of the laps. I kept my head down and focused on putting as much ground between myself and the pack as quickly as possible. My ride was a carbon copy of the first moto. Things didn't go as well for Murphy this time; he was buried in the pack. I kept tabs on the second place rider and watched The Rock as he kept me posted of my laps.
When I took the checkered flag I felt physically drained, but emotionally sound. My 1-1 finish established my dominance for the day. I headed back to the pits with the feeling that I had given everything I could, I had given it my absolute best and it had proven to be enough. As I regrouped in the shade afterward I noticed that my recovery was a little bit quicker. However, my level of exhaustion seemed a little bit higher (if that was possible). A friend of mine walked over with a report on the weather–it was now 118 degrees at Glen Helen.
After loading up the bike I wondered why I, or anyone else, would put themselves through what we had all just experienced. I have been racing motorcycles for 35 years. After all this time, what could possibly be driving me? The Rock said said that days like this separate the "men from the boys." I thought about that for a minute and concluded that maybe it separated the "boys from the men." I thought back to a cold November day in 1971 when I was a 13-year-old boy going to my first motorcycle race as a competitor. I began retracing my footsteps, looking for answers. I had come a long way from Dayton, Ohio to Los Angeles, California. This is my story…the story of one day in a lifetime of racing.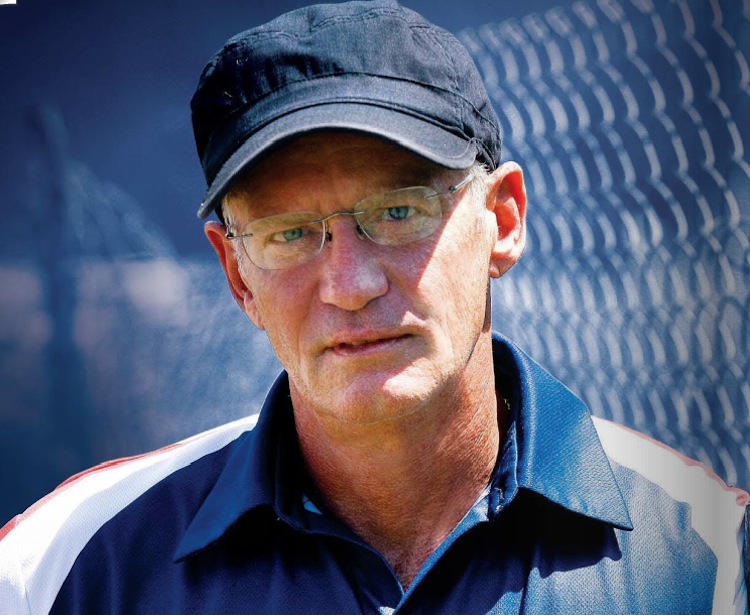 Godspeed Phil.