PHOTO GALLERY: MIKE ALESSI DOUBLES UP AT THE "PASHA 125 OPEN" TWO-STROKE RACE
Mike Alessi loves two-strokes and he hopes to win his second World Two-Stroke Championship on October 3. Mike won his first back in 2016. Mike used the Pasha 125 Open to measure his fitness.
PHOTOS BY DEBBI TAMIETTI
You've probably been to the occasional race that has a weird format, unusual class structure or purse payout that breaks the molds. And if you have been any of the "Pasha 125 Open" races you know exactly what we mean. Here are some examples from this weekend's unique 125cc two-stroke race.
(1) Hollywood actor Pasha Afshar decided that he wanted to help the 125 Pro class at the 2020 World Two-Stroke Championship grow, so he organized the "Pasha 125 Open" and paid the purse money out of his own pocket. He didn't take a dime from the race entries. He is dedicated to increasing the profile of 125 two-strokes.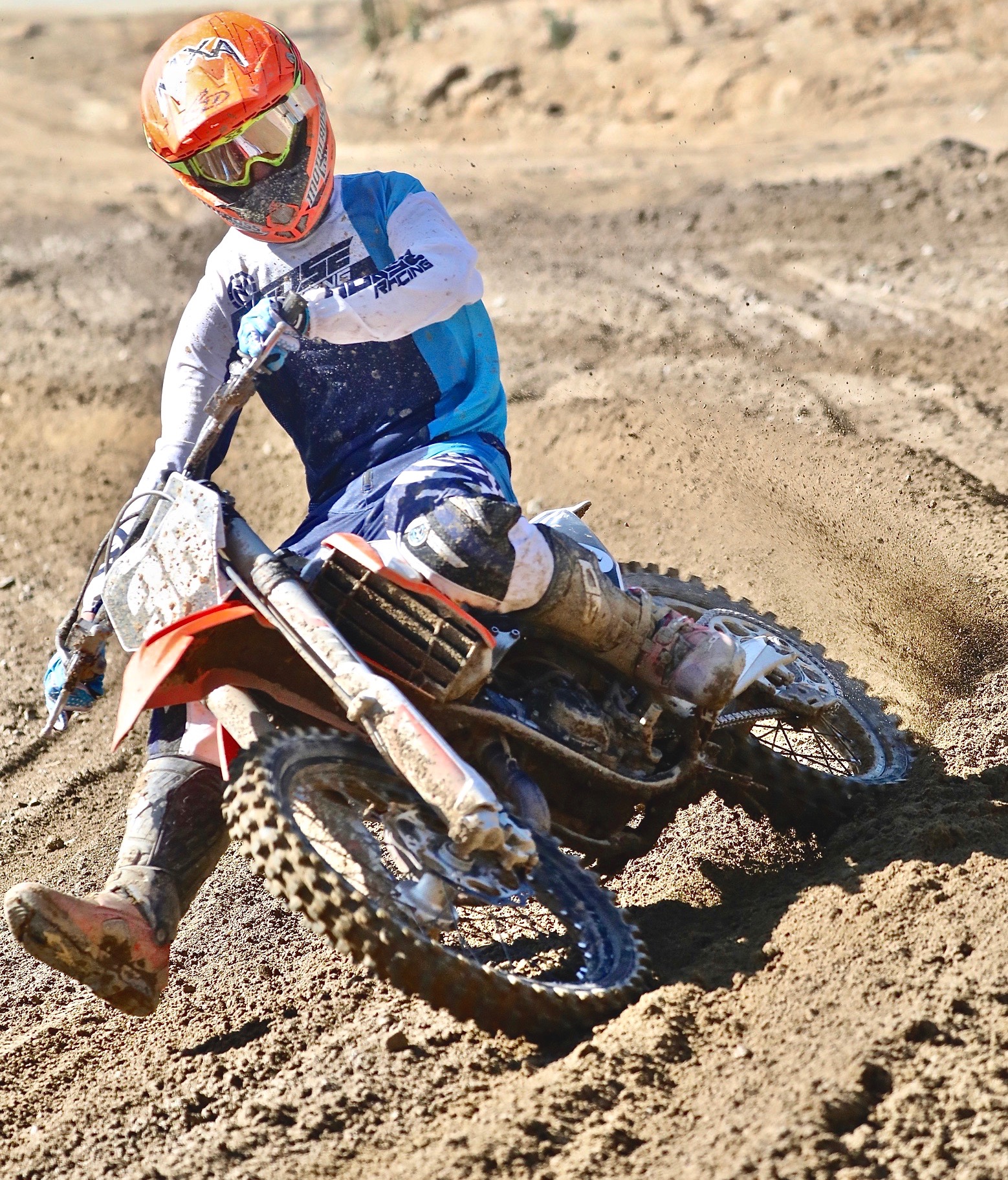 MXA's Josh Mosiman rode MXA's 2020 KTM 125SX for two laps on Thursday to get used to it and then raced it on Saturday to second overall.  He did borrow a pipe off Pro Circuit's dyno bike, but other than that it was stock.
(2) The only bikes eligible in the "Pasha 125 Open" were 125cc and 150cc two-strokes. Which are the legal sizes at the World Two-Stroke Championship at Glen Helen on October 3. The reason to allow 150s to race against 125s is that they will race anyway because it is almost impossible to tech inspected every bike at an amateur race.
Sean Collier was sponsored by benefactor Pasha Afshar. Sean and Josh Mosiman duel for 15 of the 20 minutes in both 125 Pro motos, before Sean decided that the pace and the 113-degree temperatures were urging him to slow down. He did, but still managed to hold on to third in both motos.
(3) Although there were 250cc and 500cc four-stroke at the "Pasha 125 Open," they were not eligible for any of the purse money and were encouraged to sign-up in the regular classes (which included different skill levels, age groups and four-strokes). The four-strokes were added because most of the 125c two-stroke riders travel the SoCal circuit with their four-stroke buddies—and Pasha felt that more bike on the track would help it form up better.
MXA's Dennis Stapleton (184) got fourth in the 125 Pro class and third in the 125 Vet Pro class on a stock KTM 125SX.
(4) The "Pasha 125 Open" purse money was divided equally between three 125/150 classes. The most obvious 125cc class was the Pro class. It was open to any rider who wanted to try his luck against a strong group of former AMA National riders and hot shot kids.
The second race to pay was the Over-30 Pros. They were slotted into a class that limited it's age group from 30 years old to 49 years old. Basically, it was the typical Vet Pro class.
The third money-paying class was for Over-50 racers on 125 or 150cc two-stroke. Yes, you read that right, the Over-50 125 riders got the same payout as the 125 Pros. All three classes paid the same amount of money to the top three.
Max Groom trained at ClubMoto for a couple years with hopes of a Pro career, but he suffered a broken back there and ended up coming home to SoCal. Now, he's back racing for fun. Max took his Suzuki RM125 to a 4-5 day.
(5) The biggest class of the day and not just the biggest of the three 125cc Pro races,  was the Over-50 125cc Pro race. It was made up of many of the riders who contest the World Vet Championship every year—including World Vet Champions Kurt Nicoll and Pete Murray—plus a significant group of Over-60 racers who love to race against those youngsters in the Over-50 class. Yes, a 50-year-old did win the Over-50 125cc pro race, but he was followed home by 61-year-old Pete Murray.
Connor Styers wants to be a Pro, so he signed up in the 125 Pro class to get a taste of what's it like. He held his own to go 7-7.
(6) The big winner for the day was Mike Alessi. Mike took this race seriously, and was spotted on Thursday doing laps on the REM track on his yellow YZ125. Mike won both the 125 Pro class and the 30-to-49 Pro class. For his days works, Mike pockets $1500. Mike has retired from AMA Supercross and National racing, and just wants to race for  fun. During his 15 year AMA Career Mike  finished in the top ten 12 times (with 8 top five series overalls—four of those top threes)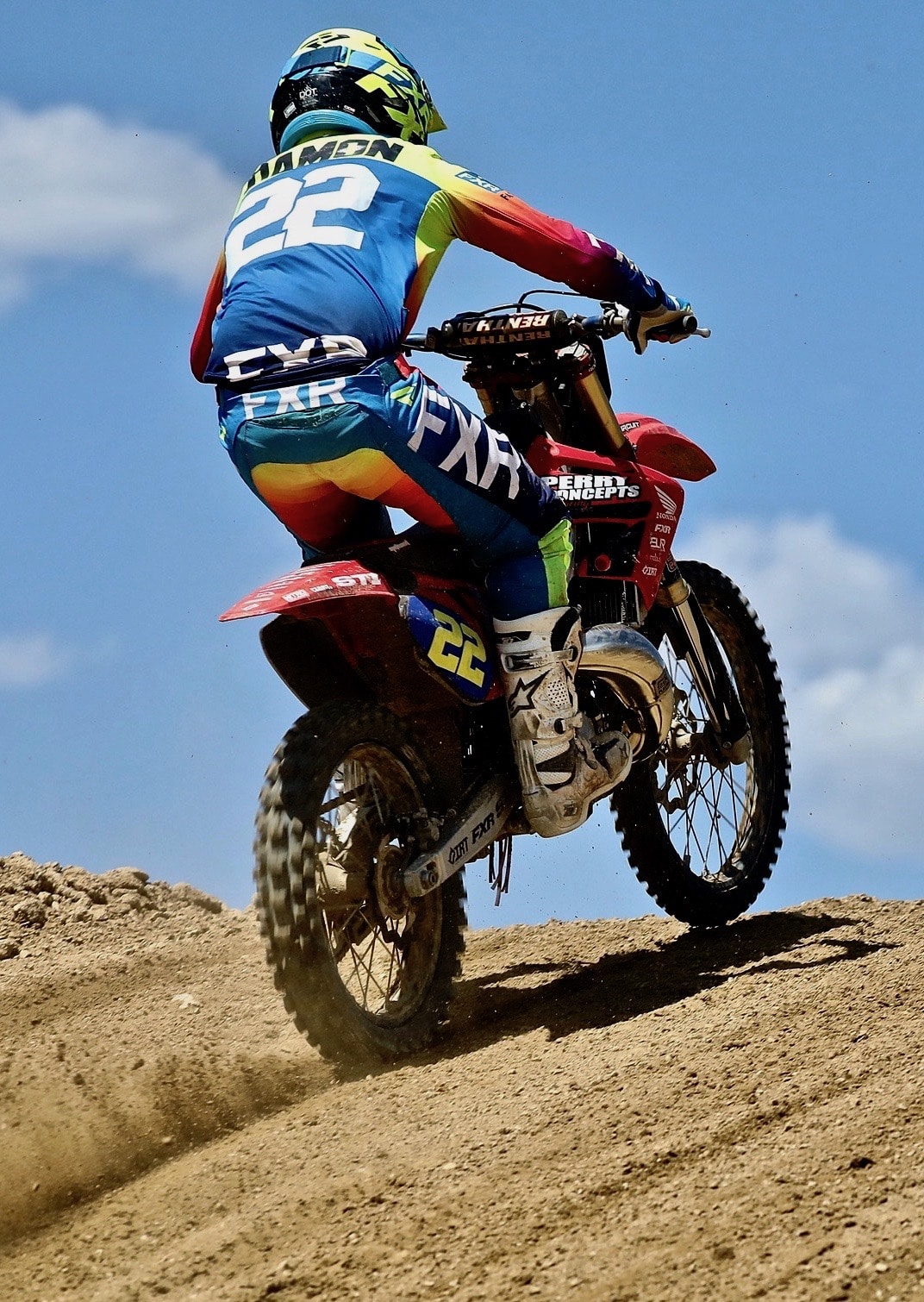 Travis Damon (22) went 8-8 on his Honda CR125 in the 125 Pro class.
(7) The second richest man to leave Glen Helen was Kurt Nicoll. Kurt won $1250 for finishing second in the Over-30 125 Pro class and winning the Over-50 Pro class.
Josh Mosiman (left), Mike Alessi and Sean Collier (right)  hold up the gold-plated plastic and the cold hard greenbacks for their 125 Pro efforts.
(8) MXA's Josh Mosiman took second in the 125 Pro race and Pete Murray got second in the Over-50 Pro class. Both got $500. The riders getting third place money were Sean Collier (125 Pro), Dennis Stapleton (Vet Pro) and Alan Jullien (Over-50 Pro)

Mike Alessi gave his one of his two trophies to a very thrilled Logan Fout.
(9) The official Weather Service temperature at Glen Helen on Saturday was 113-degrees. There were riders who suffered from the heat, by the same token, there were riders like Mike Monaghan, Dennis Stapleton, Mike Alessi, Kurt Nicoll, Connor Styers, Jacob Corona  and Mike Bierman who raced four motos in the stifling heat.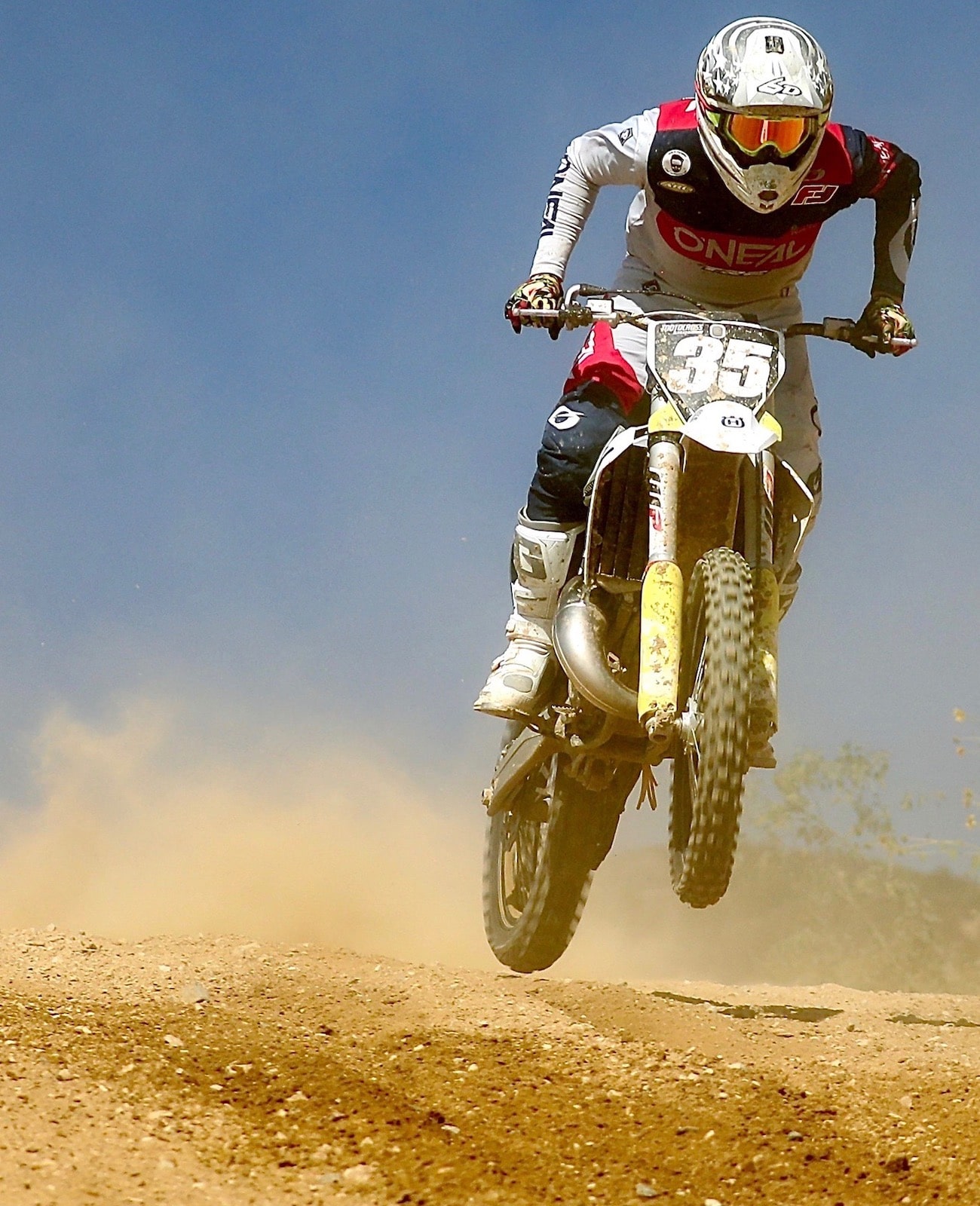 Tyler Smith borrowed Mike Monaghan's 2020 Husqvarna TC125 and raced it to fifth in the 125 Vet Pro class. That same Husky also was ridden to  seventh in the Over-50-Pros and third in the Over-60 Experts by Monaghan.
(10) Pasha is now looking or a big sponsor to boost the purse for the 125/150 class at the October 3, 2020 World Two-Stroke Championship. If any enterprising company is interested, contact Lori Wilson at Glen Helen. If not Pasha will go it alone.
EVERYONE WHO WAS ANYONE AT THE PASHA RACE
Kurt Nicoll (2) was a four-time runner-up in the FIM 500cc World Motocross Championships, MXDN winner (1994) and a four-time World Vet Champion. At 54 years old, he still has Pro speed.
Pete Murray (7) was the only rider in the Over-50 125 Pro race that could keep Kurt Nicoll in sight—and even then Kurt was only a dot.
This is Kurt Nicoll's lead on the first lap of the Over-50 125 Pro race. The chases will be coming over the hill in a little while.
Ron Lawson (57) won the first moto of the Over-60 Expert class and was leading the second moto late into the moto, but Val Tamietti and Mike Monaghan passed him. Ron's 1-3 beat Monaghan's 3-2, but not Tamietti's 2-1. Randy Skinner (94) was fourth with a 4-4.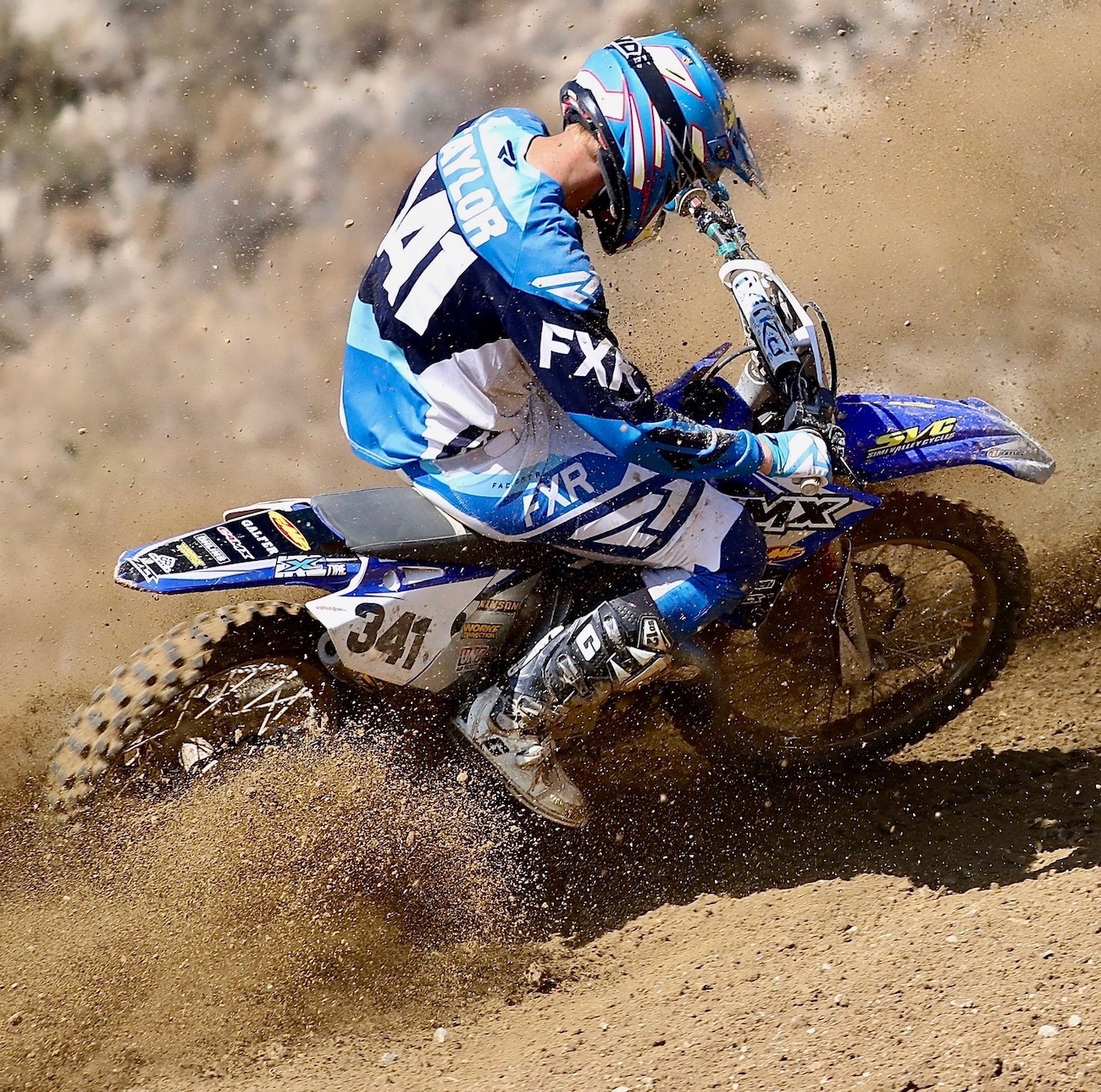 Richard Taylor moves some dirt on a Simi Valley Yamaha YZ125.
Jon Ortner (1) gets under Chris Heinrich for fourth overall in the Over-50 125 Pro class.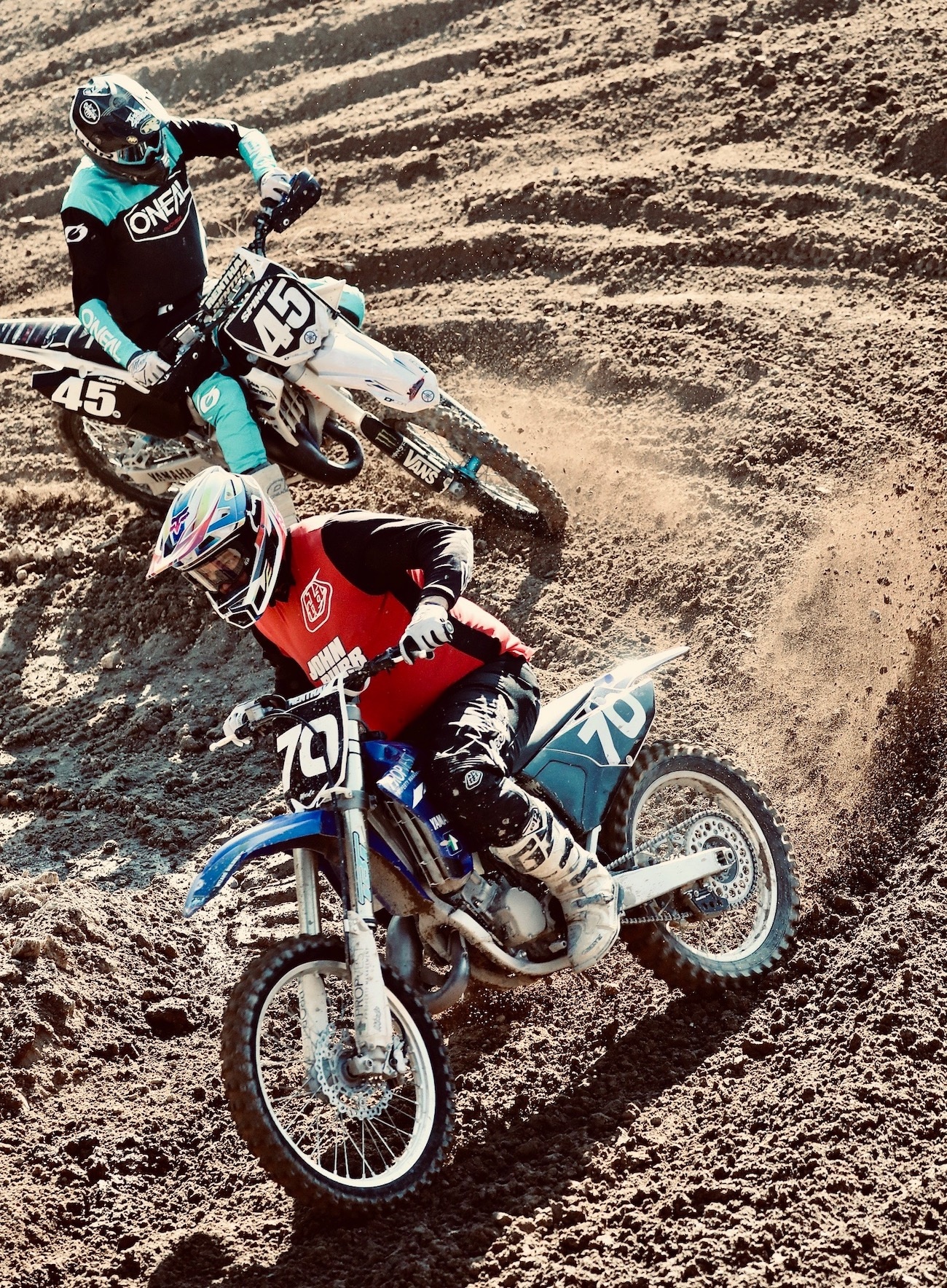 South African Alan Jullien (70) just turned 50 years old and used the "Pasha 125 Open" to make his debut in the Over-50 class. Alan went 3-3 in the Over-50 125 Pro class and got some cash. Giovanni Spinali (45) went 10-8 for eighth in the Over-50 Pro class—no cash.
MXA's Josh Fout (12) finished sixth in the 125 Vet Pro class. He's a big boy for a 125 and his starts proved as much.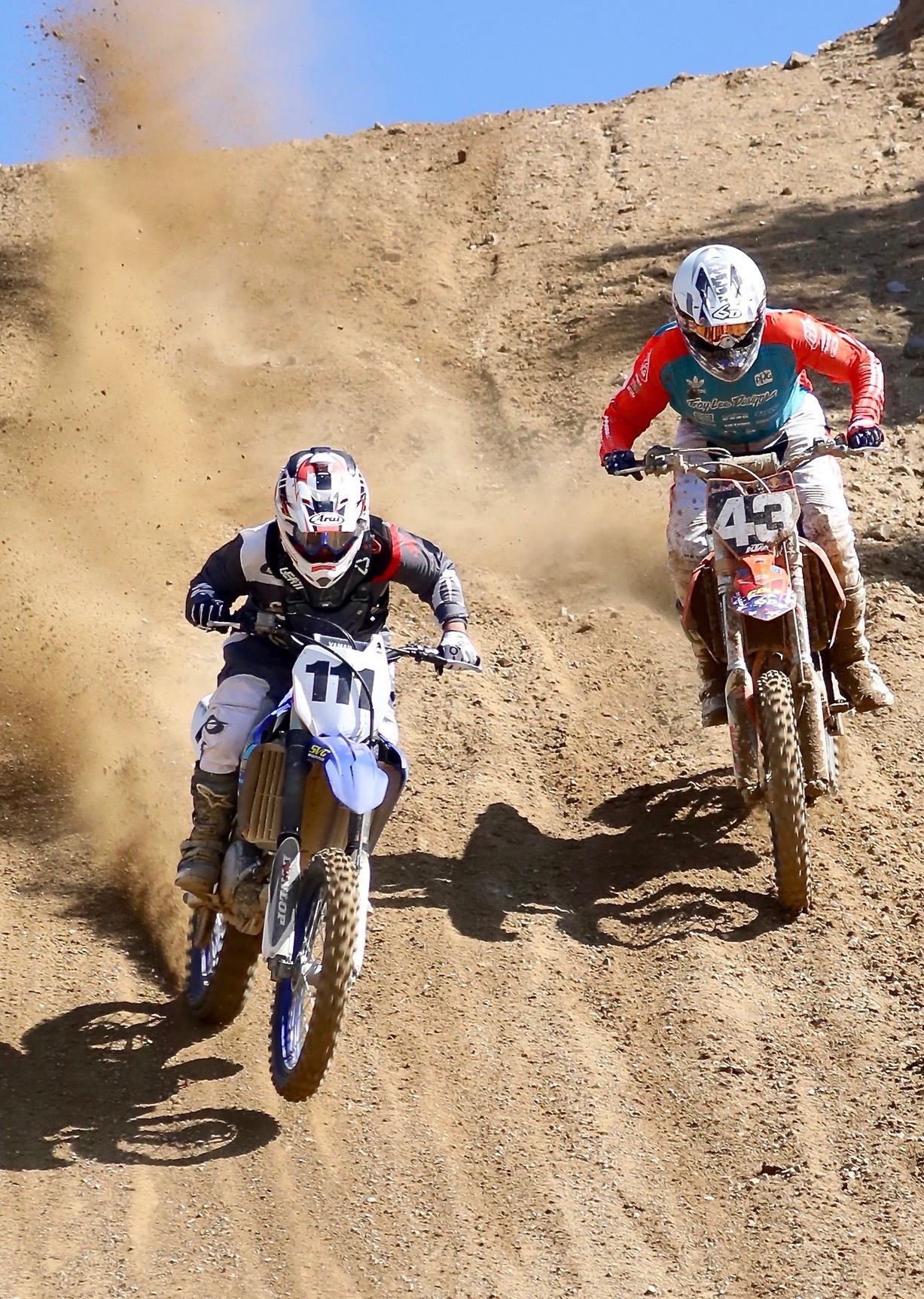 Joe Sutter (111) holeshot the Over-50 Expert class on his YZ450F and vowed to stay in front for at least one full lap. He did that and hung on to finish third overall. Bryan Friday (43) was second overall.
Just so you know that we weren't dreaming that Joe Sutter (111) got the holeshot in the first moto of the Over-50 Experts. Here is proof—although now that we look at this photo there is a funny looking haze behind his rear wheel that hints of Photoshop.
Dan Alamangos (34) rebuilt this YZ125 up from a ten-year-old relic and got it finished the night before the race. He had a few mechanical issues in the second moto, but he was just happy that it ran.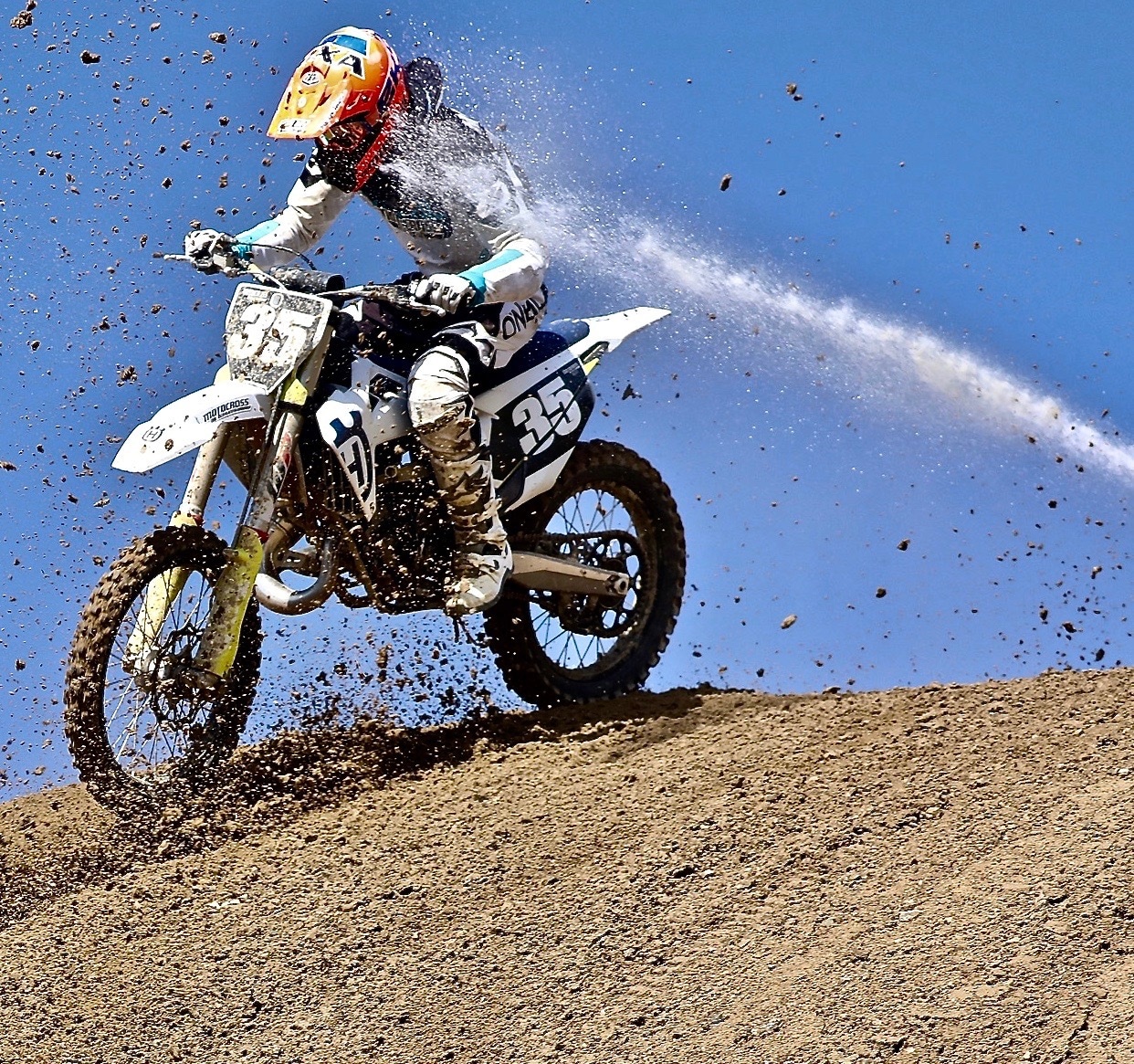 On a normal day you'd be a little upset if your buddy blasted you with a fire hose, but it was 113 degrees at the Glen Helen and you were happy to get cooled own—even if it hit your goggles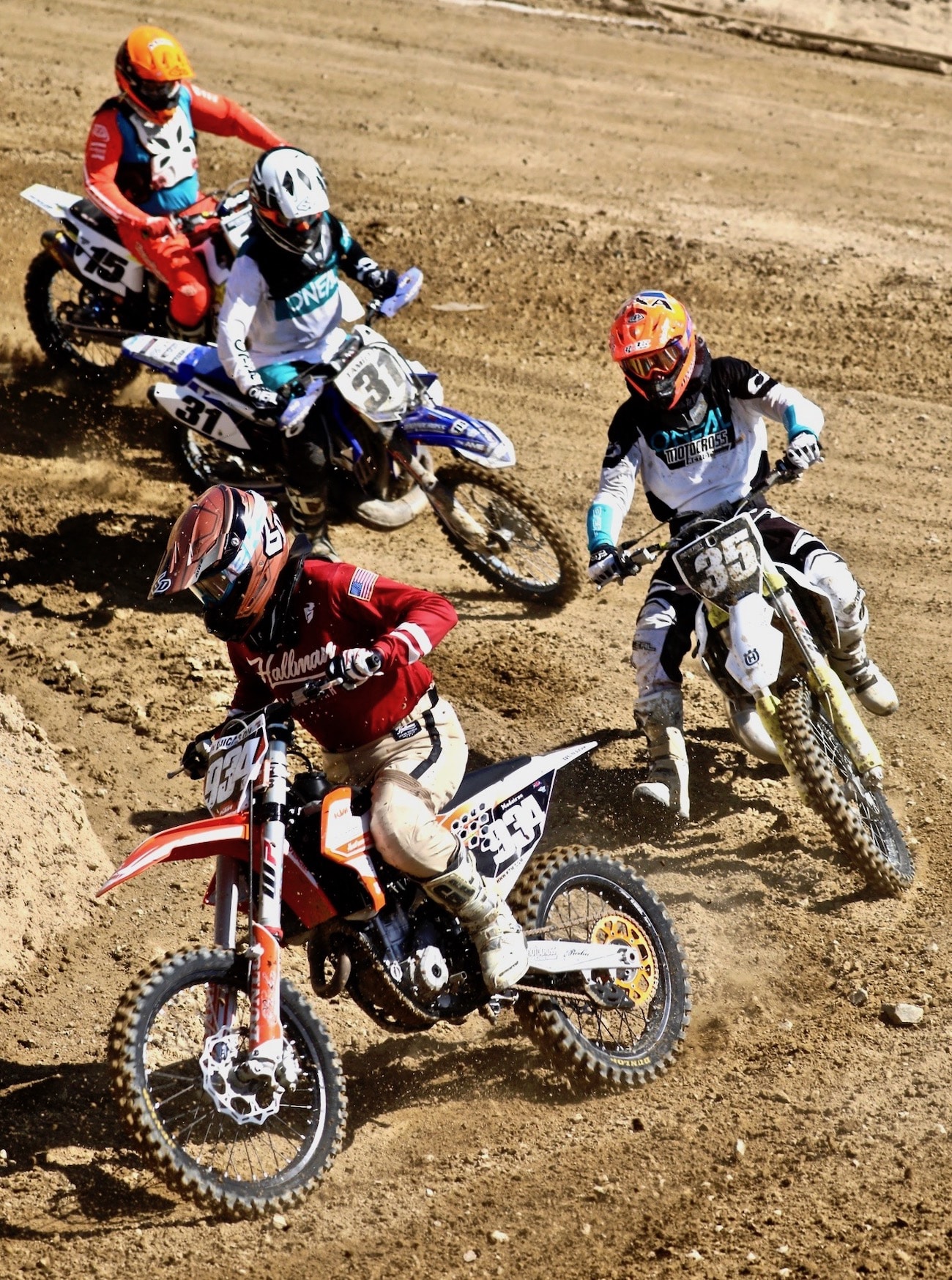 You can be forgiven for thinking this is the Over-50 125 Pro race because of the two-strokes. It's not it is the Over-60 Expert class. Hollywood stuntman Mark Donaldson (934), Mike Monaghan (35), Val Tamietti (31) and Marc Crosby (15) come down one hill and start up the next one.
Phil Valdez (43) went 1-1 in the two-stroke class (for riders who didn't want to race in the Pro classes or had bikes bigger than 150cc).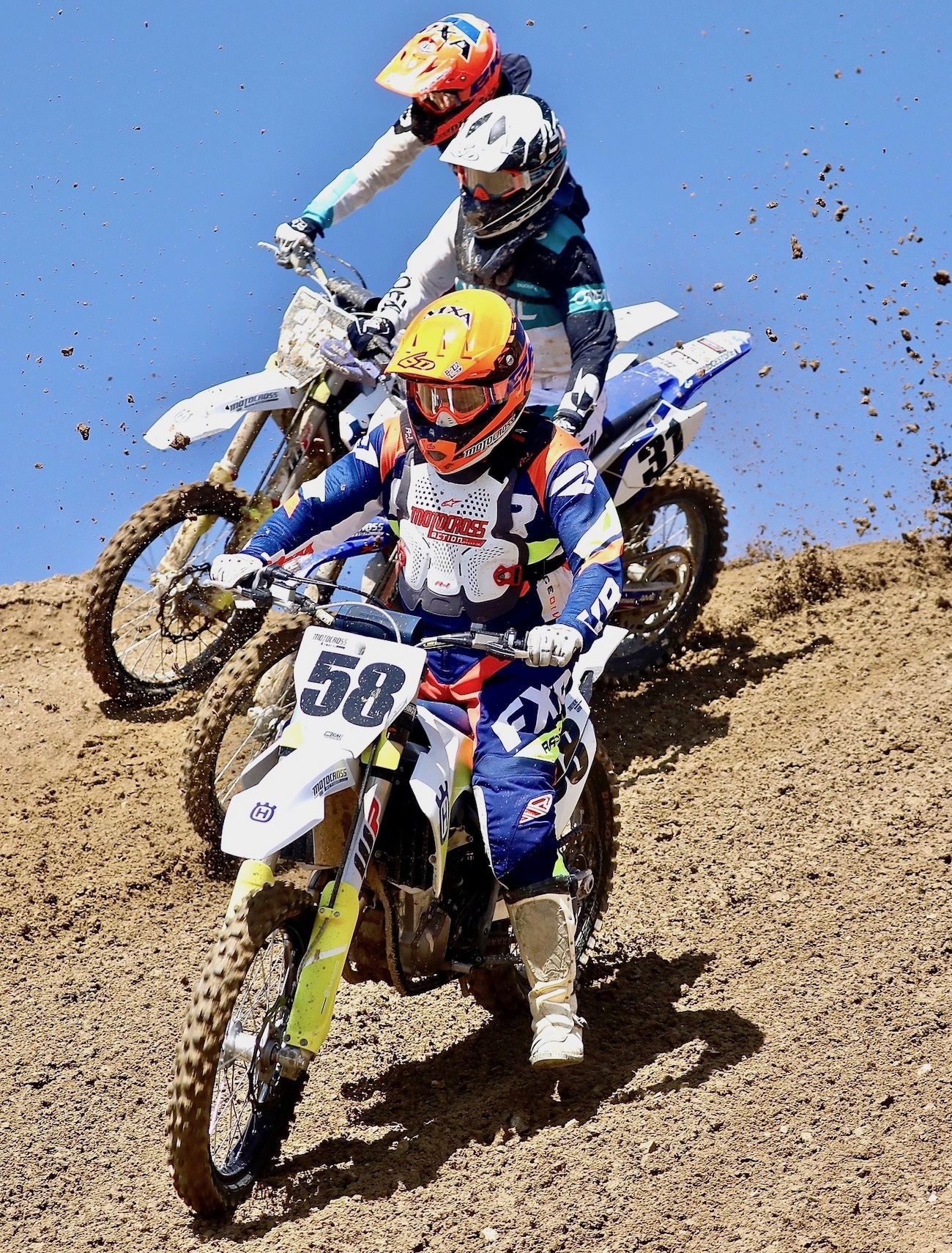 The Over-60 Experts went in the first gate, while the Over-65 class went in the second gate. In didn't take long for Exerts Val Tamietti (31) and Mike Monaghan (35) to catch the wiser, but slower second wave. Jody Weisel (58) graciously moves over to let them by before they try to kill him.
Morgan Pierce's 1-1 beat Bill Reimer's 3-2 and Bill Clontz's 2-3 for the Over-50 Intermediate victory.
Robert Buendia (9) went 2-2 in the 450 Novice class.

It was nice to see Ryder Friday back in action. He had a long lay-off with injuries, but is back in action now.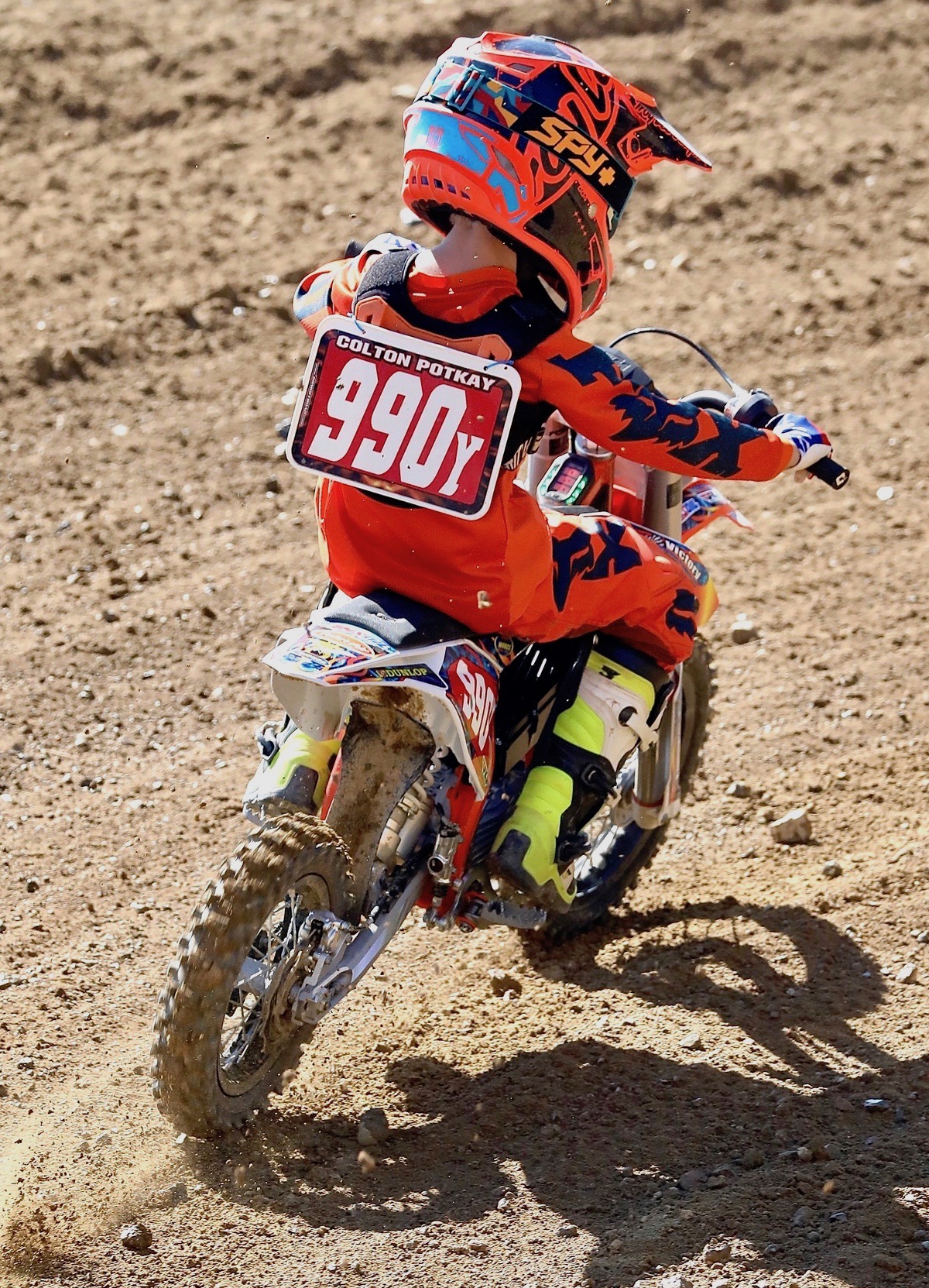 Yes, you are going to laugh, but Colton makes his rear license plate look good.