PHOTO GALLERY: REM'S "MELLOW" GLEN HELEN NATIONAL

Fasthouse represents a lifestyle that is energized and full of passion for motorcycles and motorcycle racing. The Fasthouse mission is to represent that passion to its fullest; as designers of apparel, racewear and hardware, as promoters and creators of events and parties, and always, as the purveyors of good times. Find out more at www.thefasthouse.com.
Photos by Dan Alamangos, Chris Alamangos, Mark Chilson & Debbi Tamietti
Click on photos to enlarge them
Gee, I wonder where we are. Jon Ortner (10) leads Phil Dowell (23), Will Harper (7), Dave Eropkin (811), Loren Pochirowski (737), Val Tamietti (31) and Terry Cook (303) through Glen Helen's big first turn. It's looking good for these seven riders, but Pete Murray would come from the back to beat all of them. Photo: Debbi Tamietti

REM motocross has its own track at Glen Helen. It is separate from the AMA National track, but it isn't lesser in renown since it sits on the exact sport where Arroyo Cycle Park was back in the 1070s. For those who don't know, before the AMA recognized 125cc bikes, Arroyo was the site of the first-ever 125 National Championship race. But, with the REM track still a mess after using its starting area for RV camping at the National—REM moved to the AMA National track this week.
If you are having trouble getting by a rider on the low ground, try the high ground. Trevor Stewart (75) launches over Chris Swanson (428). Photo: Dan Alamangos
REM only races on the front track a couple times a year and while the week after an AMA National would seem like the perfect time, most local racers expressed concern about how rough, tough, rugged and difficult the Glen Helen layout had been for the superstars of the sport' so they wanted it mellowed out.
Sequence shot 1: Don't focus your attention on Phil Dowell (23) or David Fontes (150), but instead look behind them where Bryan Friday is landing from a step up. But, don't focus on Bryan Friday, but instead look underneath his bike, where Mike Monaghan's YZ250 is plowing a furrow. Photo: Mark Chilson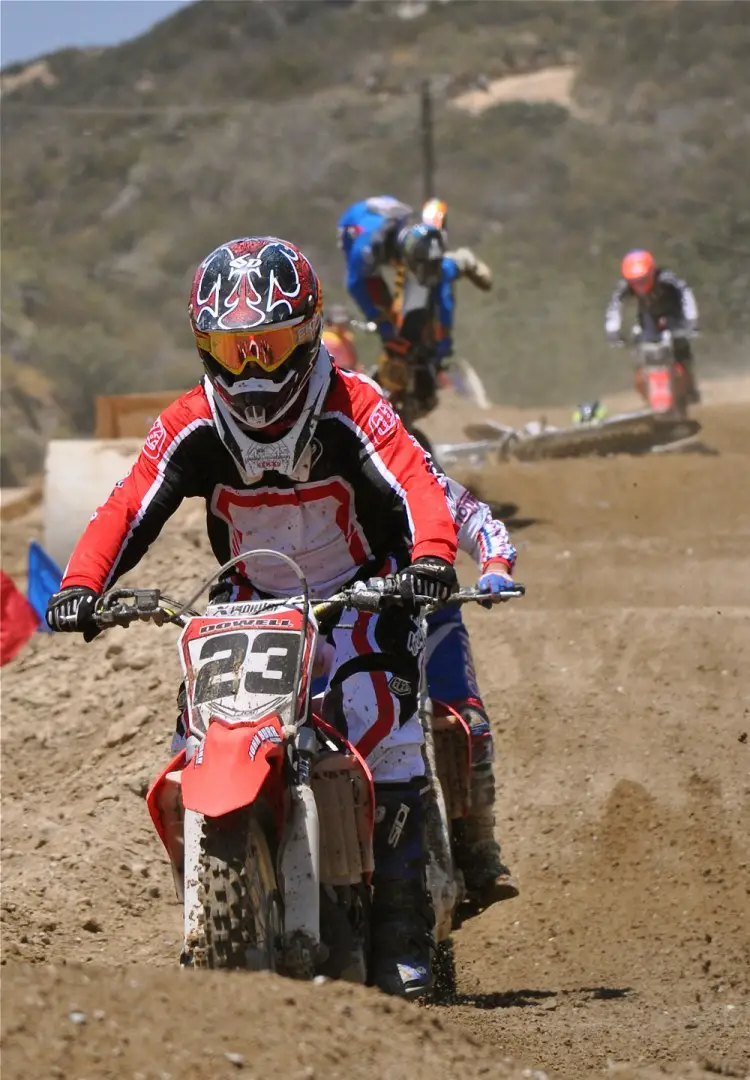 Sequence shot 2: Bryan Friday's KTM lands on Monaghan's YZ250 and Friday is catapaulted over the bars. It was a brutal crash that left Monaghan with a broken wrist and Friday with a broken leg. Photo: Mark Chilson

And it was. The big jumps were blended and rounded and the massive triple step-up was cut down five feet lower to make it easier to jump. Even the big downhill was graded as smooth as possible. But, even though the "REM Mellow National" was much easier than the actual AMA 250/450 National from seven days earlier, you can't calm down the riders who came to race on it.
Jungle Jim Chamberlain (170) was a Carlsbad Raceway regular and a team manager back in the day. Jungle Jim was a little rusty at his first race in years, as this offtrack excursion reveals, but he was good enough to win the Over-50 Experts (not to be confused with the Over-50 Elites). Loren Pochirowski was second, Val Tamietti third, Phil Dowell fourth and Will Harper fifth. In the background you see former Pro Circuit Husqvarna racer Mike Monaghan (76) before his big crash. Photo: Chris Alamangos
From practice through the final moto there were crashes aplenty—with Mike Monaghan and Bryan Friday having the most spectacular (and the most serious), but Randel Fout broke his tib/fib by flat landing in the nether reaches of a double and a triple. And Bud Donatoni went down in the Over-50 intermediate race and broke some ribs.
Jim Latendresse (564), Lyle Sweeter (55) and Jody Weisel (192) peel off the banking in the Over-60 Expert class. Latendresse went 1-1, Sweeter 3-3 and Weisel 4-4, Mike Marion, not shown, was late to the party, but got second with a 2-2. Photo: Dan Alamangos

For those that rode within themselves and stifled their inner James Stewart, it was a perfect day. Of course every REM regular was glad to know that next Saturday the REM track would be rebuilt and they would relinquish the AMA National track to Scott Burnworth's Vintage Championship race. Have at it guys.
There are lots of places you wouldn't want to fall at Glen Helen, but this a blind dropoff is probably near the top of the list. Dave Eropkin (811) clamors back to his bike while Steve Donovan (6), Brian Allen (923) and Mark Hall (62) blast past. Photo: Chris Alamangos

Best wishes to Bryan, Monty, Randel and Bud. We'll hold a place for you on the starting line. For more info on REM, go to www.remsatmx.com.
We don't know how your local race promoter does it, but REM's Frank Thomason (551) is always on the lookout for riders in trouble. Here, he glances over mid-race to assess how much trouble this rider is in. Photo: Debbi Tamietti

Former CMC number 1 rider from the glory days at Saddleback Park finished third in the Over-50 Expert class. Photo: Dan Alamangos

Aussie Dan Alamangos (32) laid down his camera long enough to get fifth in the Over-40 Intermediate class. His brother, who was third in the Vet Novice class shot the photo. Photo: Chris Alamangos

We don't know where Pete Murray is going, but we are pretty sure that the track goes to the left. Even with this miscue Pete won both motos of the Over-50 Elite class. Photo: Dan Alamangos

If a Swedish rider isn't good in the sand, he needs to hang up his boots. Kristoffer Palm swept both motos of the 450 Pro class. Photo: Dan Alamangos

These two racers were major players in the rise of AXO in the 1980s. Kenny Safford (4H) and John Caper (44) are still in the industry. Kenny went 4-4 for third in the Over-50 Novices, while John's 3-5 got him fourth. Photo: Dan Alamangos

Mark Hall (62) is framed in the Summer foliage on his way to a top ten finish in the Over-50 Expert class. Photo: Dan Alamangos

Baja legend and GNCC team owner Johnny Campbell (112) crests one of Glen Helen's hills on his way to the win in the Over-40 Pro class. Photo: Dan Alamangos

Lightspeed carbon fiber owner Willie Amaradio (83) takes the outside line in the sand to try to pass Luther French (2). French would have none of it and went 8-6 for sixth, while Amaradio would end up in 13th. Photo: Dan Alamangos

Justin Reese (100) used a 2-1 to beat William Hendershot's 1-2 in the Vet Pro class. Ryan Abler was third. Photo: Mark Chilson

Ryan Abler (418) did not go gentle into that good night, he fought to keep Justin Reese behind him. Photo: Debbi Tamietti