POINTS STANDINGS HEADING TO SATURDAY NIGHT'S 2019 OAKLAND SUPERCROSS
Tomac (3) and Roczen (behind him) are boxed out by the Austrian Army of Musquin (25), Webb (2), Wilson (15) and Baggett (4).
Heading into the fourth round of the 2019 Monster Energy Supercross series in Oakland, these are the points standings in both the 450 and 250 West classes.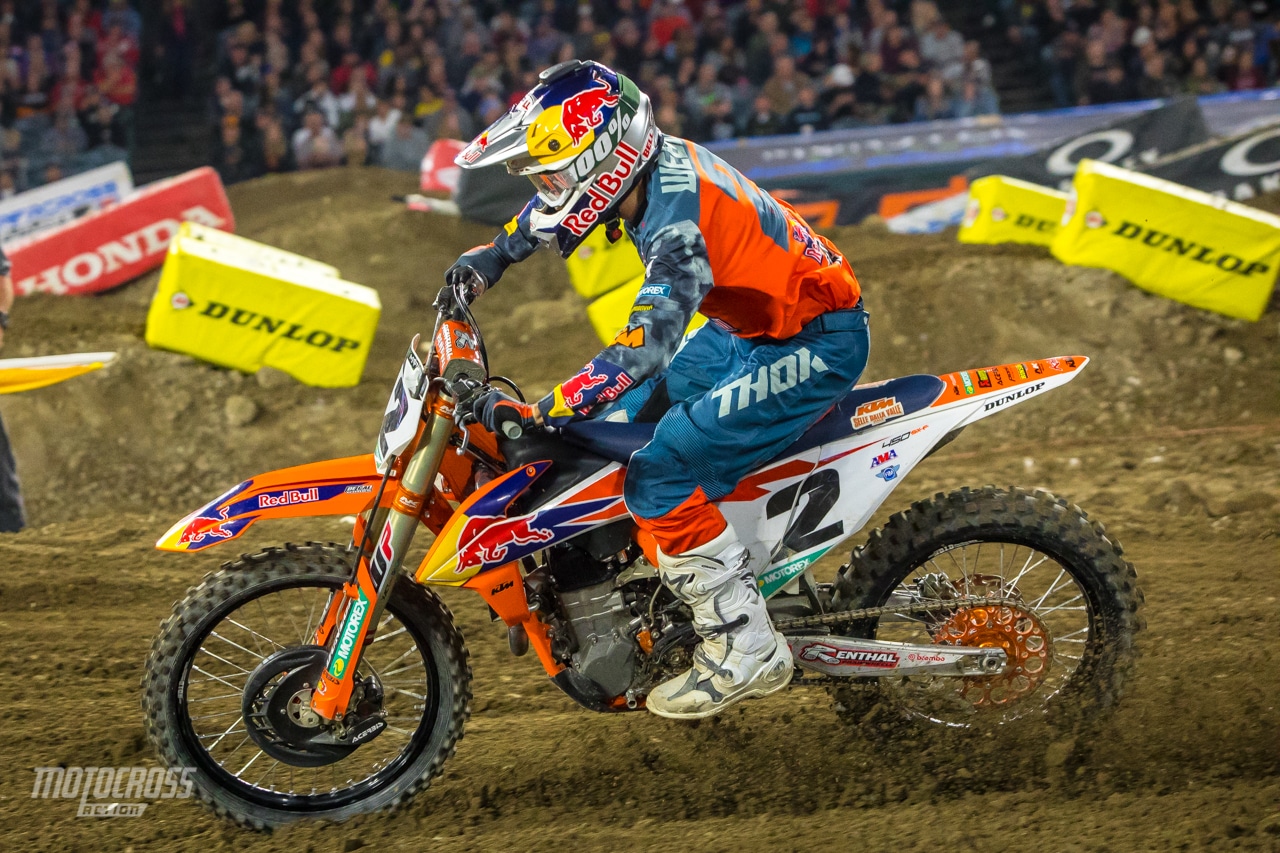 Cooper Webb (2) was the surprise winner in the 450 class at round 3.
CURRENT AMA 450 SUPERCROSS POINTS STANDINGS
(After 3 of 17 rounds)
1. Ken Roczen (Hon)…63
2. Eli Tomac (Kaw)…61
3. Cooper Webb (KTM)… 57
4. Justin Barcia (Yam)…56
5. Marvin Musquin (KTM)…56
Dean Wilson (15) is sixth in points and only 4 points out of the top five.

6. Dean Wilson (Hus)…52
7. Jason Anderson (Hus)…46
8. Blake Baggett (KTM)…45
9. Aaron Plessinger (Yam)…45
10. Cole Seely (Hon)…44
11. Justin Brayton (Hon)…37
Chad Reed's retro gear was a big hit at Anaheim 2, but Chad himself has slipped out of the top ten.
12. Chad Reed (Suz)…33
13. Vince Friese (Hon)…32
14. Justin Hill (Suz)…30
15. Joey Savatgy (Kaw)…22
Ben Lamay is another refugee from the defunct AMA Arenacross series. Ben is 18th in 450 Supercross points. Tyler Bowers and Chris Blose also moved over from Arenacross.
16. Justin Bogle (KTM)…18
17. Malcolm Stewart (Hon)…17
18. Ben Lamay (Hon)…14
19. Carlen Gardner (Hon)…11
20. Tyler Bowers (Kaw)…9
Although Jason Anderson (1) struggled at the first three races, he was still 7th in 450 points. Unfortunately, he broke his arm in two places practicing between Anaheim2 and Oakland. Jason joins Malcolm Stewart on the injury list.
250 WEST SUPERCROSS POINTS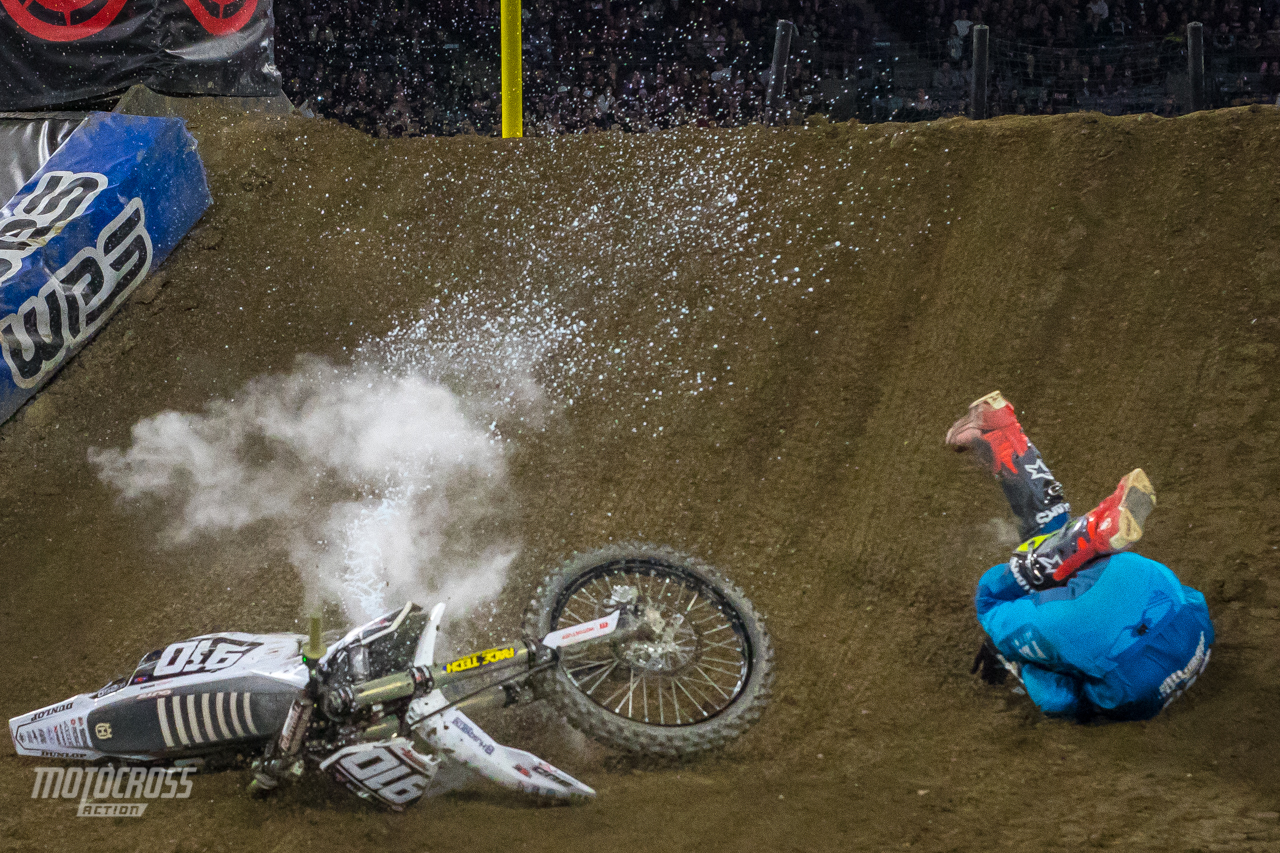 Carson Brown (910) crashed within feet of the checkered flag. His bike hit so hard that the radiator blasted out a spray of hot water. Carson didn't get across the finish line and slipped out of the top 20 in points.
CURRENT AMA 250 WEST SUPERCROSS POINTS STANDINGS
(After 3 of 10 rounds)
1. Colt Nichols (Yam)…70
2. Shane McElrath (KTM)…68
3. Dylan Ferrandis (Yam)…63
4. Adam Cianciarulo (Kaw)…62
5. R.J. Hampshire (Hon)…57
Garrett Marchbanks (61) and Adam Cianciarulo (92) are 12th and 4th in 250 West points.
6. James Decotis (Suz)…44
7. Chris Blose (Hus)…44
8. Cameron McAdoo (Yam)…41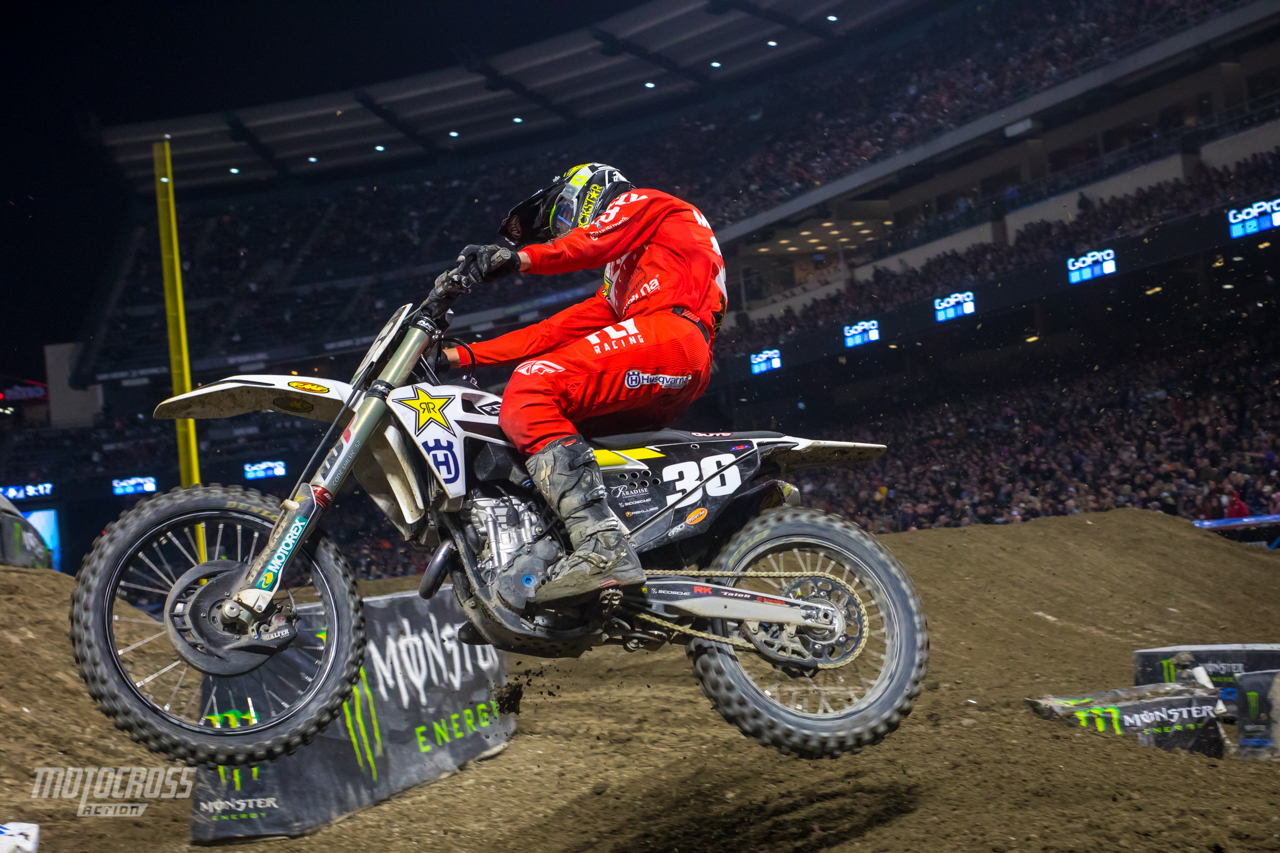 Michael Mosiman (36) is the only Husqvarna factory rider in the top ten of the 250 West. With Zach Osborne and Jason Anderson) out with injuries, the Husqvarna effort has to depend on privateers Dean Wilson, Chris Blose, Dylan Merriam and Justin Starling .
9. Michael Mosiman (Hus)…39
10. Jacob Hayes (Yam)…37
11. Jess Pettis (KTM)…36
JGR's Enzo Lopes (67) is 15th in 250 West points and is almost two full Supercross races behind leader Colt Nichols. He needs a good finish in Oakland to save his Supercross season.
12. Garrett Marchbanks (Kaw)..33
13. Sean Cantrell (KTM)…33
14. Martin Castelo (Suz)…25
15. Enzo Lopes (Suz)…19
Robbie Wageman's father was a former Supercross racer (and so is his brother). Robbie is 16th in 250 West points).

16. Robbie Wageman (Hon)…16
17. Justin Starling (Hus)…16
18. Jerry Robin (KTM)…16
19. Mitchell Harrison (Yam)…14
20. Dylan Merriam (Hus)…8
Photos: Brian Converse and Daryl Ecklund