PRESS DAY GALLERY | HOUSTON SUPERCROSS
Eli Tomac is looking comfortable in Houston as he lays his bike flat.
The 2019 Monster Energy Supercross series is in Houston, Texas, this weekend for round 13 of the season. Cooper Webb, Eli Tomac, Dean Wilson and more showed up to the Houston Texan's NRG Stadium a day early to participate in the Houston Supercross press day. With only five rounds left in the 2019 season, the Championship is starting to heat up for the front runners and the pressure is rising for the riders who are in the process of negotiating their contracts and searching for rides in 2020. Our photographer Brian Converse is in Houston snapping pictures and taking video the riders as they prepare for round 13. Watch the raw video from press day here.
After his fourth place in Seattle, Cooper Webb should've lost 7 points to his teammate Marvin Musquin in the 450 Championship point standings. But with Marvin's costly mistake of jumping on the Red Cross flag, he was docked 7 points. Marvin won the race and Cooper finished fourth, but with the penalty, they still scored the same amount of points. Cooper Webb still holds a 14-point lead over Marvin Musquin going into Houston.
During the post-race press conference in Seattle, Marvin Musquin admitted that jumping on the Red Cross flag was a mistake on his part and he takes full responsibility for it. We're betting Marvin will be hard to beat this Saturday, as he will be looking to earn those precious points back.
Eli Tomac finished third in Seattle and he currently sits third in the points standings, 19 behind Cooper Webb. 
Michael Mosiman throws some style and looks straight at our camera man, Brian Converse. Michael had a career-best fourth-place finish in Seattle and he currently sits 6th in the 250 West point standings. 
Dean Wilson spent the week in-between Seattle and Houston riding outdoors in Southern California. He's already preparing for the AMA Outdoor Nationals which start just two weeks after the Supercross finale in May. Because the transition between the two series' is so short, riders begin their motocross training during the week while still racing Supercross on the weekends. 
Zach Osborne's results were consistent in Seattle. He qualified 8th fastest and finished 8th in the main event. After missing the first six rounds of the season due to injury, the 450-rookie Zach Osborne is improving and gaining wisdom at each race.
Mike Alessi does his best Steph Curry impression.
Joey Savagty has been riding well this season and is proving his worth as a factory Kawasaki 450 rider. He finished fifth in Seattle, even after a small tip-over in a corner. 
Dean Wilson finished sixth last weekend in Seattle. 
Marvin Musquin was scrubbing and using all of his suspension in Houston. Check out the tire marks on his white rear fender.
Marvin Musquin and Zach Osborne have a pre-moto chat.
Mike Alessi seems like he has been enjoying his time back at the Supercross races.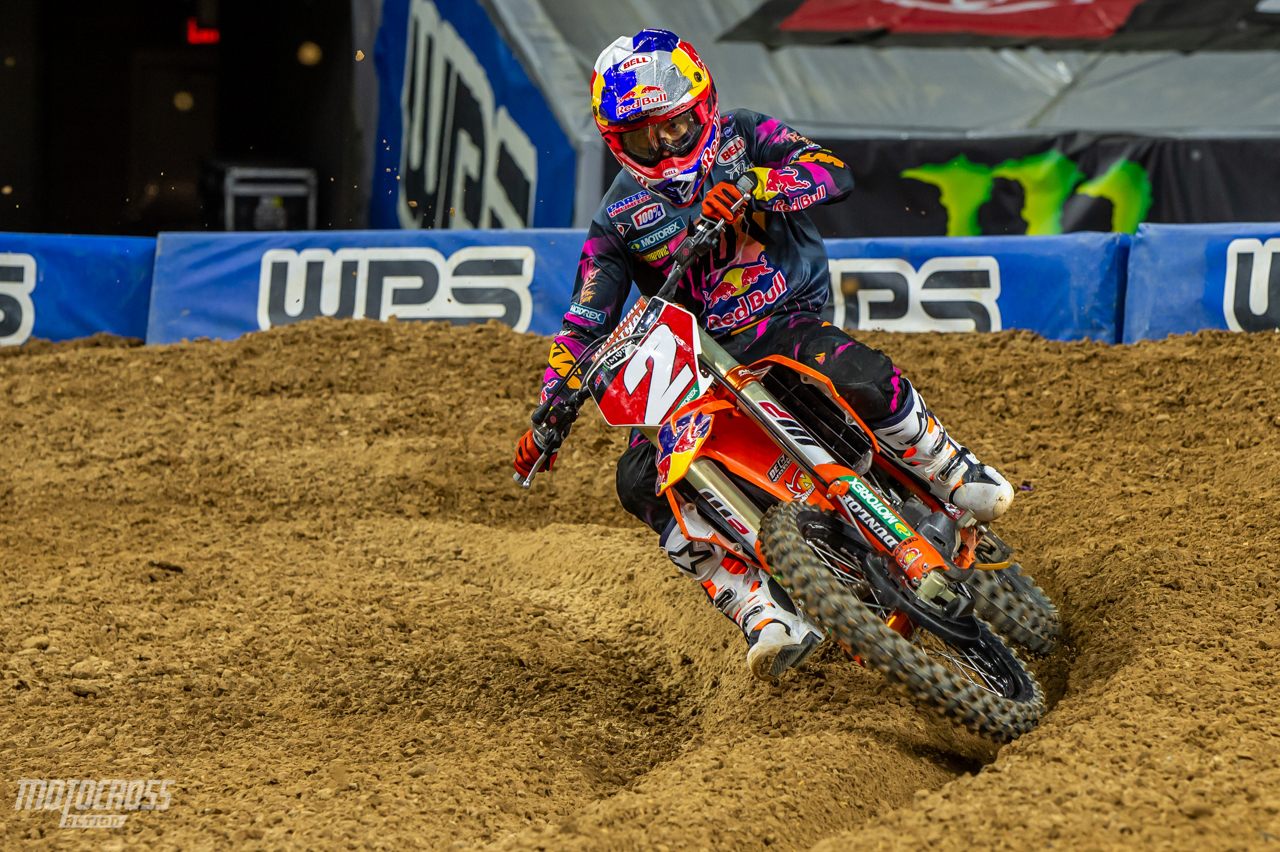 Round 13 will be the third and final triple crown race of the 2019 season. Cooper Webb is currently leading the Triple Crown "Championship within a Championship" by two points over Eli Tomac.
Check out the flex on Eli Tomac's chain.
It's really cool to see long-time privateer rider, Ben Lamay join the Smartop Motoconcepts Honda team as fill-in rider for Justin Brayton. His first race on the team will be at round 13 in Houston.
Michael Mosiman with his helmet off. 
Privateer Vann Martin has been competing in the 450 class so far in the 2019, but for his home race in Houston the Honda rider will drop down to the smaller bike to compete in the 250 West division.


Cooper Webb smiles for the cameras.
Martin Castelo started the season on a BarX Suzuki 250, but his contract was only for the first five races. After finishing sixth in San Diego, the JMC Husqvarna team picked up Castelo and they are helping him for the remainder of the 250 West season. 
Marvin Musquin whips it for the cameras. 
Eli Tomac always has the "eye of the tiger."
Lane Shaw has been racing in the 250 East division so far this year, but he will jump up to the 450 class this weekend to earn some more Supercross racing experience in his hometown state of Texas. 
Michael Mosiman suits up for some press day riding while Rockstar athlete manager James Hanson makes sure that his ejection device is secured on his helmet properly.
We are happy to see Kyle Chisholm back at the track after the brutal crash last weekend where he landed on Chad Reed. 
Houston local, Vann Martin is happy to be riding press day in the NRG Stadium.
Dean Wilson seat bounces.
Michael Mosiman lays his Rockstar Husqvarna flat. 
Another Texas local, Kyle Swanson was in Houston early riding in press day.