PRO CIRCUIT KAWASAKI ANNOUNCES FOUR-MAN TEAM FOR THE 2021 SUPERCROSS & NATIONAL SEASON
PRO CIRCUIT KAWASAKI ANNOUNCES FOUR-MAN TEAM FOR THE 2021 SUPERCROSS & NATIONAL SEASON
The Monster Energy Pro Circuit Kawasaki race team has officially announced their 2021 roster for both the 2021 Monster Energy AMA Supercross season and the Lucas Oil AMA Pro Motocross Championship. The team brings back familiar faces Austin Forkner, Cameron McAdoo, and Jordon Smith for next year and they also have called up amateur all-star, Seth Hammaker, to fill the fourth helmet on the Kawasaki 250 team. Not returning for 2021 is Garrett Marchbanks, the 19-year-old winner of the Daytona 250SX Main Event has joined the ClubMX Yamaha team for next year and you can read more about it by clicking here.
With injuries decimating the Pro Circuit team in 2020, both former factory riders, Mitchell Harrison and Darian Sanayei got a chance to fill-in for Mitch Payton's team during the 2020 Pro Motocross season. Unfortunately Darian Sanayei's season was short lived due to a shoulder injury he sustained at the first round. He took a few weeks off before rejoining the season at RedBud. Unfortunately, his shoulder wasn't strong enough to continue on and his season ended early. Mitchell Harrison rode well alongside Cameron McAdoo, the only original Pro Circuit rider who was healthy enough to race Outdoors, and he finished out the 2020 season 8th place in the point standings. Mitchell strived to earn a spot on the team for 2021, but it didn't work out for him.
Monster Energy Pro Circuit Kawasaki press release: The upcoming 2021 racing season marks 28 years of winning for Kawasaki and Pro Circuit. The successful Monster Energy/Pro Circuit/Kawasaki boasts an impressive resume including the most combined Supercross/motocross wins in the 125/250 class at 29 championships, including the 2019 AMA Pro Motocross championship achieved by Monster Energy Kawasaki rider Adam Cianciarulo.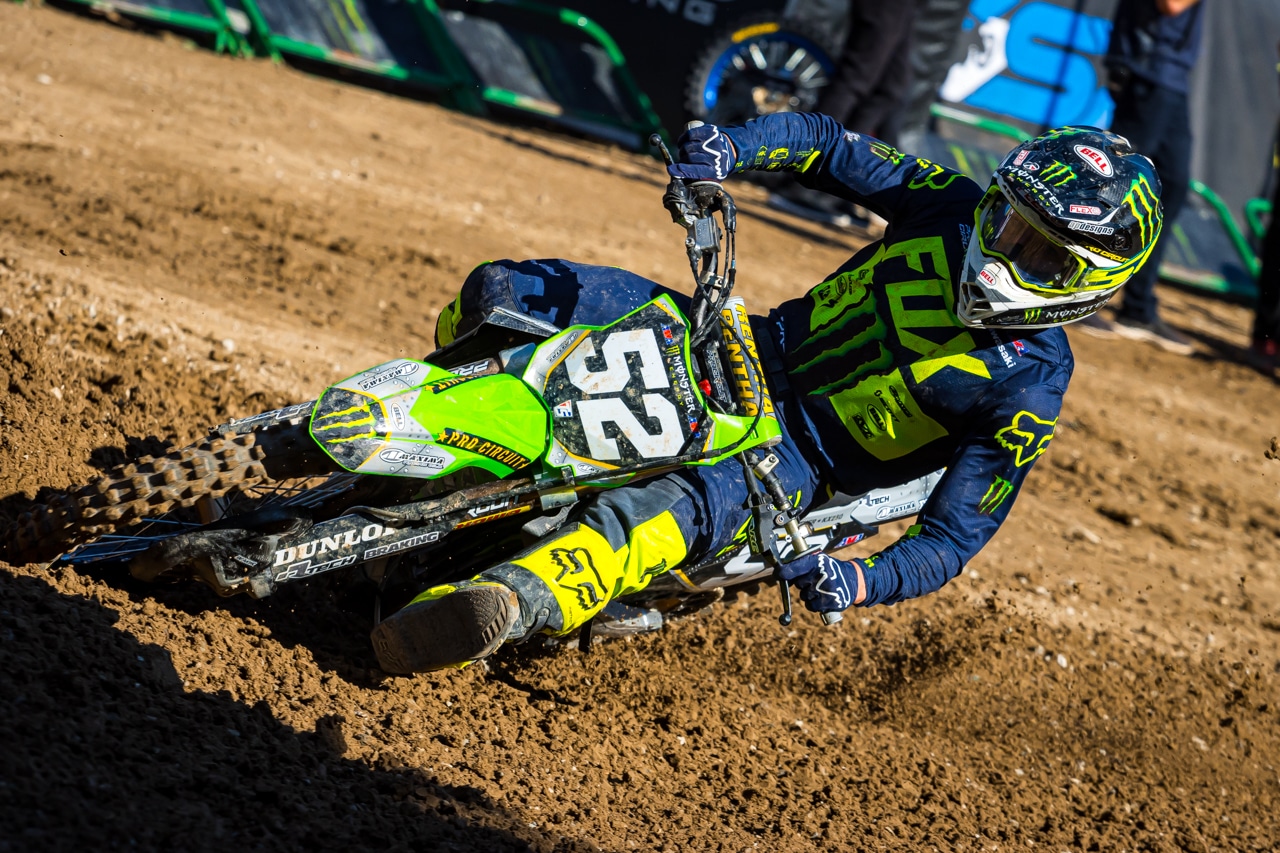 Austin Forkner.
Returning to the Monster Energy/Pro Circuit/Kawasaki race team for 2021 aboard their all-new 2021 KX250 motorcycles is long-time Team Green racer Austin Forkner along with Jordon Smith and Cameron McAdoo. The trio welcomes, Seth Hammaker, as he graduates from the Monster Energy Kawasaki Team Green amateur race program.
Jordon Smith.
"We have a great team returning for the 2021 season combined with an all-new KX250 motorcycle," said Mitch Payton, Pro Circuit owner. "We're looking forward to continuing to work with our solid group of guys and Hammaker joining the crew. There is a lot of talent between our four riders, and we will provide all the necessary tools to help each of them reach their full potential. The Monster Energy/Pro Circuit/Kawasaki team has high expectations to put Kawasaki and Pro Circuit on top of the podium."
Cameron McAdoo.
Seth Hammaker.
Forkner will enter the new season as the most experienced rider on the team. The 12-time 250 class race winner has high hopes of capturing multiple championships after his successful 2019 and 2020 seasons were cut short due to injury. 2020 brought the fresh face of Jordon Smith, who earned three top-5 finishes out of the four rounds he competed in before withdrawing early due to injury. Cameron McAdoo returned in 2020 to the brand that he found great success with throughout his amateur career, achieving career-bests in both Supercross and motocross series, and looks to keep that momentum going into next season. Making his professional debut, Seth Hammaker is set to join the team for both series at the beginning of the 2021 season.
Seth Hammaker posted via instagram:"Pumped to announce I will be racing for the Pro Circuit Race Team in 2021. It has always been a goal of mine and I'm excited to work with a great group of people! Stoked to get to work!" The young rookie went on to thank Kawasaki for supporting him throughout his amateur racing career. "I also want to give a huge thank you to everyone at Kawasaki Team Green for the support and guidance through my amateur career. Through the ups and downs they never stopped believing in me and always had my back. I have gained a lot of knowledge and experience from all of the team members. I'm excited to start my pro career with Kawasaki Racing and transition everything I've learned and worked for into the pro ranks. I'm forever grateful to be apart of the team green program!"
Cameron McAdoo posted via instagram: "I am excited, and proud to announce that I have extended my time with @pcraceteam @racekawasaki I can't wait to get back to work for the 2021 season with the entire crew. It's gonna be a good one!"
Jordon Smith posted via instagram before the 2020 Pro Motocross season about his recovery process after knee surgery: "Well I've been very quiet on social media lately. But I have been working very hard on trying to get my knee back to where it needed to be to start riding again. It was a very long process and a few small things we've had to iron out but I'm excited to say that I'm back on the bike and getting back into the swing of things. I wish so badly I could say that I'm lining up to race the first round of @promotocross this weekend but unfortunately that won't happen. I'm going to keep taking this recovery process slow and building my strength and foundation on the bike again. I want to give a huge shoutout to all of my sponsors that have stuck behind me and continue to support me! We are going to try to make a big comeback for 2021!!"