PRO MOTO PHOTO DAY: TOMAC, BARCIA & MORE PREP FOR 2020 IRONMAN NATIONAL
FOX RACEWAY PRO DAY: ELI TOMAC, JUSTIN BARCIA & MORE PREP FOR 2020 IRONMAN NATIONAL
The 2020 Ironman National is coming up this weekend and to get prepared for it some of the top Pro riders went to Fox Raceway in Southern California to get some practice laps in. The forecast shows Crawfordsville, Indiana, to have scattered showers on Thursday, Friday and Saturday. Hopefully the weather isn't as bad as it was at Round 2 of Loretta Lynn's because many of the factory teams and privateer riders used up a lot of resources when replacing blown up engines from the mud they experienced there. We hope the rain isn't too bad, however, with Hurricane Laura on the horizon anything can happen. They ripped the track considerably deeper than on a normal day at Fox Raceway and the track was given a generous amount of water which allowed it to develop some deep ruts. "Fast Tuesday" at Fox Raceway featured many factory riders such as Eli Tomac, Justin Barcia, Shane McElrath, Trey Canard, and more tearing up the Southern California dirt. MXA's Trevor Nelson was there to capture some of the world's fastest riders prepping for round 3 of the 2020 AMA Nationals.
Photos by Trevor Nelson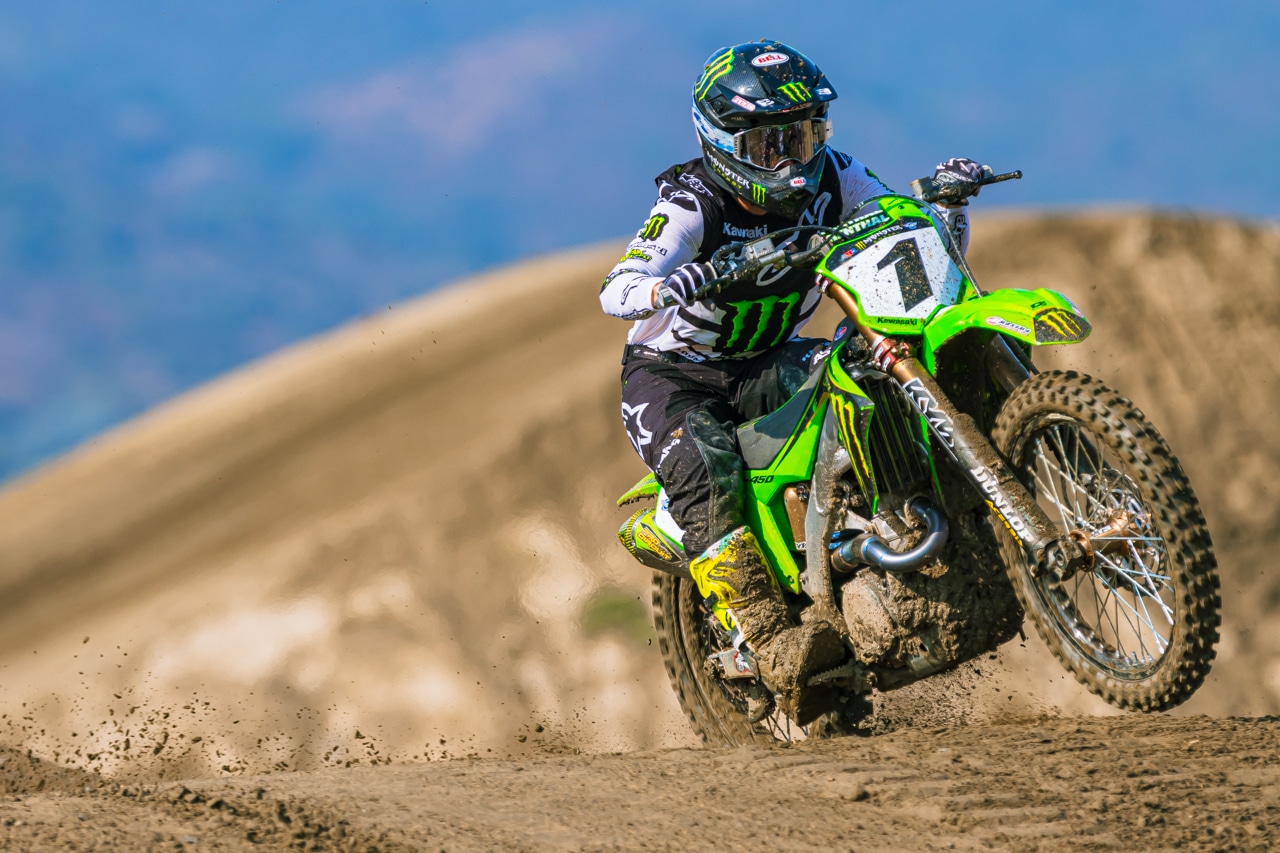 Eli Tomac took advantage of the muddy track conditions in the early morning. Most riders don't like to ride the track while it's still soaked but Eli went out way before anyone else to get some wet practice laps in. 
Broc Tickle secured an impressive 4th overall at the second Loretta Lynn National aboard his Monster Energy YZ450F.
At first glance you may think this is Chase Sexton but it is actually Trey Canard testing on Chase's factory Honda HRC bike.
Christian Craig spent the day working on no clutch and no brake motos. He is one of the smoothest riders on the track and placed 6th overall last weekend.
Justin Barcia was flying in the first moto at the Loretta Lynn National 2 and won the  first, a minute ahead of second place, unfortunately due to a bike failure taking him out of the second moto, he only managed a 7th overall.
Pierce Brown on his Red Bull TLD KTM.
Broc Tickle in the new 2021 FXR Racing Revo Gear.
Mitchell Harrison has been looking very fast ever since joining the Pro Circuit Kawasaki team. He scored a 6th in moto 1 and a 10th in moto 2 at Loretta #2,  and got a 7th overall. We're looking forward to seeing if  his performances get better when the track conditions get better.
Brandon Hartranft had trouble in the mud last weekend. Eventually his bike blew up and he got it buried in the mud. While stuck in the mud, R.J .Hampshire got stuck next to him. Brandon dropped his dead bike to help a fellow rider out. True sportsmanship.
The young Geico Honda rider Carson Mumford has been surprising us all with how consistent and controlled his riding has been this season. 
Eli Tomac flying high.
Pierce Brown in full attack mode.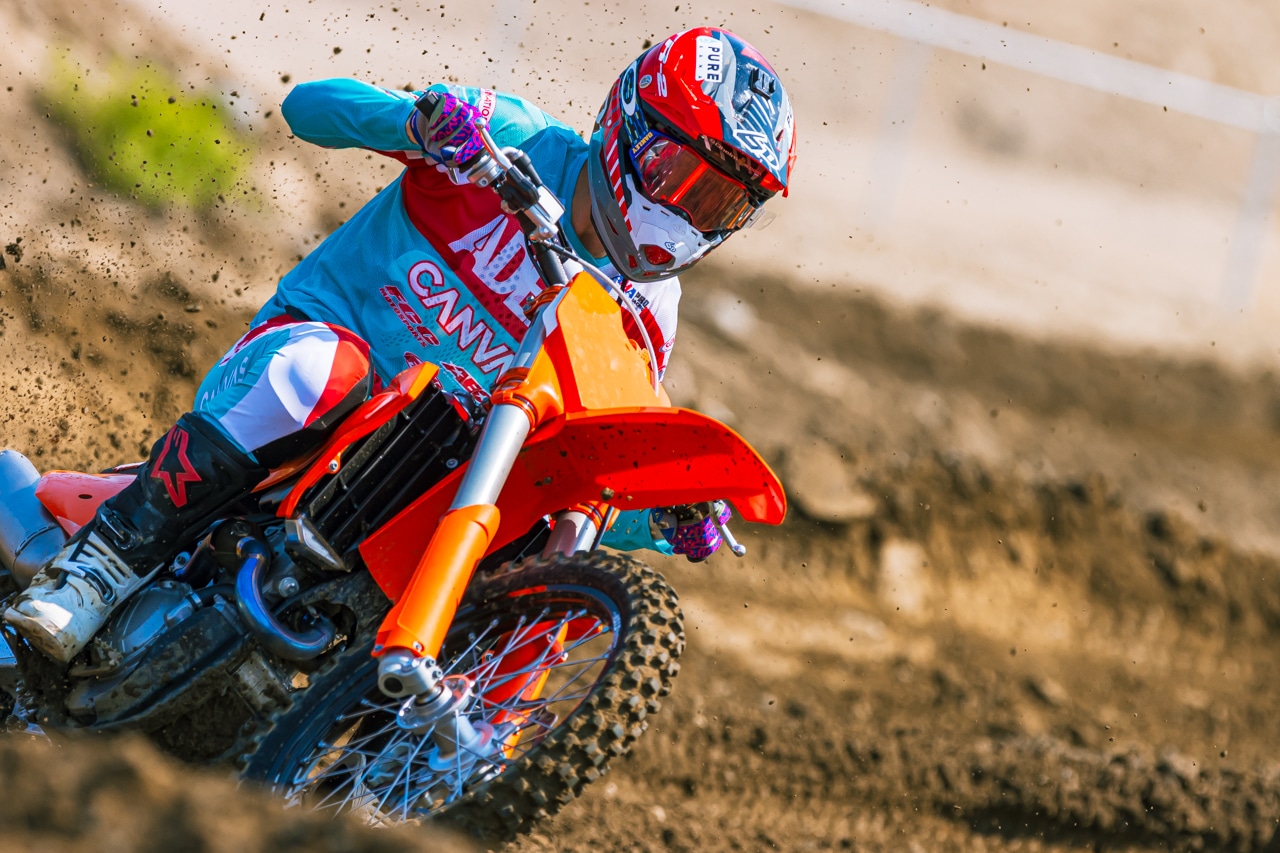 Jerry Robin on his friend and fellow racer Kyle Greeson's bike. The privateers have to endure a lot when it comes to racing and, in this case, Jerry's parts are  on back-order for his own practice bike. Privateers have to improvise.
Shane McElrath getting a little sideways.
Trey Canard with lots of focus.

Cameron McAdoo showing how much dirt he can throw in the air.
Martin Castelo scrubbing away.
Hunter Yoder is one of the regulars at Fox Raceway and it is no surprise how fast and smooth he is hitting some of the rhythm sections.
If you would like to watch a raw video of the Pros going fast at Fox Raceway, click here.
It's always cool to see Trey Canard when he's in California testing with the Honda team.
Eli Tomac is looking for redemption this weekend at Ironman. 
Justin Barcia hasn't said which team he will be riding for in 2021, but it's unlikely that he'll be back at Yamaha.
Broc Tickle is looking smooth on the YZ450F.
Cole Seely spinning laps on a KTM 350SXF. 
Carson Mumford trying to keep his goggles clean from the incoming roost.
Pierce Brown went 9-DNF for 22nd overall at Loretta Lynn's 2.
Geico Honda's Hunter Yoder carves through a Fox Raceway berm.
You can tell by Trey Canard's boots that the track was muddy to start out the day. 
It's pretty weird to see Christian Craig's clutch lever pointed to the moon, but he is trying to avoid using it.
Justin Barcia casually soaring through the air one-handed.