PRO TAPER PRESENTS MXA'S MID-WEEK REPORT #25 BY JOHN BASHER

#WHIPITWEDNESDAY
Rider: Jason Anderson
Location: Milestone MX
Date: May 8, 2015
Photographer: John Basher
Camera: Canon 1D Mark III
Lens: 70-200mm f/2.8
Focal length: 190mm
Exposure: 1/1600 sec.
F-stop: 4.5
ISO: 250
MXA VIDEO: ALMOST FACTORY 2003 HONDA CR250
QUOTE OF THE WEEK: HEATH VOSS
"I always say that motocross racers are the most awesome people on earth. In the flying business everybody complains about safety. In motocross, no one complained about things. When you live the life as a professional racer, you think it's the norm. There's a certain mentality, but it's really not that way in the broad view of humanity. Motocrossers are pretty unique. It was an honor to be around the guys I was, and also to be racing with them."
Click here to read the full interview.
TWO-STROKE SPOTLIGHT: A.J. STEVENS' KAWASAKI KX250 CREATION
Last week I launched "Two-Stroke Spotlight" in the Mid-Week Report. It's the perfect opportunity for readers to showcase their two-stroke project bikes. Joe Hurd kicked things off with his pristine Yamaha YZ125. This week features A.J. Stevens' Kawasaki KX250, which uses a 2003 KX250 two-stroke engine in a 2006 KX250F chassis. Read below for A.J.'s description of his dream bike. 
"I have attached some pictures of my bike build that is still slowly a work in progress. It started life as a 2003 KX250, which after a season of racing and seeing the awesome bikes that A.J. from Service Honda builds with his KX250AF, I said I have to build one. So, I set out to shoehorn the engine into a 2006 KX250F chassis. It took me roughly 2 years and about $1500 on top of the original bike cost to do. I took my frame one step further than Service Honda and replaced the entire engine cradle and machined new motor mounts to go with it. As of now the bike has a pipe and some mild porting done to the engine. Plastics are Polisport, Renthal 971 bend bars with half waffle grips, Michelin S12 tires front and rear, Lowe Racing suspension, Enduro Engineering hand guards, GUTS Racing tall hard seat foam, and IMS oversize 2.8 gallon tank.
"I used as much off-the-shelf parts, as well as what was left from the original chassis, to keep the initial cost down. I used the rear rim from the 2003 KX250. It didn't require any funny work to get it to match at all. The front 2003 wheel I initially tried to use, and it was a nightmare to get to fit, so I wound up getting the 2006 front wheel so I could use normal spacers. Everything on the bike can be bought at the dealer for the most part, except the radiators. I used 2003 KX250 radiators and modified the tanks to get them to clear the 'Y' part of the frame. It also uses a 2001 Honda CR250 air boot to adapt the air box to the carb. The air boot I tried kinda on a whim, as my cousin rode Hondas for years. He was looking at my bike and thought the 2001 CR250 air boot was pretty close. We tried it out and it was really close. There is an adapter plate in the airbox that downsizes the opening to accept the Honda air boot.
"I primarily do Hare Scrambles and Enduros in Michigan in the District 14 series. I go to motocross and fair Supercross races from time to time. The bike gets all sorts of weird looks until I pull a holeshot on it. One of these days I'm going to do a KX500 conversion. Then I would have all three green two-strokes, as I have a 2003 KX125 that I am in the process of freshening up."
If you would like your bike to be featured in the "Two-Stroke Spotlight," please email me at [email protected] All I ask is that you give a breakdown of your bike and a detailed description of the thing. Please also send a few photos of your steed. By submitting your bike for the "Two-Stroke Spotlight," you agree to release all ownership rights to the images and copy to MXA. Please don't email me spam or try selling me beachfront property in Arizona. Happy submitting your smoker! 
COVERED: FEBRUARY 2003
Can you name the rider in this photo? That's Josh Demuth under the Thor Racing helmet. Demuth was a modestly successful motocross racer, but carved out a name for himself in Arenacross. The Ohio native won three Arenacross titles–2002, '03 and '10. His success in 2003, coupled with our coverage of the Arenacross opener in Des Moines, Iowa, resulted in Demuth's one and only MXA cover.
THEY SAID IT: KEN ROCZEN
"I think this was probably the gnarliest track we've ridden all year. It got super rough. They added a lot of mulch and most of the stuff pushes to the side, especially when you water it, so it was really sketchy. It was definitely a tough track, which made for great racing. I grabbed the holeshot in the first moto and it's always good to have a clear track. I think a couple of people crashed behind me so I had a little gap. I just tried to ride a smart race and take the checkers. I was super-happy with that."

"PRODUCT" SPOTLIGHT: COSTA RICA UNLIMITED
[Press Release]
Costa Rica Unlimited, the industry's number one trusted dirt bike tour company announces the addition of six (6) 2015 KTM XCF models to our current line up of eight (8) Yamaha WR250/450's. Enjoy Costa Rica on the seat of a dirt bike, from mountainous trails, beautiful jungle single track and wide open beaches. Choose from our unique "Loop Tours" where riders traverse the entire country or our popular "Out & Back Tours" which riders stay at the CRU compound and choose the type of riding each morning. Grab the riding crew or the entire family and get ready for the adventure of a lifetime!
Price: From $2100 (Call for pricing)
Contact: (714) 368 – 0656
Website: www.costaricaunlimited.com
TIM GAJSER COMING TO AMERICA IN 2017?
Tim Gajser is well on his way to the 2016 FIM MXGP Championship. Will winning punch his ticket to the U.S. for 2017? Photo by Massimo Zanzani.
Is Gariboldi HRC Honda's Tim Gajser moving to America, like Ken Roczen and Marvin Musquin before him? That's the question on everyone's minds as Gajser is powering away from the 450 Grand Prix field in his rookie year. Word around the pits leading up to the series opener in Qatar was that the Slovenian had a clause in his Honda contract that would let him race in the U.S. should he win the MXGP title in 2016. It seemed, to Honda Europe, as a long shot. After all, defending Champion Romain Febvre took the 105 series by storm. He, along with a star-studded cast of characters that included eight-timer Tony Cairoli, Max Nagl, Gautier Paulin, Evgeny Bobryshev, Clement Desalle and Ben Townley, would chew up Gajser and spit him out. Then Qatar happened. Tim Gajser went 1-1 for the sweep. He has gone on to win six of the 11 rounds thus far, amassing a 74-point lead with seven rounds to go. With Romain Febvre supposedly skipping the MXGP of Lombardia this weekend due to a concussion suffered in England, that points lead should grow substantially. That is, unless Tony Cairoli can find the form he displayed in Germany over a month ago. Cairoli is 77 points adrift in the title chase.
After Gajser clinched the 250 World Championship at Glen Helen this past fall, Jim Kimball caught up with the elated Slovenian. One of the questions he asked was in regard to Tim's interest in coming to the United States. He replied, "I signed a five-year contract with HRC Honda, and it's an honor to be with them for the future. They are now one of the biggest teams in the sport. We all work very well together, and it's like a big family. They have given me an open door to do whatever I want to. Whether I want to stay in the 250 class, move up to MXGP, or even go to the U.S., they are open to what my dad and I decide."
Here's what we do know. Barring unfortunate circumstances, Tim Gajser is slated to race the USGP rounds in Charlotte and Glen Helen. There is talk he will contest the Monster Energy Cup in Las Vegas on Saturday, October 15th. The big hurdle for Gajser isn't racing outdoors or adapting to American culture. Instead, he'll need to figure out U.S. Supercross and fend off possible injury in order to be healthy for next year's 450 Nationals. Of course, this is all speculation. Let's hope Gajser takes the leap by racing in the U.S. for 2017 and beyond.
HINDSIGHT IS 20/20: JAMES STEWART
James Stewart (259) cuts to the inside of Nathan Ramsey (25) off the start at Glen Helen in 2004.
I wrote this of James Stewart after the 2004 Glen Helen National finale. It was his last race in the 125 class.
"James Stewart made a wise decision in choosing the KXF250 for Glen Helen. With the massive hills and brutally long start straight, Stewart needed all of the power that he could get to not be buried in the back of the pack off the gate. It paid off, because in the second moto after only two laps Bubba already had an 18-second lead, and that's after he grabbed the holeshot. Leading up to the race, Stewart had only ridden the four-stroke over the course of three days, but during the race it looked as if he had raced the bike all year long. With 1-1 moto scores, James was one moto shy of a perfect season and ended his 125 career with 28 National wins. At the press conference, Stewart commented that he is glad that he didn't race the four-stroke all year, as he had to push himself more on the 125 during the season, which will make him more prepared for next year in the 250 class. Come Anaheim I, James Stewart should be more than ready to go up against Carmichael and company."
MY INSPIRATIONS: ROGER DeCOSTER
The people and events that shaped "The Man's" career
NEIGHBORHOOD KIDS
"In my neighborhood most of the kids were older than me and they rode big English-built bikes, like Triumphs. They took me to my first motocross race, which was fairly close to my house. I remember that there were a lot of good riders there, and just watching them race really got me excited on motocross."
TURNING POINT
"I started working in a bike shop and saved my money. Eventually I bought a bike and began racing, but I wasn't very good. I stopped racing for a while because I was out of money. I saved my money and pieced together a bike with parts from different brands. That was the bike that I won my first race on. Little by little I started getting some help from a motorcycle shop, which turned into even more help, which led to me racing the GP's."
JOEL ROBERT & TORSTEN HALLMAN
"When I began racing Joel Robert really pushed me to do well. Joel's dad raced, so he had that exposure that I didn't get. Some of the things that he did on the track impressed me a lot. He rode so smooth and excelled at tracks that had a little bit of mud on them. Torsten Hallman was also one of the first guys that focused on staying low over the jumps. I learned a lot from different riders and tried to incorporate that into my riding."
MINO HARADA & JULLE
"The rider's relationship with his mechanic in my generation was a lot different than it is today. Back then the mechanics weren't motivators. I did have a mechanic that I got along really well with at Suzuki, though. The first mechanic that I had at Suzuki was Mino Harada. I would come off the track and always knew what I was going to say and he had a remedy for my mechanical problems. Later I had a Swedish mechanic, who was nicknamed Julle. He was a good mechanic, as well."
PAUL VAN HIMST & EDDIE MERCKX
"During my racing years there were two top guys in Belgium who were at the top of their sports. Paul Van Himst, a top soccer player, and cyclist Eddie Merckx. Our names would all be in the newspapers on Monday mornings fighting for the headlines. Their sports were more advanced than motocross, but I was able to train with them a little bit and step up my fitness."
MY DAD
"My dad was always telling me to be honest about things. He told me to work for what I wanted and not to expect anything for free. My dad motivated me and told me to do things because I wanted to do them and not because anyone else wanted me to do them."
I INSPIRE
"I believe that I inspire the guys that I work with in the race shop. They see the dedication that I have and it motivates them to do better. Hopefully I inspire some of the riders that I work with. It also surprises me that fathers are telling their kids that they should get my autograph because I used to win a lot when I raced. It's a nice feeling, and I always try to make time for people no matter what."
BLAST FROM THE PAST: STEN LUNDIN & DEWAYNE JONES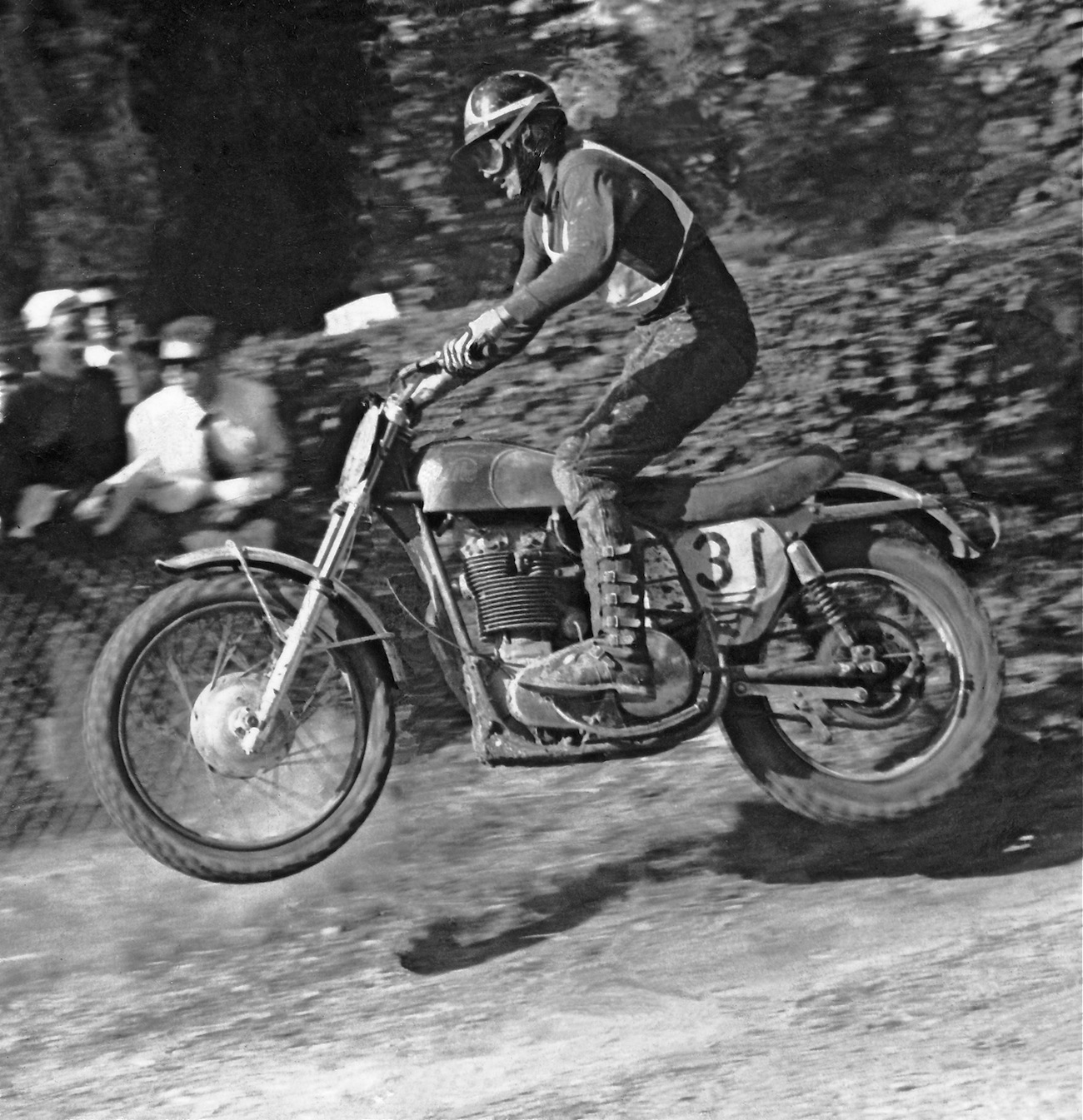 Sten Lundin.
Mark Twain once said, "The fear of death follows from the fear of life. A man who lives fully is prepared to die at any time." That quote perfectly exemplifies all great motocross racers, as well as a good number of us who've had the privilege of riding. Why? In those moments of excitement and shock-inducing fear, we experience the joy of brushing off a mundane life. Sten Lundin experienced life, winning two 500cc World Championships, 19 Grand Prix victories and the 1955 Motocross des Nations for Sweden.
Dewayne Jones.
Sten Lundin, like Dewayne Jones, passed away this month. While I never met Lundin, I did have the good fortune of shaking hands with Dewayne Jones many years ago at Glen Helen. Believe it or not, my brother is married to Dewayne's niece. Rest in peace, Sten and Dewayne. The motocross community mourns the loss of two talented racers.
THE FACES OF HIGH POINT
MINI-VIEW: JUSS LAANSOO
What's Juss Laansoo up to? Seemingly out of nowhere Juss Laansoo rode to the AMA Rookie of the Year Award in 2005. The tall, strong Estonian recorded a fifth overall in Hangtown, only his second ever American race, on a privateer CRF450R. Laansoo seemed poised for a great career. Unfortunately, it was not meant to be. After a long bout with injuries, he finally hung up his boots two years ago. These days Laansoo, 33, is still very involved in the sport. With the help of 24MX Lucas Oil Honda, we asked him about his days racing in the U.S. for Motosport Outlet and Moto XXX, the remarkable Estonian motocross connection, and his coaching gig with Priit Rätsep.
Juss in 2005.
What's keeping you busy these days?
Several things. I'm involved with Honda locally promoting their bikes and supporting customers. I do test work for a suspension company called Smartshop Racing, and I help young riders like Priit Rätsep. I'm pretty happy with what I'm doing now, because Estonia is only a small market for dirt bikes. Our long winters are far from ideal for riding dirt bikes.
Before going over to the U.S., you won the European Championship in the Open class. Still it was quite amazing that a 20-year old rider with your background ended up in America.
It all came down to money, really. There were no opportunities for me in the GP's and the prize money had just been scrapped, as well. Without money it was difficult even to get into the series. As a privateer it was a lot easier in America for me. I received support quite easily back then. That's something I liked about the U.S.
You had a little help from Jim Holley, correct?
That's right, but it wasn't just a little help. He was a BIG help! Jim played a huge part in my U.S. career. He helped out with the racing, he offered me a place to stay, he taught me about American culture and he's a great guy to hang out with. Actually, I got in touch with Jim through Pekka Vehkonen, who used to race with him.
For such a small country it's amazing what Estonia has achieved in motocross. You have GP winners like Avo and Tanel Leok, and world-class riders like Gert Krestinov, Aigar Leok, yourself and Priit Rätsep. Estonia has finished fourth twice in the MX des Nations too!
It's crazy, right? Estonia has quite a nice history in motocross. I guess a lot of our riders have a strong mentality. Most people are not rich, but we keep on pushing even when it's difficult. I know for a moment that I achieved more than I ever dreamed of. And Tanel Leok, that guy is a legend. He just keeps on going!
Are there currently any good riders coming through the ranks in Estonia?
We do have some talented fast kids, yes. It's still too soon to tell. You need to check all the boxes; you need the budget, support from your family, some opportunities, and help from your school. It's definitely a long road, but I help where I can.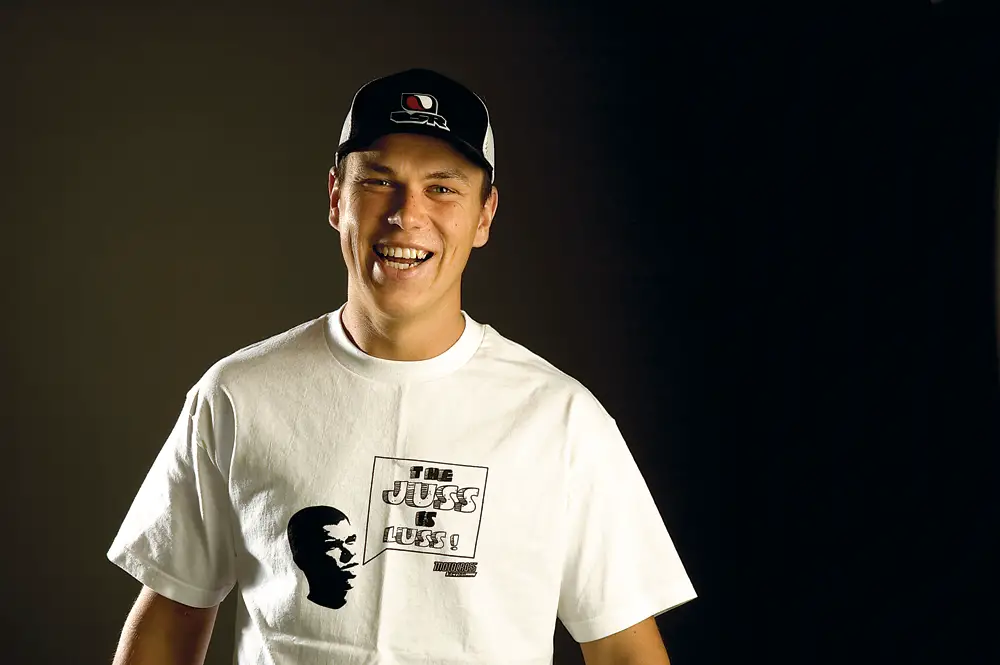 Juss wearing his custom "The Juss is Luss!" T-shirt from MXA.
Your actual Pro career was a bit confusing.
Looking back on my career now it's easier to analyze everything–both the good and the bad. When I did so well at Hangtown in 2005 I was a bit lucky, as well. I didn't race the Supercross series that year, so it was easier to get a strong result outdoors early in the season. Guys coming from Supercross hadn't fully dialed in their bikes yet. They were still adapting to a different kind of racing. Later in the season they caught up. The elite riders had private tracks at their disposal, more and better support around them. I was never a 'special' kind of rider, quite average to be honest! However, I had a lot of determination and people told me I had a good eye for line choices.
Everyone could see the potential, but your actual Pro career didn't last long.
True. I didn't have a good support team around me. Some decisions affected me really badly. When I rode for Moto XXX I moved into Supercross for the 2006 season, without any previous indoor experience, on a 450. Needless to say, it was not a good move! Also, I kept riding with an injured wrist. What basically happened is that I jacked up my wrist by riding through the pain and not having the care I needed right away. The damage was not immediately visible on a scan, but in the back of my mind I knew something was wrong. When I finally did have surgery they saw that the wrist was in a very bad state. I tried to come back in 2008, but I realized that I couldn't do what I wanted to. My movement in my throttle wrist was limited from that point on. After that I did local races as an amateur, and also some MX3 races. I got a podium in a Finnish MX3 GP, but back then it didn't mean that much!"
How long have you been working with Priit Rätsep?
I started working with Priit from the beginning of last year. His fitness is improving, and he's a good rider. Priit has only been on the bike since March, so the first two MXGP's he did with 24MX Lucas Oil Honda were difficult. He had no big races under his belt yet and with such a high level in MXGP you need to perform at your highest level.
What does Priit need to work on to make the next step?
Bike set-up and the work with the team to make the bike best suited for him are keys. He definitely needs better starts, and he needs some fine-tuning on his cornering, as well. It's an area where he can still gain some time. Of course, he just needs more experience at the highest level. It has been a while since he did GPs before.
FASTEST OF THE FAST: AMA NATIONALS
An ongoing list of the top qualifiers and holeshot winners from each round of the 2016 Lucas Oil AMA 250/450 Nationals.
Photos by Scott Mallonee
FASTEST QUALIFIERS: 450 CLASS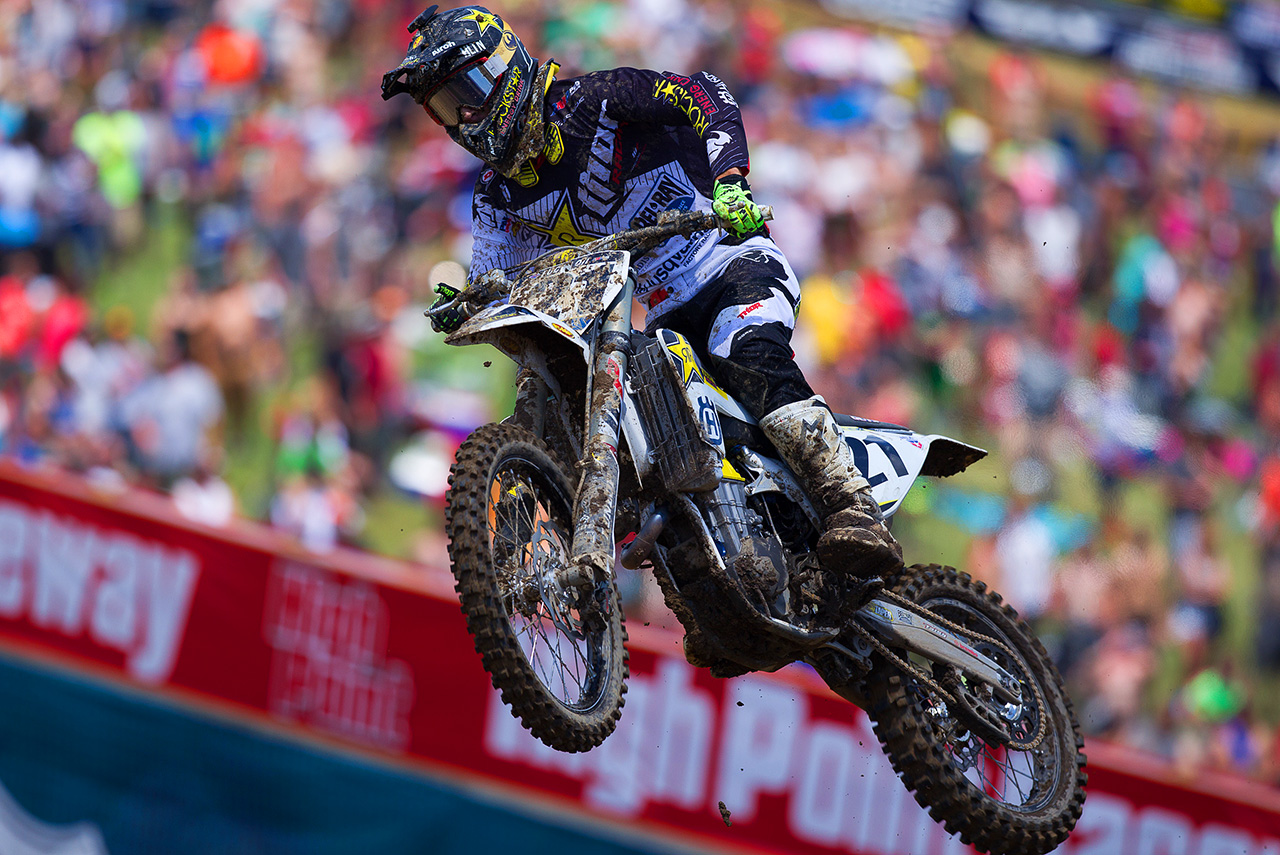 Hangtown…Eli Tomac
Glen Helen…Eli Tomac
Lakewood…Eli Tomac
High Point…Jason Anderson
FASTEST QUALIFIERS: 250 CLASS
Hangtown…Joey Savatgy
Glen Helen…Cooper Webb
Lakewood…Jeremy Martin
High Point…Zach Osborne
HOLESHOT AWARDS: 450 CLASS
Hangtown…Cole Seely / Ryan Dungey
Glen Helen…Trey Canard / Ken Roczen
Lakewood…Ken Roczen / Trey Canard
High Point…Ken Roczen / Justin Barcia
HOLESHOT AWARDS: 250 CLASS
Hangtown…Joey Savatgy / Jessy Nelson
Glen Helen…Tristan Charboneau / Jeremy Martin
Lakewood…Cooper Webb / Adam Cianciarulo
High Point…Jeremy Martin / Adam Cianciarulo