PRO TAPER PRESENTS MXA'S MID-WEEK REPORT #26 BY JOHN BASHER

#WHIPITWEDNESDAY
Rider: Justin Barcia
Location: Glen Helen National
Date: May 23, 2009
Photographer: John Basher
Camera: Canon 30D
Lens: 70-200mm f/2.8
Focal length: 20mm
Exposure: 1/800 sec.
F-stop: 5.6
ISO: 640
MXA VIDEO: PROJECT 2006 KAWASAKI KX250 TWO-STROKE
QUOTE OF THE WEEK: BOB HANNAH
"When I'm beat tired and I have to go ride on my bicycle at night, I ask myself, "Would David Bailey go and ride today?" I say the same thing to my guys that I ride with. There might be a 20 mile an hour headwind and everyone is complaining. Would David Bailey ride on those conditions? You bet your [expletive] he would. He would pay $10,000 to go ride with us, and then when we got done he would put a headlight on and ride at night. I feel very lucky that right now I can ride a bicycle. I can't run any more, but I still ride bikes. I try not to miss those four days a week that I ride, especially if I'm feeling lazy. That's when I think of David."
Click here if you haven't read this can't-miss interview.
TWO-STROKE SPOTLIGHT: CHRISTIAN LOVENFELDT'S CR125
For this week's edition of "Two-Stroke Spotlight," I introduce you to Christian Lovenfeldt's Team Peak Honda CR125. Lovenfeldt is a friend to MXA, having helped Dennis Stapleton and Daryl Ecklund get overseas to race the Dutch Nationals. Christian has a lucrative business in Denmark selling ice to grocery stores, bars and the sort. He's a Mugen Honda and works parts collector. Hear what he has to say about his ultra-trick 2016 Honda CR125 Peak bike.
"I always thought that two-strokes were fun, and riding an old Honda CR125 just feels right. It will be another few weeks before my project bike is complete, as I'm still waiting for the titanium bolts, Think Technology Lite seat, and a few other small things.
"The engine was done by Harrie van Hout. This guy has made engines for many World Champions back in the two-stroke days. The engine started as a brand new 1998 Honda CR125 that somebody sold me last year. I don't think the bike was ever started! Harrie did everything possible to it, including a 2005 crank with Wolfram inserts, ported cylinder, special Vertex piston, WHM head and oval carburetor. It's exactly like what he did when he built engines for the GP series. The frame is a brand new 2014 Honda CRF450. Many parts of the bike, including the cases, covers and calipers, are anodized by Pro Smart Industries in Germany. I got the pipe from Tomasin in Italy. The front brake rotor is 260mm. The carbon gas tank and mud guard are made by Extreme Carbon in Portugal. Triple clamps are from RR Racing, and almost all of the titanium bolts are from Mettec."
There's a chance that MXA will be able to test Lovenfeldt's Team Peak Honda CR125 in the coming months. Stay tuned, as the bike looks like a real beauty.
If you would like your bike to be featured in the "Two-Stroke Spotlight," please email me at [email protected] All I ask is that you give a breakdown of your bike and a detailed description of the thing. Please also send a few photos of your steed. By submitting your bike for the "Two-Stroke Spotlight," you agree to release all ownership rights to the images and copy to MXA. Please don't email me spam or try selling me beachfront property in Arizona. Happy submitting your smoker! 
COVERED: MARCH 2003 ISSUE

James Stewart was on top of the world in 2003. He was also headlining MXA's March 2003 cover. Inside was a revealing interview with the Champ, where he discussed his intentions once moving up to the 250 class. That's where the quote, "I'll die before I let Ricky beat me," came from. Of course, history shows that Stewart and Ricky Carmichael had quite a few fierce battles during their three years racing together. On the whole, Carmichael came out ahead.
Below the photo of Stewart is a shot of Travis Pastrana from Suzuki's private Supercross test track south of Corona, California. Pastrana, one of the most popular and exciting racers on the track at that time, was determined to win a 250 Supercross race. However, the allure of freeriding pulled his attention away from staying fully committed to racing. A few days after the interview was in the can, Pastrana went to Castillo Ranch. He attempted a massive jump, but instead of pulling it off, he went end over end. The impact resulted in a blown-out knee. His motocross career was basically over at that point.

THEY SAID IT: ADAM CIANCIARULO
"Being fastest in qualifying [at Muddy Creek last weekend] was great. In the first moto I had the holeshot and was able to lead a few laps. The speed, the confidence and all the other pieces are coming into place and it feels good. In the second moto I was taken out pretty bad by another rider and fought as hard as I could for the rest of the race. I ended up 11-22 on the day for 16th, which isn't what we wanted, but I didn't give up today and I'm proud of that."
PRODUCT SPOTLIGHT: VP RACING FUELS APPAREL
VP Racing Fuels, Inc. announced a new program to promote VP-branded apparel, promotional items and novelties. As part of the program, Barker Specialty is partnering with VP to host a new e-commerce site at https://www.barkerstores.com/vpperformancegear/ and serve as a one-stop shop for purchase of an expanded line of hats, t-shirts, promotional items and more.
Among the new items are several "Mad Scientist®" and VP Monster Truck-themed products including a VP Monster Jam® T-Shirt, a Monster Truck plush toy, Monster Truck pennant and even a Mad Scientist bobblehead! Visitors should check back frequently as the product line is growing rapidly and other VP-branded items and novelties will be added soon.
"We're excited to partner with Barker Specialty and expect they'll be instrumental in building VP's brand awareness and facilitating all needs concerning apparel and novelties," said Chris Wall, VP's Chief Marketing Officer. "This new program will provide important support not only for VP's expanding consumer product lines but our retail branding program as well." 
More information about VP Racing Fuels and its other products is available at VPRacingFuels.com.
NATIONAL NEWS: COOPER IS COMING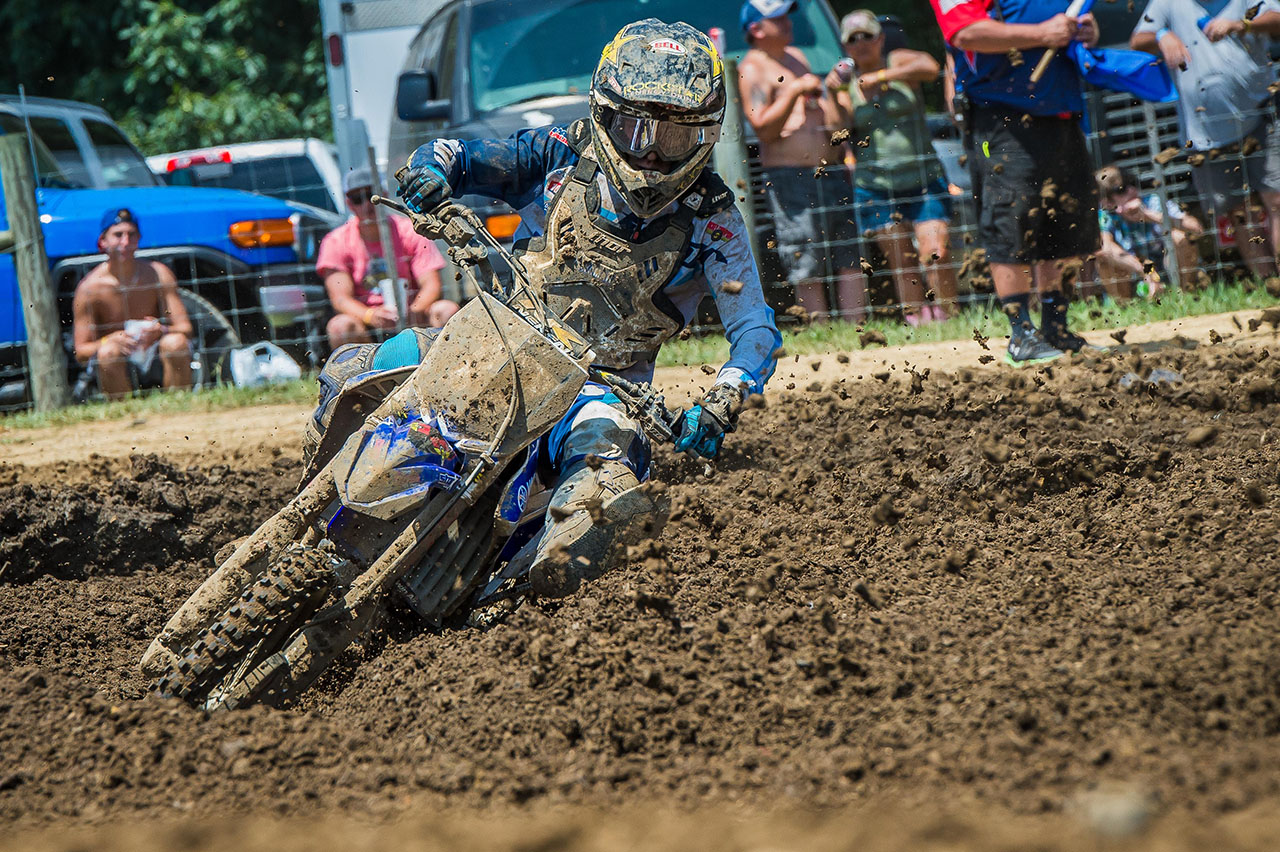 Cooper Webb finished third at the season opener, 16 points back of Joey Savatgy. This past weekend he won his first 250 National of 2016 and his gap is at 12. Photo by Brian Converse
So much has been made about the 450 National series, and justly so. Ken Roczen is riding on rails, Ryan Dungey is missing in action for the first time since Gangnam Style was popular, and Eli Tomac is trying to return to his pre-double-shoulder-surgery form. But what about the 250 class? That's where the real action is happening.
You already know the storylines, so I won't regurgitate general knowledge just so I can extend the length of this story. After all, I have to ride the next few days, so I'll skirt finger pump by switching to bullet points.
* Joey Savatgy started the Nationals with a dominant 1-1 showing at Hangtown. He left the opening round with a 15-point lead over Alex Martin. Cooper Webb was third, 16 points back.
* Alex Martin won his first overall with 2-2 moto scores at Glen Helen. In doing so, he became the points leader. Joey Savatgy struggled, going 9-7 for seventh overall. Oh, look at that, Cooper Webb finished third overall again. Consistency pushed him up to second in the standings, only two points out of first.
* Joey Savatgy was back on top at Thunder Valley, going 2-1 for the overall. Cooper Webb suffered the worst moto finish–an 8th in the second moto. Webb ended the day fifth overall. Worse, he dropped to fourth in the standings, 13 points behind leader Savatgy.
* The Savatgy train kept on rolling at High Point. Joey went 4-1 for the overall. Cooper Webb was back on the podium, going 3-5 for third. Webb was weathering the Savatgy storm, but he was losing ground in the standings–falling 20 points behind.
* Wait a second! Super Cooper came to Muddy Creek with vengeance on his mind. He charged to 2-1 moto finishes for the overall. Joey Savatgy finished second, but a second moto 7th dropped him eight points behind Webb on the day. As a result, Savatgy's lead–at 20 points a round before–shrank to a 12 point separation.
Joey Savatgy has never been in this position before. Will the weight of the red plate be too heavy, or can he power away from the Yamaha onslaught of Cooper Webb, Jeremy Martin and Alex Martin? Photo by Brian Converse
Taking a broad view of the 250 standings, there are five riders with a legitimate shot of winning the title: Joey Savatgy, Cooper Webb, Jeremy Martin, Alex Martin and Zach Osborne. Of those five, only two have experience managing a successful title chase: Cooper Webb and Jeremy Martin. Savatgy has never been in this position before, yet he's shouldering the pressure of carrying the red plate.
Who will win the 250 National Championship? Your guess is as good as mine. Both Martin brothers would be a lot closer in the standings if their YZ250Fs didn't smoke like bratwursts on a grill. What's interesting is how Jeremy Martin, the two-time 250 National Champ, has yet to win an overall. In the two previous years, Jeremy had cumulatively won five of the first 10 rounds. Does this mean that Jeremy Martin's reign is over? Will Cooper Webb continue his success now that his wrist is healed? Can Joey Savatgy maintain the lead? These questions prove exactly why the 250 class is far more exciting in 2016 than the Ken Roczen show.
MY INSPIRATIONS: GARY JONES

Gary Jones won 250 National Championships for Yamaha, Honda and Can-Am.
MY DAD
"My dad was a professional motorcycle racer in his day. He rode for the factory Harley-Davidson team in all kinds of races…before there was motocross. I wanted to race ever since I was a little kid, so he helped my brother Dewayne and I get into it."
CHUCK MINERT & JOHN RICE
"When I was a young up-and-coming rider I lived to beat two riders. I wanted to beat Chuck "Feets" Minert and John Rice when I was a kid. Those were the top guys in TT and scrambles. When I turned Expert class and got to race against them, they pushed me around and showed me the ropes [laughter]."
MY BROTHER
"I've had all kinds of teammates, from Marty Smith to Jimmy Weinert to Jimmy Ellis to Marty Tripes to Gaylon Mosier, but my best teammate was my brother Dewayne. We rode together everyday and pushed each other. Every teammate I had inspired me to push harder, so that I would be better than them."

COUNTRY MUSIC
"I listen to country music. I like it most of all because nobody else that I know likes it! Racing and music are both mental. You have to find a groove and get into it. You don't go faster by being like everyone else or listening to what everyone else listens to."
TORSTEN HALLMAN
"Torsten Hallman was the first motocross guy that I really looked up to. He was the first true-to-life European racer I ever saw ride. Then, when Roger DeCoster and Joel Robert came onto the U.S. scene and kicked my butt, I wanted was inspired to be as good as them."
JODY WEISEL
"This might sound strange, but when I was down-and-out with a broken leg, had lost my factory ride, was struggling to make a comeback and ignored by everyone else in the sport of motocross, Jody was the only guy to help me. He gave me bikes, asked for my advice and treated me well. I've probably been a MXA test rider longer than anyone but Jody!"
I INSPIRE
"I want inspire young kids. I try to help kids as much as possible. I get a lot of practice dealing with kids by working with my own two sons, Greg and Justin. Nothing makes me feel better than seeing kids having fun on bikes."
FASTEST OF THE FAST: AMA NATIONALS
An ongoing list of the top qualifiers and holeshot winners from each round of the 2016 Lucas Oil AMA 250/450 Nationals.
Photos by Brian Converse
FASTEST QUALIFIERS: 450 CLASS
Hangtown…Eli Tomac
Glen Helen…Eli Tomac
Lakewood…Eli Tomac
High Point…Jason Anderson
Muddy Creek…Christophe Pourcel
FASTEST QUALIFIERS: 250 CLASS
Hangtown…Joey Savatgy
Glen Helen…Cooper Webb
Lakewood…Jeremy Martin
High Point…Zach Osborne
Muddy Creek…Adam Cianciarulo
HOLESHOT AWARDS: 450 CLASS
Hangtown…Cole Seely / Ryan Dungey
Glen Helen…Trey Canard / Ken Roczen
Lakewood…Ken Roczen / Trey Canard
High Point…Ken Roczen / Justin Barcia
Muddy Creek…Cole Seely / Broc Tickle
HOLESHOT AWARDS: 250 CLASS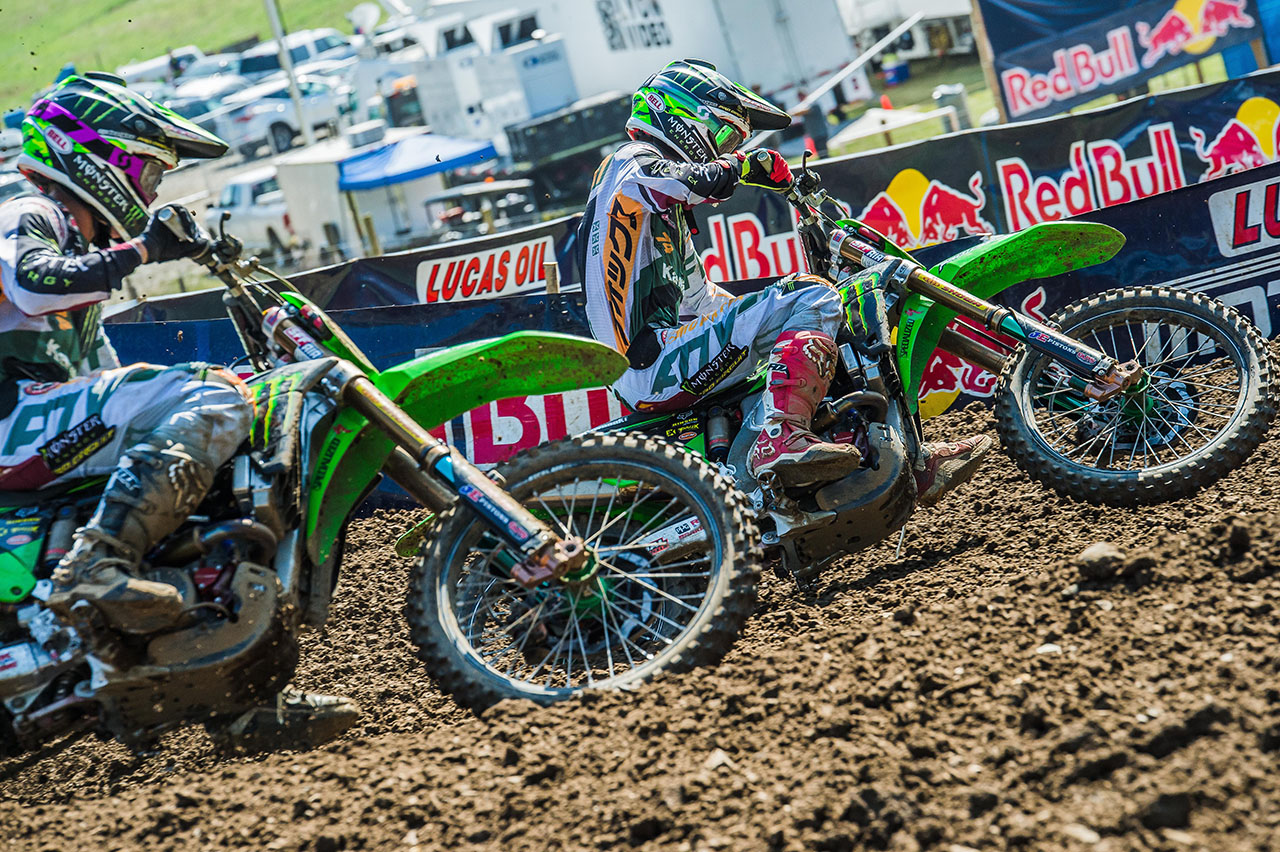 Hangtown…Joey Savatgy / Jessy Nelson
Glen Helen…Tristan Charboneau / Jeremy Martin
Lakewood…Cooper Webb / Adam Cianciarulo
High Point…Jeremy Martin / Adam Cianciarulo
Muddy Creek…Adam Cianciarulo / Shane McElrath
HOT LINKS: IN CASE YOU MISSED 'EM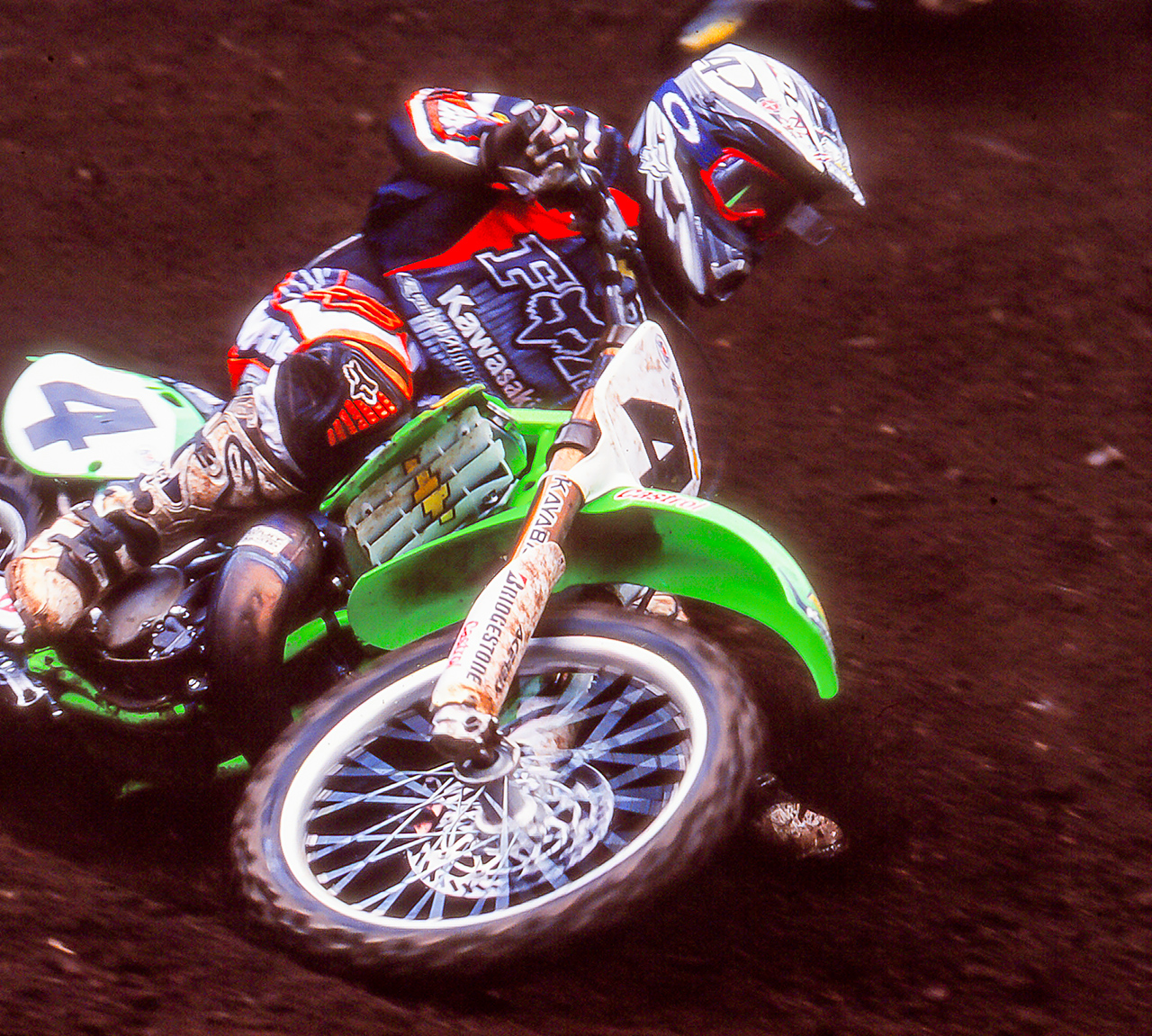 One Photo & One Story: Austin Forkner
Ricky Carmichael: The Early Years
Classic Photos of a Bygone Era
The Aftermath: 2016 Muddy Creek National
Why Your Two-Stroke Won't Start