PRO TAPER PRESENTS MXA'S MID-WEEK REPORT #29 BY JOHN BASHER
#WHIPITWEDNESDAY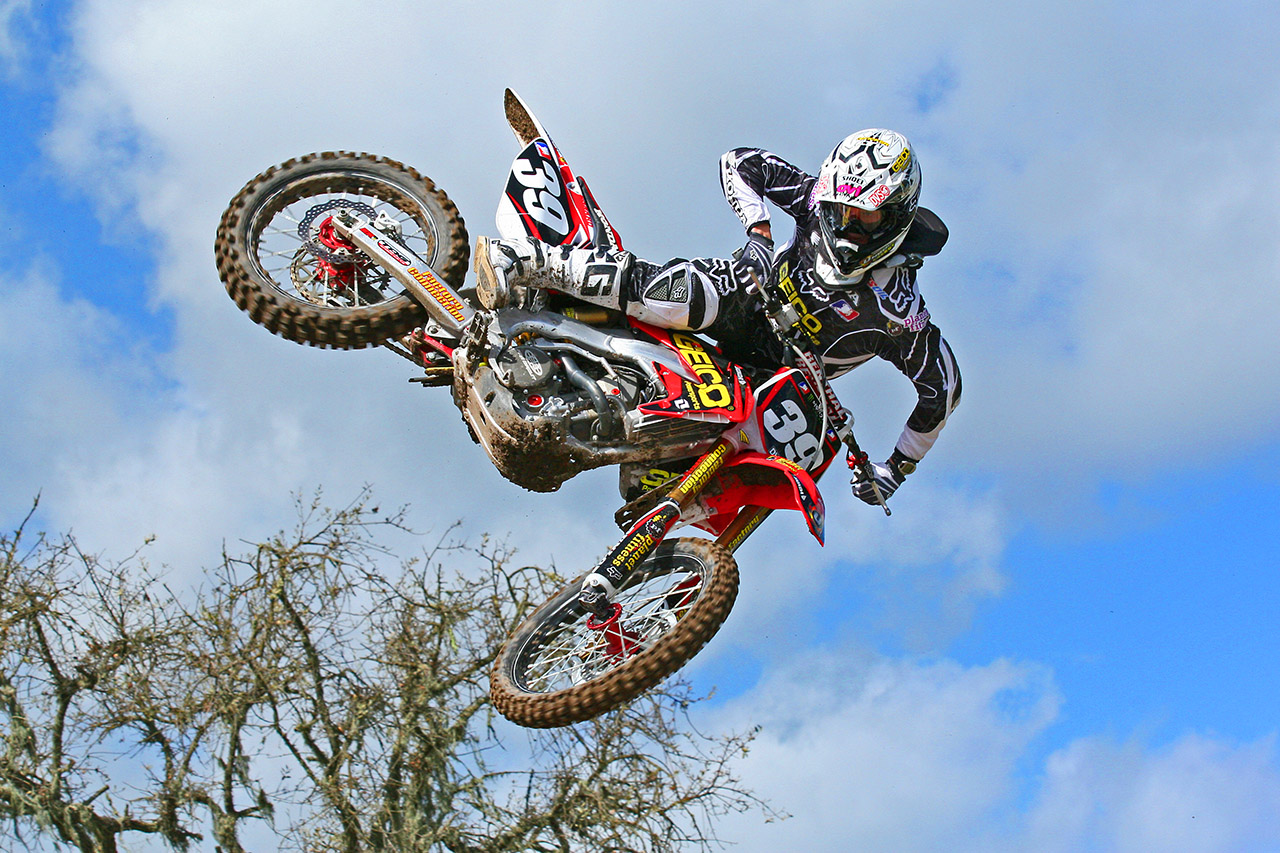 Rider: Trey Canard
Location: Zaca Station, California
Date: March 4, 2009
Photographer: John Basher
Camera: Canon 30D
Lens: 70-200mm f/2.8
Focal length: 90mm
Exposure: 1/1250 sec.
F-stop: 9
ISO: 400
MXA VIDEO: A LOOK BACK AT MILLSAPS' BTO SPORTS KTM 
QUOTE OF THE WEEK: JEREMY MARTIN
Brian Converse photo
"The Yamaha is a good bike, and the team is definitely competitive. I think that when you have guys like myself and Cooper that have won a couple past championships, things get elevated. It brings up team morale, and also brings a certain hunger to the team in that they always want to win. It pushes everyone."
Click here to read the interview.
SURFERCROSS 2016: AUGUST 1-2
The 18th annual Surfercross is nearly upon us. Held over two days (August 1-2), Surfercross combines motocross with surfing in a unique team format that is wildly popular across all of action sports. JGRMX's Jeremy Albrecht and his brother, Joel, are behind Surfercross. Together they have wrangled in major sponsors, including Toyota, Wienerschnitzel, Wahoos, and industry brands–all part of the support program that helps foot the bill for Surfercross.
Surfercross isn't only for professional motocross racers and surfers. There is also a Industry team race. Even if you don't qualify to race, it's still a great opportunity to watch great racing and get a few laughs watching motocross racers try surfing. The schedule is below:
Moto Schedule–August 1, 2016
Milestone Motocross Park
8:30 a.m.–9.15 a.m….Registration
9:30 a.m…Riders Meeting
9:40 a.m…Pro Team Draw
9:50 a.m-10:05 a.m…Industry Practice
10:10 a.m-10:25 a.m…Pro Moto Practice
10:35 a.m-10:50 a.m…Pro Surf Practice
11:00 a.m…Industry Moto #1 (12 laps)
11:40 a.m…Pro Moto #1 (12 laps)
12:00-1:00 p.m…Lunch (provided by Wienerschnitzel)
1:15 p.m….Industry Moto #2
2:00 p.m….Pro Moto #2
Surf Schedule–August 2, 2016
Surf day begins at 8:00 a.m. at Trail 6 in San Onofre
TWO-STROKE SPOTLIGHT:

PAUL MUNDT'S FACTORY 2005 SUZUKI RM250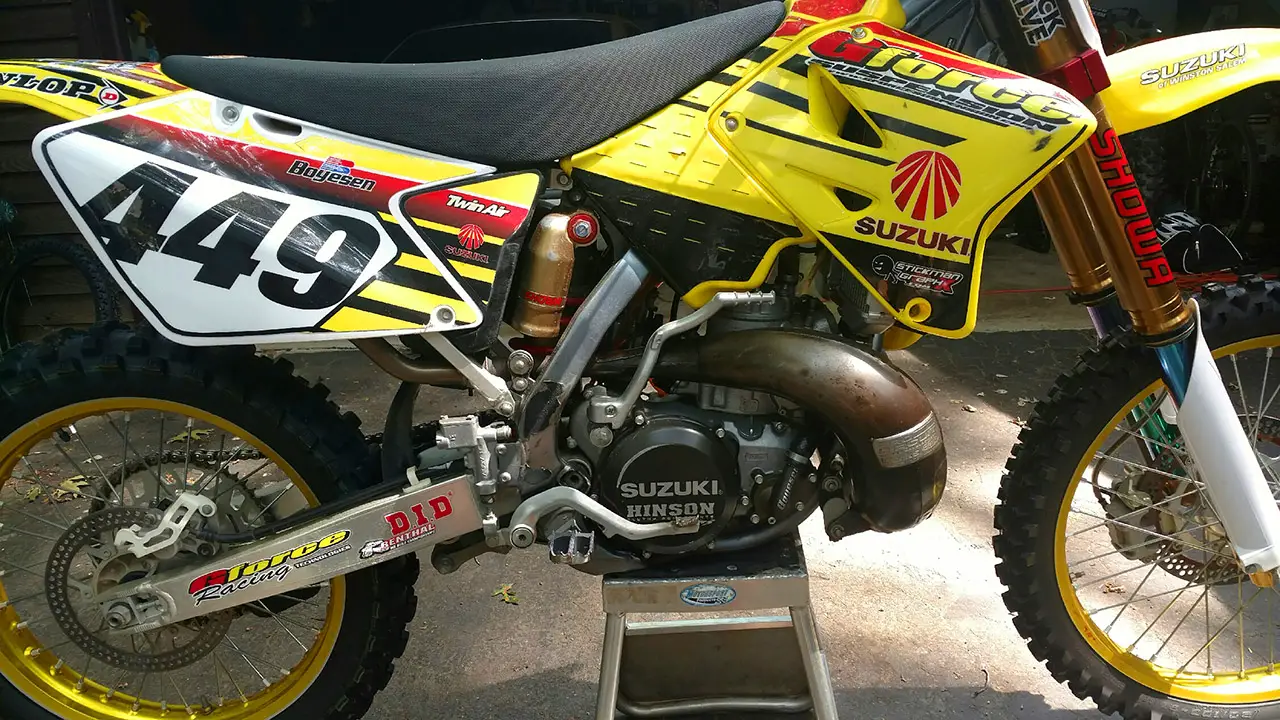 This week features Paul Mundt's Suzuki RM250, which apparently came from Greg Albertyn's stable. The bike has a bevy of factory parts that I'd like to get my hands on. Read more below.
"My name is Paul, and I'm 57 years old. I ride at ClubMX basically every week and am good friends with those guys. I thought I would submit my trick two-stroke for the 'Two-Stroke Spotlight' feature. This was Greg Albertyn's 2005 Suzuki RM250. It has Ricky Carmichael's works engine in it, as well as A-Kit suspension, works wheels, works brakes and works linkage. It's the bike Greg won the Two-Stroke Challenge on at the Glen Helen National in 2008. It's a long story how I got it, but I got it! The bike is so fast and easy to ride. Roger Decoster told me it made 53-1/2 horsepower, and that if Ricky Carmichael couldn't break the bike, then I wouldn't either [laughter]. 
"How did I end up with the bike? A friend of mine found the bike on Craigslist out in California. At the time Albertyn had a billet body shock on it that my friend wanted. So, Albee sold him the shock, but he told my buddy that he needed a shock in return. My buddy got him the wrong shock and the bike sat for months. Finally, Albee got mad and told him he had to buy the bike. My buddy called me and asked if I wanted it. I called Greg, we traded moto stories for an hour, he told me all about the bike, and I ended up buying the bike. I put the A-Kit shock on it after the bike was shipped to me, and it now has SFF Spring Type A-Kit forks with a one-off MX Tech Huck Valve in them. I ride it quite often."
Ricky Carmichael's initials are stamped into the pipe bracket. It looks like the pipe was made on February 1, 2005.
That's not your standard Suzuki RM250 pull rod and shock knuckle. 

Some people would put a bike like the Greg Albertyn/Ricky Carmichael machine in a museum. Not Paul Mundt; he chooses to ride the bike every chance he gets. 
If you would like your bike to be featured in the "Two-Stroke Spotlight," please email me at [email protected] All I ask is that you give a breakdown of your bike and a detailed description of the thing. Please also send a few photos of your steed. By submitting your bike for the "Two-Stroke Spotlight," you agree to release all ownership rights to the images and copy to MXA. Please don't email me spam or try selling me beachfront property in Arizona. Happy submitting your smoker!
COVERED: SEPTEMBER 1985

Ron Lechien, factory Honda's 125 ace, was featured on the September 1985 cover of MXA. Lechien was one of the most naturally gifted motocross racers to ever throw a leg over the bike, but off-track distractions eventually held him back. These days the ever-friendly Lechien is at Maxima. He still rides and, not surprisingly, goes very fast.
It would be interesting to count the number of bike shootouts MXA has conducted since June 1973–the time of the magazine's inception. In September 1985 the wrecking crew held a 500cc shootout. This was back when Open bikes were in fashion.
Other headlines were meant to draw readers in by explaining the differences in two-stroke oil, 101 ways to start racing, and the rise in mini bike popularity. However, the $3000 KX125 headline should really raise eyebrows. My, how inflation has gone up. Just last month I built a Yamaha YZ125 up, and the total bill was $17,000. What a difference 31 years make.
PIT WALK: WHAT THE PROS USE
Honda has a hospitality rig, as well as a race rig, that goes to every round. They take racing (and catering) seriously.
The AMA National pits are substantially different than what you'd find at Chicken Licks Raceway. Racing elite spare no expense when it comes to infrastructure, work area, tools, and even wash stations. Everything has a purpose, and the whole pit/rig/bike layout is streamlined for maximum effectiveness at minimal time wasted. Take a stroll through the pits, courtesy of the following images that were taken at the Southwick National. By the way, most mechanics fly in Thursday to work on their bikes and stay through Sunday in order to rebuild their race bikes. The life of a mechanic is not easy, although for the fortunate few, it can be very rewarding.
Like a lot of teams, JGRMX lays down tarps for flooring. It portrays a sterile and professional look, prevents the semi floor from getting filthy, and allows the mechanics a clean environment to work on the race bikes.
Justin Barcia's mechanic, Ben Schiermeyer, uses a Matrix Concepts M80 toolbox. It's his lifeline on race weekends. Note the cleaner tote to the left, which holds a variety of Maxima cleaners, and the Motion Pro t-handle holder on the right.
The Yamalube Star Racing team has a fleet of riders, which is why they use a fleet of Yamaha pressure washers. You may not know it, but Yamaha produces a great line of pressure washers.
Look beyond Marvin Musquin's Red Bull KTM 450SXF for a second and notice the plastic flooring, huge tool chest, Snap-on toolbox, and KTM bike mat. Frankie Latham's backpack, which he takes to the starting line, holds things like tools, water, goggles and other race necessities. KTM is the only team in the AMA pits to put up signage directly behind the mechanic area to create privacy for team personnel when entering or leaving the semi. It's very European, and also smart.
The RCH Suzuki team lays down big tarps outside their rig where they wash the race bikes. The yellow line in the foreground of this photo is a fence that is meant to discourage the general public from going into the RCH pit area.
Bike wash essentials, including a variety of brushes and cleaners, are needed to make a race bike shine.

A mechanic does more than spin wrenches and write on a pit board. Part of the job includes getting dirty, which is exactly what these two gents from the Rockstar Energy Racing Husqvarna team were doing. They cut in a trough in order for water to run away from their pressure washing station.
The Yamalube Star Racing team uses things like Matrix Concepts bike stands, pit mats and toolboxes to make their jobs easier.
Luke Renzland's CycleTrader/Rock River Yamaha gets the full Cycra Racing treatment, while team personnel prepare the rig for race weekend.
MINI-VIEW: WESTON PEICK
Weston Peick had a huge year in 2015–his first with JGR Yamaha. He scored a few Supercross podiums and quite a few top five finishes outdoors. Things were looking great, but 2016 hasn't gone as well for the Wildomar, California native. Race suspensions, nagging injuries, and bike issues have slowed his upward progression. Still, with a top five finish at the Southwick National, things may be changing. However, he tangled with Broc Tickle at Millville this past weekend and possibly injured his hand. It's just another thing in an ongoing saga. We caught up with the 25-year-old recently to talk about his year and what's coming up next.
By Jim Kimball
Photos by Brian Converse
Weston, Southwick was probably one of the most aggressive, relaxed, fluid rides you've had all summer. Are things starting to click?
Southwick was good for me. It was a lot better than the rest of the races that I've had lately. I'm just trying to find myself, and find the best setup for me. We've been doing pretty well at getting some good stuff lately, and I'm stoked on it. I got off to some good starts at Southwick, worked my way up, and rode my own race. There were a lot of fast guys out there and everyone was battling. It was all about hanging on until the finish.
You were behind Christophe Pourcel for half the second moto. Is it hard to pass him?
I knew he was in front of me in the second moto, and I was gaining on him. I just had to find some better and smoother lines, but not only that, the lines had to remain consistent. That's hard to do in the sand. It's all about planning your attack and being smart about it.
You've had an odd year so far with the suspension resulting from an altercation with Vince Friese, a lot of little nagging injuries, and some bike issues throughout the year.
This year has been crazy. I can't even explain what I've had to go through with injuries, crashing, and getting concussions. There have been a couple bike problems here and there. It has been one of those years where it's like, "What the heck am I doing wrong, and what else is going wrong?" In motocross, you've got to have a strong mind and keep going. I'm good at that. I have a lot of people supporting me on the team and at home, as well. I know that I can do well. Eventually everything will turn around if I stick with it.
Is it hard as an athlete to know that there are things out of your control?
It is what it is. There are a lot of things you cannot control, whether it's crashing or other weird circumstances. Any second you or someone in front of you can throw it away, and then you're in a bad position. It's just one of those things.
How are you feeling now at this point in the series?
Injury wise I'm definitely feeling a lot better [note: this interview was done before Peick's crash at Millville]. I am almost through the injuries in terms of pain. My right middle finger is still pretty jacked up, but not a big deal. We did switch over to air forks this outdoor season, so we're still kind of fine tuning that. It's one of those things where we were with something else for so long, and now we're switching. It's a totally different feel and we're trying to find the most comfortable setting. It's hard, because the practice tracks have been so mellow and smooth. Then I race a National and find my settings aren't stiff enough. We're figuring things out, and to work with Jonny (Oler, JGRMX suspension tech) is great, because he can make good decisions. It's good to be able to trust somebody like that. He is willing to make changes between practice sessions and motos. It's very reassuring and also helps us make major changes if necessary.
Bike issues seem to be effecting lots of different riders and teams. You haven't been exempt.
Everybody has had a few issues this year with getting the bike set up. It's just like anything, you know? Things happen. Like I was talking about with suspension, I ride practice tracks and they're much easier than National tracks. Then I'll get to the races and things will be far different. Every rider struggles with that, but we're starting to get things figured out. We're keeping track of everything we're doing for next year.
Are you spending much time on the east coast with JGRMX, or are you riding at home in California?
I'm back and forth a lot. I was just in North Carolina for two weeks. When I go there I'll stay for two weeks at a time. Everything is in California, so it's hard to stay in North Carolina for longer than two weeks. I usually go to JGR during breaks in the race schedule, and I look forward to those trips.
When are you going to step foot on the podium?
Obviously that's what we're riding for. Every track is different and you never know what you're going to get. The tracks that are coming up are definitely tough. In this field and this day and age, it's all about the start. As long as I can get out front and run with the top guys for the first half the race, and have the conditioning, I can do it.
What are your plans for 2017?
As of now I haven't signed anything with any team, but my plan is to stay here (at JGRMX). I have to prove myself again that I'm willing and able to race for JGR. Like I said, I hope the rest of season goes well and I can earn myself a ride here again.
KEN ROCZEN: IT'S (ALMOST) A WRAP
Nothing is certain in racing. That statement rings true regardless of sport, but Ken Roczen has been nothing short of remarkable this National series. With 13 moto wins and six overalls in eight races, Roczen is almost certainly going to win his second 450 National title. Almost is the key word. With four rounds and 200 points up for grabs, only four riders haven't been eliminated from title contention–Eli Tomac (-55), Marvin Musquin (-144), Justin Barcia (-172) and Christophe Pourcel (-185). After Washougal, it's safe to assume that Pourcel and Barcia will be mathematically eliminated. In truth, only Eli Tomac has been able to keep Ken Roczen honest.
Unfortunately for Kawasaki, Eli Tomac fans and Monster-swigging caffeine junkies world-wide, the number 3 of Tomac has fallen over 50 points behind. That's a big deal. Eli is one race behind Kenny for the championship. Roczen has effectively turned the fight into a three-round affair. At this rate, he can clinch a round early (Budds Creek). Game over.
THEY SAID IT: CHRISTOPHE POURCEL
"The goal is always to be consistent. I try to be strong in my motos, and it's tough because there are so many good guys. It's tough to crack the top five. I'm just trying to do my own thing and get good starts and stay with the top five. We have a good thing going on now. It's just a matter of finding lines. It's tough to fight with those guys because they are so fast. Overall it was a pretty decent weekend for me, though."
VIDEO: MX NATION, EPISODE 4
MY INSPIRATIONS: JEFF WARD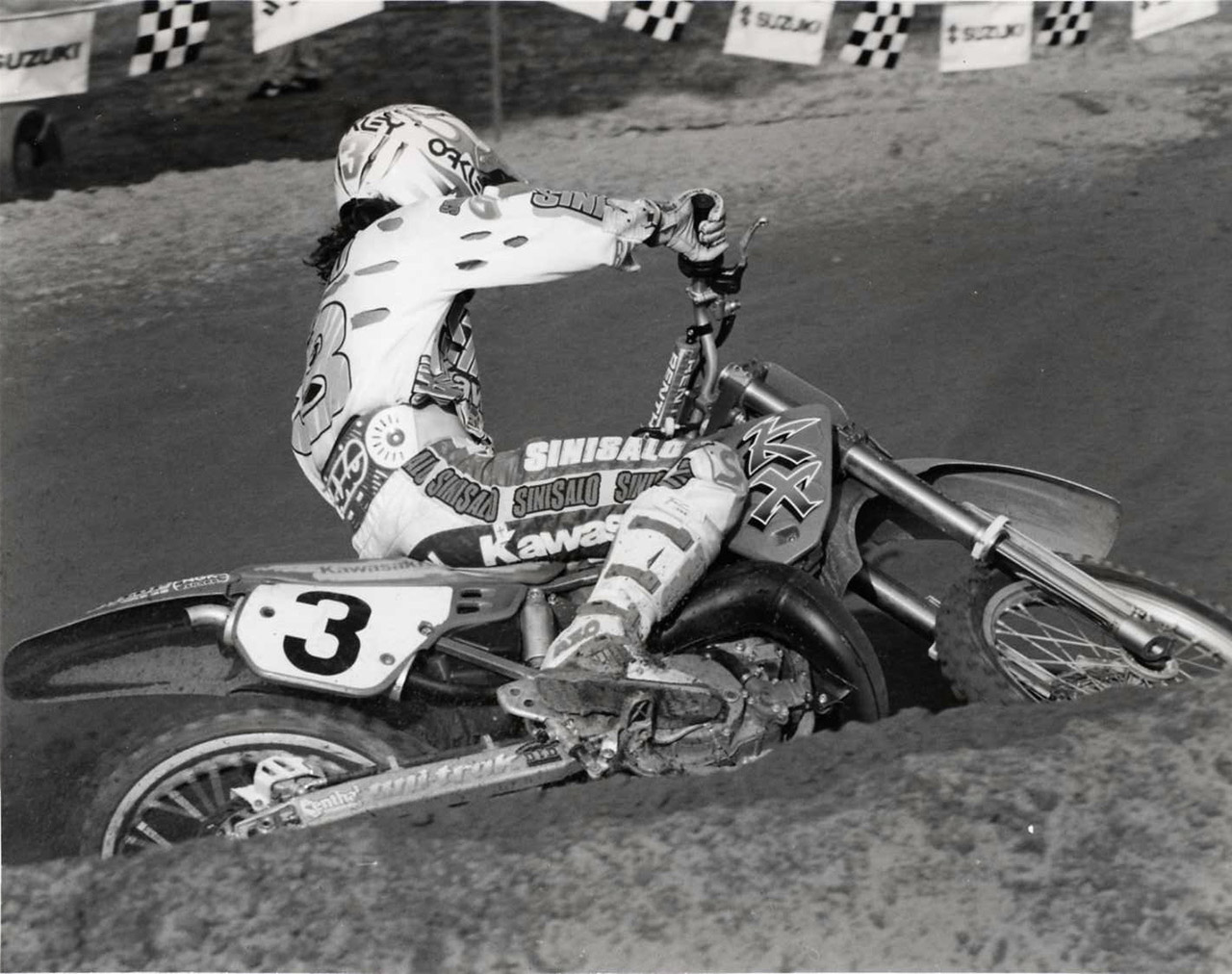 The people and things that inspired the "Flying Freckle"
MARTY SMITH
"I looked up to Marty Smith when motocross first started getting big. Marty was this teenage sensation and he was the big hero. I wanted to be like him and make it to his level. Marty was always really cool to me."
SCOTT TINSLEY
"I have always admired sports figures who worked very hard and train to be the best. I used to do triathlons and Scott Tinsley was a big inspiration to me. My heroes were pretty much always athletes from different sports."
MIKE McANDREWS
"Mike McAndrews was my mechanic at a point in time when I didn't know what to do as far as racing and life were concerned. He helped me not only with racing, but with life. He kept me on the straight and narrow and helped me grow up to be what I was in motocross."
ROY TURNER
"My team manager, Roy Turner, was more of a friend than a boss. In this day and age a team manager is the ruler and there are conflicts between the manager and the rider. Back then we were like family, but I'm sure it helped that I also delivered the results that Kawasaki wanted."
MY DAD
"My dad first got me into dirt bikes. I remember riding on his gas tank and also on his Triumph. Of course, you want to be like your dad, so naturally I got a bike. Things just grew from there because of him."
PAUL TRACY
"I have to give a lot of credit to Paul Tracy for my Indy Car experience. He is a good friend and directed me towards the teams that were good to work for and wouldn't take advantage of me. He was always there for me at the race track."
I INSPIRE
"Kids. I like to think that I inspire young kids who are coming up through the ranks. It makes me feel good to know that I can still run the same speed as some current Pros, which means that today's kids can see how well the riders in my era rode."
FASTEST OF THE FAST: AMA NATIONALS
An ongoing list of the top qualifiers and holeshot winners from each round of the 2016 Lucas Oil AMA 250/450 Nationals.
Photos by Brian Converse
FASTEST QUALIFIERS: 450 CLASS
Hangtown…Eli Tomac
Glen Helen…Eli Tomac
Lakewood…Eli Tomac
High Point…Jason Anderson
Muddy Creek…Christophe Pourcel
Red Bud…Christophe Pourcel
Southwick…Justin Barcia
Millville…Ken Roczen
FASTEST QUALIFIERS: 250 CLASS
Hangtown…Joey Savatgy
Glen Helen…Cooper Webb
Lakewood…Jeremy Martin
High Point…Zach Osborne
Muddy Creek…Adam Cianciarulo
Red Bud…Adam Cianciarulo
Southwick…Austin Forkner
Millville…Joey Savatgy
HOLESHOT AWARDS: 450 CLASS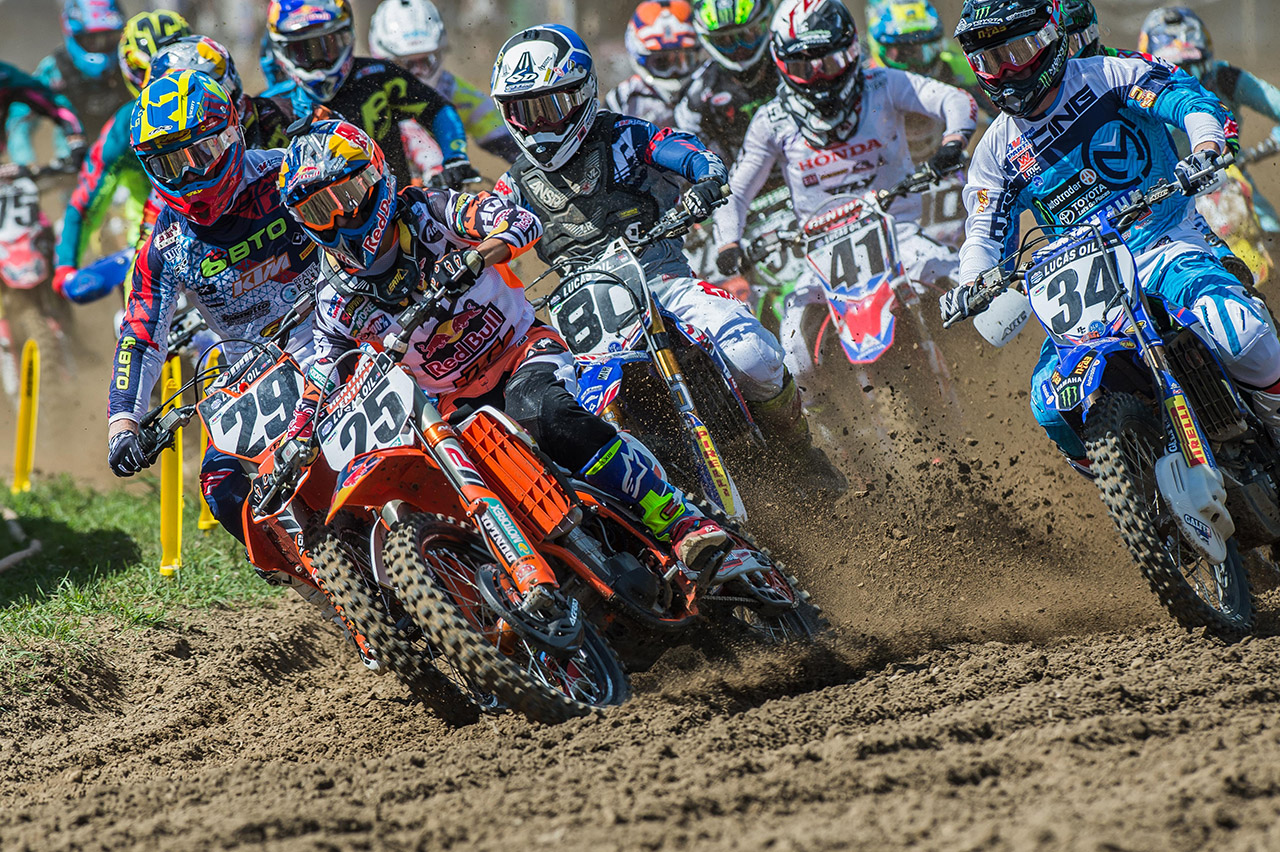 Hangtown…Cole Seely / Ryan Dungey
Glen Helen…Trey Canard / Ken Roczen
Lakewood…Ken Roczen / Trey Canard
High Point…Ken Roczen / Justin Barcia
Muddy Creek…Cole Seely / Broc Tickle
Red Bud…Justin Bogle / Justin Bogle
Southwick…Justin Bogle / Justin Bogle
Millville…Justin Barcia / Marvin Musquin
HOLESHOT AWARDS: 250 CLASS
Hangtown…Joey Savatgy / Jessy Nelson
Glen Helen…Tristan Charboneau / Jeremy Martin
Lakewood…Cooper Webb / Adam Cianciarulo
High Point…Jeremy Martin / Adam Cianciarulo
Muddy Creek…Adam Cianciarulo / Shane McElrath
Red Bud…Austin Forkner / Shane McElrath
Southwick…Jeremy Martin / Cooper Webb
Millville…Alex Martin / Alex Martin