PRO TAPER PRESENTS MXA'S MID-WEEK REPORT #34 BY JOHN BASHER
#WHIPITWEDNESDAY
Rider: Justin Barcia
Location: Unadilla
Date: August 13, 2016
Photographer: Adam Merrow
Camera: Nikon
Lens: 300mm f/2.8
Focal length: 300mm
Exposure: 1/1250 sec.
F-stop: 3.2
ISO: 400
MXA VIDEO: 2017 YAMAHA YZ250F
QUOTE OF THE WEEK: ROGER DeCOSTER
"There are basically two types of riders. There is the young rider who is into racing, but has no interest in the history of the sport. Then some young guys are interested in the history of the sport and want to be there to continue creating it. There are still some riders who feel that the Nations are an important event, and they want it on their resume.  Cooper Webb is one of them. Actually, all three guys we ended up with this year really wanted to go, and I am really happy for them. I think they will work well together, and hopefully the Europeans underestimate what our guys can do."
Click here to read insight from "The Man."
USGP OF THE AMERICAS: FIRST LOOK
The Dirt Track will hold the main portion of the SuperCourse. 
Charlotte Motor Speedway will welcome the stars of European motocross next Friday and Saturday for the penultimate round of the MXGP series. While the race doesn't have any serious implications for American-series racers, national pride will be at stake. The "MXGP of the Americas," as it's being billed, will be held on "The Dirt Track" at Charlotte Motor Speedway. It's a track that's being built by Justin Barclay and his staff as you read this. On Monday, the crew was laying down a base over several asphalt sections beyond the stadium.
This asphalt section will be covered in a thick layer of dirt by next week.
Lenny Batycki, Director of Communications for Charlotte Motor Speedway, gave me a tour of The Dirt Track on Monday. He explained where the pits were going to be set up, showed me the media center (which is amazing, by the way), and laid out everything for me. It looks like Lenny and his crew have all their bases covered, which is a good sign that the MXGP should go off without a hitch. I'm going to meet with Lenny again later this week or early next week to see how the track is shaping up.
A view from the opposite side of The Dirt Track. Workers were pushing dirt up the embankment between the dirt track and the surrounding asphalt. Riders will drop in to the Dirt Track from this upper level.
Billed as a one-mile long SuperCourse, the track will blend Supercross and motocross. Forget any thoughts of a traditional motocross layout; however, that will be part of the race's charm. For starters, a 15,000 seat bleacher section will allow spectators to sit comfortably while watching the action unfold in front of them. Put those walking shoes away, folks. There will also be access to running water, indoor bathrooms, and enough creature comforts to convince your significant other to go. On top of that, the racing will be held in the late afternoon and early evening. Charlotte Motor Speedway is hoping to beat the heat and humidity. In essence, it's Guiseppe Luongo's version of Supercross.
A look at the 15,000 spectator bleacher section.
There will be quite a few heavy hitters at the MXGP of the Americas. Aside from the normal MXGP stars–Tim Gajser, Tony Cairoli, Max Nagl, Romain Febvre, Clement Desalle, Gautier Paulin, Jeffrey Herlings and Evgeny Bobryshev–expect to see Eli Tomac, Cooper Webb, Chad Reed, Justin Barcia, Phil Nicoletti, Dean Wilson, Justin Brayton, and the Pro Circuit Kawasaki team, among others. This will be the most American firepower that a MXGP race has seen in more than a generation.
It looks like the Charlotte Motor Speedway operations crew are putting down a hard base as filler, and then will put quality soil on top.

Given that it's an all-new (and temporary) track, the SuperCourse really shouldn't favor anyone. However, the Supercross-type vibe should give Americans the edge. Just don't tell that to Tim Gajser or Jeffrey Herlings, the presumptive 2016 Champions in their respective classes. Nonetheless, it will be an exciting weekend for motocross. For more information on the MXGP of the Americas, please see below.
WHAT YOU NEED TO KNOW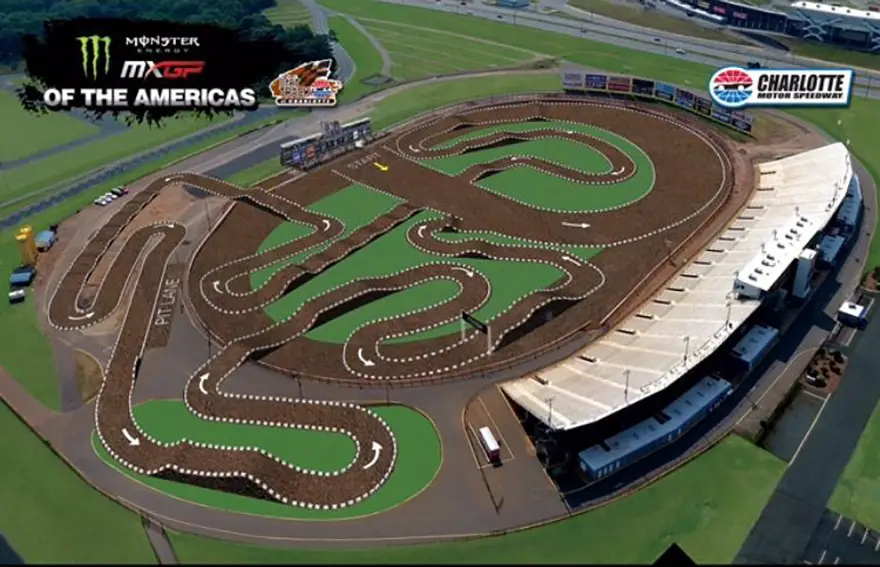 This track rendering effectively shows the general layout of the SuperCourse.
1. Weekend passes (which include two-day paddock passes), start at $63/person. Single day pass for Saturday is $52.43 (adult) or $32.10 (youth).
2. Camping is available. There are hook-ups for water and electric, as well as spots for pitching tents.
3. Friday's schedule…1:00 pm gates open, 3:45-4:35 pm open practice, 5:45-6:50 pm timed practice, 8:40-9:45 pm qualifying races.
4. Saturday's schedule…1:00 pm gates open, 3:00-3:35 pm warm-up session, 4:30 pm opening ceremonies, 5:05-6:40 pm first motos, 8:00-9:30 pm second motos.
5. There is a ride day on Sunday after the race from 11:00 am – 5:00 pm. Eight different classes are offered. The cost is $50/rider and $5/spectator.
6. Charlotte Motor Speedway is offering SkyBox VIP Gold passes at $500 a pop for the weekend. That's where you'll find me. Just kidding. Or am I?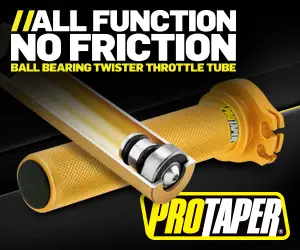 TWO-STROKE SPOTLIGHT: MITCH SIMPSON'S 2002 YAMAHA YZ125
Mitch Simpson's project bike is proof that you don't need to max out the credit card to build a quality machine. I'll let Mitch explain in his own words.
"I've only ever owned smokers. I started off life on a Suzuki DS80, followed by a Yamaha YZ125, Kawasaki KX250, KTM 200SX, and now happily own another YZ125, as well as a KTM 300. I recently rebuilt the tired 2002 YZ125 from the frame up, and powder coated it before a complete engine rebuild. I put all 2015+ YZ plastic on the steel frame, and now I actually think the bike feels better than the 2005 and newer alloy frame models. I am waiting for the right set of SSS forks to come my way, but the Race Tech front fork and shock setup is great for now.
"I replaced every bearing and washer on the bike, and almost every bolt has been replaced by now. Some photos don't reflect that. I sanded the exhaust down and heat treated it to mimic a Pro Circuit Works pipe, as they don't sell one for this model any more. That's a shame! I have recently thrown on a Pro Circuit R304 silencer and Cycra handguards, too.
"I just wanted to show that for not a lot of money, you can buy a 14-year-old bike, clean it up, and have it look better than a new one off the showroom floor. That's what I think, anyway. There's a minimal performance difference for less than a quarter of the price of a new bike. This bike exceeds in doing what motocross is all about–having fun. Keep fighting the good fight!"
Regards,
Mitch Simpson
Coogee, NSW, Australia
If you would like your bike to be featured in the "Two-Stroke Spotlight," please email me at [email protected] All I ask is that you give a breakdown of your bike and a detailed description of the thing. Please also send a few photos of your steed. By submitting your bike for the "Two-Stroke Spotlight," you agree to release all ownership rights to the images and copy to MXA. Please don't email me spam or try selling me beachfront property in Arizona. Happy submitting your smoker!
MINI-VIEW: 2016 AMA 250 NATIONAL CHAMP COOPER WEBB
Cooper Webb won the only title that was missing from his 250 career resume. Photo by Scott Mallonee.
Coming off back-to-back 250 West Supercross Championships, Star Racing Yamaha's Cooper Webb was desperately hoping for a 250 National title to add to his resume. An injured wrist was thought to derail his initial charge to that outdoor title, but he healed up and wore down the competition. Long after the Budds Creek motos were over, we were able to talk to Webb as he celebrated with a big throng of friends and fans from North Carolina.
By Jim Kimball
Cooper, you came into 2016 outdoors with a broken wrist and against a stacked class. You started turning it on during the midpoint in the series.
Yeah, for sure. I would say that I had the speed and fitness by round six, so it definitely went my way. I worked hard for it. It is sweet to get a 250 outdoor title, and I found the way to get it done.
How does the 250 National title compare to the two Supercross championships that you have?
This one was tougher. Obviously, Supercross is very important, but at the same time outdoors is just gnarly. To win the outdoor title is something that I have always wanted to do. It is a big achievement for me, so to be able to get it done was awesome. I think it looks really good on paper going into my 450 career.
Speaking of your upcoming 450 career, it was recently announced that you signed with the factory Yamaha 450 team for 2017. Was that an easy decision?
Yeah, it was. You know, it is a big old family over there, and I love all of those guys. I was stoked to be able to continue with everything, and now with Chad and the whole team. It is really just a perfect scenario for myself. I think we are going to really do some damage next year. I bet a lot of people may be underestimating us, but I think we are definitely going to be there.
It's quite an honor to be selected by Roger DeCoster for the MXDN, and then to be the number-one rider on the team.
Absolutely. I am very excited about representing Team USA, and I think it's a big honor. Maybe it is because I am young, but it is something that I have always dreamed about doing. I will do it for as long as I can. I am just a kid from the East coast, and a local guy who is very patriotic. I truly believe that representing the USA is something that is amazing, and I think it is a much bigger race than some people consider it.
What's next for you after the MXDN?
I am going to race Monster Cup, and then we will make the most of getting ready for 2017. I'll see you guys there.
RED BULL CONGRATULATES KEN ROCZEN
THE FACES OF BUDDS CREEK
Ace shooter, Scott Mallonee, has been traveling the country this summer in order to shoot the AMA National series. This past weekend he was at Budds Creek, and like so many Nationals before, he did an outstanding job of capturing the essence of motocross.
Ivan Tedesco and Ricky Carmichael.


Matthilde Musquin and her hubby, Marvin. Happy belated birthday, Matthilde.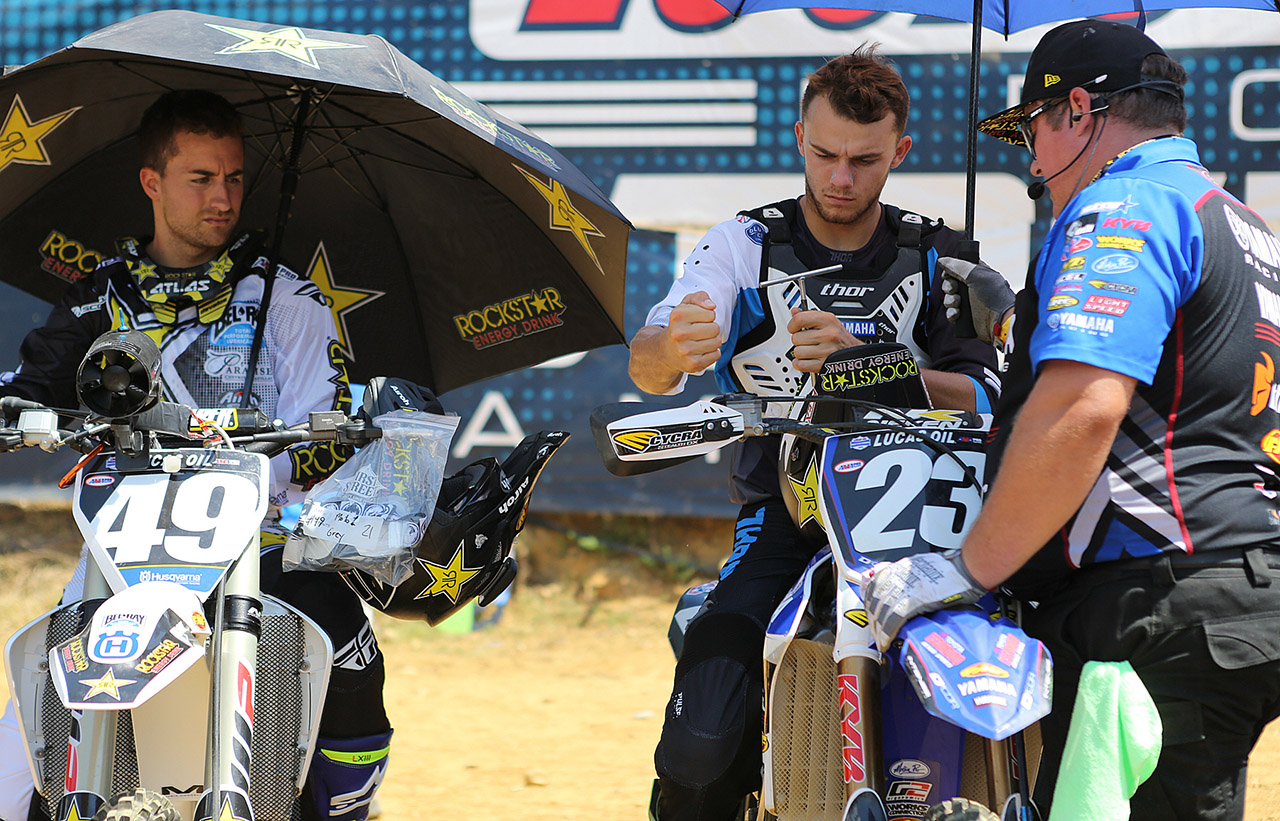 Martin Davalos (49) used a fan to get a break from the heat, while Aaron Plessinger adjusts his levers.
Nick Wey is a riding coach for the likes of Adam Cianciarulo.
Adam Cianciarulo (left), Mitch Payton and Joey Savatgy (right).
Ken Roczen celebrates the 2016 AMA 450 National Championship with his girlfriend.
Champagne shower courtesy of Marvin Musquin.
RCH/SOARING EAGLE EDGE OF SUMMER EVENT: SEPT. 9-11
Press release: Dirt bikes and ATVs will fly high above the grounds of Soaring Eagle Casino & Resort as the annual Edge of Summer MX event returns to Michigan's No. 1-ranked Favorite Casino (Midwest Gaming & Travel), Sept. 9-11. Professional racers – including Michigan's own Nick Wey (Dewitt) – along with Jake Weimer, Ivan Tedesco, Mike Alessi and more will battle bar-to-bar from one end of Soaring Eagle's property to the other in hopes of cashing in on the massive $60K purse.
The field will showcase a full range of classes – including ages four to pro on the dirt bikes and eight to pro on the ATVs – all racing on the all-time winningest MX racer Ricky Carmichael-designed track that serpentines across the sprawling Soaring Eagle grounds. Featuring stadium-style seating that allows fans to see nearly the entire course, the Edge of Summer MX event will again rock the central Michigan action sports scene to its core with an entire weekend of motocross racing action, including for the first time the awe-inspiring "Adaptive" class (amputees and partially paralyzed racers) on the Soaring Eagle track.
"It's a show of shows in terms of excitement and value for customers," said Raul Venegas, Director of Marketing and Entertainment at Soaring Eagle. "The Edge of Summer MX event is the biggest outdoor event Soaring Eagle will host this fall. If you haven't seen it, you're in for a real treat. And if you were here last year, we look forward to seeing you again September ninth through the 11th."
Teaming up again with Soaring Eagle and RCH Racing to produce the event will be RedBud MX. Host of the nation's No. 1 professional motocross event held annually on Fourth of July weekend in Buchanan, Mich., RedBud MX's staff is on-site to ensure a top quality racetrack, officials and overall smooth-running event program.
As they've been in the past, the pro racers are very approachable at Soaring Eagle's Edge of Summer MX event, signing autographs and posing for photos with the fans. The event also features the "Par for the Cause" RCH Racing celebrity charity golf tournament (more info on that at www.soaringeagle.com), live music and, of course, the best gaming in the Midwest! Event sponsors include: RCH Racing, Suzuki, RedBud, Musco Lighting, Bel-Ray, Rockford Fosgate, FMF, Dunlop, Fox, Michigan Cat, Bader & Sons Co. and Stevens Sports Center.

What: Soaring Eagle Casino & Resort's Edge of Summer MX event
When: Sept. 9-11
Time: Friday's Pro ATV final motos are at 3 p.m. and 5 p.m.; Saturday's Pro MX (dirt bikes) racing finals begin at 6:30 p.m. Gates open daily at 6 a.m. for amateur practice and racing, beginning at 9 a.m. Friday, 8 a.m.Saturday and Sunday.
Where: Soaring Eagle Casino & Resort, Mt. Pleasant, Mich.
Who: The Midwest's top amateur and nationally-ranked pro motocross and ATV racers battle for a $60,000-plus purse.
Friday Autograph Session: ATV and Dirt Bike pros inside the casino at the Entertainment Hall at 6:30 p.m., following the ATV racing program.
Saturday Autograph Session: Trackside on Saturday from 5-6 p.m. with Nick Wey, Jake Weimer, Ivan Tedesco, Mike Alessi and more!
Tickets: Just $25 per day/$40 for the entire weekend and are available at the gate. Special prices for kids 6-11 and children under five are admitted free!
More information: www.redbudmx.com and www.soaringeaglecasino.com
THEY SAID IT: ZACH OSBORNE
Photo by Scott Mallonee
"My weekend was good because I won. The first moto was great, but I got hot around nine laps in and felt like I didn't have a lot of spunk in me at that point. I made a couple attacks but nothing ever worked out. I made an early pass in the second moto and just knew I had to keep attacking. There was only one really fast line. I took the lead and didn't look back, pulled away and won."
NOW FOR SOMETHING COMPLETELY DIFFERENT: KAWASAKI JET SKI IS BACK
FASTEST OF THE FAST: AMA NATIONALS
An ongoing list of the top qualifiers and holeshot winners from each round of the 2016 Lucas Oil AMA 250/450 Nationals.
Photos by Scott Mallonee
FASTEST QUALIFIERS: 450 CLASS
Hangtown…Eli Tomac
Glen Helen…Eli Tomac
Lakewood…Eli Tomac
High Point…Jason Anderson
Muddy Creek…Christophe Pourcel
Red Bud…Christophe Pourcel
Southwick…Justin Barcia
Millville…Ken Roczen
Washougal…Eli Tomac
Unadilla…Ken Roczen
Budds Creek…Ken Roczen
FASTEST QUALIFIERS: 250 CLASS
Hangtown…Joey Savatgy
Glen Helen…Cooper Webb
Lakewood…Jeremy Martin
High Point…Zach Osborne
Muddy Creek…Adam Cianciarulo
Red Bud…Adam Cianciarulo
Southwick…Austin Forkner
Millville…Joey Savatgy
Washougal…Cooper Webb
Unadilla…Alex Martin
Budds Creek…Cooper Webb
HOLESHOT AWARDS: 450 CLASS
Hangtown…Cole Seely / Ryan Dungey
Glen Helen…Trey Canard / Ken Roczen
Lakewood…Ken Roczen / Trey Canard
High Point…Ken Roczen / Justin Barcia
Muddy Creek…Cole Seely / Broc Tickle
Red Bud…Justin Bogle / Justin Bogle
Southwick…Justin Bogle / Justin Bogle
Millville…Justin Barcia / Marvin Musquin
Washougal…Phil Nicoletti / Marvin Musquin
Unadilla…Eli Tomac / Ken Roczen
Budds Creek…Ken Roczen / Matt Bisceglia
HOLESHOT AWARDS: 250 CLASS
Hangtown…Joey Savatgy / Jessy Nelson
Glen Helen…Tristan Charboneau / Jeremy Martin
Lakewood…Cooper Webb / Adam Cianciarulo
High Point…Jeremy Martin / Adam Cianciarulo
Muddy Creek…Adam Cianciarulo / Shane McElrath
Red Bud…Austin Forkner / Shane McElrath
Southwick…Jeremy Martin / Cooper Webb
Millville…Alex Martin / Alex Martin
Washougal…Alex Martin / Cooper Webb
Unadilla…Adam Cianciarulo / Austin Forkner
Budds Creek…Adam Cianciarulo / Adam Cianciarulo