PRO TAPER PRESENTS MXA'S MID-WEEK REPORT #35 BY JOHN BASHER
#WHIPITWEDNESDAY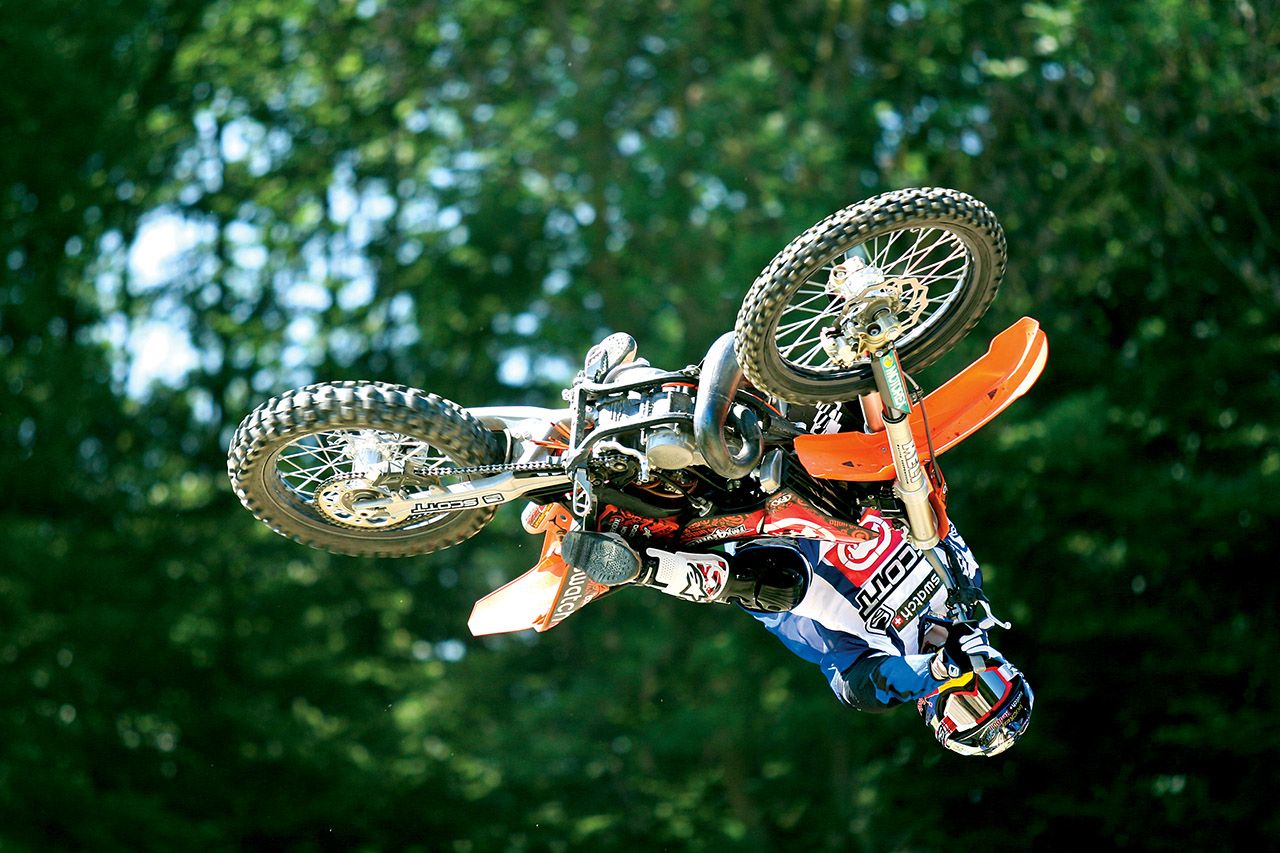 Rider: Mat Rebeaud
Location: Payerne, Switzerland
Photographer: John Basher
Camera: Canon 30D
Lens: 70-200mm f/2.8
Focal length: 200mm
Exposure: 1/1600 sec.
F-stop: 2.8
ISO: 320
MXA VIDEO: 2017 KTM 150SX TWO-STROKE
WHAT IT WILL TAKE: WORLD TITLES ON THE HORIZON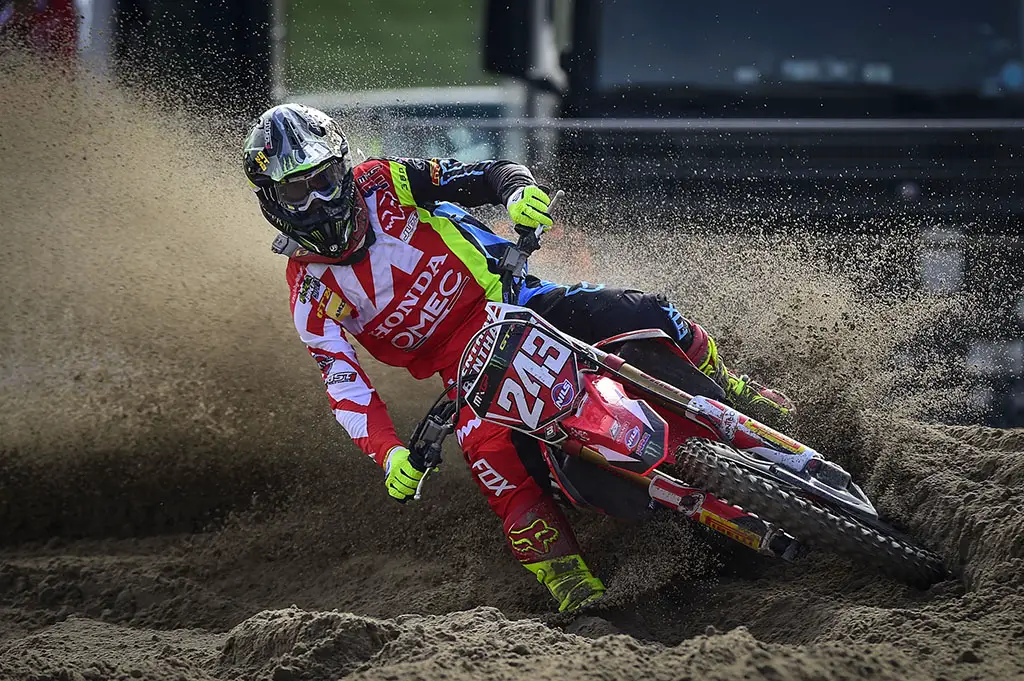 Tim Gajser will need to stick with Tony Cairoli at the USGP of the Americas in Charlotte this weekend if he intends on winning his first 450 World Title. Otherwise, the championship will go down to Glen Helen. Photo by Massimo Zanzani.
The MXGP of the Americas this weekend means very little to American series racers. Other than personal pride and bragging rights, guys like Eli Tomac, Justin Barcia, Cooper Webb and Austin Forkner don't have a stake in the MXGP series. However, they could prove detrimental in the 250 and 450 World Championship standings. Tim Gajser (450) and Jeffrey Herlings (250) are the current leaders of their respective classes. It's likely that both will clinch titles in Charlotte. Gajser has a 65-point gap on Tony Cairoli, while Herlings is up 76 on Jeremy Seewer. Both will need to maintain a 50 point advantage leaving Charlotte Motor Speedway on Saturday night. Questions loom with regard to the Americans and their performances, how the Europeans will adapt to a uniquely designed "SuperCourse" one-mile track, and if nationalism will cloud judgement and sensibility. Surely Cooper Webb and Austin Forkner want a shot at Jeffrey Herlings in the 250 class. While the fireworks in the 450 class will probably be nothing compared to the younger class, Tomac and crew should seize the opportunity to make a statement on home soil.
What does Tim Gajser need to do in order to secure his first 450 World Title? If Tony Cairoli sweeps both motos at Charlotte (something he has done once this season), Gajser will need to score 35 points on Saturday night. What moto scores would equal up to 35 points? There are too many to list, but it's safe to say that the Slovenian will need to garner 4-4 moto scores or better. However, the likelihood of Cairoli winning both motos is slim. It's more likely that Gajser will win at least one moto–something he's done in 11 of 16 Grand Prix rounds. In that case, it'll be all but over for Tony Cairoli.
There won't be any sand this weekend at Charlotte, but that won't stop Jeffrey Herlings from riding on rails. He should clinch the 250 World Title in North Carolina. Questions remain as to how the American contingent of Cooper Webb, Austin Forkner and Joey Savatgy will fare against Herlings. Photo by Massimo Zanzani.
What about Jeffrey Herlings? He's in a slightly better spot than Tim Gajser. Jeffrey's points lead is slightly larger and he has only lost two motos this series (when he wasn't out with a collarbone injury). It will be hard for Jeremy Seewer to stop the Herlings freight train. Jeffrey will need to basically keep from losing 26 points on Saturday.
Whatever happens, Saturday night will be historic. The 250 class alone is already providing riveting headlines. It's Cooper Webb's last 250 race. Austin Forkner, fresh off his first 250 National victory, has publicly stated that he's aiming for Jeffrey Herlings. And Herlings, confident if not cocky, wants nothing more than to spank the Yanks on home soil. It's going to be a barn-burner, folks.
FLY RACING TRIBUTE TO ANDREW SHORT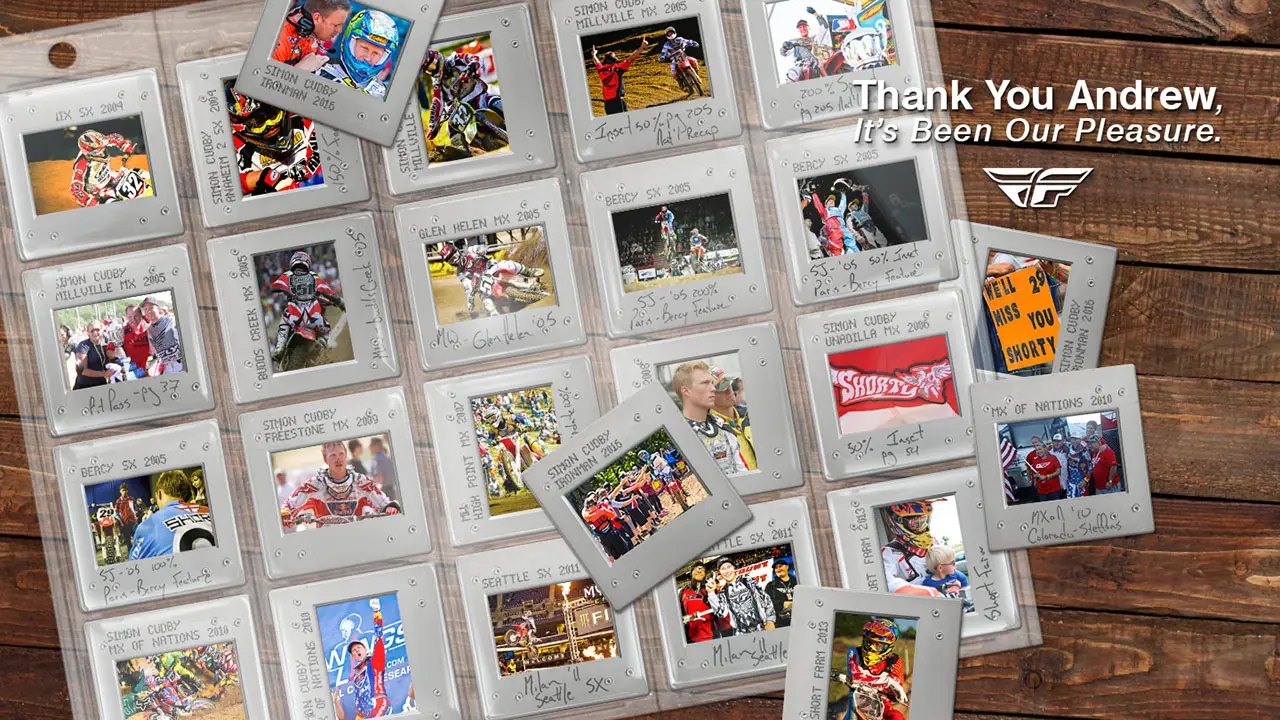 Click on the image above to view an extensive gallery of Andrew Short's career. We'll miss you, Shorty.
TWO-STROKE SPOTLIGHT: CARL LEGUIA'S HONDA MONSTER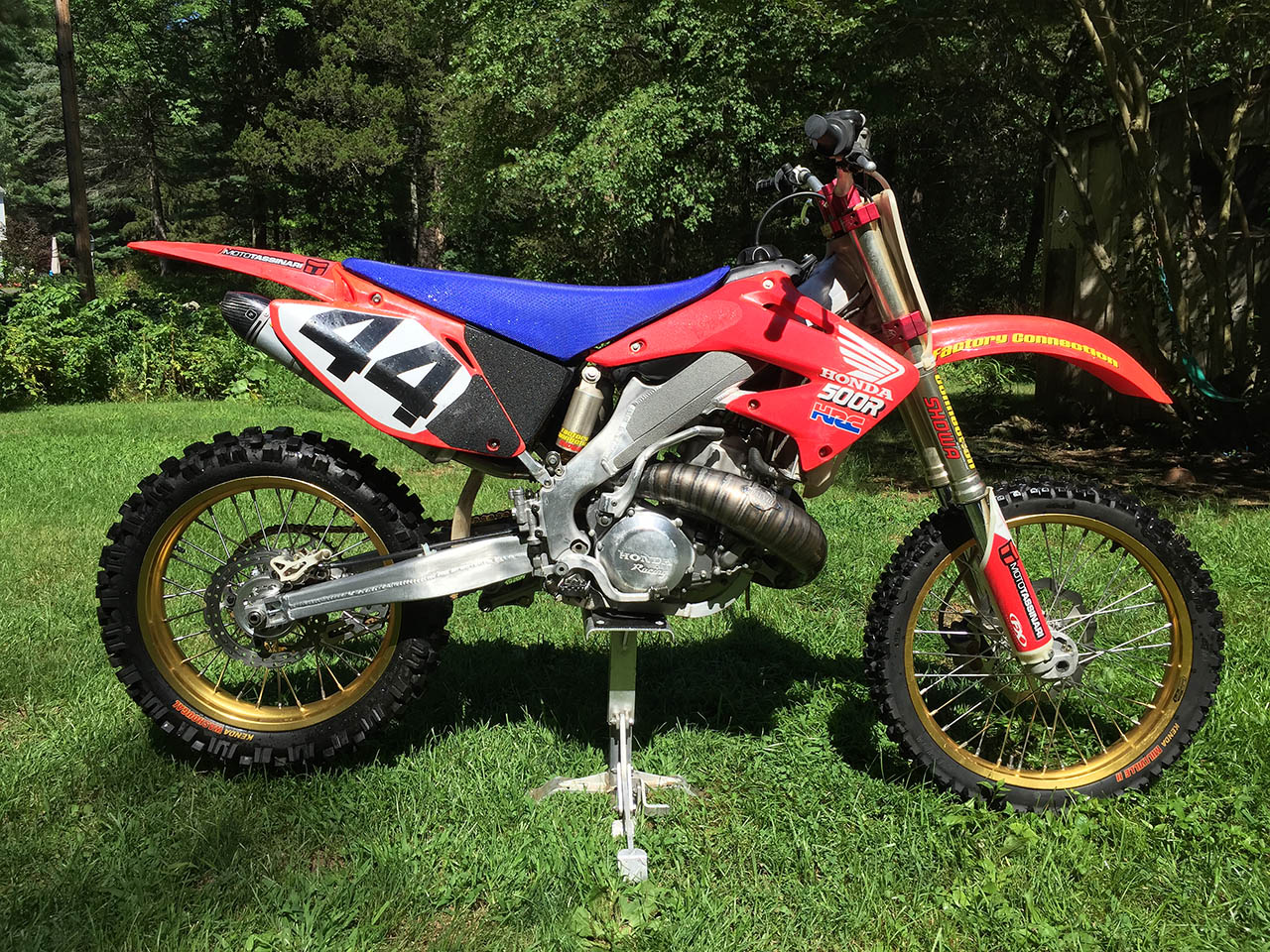 Would you ride a Honda CR500? What if it was in a Honda CR250 chassis, had a lightened crank, porting, and more than enough power for King Kong? Carl Leguia, a New England Sports Committee racer, has more courage than most of us, because his CR500 monster is just that–a monster. Read all about it below.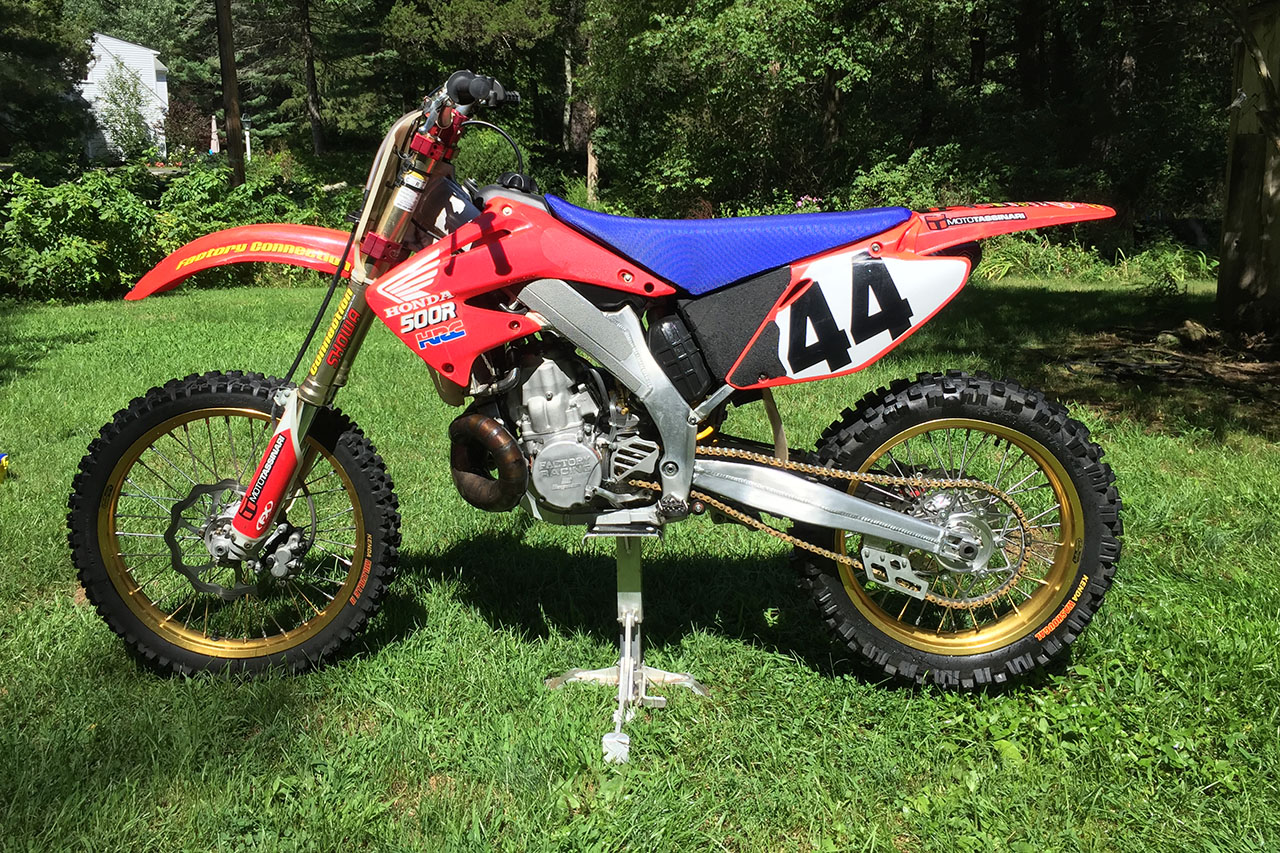 "I am a Vet New England NESC racer and I still love the two-strokes. I could appreciate what the four-strokes were bringing to the table, but I wanted a bike that I could work on myself, and I have been a 500 guy for a long time anyways. I can't see ever buying a 450 four-stroke. The bike I have is a 2002 generation three (2002-2007) Honda CR250 chassis with a 2001 CR500 engine from Service Honda.
"My bike has lots of motor work, including a lightened crank, Gorr porting, aluminum cylinder sleeve with Nikasil, lots of compression, PSI big air carb, V-Force reed block, Scalvini pipe and silencer, two stator coils for better spark, and runs on VP C12 fuel. It's a killer. Factory Connection did the suspension. There are also 18mm offset clamps, KLP works replica swingarm (+1″), bigger front brake, and Buchanan wheels with 3″ back rims.
"I figure that I have 200 race days at Southwick just between 1983 and 2003, with lots of holeshots, too. The roost would go back 50 feet and do damage! I had a sticker on my back fender that said 'Duck!' I have had a lot of 500s, so now I'm trying to achieve the perfect CR500. The lighter crank makes the bike rev quicker, and it feels 25 pounds lighter. Only the most talented, like Tony Lorusso or a real 500 guy, can ride it! The power is instant and stupid. I love it."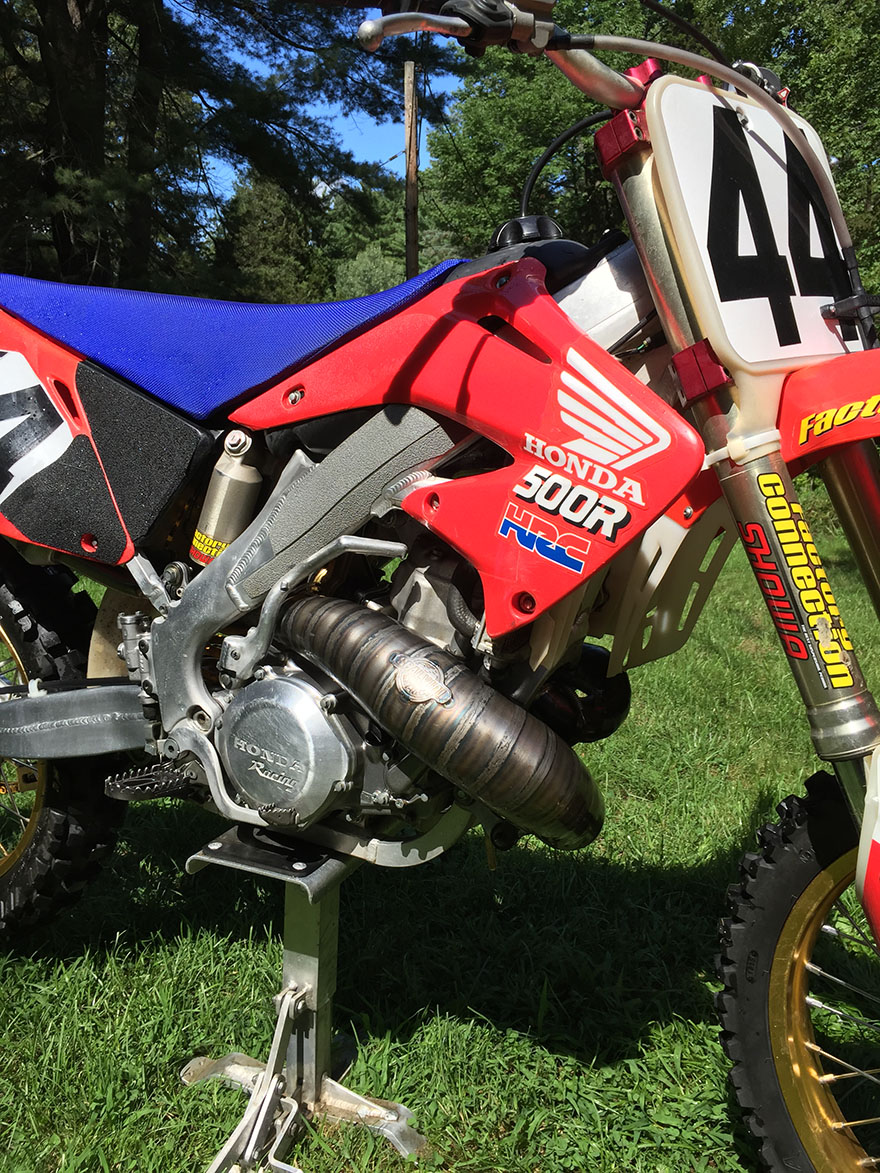 If you would like your bike to be featured in the "Two-Stroke Spotlight," please email me at [email protected] All I ask is that you give a breakdown of your bike and a detailed description of the thing. Please also send a few photos of your steed. By submitting your bike for the "Two-Stroke Spotlight," you agree to release all ownership rights to the images and copy to MXA. Please don't email me spam or try selling me beachfront property in Arizona. Happy submitting your smoker!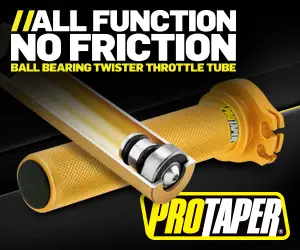 YOU CAN DO IT, DAKOTA BENDER!
This message came from Tyler King, who works with the Blue Buffalo/Slater Skins Yamaha team. Positive thoughts and prayers go out to Dakota Bender.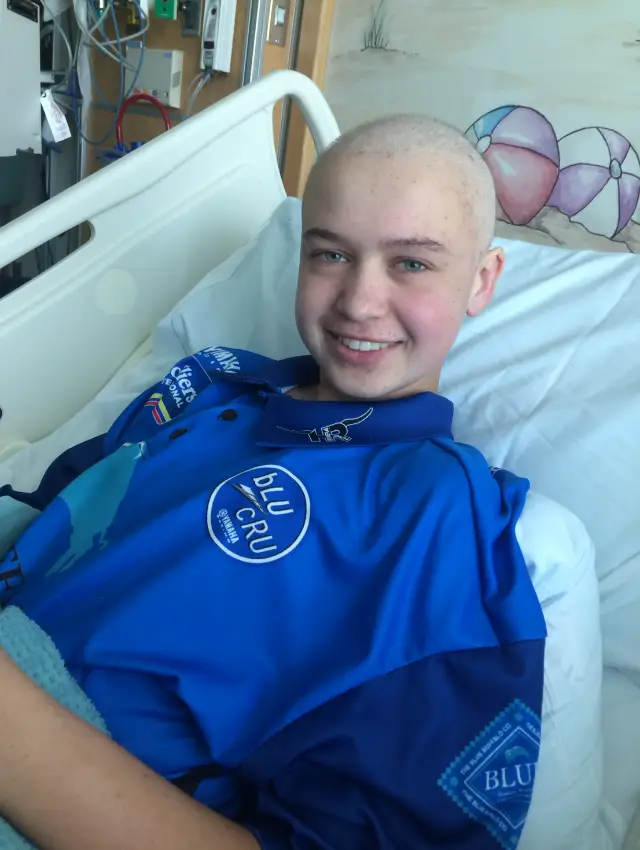 "On Wednesday I met the most amazing young man. He's 14 years old and lives in San Diego. Come to find out he's also a fantastic motocross rider. He knew all about me before I came to visit him at Rady Children's Hospital. When I walked in the room he stood up to greet me and shake my hand. This I would not expect from someone recently diagnosed with a rare cancer known as Burkitt Lymphoma, which is a non-Hodgkin's Lymphoma. Only 800 cases/year in the U.S. He had this same smile the entire four hours I hung out with him and his family. He'd already been through a few chemo treatments, but I could see no sign of energy or vitality lost in him….his resilience and confidence in beating the diagnosis was life changing for me. He knew all the latest moto news (even the Trey Canard/Honda split, which had just been announced that day), and about the Blue Buffalo/Slater Skins/Yamaha team I'm involved with. My focus in the visit was to inspire him to live in the positive thought/moment and to mentally remove himself from the said 'reality' that surrounded him….but he was already there. Just like a real motocrosser, he was solely focused on getting out of there to ride his dirt bike again. This is the same thought process that kept me alive and healing in 1996 during my Supercross crash recovery. The thing is I didn't need to coach or teach it to him, he already had it. He is it! He'll be finishing up at Rady and going home to his own bed. I look forward to visiting him and having others meet this incredibly inspiring human. This dude can change the world….he changed mine and I call him my friend. Thank you and see you soon Dakota Bender."
MORE POSITIVE VIBES NEEDED: JESSY NELSON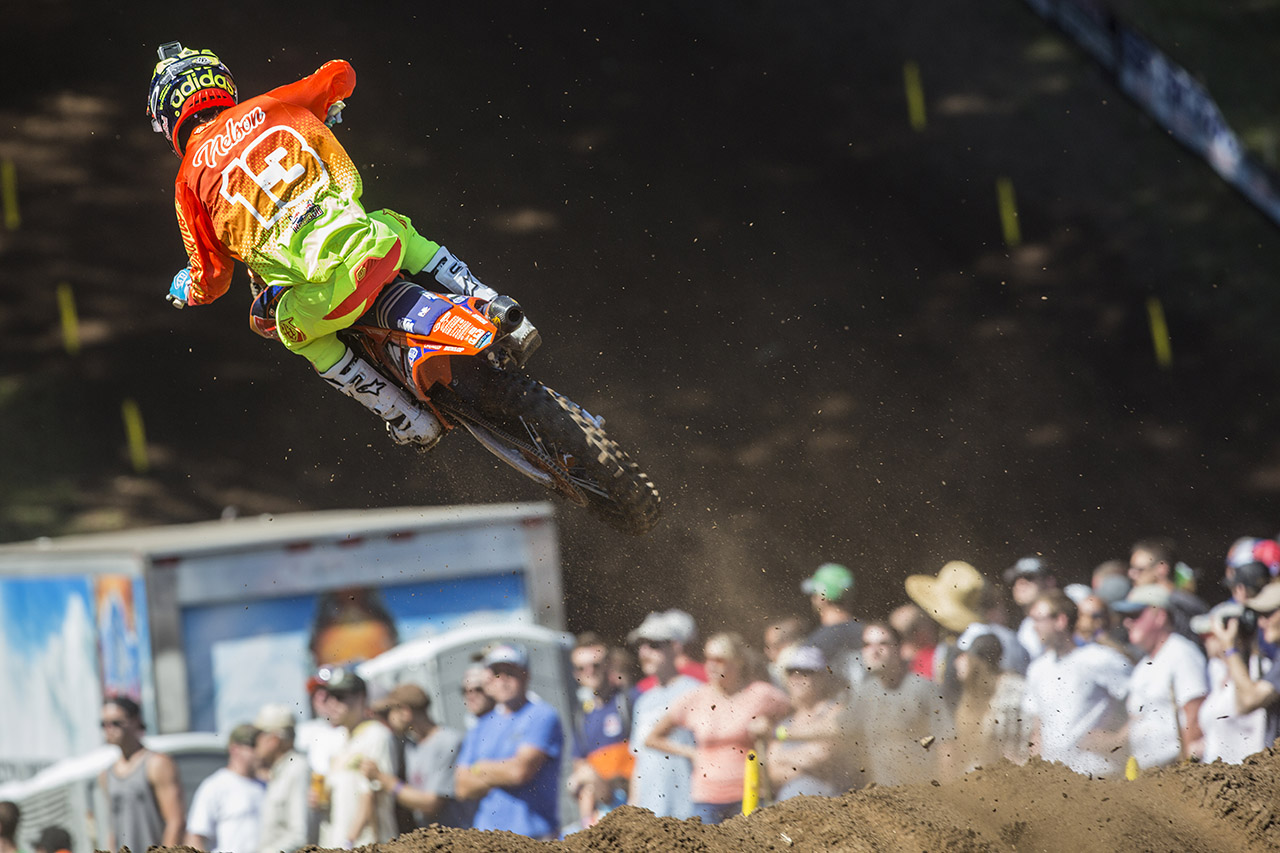 Jessy Nelson posted an update recently on his progression following a crash at Unadilla, where the Troy Lee Designs KTM rider lost feeling in his lower extremities. Please send good thoughts and prayers to Jessy, and feel free to donate to his Road2Recovery fund.
Jessy Nelson's message:
"Thank you everyone for the kind get well wishes and all the love, from the cards and letters I appreciate it all so much. I'm currently at a rehab center to start my road to recovery it's going to be long and tough but that's what I'm dealt with and going to give it my best shot to try and walk again one day. Sorry if I haven't gotten back to your messages on here it's been really hard with everything I have to do and keeping my family and friends informed. If you could please help me by donating to my@road2recovery fund and helping me out with my rehabilitation and medical costs my parents aren't wealthy by any means and as of now I'm no longer racing and I really need your help so please help with anything you can I greatly appreciate it. I have to give a huge thank you to my family@nelsonfamily136 for dropping everything and helping me along with my girlfriend @emily_everett5 thank you so much for being so sweet and encouraging and being by my side these past few weeks I wish you were still here but I will see you soon I love you very much. Also thank you to @igfilms@onelife2lose Tyler Keefe @wingsforlife@bobwalker_connxns @hammergolf556and everyone that has helped me so far."
MINI-VIEW: PHIL NICOLETTI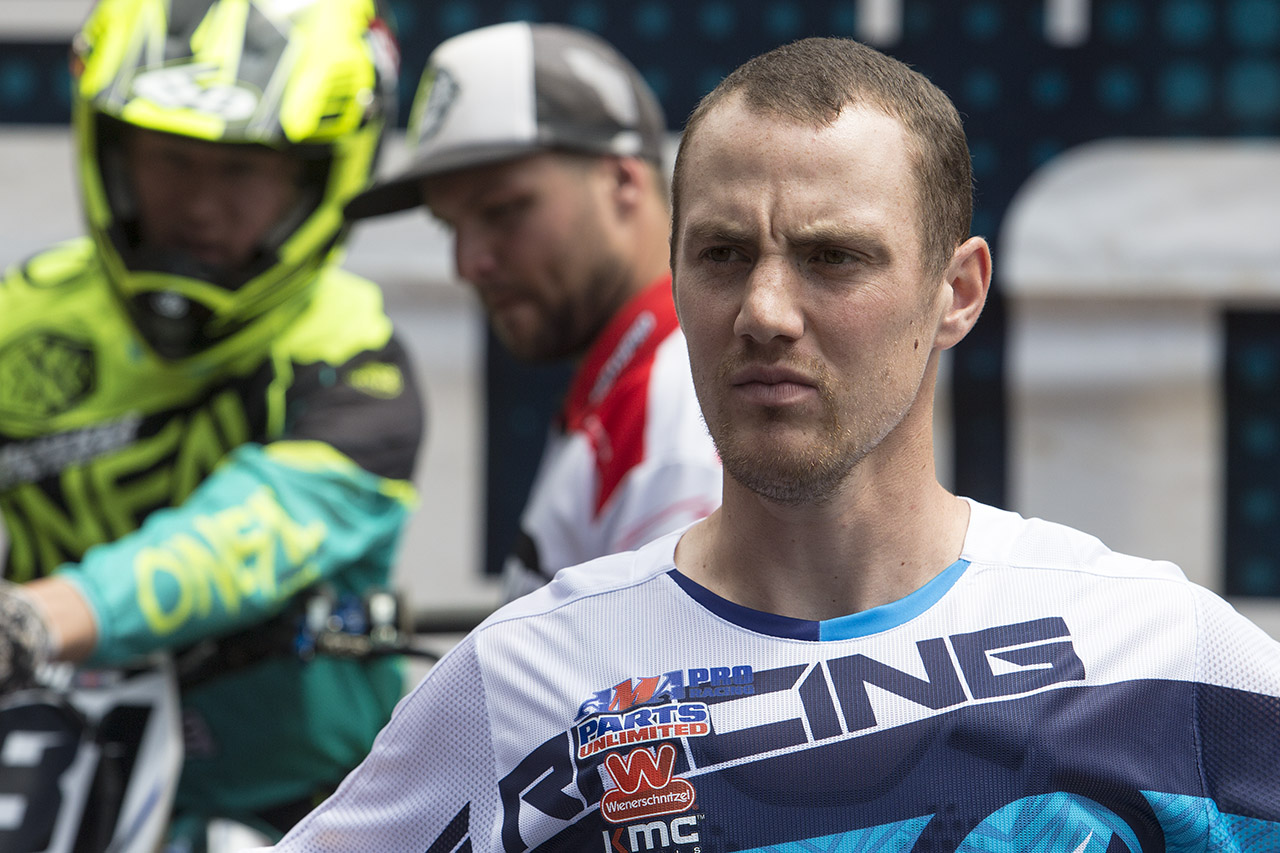 Phil Nicoletti will be lining up at Charlotte this weekend for the USPG, alongside his JGR teammate, Justin Barcia.
By Jim Kimball
Nicoletti finished fifth overall in the 450 National standings. That's an incredible achievement for a rider who has mostly been a fill-in addition in recent years. 
At what point in your racing did you leave New York and move down south where you could ride all year?
Actually, I did not go to any southern riding facilities until I was about 22. I always wanted to go, but we never had the money to.  When I finally made that move down to ClubMX, it was a real booster for me with riding every day, training every day, and getting on a good program. That molded me into what I am now. I have moved away from ClubMX, although I still go there at times. I love all of the all of the people there. I moved up to Charlotte, right next to the JGR shop, which is just over an hour away. I was really fortunate to have that type of facility at ClubMX help me out.
Early in on your Pro career you rode for the Motosport Kawasaki team. What was that like?
That initial Motosport Kawasaki team is now the Rockstar Husky team. First they switched to Suzuki, got support from Rockstar, and now are with Husqvarna. They have really grown a lot as a team. It was still good for me on that team, but I was not quite able to get that 'A' level 250 support team like a Geico or Pro Circuit team. It was tough. There was a big learning curve, and I had been through the wringer and back. Let me tell you, it took a long, long time to get to where I am at now with JGR.
Why did you go to Australia to race Supercross?
I met Troy Caroll, who owned a factory Kawasaki team over there. He called me and said he needed a 250 rider. I was hoping to do Supercross here in 2011, and he actually called me two weeks before the Atlanta Supercross. He asked if I wanted to come to Australia, because he had a really good deal for me. I accepted without thinking twice. I just took a bag of clothes. I didn't take any gear or any riding stuff aside from my knee braces. I went and lived in Australia for seven or eight months. It was really awesome, and I met some great people over there that I still know today. I ended up getting banned from Australia because my visa got jacked up. Happening at that point in time was pretty bad, because I would have loved to go back. I can't say later on in my career that it would not be a bad thing to do, either. It was an amazing experience and I will never forget it.
Was that the time when you got a 450 and raced some of the last Nationals?
I actually left Eleven/10 Mods with four rounds to go in the Nationals. I had one of my big sponsors, St. Lawrence Radiology, help me out. Dr. Maresca actually helped fund my program a lot to go be able to race the last four outdoor races on my own. We did pretty well. Dr. Maresca actually came up to me randomly at Broome-Tioga and handed me his business card. I still remember that to this day. I was there by myself and he said, "Hey, here is my card. If you ever need anything, you let me know." I ended up breaking my radius and ulna really bad, so I called him for a little bit of doctor advice and this and that. I talked to him for an hour, and ever since that day he has been a family friend. He and his wife, Barbara, have been great to me! I met Tom Fitcher from N-Fab back in 2013, and he has helped me a lot, too. They are big supporters. I can't thank them enough.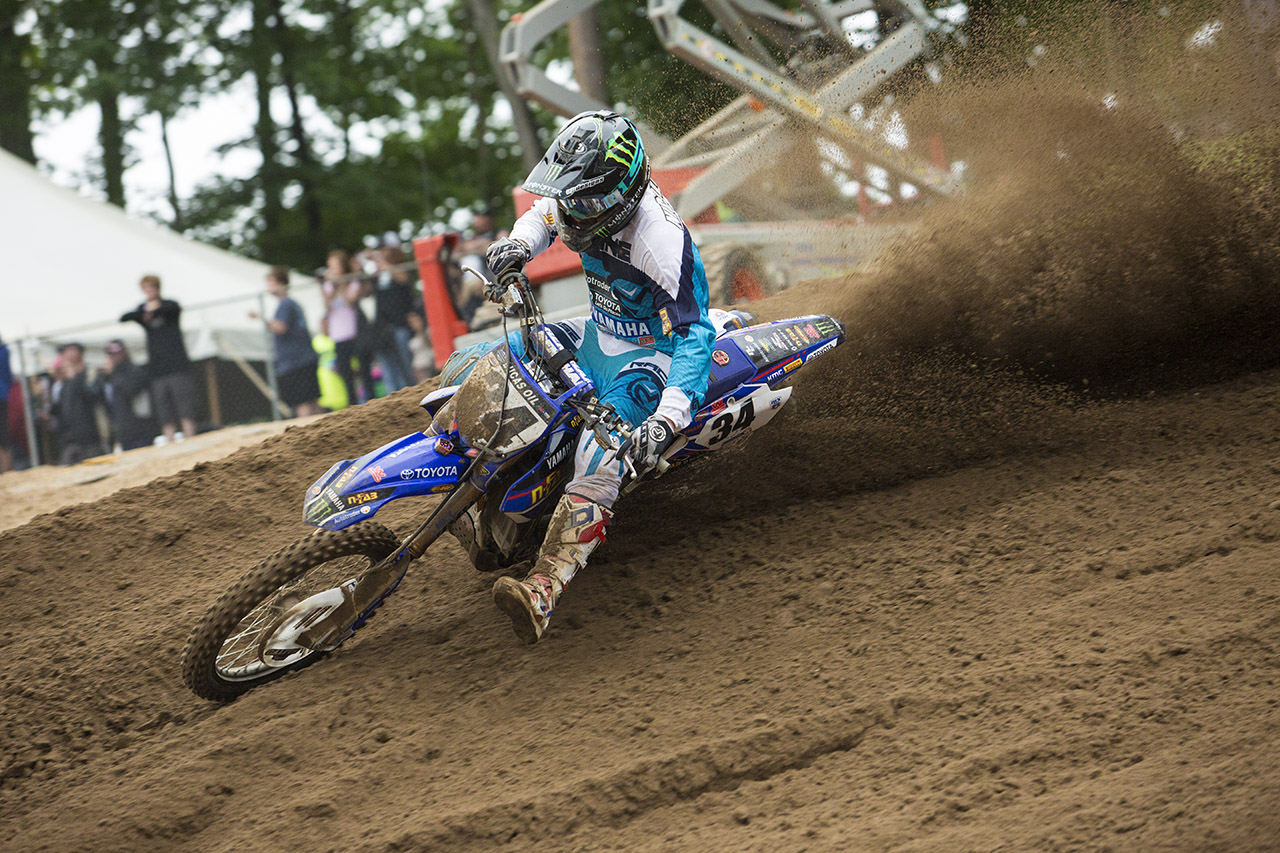 They have also signed on with the JGR team, right?
Yeah, they are actually sponsors of the JGR team, not so much just myself any more. That's pretty cool. As you can see by looking at my race bike graphics, NFab is a big part of it and St. Lawrence Radiology, as well. They are just enthusiasts of the sport and those are the types of people that we need to be involved and to keep happy. It is not an energy drink company, and it is cool to actually have a hospital want to sponsor motocross, so it is unique. Like I said, they have been around for a long time, which makes it cool.
Initially getting a "fill-in" ride may have not seemed the greatest opportunity for you, but it has worked out well, right?
To be on a team with awesome people who understand my personality is the best thing. I get along with each and every one of the guys on the JGR team. With the equipment and resources, they have helped me excel as a rider and become more of a top ten guy all the time, so that was a big step for me. Last year, we got a bunch of top five's, a podium, and this year has been going well, too. The class seems to get harder every year so you got to get better.
Your buddy, Alex Martin, finished second overall in the 250 National final standings. How long have you known Alex?
I did not really get to know Alex until about the beginning of 2012. I have always been aware of him, because I had raced him growing up, but I always thought he was just this weird, short little midget. When I started riding for Eleven/10 Mods he was already there, and we just clicked right away. We ended up living in a little, and I mean little, tiny cabin at Club MX for two years. We became really close. Ever since then we have been best friends. Jeremy is like a little brother, as well. It's pretty cool, and the whole family is great, even Papa Martin and Mama Martin. I am blessed to know them, and I am glad that both of them are having the success that they have had.
CHASING THE DREAM: JGRMX
PARTS UNLIMITED SHOWCASE: MADISON, WISCONSIN
The Wisconsin state capital building in Madison.
Parts Unlimited is one of the biggest motorcycle distribution chains in the U.S. They represent many of the largest and most popular aftermarket brands, facilitating sales between companies like Moose Racing, Thor, Eks Brand, Cycra, FMF and Cycra, and a vast dealer network. Parts Unlimited holds several showcases a year, where they invite dealers to locales such as Madison and Atlanta to discuss everything from new products to bench racing. The goal is to strengthen relationships and generate sales. It's a smart marketing tactic for Parts Unlimited. This year I was fortunate enough to get an invite to the showcase in beautiful Madison, Wisconsin, and meet with a bunch of aftermarket brands. Many faces were familiar, while several new relationships were formed. It's amazing how talking about motocross over a steak can form a bond.
What did I learn from my experience? Madison is a great college town and stocked full of nice people. The motocross industry seems to have rebounded from the economic nosedive it took in 2007-'08. John Dowd, Rodney Smith and Dick Burleson were the big stars this year, signing autographs for hours. There were a few new products being shown, including an EKS Brand goggle with an outrigger system, Cycra KTM Powerflow plastics that comes in a variety of colors, and completely revamped Moose Racing Sahara gear. Lastly, I learned that Spotted Cow beer needs to expand beyond Wisconsin.
Take a look at some of the sights from the 2016 Parts Unlimited showcase from Madison.
The Madison convention center houses the Parts Unlimited dealer showcase. A plethora of aftermarket companies were in attendance, from street to ATV, off-road and motocross disciplines.

The new EKS Brand goggle looks awesome. Look for a test of the goggle in a future issue of MXA.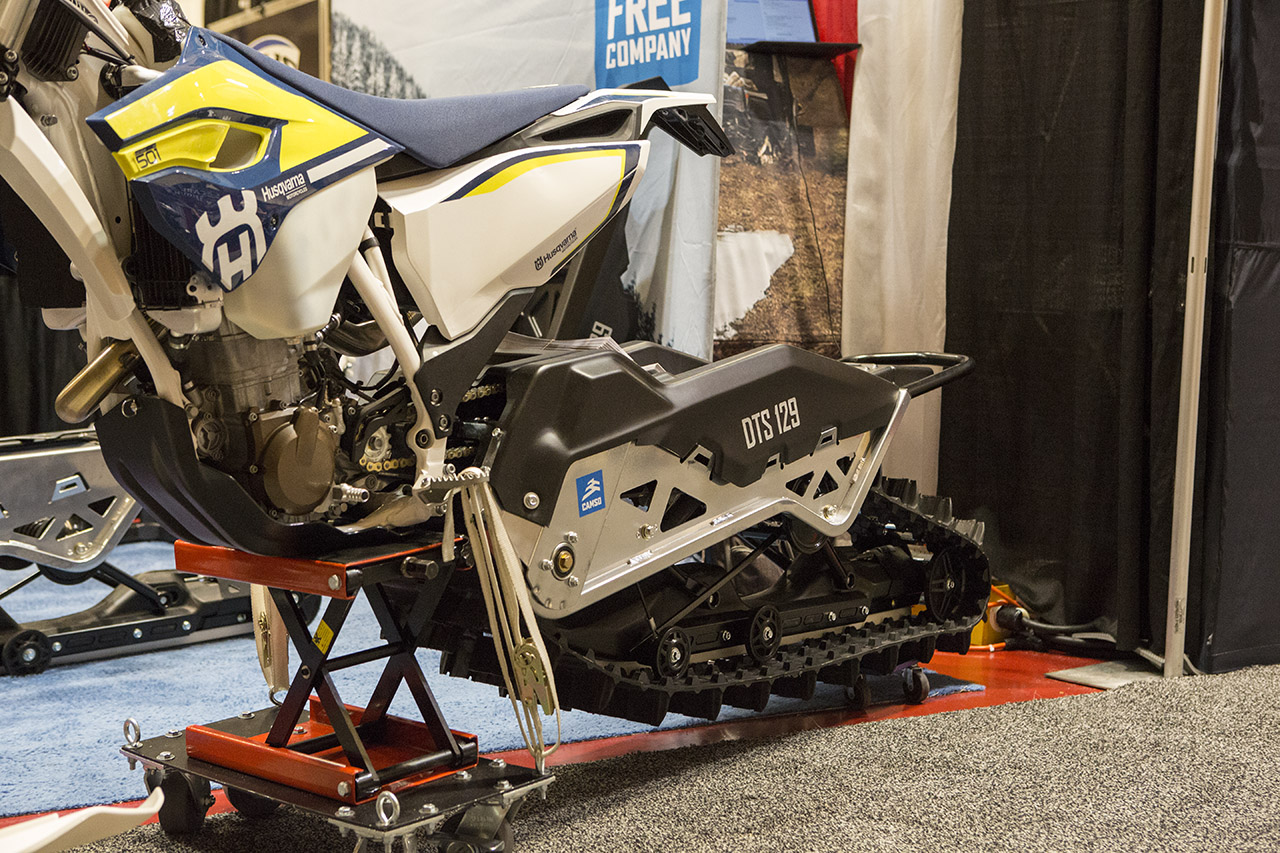 Track-mounting kits are quickly becoming the rage, because they allow motocross riders the chance to blaze trail through winter snow instead of sitting inside waiting for the weather to warm up.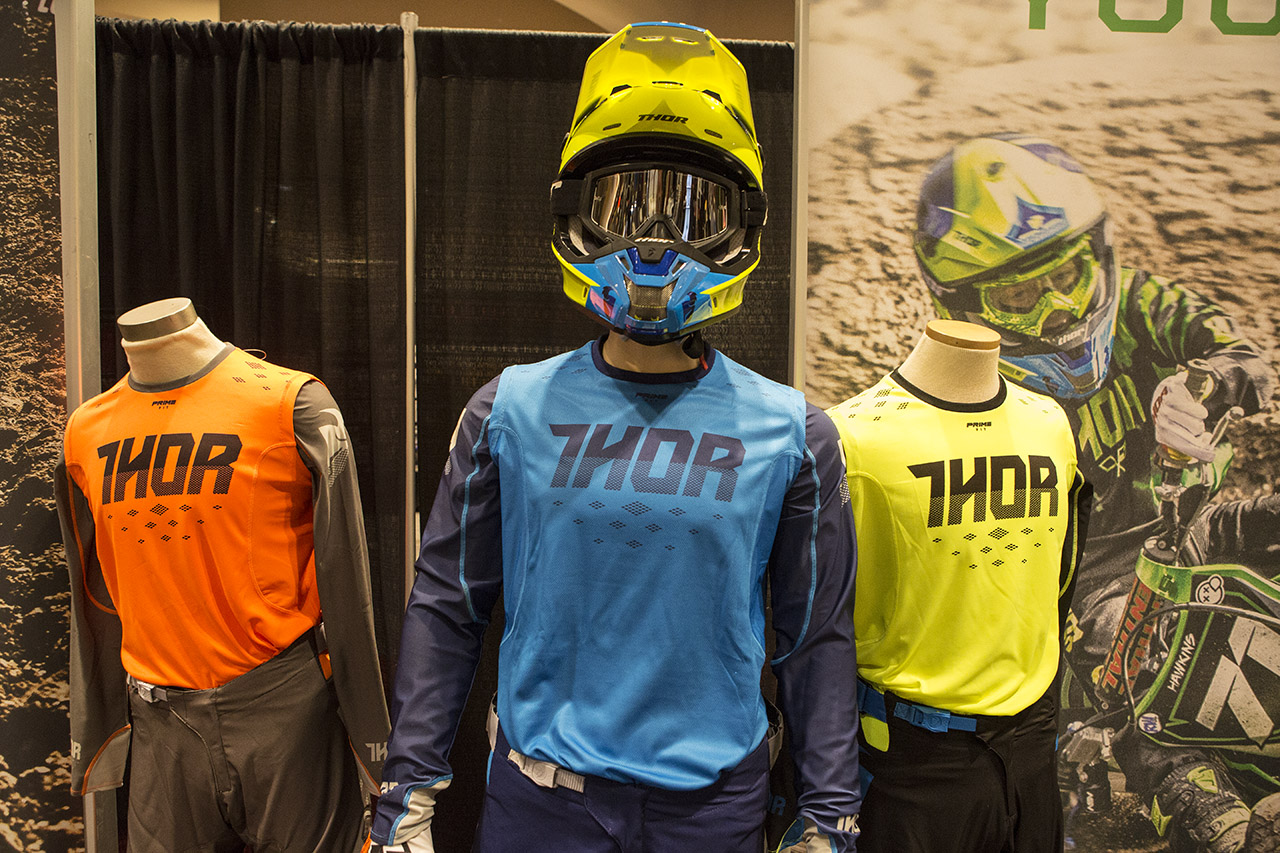 Thor's new Prime gear has been worn by the Star Racing Yamaha riders this summer.
Pro Circuit's sales manager, Mark Hall, was counting how many times he was allowed to ride my KX450F project bikes through the years. He didn't need more than one hand to count.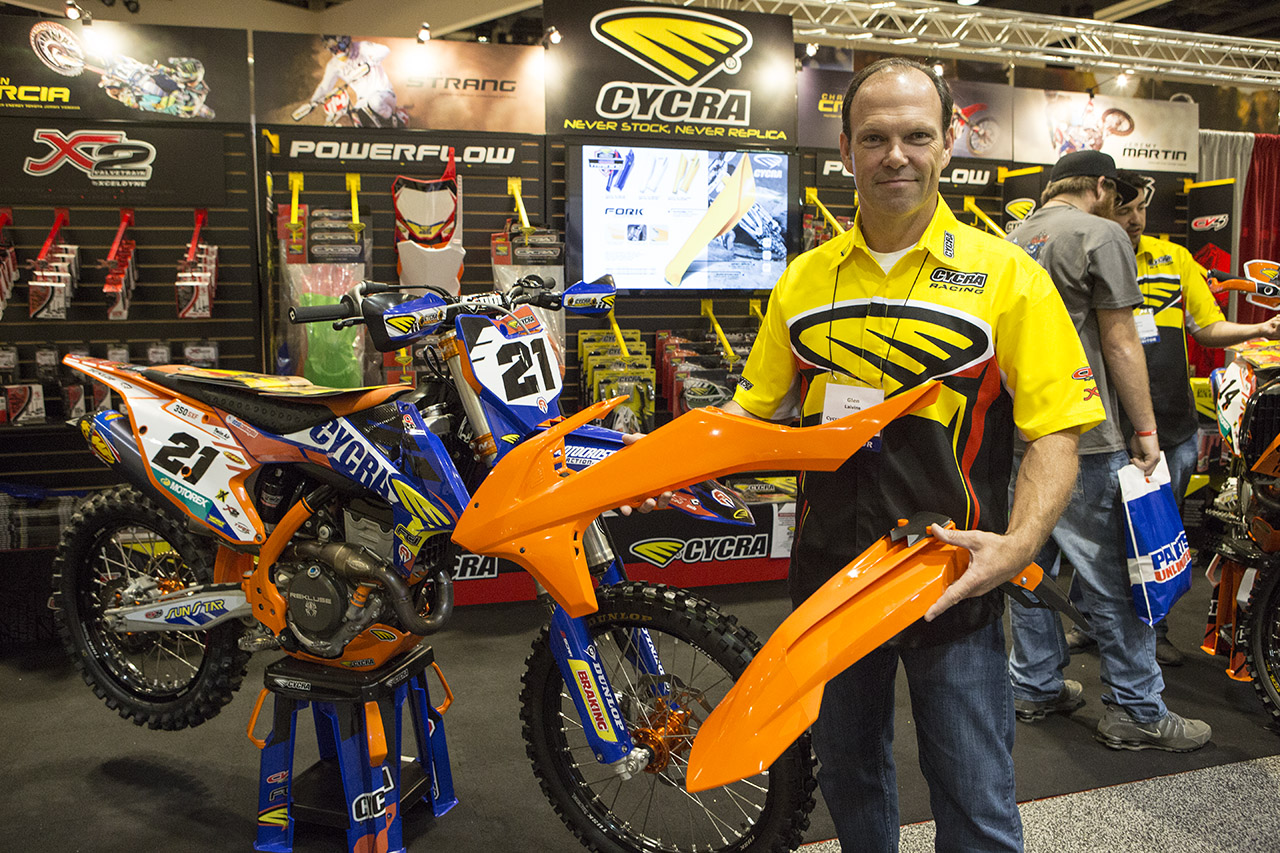 Cycra Racing's Glen Laivins proudly shows off the new Powerflow plastics for late-model KTMs. The #21 bike in the background was tested by MXA and is featured in the November 2016 issue.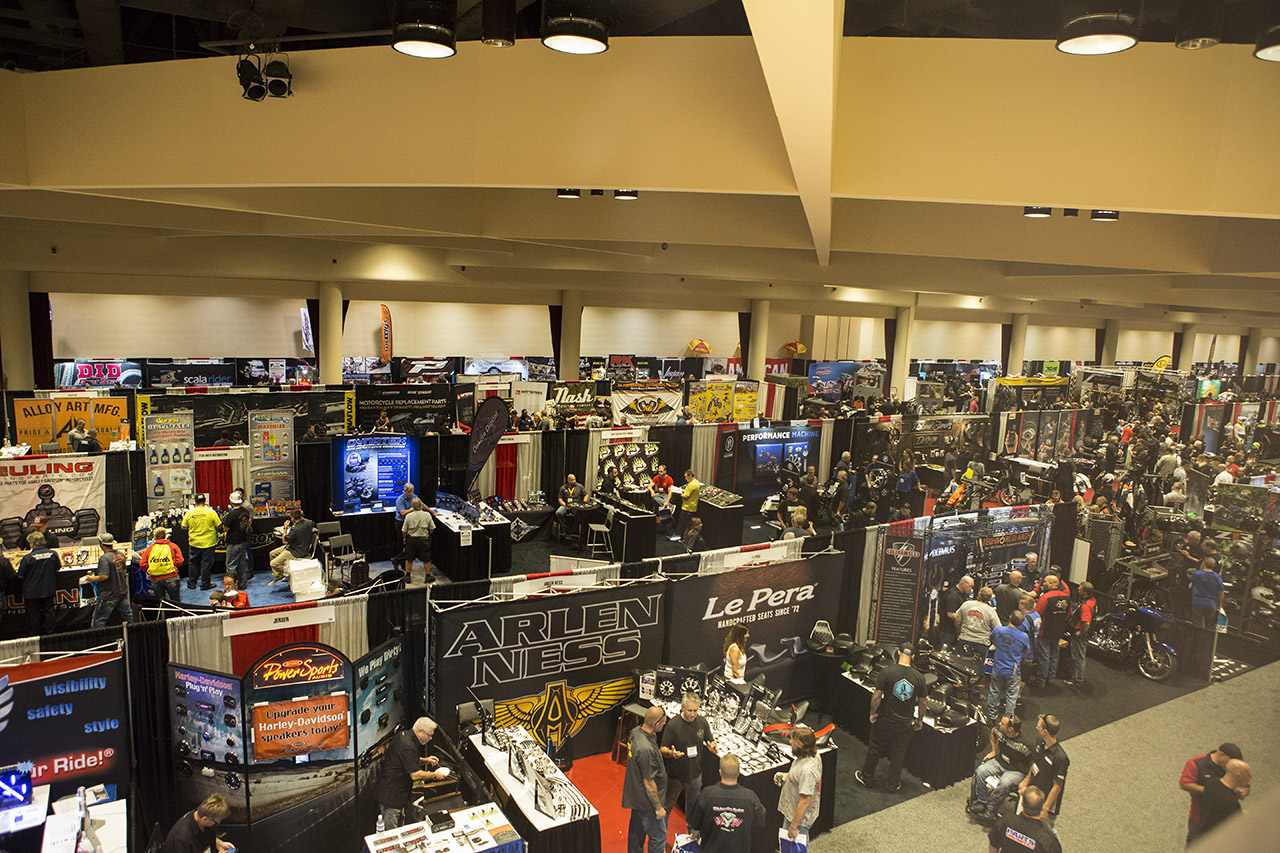 Look at all that product!
MARK YOUR CALENDAR WAY IN ADVANCE: 2017 AMA VINTAGE DAYS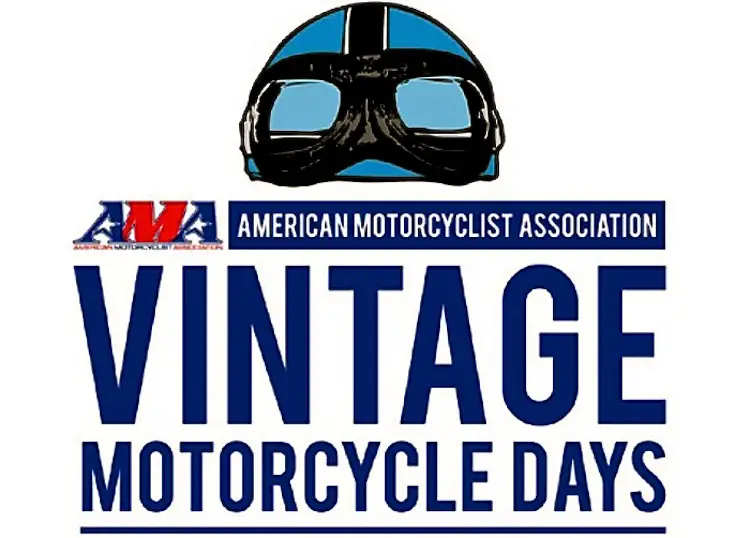 Press release: Vintage motorcycle racers, restorers, collectors and fans can mark their calendars for July 7-9, 2017, for the 2017 AMA Vintage Motorcycle Days at Mid-Ohio Sports Car Course in Lexington, Ohio. AMA Vintage Motorcycle Days, which features vintage motorcycle racing in numerous disciplines, bike shows, stunt shows, seminars, a swap meet with hundreds of vendors and much more, raises funds for the nonprofit AMA Motorcycle Hall of Fame.
"We're pleased to announce the dates for AMA Vintage Motorcycle Days 2017, so attendees can start making plans for this wonderful event," said AMA President Rob Dingman. "Today, AMA Vintage Motorcycle Days is recognized as one of the country's premier motorcycling festivals, and it's important to remember that it celebrates the illustrious history that has shaped motorcycling in this country. We welcome all motorcyclists to join us July 7-9, 2017, as we highlight some memorable moments of that history at another AMA Vintage Motorcycle Days."
QUOTE OF THE WEEK: JOHN DOWD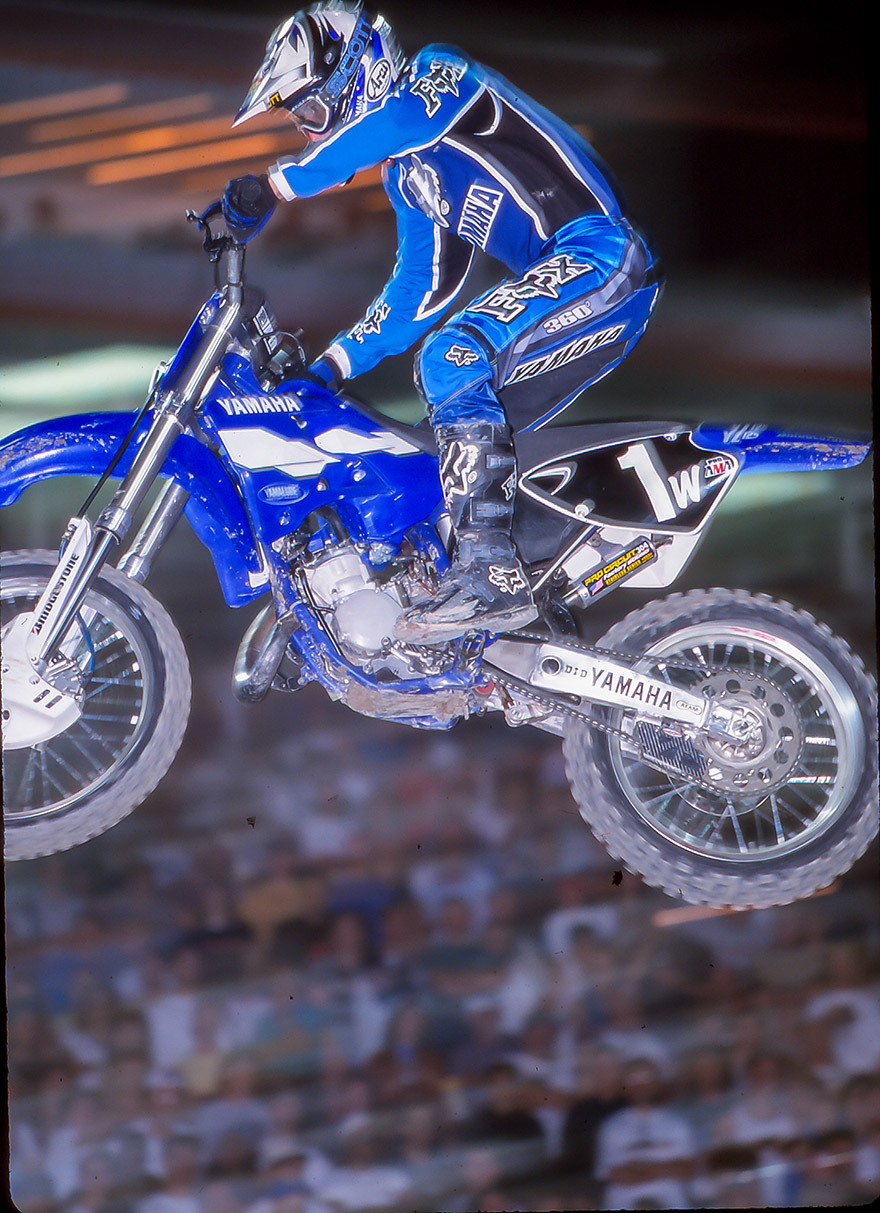 "It was terrible wearing gear for that long! The worst part was that I didn't have any pockets. I couldn't do anything with my passport, wallet, or my change. It was horrible, and also not very comfortable. There's not very much space in an airplane for your feet, and I wear size 12 boots. It was funny, though. Security didn't say much when we walked up in our gear. It was comical, actually. I said something along the lines of, "Don't ask, just know that we lost a bet." That was before security was really uptight like they are these days. I wouldn't advise anyone to wear their set of gear on an airplane."
Click here to read an interview with the 51-year-old "Junkyard Dog."
ALDON BAKER & MINDFX
FASTEST OF THE FAST: THE NUMBERS
MXA has kept a running tally of the fastest qualifiers and holeshot winners since the AMA National series began at Hangtown back in May. Now that the series has wrapped, who were the standouts in those two areas? See below.
FASTEST QUALIFIERS: 450 CLASS
Eli Tomac earned the distinction of having the most top qualifying times.
Eli Tomac started off the series on a three-round hot streak, grabbing the fastest qualifying spot in the early going. Then the Rockstar Energy Husqvarna duo of Jason Anderson and Christophe Pourcel took over. Anderson was quickest at High Point, and Pourcel was top qualifier at Muddy Creek and Red Bud. Justin Barcia snuck a wheel in at Southwick. Ken Roczen, much to our surprise, didn't earn the fastest qualifying spot until round eight in Millville. He would finish of the series with two of the final four top spots. In total, the fastest qualifier was split between five riders. Jason Anderson was the only rider in that group to not get on top of the board more than once. Eli Tomac earned the distinction of having the most top qualifying times, at four.
FASTEST QUALIFIERS: 250 CLASS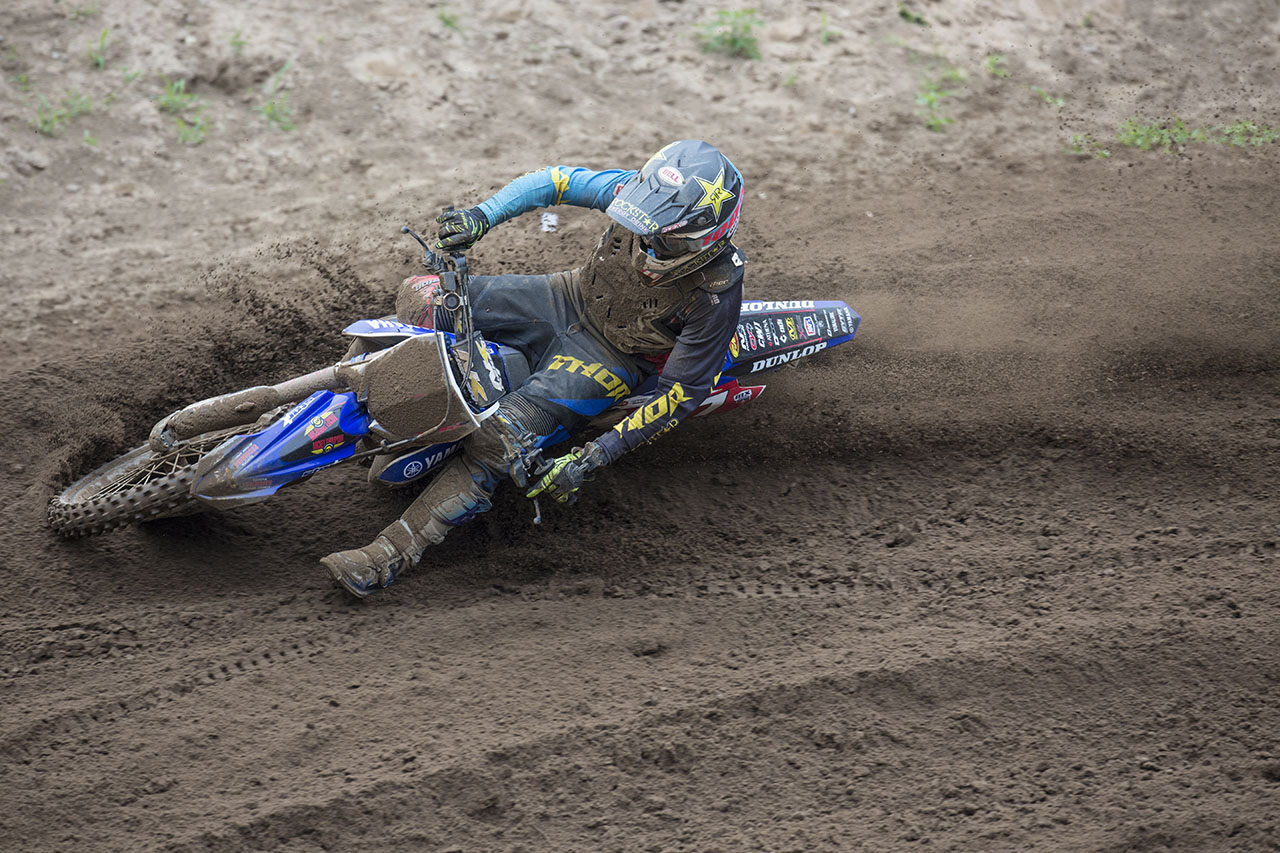 Cooper Webb used fast qualifying times to get top gate picks and put himself in a good position.
Cooper Webb, like Tomac in the 450 class, had the most 250 fast qualifying times in the 250 class with four. There was more diversity in 250 qualifying, as a total of seven riders secured the fastest qualifying time. Jeremy Martin, Zach Osborne, Austin Forkner and Alex Martin were each fastest in one National. Joey Savatgy and Adam Cianciarulo were multi-time top qualifiers, but neither could match Cooper Webb.
HOLESHOT AWARDS: 450 CLASS
Who ended up with the holeshot in the first 450 moto at Washougal? It looks like Andrew Short (29) and Ken Roczen (94) are in great position, but it was actually Phil Nicoletti (34) who tripped the chalk line first. 
Jeff Emig will wax poetic about how important it is to get a good start. Ken Roczen listened, because the RCH Suzuki rider scored six holeshots (25%). How about Justin Bogle? The Geico Honda rider went four motos in a row, but then he got hurt. As for brand breakdown, Honda and Suzuki each had eight holeshots; Ryan Dungey, Marvin Musquin and Andrew Short put KTM to the front on four occasions; the JGRMX duo of Justin Barcia and Phil Nicoletti earned Yamaha three holeshots; Eli Tomac and Kawasaki nailed one holeshot; and, in a bit of a surprise, Husqvarna didn't get a single holeshot. That's partly due to Jason Anderson and Christophe Pourcel being sidelined with injuries.
HOLESHOT AWARDS: 250 CLASS
Aside from Kyle Cunningham (45), every 250 rider in this photo nailed at least one holeshot in the Nationals. 
The 250 holeshot statistics are most interesting. Did you know that Adam Cianciarulo nailed six holeshots (25%)? Or that Star Racing Yamaha riders went six in a row (Southwick, Millville and Washougal)? Pro Circuit Kawasaki finished the series with six holeshots in a row (Unadilla, Budds Creek and Ironman). In total, Kawasaki had the most holeshots (11), followed by Yamaha (9), KTM (3) and Honda (1). Husqvarna and Suzuki riders didn't get a single holeshot.
FASTEST OF THE FAST: AMA NATIONALS
An ongoing list of the top qualifiers and holeshot winners from each round of the 2016 Lucas Oil AMA 250/450 Nationals.
Photos by Scott Mallonee
FASTEST QUALIFIERS: 450 CLASS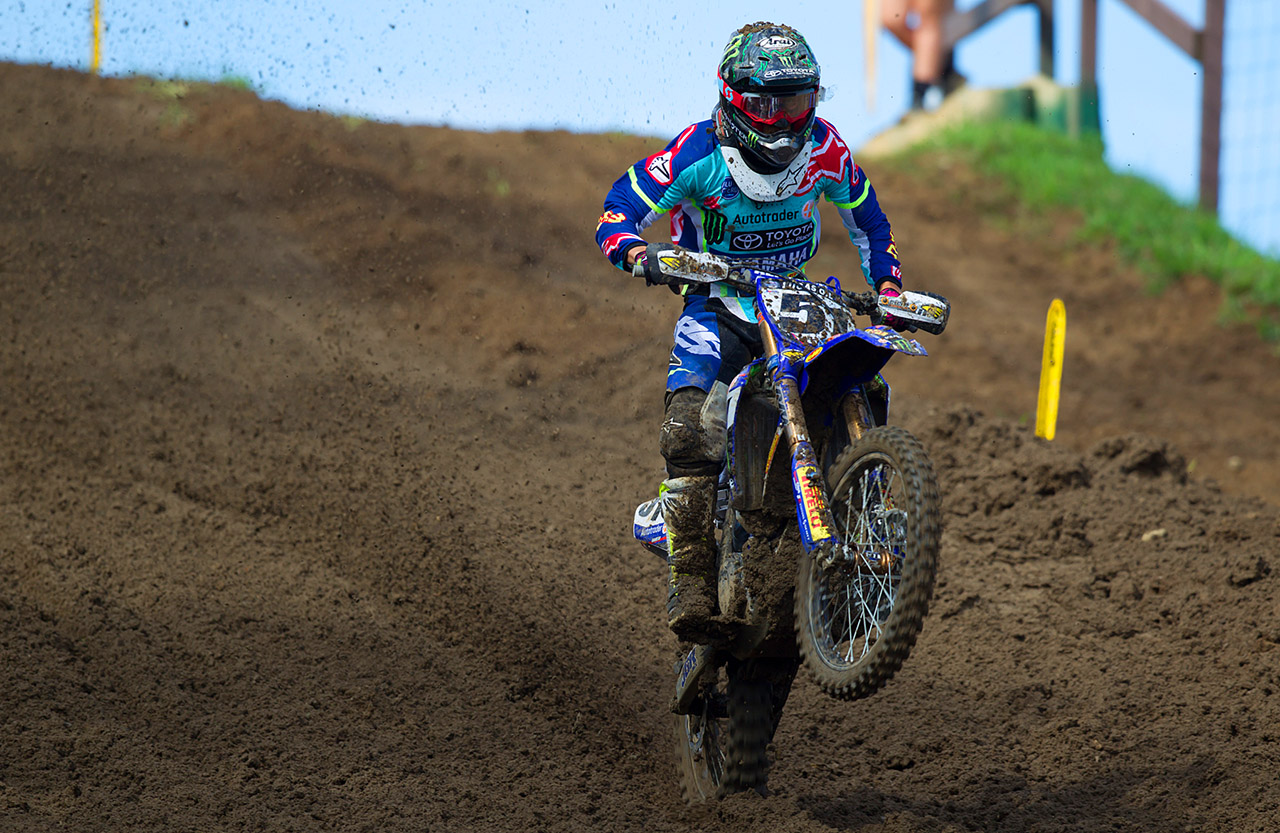 Hangtown…Eli Tomac
Glen Helen…Eli Tomac
Lakewood…Eli Tomac
High Point…Jason Anderson
Muddy Creek…Christophe Pourcel
Red Bud…Christophe Pourcel
Southwick…Justin Barcia
Millville…Ken Roczen
Washougal…Eli Tomac
Unadilla…Ken Roczen
Budds Creek…Ken Roczen
Ironman…Justin Barcia
FASTEST QUALIFIERS: 250 CLASS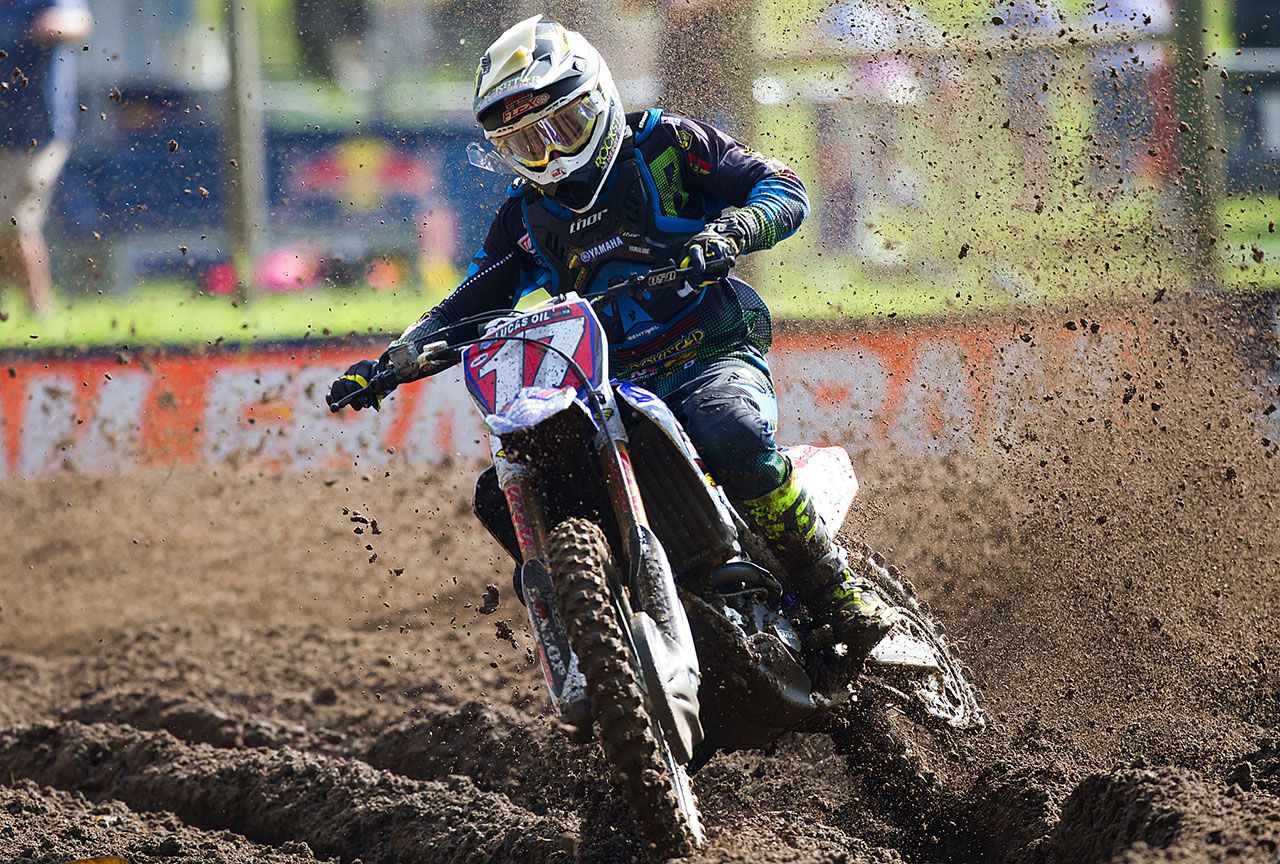 Hangtown…Joey Savatgy
Glen Helen…Cooper Webb
Lakewood…Jeremy Martin
High Point…Zach Osborne
Muddy Creek…Adam Cianciarulo
Red Bud…Adam Cianciarulo
Southwick…Austin Forkner
Millville…Joey Savatgy
Washougal…Cooper Webb
Unadilla…Alex Martin
Budds Creek…Cooper Webb
Ironman…Cooper Webb
HOLESHOT AWARDS: 450 CLASS
Hangtown…Cole Seely / Ryan Dungey
Glen Helen…Trey Canard / Ken Roczen
Lakewood…Ken Roczen / Trey Canard
High Point…Ken Roczen / Justin Barcia
Muddy Creek…Cole Seely / Broc Tickle
Red Bud…Justin Bogle / Justin Bogle
Southwick…Justin Bogle / Justin Bogle
Millville…Justin Barcia / Marvin Musquin
Washougal…Phil Nicoletti / Marvin Musquin
Unadilla…Eli Tomac / Ken Roczen
Budds Creek…Ken Roczen / Matt Bisceglia
Ironman…Ken Roczen / Andrew Short
HOLESHOT AWARDS: 250 CLASS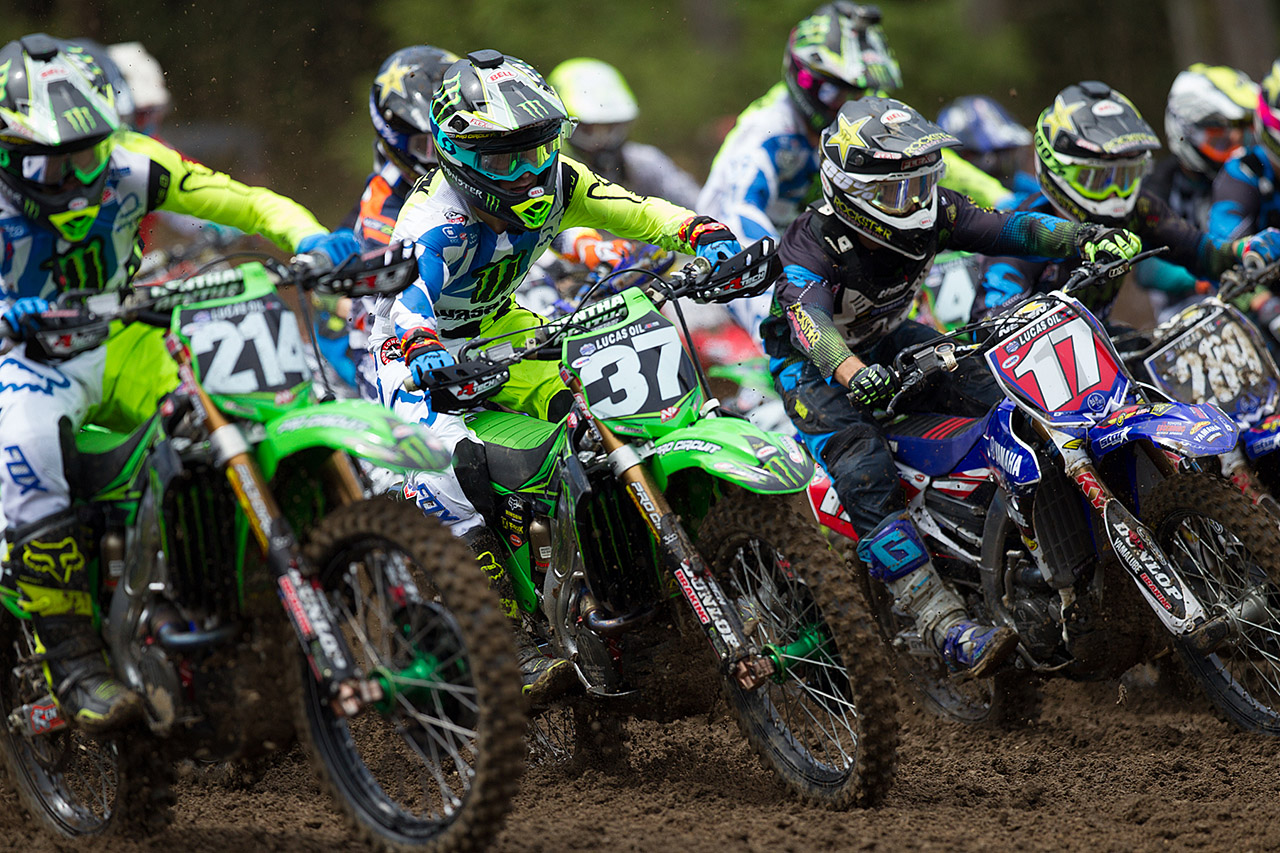 Hangtown…Joey Savatgy / Jessy Nelson
Glen Helen…Tristan Charboneau / Jeremy Martin
Lakewood…Cooper Webb / Adam Cianciarulo
High Point…Jeremy Martin / Adam Cianciarulo
Muddy Creek…Adam Cianciarulo / Shane McElrath
Red Bud…Austin Forkner / Shane McElrath
Southwick…Jeremy Martin / Cooper Webb
Millville…Alex Martin / Alex Martin
Washougal…Alex Martin / Cooper Webb
Unadilla…Adam Cianciarulo / Austin Forkner
Budds Creek…Adam Cianciarulo / Adam Cianciarulo
Ironman…Austin Forkner / Austin Forkner