PRO TAPER PRESENTS MXA'S MID-WEEK REPORT #37 BY JOHN BASHER
#WHIPITWEDNESDAY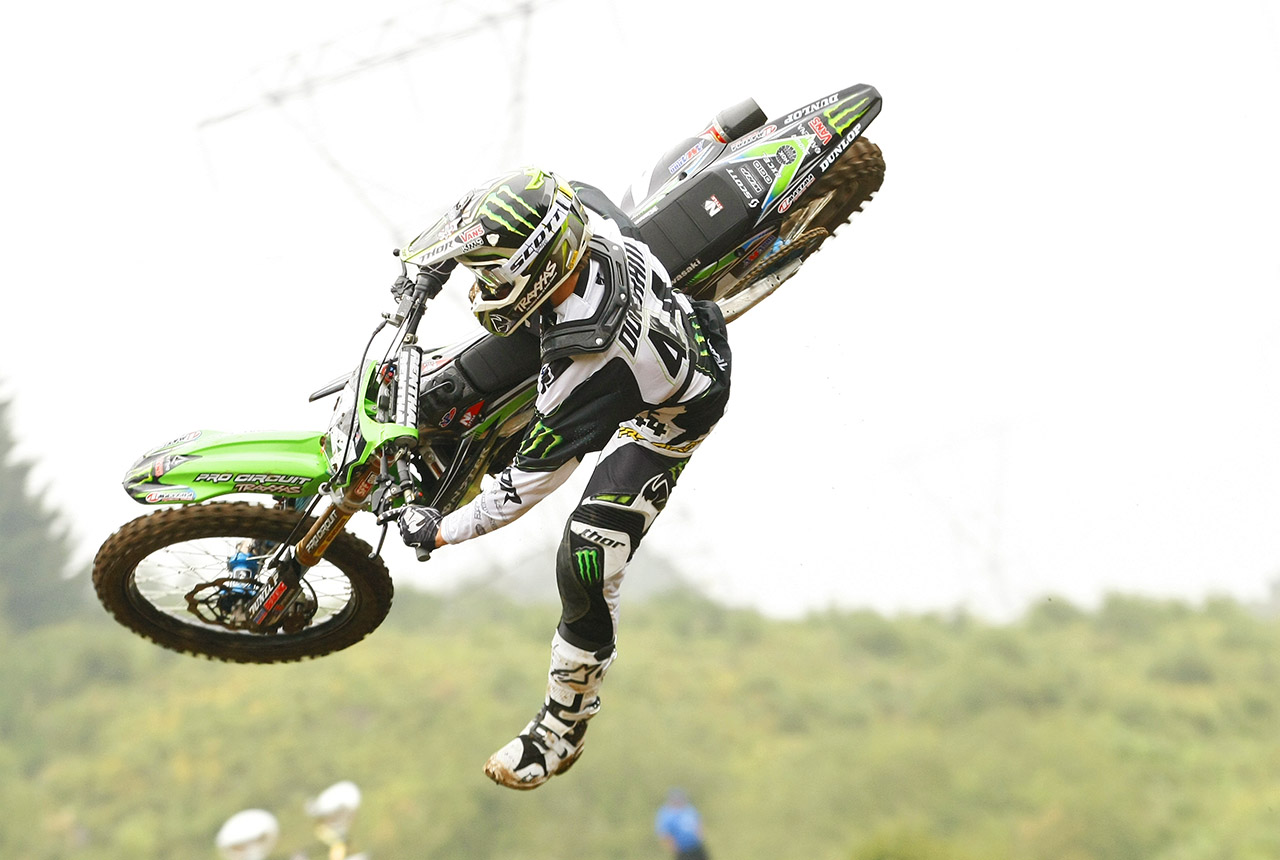 Rider: Darryn Durham
Location: Washougal
Date: July 20, 2013
Photographer: John Basher
Camera: Canon
Lens: 70-200mm f/2.8 IS II
Focal length: 145mm
Exposure: 1/1000 sec.
F-stop: 4.0
ISO: 640
QUOTE OF THE WEEK: YUSUKE INOUE
Photo: Honda Pro Racing/Bavo
"I designed the titanium tank. It was actually my project. The big challenge was finding titanium priced cheaper than plastic. In Honda, everyone says that titanium is too expensive. They told me that I couldn't do it, because it was too expensive. I could do it for the factory bikes, but not the production model. I changed the design of the titanium tank. It's a two-piece tank, with an upper half and lower half. Then it is welded together. That design didn't make it too expensive, so we could use a titanium tank for the production model. The titanium tank is very nice."
Click here to read the interview with the 2017 Honda CRF450 project leader.
TWO-STROKE SPOTLIGHT: ANTHONY CUCCA'S HONDA CR250
It's great to see that a lot of two-stroke advocates have taken the liberty of building their own renditions of what a dream smoker should be. Some have built Frankenstein's monster by melding different brands together, or combining old and new. I've always fancied myself a simple bike builder, mainly because I don't have a machine shop or the courage to hacksaw a frame in half. However, there are those of you out there who dream up ideas and go after them. Bravo to you for taking the road less traveled.
Anthony Cucca didn't exactly reinvent the wheel with his project build, but instead took what he liked and put frame and engine together. It's no secret that some model years are better than others. Cucca liked the 2001 Honda CR250 engine, but preferred the 2003 CR chassis. With the help of an ex-factory mechanic, Anthony made his dream become reality. Way to go! Learn all about Cucca's idea in the words below.
"I'm a former racer from the NESC area. Due to a couple of serious injuries I am now a professional practice rider. Although I never raced this bike it was a dream of mine to build. It is a 2003 Honda CR250 chassis with a 2001 CR250 engine. I absolutely love the way this bike handles and the way the motor pulls.
"I had a former factory mechanic that you might have heard of help me, he worked for John Dowd. His name is Ron Bushey. Ron reworked the motor. He decked the cylinder and reshaped the head and we put in a Moto Tassinari V-Force3 reed cage matched with an Airstryker carb. I also had a local Pro, Billy Ainsworth, re-valve the suspension. It is by far the best two-stroke I have ever ridden."
If you would like your bike to be featured in the "Two-Stroke Spotlight," please email me at [email protected] All I ask is that you give a breakdown of your bike and a detailed description of the thing. Please also send a few photos of your steed. By submitting your bike for the "Two-Stroke Spotlight," you agree to release all ownership rights to the images and copy to MXA. Please don't email me spam or try selling me beachfront property in Arizona. Happy submitting your smoker!
INDUSTRY NEWS: RICKY JOHNSON JOINS BPRMX FOR 2017
Press release: BPRMX is proud to announce that the AMA Motorcycle Hall of Fame inductee, and seven-time Supercross and National Champion Rick Johnson has joined our team for the 2017 season. "We couldn't be more excited to have Rick on board for the season," said Steve Oslund, owner of the BPRMX team. "With his vast knowledge of the sport and understanding of what it takes to the next level this year is going to be a home run."

Rick Johnson said, "Motocross and Supercross are the first loves of my life. I'm so excited to be a part of BPR. They have all the right tools to take a young rider to the top. I can't wait for 2017."

BPRMX is going into our third full year as a team. "2016 was a great year and we are looking to build on our successes from last year," said Scot Steffy, team manager. "With Rick's help and his perspective on the sport we can't see a reason that 2017 won't be a big success." BPRMX is a Yamaha Motors supported West Coast Supercross and outdoor National team based out of the Pacific Northwest with our race shop in Temecula, CA. In our second year we finished a respectable 14th overall in the Supercross series, on a limited supported effort we had sold finishes in the first few rounds of the AMA outdoor Nationals as well. For 2017 our goals are to move into a top five team where we can start to contend for a championship over the next three years. 

MXA RACES KEN ROCZEN'S RCH SUZUKI RM-Z450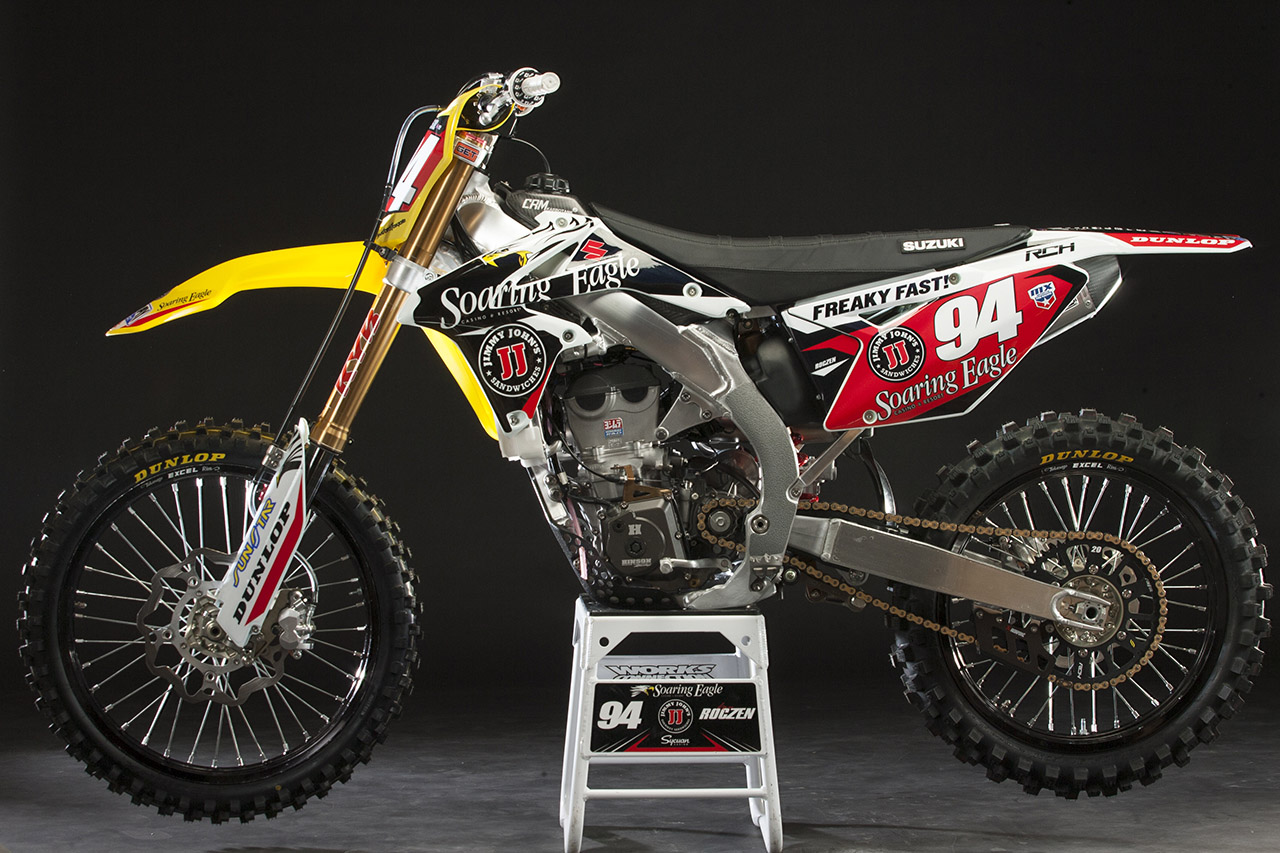 At the risk of sounding pretentious, the MXA wrecking crew has probably ridden over 100 factory bikes through the years. It's our job to test equipment of all kinds–works, production and even one-off. However, riding a factory bike isn't all that it's cracked up to be. Given the choice between Ricky Carmichael's factory 2002 Honda CR250 or the production version, I'd run to the stock bike and never look back. Works parts are cool, but they don't necessarily make the average Joe (me) any faster.
This brings us to Ken Roczen's RCH Suzuki Racing RM-Z450. Suzuki's Tim Olson offered us the invitation to travel to Michigan and race test Roczen's 2016 AMA 450 National Championship-winning steed. All we had to do was hop on a plane bound for Detroit, make the few hour drive north to Mount Pleasant, and do our very best not to destroy Kenny's machine. Dennis Stapleton and Daryl Ecklund were the lucky recipients. Before they knew it, the motley crew of two were bellied up to the buffet at Soaring Eagle casino. With rain in the forecast, a few extra egg rolls would help with traction.
The third annual Edge of Summer event brought out a modest roster of star power. Phil Nicoletti, Jake Weimer, Darryn Durham, Kyle Cunningham, Jimmy Albertson, Kyle Chisholm, Nick Wey and Gavin Faith were some of the big names in the Pro class. All were looking for a quick pay day. To quote eventual winner Phil Nicoletti, "Not many places you can make this much money for 20 minutes of racing." How much money did @badnewsphil make in 10 laps? Nicoletti earned a cool $10,000. Ivan Tedesco bested Ricky Carmichael in the Vet Pro class for a $5000 pay day. Even the 250 Amateur All-Star class paid good money, with winner Joey Crown collecting $1000.
How did the orange-helmeted warriors, Dennis Stapleton and Daryl Ecklund, do? Let's just say that they didn't make it too far away from the casino buffet. Stapleton logged a few practice laps while Ecklund wielded the camera. Then the heavens opened up and biblical rains drenched the manmade course, which was located in a grass field within a short walking distance of Soaring Eagle casino (and that lovely buffet). However, the rainstorm was no match for Red Bud's Tim Ritchie and his crew, who had the track National-caliber prepped before the evening's main events kicked off. As for Stapleton, he buzzed around in the first Pro Vet moto, but called it quits before the night show. Dennis wasn't keen on the idea of submarining Roczen's race bike into a mud hole. That was probably a win-win. RCH Suzuki walked away with their bike intact, while Stapleton was able to hit the buffet line once more before closing.
Special thanks to Suzuki, RCH Racing, and Kyle Bentley for their hospitality. The Edge of Summer event was a surefire hit among fans and can be quite lucrative for top motocross racers (both Amateur and Pro). Oh, and what did Stapleton think about Kenny's race bike? For those impressions you'll need to wait until a future issue of MXA.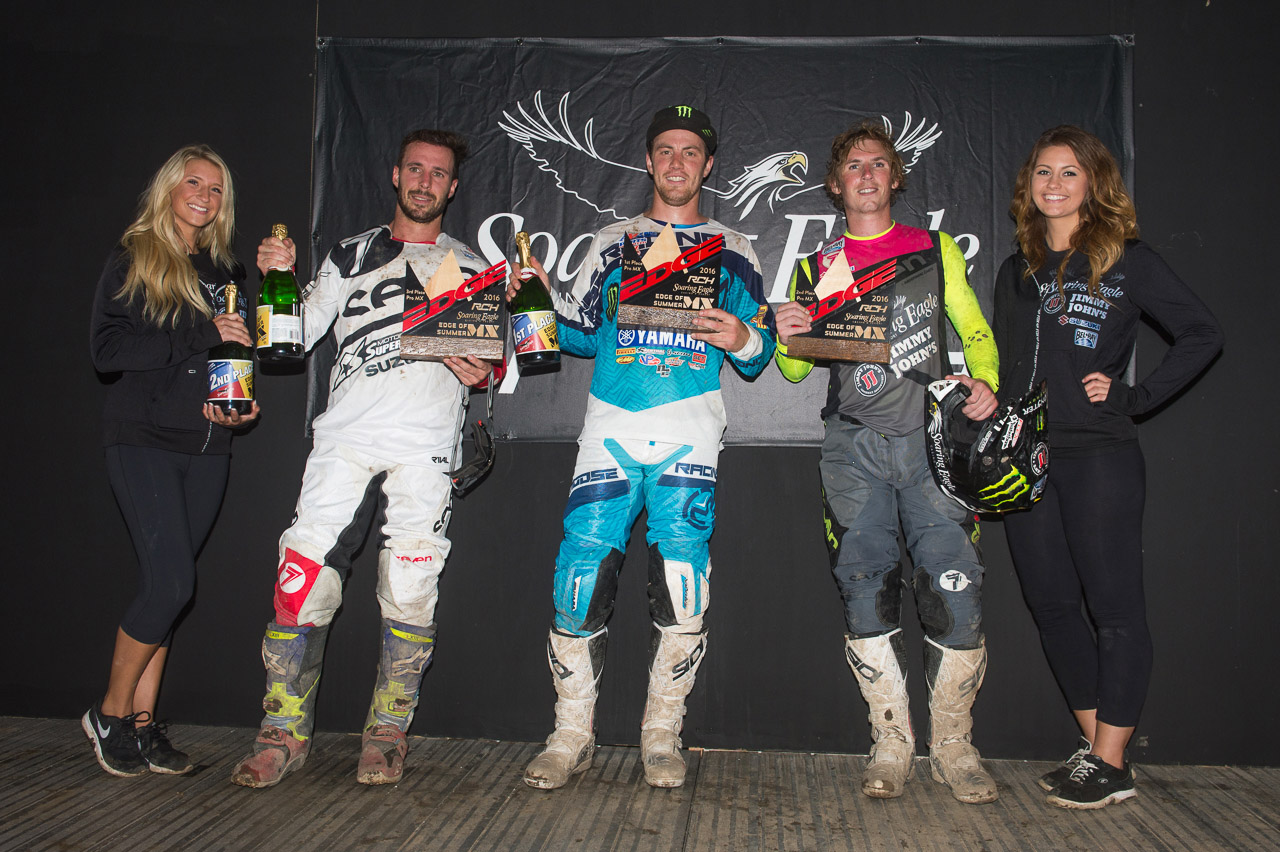 Phil Nicoletti (center) took top honors over Jake Weimer (right) and Kyle Cunningham (left). Photo: Lissa Marsolek
RESULTS: EDGE OF SUMMER PRO CLASS
1. Phil Nicoletti
2. Jake Weimer
3. Kyle Cunningham
4. Darryn Durham
5. Kyle Chisholm
6. Jimmy Albertson
7. Daniel Herrlein
8. Gared Steinke
9. Nick Wey
10. Josh Osby
EDGE OF SUMMER PHOTO GALLERY
Lissa Marsolek was kind enough to send over nearly 100 great photos from the Edge of Summer race. Take a look at the event through Lissa's eyes.
The track was located just beyond the Soaring Eagle casino.
The Pro class section featured a huge double.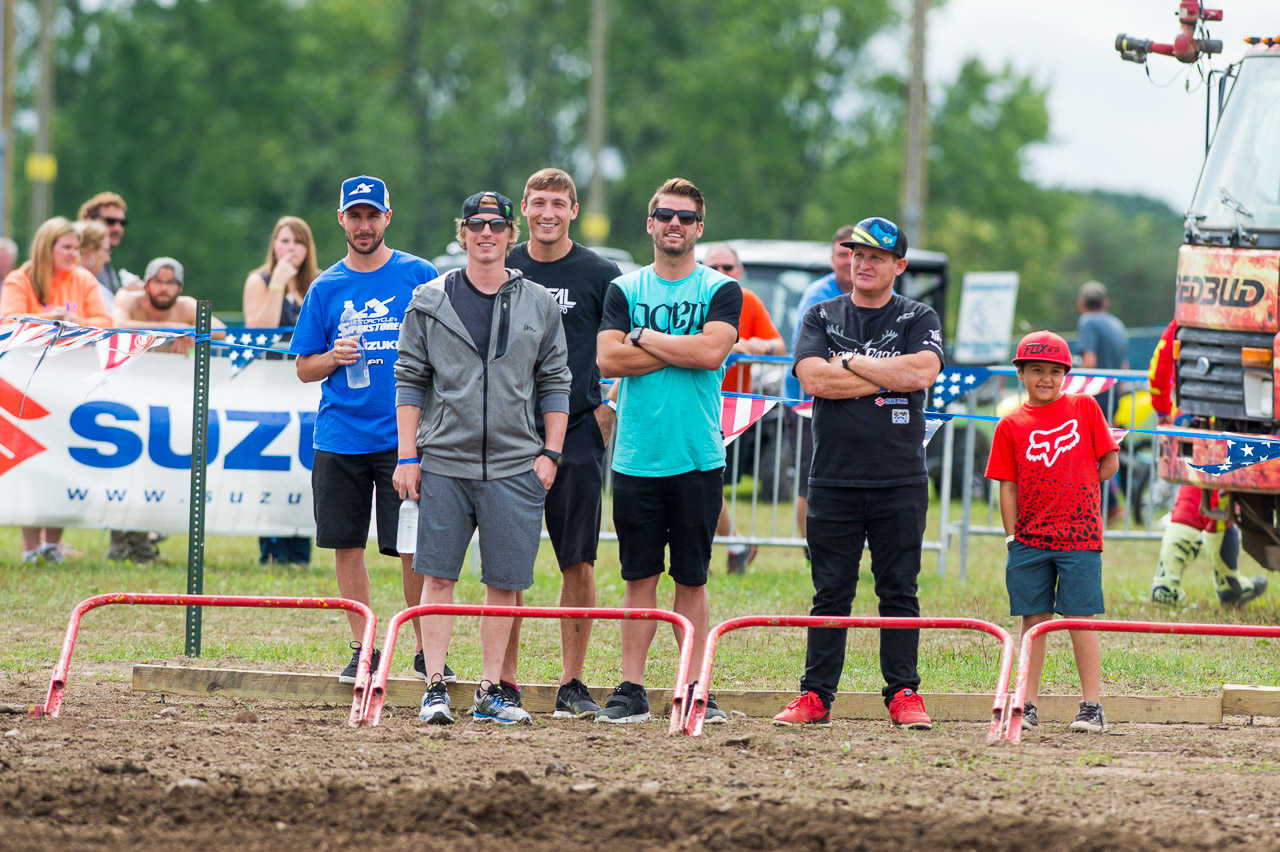 What a dream come true for the little guy in the red Fox shirt to talk race strategy with Ricky Carmichael, Broc Tickle, Jake Weimer, Kyle Chisholm and Kyle Cunningham.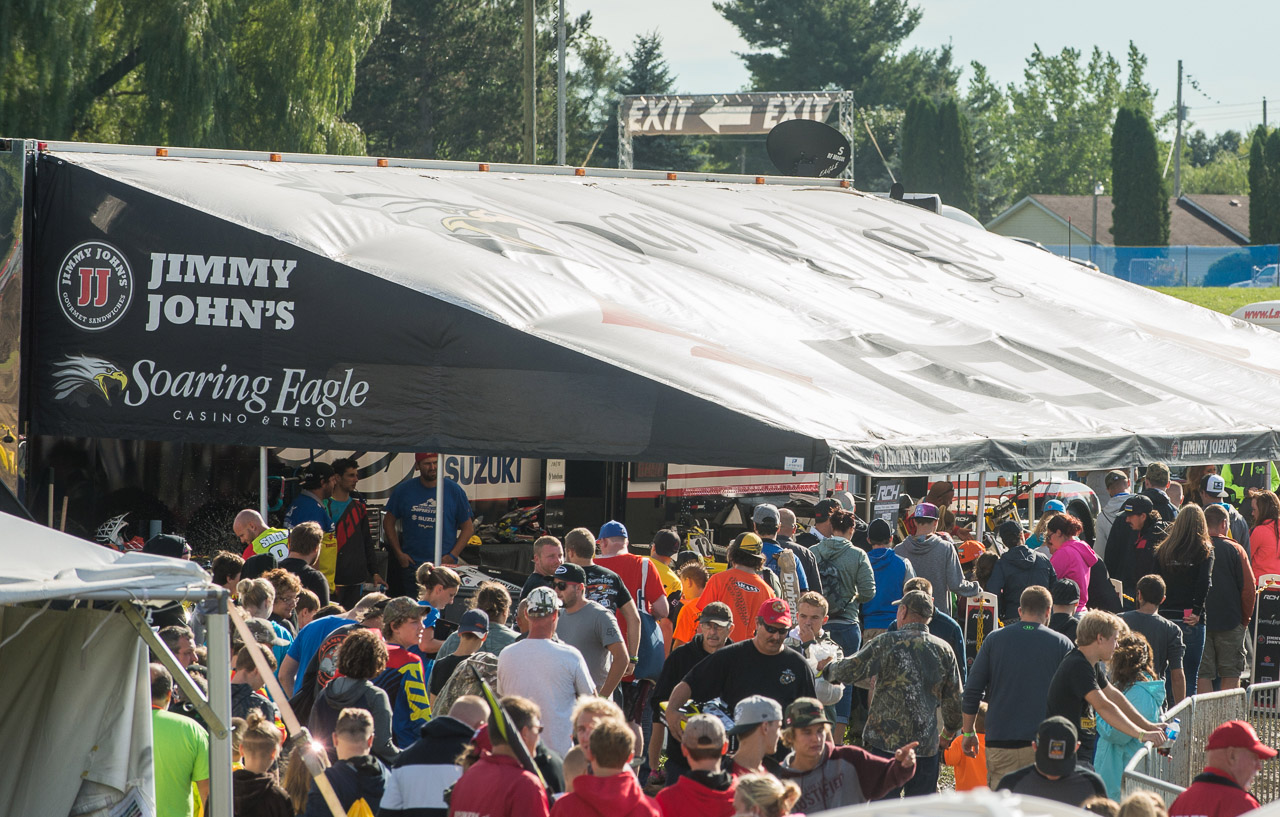 The annual Edge of Summer event is becoming a big hit. MXA would be more than happy to go back next year.
Dennis Stapleton test rode Ken Roczen's red-plated 2016 AMA 450 National Championship bike. There will be a full report on the bike in the December issue.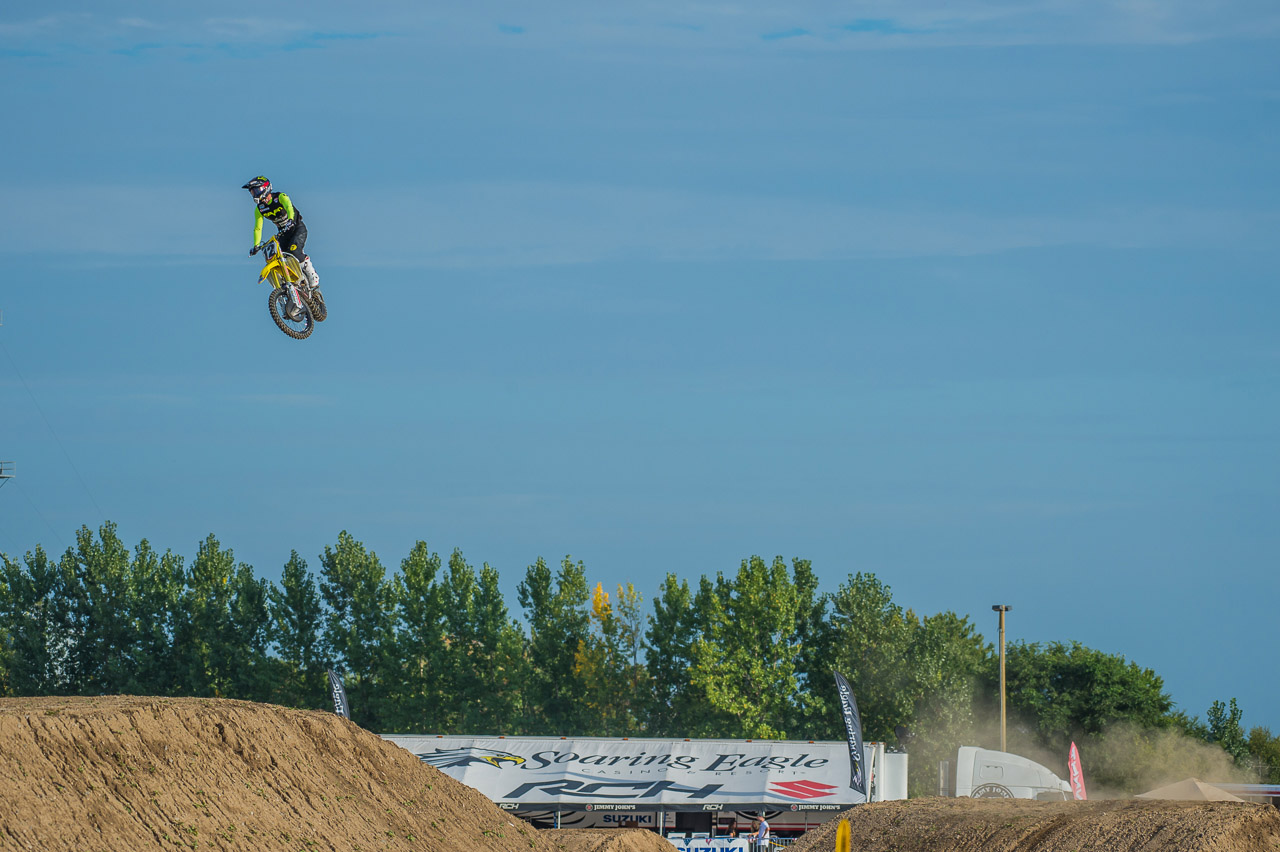 Jake Weimer was going big over the infield double. There's no report yet on whether Weimer will be with RCH Suzuki in 2017.
Ivan Tedesco has been helping RCH Suzuki test parts and help with bike setup for the past few seasons. The riding has been paying off, because Tedesco bested Ricky Carmichael in the Vet Pro race. That's serious bragging rights!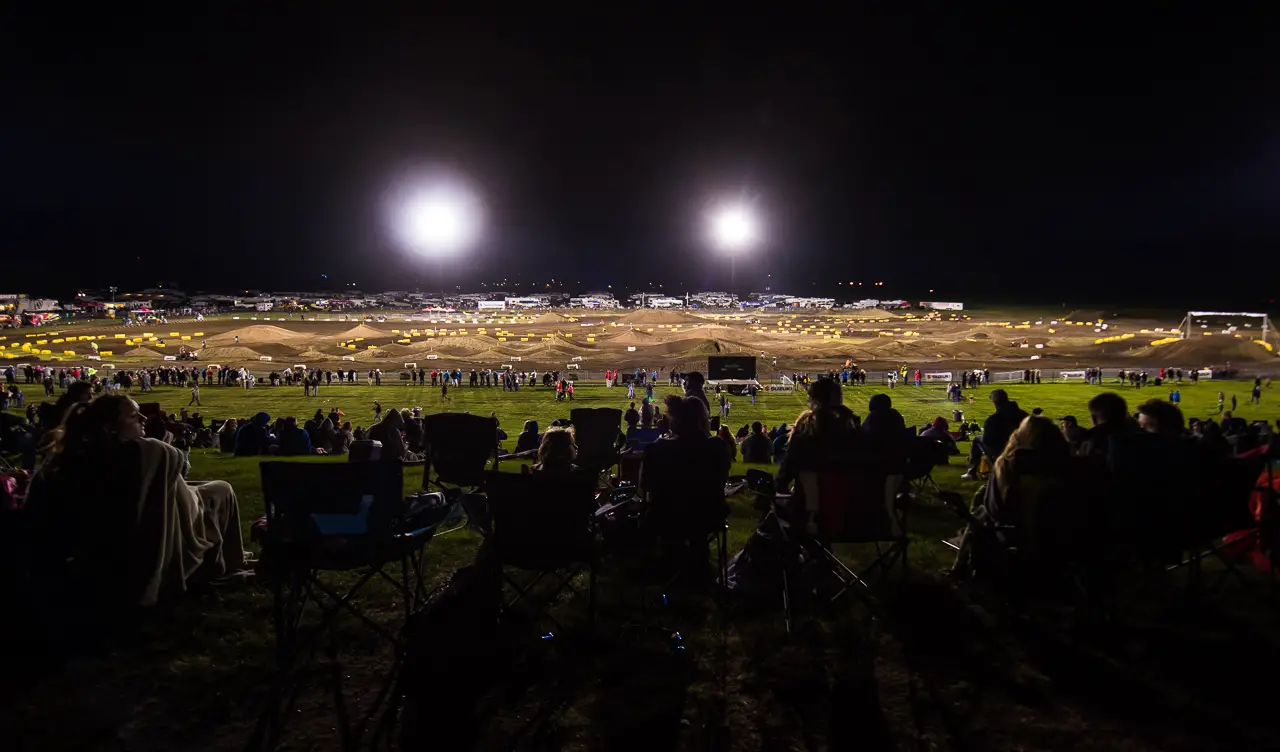 The second motos and Pro main event were under the lights.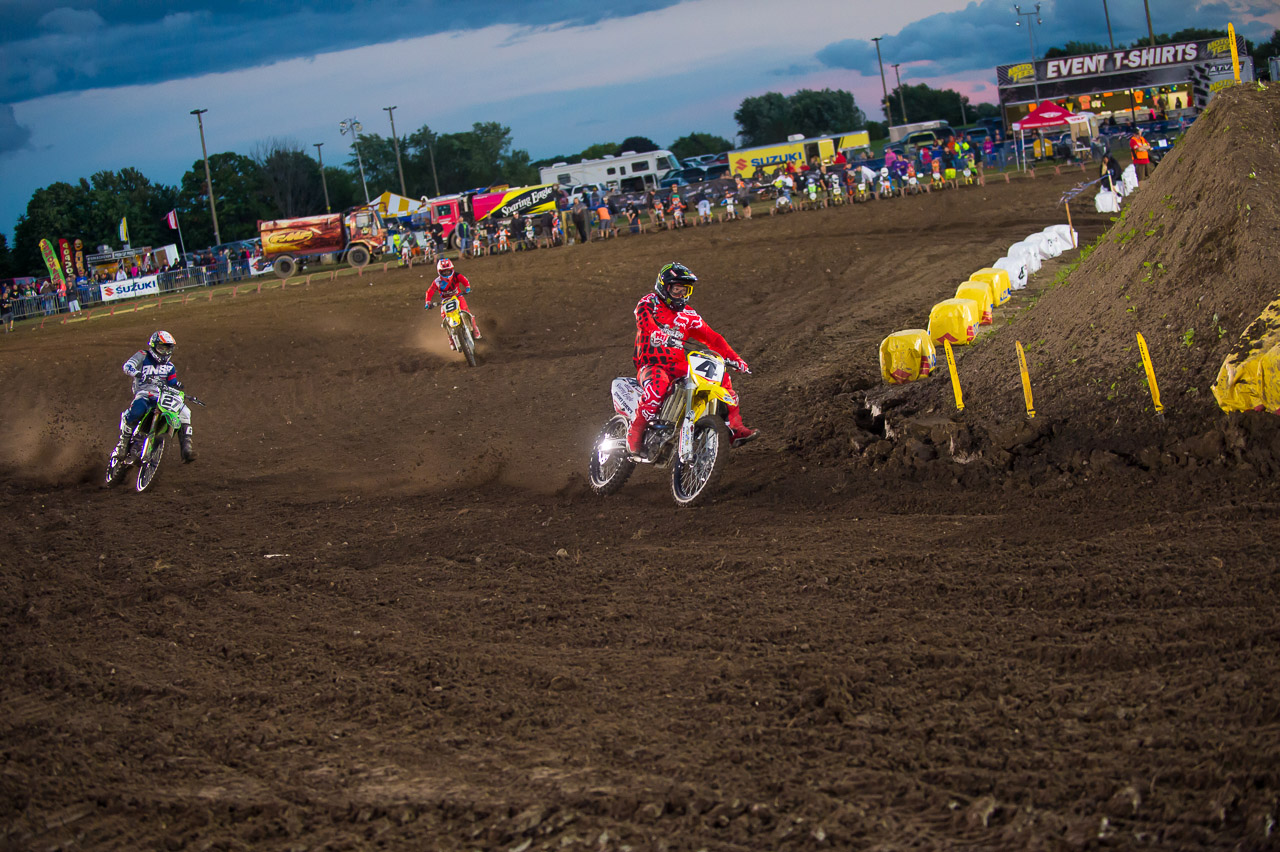 The Vet Pro class was a back and forth affair. In the end, Ivan Tedesco (9) used consistency to beat Nick Wey (27) and Ricky Carmichael (4).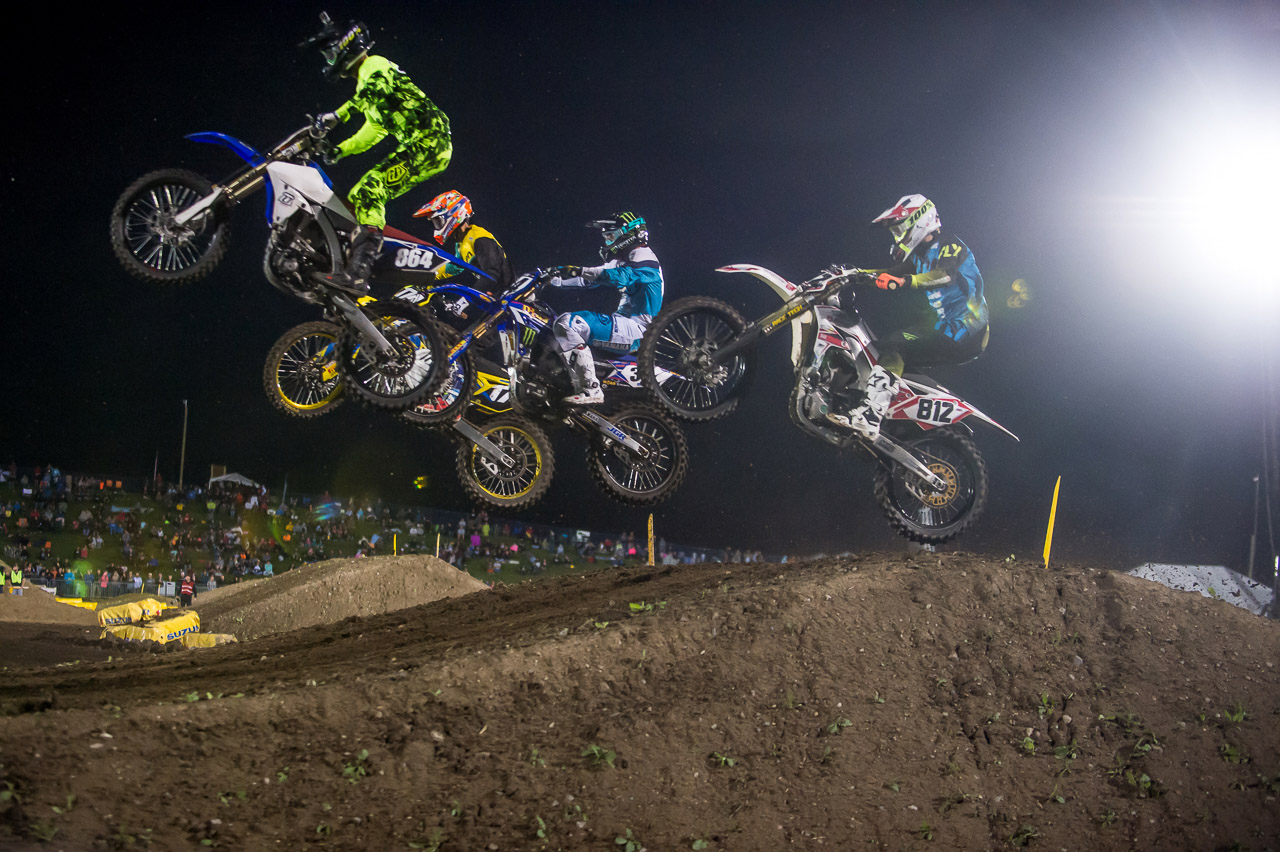 There was close racing at times as this photo suggests. The crowd ate it up.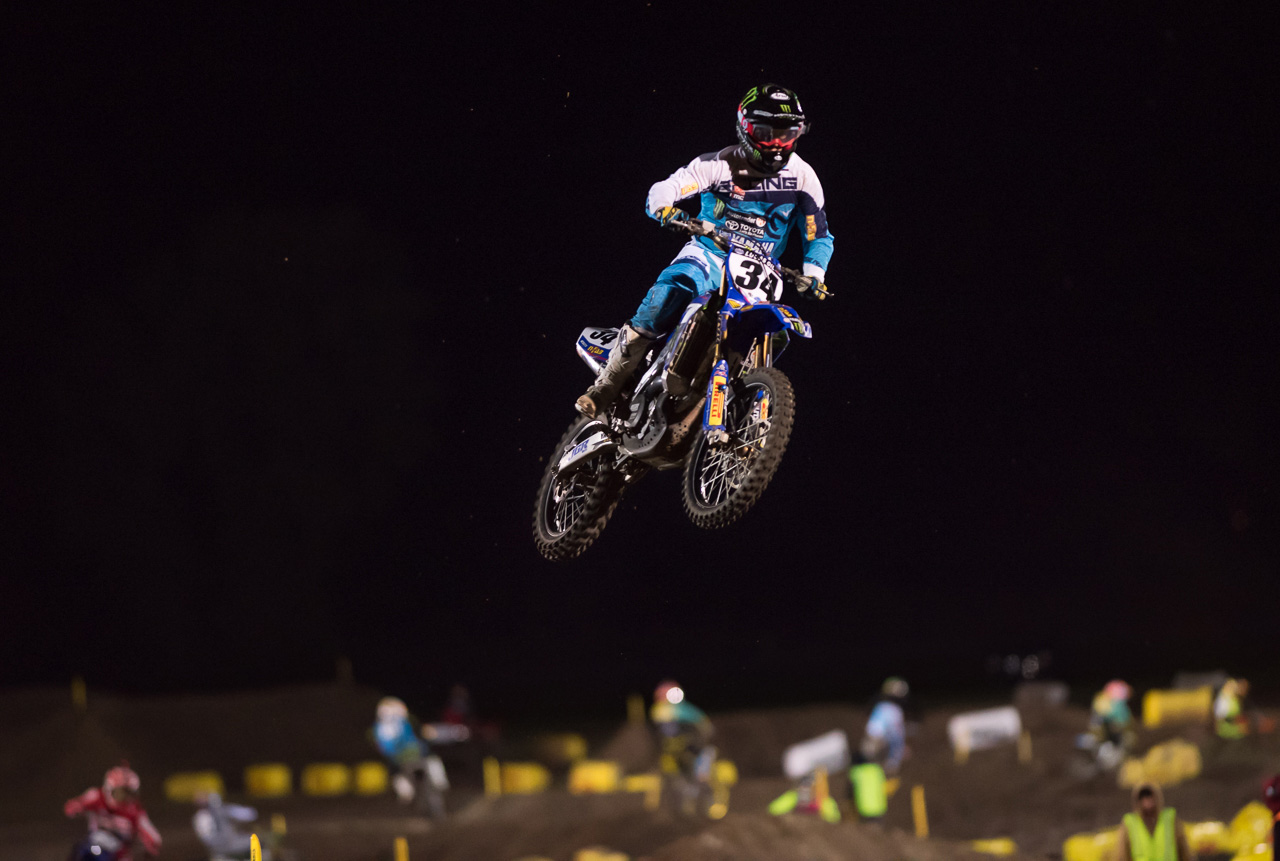 Phil Nicoletti was the big winner on Saturday night. 
INSTAGRAM POST OF THE WEEK: WAY TO GO, PHIL!
JGRMX team manager, Jeremy Albrecht, posted this hilarious photo to congratulate Phil Nicoletti on winning the Edge of Summer race this past weekend. The postage-sized flag shows the magnitude of Nicoletti's win compared to Justin Barcia's two National victories, and pokes a little (no pun intended) fun at #badnewsPhil. It's all in good fun.
PAT CARRIGAN'S VIEW OF THE GLEN HELEN USGP
Longtime MXA photo artist, Pat Carrigan, is responsible for processing all of the photos you see in every issue of MXA. Pat is a wizard at Photoshop, but he's also talented behind the camera. Carrigan attended the Glen Helen USGP and brought his trusty Nikon along. Below are some of his favorite shots from the MXGP finale.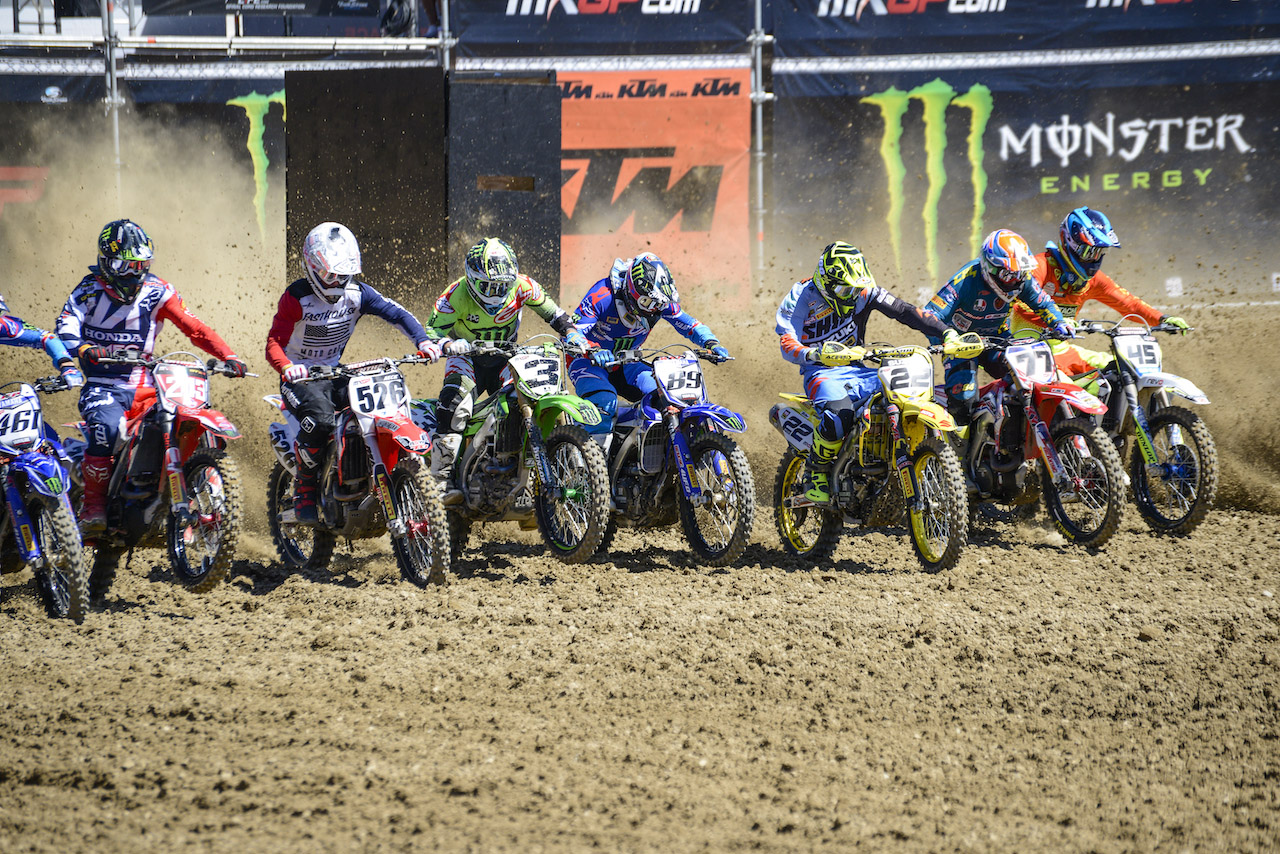 The 450 start with Eli Tomac (3) already a couple feet behind.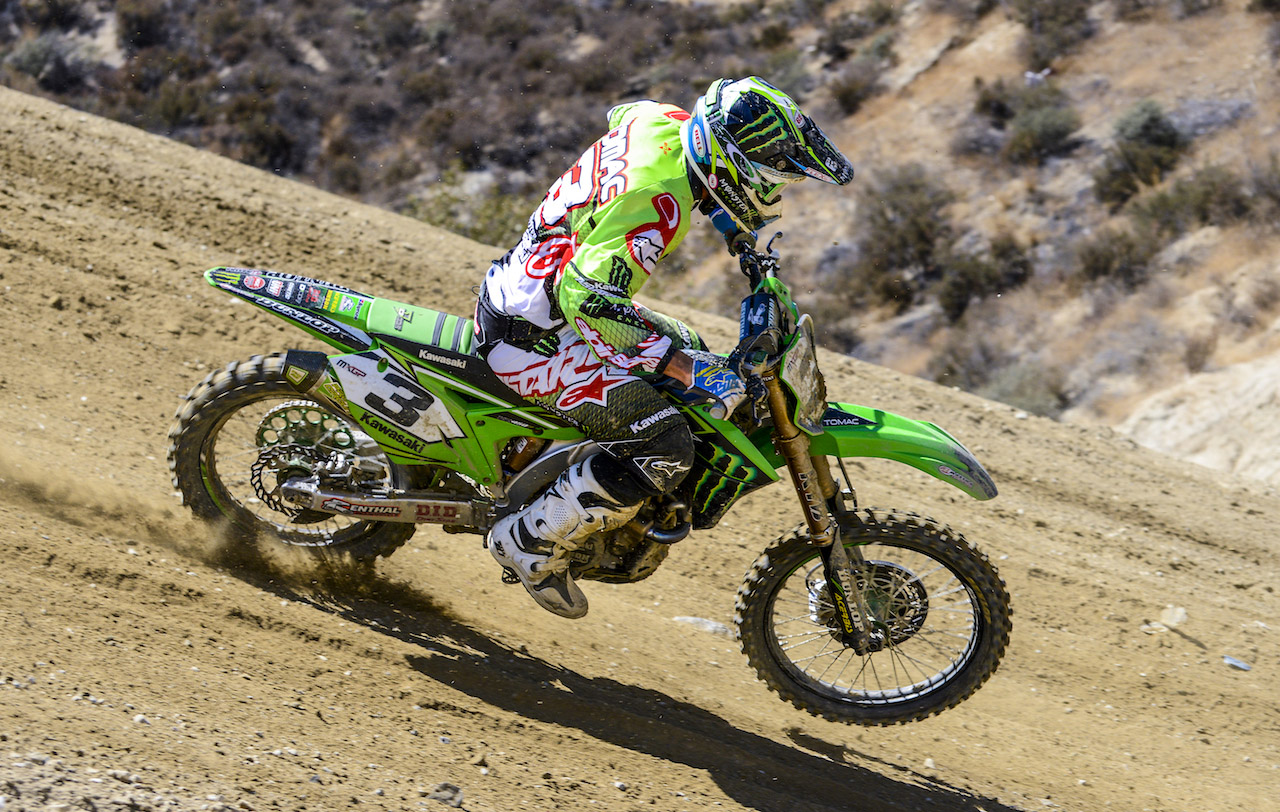 Eli's starts weren't great, but once he got up to speed he was totally dominant.
Justin Hoeft  (237) is just a SoCal kid with a couple local Pro races to his credit, but Troy Lee decided to give him a test by fire at the USGP in the 250 class. Justin held his own. Here, he races with Brian Bogers.

Glenn Coldenhoff (259) ran up front in the second 450 moto and Tony Cairoli got upset with his KTM teammate when he wouldn't pull over and let Tony by. It led to Tony gesturing towards the piut lane in frustration.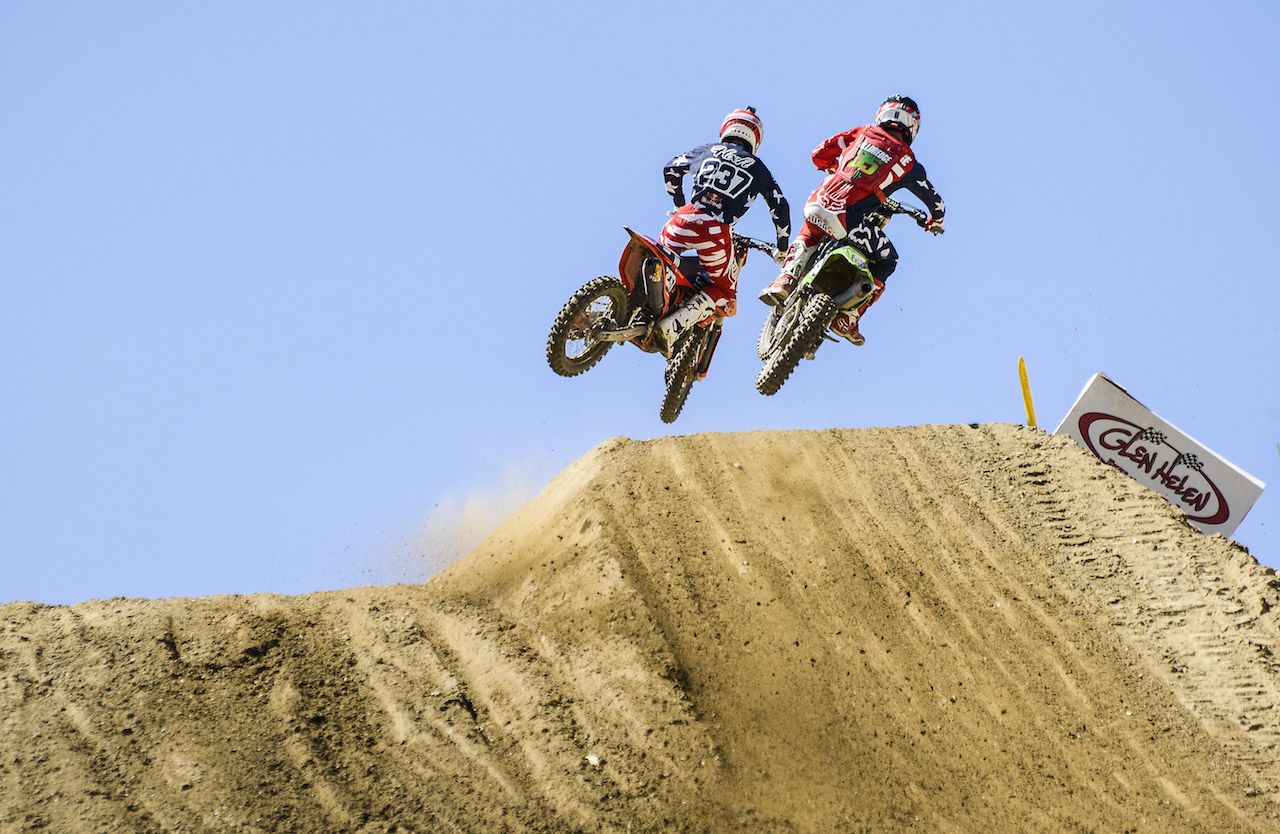 Justin Hoeft and Chris Alldredge vie for the best angle on Shoei Hill's half-and-half jump.

If the Grand Prix riders thought the hills at Glen Helen were big, they are nothing compared to the 8000-foot mountain across the valley—Jeremy Martin, on his new Geico Honda,  doesn't have time to enjoy the view towards lake Arrowhead.
MECHANIX WEAR NAMES MICHAEL HALE NEW CEO
Press release: Mechanix Wear Board of Directors have announced the appointment of Brand Manager, Michael Hale as the new Chief Executive Officer. Former CEO, James Hale, will assume the role of Founder and Chairman of the Board. The corporate restructuring at Mechanix Wear, Inc. also includes the appointment of former President, Bari Waalk, to Chief Operating Officer where he will focus on tactical operations within the organization. As Chairman of the Board, James Hale will continue to service the brand with his unique insight and inspiration which grew Mechanix Wear to what it is today. The decision comes after leading the global glove brand for 25 years since its inception in 1991. Today, Mechanix Wear looks to the future.
"I'm proud and energized to say it's the perfect time at Mechanix Wear to name Michael CEO," states former CEO James Hale. "For many years, Michael has been the driving force leading change and serious growth within Mechanix Wear. His strategic decision- making and intense focus on future growth of the brand has produced impressive results for Mechanix Wear. He possesses the unique ability to translate his vision and strategy into outstanding execution. During his 11 years of service, Michael has garnered immense respect with his ability to inspire and energize employees. Michael is a champion of the brand and a strong leader who will move the company forward at the pace needed to achieve powerful growth."
As Brand Manager, Michael Hale was responsible for Mechanix Wear's product design, development and manufacturing, including supply chain management and marketing initiatives. As Chief Executive Officer, Michael will focus on leading and defining the Company vision while also championing global growth of the Mechanix Wear Brand.
WORKS CONNECTION SPONSORSHIPS NOW OPEN
Press release: Works Connection is accepting new rider, and currently sponsored rider resumes for the 2017 season. Works Connection's Rider Support Program is in its 27th year and is actively looking for riders to be a part the program. Support levels range from Beginner up through the National level. The program is open to riders of all disciplines including, but not limited to, Motocross, Supercross, Off-Road, Flat Track, Hill Climb, Supermoto, Speedway, Endurocross, Trials, ATV and action sport athletes.
Click on Works Connection to apply for your sponsorship online today.
THREE QUESTIONS: JAKE WEIMER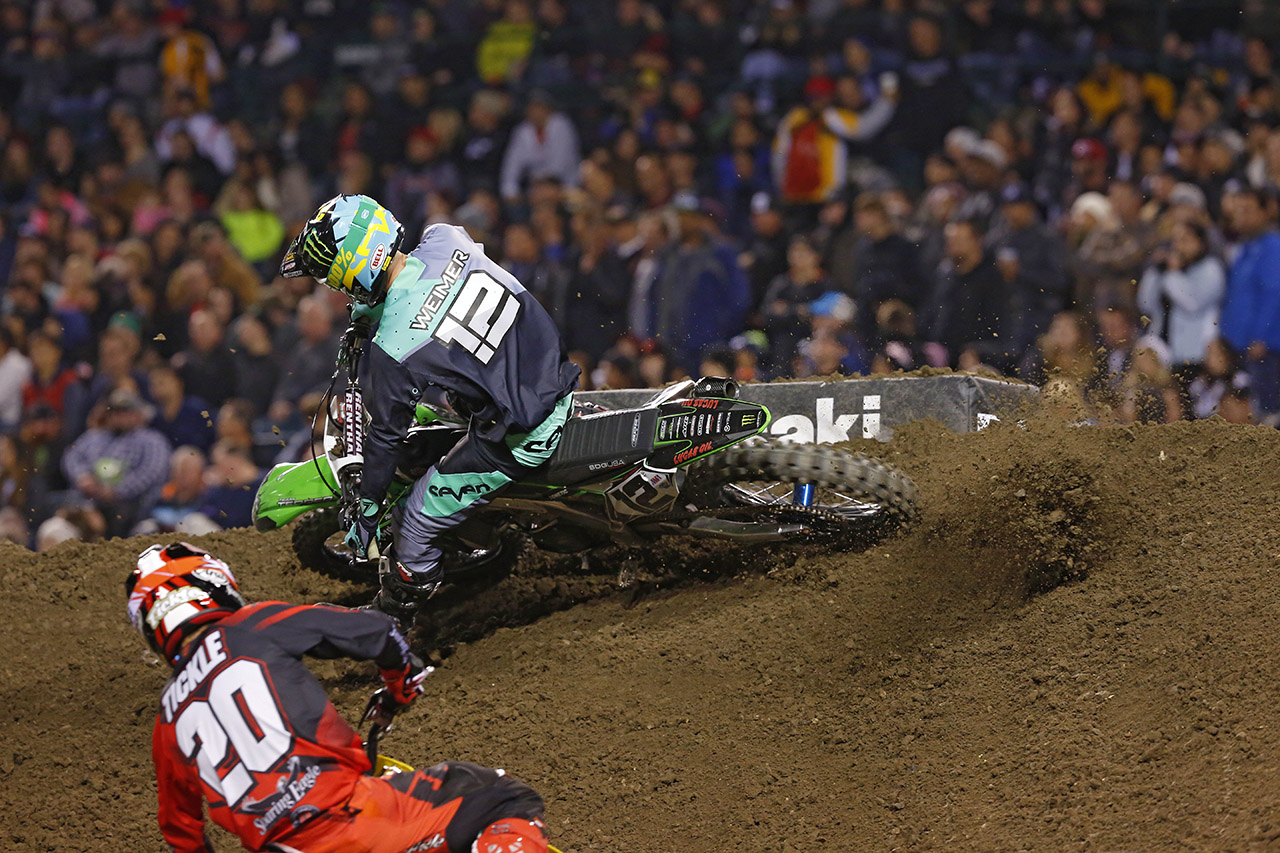 By Jim Kimball
You pointed out of the 250 class after winning the 250 West. Were you ready to move up to the 450 class at that time?
I would say so. I pointed out, so I had to move up. However, I accomplished a lot in the 250 class with winning a Supercross championship, being on a winning Motocross des Nations team, and doing well in the 250 Nationals. When I had to leave I didn't feel like I was missing anything. I wasn't bummed out. I felt pleased with my 250 career and was ready to move up.
You may not have had the same success that you had in the 250 class as when you moved to the 450 class, but how do you feel about it?
I feel that I definitely had some good results mixed in with some injuries. Of course I did have some not so good results, but I had some Supercross podiums and heat race wins. I did take third overall one year in the 450 National series. By no means was it all bad, but when times aren't good, it's not very good at all. There was a streak that I had when it was going pretty badly, and I had to try some different things.
You joined Team Tedder at the beginning of the Supercross series, which used Kawasaki's. Were you getting flowed any factory parts?
Well, there really wasn't anything factory about it. They are a privateer team, and I feel that I did a good job with what I had. They got me to the races with a bike that we could go get some decent results on. They are a good team, and they do a very good job with what they have. It's important that people know that.
NON-MOTO, BUT STILL COOL: 2017 KTM SIX DAYS MODELS

Press release: KTM has ruled offroad for decades. The special edition SIX DAYS models celebrate this success with special performance upgrades and top-of-the-line components. In 2016 the ISDE (International Six Days Enduro) will be held in Navarra, Spain and these two special KTM models been suitably equipped to handle anything the dusty and rocky terrain can throw at them.
Built on the all-new XC-W and EXC-F platforms, the 300 XC-W SIX DAYS ($9999 retail) and 450 EXC-F ($11,399 retail) SIX DAYS are the ultimate iteration of KTM's Enduro line. Fitted with special touches such as exclusive SIX DAYS graphics and orange frames, the SIX DAYS models look as good as they perform. Performance enhancements include orange anodized CNC machining triple clamps, front fork preload adjusters, a floating front brake rotor and a solid rear brake rotor and ensure these machines are READY TO RACE.
The 2017 300 XC-W SIX DAYS is equipped with the following upgrades:
WP XPLOR front forks fitted with preload adjuster

Machined Orange Anodized Triple Clamps

Handlebar with Six Days Logo

Map Select Switch

Supersprox Stealth 2-Piece Rear Sprocket

Floating Front Brake Disc

Solid Rear Brake Disc

Selle Dalla Valle Wave Factory Racing Seat

Exclusive Exhaust Silencer with Six Days logo

Engine Skid Plate

Front Axle Puller

Orange Chain Guide

Giant Wheels with Six Days Logo

Orange Frame
WP XPLOR front forks fitted with preload adjuster

Machined Orange Anodized Triple Clamps

Handlebar with Six Days Logo

Orange Anodized Rear Sprocket

Floating Front Brake Disc

Solid Rear Brake Disc

Selle Dalla Valle Wave Factory Racing Seat

Engine Skid Plate

Front Axle Puller

Orange Chain Guide

Giant Wheels with Six Days Logo

Orange Frame

Radiator Fan

Exclusive Six Days Graphics
THEY SAID IT: MAX ANSTIE
Photo: Massimo Zanzani
"It's been a good GP, considering I've been ill the last couple of days. It all started during the previous round in Charlotte. Actually, I thought I was all right, as I felt a lot better before the weekend. But ten minutes into each moto and the effects started coming in. Despite aching and feeling sick I did my best in both motos, pushing as hard as my body allowed me to do. I'm also happy with my holeshot in moto one, which helped me secure the holeshot award for this season. My speed was good during the first few laps, but then I felt tired and dropped back to eighth. I got another great start in moto two, even leading the race for a couple of corners. Despite feeling sick again I battled to fourth for fourth overall. Overall, I'm happy with the way this season ended and I'm looking forward to stepping up to the MXGP class with Husqvarna in 2017."
ALPINESTARS PARTNERS WITH MOBILE MEDICAL CENTER

The Alpinestars Mobile Medic rig. There is a new semi in the planning stages.
Press release: Alpinestars, world leader in performance safety technology for motocross racers, has become the main partner of the Mobile Medical Center for AMA Pro Supercross and Motocross.Building on its long established operation, the Alpinestars Mobile Medical Center provides essential medical intervention and support for all the riders and members of the paddock throughout every race meeting in the AMA Pro Supercross and Motocross Championships. This is carried on with a full team of physicians and facilities for emergency treatment and regular health care requirements.Equipped with state-of-the-art equipment for diagnosis and treatment of injuries and ailments, the Alpinestars Mobile Medical Center's trailer is headed by Tom Carson and Dr. John 'Doc' Bodnar, together with their team of doctors and medical staff, providing an essential role in rider safety.
The Alpinestars Mobile Medical Center trailer will be present at all rounds of the AMA Pro Championship races across the United States in 2017 and beyond.The medical team and staff who run this vital medical resource will be visible in their dedicated Alpinestars apparel, conceived to reflect the nature of their essential skills and their contribution to the welfare of all the riders, team members and staff around the Paddock.
For Alpinestars, as the world's premier high performance protection, footwear and apparel company, with a history of technical development for motocross racers stretching back over 50 years, this agreement is a natural fit. Cutting edge product research and innovation, focussed on MX and off-road racing is undertaken in the company facilities in California and Northern Italy all day, every day by a highly specialist team of designers, developers and bio-mechanical engineers. Motocross racers all over the world rely on Alpinestars to keep them safe and enjoy their riding to the limit and the Alpinestars Mobile Medical Center will complement that endeavor at every round of AMA Pro racing.
MXA VIDEO: 2017 KTM 250SXF
SEE YOU SOON, NEW YORK!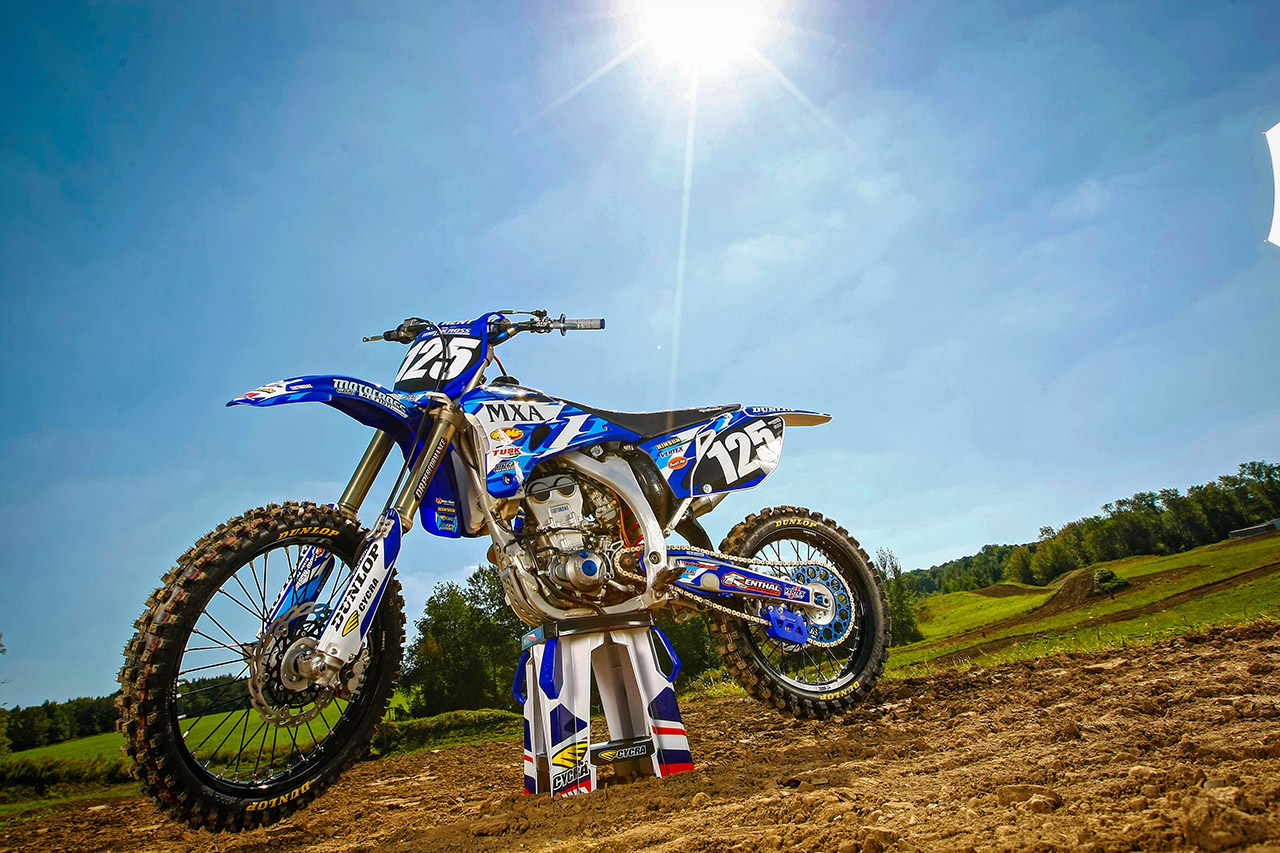 Last year I traveled up to New York and tested a 2006 Yamaha YZ250 rebuild for the magazine. That's Silver Springs Raceway in the background. This time around I'm hoping to test a few more bikes on a few New York tracks that I've never been to. Stay tuned.
Next week's Mid-Week Report will be coming from Western New York. I'm making the annual trek up to the land of Buffalo Chicken Subs and lake effect snow, only hopefully before the snow hits. If all goes well I'd like to swing by the Marble Springs motocross track on Sunday for their WNYMA race. Then, on Monday, I'll be traveling down to Miles Mountain in upper Pennsylvania to check out the facility and introduce my prized YZ125 to northern soil. I'm looking forward to seeing good friends like Eric Carr, Joe Ellington, and other moto-minded maniacs. Who knows, maybe I can convince Bobby Kiniry and Broc Hepler to ride. Look for a full report in next week's Mid-Week Report.