PRO TAPER PRESENTS MXA'S MID-WEEK REPORT #38 BY JOHN BASHER
#WHIPITWEDNESDAY
Rider: Dean Wilson
Location: Charlotte Motor Speedway
Date: September 5, 2016
Photographer: John Basher
Camera: Canon 5D Mark III
Lens: 70-200mm f/2.8
Focal length: 200mm
Exposure: 1/1600 sec.
F-stop: 5.0
ISO: 250
MXA VIDEO: 2017 SUZUKI RM-Z250
SNEAK PEAK: 2005 KAWASAKI KX134 TEST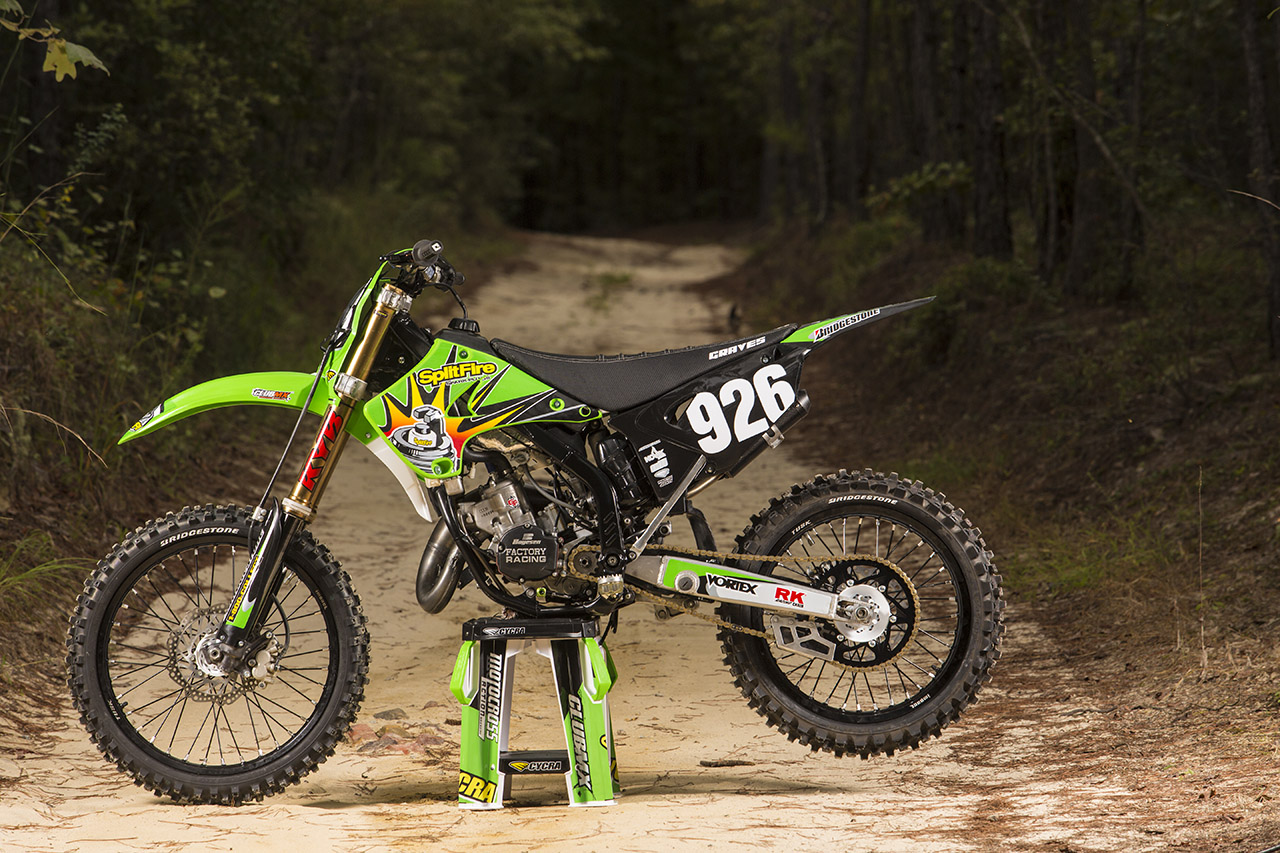 Would you believe this bike is 11 years old? 
I'm proud to report that motocross is alive and well on the East Coast. Since moving to North Carolina, I've met quite a few hardcore motocross enthusiasts. Ben Graves, track operator at ClubMX Practice Facility, is one such person. Most of Ben's time is devoted to building, preparing and dialing in the Practice Facility track. He lives just beyond the track's grounds and, as a former Pro, is in motocross nirvana. Graves is still very fast, despite walking away from a Pro career 11 years ago. These days Ben splits his time between a late-model Honda CRF450 and a Honda CR250 two-stroke.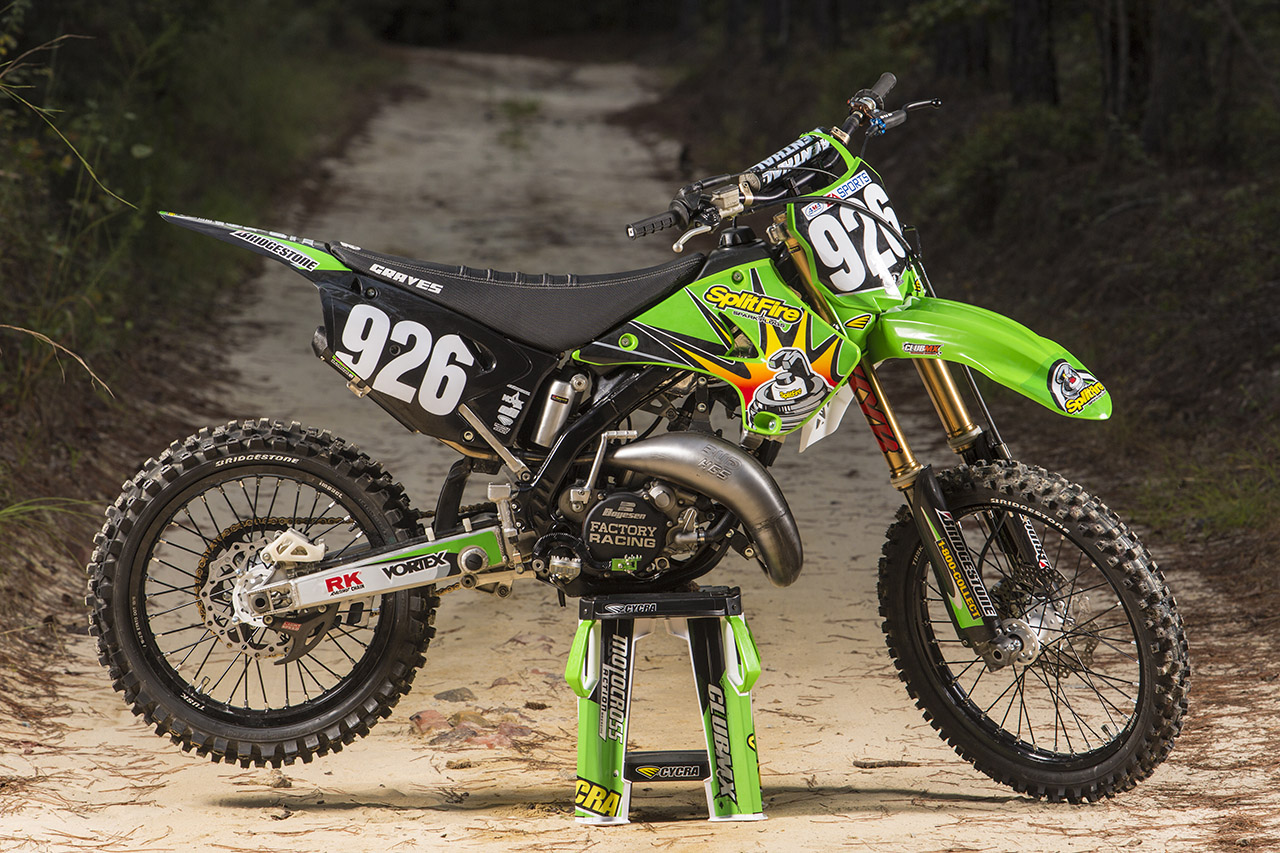 Two months ago while at ClubMX Practice Facility for some casual Friday morning riding, Ben waved me over to discuss his latest project. It had nothing to do with moving dirt or the upcoming ClubMX open house (which will be held in just over a month). Instead, Graves was beyond excited to buy back his 2005 Kawasaki KX125 that he had raced some Supercross rounds on. Ben had sold the Kawasaki to his father, and poppa Graves rode it in the woods for a decade. Ben had the idea of buying his race bike back after riding MXA's 2007 Suzuki RM125. He had the 125 two-stroke itch.
This past week I made the 1-1/2 hour drive south to Chesterfield, South Carolina and met Ben Graves at the ClubMX Practice Facility front gate. From there I followed him half a mile down a dirt road to an isolated sandy path that went into the South Carolina wilderness. It was a cool backdrop for a historic bike.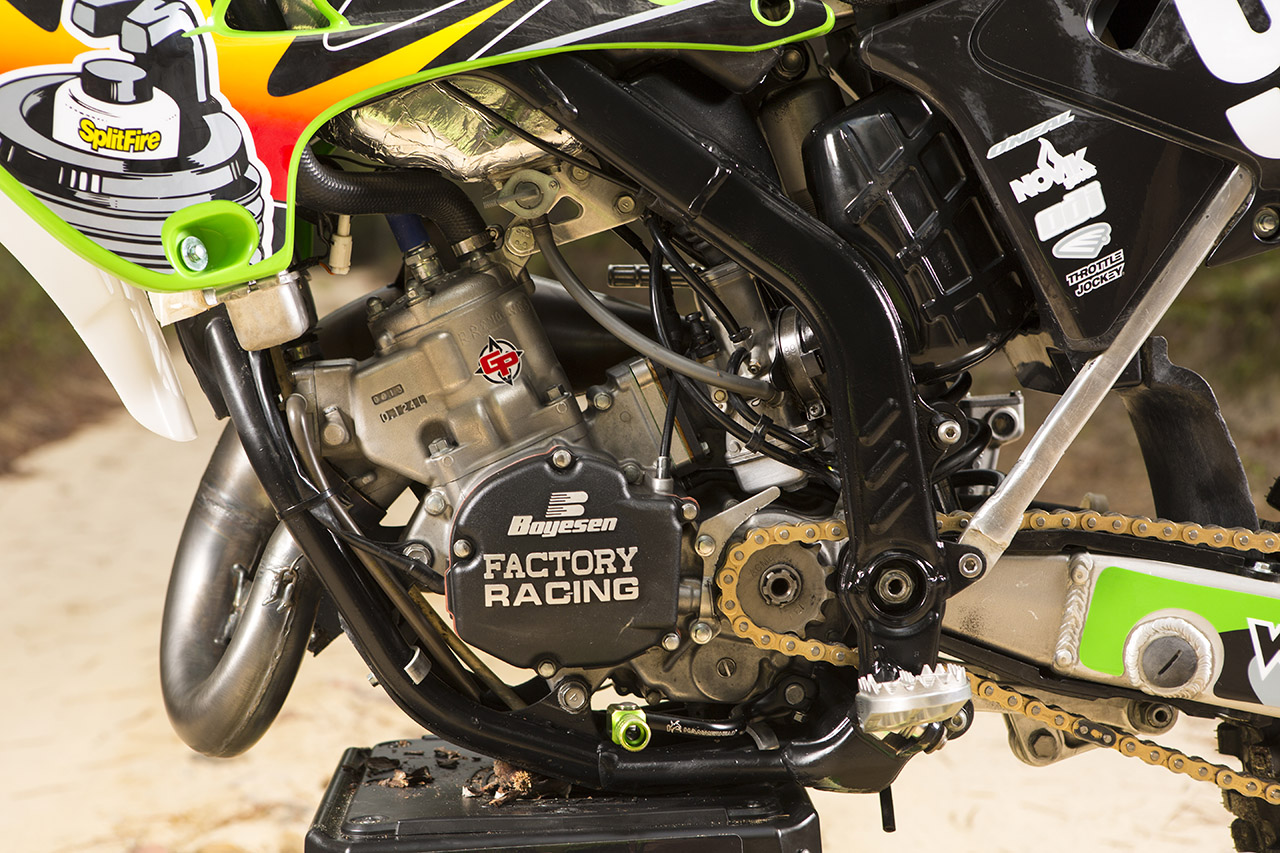 Ben Graves' KX134 engine harks back to the glory days of two-stroke racing.
What do you need to know about Ben Graves' 2005 Kawasaki KX125? For starters, it's not actually a 125cc, but instead was modified to a 134. You should immediately have noticed the Kayaba forks, which came off Grant Langston's 2007 Yamaha YZ450F (the bike he won the 450 National title on). How in the world did Ben acquire such rare forks? Graves is friends with Paul Mundt, a diehard moto rider and friend to the likes of the late Eyvind Boyesen and other heavy hitters in the industry. Paul worked his magic and got his hands on Langston's KYB forks. The nice guy that he is, Mundt gave the forks to Ben for his project bike. What are friends for?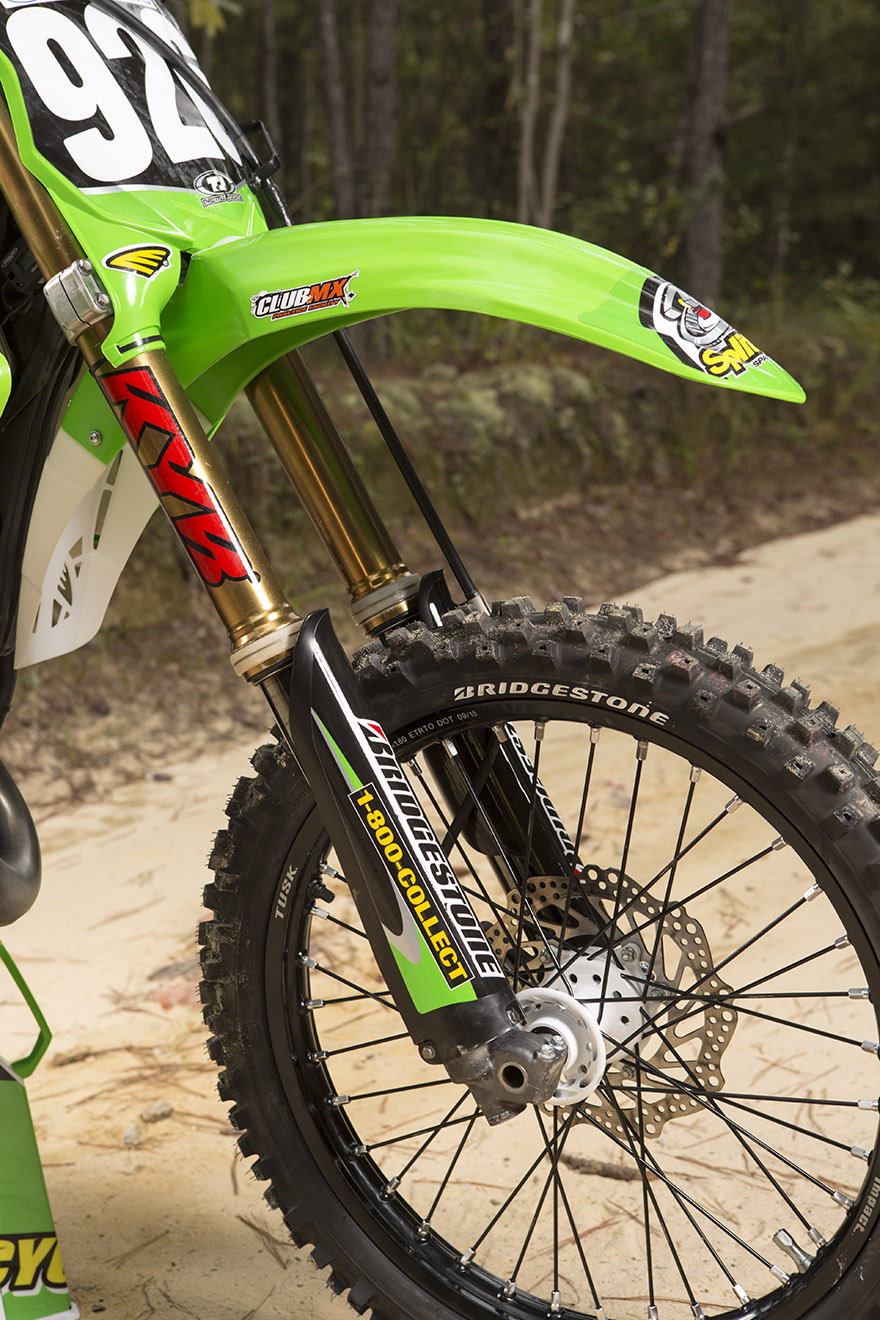 Look at those KYB forks!
There are a lot of other cool modifications to Graves' KX134. Eagle-eyed viewers might be able to spot the Honda front brake, along with the Honda front wheel. There's also a custom Bud Racing pipe (one of two in the world) and carbon fiber silencer. Throttle Jockey made the one-off SplitFire graphics. There are a bevy of other trick components. For the full report you'll need to wait for an upcoming issue of MXA.
It was only natural that Ben Graves ride his KX134 for photos. 
Graves tests the lean angle of the KX134 around a ClubMX Practice Facility sandy rut.
QUOTE OF THE WEEK: RICKY CARMICHAEL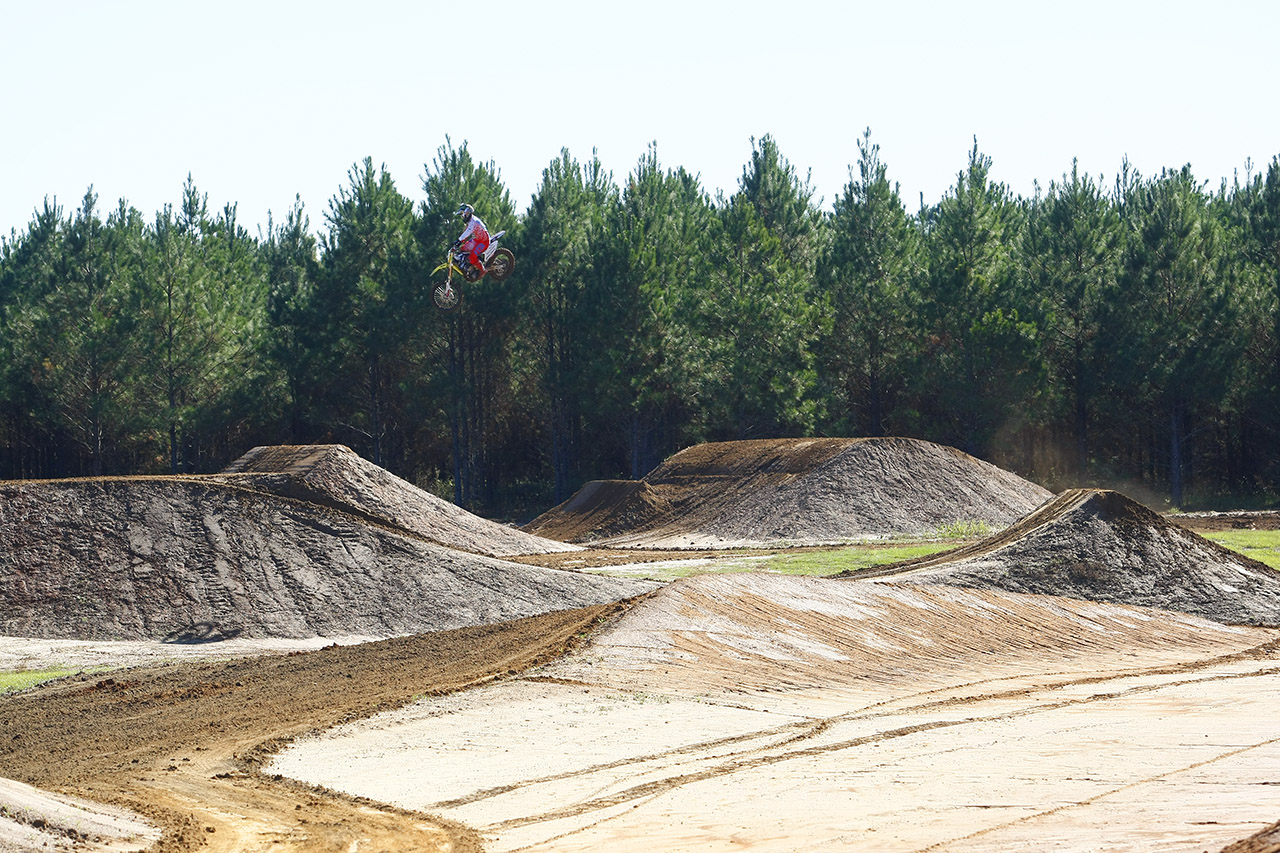 "I've raced some of the best racers in the world. Obviously Jeremy [McGrath] was the greatest Supercross rider in history. He was the winningest Supercross rider, and I don't think anybody will ever beat that record. The way he approached races was very methodical. He didn't have very many weak links. He was a really tough competitor; consistent and lacked weaknesses. Chad Reed was a lot like Jeremy, in that he was really solid. Chad never took too many chances, but he was incredibly consistent. You basically couldn't afford to have any screw-ups. James [Stewart], on the other hand, was really explosive. He was faster than me 90 percent of the time, especially in Supercross. It was easier for me to match him outdoors. I feel like I was always waiting for him to have a race where he would give up ten or 20 points. All three riders were tough, but all in their own way."
Click here to read the in-depth interview with "The GOAT."
FMF "UNITED BY POWER" TEASER

TWO-STROKE SPOTLIGHT: ROBERT GRAF'S COLLECTION
Bless men like Robert Graf, as they're instrumental in keeping old school two-strokes in the public eye and out of landfills. Graf's 1981 Yamaha YZ125 really interests me (go figure), while Robert's 1989 Yamaha YZ250 and 1981 Maico 490 (which was lauded as one of the best motocross bikes ever) are also cherry. Graf's collection isn't merely comprised of refurbished bikes, but instead hopped-up race-tested machines. I'll let Robert take it away from here.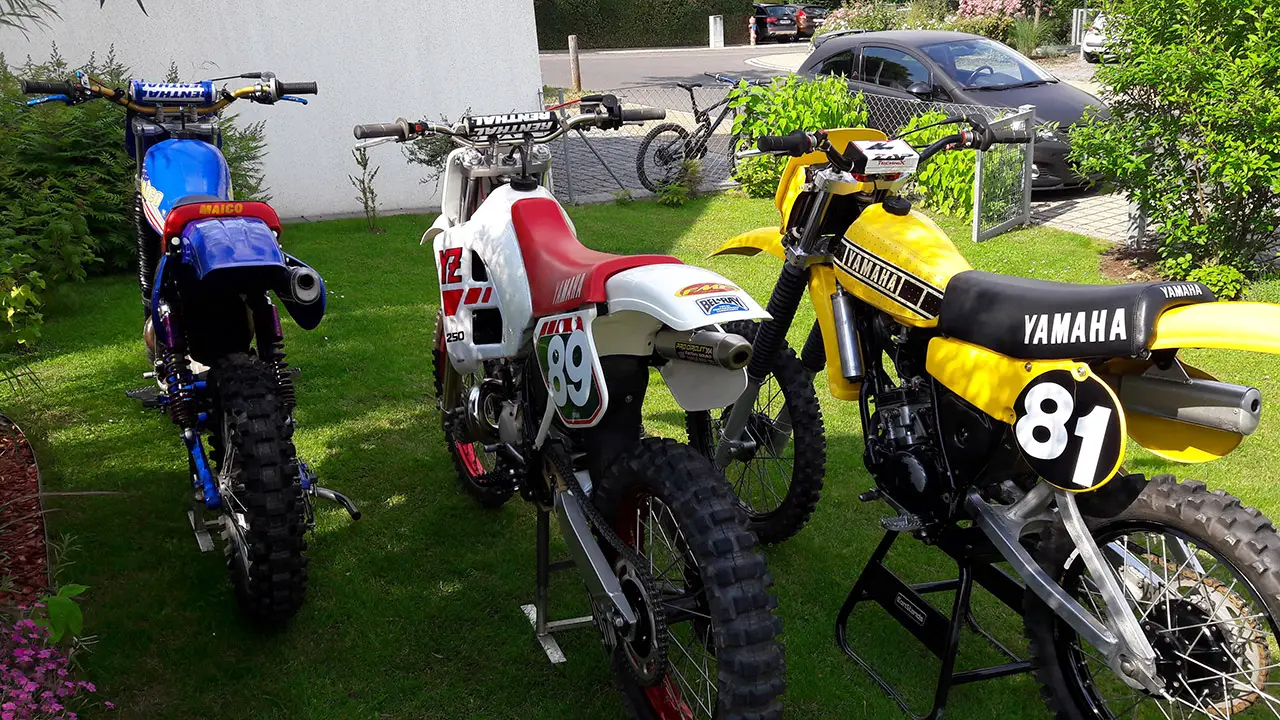 "My name is Robert Graf and I am writing from Germany. I have been reading MXA since I started racing back in 1981. Today I am a vintage racer (body and bikes) and I think I have three bikes which could make it into your spotlight. These are no showroom beauties, but real racers. I have a 1981 Maico 490, a 1981 Yamaha YZ125 that I bought from a GI here in Germany, and a 1989 Yamaha YZ250. All three bikes are vastly tuned. For example, I hand-machined the triple clamps of the YZ125 to fit 45mm Marzocchi forks. The rear shock is all Öhlins.
"I put the YZ465 DLS front brake on it (as well as on the Maico), and the bigger radiator of the 1982 YZ250 on it, as well as a 19-inch rear wheel. The YZ250 got a '98 Showa fork out of a 1998 Suzuki RM250, a new power jet carb, nice wheels and a FMF Fatty to improve the powerband.
"The big Maico got new suspension with a 46mm Paioli/ Kayaba and full adjustable Reigers in the rear. There's also a works magnesium clutch cover and exhaust pipe. The engine was fine-tuned with some advice of former Maico factory pilot Herbert Schmitz. I would be proud to see my bikes on your site."
If you would like your bike to be featured in the "Two-Stroke Spotlight," please email me at [email protected] All I ask is that you give a breakdown of your bike and a detailed description of the thing. Please also send a few photos of your steed. By submitting your bike for the "Two-Stroke Spotlight," you agree to release all ownership rights to the images and copy to MXA. Please don't email me spam or try selling me Taylor Swift concert tickets (I already have them). Happy submitting your smoker!
TOUR DE NEW YORK (AND NORTHERN PENNSYLVANIA)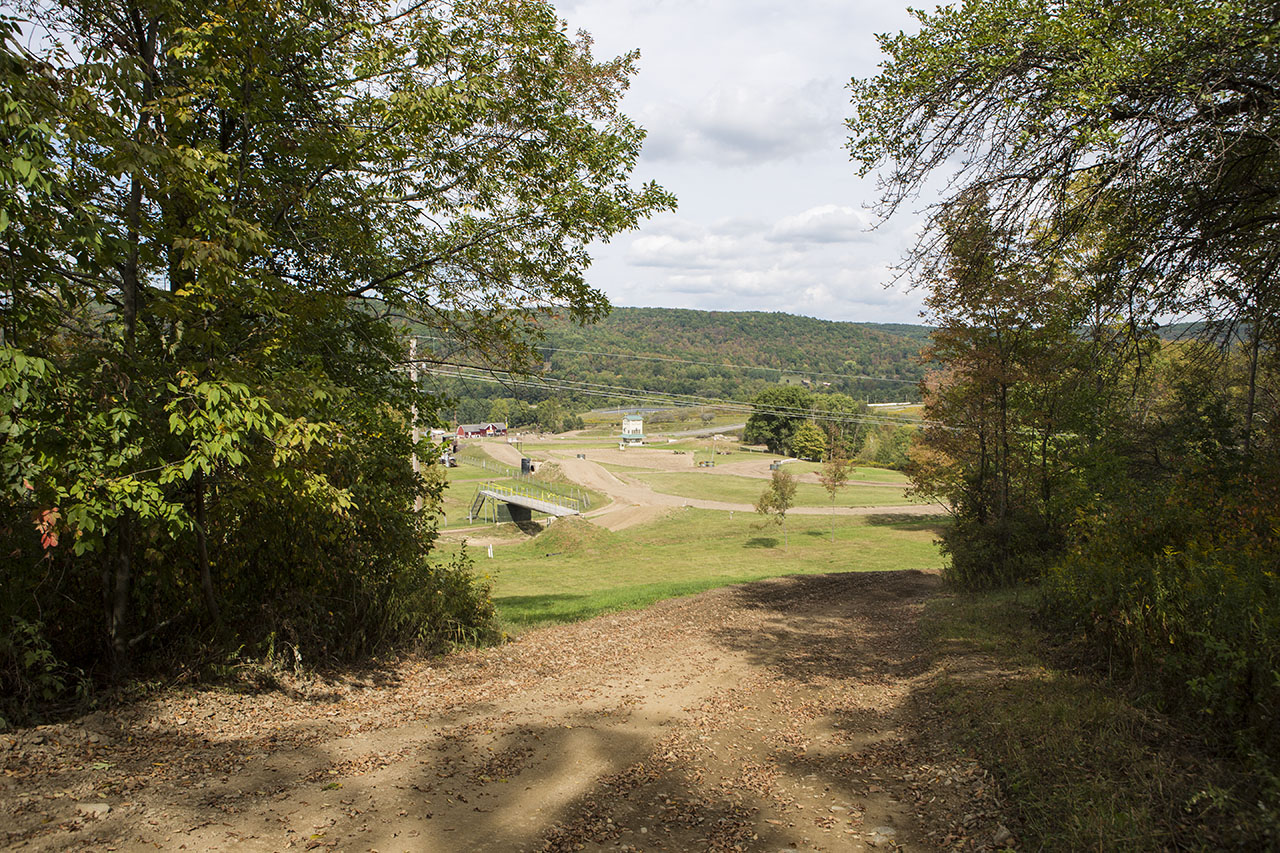 Miles Mountain in Elkland, Pennsylvania, is part of the WNYMA. It's an awesome track. 
Part of the agreement with MXA last year before moving to North Carolina was that I would deliver fresh content from the coast less covered by the orange warriors. I could very well stay within the confines of North Carolina. After all, there are a plethora of great tracks, aftermarket companies and one of the premiere race teams in the pits (JGRMX). That would be too easy. Instead, I've traveled up and down the Eastern part of the U.S. chasing stories. Most of the time I'm going to races or testing bikes. And so it goes this week at my old stomping ground in Western New York. Wednesday afternoon I'm meeting with Broc Hepler at Marble Springs MX (http://www.marblespringsmx.com/) and trying out his Gas Gas off-road bike.
On Monday, my good buddy Joe Ellington arranged for a private track day at Miles Mountain (http://www.milesmmx.com/) in Elkland, Pennsylvania. Having never been there before, I was excited to go, especially given the glowing reviews from WNY racers. It didn't disappoint. Not only did owner Phil Egleston came out to personally welcome me, but the Miles Mountain crew also prepped the track. The pictures don't do this track justice. The 3-1/2 mile layout was set on the side of a hill and featured myriad jumps–some relatively easy and a few that made me sweat–but all in all, the track was outstanding. I wish it had been on the calendar back when I raced Western New York Motocross Association events in the late 1990s through the early 2000s.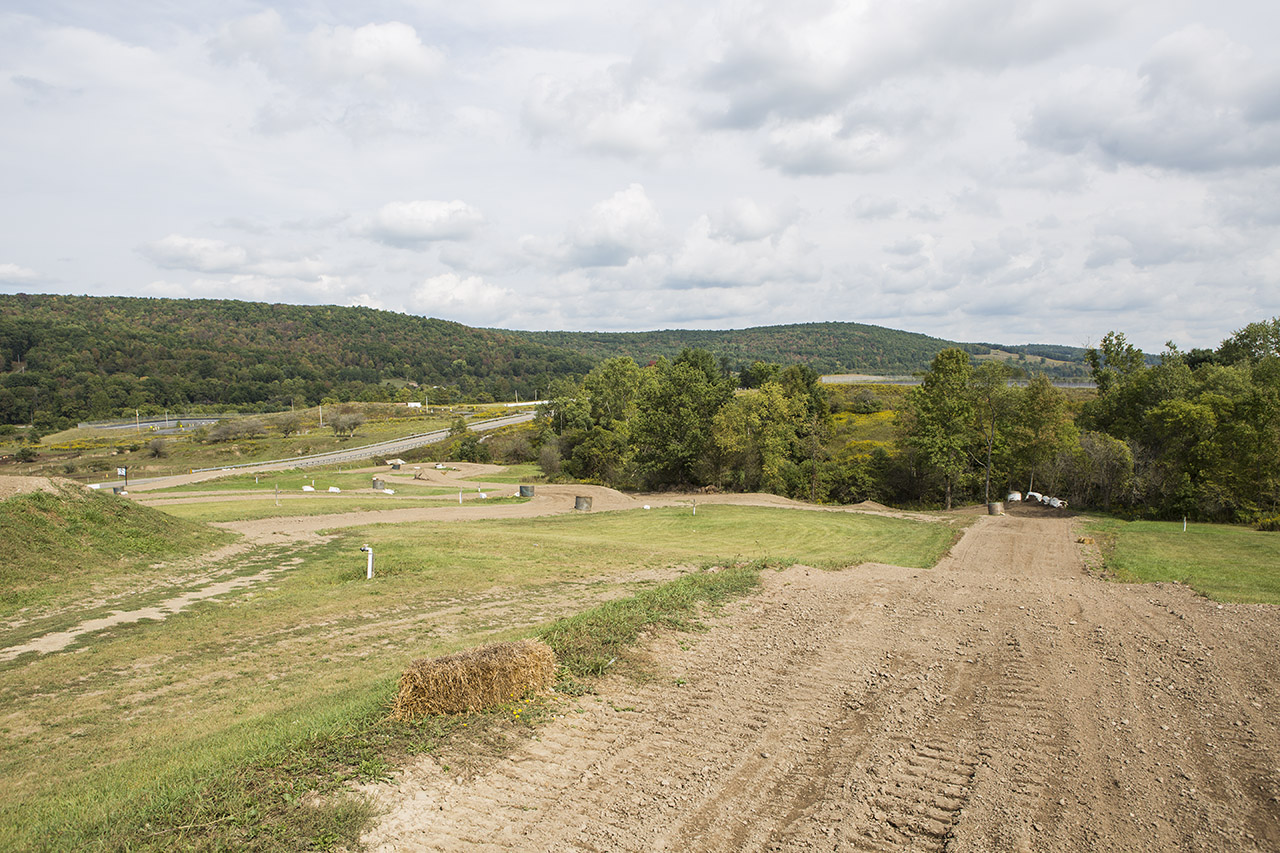 Motocross riders can relate to a day like I had on Monday. There are a few days every year that stand out among all the others. Maybe it's because of a perfectly prepped track or you were riding on another level than normal. For me, Monday was great for several reasons. The track was a blast to ride. I brought up my prized Yamaha YZ125 and let 'er eat. The jumps were challenging and rewarding when done well. Most of all, I spun laps with one of my very best friends, Eric Carr, and Joe Ellington–a guy I looked up to when I was a snot-nosed kid just getting into the sport of motocross. Ellington was the number-one ranked Expert in 1995 and '96. He actually sold me my first competitive motocross bike. Life can be a funny thing.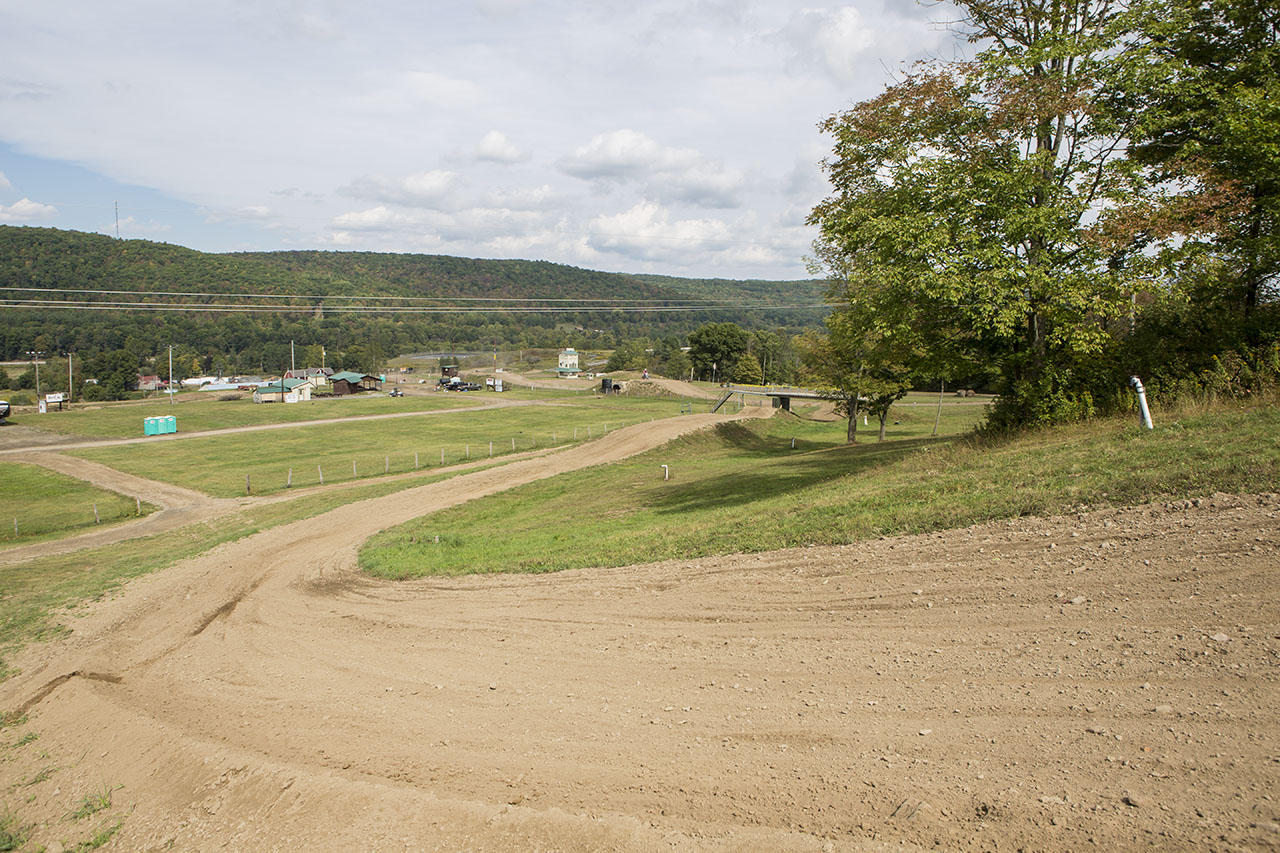 Where do I go from here? Like I said, I'll be spending Wednesday afternoon with Broc Hepler at Marble Springs. From there, I'll be driving back to North Carolina so I can hop on a plane and fly to Italy on Sunday. Why? I'm supposed to be testing the factory Yamaha bikes of Romain Febvre, Jeremy Van Horebeek, Benoit Paturel, Aleksandr Tonkov and several others at Maggiora. Hey, someone has to do this job. It might as well be me!
Special thanks to Eric Carr, Joe Ellington, Phil Egleston, Ed Abdo and Broc Hepler. Same time next year fellas?
INDUSTRY NEWS: AIMEXPO MOVES TO OHIO
[Press Release]
The American International Motorcycle Expo (AIMExpo) has revealed its plan to move North America's premier powersports trade show to a new host city in 2017, with Columbus, Ohio, set to welcome the industry next fall. The Greater Columbus Convention Center (GCCC) will open its doors to hundreds of exhibitors and thousands of dealer and consumer attendees nextSeptember 21-24, 2017 for the landmark fifth year of the event.
Geographically, Columbus is ideally placed with 41 percent of both franchised and independent dealerships in the U.S. located within a 500-mile radius, including major markets like Atlanta, Charlotte, Chicago, New York, Philadelphia, Washington, D.C., St. Louis, and more. Ohio's state capitol is also the 15th-largest city in the country, and consistently ranks among the top cities for business growth.
"The key questions are 'Why Move', and 'Why Columbus'," said Larry Little, Vice President and General Manager, AIMExpo. "When we debuted AIMExpo as a new platform for the powersports industry, Orlando proved an outstanding launch location, but the vision was always to visit other geographical centers. Carefully listening to the exhibitor and greater industry community it was clear that our next step would be to a location more immediately accessible to the retailer population."
"Why Columbus?" Mike Webster, Senior Vice President, MIC Events added, "Ideally situated among one of the highest concentration of dealers anywhere in America, the Greater Columbus Convention Center is the perfect size for AIMExpo to take over the whole convention center and to own the town. The city center location and adjoining hotels will deliver the tight-knit industry experience attendees have also requested. Columbus is a model of urban revitalization and the 'after-show' atmosphere with hundreds of restaurants, bars, and markets, all within just a few blocks must be seen and experienced to be appreciated."  
Following a recent visit by legacy AIMExpo exhibitors to the new convention center and greater Columbus area, their reactions captured why the motorcycle and powersports industry will appreciate the move.
"After coming here, I'm blown away," said Chris Sackett, Vice President of Bell Helmets. "The hospitality, the way people are treating us, the amount of stuff to do, the weather – it's been absolutely beautiful. Once people actually come here and see it, it's definitely the right place to have this event. I'm now 100 percent sold."
"I'm a smaller company but I took a chance with AIMExpo – was an inaugural exhibitor – and every year it has paid off," said Todd Wilson, President of HMC Industries. "Now that I've been able to visit (Columbus), it blows my mind. This place is great. I'm absolutely positive that [dealer proximity] will be a game changer for the show."
Since its inception in 2013, AIMExpo has shown impressive growth each year in Orlando, Florida, with 2016 showing its most significant growth to date for dealer registration, increasing to 130 percent of this point last year. With this strategic move in 2017 to the largest logistical region for dealerships, those numbers are sure to grow even higher.
MOTOCROSS DES NATIONS: TOP THREE PREDICITIONS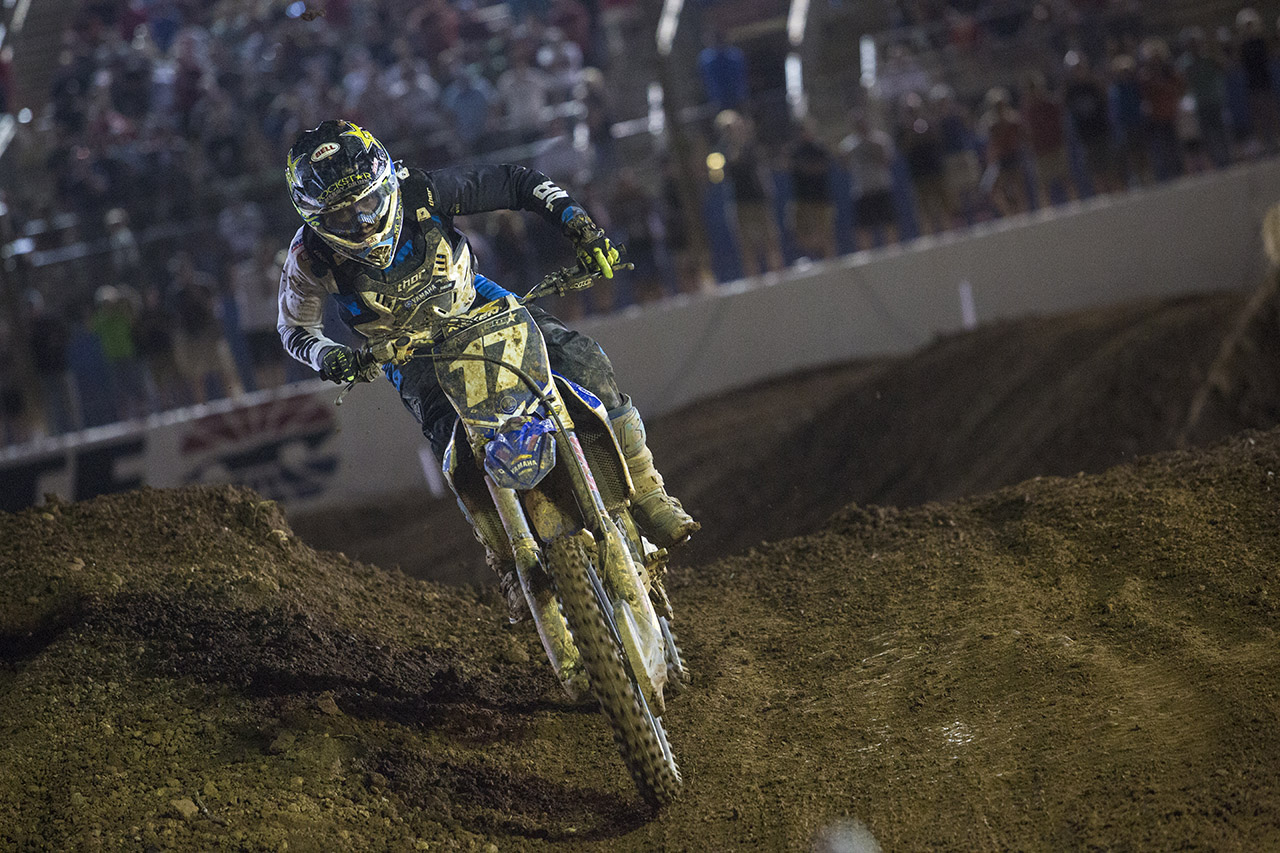 Look for Cooper Webb to captain Team USA this weekend in Italy. Will he, Alex Martin and Jason Anderson have enough in the tank to win?
Being a red-blooded American, I always believe that Team USA will win the Motocross des Nations. It's not an ethnocentric mentality, but more like pride for the red, white and blue. Unfortunately, that attitude doesn't translate into wins. It has been since 2011 that Team USA has hoisted the Chamberlain trophy. Will the streak be broken this weekend in Maggiora, Italy? Call me crazy, but USA has the makings, and the moxie, to get the job done. It won't be easy; after all, Cooper Webb and crew will be going up some of the very best in the world. However, there are weak spots in every team. France lost Dylan Ferrandis to injury. Belgium's Clement Desalle won't be racing. Team USA might not have Eli Tomac or Ryan Dungey, but they have heart, determination, and a chip on their shoulders.
Who will be the top three teams when the dust settles? My money's on France, USA and Belgium, with Switzerland as the dark horse. What will the finishing order be? Failing to choose America first goes against every fiber of my apple-pie eating, baseball-loving self. Besides, I really do think Cooper Webb, Alex Martin and Jason Anderson will surprise. Who knows, this could be the 1981 Motocross des Nations all over again. Those guys weren't supposed to win, either. I'll go with France in second and Switzerland third (because who doesn't love a Cinderella story?).
SHIFT MX: CHAD REED
NIHILO CONCEPTS OPENS 2017 SPONSORSHIP PROGRAM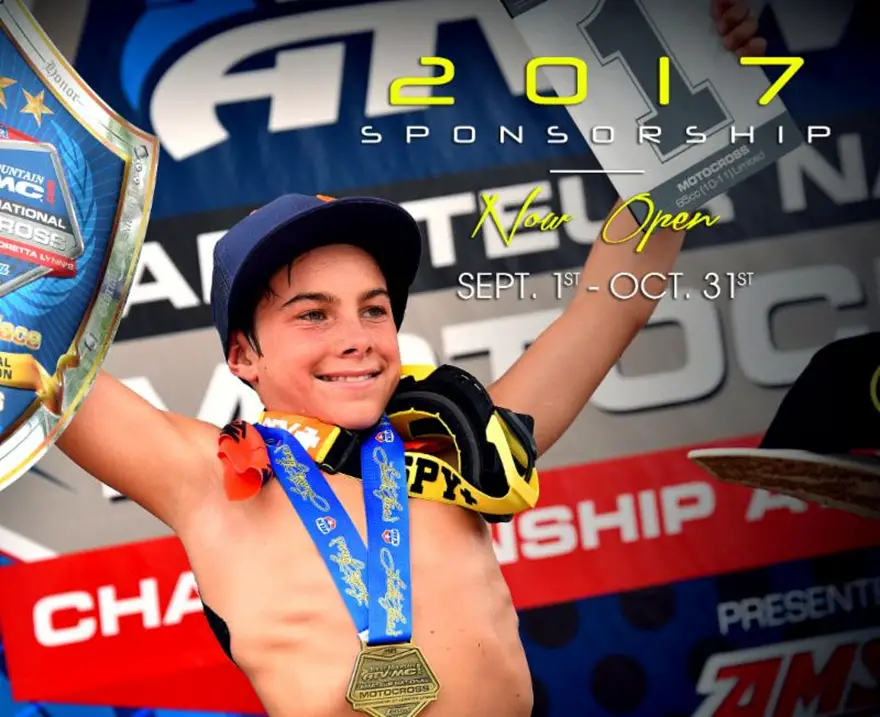 [Press Release]
The 2017 season is right around the corner and now is the time to apply for rider support! The Nihilo Concepts Tribe is now being selected for the 2017 MX, SX, & AX season. We encourage everyone, current Tribe members and new applicants, to apply for rider support. We are looking for a limited number of dedicated riders to represent Nihilo Concepts, positively, on and off the track. To apply for sponsorship, please send your resume, including a bio and recent results, to [email protected].
Feel free to contact us with any questions or concerns regarding the Nihilo Tribe sponsorship program.