PRO TAPER PRESENTS MXA'S MID-WEEK REPORT #39 BY JOHN BASHER
#WHIPITWEDNESDAY

Rider: Nick Wey
Location: KTM test track
Date: October 29, 2007
Photographer: John Basher
Camera: Canon 30D
Lens: 70-200mm f/2.8
Focal length: 200mm
Exposure: 1/1600 sec.
F-stop: 3.2
ISO: 320
MXA VIDEO: 2017 HONDA CRF250
SNEAK PEAK: FACTORY YAMAHA GRAND PRIX BIKES
I'm convinced that Al Gore invented the internet so scammers could email me spam about winning millions of dollars, if only I provide my social security number and my mother's maiden name. Don't these fools know that I'm a proponent of paper, which is why I love Publisher's Clearing House. All kidding aside, my email inbox gets flooded on the daily by press releases. I spend hours sifting through looking for the good stuff. Two weeks ago I received an email that wasn't spam or a press release. It was one of those emails you wait years for. Marcus DeMichele, Yamaha USA's Motorcycle Media Relations Manager, fired off a message. The headline stated "Exclusive Yamaha Factory Racing MXGP Press Test Opportunity for Motocross Action." My heart skipped a beat as I feverishly clicked on the message, hoping that slamming the mouse button down repeatedly would somehow make the email open faster.
Inside was an invitation to Maggiora, Italy, to test the factory Yamaha bikes of Romain Febvre, Jeremy Van Horebeek, along with the YZ250F machines of Aleksandr Tonkov, Benoit Paturel and Brent Van doninck. Yes, please! As MXA's East Coast Editor, I was three time zones closer to Italy than my SoCal cohorts. Add in the fact that Daryl Ecklund was already going to be in Italy for a tour of Alpinestars and the Motocross des Nations, I knew Daryl was out of the running. All I had to do was convince Dennis Stapleton that he didn't need to travel halfway around the globe, see the Old World, sip fine wine and ride high-tech factory bikes. Fortunately, my persuasive speech classes in college paid off, as I had Dennis thinking that flying to Italy would be burdensome. A week later I received another email–flight itinerary to Milan, Italy. Game on!
There's another twist to the story. Daryl Ecklund managed to extend his stay in Italy so that he, too, could ride the factory Yamaha bikes. Yamaha kindly obliged MXA's request for two editors. Two throttle hands are better than one when it comes to testing six factory bikes.
Below is a breakdown of the action from Tuesday at the famed Maggiora circuit. Look for the bike reviews in a future issue of MXA.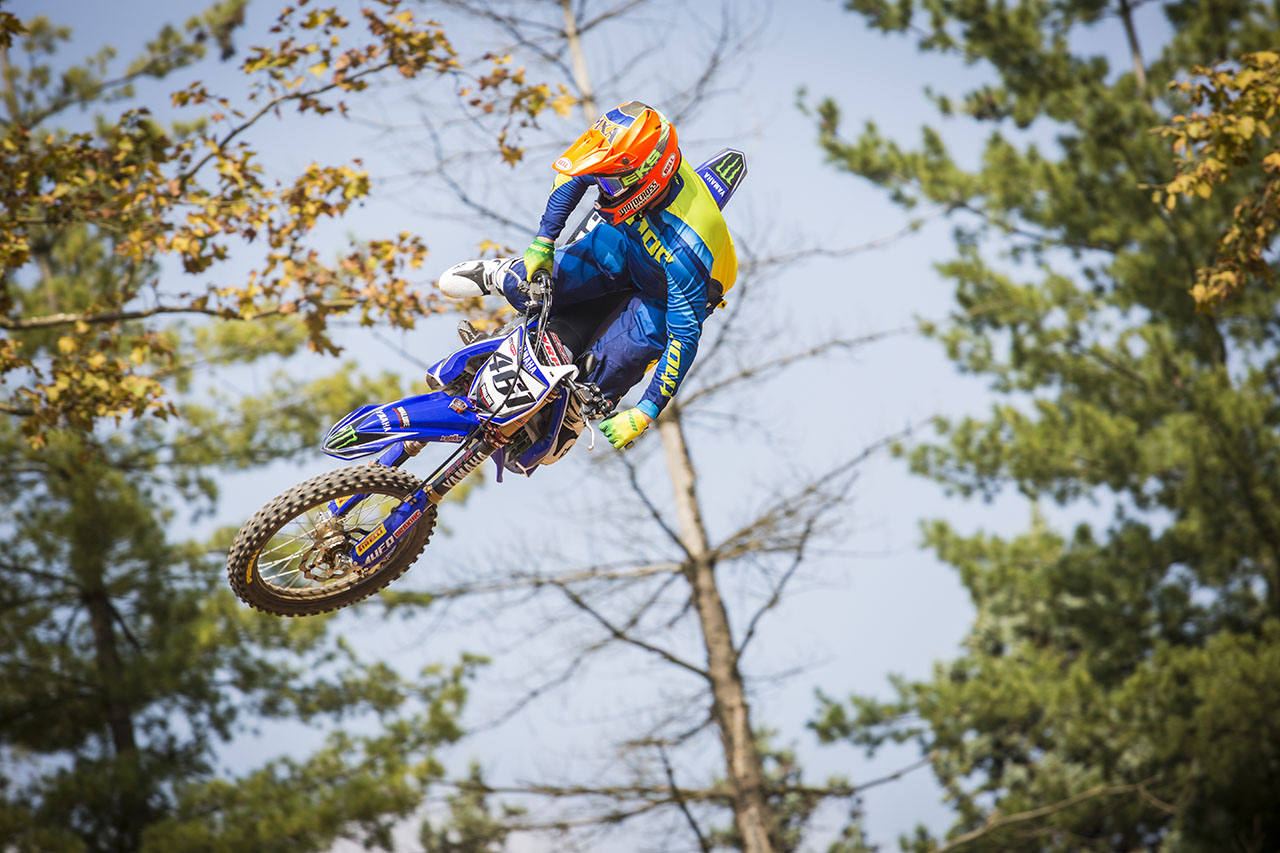 Without letting the cat out of the bag, let's just say that Daryl Ecklund understood how Romain Febvre won last year's 450 World Title aboard his Yamaha YZ450FM.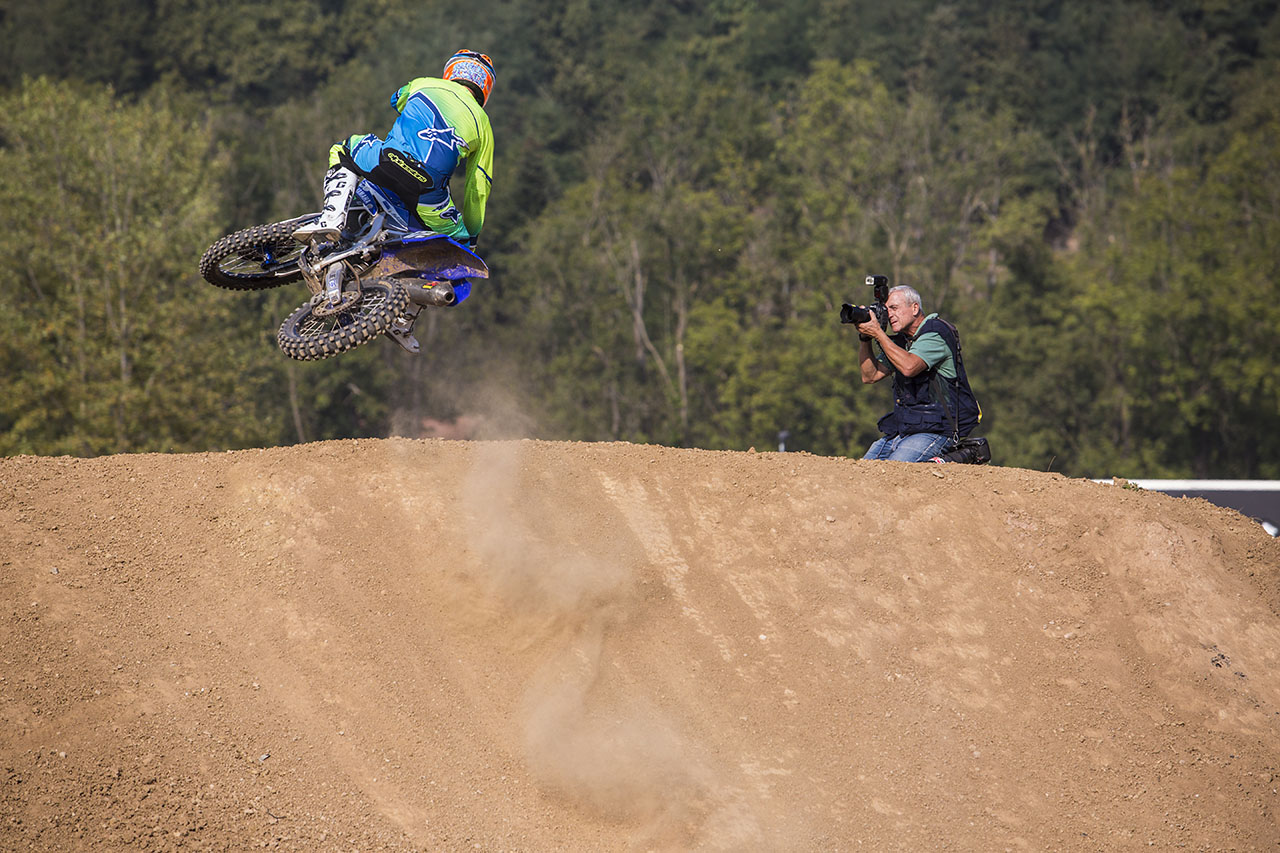 MXA's managing editor, Daryl Ecklund, stays low for MXA's European correspondent, Massimo Zanzani.
Gone were the droves of fans, but the warm Italian sunshine still remained. That's Daryl on Jeremy Van Horebeek's Yamaha YZ450FM. The 'M' distinguishes the bike as a factory model.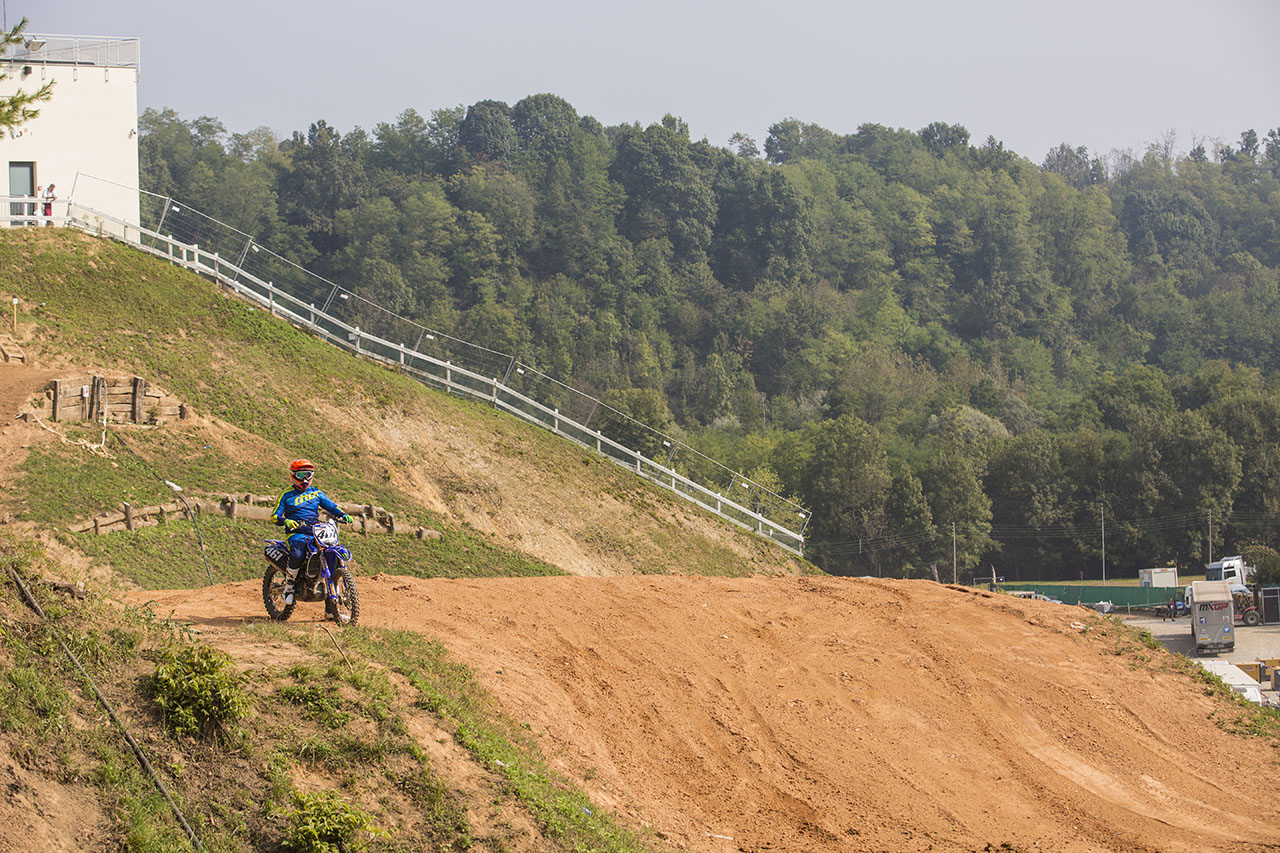 Maggiora is as historic as it is beautiful.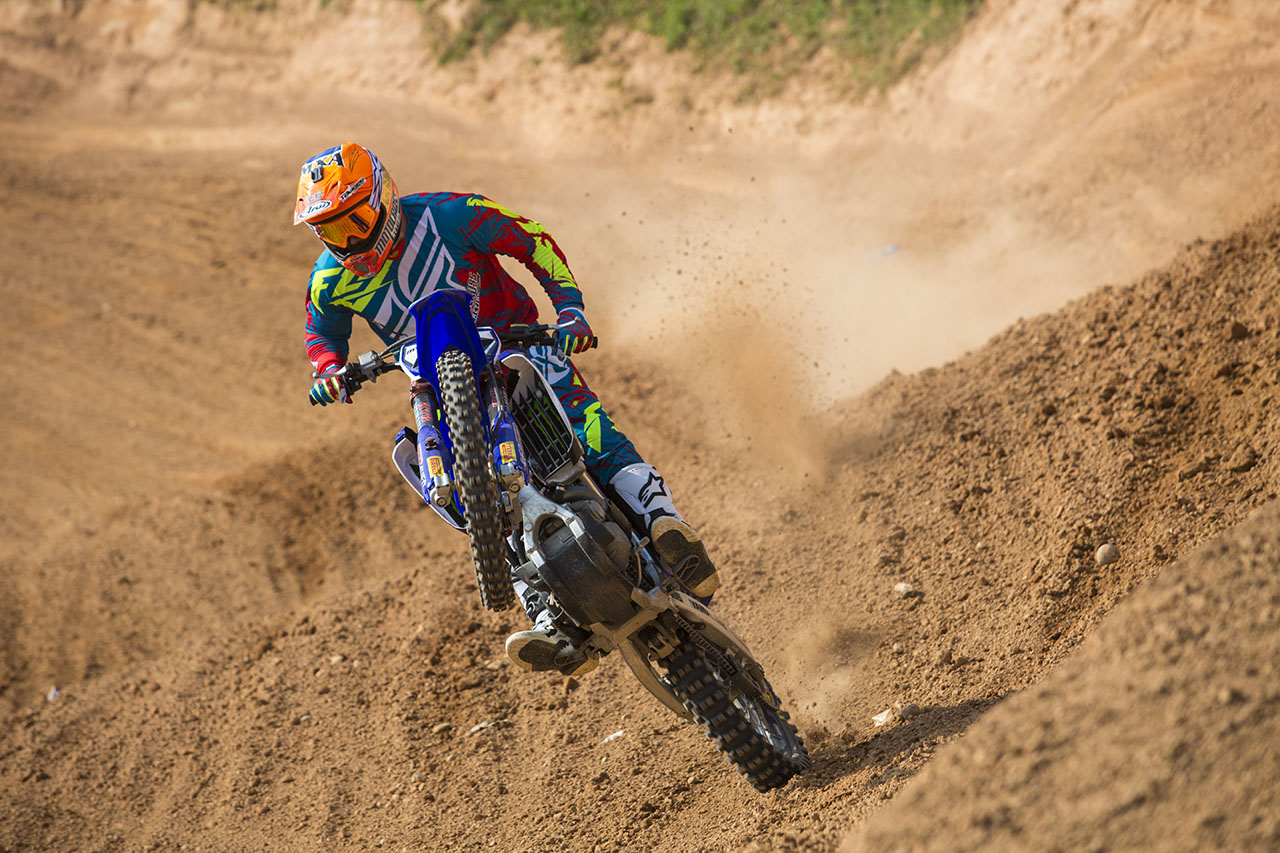 The Maggiora track soil was hardpack and rocky, but when moisture was under the top layer the soil offered decent traction.
Daryl wanted to make sure the drain plug on Brent Van doninck's YZ250F was tight. It looks just fine, Daryl.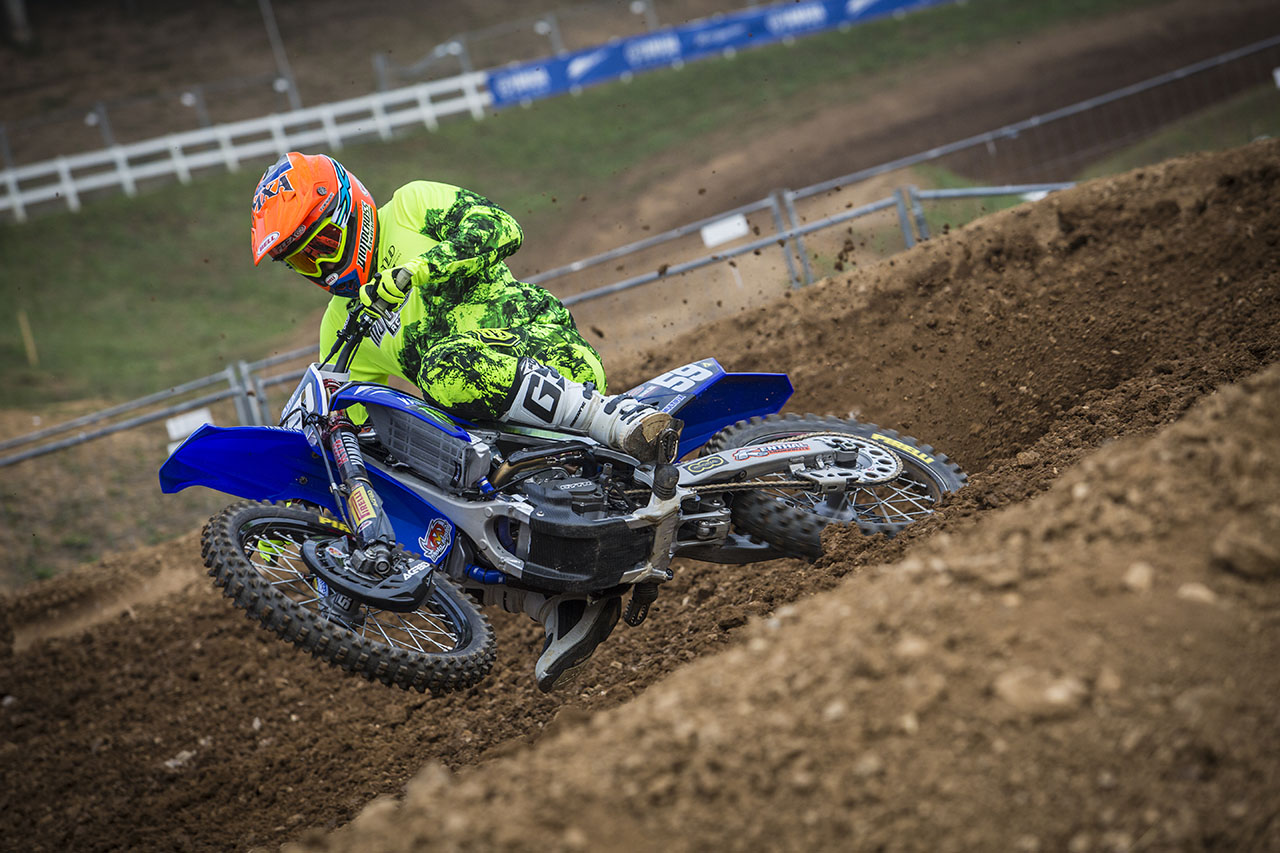 Aleksandr Tonkov's forks are so stiff that we found the best way to ride his YZ250F was by floating the front end.
QUOTE OF THE WEEK: JON PRIMO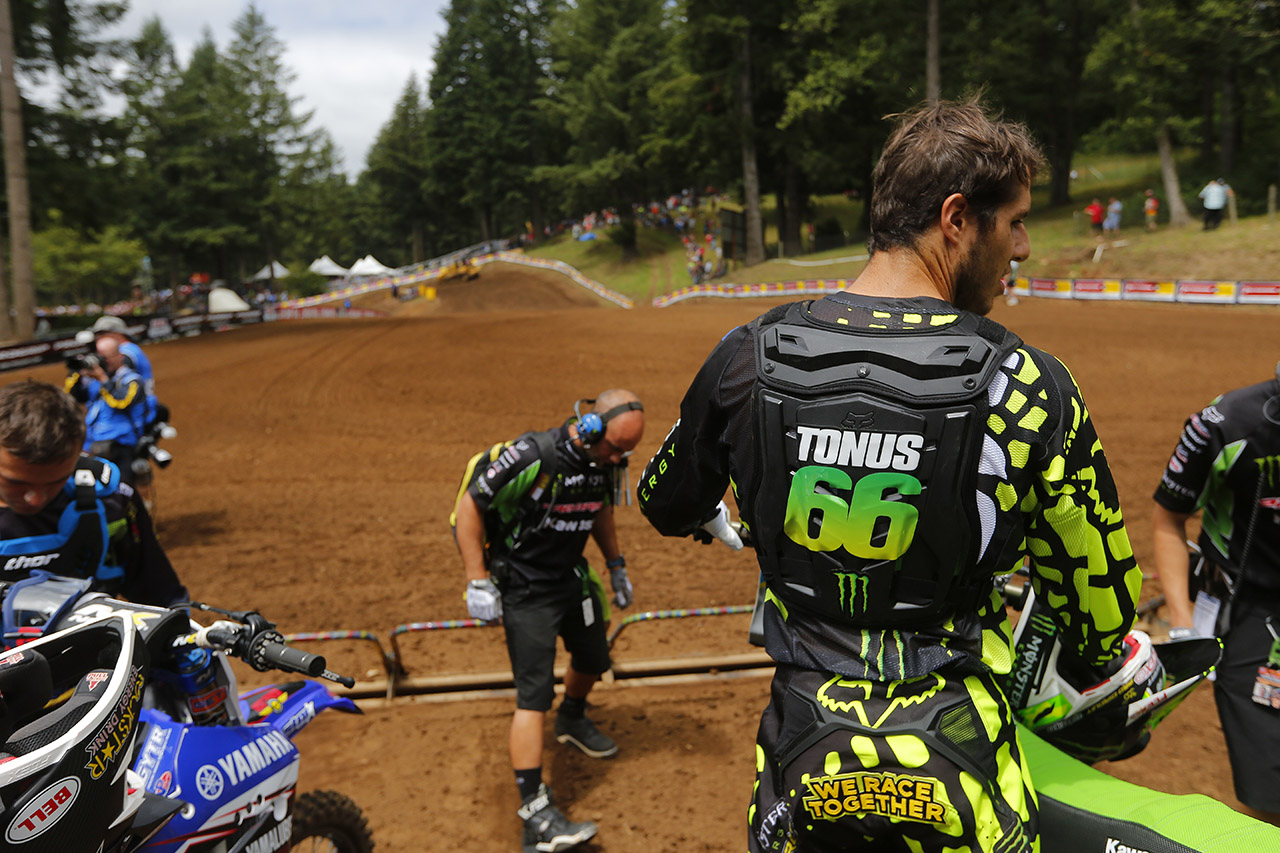 "KTM was easier [to work at], I would say, because we did not have to do engines or suspension. We just had to take care of the practice bike and do our race chassis, which is easy. With KTM I had more free time, but I think it's good to be involved. When you do your engine, and then you do more stuff on your bike, you learn a lot more. If something comes up on race day, such as if the rider feels something or you hear something on a bike, you can tell what the problem is. You do not have to wait for somebody, like the team manager or chief engine mechanic, to make any decisions. Instead, you can do stuff on your own."
Click here to read the in-depth interview with Jon Primo from Pro Circuit Kawasaki.

TWO-STROKE SPOTLIGHT: CURT WINTER'S JAPANESE BLEND

I was initially worried about featuring the "Two-Stroke Spotlight," because I was unsure whether Mid-Week Report readers would submit photos and descriptions of their bikes. Fortunately, my inbox has been flooded with awesome two-strokes. Thanks for taking the time to send over info on your prized iron. I have to give a special nod to Curt Winter, who deservingly earned this week's honor with his Yamaha/Suzuki/Honda amalgamation. Take it away, Curt.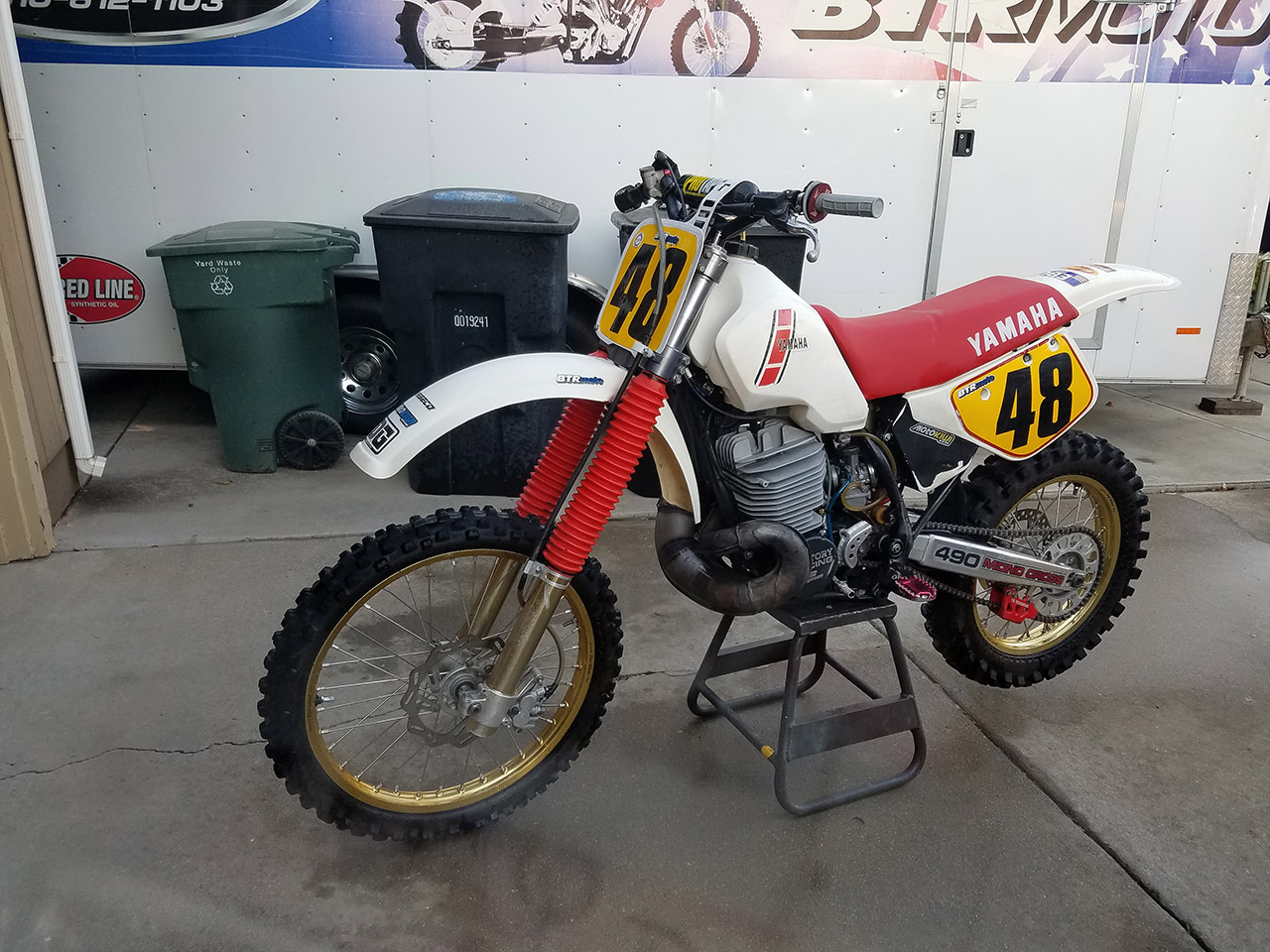 "Hi John, I saw your article on the Honda CR500 AF. I've built and owned several of those and have always been a Honda guy, but I wanted something different. 500 AFs are everywhere, so I built something different. I bought a well used 1987 Yamaha YZ490, stripped it down to the frame and started the build. I graphed on rear suspension from a 2007 Honda CRF250, including the rear disc brake. In an effort to retain the old school look I opted for a set of 1997 Suzuki RM250 forks. I rode and raced it for a while, but never really liked the shortcomings of the Yamaha motor. For that reason I installed the complete top end from a 1984 Honda CR500 (air-cooled) on a 1990 CR500 lower end and slapped that motor in the YZ chassis. Now it's got a motor worthy of the better suspension. I currently race it against modern bikes and have a blast. Truth be told, I was surprised how well it worked."
If you would like your bike to be featured in the "Two-Stroke Spotlight," please email me at [email protected] All I ask is that you give a breakdown of your bike and a detailed description of the thing. Please also send a few photos of your steed. By submitting your bike for the "Two-Stroke Spotlight," you agree to release all ownership rights to the images and copy to MXA. Please don't email me spam or try selling me beachfront property in Arizona. Happy submitting your smoker!
MINI-VIEW: LARRY LITTLE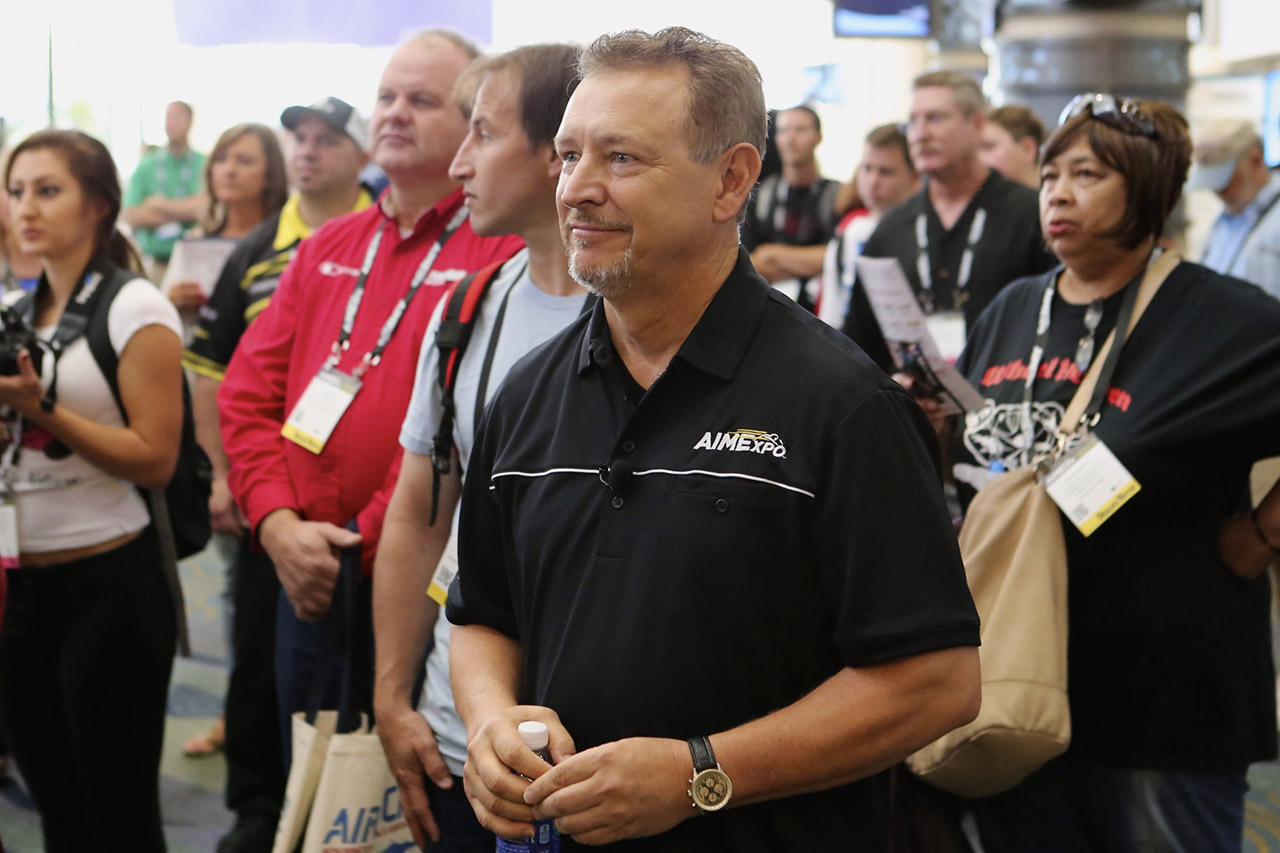 Larry Little is one of those behind the scenes types who is a mover and shaker in the motorcycle industry. Larry began as a salesman for Cycle News, although I don't hold that against him. All kidding aside, Little has made an impact wherever he has gone. His most recent role has been as the AIMExpo's Vice President and General Manager. He's the man behind the growing AIMExpo, which is coming to the Orange County Convention Center in Orlando, Florida, on October 13-16. Open to consumers, trade and media, the AIMExpo has something for everyone. This year is particularly special, as KTM has joined the fray. It's a tremendous opportunity to view the latest wares, sit on new motorcycles, bend the ear of high-up executives, collect some autographs, and even take new equipment out for a spin at AIMExpo Outdoors!
Larry, what's the most exciting thing about AIMExpo 2016?
AIMExpo was created to showcase the newest and brightest the market has to offer from a product perspective, so we believe the magic is in what the exhibitors bring to market for 2017. After all, the number one reason the media, dealers and consumers attend is to see new product! Beyond that, the experience for this year's attendees will be greatly enhanced by the change in exhibit halls at the Orange County Convention Center to the more desirable North Hall, placing AIMExpo Outdoors directly adjacent to the indoor exhibits.
Last year the news of the MIC assuming ownership of AIMExpo was an underlying topic of conversation throughout the show. Nearly a year into it, how will AIMExpo's role as the official trade event of the MIC impact the show from a long-term perspective?
That's the obvious question, but we actually view it in reverse. From the start, the foundation of AIMExpo, and its early success was based on adding value to the industry. The MIC exists to serve its members and the greater powersports industry, and, as a part of MIC, the AIMExpo platform offers many synergies for the MIC to be a more effective voice for industry while enhancing member value.  Mostly what that means for your readers and the show is that by working together we can create a more powerful showcase for motorcycling and the greater powersports marketplace–similar to what the 100+ year old EICMA show has done for Italy and the greater European market as a part of the Italian trade association (ANCMA). All said, the short answer is that our vision remains a show for North America with the impact of EICMA, and MIC will serve to more effectively achieve the vision.
The North Hall move is pretty significant. Can you explain how the new location will enhance the overall show experience?
First, it brings the indoor and outdoor areas together, where in the past they were separated by a shuttle ride. This is key for consumer attendees who can easily go between the two areas–from seeing the bikes, ATV's and UTV's on the show floor, to riding them at AIMExpo Outdoors. Second, the free motorcycle parking has been, and will continue to be adjacent to AIMExpo Outdoors, and it will also now be adjacent to the exhibit hall.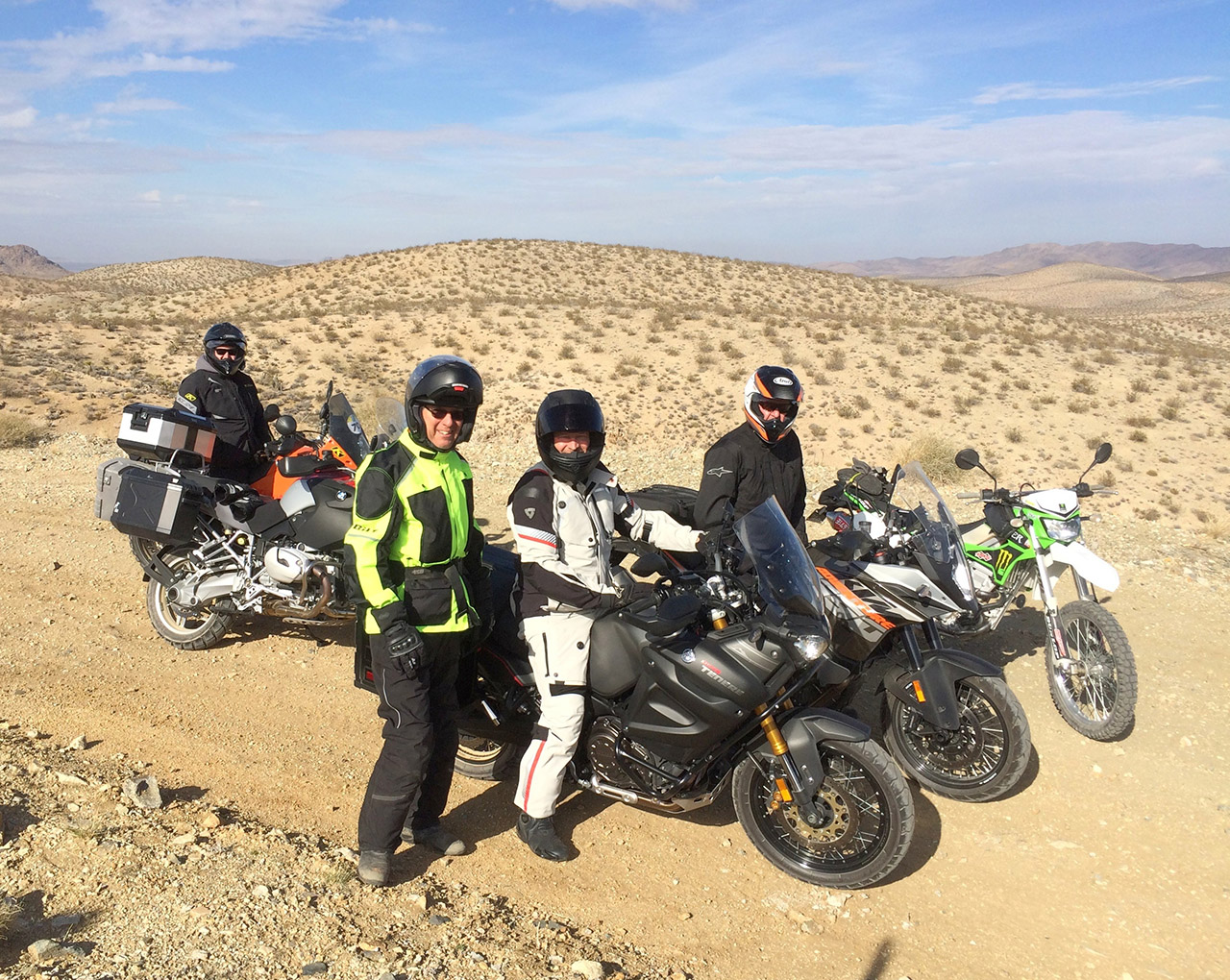 Larry (white gear) is a motorcycle advocate and enthusiast.
The introduction of Custom Culture at AIMExpo sounds intriguing. Will there be things for even off-road enthusiasts to enjoy?
The emerging Custom Culture segment of the industry is really about the millennial and younger generation integrating motorcycles into their lifestyle, no matter what brand or kind of bike. Is Custom Culture about motocross? No. But no matter what kinds of riding an AIMExpo attendee participates in, I guarantee that anyone with a motorcycle gene will appreciate the artisanship of how this generation interprets motorcycles in their life. Of course, beyond the Custom Culture feature, consumers will be able to check out new products from manufacturers from all corners of the market, including off-road.
The participation from the OEM's has increased each year at AIMExpo and we've seen some really cool bikes unveiled at the show in recent years. Are you able to shed any light on what we can expect this year?
We have seen some really cool bikes unveiled at the first shows, which is why AIMExpo was created! What personally motivated me in developing AIMExpo from the start was that I was always frustrated that we didn't have a platform in North America to launch new product, so we had to get it from the global launches in Italy or Germany. We're fixing that! From what we're initially hearing from OEM's is a mix of global reveals (world intros) and U.S. reveals (first time seen in the U.S.). No specifics yet, but stay tuned.
The addition of KTM is really exciting, as it has emerged as one of the leading OEM's. What does their addition to the event mean from your perspective and the bigger picture of the future of OEM involvement at AIMExpo?
It is very exciting that KTM has joined in the party, and we welcome the color orange to Orlando in October!  More than anything their addition signifies the importance of the North American market to OEMs of all types. KTM is growing their product offering beyond their legacy off-road product and AIMExpo is the one place where KTM can tell their story to the media, their dealers, and showcase it to consumers all in one place at one time.  
It's no secret that with the current structure of how OEM's introduce new motocross and off-road models in the summer doesn't coincide with the timing of AIMExpo in October. Assuming this is something you try to address each year, what are your hopes for enhancing the presence of this segment at AIMExpo in the future?
The reality of the industry is that we've got products introduced all year long, including the new off-road models coming along in time for racers to be competitive in variety of series that kick-off in the winter season. The truth is there will never be one perfect moment in the year, so we chose to slot ourselves in the fall time frame between the European shows (EICMA and Intermot) to offer a better-timed platform for North America. What would make AIMExpo more directly compelling for the off-road segment would be to align or create an off-road/moto type event with the show, and we continue to look at that for the future.
MXDN REFLECTIONS: MASSIMO ZANZANI'S PHOTO GALLERY
PRODUCT SPOTLIGHT:

RIDE ENGINEERING 270MM BRAKE ROTOR KIT
Ride Engineering, the industry leader in aftermarket handling and braking performance is proud to release a new 270mm Brake Rotor Kit. With better braking power, riders are able to carry more speed and out brake the pack corner after corner.
This new 270mm Solid Wave Rotor, made by Galfer exclusively for Ride Engineering, offers great stopping power at a lower cost and lighter weight than similiar floating discs. Using a special blend of stainless steel and iron alloy materials imported from Japan, this secret recipe is preferred by many factory racing teams. A precision machined hanger bracket, 2024 aluminum, ensures a precise fit without drag on the front wheel and is sold separately or included as a kit. This solid wave rotor weighs in at a minimal 1lb 1oz. Pair it with our Billet Front Brake Caliper for unbeatable stopping power!
These Rotors ($175), Hangers ($65), or combo kits ($235) are available for most popular KTM, Honda, Kawasaki, Suzuki, Yamaha, and Husqvarna models. For any questions, please call (800) 805-1516 or email us at [email protected]. 
THEY SAID IT: HRC MXGP GENERAL MANAGER ROGER HARVEY

"For Team France and Gautier [Paulin] to have won the Nations again, for the third time in a row, is a fantastic achievement, so huge congratulations to the whole team and the federation, as well as of course to the guys on our team for giving Gautier a great bike again. It was such a close finish that until the end it wasn't clear which country would take the title. The guys at Maggiora Park also did a great job with this event; it was fantastic to see the team that won here in 1986 – David Bailey, Rick Johnson and Johnny O'Mara – all together again and with their Hondas, as well as the likes of David Thorpe, Maurizio Dolce, and Jean-Michel Bayle all riding the Honda CRF again was a fantastic tribute to the history of our sport, and one that we were all very privileged to see."
FIRST LOOK: SIDI CROSSFIRE 3 SRS