PRO TAPER PRESENTS MXA'S MID-WEEK REPORT #40 BY JOHN BASHER
[nextpage title="page 1″ ]
#WHIPITWEDNESDAY
Rider: Dennis Stapleton
Location: Perris Raceway
Bike: 2007 Honda CRF250
Date: August 22, 2006
Photographer: John Basher
Camera: Canon 30D
Lens: 70-200mm f/2.8
Focal length: 200mm
Exposure: 1/250 sec.
F-stop: 6.3
ISO: 200
INSIDE LOOK: ALEKSANDR TONKOV'S YAMAHA YZ250F
Daryl Ecklund and I flew to Maggiora, Italy, last week to ride a fleet of factory Yamaha GP race bikes. We kicked off the test session on Russian Aleksandr Tonkov's YZ250F.
Most intriguing was Tonkov's carbon fiber subframe. That shouldn't take away from the KYB A-Kit shock, which allows for high- and low-speed rebound, as well as high- and low-speed compression. Hidden away is an Xtrig preload adjuster.
A broader view of Tonkov's YZ250F engine, which borrows many of the same internal parts that Cooper Webb and the Star Racing Yamaha team used in the U.S. 
Before you break out the dremel tool and go to town on your YZ250F front number plate, just know that Tonkov was the only rider to have slits cut in his front plate. You'll get by without the added airflow to the induction system.
Those are KYB A-Kit air forks dressed in fork stanchion guards. Notice the Twin Air radiator sleeves, which are designed to shed dirt, sand and roost from clogging up the radiator fins.
Another view of Aleksandr Tonkov's Wilvo/Standing Construct Yamaha YZ250F.
Along with a carbon fiber subframe is a carbon fiber tank. Interestingly, Tonkov uses the stock pull rod.
The devil is in the details. The team wrapped a piece of heat tape around the silicone radiator hose nearest to the Akrapovic resonance chamber, because the two parts are extremely close to one another. A molten-hot headpipe would melt a hole in the radiator hose otherwise. 
QUOTE OF THE WEEK: ROMAIN FEBVRE
"It was hard for me to stay off the bike. I was battling for a championship. We had some problems before, like in Spain and Germany, but I was 20 points close to Tim. I was disappointed about the championship, but it's like this. The crash was not my fault. It was not the fault of anyone. Let's say the good point about this is that I don't have any regrets. It wasn't my fault. What could I do? The crash caused me to have some problems between the eyes and the brain. One of my nerves was compressed by the concussion, so I could not see so good out of my right eye. It took me some time to get over it."
Click here to hear what the 2015 FIM World 450 Champion had to say about Tim Gajser, Jeffrey Herlings, flyaway races, one-day events and more.
TWO-STROKE SPOTLIGHT: CHRISTIAN LOVENFELDT'S HONDA CR125 OBSESSION

About two months ago I featured one of Christian Lovenfeldt's Mugen Honda replicas. It was a work of art, and knowing Christian personally, I believe him when he said that he spared no expense in the build. Lovenfeldt lives in Denmark and has a flourishing business selling ice, of all things. My cohort, Daryl Ecklund, visited Christian a few years back and rode a mini bike event held in a grass field. While there, Daryl was able to check out Christian's expansive collection of works suspension components, as well as a horde of other one-off trickery. Lovenfeldt is at it again. Take a look at his latest creation–a 2007 Honda CR125. I'll let Christian explain:
"This is my normal practice bike. It's a 2007 Honda CR125. Forget anything you might think about this bike being mellow. It's punched out to almost 151cc's, and the engine pulls like there's no end in sight.
"I went with the retro theme, using One Industries Jean-Michel Bayle plastics kit. The rear shock is a full works Showa unit from Jean Marie Hacking Racing. He was Bayle's mechanic when he won two World Championships. He's still the go-to guy for anything Showa. As for the forks, they're WP 48mm Cone Valves from Rinie V Laar. He used to work for WP in their race department. These forks are tuned to perfection.

"I used RG3 triple clamps with 22mm offset to make the bike turn a little sharper. The carbon tank cover and mud guard were made by Extreme Carbon in Portugal. The wheels have magnesium hubs. They are so light it's unbelievable. The clutch and ignition cover are CNC machined by a good friend of mine in the UK. You can actually buy those parts on Ebay. MDK made the footpegs out of titanium.
"When Honda announced they were stopping production of their two-strokes I bought ten brand new in-the-box 2007 CR125s. Everybody thought I was stupid the first couple of years after, but now I get calls from all over Europe asking if I'll sell a bike. Sorry, they're not for sale! I need to have bikes for the rest of my racing days. I'll forever be a two-stroke rider."
How cool is that?! If you would like your bike to be featured in the "Two-Stroke Spotlight," please email me at [email protected] All I ask is that you give a breakdown of your bike and a detailed description of the thing. Please also send a few photos of your steed. By submitting your bike for the "Two-Stroke Spotlight," you agree to release all ownership rights to the images and copy to MXA. Please don't email me spam or try selling me beachfront property in Arizona. Happy submitting your smoker!
MINI-VIEW: ARMINAS JASIKONAS

Luthania's Arminas Jasikonas was a surprise addition to the factory Suzuki MXGP squad after Ben Townley went out with injury. The 18 year old joined Stefan Everts' team beginning at the Czechoslovakia round. His best moto finish was a seventh in Assen, Netherlands. Jasikonas' results were obviously good enough for Everts, who signed the kid to a full-time deal in 2017. We caught up with Arminas recently to discuss riding for Suzuki, working with Stefan Everts, motocross in Lithuania, and where he expects to finish.
By Jim Kimball
Photos by factory Suzuki
How did the opportunity to ride for Stefan Everts' factory Suzuki team in the 450 World Championship come about?
Actually, it was due to a huge thanks to my manager, who introduced me to Stefan some time ago. Stefan watched me on the track before, and maybe he saw something a little bit special in me. Then Ben [Townley] got injured, so I was the first one who he contacted, and that is how it happened. It was really a big surprise and it was unbelievable. I still could not believe it until the first time I got on the bike!
How did the factory bike compare to what you were racing previously?
It was a big difference. Factory is factory, you know? It is a strong bike and so much lighter than any bike I had ever raced. The suspension especially was amazing. It was such a big difference in every way. You do not feel it so much on the hard tracks, but more on sand tracks.
How were your experiences racing the German motocross series?
Last year I did the German Cup 250 and then I did the German 450 Championship this year. Heading into the German 450 Championship we were going without any expectations, but then I was leading for some of the first rounds. I finished third overall because of a crash and injury, but overall it has been pretty good even with being injured. Ultimately I could only finish third, but it would have been possible to finish first without the injuries that I had.
The ADAC series is a pretty big series, correct?
I think it is the strongest international championship, outside of MXGP. The English, Dutch and French also have strong championships, but I feel that the German championship is one of the strongest. Of course it is lower level than GP, but it's still kind of good to go there. It is nice prize money, and all the tracks are pretty good. There are also some very good local riders, as well.
Is motocross very popular in Lithuania?
No. It is not popular, and the level of motocross is actually really low. To grow the racing back home with the young riders is almost not possible. I have already been living the past three years in Belgium. Everything is too difficult with the lack of tracks, and the lack of interest in motocross. As a family we decided to move to Belgium and live there. We live there now, and actually have really grown to think of it as home. It is actually way better for racing than living in Lithuania, and I am happy.
Normally a younger guy like yourself goes to the 250 class and races for a few years, and then moves up to the 450. You went right to the 450. Is that due to your size?
Yeah, I am actually a pretty big guy, and my weight is pretty heavy for a 250. We just decided to start this year on a 450 and take it as a learning year by adjusting to a heavier and more powerful bike. Riding the 450 is good, but sometimes I have more fun riding the 250. Still, I know in the future I need to ride 450. Actually, in the beginning of the season, it was tough a little bit because my riding style was used to being on a 250. I was revving the bike out, but now at the end of the year it comes a little bit better.
Often when a team selects a fill-in rider, they choose an older and more experienced rider. That wasn't the case with Suzuki, as they chose you. Why?
There was positive and negative people regarding Stefan hiring me, but I guess he gave me a chance, which was really good for me! Not many teams give you that opportunity, but I guess he is thinking about the future. That was a really nice thing that he did for me, not just taking another already experienced guy, but instead taking the younger one.
Stefan Everts seems very eager to work with you.
To have a guy like Stefan Everts beside you is amazing. You get the best tips and advice, whether it's riding related or personal. We will have a tough winter of training and testing to come, but I am really excited for it. We are gong to make some huge steps forward, because we need that. I am still struggling some with the hard packed tracks, but I will give my all and I will do whatever he says.  I am still young, so to change my ways now is easier than changing the older me.
You raced several GP's before getting the factory Suzuki ride. How did those rounds go?
I was struggling with my lack of experience, and I always got nervous. I should be thinking that I can race with the top five guys, and not just be happy with a top ten. But as I said, racing the MXGP series with factory Suzuki the past few months has been a learning experience. This was the first year in the GP's, and I never did it before. Now it is getting better, but I still need time.
You must have impressed Stefan, as he signed you for the full 2017 MXGP series.
Of course I am very excited and happy that he gave me a chance. I wanted to prove that I could do well and now I have a chance for the future. I was showing him some decent results, but still not at 100 percent, because I was still nervous and making stupid mistakes. I had a couple of top ten moto finishes, so it was a good example as to what I could do.
What are your goals for next year?
I am going for top 10. That is my goal, and I will try to reach it. I must move to the front, and so I must fight for it.
[/nextpage]
[nextpage title="page 2″ ]
INDUSTRY SNIPPETS OF KNOWLEDGE
Kawasaki Motors U.S.A. turned 50.
Kawasaki Motors U.S.A. are celebrating their 50th anniversary this year. Kawasaki recently moved lots, and while originally it was believed they were heading to Texas, the green team are in Foothill Ranch, California. While you might have known that, chew on this: Kawasaki Motors Corp., U.S.A. markets and distributes their machines through a network of approximately 1100 independent retailers. They employ nearly 3100 people in the U.S., with around 260 employees at KMC's headquarters in California. Congratulations to Kawasaki on 50 years of delivering performance products!
Kailub Russell has won the last four GNCC titles. Photo by Simon Cudby/KTM
FMF KTM Factory Racing's Kailub Russell clinched his fourth consecutive GNCC title this past weekend in Ohio. Russell did the deed by winning his ninth GNCC race (out of 12), wrapping up the title with one round to go. Kailub had this to say about his weekend, "I didn't get the greatest start again but I made some moves and got into the lead early. I pulled a gap and tried to settle into a pace but it was really slick and I was on the edge a little bit. I tried to go in and stabilize it and then Thad caught me, so we rode together at the end but I was trying to focus on the task at hand and get the win done. I had a good time today, I'm happy to get the win and happy to wrap up the championship one round early." Way to go, Kailub.
Colton Haaker (10) powered away with another win in the Endurocross series.
Colton Haaker continued his winning ways this past weekend at round five of the Endurocross series in Denver. The Rockstar Energy Husqvarna offroad ace bested KTM's Cody Webb. Both lapped third place while riding a torrid pace. With a tight race to the championship, Haaker is only up 12 on Webb with three rounds to go. The action picks up on October 22nd in Everett, Washington. Max Gerston finished third on a Beta, while my boy, Kyle Redmond, finished fifth.
The Monster Energy Kawasaki 250 GP program has been revamped for 2017. Stephen Rubini (second from right) will be joining Adam Sterry and Petar Petrov.
Monster Energy Kawasaki, which is Kawasaki's 250 Grand Prix effort, announced their 2017 team. Petar Petrov will be back for his final year with the program (next year he will be ineligible to race in the 250 class, thanks to Youthstream's 23-year-old age rule). Britain's Adam Sterry and France's Stephen Rubini will join Petrov in 2017. Michael Maschio and Fred Lavergne join the staff.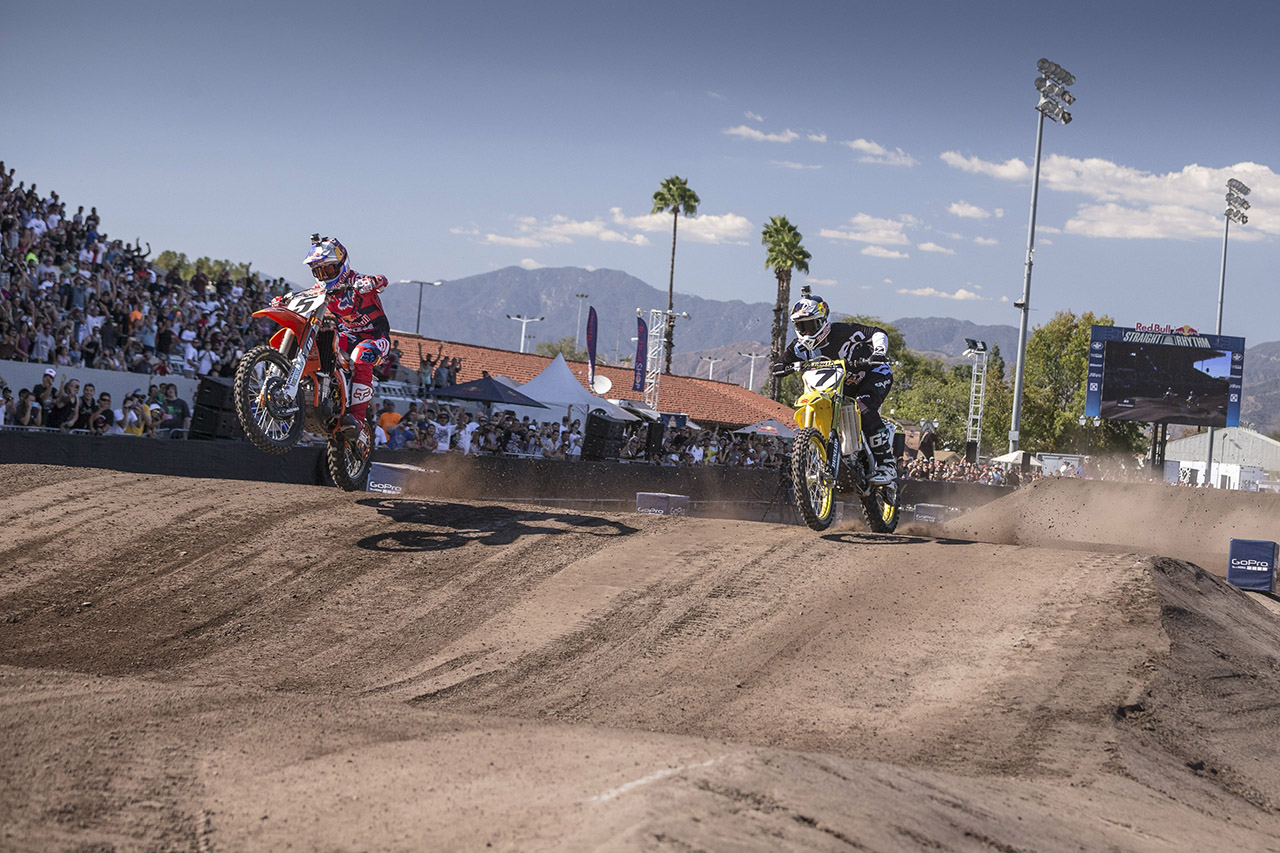 Ryan Dungey (5) and James Stewart (7) will go at it again, only this time they'll be racing under the lights at the Red Bull Straight Rhythm.
The Red Bull Straight Rhythm returns to the Pomona Fairplex in sunny SoCal for a third consecutive year, only this time around the racing will be held under the lights. Expect a 1/2-mile "unwound" track with head-to-head racing. It will be interesting seeing who will line up for the unique event on October 22nd (one week after the Monster Energy Cup). Can we expect Ryan Dungey, Ken Roczen and James Stewart? Time will tell. Click here to buy tickets. 
FOURTH ANNUAL OTHG "RUN WHAT YA BRUNG" TWO-STROKE RACE
Who doesn't remember those cool Woody Woodpecker Honda graphics from years ago?
By David Weeks
For 2016, the 14th round of the Northern California and Nevada Over The Hill Gang (OTHG) racing schedule contained the very special fourth annual "Run What Ya Brung" two-stroke exhibition race, held at REP's Riverfront Motocross Park in Marysville, California. For the past three years, the Sierra Chapter of the famed Over the Hill Gang club has included this special event with our traditional race day schedule. The two-moto format consisted of Beginners on up to Masters classes piloting two-strokes ranging from 125cc up to the behemoth 500cc machines. This year's event did not disappoint, as there were 40 entrants of current and vintage two-strokes.
Would you race this Maico? Motorcycle technology has changed dramatically in the past 40+ years.
Like the three preceding years, the event attracts an incredible variety of bikes, including vintage Maicos, Bultacos, Suzukis, Kawasakis and Hondas that ran alongside more modern YZs, KXs, KTMs, CRs and even a TM! The variety of bikes also meant a large span of lap times, too. All club members stuck to the spirit of the event, with the front-runners respectfully working through lap traffic.
Past AMA Pro Zeb Armstrong and his family operate Riverfront Motocross Park, which provided a fantastic venue and kept track conditions at a premium as they always do. The Armstrong's also published the event with live streaming, which attracted 9800 viewers.
Ahh..the Suzuki "Full Floater" days. Right-side-up forks, fork gaiters, drum brakes, the beginnings of water cooling…
The event also included an incredible raffle and a "Best in Show" award judged by the Sierra Chapter Board. Rod Wheeler won the Best in Class with his 1974 Maico MC440 and received a $100 gift certificate from Roseville Yamaha/Kawasaki. The raffle was provided with donated items from Motocross Action, Dirt Bike Magazine, Works Connection, MotoSeat, No-Toil, Leatt and Fly Racing.
The day ended just as it began, with racers swapping stories. Some were talking about riding the bikes of their youth, while others gushed about riding bikes they had always loved but missed the opportunity to ride…until the "Run What Ya Brung" race.
This bike is more my style. Later model Kawasaki KX125, complete with factory Kawasaki graphics and the famous #7.
The Sierra Chapter of the OTHG would like to thank our incredible sponsors: Motocross Action, Dirt Bike Magazine, Works Connection, No-Toil, MotoSeat, Leatt, Fly Racing, Workman Construction, Roseville Yamaha/Kawasaki, the Armstrong family and Wiley Printing. For 2017, the ideas on how to build on the success of the event are already flowing. Anyone know where we can find a 50 rider starting gate?
WIN A TRIP TO THE "UNCHAINED" PREMIERE IN VEGAS
Win VIP Red Carpet experience for 2 to "UNCHAINED" Movie Premiere at Caesars in Vegas on 10/14, hotel stay, tickets to Monster Cup and a new ATV, among other prizes! Go to http://www.unchainedfmx.com to enter!
MXA VIDEO: 2017 KTM 350SXF
WHAT'S NEXT: SMX CUP
I try to keep up to date on the latest happenings in motocross. After all, it's sort of my job. Having said that, I can't wrap my head around this weekend's Monster Energy Riders Cup. Here's what I have deciphered so far (thanks in part to several Google searches).
1. It's the brainchild of Giuseppe Luongo.
2. The event will be held at the Veltins Arena. Where is that exactly? A Google search revealed that it's a football (soccer) stadium in Gelsenkirchen, Germany. The stadium, which features a fully retractable roof, is close to Dusseldorf, with Cologne to the south. It's basically situated on the western plot of Germany, relatively close to Belgium and the Netherlands.
3. The track will supposedly be a Supercross layout, although that remains to be seen. Romain Febvre told me he wasn't sure what to expect.
4. Billed as a manufacturer's cup, there will be seven manufacturers vying for the prestige of having the strongest four-man team. This is obviously a big deal to the brands, given that Ryan Dungey, Jeffrey Herlings, Marvin Musquin, Romain Febvre, Justin Barcia, Zach Osborne, Tim Gajser, Gautier Paulin, and more stars will be competing. The winner will earn 50,000 Euro.
5. An individual winner will also be crowned after three mains. The rider with the lowest score will pocket 50,000 Euro. Note that 250 and 450 riders will race together. Youthstream allocated 10,000 Euro to the top placing 250 rider.
6. In addition, there will be a YZ125 Cup specifically for invited Yamaha riders, and a second 125cc class.
7. U.S. and Canadian cable viewers will be able to watch the SMX Riders' Cup on CBS Sports Network the day after the race–October 9th–at 1:00 pm EST.
8. With Dungey, Musquin and Herlings riding for KTM, it's pretty well assured that KTM is going to take top honors. I'll go with Honda in second (Paulin, Gajser and Bobryshev), and Yamaha in third (Barcia, Febvre, Benoit Paturel and Brent Van doninck).
EVENT DIAGRAM
TRACK PREVIEW
[/nextpage]