PRO TAPER PRESENTS MXA'S MID-WEEK REPORT #41 BY JOHN BASHER
Now 41 weeks through 2016 and only a few races left before a quick respite, followed by Anaheim 1 in a few short months, the motocross world waits for no man…or race. Last weekend's SMX Rider's and Manufacturer's Cup in Germany is now a distant memory, because the industry turns its attention to Sam Boyd Stadium in Las Vegas for the annual Monster Energy Cup. This is, without question, the biggest offseason Supercross race on the calendar. Expect Ryan Dungey, Ken Roczen, Eli Tomac, Marvin Musquin, Chad Reed, Cooper Webb and more to do battle on the unique MEC track (the starting gate will be in the bleachers!). It should be an exiting weekend of racing. I hope to see you there.
Without further ado, welcome to this edition of the Mid-Week Report.
#WHIPITWEDNESDAY
Rider: Eli Tomac
Location: Washougal
Date: July 20, 2013
Photographer: John Basher
Camera: Canon 1D-Mark III
Lens: 400mm f/2.8 IS
Focal length: 400mm
Exposure: 1/1000 sec.
F-stop: 4.0
ISO: 400
INDUSTRY NEWS:

COLE SEELY TO RACE JAPANESE NATIONAL
[Press Release]
Team Honda HRC's Cole Seely is slated to compete in the final round of the All Japan MX National Championship series, to be held at Sportsland Sugo in Mlyagi, Japan, on October 22-23. Seely will race in the IA1 class (450cc), in which his competition will include series regular Akira Narita, a factory HRC rider and 11-time Japanese National Champion, as well as MXGP veteran Kei Yamamoto. While in Japan, Seely and the team will visit Honda Racing Corporation, Honda Motorcycle R&D in Asaka, the Honda Proving Ground in Tochigi and the Honda Collection Hall at Motegi Circuit.
"I'm really excited for the opportunity to race in Japan," Seely said. "I've never been anywhere overseas, so I'm just as excited to see another part of the world as I am to race and have my team there with me. It will also be a great chance to meet everyone at Honda and HRC; being a part of the Honda family has been a dream come true, so I'm looking forward to showing them my appreciation. Helping develop the new 2017 CRF450R has been going really well. It's crazy how good it is already in the early stages, and it will just continue to get better—I can't wait to race it! I'm looking forward to working with the crew in Japan, and I want to thank everyone at the Kumamoto factory for working so hard to get this bike out despite dealing with the damage from the April earthquake."
"I'm really excited to see Cole racing in Japan for the first time," said Sam Mishima, Honda Motorcycle Sports Manager. "He showed a lot of speed during the beginning of the motocross season, so hopefully he can continue that and get some good results. I'm sure he'll also have a good time visiting the Honda facilities."
THEY SAID IT: ROGER DeCOSTER
"The Man" reflects on his time trying to prevent civil war among three of the greatest motocross riders–Jeff Stanton, Jean-Michel Bayle and Ricky Johnson–who were all on factory Honda in 1990.
Rare isn't Roger DeCoster's works Suzuki or signature chest protector, but instead an image of DeCoster actually getting roosted. 
"Jean-Michel Bayle and Jeff Stanton were very different personalities, and on top of that there was a lot of competition within the team. Ricky Johnson was at Honda, also. It was kind of a nice problem to have, because all three could win races and championships. I spent a lot of time in those days trying to smooth things out inside the team, not only with the riders, but also between the mechanics. Sometimes it was harder to keep the mechanics from killing each other than the riders!
"It was difficult in a way, but I had other years where it was more difficult because we couldn't achieve the results we wanted. The far worse problem is to have a losing team. Instead I had three guys who could always win, so I tried to smooth things out and keep the team image as it should have been. I was more of a diplomat than anything in those days [laughter]. I was the only French speaking person on the team, and Bayle was always trying to speak French to me. I avoided using French whenever there was someone else in the room, for fear that someone would think I was treating him better than the other guys."
PRODUCT SPOTLIGHT: REC MX YAMAHA BILLET CLUTCH CABLE GUIDE

Features:
Stiffer design reduces the flex from the stock steel guide for better clutch feel

Lighter weight than the OEM steel guide

3D CAD designed

CNC machined from 7075 T6 Aluminum (made in the USA)

Anodized blue, red, or black, and laser marked logo to look sharp and for longevity

Fits: 2014-2017 Yamaha YZ450F, 2014-2016 YZ250F, & 2015-2016 YZ250FX
RECCG01-BK (black)
RECCG01-BL (blue)
RECCG01-RD (red)
Suggested Retail $38.95

For more info about REC MX products, please visit us online at www.rec-mx.com and check out our Instagram feed at www.instagram.com/recmx for the latest racing and product news.
TWO-STROKE SPOTLIGHT: RICK KLEIN'S 1980 CAN-AM QUALIFIER
Even if you're not a fan of vintage bikes or Can-Ams, you can appreciate what Rick Klein did to a beat 1980 Can-Am. He restored it to like-new condition in his garage over a cold Michigan winter. Read about the build in Klein's words below.
A photo of the 1980 Can-Am Qualifier before Rick Klein dug into it…
"Here's a 1980 Can-Am Qualifier 3 400. It's hard to believe it, but a bike this high of stature had actually fallen onto some very hard times. Fortunately, I found it at the right time. I was looking for a project and it needed some serious help from someone wanting a project. Over the course of one long Michigan winter I did a complete frame-off restoration, including powder coating the frame, swingarm and fork sliders. The only 'newer' parts are the shocks and a mid-1990's ATK 406 pipe. It bolted right on! 
…and the result of hard work.
"The biggest surprise came five months after starting the project, when I rolled it out of the barn on a warm spring day and on the fourth kick it fired up! It scared the crap out of me! Man, those old big-bore two-strokes are loud and vibrate! After completing the build a guy in Australia bought it. As far as I know he rode it a couple times and then placed it in a museum."
If you would like your bike to be featured in the "Two-Stroke Spotlight," please email me at [email protected] All I ask is that you give a breakdown of your bike and a detailed description of the thing. Please also send a few photos of your steed. By submitting your bike for the "Two-Stroke Spotlight," you agree to release all ownership rights to the images and copy to MXA. Please don't email me spam or try selling me beachfront property in Arizona. Happy submitting your smoker!
WHAT'S NEW IN MXA LAND
Yesterday the MXA wrecking crew met at Milestone in Riverside, California, to conduct the 2017 MXA 250 Four-Stroke Shootout. Daryl Ecklund and Dennis Stapleton gathered up six riders, and they spent the day riding all of the bikes. While the day didn't end with one eventual winner, it did reaffirm thoughts and tested theories. Keep in mind that MXA has been riding all of the 2017 bikes for months now, in race situations and at a variety of different tracks. Look for a comprehensive breakdown of each bike, along with shootout results in the January 2017 issue. In the meantime, we'll bring you a video of the action and snippets from the test day.
Dennis Stapleton spent last week in the Dominican Republic, which if you had been following the weather, know wasn't optimal. Hurricane Matthew blew though the Caribbean and swept up the southeastern seaboard. Stapleton, who I should call "Nine Lives" for his affinity of getting out of sticky situations unscathed, caught one of the last flights out of town before the Miami airport shut down. Dennis went to the Dominican Republic to race and sightsee. He nearly won the Vet class, but his bike broke in the final moto. Stapleton sent over a smattering of photos from the event, which you can check out below. 
This weekend Daryl, Dennis and I are heading to Sin City for the Monster Energy Cup. Look for a ton of web galleries, as well as fresh content on social media, including Facebook live video. Next week Dennis and I are traveling to Monster Mountain in Alabama to ride the long-awaited 2017 Honda CRF450.
LOOKING AHEAD: MONSTER ENERGY CUP
The sixth annual Monster Energy Cup will bring some of the sport's best to Sam Boyd Stadium on Saturday in what may be the most lucrative race of the year. Ryan Villopoto has been the only rider in the event's history to go three-for-three in main event victories and secure the million dollar bonus. That was back in 2011. Since then, Justin Barcia (2012), James Stewart (2013), Davi Millsaps (2014) and Ken Roczen (last year) used consistency to smarts to win the overall and collect the $100,000 pay day.
Odds are the million dollar briefcase will be safe this year. There's too much firepower for one rider to dominate all three main events. 
Will someone win the one million dollar bonus this year? It's not likely. With Ken Roczen, Ryan Dungey, Cooper Webb, Marvin Musquin, Eli Tomac, and Chad Reed in the mix, the likelihood of someone being perfect in three main events is slim to none. What's interesting is that Ryan Dungey has never won the Monster Cup. Another cool fact is how no one has won the MEC twice. Below are news, notes and questions for the upcoming race.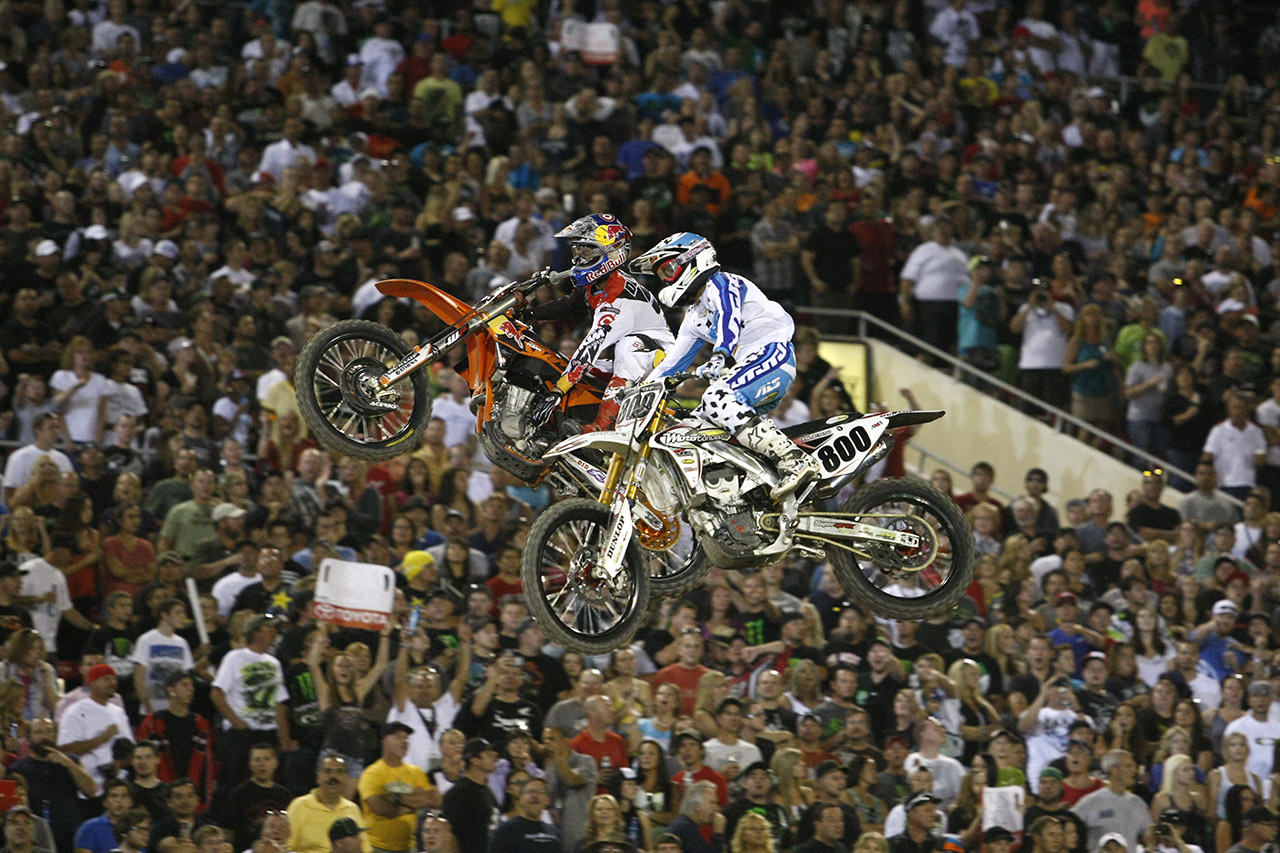 The Monster Cup has a way of producing memorable moments, like the Ryan Dungey "suicide shift" at the 2012 event. 
1. Ken Roczen will debut on HRC Honda this weekend.
2. Cooper Webb and Chad Reed are new teammates at factory Yamaha. Who will do better?
3. The MEC always offers something new; notably race numbers. Cooper Webb will debut his new number (2), as will several others.
4. No need to adjust your eyes. Now with the Red Bull KTM team, Canard will be riding orange instead of red.
5. Given the open-class format, riders are eligible to ride anything under the sun. Jordan Smith, Troy Lee Designs/Red Bull KTM's newest recruit, will race on a 250. Teammate Shane McElrath will supposedly line up on a KTM 350SXF.
6. Major teams absent from the MEC will be JGRMX (who are reportedly switching brands), RCH Suzuki, Geico Honda, and Pro Circuit Kawasaki.
7. The start line will begin up in the bleachers.
8. Are you looking for the Monster Energy Cup rider entry list? Click here.
INDUSTRY NEWS: KTM MOVES INTO NEW DIGS
[Press Release]
Recently in front of all the biggest industry names in both disciplines of motorcycle sport, on-road and off-road, KTM cut the ribbon on its all new Motorsport Building in Munderfing, Austria.
The new Motorsport Building covers an area of 18,000 m2. It is located directly behind KTM's Engine Factoryin Munderfing and is flanked by the new KTM Logistic Center and the WP Group. The ground floor offers an area of 110 x 60 meters, enough space for workshops in the categories Motocross, Enduro, Rally, and MotoGP, including truck parking bays. The first floor has over 2000 m2 of storage space, while the upper floor has 50 modern offices for 180 employees. About half of the KTM Motorsport employees can thus benefit from the perfect infrastructure during daily operation, and provide the basis for the company's unique commitment to global motorsport.
Since KTM's first World Championship title in 1974 by Gennadij Moiseev (Motocross 250), the brand has up to now earned 269 more world championship titles, 15 consecutive Dakar Rally victories, and in the last two seasons has taken the final big title in offroad motorsports, first place in the Supercross World Championship. Now, after an early victory in the 2016 Moto3 World Championship, KTM in 2017 enters Moto2, the intermediary category of road racing, and the premiere class, MotoGP.
Pit Beirer (KTM Motorsport Director): "It is a great honor for us to be here in the new KTM Motorsport Building, and in the presence of the most important worldwide promoters, sponsors, team managers, the entire board of the KTM Group, WP and Pankl board members, chief designer Gerald Kiska, and of course, our factory riders and motorsport employees. A new building was inevitable after the integration of 'Husqvarna' three years ago, and the decision to go into the MotoGP class. For this concept, it was a matter of great concern to us that the entire KTM Motorsport family could strive for further success under one roof. A special thanks to the team from Architekturbüro Hofbauer from Wels for the brilliant planning. With Stefan Pierer as a great thinker and leader of the KTM Group, and with the passion of our employees, we will be able to pursue further major goals together and celebrate our future successes."
Stefan Pierer (CEO KTM Group): "Motorsport is nothing without strong promoters and loyal sponsors, so we are particularly pleased to welcome them all here on this special day. In 1992 KTM Racing was still a single small workshop, and successfully tackled Rally and Motocross alongside the initial niche of Enduro under the strong leadership of Heinz Kinigadner. Meanwhile, since Pit Beirer took over our motorsport in 2006, the team has grown to more than 300 employees worldwide and employs more than 60 factory riders. READY TO RACE and motor racing are a way of thinking that keeps the company fresh and drives our more than 3000 employees in Mattighofen and Munderfing every day. Five percent of our annual sales flows into our motorsport and makes KTM Europe's biggest sport motorcycle manufacturer with the ambitious goal of being on the podium all over the world in the coming years."
QUESTION & ANSWER: COMING BACK FROM INJURY
Crashes happen; it's what you do after the fact that matters. This a photo of me crashing Clark Stiles' bike years ago. Needless to say, Jody told me to get behind the camera instead of in front of it. 
This week I received a question from a reader about how to bounce back after sustaining an injury from racing motocross. Given that I've seen my fair share of hospital rooms (lacerated spleen, hematoma on kidney, back surgery, broken wrist and collarbone), I have some insight on this topic. Maybe this pertains to you.
Question: "I am in a dilemma and would appreciate your advice. I just broke both wrists in a Vet race last weekend. I had surgery on right wrist after racing for position and crashed. This is less than one year from major shoulder surgery due to race crash. I love all things bike and moto and racing. When the gate drops I race to win or the best I can do.
"When I look back over my 40 years of motocross racing, all broken bones have been due to racing, none during practice. All of them happened on modern bikes, none on vintage bikes. At 51, I just can't sustain another surgery. My wife won't put up with it. I've thought this through, and would appreciate your advice. How can I keep racing, still have fun competing, and not push it over my mental and physical ability and get hurt?"
Answer: Sorry to hear about your plight. Heal quickly. I broke my wrist a long time ago and feared that I also broke the other one. When I went to the ER the doctor asked if I had any other pain than my obviously crooked left wrist. I refrained from telling him that my right wrist was aching. Double casts were not an option! 
You have to ask yourself if the crashes are caused by outside influences, such as the fault of other racers, or the result of your own errors? If you're making mistakes and lawn darting, then I suggest focusing on riding technique. For a while I was crashing left and right. A buddy told me to tweak my technique. In turn I avoided costly mistakes, rode safer, and also got faster. Now if you're the victim of unfortunate circumstances, find whoever has the voodoo doll and get it back! In all seriousness, start from the beginning. Enjoy doing things within your limits, and build slowly. When the time comes that you feel comfortable racing again, you'll know that you've done everything in your power to be safe and ride smart. That should provide assurance, which will lead to confidence.
I have a longstanding agreement with my wife. She supports my riding, just as long as I wear the very best protective equipment available. That way when I do crash (which is unfortunately inevitable), I'm dressed for impact. From that moment of impact onward I rely on past experience, physical ability, and a fair amount of luck. Whatever the outcome, my wife and I know that I took every precautionary measure. There's solace in that.
How do you keep from pushing over your mental and physical limit? Good question. When I get to the point of going past my comfort zone, I ask myself, "Do I really need to ride like an idiot?" Usually common sense trumps pride. I back off slightly, regroup, and finish the race in the comforting knowledge that I won't be spending the afternoon on a cot in the hospital. 
Enjoy the ride. Don't stress about getting back to the gate. Motocross is a progression. If your heart's no longer in it, then you'll know.
PRODUCT SPOTLIGHT: REDLABEL MOTO2 HONDA GRAPHICS
[Press Release]
www.REDLABEL.mx Custom Graphics is proud to release a New MOTO2 Honda Line of Custom Graphics.
REDLABEL has 8 Color Options to start with and then you can customize your kit from there, for free. FREE CUSTOM WORK for every order at www.REDLABEL.mx
Full Custom Bike Bike Kits are $189 which includes FREE CUSTOM WORK, free hub stickers and free mini plates with every order. Use coupon code "REDLABEL 10-OFF" to get a 10% discount on your first REDLABEL Custom Graphics Kit.
Like Us on FaceBook /REDLABEL.mx, Follow Us on Instagram /@REDLABELmx, and check out www.REDLABEL.mx to order custom graphics for 2016-17.
ATTENTION SoCAL RIDERS: DONNIE HANSEN TO OFFER COACHING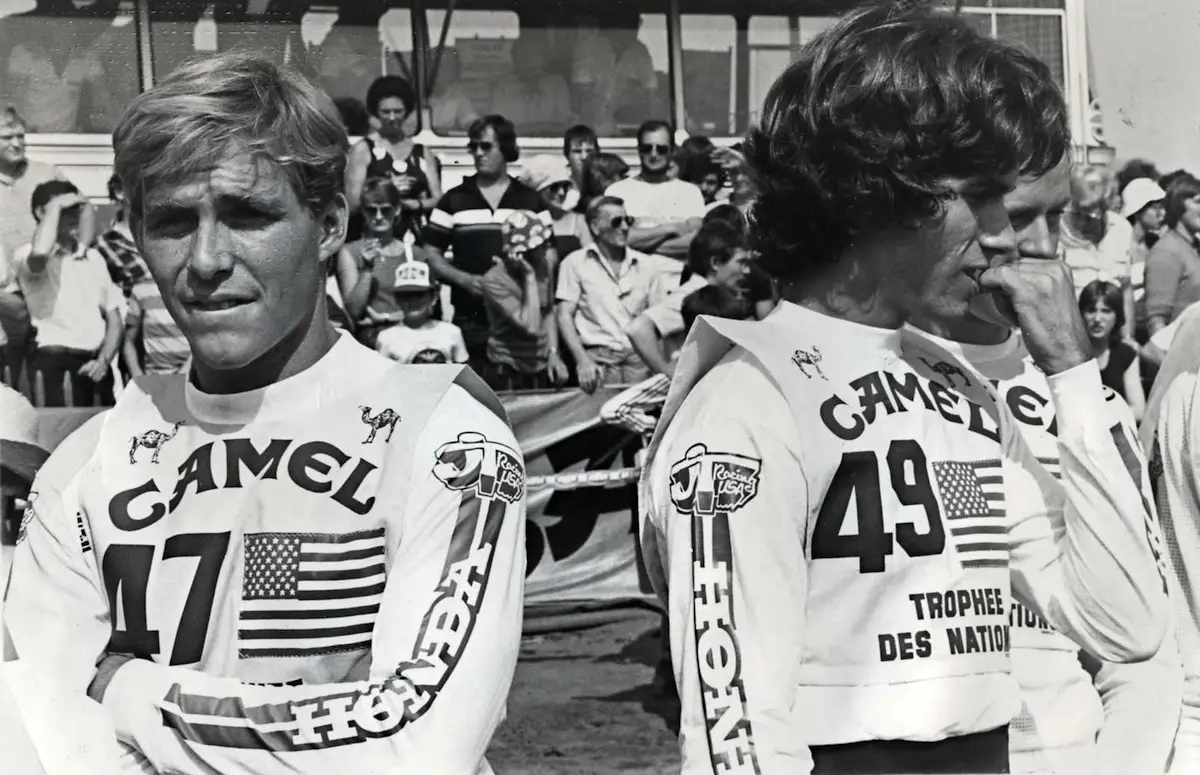 Danny LaPorte (left) and Donnie Hansen. 
[Press Release]
Former Supercross & National Champion, Donnie Hansen, has relocated to southern California for the Supercross season ending in May, 2017.  He will be working with riders from Amateur to Pro, and is available for coaching at the local tracks and/or test tracks as well at each event.  In addition, he has packages available that can include private training, bike rental, food and lodging, if needed. Foreign students are also welcome.  Check out www.DHMA.com for information on his credentials and programs.  Contact him for more information – Donnie @DHMA.com- 719-495-2624 or Toll Free 877-883-7260
QUOTE OF THE WEEK: TIM GAJSER
When I won in Qatar it was just a big surprise for everyone. Nobody was really expecting me to come to the first round and just dominate by winning both races. There were rumors before the 2016 season when I went on social media and saw what people were saying. They said that I was stupid to move up, and I should stay one or two more years in MX2. It made me so angry and also very motivated. I wanted to prove to everyone that they were wrong. I think I did that.
Click here to read our thorough interview with the two-time World Champion.