PRO TAPER PRESENTS MXA'S MID-WEEK REPORT #44 BY JOHN BASHER
#WHIPITWEDNESDAY

Rider: Jarryd McNeil
Location: Sam Boyd Stadium
Date: October 14, 2016
Photographer: John Basher
Camera: Canon 5D Mark III
Lens: 70-200mm f/2.8
Focal length: 200mm
Exposure: 1/800 sec.
F-stop: 5.6
ISO: 250
TWO-STROKE SPOTLIGHT: DALLAS NYBLOD'S 1994 NOLEEN OHLINS YAMAHA YZ360
A before photo of the Yamaha YZ360…
"This bike isn't perfect, but it turned better than expected. My intent when starting was to build the bike as a racer. After completion, I'm not so sure I'll even ride it. Time will tell. As of now the bike hasn't been started. I purchased it in March of 2016. The initial plan was to have the bike finished for the 2016 Washougal NW Challenge vintage race this last August. Being your typical vintage bike build–one step forward, two steps back–it took longer than I thought it would. My budget for the build was totally blown up!
…and after. Wow, what a difference time, effort and money make!
"Without the following help from the following individuals, this build would have been much more difficult. Chris Sicilia and his expert crew at Masic Industries are top notch. They powder coated the frame, swingarm and ceramic coating for the motor. They knocked it out of the park! I have to thank Mychael Weidman at Ranier Honda Yamaha for his patience with what was a couple of hundred parts that were ordered. Broc Glover and the Dunlop tire team not only helped with the tires for this build, but they helped with tires throughout the 2016 race season for all my bikes. Clark Jones at Noleen did the rear shock rebuild and re-valve, as well as provided some useful information with the build.
"The only parts used that were on the bike as purchased were the engine (crank was replaced), ignition (other than the stator), frame, subframe, swingarm, Pro Circuit pipe and silencer, carburetor, shock, Noleen shock linkage, and a few of the fasteners and bolts that have been discontinued and not available from Yamaha. The Pro Circuit pipe and silencer, though not perfect, just needed to be cleaned up. A shorty silencer was made from the existing silencer.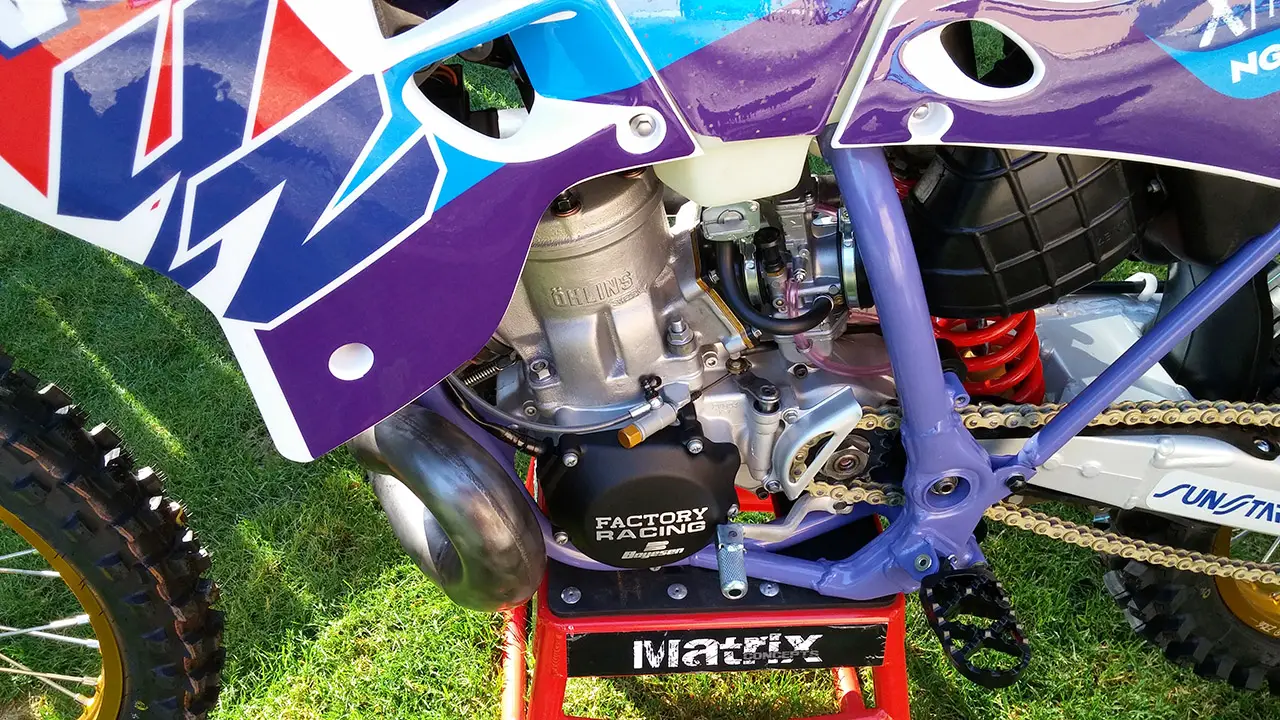 "Here's a quick list of what was done:
* Most all of the fasteners, bearings, seals, bits and pieces have been replaced with new OEM parts.
* Magura hydraulic clutch.
* Custom one-off DNR machined billet top clamp.
* Renthal Twinwall handlebars.
* ODI grips.
* 2002 Yamaha YZ250 forks with Pro Action valving. The 2002 forks were used to accommodate the 20mm front axle on the Warp 9 front wheel.
* The lower 2002 triple clamp was machined to accept the 1994 steering stem.
* Total fork rebuild with new internal bushings and seals.
* 2014 front brake master cylinder.
* Warp 9 wheels front and rear.
* New Clark translucent gas tank.
* Seat cover and foam.
* New plastics–mixture of OEM and UFO.
* Silicone radiator hoses.
* New Boyesen ignition cover.
* New Boyesen reeds.
* New OEM rear brake lever, shift lever, kickstarter, Yamaha throttle assembly, front and rear brake lines, linkage bearings and seals, steering stem bearings, radiators, ignition stator.
* Replaced the crankshaft as well as installed a new rod kit.
* Crankshaft was balanced by Crank Works out of Arizona.
* It took three airboxes to find a good one, or not one from a 125.
* It took three seats to find a good base."
If you would like your bike to be featured in the "Two-Stroke Spotlight," please email me at [email protected] All I ask is that you give a breakdown of your bike and a detailed description of the thing. Please also send a few photos of your steed. By submitting your bike for the "Two-Stroke Spotlight," you agree to release all ownership rights to the images and copy to MXA. Please don't email me spam or try selling me beachfront property in Arizona. Happy submitting your smoker!
PRODUCT SPOTLIGHT: DUBYA USA CERAKOTE FINISHING
Dubya USA is proud to announce the expansion of our production capabilities to include Cerakote hub refinishing and custom spoke bending and threading. Give your modern or vintage hubs a clean look with the ultra durable Cerakote finish. The strong ceramic coating is available in four colors.
Dubya stocks a wide variety of stainless steel straight and butted spokes in several gauges. With the capability to cut and bend spokes in-house, we can build just about any motorcycle wheel.
Just send us your hubs and we'll take care of the rest! Call (714) 279-0200 or visit http://www.dubyausa.com/ for more information.
MXA GOES TO JAPAN
In what had been a long time coming, MXA finally made good on a promise to visit the Excel factory in Kusatsu City, Japan. We originally discussed the idea with Excel two years ago, but scheduling conflicts on both sides always came up. However, Daryl Ecklund ironed things out and traveled over to the land of the rising sun last week to tour the Excel facility. He crossed the International Date Line, hopped two trains and weaved through traffic on his way to learn how rims were made.
Excel has two plants–one in Japan and another in Malaysia. Their Japan plant has slightly under 50 employees who are experts at the craft of making rims. Daryl saw their talents on display and captured the rim-making process in a series of photos. The images below are just a sample of what Ecklund experienced. Special thanks to the kind folks at Excel Japan for their hospitality.

Excel is world-reknowned for their rim polishing. These machines hold the secrets of that process.
This is part of the anodizing process, where the rims are dipped in specific colors. I'd like a run or black, please.
A worker inspects a rim after welding the ends together.
A machine bends and cuts this roll into four separate rims. Then the rim portions are sent off to the welding machine.
REMINDER: CLUBMX OPEN HOUSE THIS WEEKEND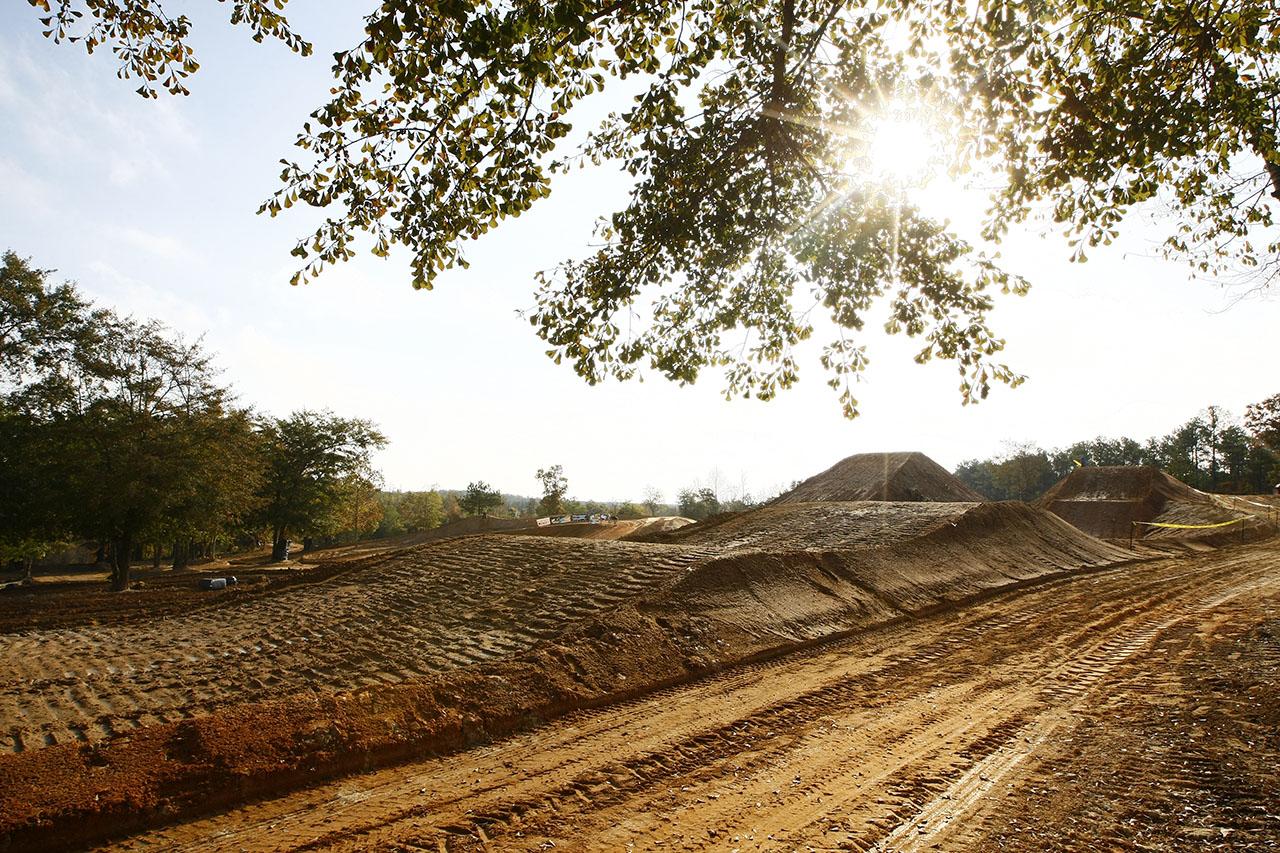 Do you live in the southeast? Are you looking to ride several pristine motocross tracks this weekend? Want to get away for a while? You're not you when you don't ride for extended periods of time. Do yourself a favor and head out to the ClubMX open house in Chesterfield, South Carolina. It's a great time for riding, talking moto, checking out vendors, and being involved in the festivities. Heck, you can even pick up a few autographs from some Pros.
The party kicks off on Friday, with a $5 gate fee for the entire weekend. Kids 12 and under are free. It's $30 to ride each day. There's free camping and dinner on Saturday night. It's your opportunity to ride for three days on three different and fully prepped tracks. Friday is dedicated to the sand track; Saturday riding will be at the Practice Facility track; and Sunday will round out the weekend on the Training Facility (main) track. If you're feeling frisky, there's a "King of the Corner" contest, where owner Brandon Haas sets up a perfectly manicured bowl corner. Photographers snap away while contestants rail around the berm. The best rider photo wins. It's sure to make for some hilarious moments.
Visit www.clubmx-sc.com for more information. Don't miss out on the three-day event.
OOPS! THAT'S NOT SUPPOSED TO HAPPEN
At one time this was a shiny new Yamaha YZ250 piston. Then it met the MXA wrecking crew. The rest, as they say, is misery. Somehow the connecting rod broke down by bearing, roaching the piston and mangling the cylinder. Needless to say, our YZ250 will be out of commission for a few days.
UPDATE: 2017 YAMAHA YZ250F PROJECT
What you see here is a skeleton version of the 2017 Yamaha YZ250F. In two weeks it should look like a beauty queen, only with the power of a Chuck Norris roundhouse kick.
Last week I took possession of a 2017 Yamaha YZ250F. In the days since then I have been on the horn, calling in favors and playing marketing man, for the goal of building something extraordinary. Normally with four-stroke builds I steer clear of major engine modifications, because durability goes out the window and running race fuel is expensive. This time around I'm trying to toe the line, so to speak. I dropped the YZ250F at JGRMX's retail shop in Huntersville, North Carolina. John "Bundy" Mitchell, Dennis Kiser, Gino Aponte and Joey Bray are all part of the little-known retail side of JGRMX. Bundy and his crew specialize in engine and suspension modifications, tuning and maintenance. Given JGRMX's history with Yamaha–even though the race team has moved on to Suzuki–the retail business has a treasure trove of information regarding the blue bikes. It seemed natural to drive the never-ridden 2017 YZ250F straight to JGRMX. Not only that, but the shop is located 15 minutes from my house. It was a no brainer.
As crazy as it sounds, I had the JGRMX retail department tear down the 2017 YZ250F before I ever started the engine. Bundy, Gino and Dennis were happy about that decision.
Bundy, Gino and Dennis are in the process of modifying the engine. Those upgrades include rimming the transmission, porting the cylinder, using different valves, and several other horsepower-making mods. After that, they'll bolt on boxes upon boxes of aftermarket parts that were graciously given to me for this project. Here's what you can expect to see in the coming weeks on my YZ250F:
* Kayaba A-Kit spring forks/shock
* Xtrig ROCS adjustable offset triple clamps
* Xtrig preload shock adjuster
* FMF Factory 4.1 titanium/carbon exhaust
* Hinson Billetproof clutch
* Duyba custom wheels
* JGRMX adjustable subframe
* JGRMX adjustable pull rod
* Pro Pegs titanium footpegs
* Galfer oversized rotor
* Renthal bars/sprockets/chain
* Pirelli tires
* Twin Air Powerflow kit
* Cycra Powerflow plastics
* Custom DeCal Works graphics
* GET ignition system
* CV4 radiator hoses
* Works Connection parts
Got gears? These parts are being sent out to get rim finished.
The order page says it all. "Needs to run on pump fuel." I'm looking for more power, without the headache of running race fuel. Why? Most guys don't want to run race gas. Neither do I.
I have other irons in the fire, too, but I'm waiting on confirmation. Stay tuned, as I'll give a weekly progress report.
THEY SAID IT: EVGENY BOBRYSHEV
By Jim Kimball
"Overall, the season was good, yet I am a little unhappy with my last four or five races. I had a little drop down with my results. We had some little issues, and I had a few crashes, so I lost lots of points.  For a long time I was third in the championship, and then fourth, before I dropped to fifth, but I am still happy.  I always strive to be finishing top five. I learned a lot this year, and I just want to try to be better again."
PRODUCT SPOTLIGHT: LIGHTSPEED CARBON FIBER TWO-STROKE IGNITION COVERS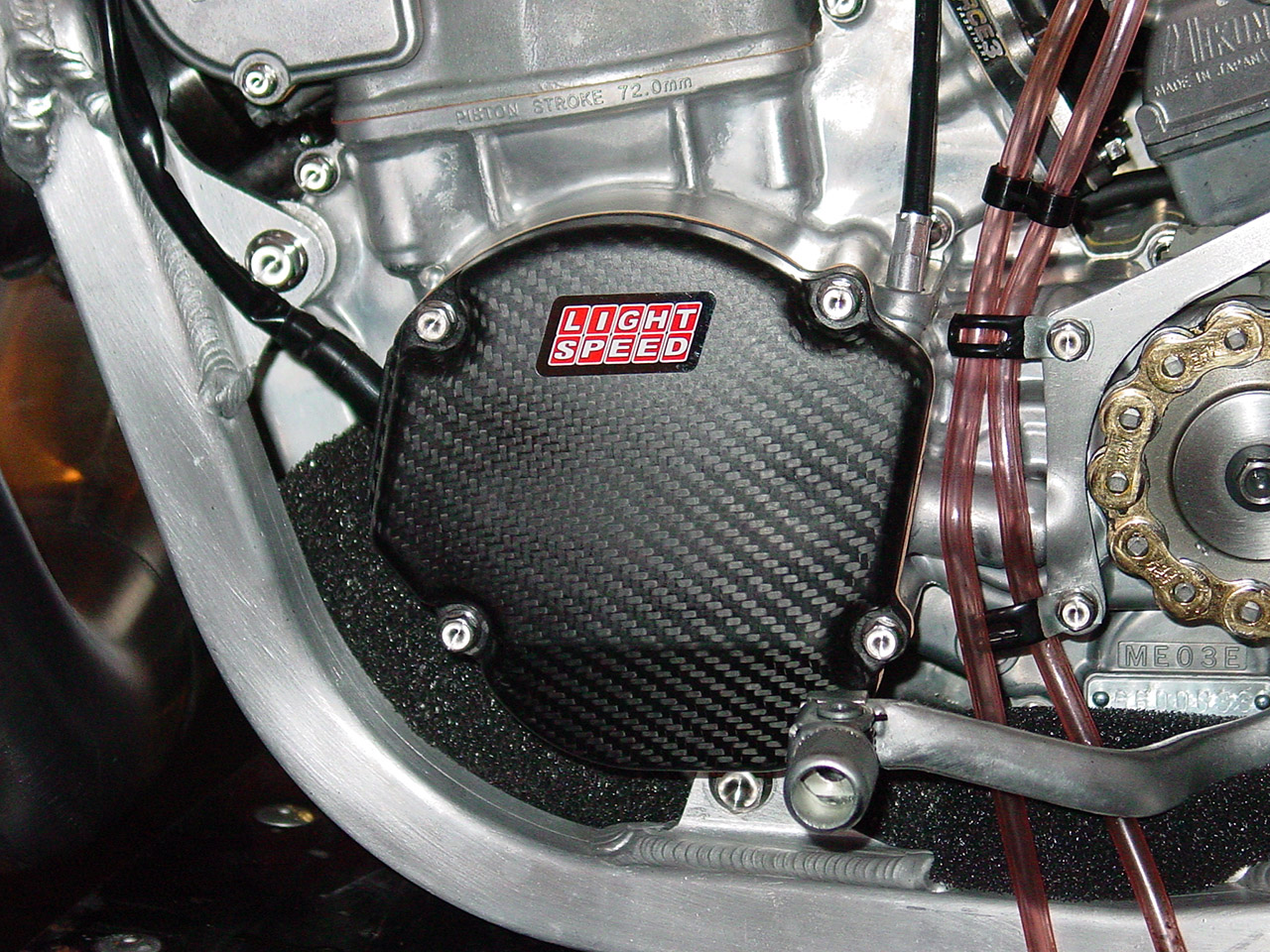 [Press Release]
LightSpeed Carbon announces the re-introduction of Carbon Fiber 2-Stroke Ignition Covers. Lightspeed, the Carbon Fiber supplier for some the biggest names and factory teams in motocross, will be producing some selected Carbon Fiber ignition covers.
"Lately, we have seen a resurgence of many two-stroke restoration projects, resulting in an increased demand in older two-stroke carbon parts. In many cases, we are the only company in the world that makes carbon fiber parts for some of these older two-stroke motocross bikes. As a result of this increased popularity, Lightspeed is responding by producing selected models/limited edition carbon fiber ignition covers. For now, Lightspeed has re-introduced the popular Yamaha YZ250 (1999-2017) and Honda CR250 (2002-2008) model ignition covers and will be expanding to other models if we continue to see increased interest. This is a market test, so-to-speak, and Lightspeed is hoping it is well received," said William Amaradio, owner of Lightspeed Carbon.
All ignition covers are produced using high-end aerospace process: autoclave, vacuum bag, prepreg and high temp curing. The Yamaha YZ250 carbon fiber ignition cover is limited edition. Get the exact same factory ignition cover that was used by factory Yamaha on Chad Reed's works bike. Retail is$199.95. The 2002-2008 Honda CR250 ignition cover also retails for $199.95.
For more information, please visit http://www.lightspeedcarbon.com/Default.asp or call (714) 990-5767.
QUOTE OF THE WEEK: JEREMY ALBRECHT
"Justin [Barcia] was one of the people who was pushing me to continue pursuing it [the deal with Suzuki]. He wanted to do something different for himself. It didn't obviously go the way he expected it. We thought he would go out and win. We hired him to win, and I know he can win. I don't know if he just didn't get along with that bike [Yamaha] or what. Our sport is so mental. There are a lot of riders that talk a lot of stuff, and it gets in their head, even if they don't believe it at first. We're paying Justin a pretty good chunk of money, and he wasn't really that happy, so let's try to get him happy so we can see some results."
Click here to read our exclusive interview with the JGRMX team manager.
INDUSTRY NEWS: WESTERN POWER SPORTS BECOMES DISTRIBUTOR FOR ALPINESTARS
WPS' Craig Shoemaker (left) and Alpinestars' Gabriele Mazzarolo.
[Press Release]
WPS (Western Power Sports, Inc.) is pleased to announce that they have reached an agreement with Alpinestars for distribution of motocross and off-road riding products in the United States.
Effective from November 2016, WPS will begin to distribute Alpinestars' offroad and adventure boots, neck supports, knee braces, knee/shin/elbow guards, chest protectors and roost guards, protective undergarments, moto socks and a limited line of MX casual wear from its six regional warehouses strategically located throughout the United States.
To kick off the new agreement, on Friday, October 28th the WPS management team and sales rep force, along with staff from Alpinestars, took part in a ride day at the WPS test track located on-site at WPS headquarters in Boise, Idaho. The ride day enabled WPS sales reps and staff to use Alpinestars products in a real-world track-day scenario before attending product training the next day in downtown Boise. Alpinestars athletes Andrew Short, Justin Barcia, and Eli Tomac were on hand to support the event and talk shop with the WPS team.
Alpinestars has been the leading innovator of performance protection in motocross racing products since 1963 and early on Alpinestars pioneering boots caught the attention of motocross legend Roger Decoster who became one of Alpinestars' first international athletes and a brand ambassador ever since.
From the outset, Alpinestars vision has been to continually research and develop innovative products that deliver new and higher levels performance and for over 50 years this approach has built a rich heritage in motocross racing, motorcycle road racing and further into all disciplines of motorsports from the Dakar to Formula 1.
Alpinestars has evolved into a globally recognized brand through its focus on continuous introduction of cutting-edge product technology, which has helped countless world champions past and present to achieve their goals and devoted customers the world over to enjoy their riding every day.
Justin Barcia spun laps around the motocross track on the Western Power Sports property.
Craig Shoemaker, WPS President and CEO:
"We couldn't be more proud to put together this new partnership with Alpinestars. With their long and storied history of producing premium products, as well as their passion and support of all things motorsports, we are honored to be the newest Alpinestars distributor. This brand fits perfectly into our long-term goal to offer our dealers the best product, service, and delivery in the powersports industry."
Gabriele Mazzarolo, Alpinestars President and CEO:
"Alpinestars has always been, at its core, a product innovation company. From the very beginning, with the first protective motocross boot to the current Tech 10, knee braces and advanced body protection for off-road riding, including the first fully independent airbag for motorcycle road riding and the most lightweight fireproof material for Formula 1, as just a few examples, we have always concentrated on developing the most advanced products for our Athletes to win Championships and our audience to enjoy their activities in motorsports.
Distribution is essential to bring the benefits of all this innovation to our customers and we are happy to announce the start of the cooperation with WPS; enlarging our distribution across the US market."
Alpinestars products will begin shipping to WPS dealers through WPS' six regional warehouses beginning in November. For information about WPS and its growing list of brands and product offerings, visit them online at wps-inc.com.
2017 RACE SCHEDULES: BE THERE OR BE SQUARE
California is the richest race state in the union, with seven major events in 2017. Folks in Michigan should rejoice, as Supercross (Detroit), Arenacross (Grand Rapids) and the Lucas Oil Nationals (Red Bud) visit "The Great Lake State." And those residing in the Pacific Northwest will be happy hosting a bevy of events, from Supercross to the AMA Nationals.
2017 MONSTER ENERGY SUPERCROSS SERIES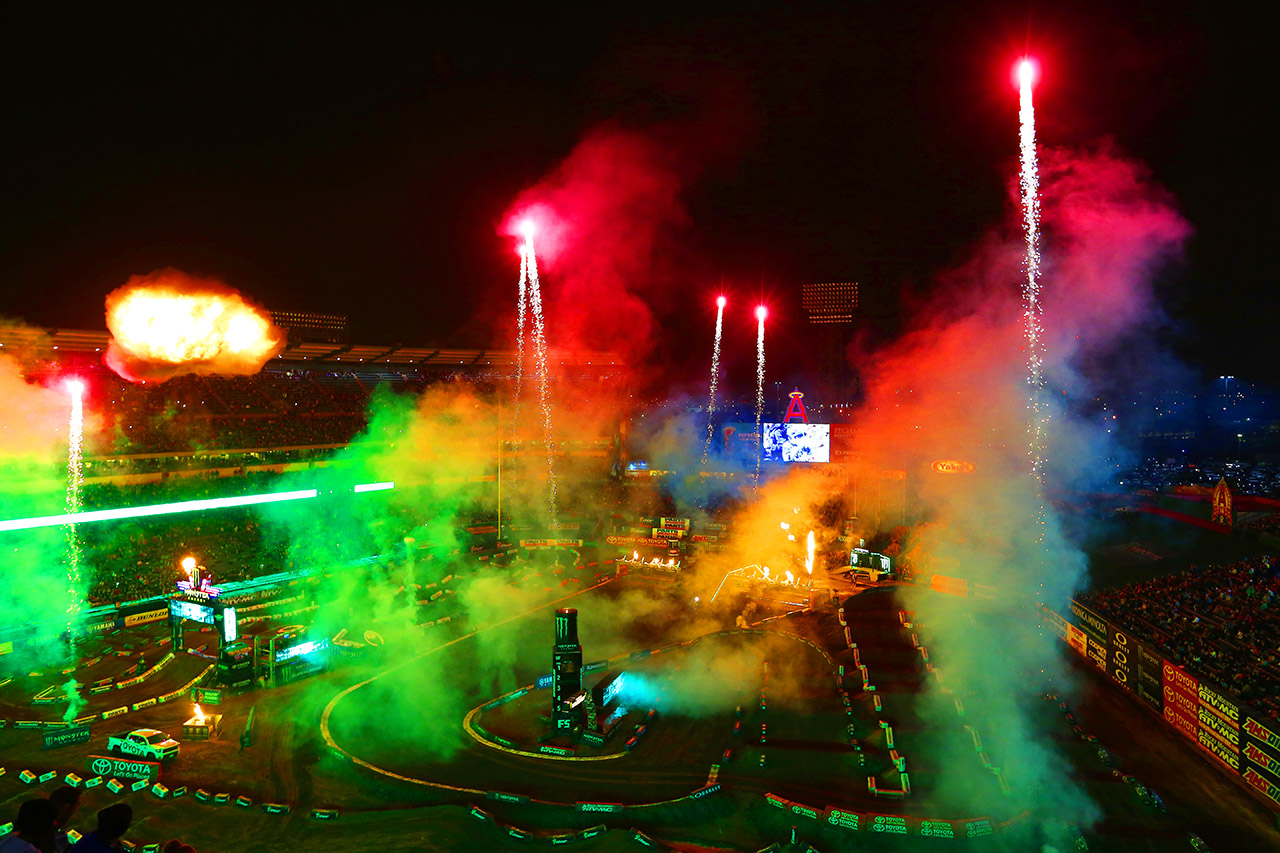 January 7…Angel Stadium…Anaheim, CA (West)
January 14…Petco Park…San Diego, CA (West)
January 21…Angel Stadium…Anaheim, CA (West)
January 28…University of Phoenix…Glendale, AZ (West)
February 4…Alameda Coliseum…Oakland, CA (West)
February 11…AT&T Stadium…Arlington, TX (West)
February 18…U.S. Bank Stadium…Minneapolis, MN (East)
February 25…Georgia Dome…Atlanta, GA (East)
March 4…Rogers Centre…Toronto, Canada (East)
March 11…Daytona Speedway…Daytona, FL (East)
March 18…Lucas Oil Stadium…Indianapolis, IN (East)
March 25…Ford Field…Detroit, MI (East)
April 1…America's Center…St. Louis, MO (East)
April 8…CenturyLink Field…Seattle, WA (West)
April 22…Rice-Eccles Stadium…Salt Lake City, UT (West)
April 29…MetLife Stadium…East Rutherford, NJ (East)
May 6…Sam Boyd Stadium…Las Vegas, NV (East/West)
*Visit http://www.supercrosslive.com/ to purchase tickets
2017 AMSOIL ARENACROSS SERIES
January 7-8…U.S. Bank Arena…Cincinnati, OH
January 13-15…Van Andel Arena…Grand Rapids, MI
January 20-22…Royal Farms Arena…Baltimore, MD
January 28-29…Bridgestone Arena…Nashville, TN
February 4-5…Freedom Hall…Louisville, KY
February 18-19…Sprint Center…Kansas City, MO
February 24-26…Georgia Dome…Atlanta, GA
March 3-5…Landers Center…Southaven, MS
March 11-12…Smoothie King Center…New Orleans, LA
March 18-19…Moda Center…Portland, OR
March 24-26…Livestock Events Center…Reno, NV
April 1-2…Golden I Center…Sacramento, CA
April 22-23…Denver Coliseum…Denver, CO
May 5-7…Orleans Arena…Las Vegas, NV
*Visit http://www.supercrosslive.com/ to purchase tickets
2017 LUCAS OIL PRO MOTOCROSS CHAMPIONSHIP
May 20…Hangtown…Sacramento, CA
May 27…Glen Helen…San Bernardino, CA
June 3…Thunder Valley…Lakewood, CO
June 17…High Point…Mount Morris, PA
June 24…Muddy Creek…Blountville, TN
July 1…Red Bud…Buchanan, MI
July 8…Southwick…Southwick, MA
July 22…Spring Creek…Millville, MN
July 29…Washougal…Washougal, WA
August 12…Unadilla…New Berlin, NY
August 19…Budds Creek…Mechanicsville, MD
August 26…Ironman…Crawfordsville, IN
2017 FIM MOTOCROSS WORLD CHAMPIONSHIP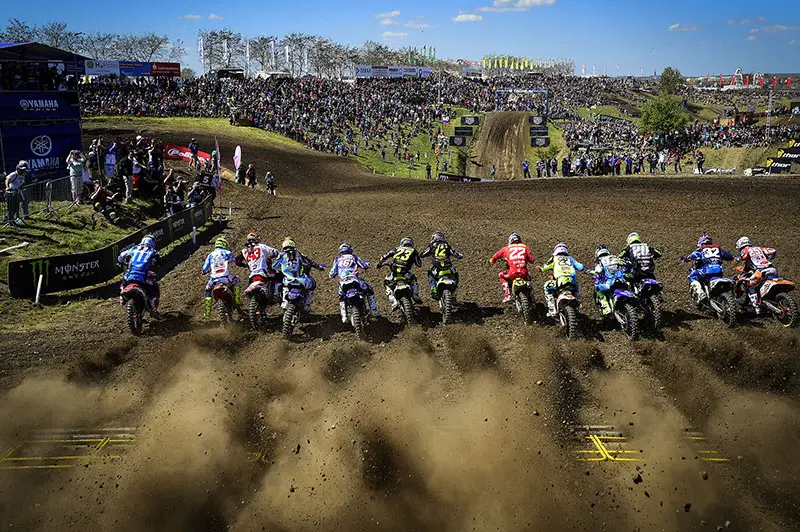 February 25…Losail…Qatar
March 5…Pangkal Pinang…Indonesia
March 19…Neuquen…Argentina
April 2…Leon…Mexico
April 16…Maggiora…Italy
April 23…Valkenswaard…The Netherlands
May 7…Kegums…Latvia
May 21…Teutschenthal…Germany
May 28…Ernee…France
June 11…Orlyonok…Russia
June 25…Pietramurata…Italy
July 2…Agueda…Portugal
July 9…Baldasserona…San Marino
July 23…Loket…Czech Republic
August 6…Lommel…Belgium
August 13…Frauenfeld…Switzerland
August 20…Uddevalla…Sweden
September 3…Charlotte…USA
September 10…Assen…The Netherlands
September 17…Villars sous Ecot…France