PRO TAPER PRESENTS MXA'S MID-WEEK REPORT #48 BY JOHN BASHER
#WHIPITWEDNESDAY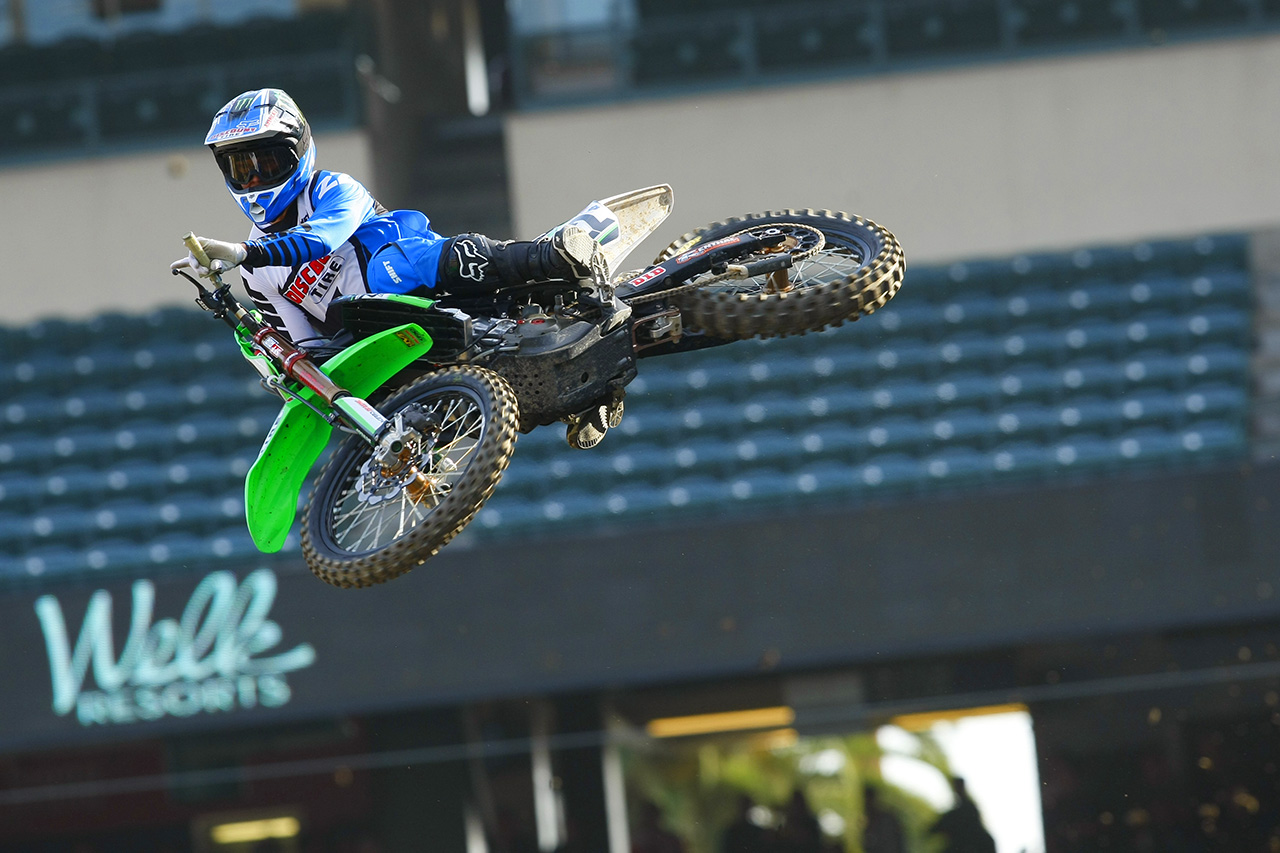 Rider: Chad Reed
Location: Angel Stadium of Anaheim
Date: January 4, 2014
Photographer: John Basher
Camera: Canon 1D Mark III
Lens: 300mm f/2.8
Focal length: 300mm
Exposure: 1/1250 sec.
F-stop: 4.0
ISO: 400
HEAD 2 HEAD: YAMAHA YZ250 VS. YAMAHA YZ250F
BIG NEWS: KTM ANNOUNCES 2017 FACTORY EDITIONS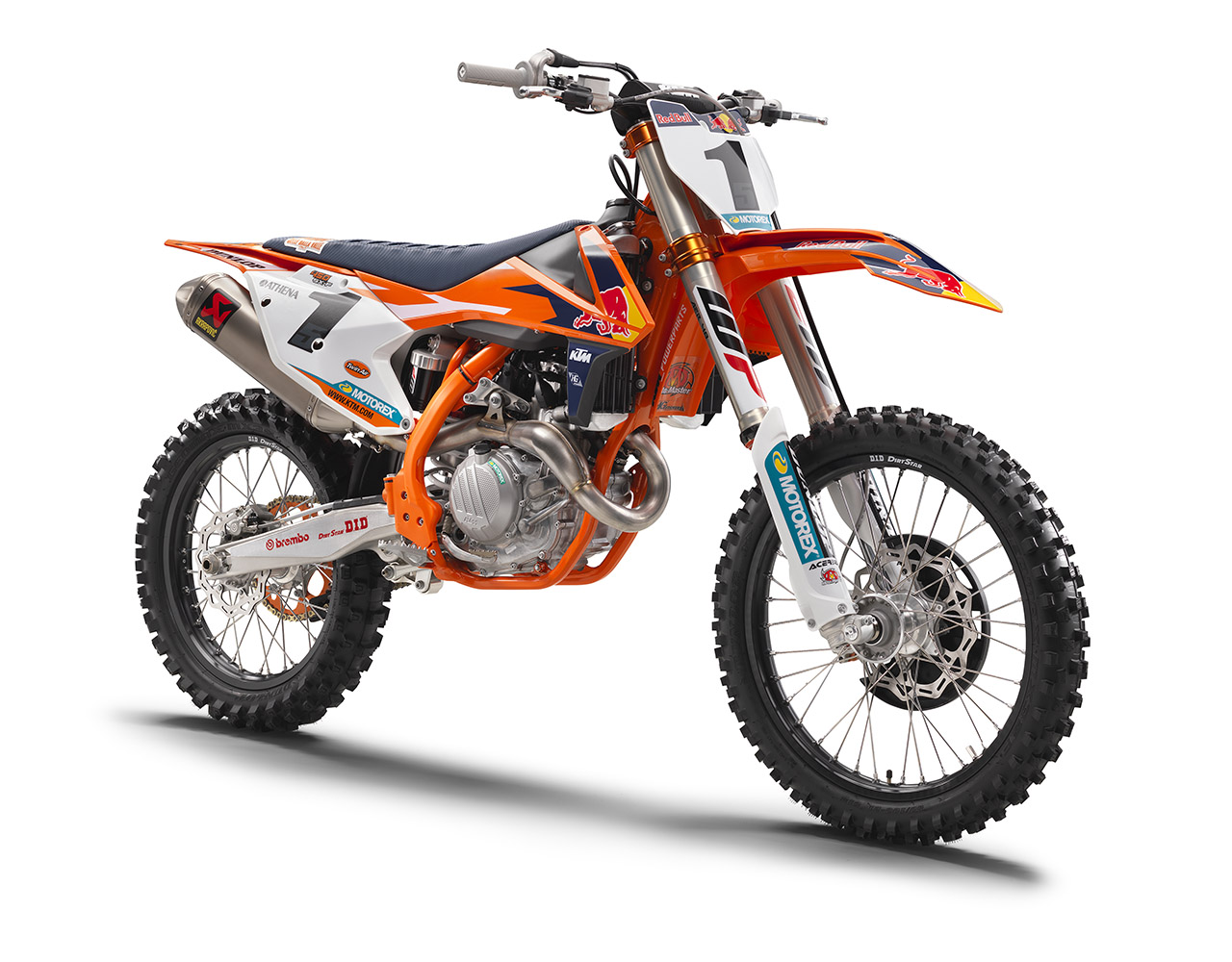 KTM came out swinging once again with new mid-season Factory Edition releases. The 250SXF and 450SXF receive a host of updates, notably to the 48mm WP AER forks, along with D.I.D. DirtStar black rims, race exhaust systems, and orange anodized triple clamps. Get the full skinny by clicking here.
SNEAK PEAK: L.A. SLEEVE YAMAHA YZ300
L.A. Sleeve just introduced their "Grip & Rip Big Bore Kit," which is appropriately named given the kit's ability to boost a 1999 through 2016 Yamaha YZ250 up to a 300cc. L.A. Sleeve wanted to get the word out on the kit by building MXA a Yamaha YZ300, which we recently tested. The 300cc big bore process requires you to send L.A. Sleeve your cylinder, cylinder head and exhaust power valves. In turn, L.A. Sleeve will install their Moly2000 big bore sleeve, modify the head's combustion chamber, and modify the exhaust power valves. They'll also modify the stock port configuration with a more aggressive racing profile. The port work increases the volume of air/fuel into the engine, and exhaust flow escapes faster out of the cylinder. The kit includes a new multi-layered steel head gasket.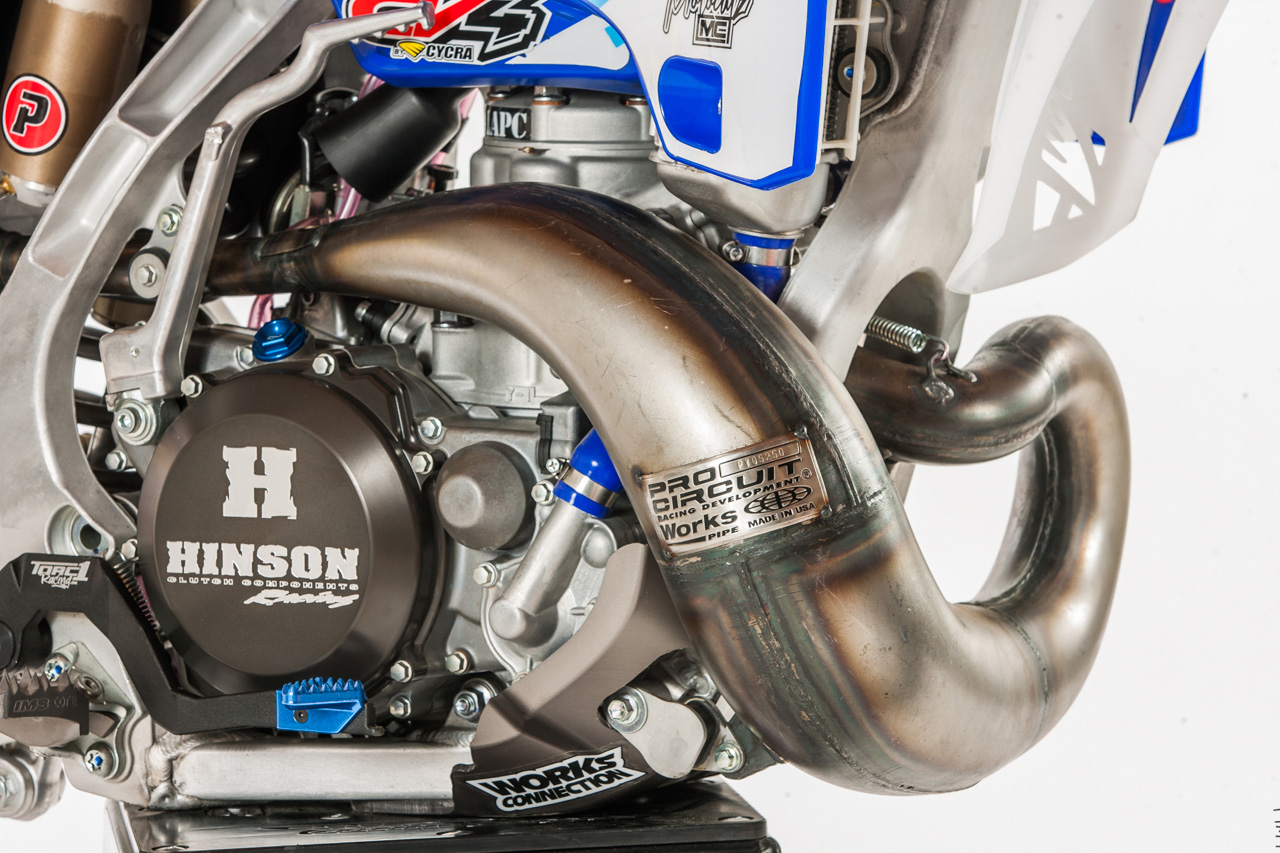 Total price for the "Grip & Rip Big Bore Kit" is $1140. L.A. Sleeve claims an increase to 52 horsepower, although every dyno is different. To learn more about the kit, visit www.lasleeve.com or call (562) 945-7578.
TWO-STROKE SPOTLIGHT: 

SCOTT BEARD'S 2007 HONDA CR250
Often it's not about taking out a second mortgage to pay for your dream ride. Making smart decisions based off research makes sense. That's exactly what Scott Beard did when building his 2007 Honda CR250. It has the creature comforts that Beard needs to get the job done, plus a bit of panache to stop looky-loos in their tracks. Scott's bike build should be inspiring for any rider, regardless if they're a two- or four-stroke nut.
"I picked this bike up four years ago after riding a buddy's mint 2007 Honda CR250 he had just bought. I grew up a Suzuki guy and had just got done completely rebuilding a 2006 RM250. After riding his bike, the search began. I was much more comfortable on the Honda compared to the twitchy feel of the late-model Suzuki RM two-strokes. It took a year for me to find a low hour CR250 that hadn't been abused. Through a friend I found one that had been sitting in a garage since 2007 and had maybe 20 hour on it. It was armored out for woods racing. I took it home and tore it down to the frame. I cleaned it, removed the braces and cages, and rebuilt it as best I could. The radiators were a little bent, so I sent them to ICW to have Brett work his magic. 
"The previous owner had already installed blue CV4 hoses, so I didn't have to buy those. I took the Mikuni carburetor off and replaced it with a Keihin off of a 2004 Yamaha YZ250. I had read that the Mikuni could be finicky and the Keihin was easier to tune.  I've had no problems with the switch and have the jetting perfect for where I ride. I run VP T2 fuel. The bars were replaced with Renthal 997 Twinwalls, and they were fitted with Renthal Kevlar grips. I got rid of the cheap looking stock killswitch and replaced it with a Fly Racing killswitch. Twin Air is my air filter of choice. Once the stock drivetrain was worn out I replaced it with a Sunstar chain and sprockets, which I have been very impressed with.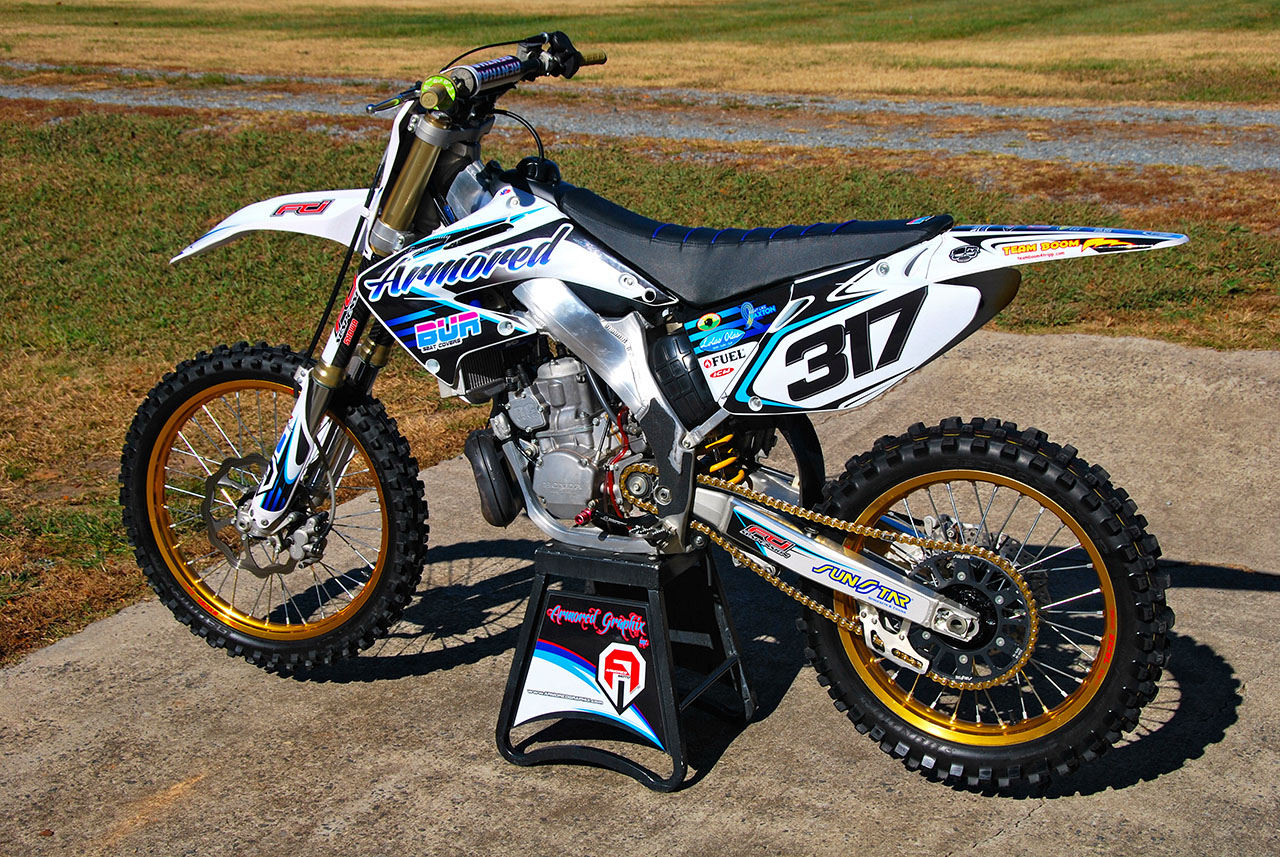 "For power, I installed a Wiseco GP top-end kit and added a Pro Circuit Shorty silencer to help boost the low end a little. I've read that the stock pipe is really good, so I decided to keep it on. I replaced the stock rear brake rotor with one off of a 2010 CRF250.  I think the Wave rotor looks better. The front rotor was replaced with a Galfer 270mm oversize kit. I've always liked white bikes, so I switched out all of the red plastic. I used all Cycra plastic, except for the shrouds and side plates. For those areas I used UFO. The front fender and Stadium plate for the 2013 and newer CRF450 are from Cycra. I like the updated look it gives the bike. I designed the graphics and the carbon fiber fork wraps. I loved the team Peak Honda's, which is why I always go towards a blue and black color way. Cal Northrop at FTI Suspension handled the suspension revalve. He has always done great work for me. I had the stock hubs powder coated black. I bought the gold Excel rims from Privateer Connection in South Carolina and had them laced at Carolina Cycle Service in North Carolina. BUR Seat Covers, also out of North Carolina, made the awesome gripper seat cover in the color way I requested. 
"Even though this bike didn't get good reviews when it was released, I've been very happy with it. I've kept the engine stock, because I like where the power is at. I have no other plans for the bike, except for some pretty parts. As my fitness fades with my youth, I've grown to appreciate a solid and planted feeling bike."
Please keep those submissions coming. If you would like your bike to be featured in the "Two-Stroke Spotlight," please email me at [email protected] All I ask is that you give a breakdown of your bike and a detailed description of the build. Please also send a few photos of your steed. By submitting your bike for the "Two-Stroke Spotlight," you agree to release all ownership rights to the images and copy to MXA. Please don't email me spam or try selling me Taylor Swift concert tickets or email me spam. I already celebrate T-Swizzle's entire collective, and there will be "bad blood" if you send me junk mail. See what I did there? Happy submitting your smoker.

INDUSTRY NEWS: BPRMX & SHOT RACE GEAR TEAM UP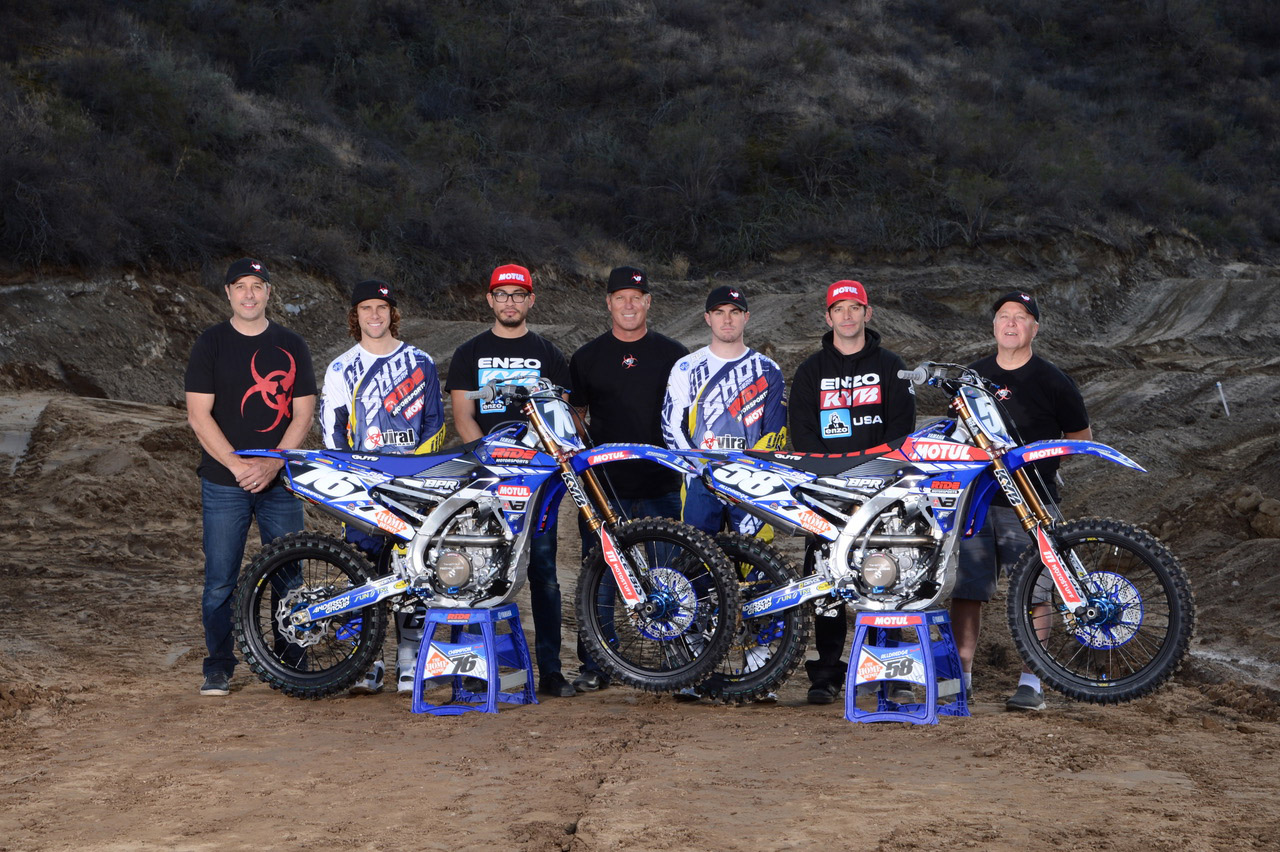 Press release: BPRMX is proud to announce that SHOT Gear will be the Official Gear Company of the Ride Motorsports Home Depot Yamaha Team for 2017. Shot gear from France is now being distributed by MTA Distributing here in the U.S. We are excited to venture into the premier motorcycle series in the U.S. with the Ride Motorsports – Home Depot – Yamaha team. As a new line of gear here in North America, we are focused on building our brand through Supercross and Motocross. BPRMX gives us a great platform to make our first step into racing. With Chris Alldredge and Scott Champion, the team has huge potential to be a serious contender in 2017. We are looking forward to a great relationship with the entire team and can't wait to get this season started," said Jason McCune from SHOT Gear.
Scot Steffy, team manager for BPRMX said, "We couldn't be more excited to part of the SHOT Gear family for 2017. With SHOT being a big part of our program allows our riders to look their best with top quality gear that is distinctive and functional each time they throw their leg over the bike. Great fit, style and support!" The 2017 season has seen a lot of changes to the BPRMX program, and with the partnership with SHOT & MTA, look for the Ride Motorsports Yamaha effort to be a big player in the West Coast title chase.
LITPRO & MXA'S 450 SHOOTOUT
Brian Medeiros rode the 2017 Kawasaki KX450F for photos and video, and then put on a LITPro GPS tracking device to record his lap times and much more.
I was first introduced to LITPro at the 2017 Honda CRF450 introduction last month at Monster Mountain. Chris and Michael from LITPro walked me through the technology behind the high definition GPS tracking device, which is rather phenomenal. The LITPro, which mounts on top of your helmet, captures everything from laps logged to top speed, track segment times, overall lap times, and air time. LITPro automatically detects and analyzes every corner, meaning that you can ride the inside line around a corner and then ride the outside line. Then you can go back to the pits, download the riding session, and see which line is faster. It's a brilliant training tool. What I especially like about the GPS device is that it makes me accountable. While wearing it, I was less prone to doing "junk laps;" instead I focused on trying different lines, shaving seconds off my lap times, and seeing how fast I could go. For fun, I kept hitting the downhill tabletop at Monster Mountain in an effort to increase my air time. It's surprising to see how far you can jump on a dirt bike without really knowing it.
LITPro came out to MXA's 2017 450 Four-Stroke Shootout at Glen Helen to collect data from the six test riders. The day's schedule was already jam packed, so LITPro only managed to get an accurate reading from Brian Medeiros. Some of that data is listed below. I think it's interesting to see that Brian logged his fastest lap on the KTM 450SXF, but his top speed was slowest on the orange machine. See below.
Lap time results:
1. KTM (2:12.24)
2. Yamaha (2:13.74)
3. Suzuki (2:16.88)
4. Honda (2:17.49)
5. Kawasaki (2:17.5)
6. Husky (2:21.97)
Top speed results:
1. Honda (58.0 mph)
2. Yamaha (57.8 mph)
3. Kawasaki (55.8 mph)
4. Suzuki (55.3 mph)
5. Husky (55.2 mph)
6. KTM (53.5 mph)
Airtime Analysis (seconds per lap, least to most):
1. Suzuki (39.85 seconds)
2. Husky (40.95 seconds)
3. KTM (42.95 seconds)
4. Yamaha (43.65 seconds)
5. Kawasaki (44.05 seconds)
6. Honda (45.40 seconds)
If you would like to learn more about the cool technology behind the LITPro high definition GPS tracking device, click here. Look for a full review of the LITPro in a future issue of MXA.
2017 YAMAHA YZ250F BUILD UPDATE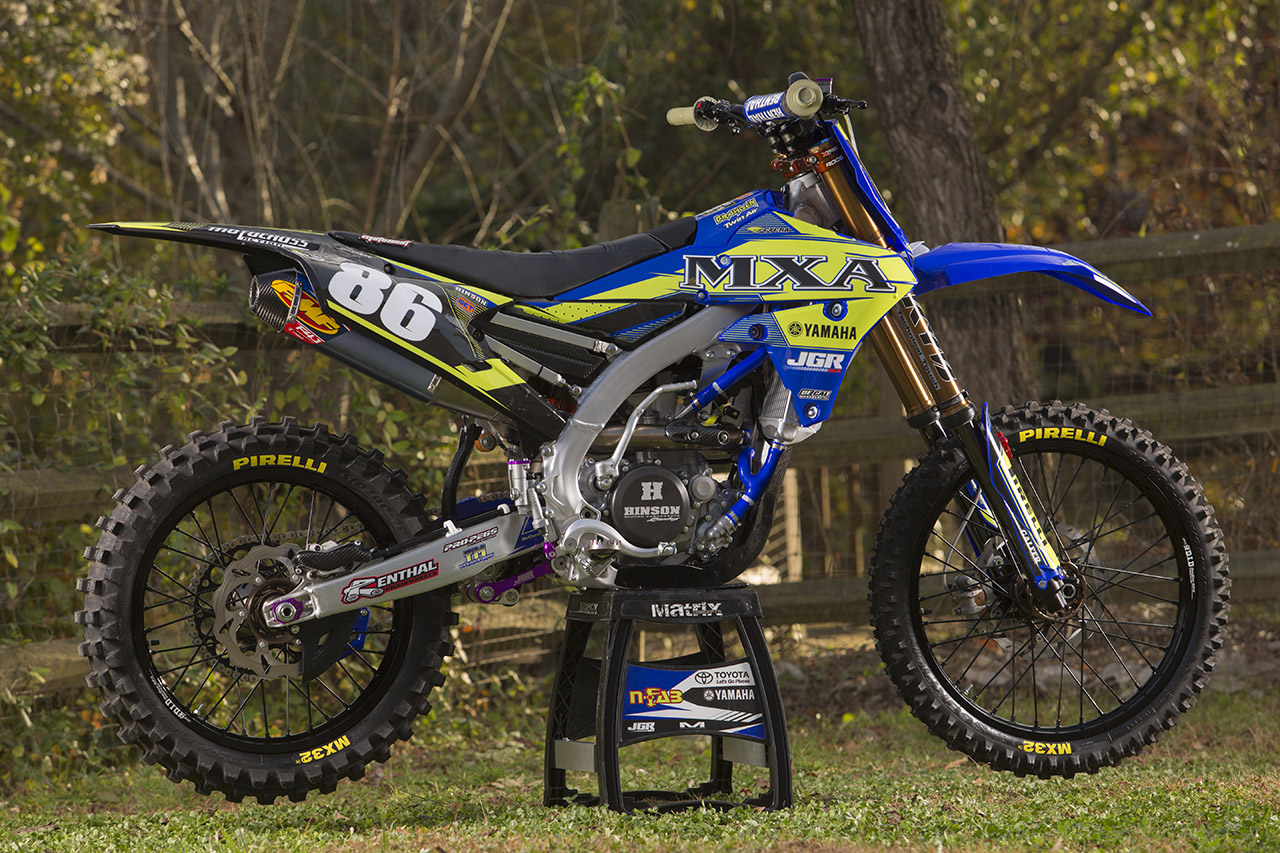 It's amazing what thousands of dollars will get you. 
The day finally arrived–test day. This past Wednesday I made the 1-1/2 hour drive southeast to Chesterfield, South Carolina, to get my 2017 Yamaha YZ250F project bike dirty at the ever-popular ClubMX facility. In a rare occurrence, the Front Track at ClubMX was available for riding. Normally reserved for the training attendees, the Front Track is the bigger brother to the ClubMX Practice Facility track, which is open to the public on the weekends.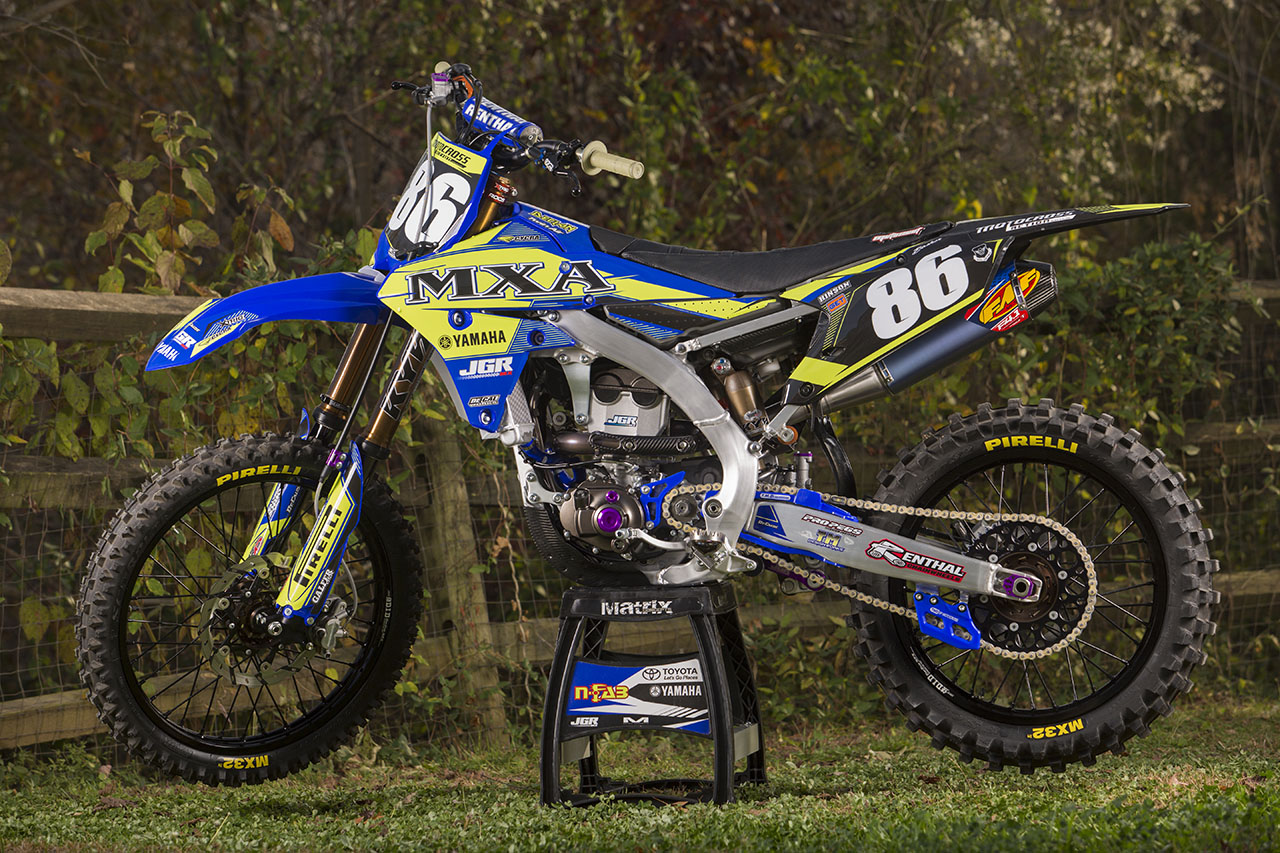 My project 2017 Yamaha YZ250F includes KYB Factory Kit AOS spring forks and shock, Dubya wheels, FMF Factory 4.1 titanium/carbon system, Galfer brakes, Renthal drive train, Xtrig ROCS triple clamps, dual fuel injection, JGRMX hard parts and carbon fiber, Pro Pegs titanium footpegs, DeCal Works graphics, Cycra Racing plastics, JGRMX engine work, and much more. I'll provide a full parts breakdown next week, along with the grand total. 
At first glance, the Front Track looks unforgiving. It's like going to Six Flags America and walking up to the Superman ride. The intimidation factor is way up there. Of course it didn't help that Canadian National rider, Kaven Benoit, was airing out huge jump combinations and making them look easy. There's nothing worse for my 35-year-old psyche than seeing a top Pro spend as much time in the air as on the ground. This rusty, slightly overweight rider knew it was going to be a day of taking chances or, worse, suffering embarrassment from not sucking it up and doing what was expected. I didn't drive all of the way to ClubMX to roll the jumps.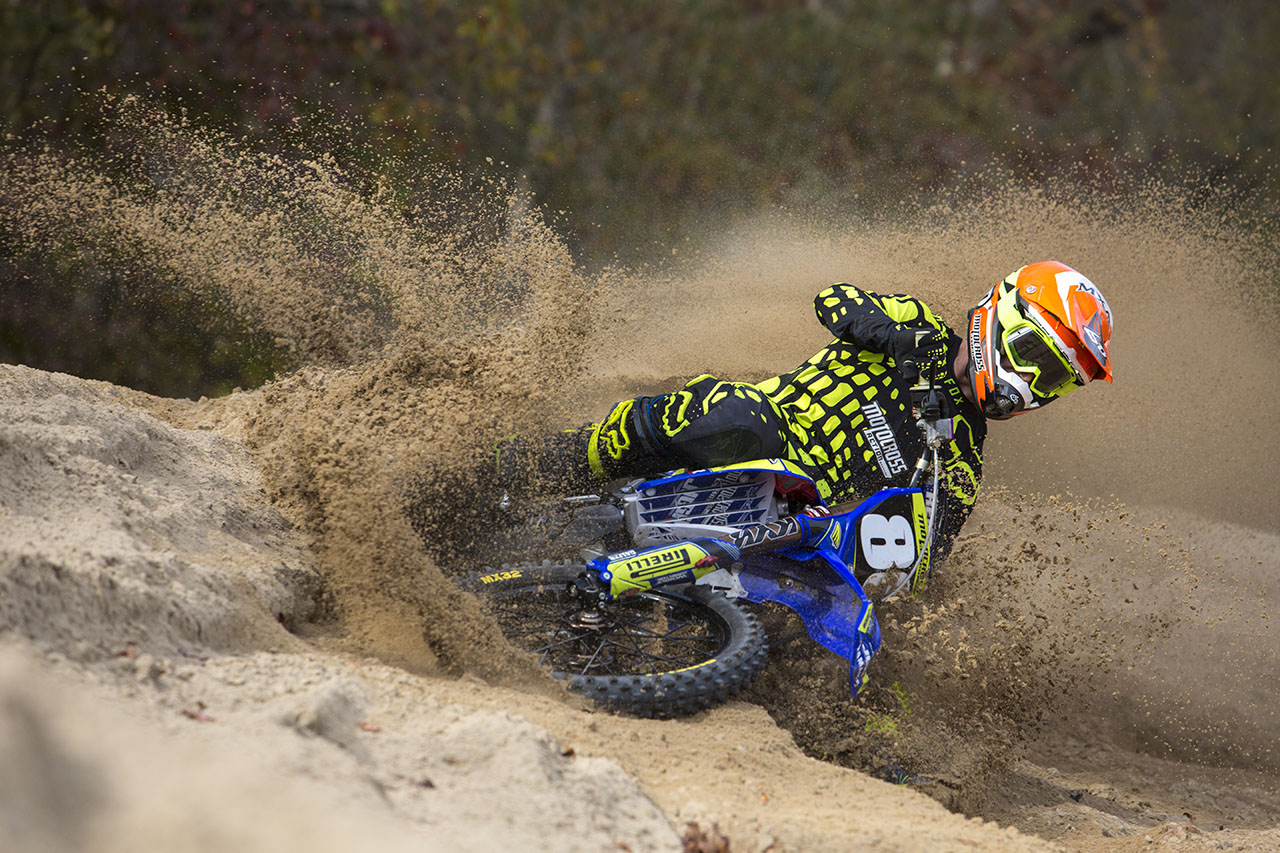 Marshal Weltin went digging through the sand on the ClubMX sand track. 
Fortunately, I had a few friends willing to aid me in my quest to dust the doubles. Ben Graves, from ClubMX Practice Facility, along with Scott Beard and Paul Sachak from Armored Graphix, showed me the light. Only instead of taking a few leaps of faith on my squeaky-clean, brand spankin' new 2017 YZ250F, I had to rely on my trusty 2005 Yamaha YZ125. By this point you must be wondering why I wasn't wringing the neck out of my uber-expensive YZ250F. Guess what? I have yet to ride the project bike. That's because a faulty fuel line that routed up to the GET secondary injector that was mounted in the air filter cage let go. Apparently the hose couldn't handle the 46 pounds of fuel pressure, and she let go without warning. Thankfully MXA photo rider for the day, Marshal Weltin, didn't suffer any consequences from the malfunction. The malady wasn't really anyone's fault. The JGRMX retail department followed every minute detail to spec. I can't blame Marshal Weltin for going hog wild on a bike that was supposed to take all of the abuse in the world. It will take more than a bad fuel line to wreck my day. Even though I wasn't able to spin laps (yet) on the 2017 Yamaha YZ250F project bike, I did get some feedback from Marshal Weltin (who, by the way, somehow still doesn't have a ride for 2017, which is a crying shame).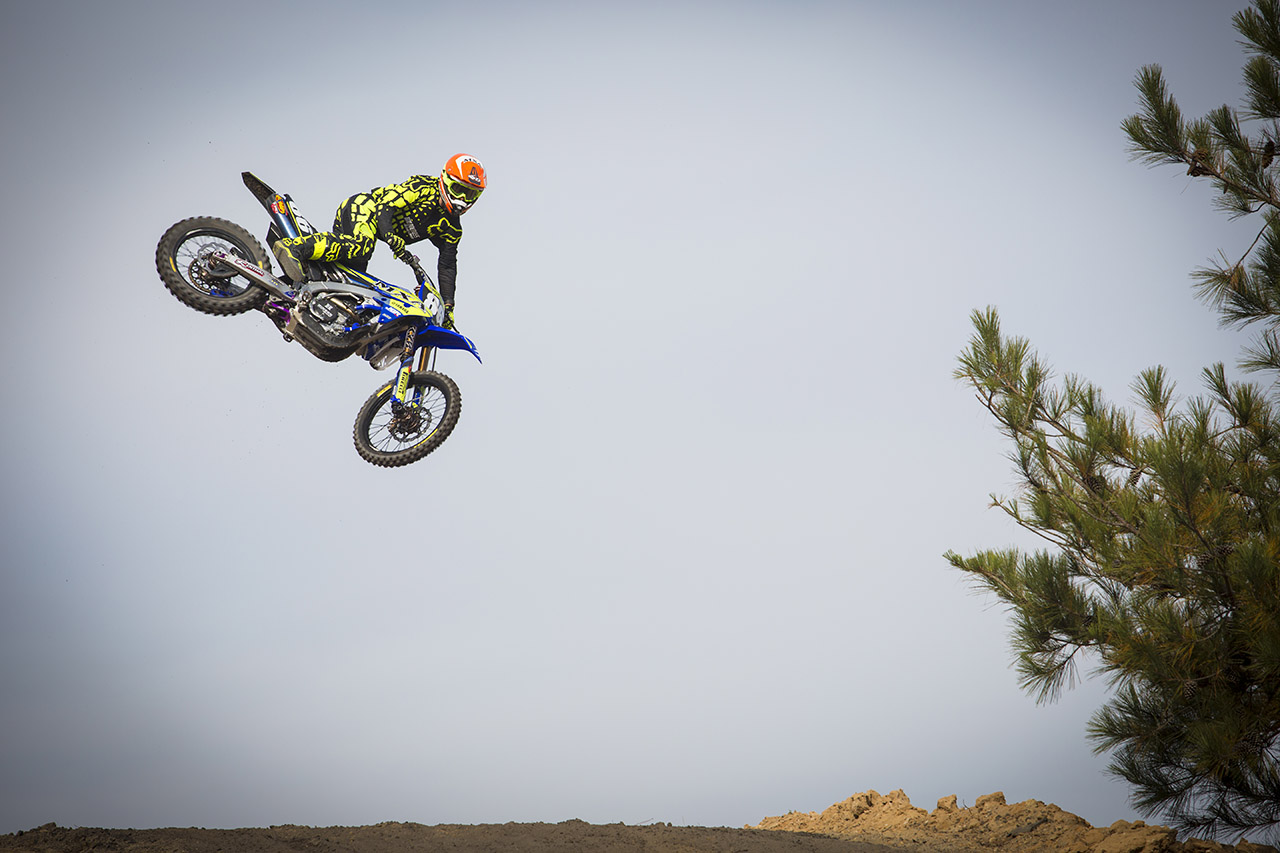 Weltin over the 85-foot single-to-tabletop. 
Weltin was impressed with the power output, saying that the JGRMX-tuned engine produced a broad range of power that is more than suitable for most riders. I cannot emphasize enough that I wouldn't bend on running pump gas. Given my outright refusal to up the octane rating, JGR squeezed every ounce of power that they could out of an already outstanding engine. The boys also installed a two-position map switch based on the preferred maps they discovered through rigorous testing. The maps also have different starting settings. I'll know next week which map I prefer, as I plan on riding the bike and also having several other riders give it a go. Marshal was the only person to test ride the Yamaha, because somewhere in the maiden voyage the fuel line let go. Once he pulled off the track I tightened the spokes, checked all bolts, and gassed up the tank. Then, after 15 kicks, the top end loaded up with fuel, making it nearly impossible to kick over. That was all she wrote. On Monday I took the bike to JGRMX, and they fixed the problem in half an hour.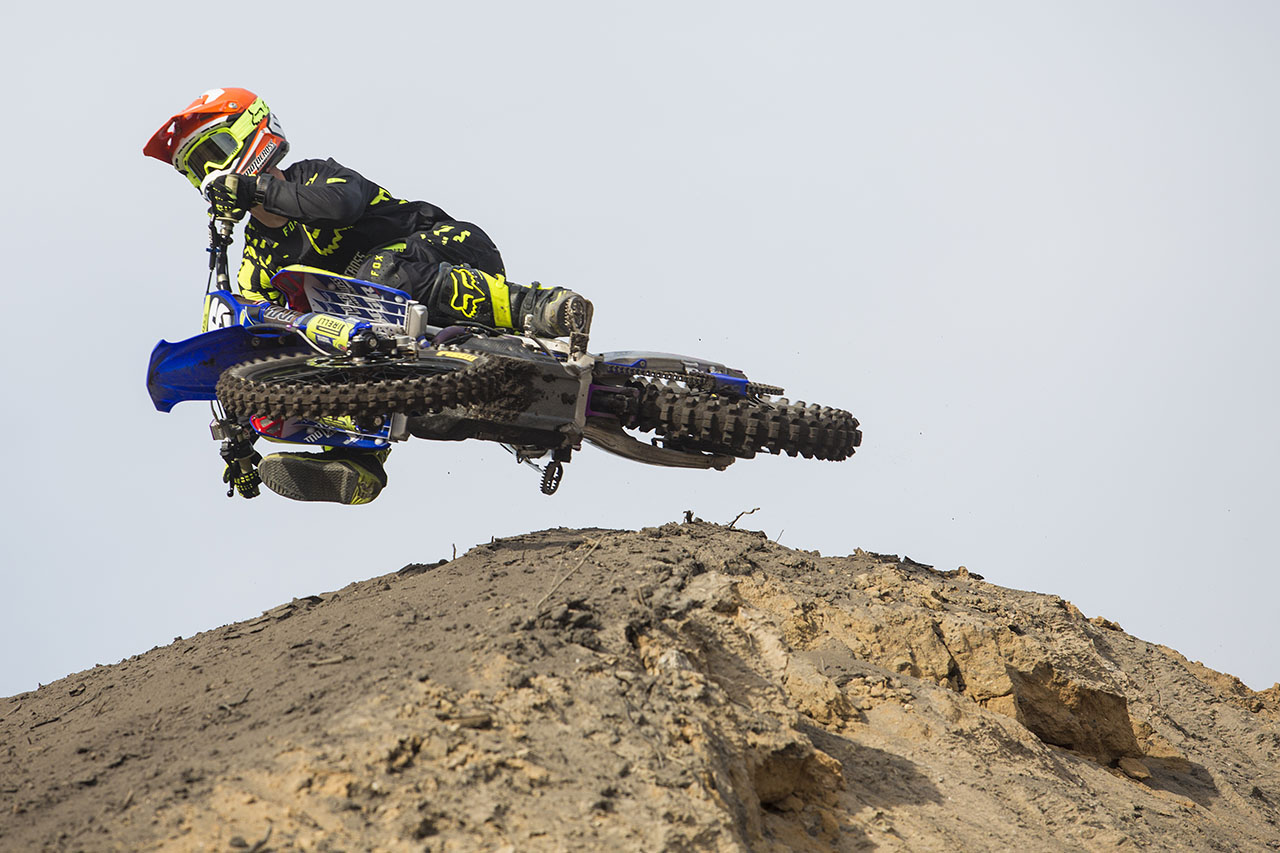 I wish I could provide a thorough review on the modded out '17 YZ250F, but that will come in due time. For now, enjoy the photos that I took of Marshal punishing berms and carving through the sweet South Carolina air from the test.
INDUSTRY NEWS: GROUP 6 USA FORMED OUT OF SIX BRANDS
Press release: The following six brands  (Atlas Braces, Matrix Products, Tag Metals, Seven IDP mountain bike protection, Next Components and Royal Racing) have merged together to form a new holding company, Group 6 USA, LLC. The following 6 brands will be available through Group 6 USA, LLC and will continue to maintain their own product and brand identity. Group 6 USA's mission is to provide innovative products to the motorcycle and cycling markets while ensuring we exceed all of our customers expectations. "We are very excited to bring all these iconic brands together under one entity for the motorcycle and bicycle markets. Merging these brands together will give us the strength and volume to take all of our brands to the next level." – Rick Smith, VP of Strategic Planning, Group 6 USA, LLC.
The websites of the six brands are: www.atlasbrace.com, www.matrixracingproducts.com, www.tagmetalsracing.com, www.matrixracingproducts.com/next, www.7protection.com and www.royalracing.com. Consumers and team riders will continue to have access through all individual brand websites.
Phone: (661) 253-1592
Email: [email protected]
All brands are accepting team rider resumes for the 2017 season. Visit our brand sponsor pages at the links above or visit hookit.com and mxsponsor.com
CHASING PRO POINTS: THE QUEST FOR AN AMA PRO LICENSE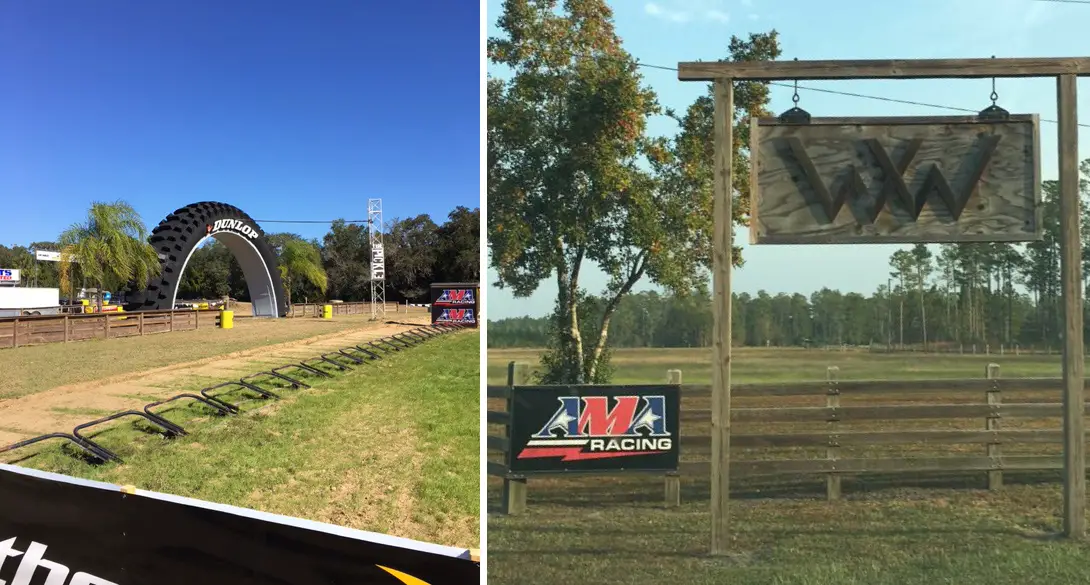 By Brian Medeiros and Justin Muscutt
On November 8th, 2016, after a day of testing, MXA's youngest test riders, Brian Medeiros and Justin Muscutt, began their journey from Southern California to Jacksonville, Florida, for the first of three AMA Pro/Am points paying events.
WW Motocross Park hosted their annual Fastest in Florida State Championship in which Medeiros competed in the 250 A class aboard our very own Suzuki RM-Z250 project bike. On a very sandy and technical track, Medeiros would go on to finish 17th overall. Justin Muscutt finish 22nd in the 450 A class aboard his Yamaha YZ450F.
After a bit of bike work and packing it was on the road again for us. The next stop on the agenda was Gatorback Cycle Park for the 2016 Thor Winter Olympic–also know as Mini O's. This event took place on November 21st through the 26th. Supercross racing was front and center the first half of the week. Medeiros finished 15th out of 35 riders in the 250 A main event. Muscutt would finish 20th in the 450 Pro Sport main event.
We looked to carry our momentum from Supercross into the motocross portion of the week. The track workers at Gatorback did a fantastic job preparing a very technical motocross track with deep sand, hardpack rocky sections, and deep ruts for our boys to try and conquer. After a few rookie mistakes Medeiros finished up 29th in 250 A and 33rd in 250 Pro Sport. Muscutt, on the other hand, had a huge get-off in the second moto and came home with a 25th in the 450 Pro Sport class.
After six straight days of racing we were forced to lick our wounds and head back across the country to the west coast for the third and final AMA advancement points paying event. The Arizona Open taking place at Arizona Cycle Park. We're determined to collect enough points to earn our AMA Pro licenses, climb the ladder, and take on the world.
QUOTE OF THE WEEK: JOEY SAVATGY
"You look at the UFC with Conor McGregor, who shows up late to press conferences, swears, and talks a lot of smack. People love it. On our side, the minute a rider says anything out of line people label that rider as being cocky or arrogant. Social media can be very good, but in the same breath, it can get you in a lot of trouble. It's different for everyone, and different for every sport. That confuses me sometimes. I see the likes and views on things, and I don't really pay that much attention to it. Some people will get a lot of likes and views on their pictures and videos. I'm not one of those guys who gets the attention."
Click here to read our exclusive interview with "Versace" Savatgy.
IN CASE YOU MISSED IT: RICKY CARMICHAEL & THE GOAT FARM
In part two of my three-part feature on Ricky Carmichael, I posted a photo gallery of the 15-time Champion from his three-day Suzuki Camp Carmichael event a few weeks back. If you missed that feature, be sure to click here. As evidenced by the photos, Ricky still knows how to ride, and does so with the same general flair and excitement that he had a decade ago.
2017 RACE SCHEDULES: BE THERE OR BE SQUARE
California is the richest race state in the union, with seven major events in 2017. Folks in Michigan should rejoice, as Supercross (Detroit), Arenacross (Grand Rapids) and the Lucas Oil Nationals (Red Bud) visit "The Great Lake State." And those residing in the Pacific Northwest will be happy hosting a bevy of events, from Supercross to the AMA Nationals.
2017 MONSTER ENERGY SUPERCROSS SERIES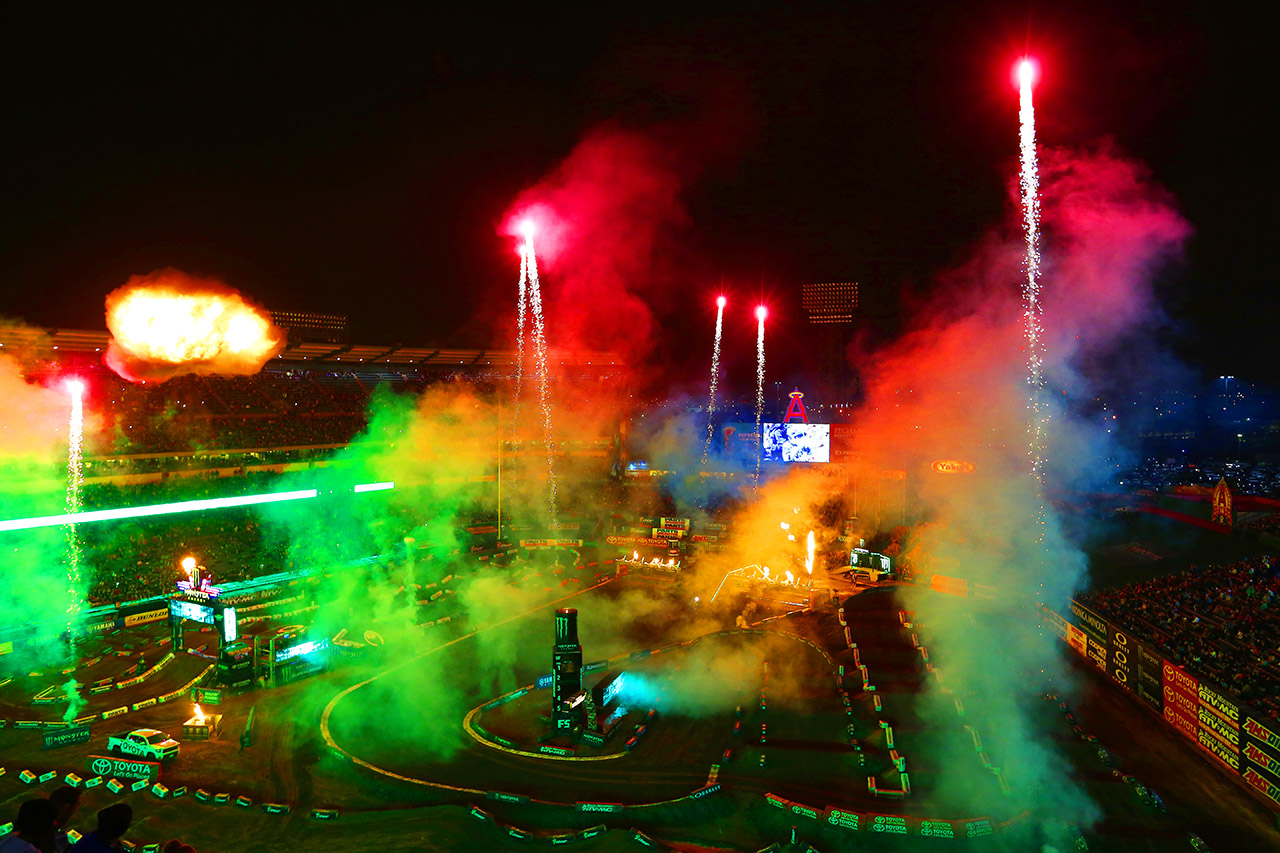 January 7…Angel Stadium…Anaheim, CA (West)
January 14…Petco Park…San Diego, CA (West)
January 21…Angel Stadium…Anaheim, CA (West)
January 28…University of Phoenix…Glendale, AZ (West)
February 4…Alameda Coliseum…Oakland, CA (West)
February 11…AT&T Stadium…Arlington, TX (West)
February 18…U.S. Bank Stadium…Minneapolis, MN (East)
February 25…Georgia Dome…Atlanta, GA (East)
March 4…Rogers Centre…Toronto, Canada (East)
March 11…Daytona Speedway…Daytona, FL (East)
March 18…Lucas Oil Stadium…Indianapolis, IN (East)
March 25…Ford Field…Detroit, MI (East)
April 1…America's Center…St. Louis, MO (East)
April 8…CenturyLink Field…Seattle, WA (West)
April 22…Rice-Eccles Stadium…Salt Lake City, UT (West)
April 29…MetLife Stadium…East Rutherford, NJ (East)
May 6…Sam Boyd Stadium…Las Vegas, NV (East/West)
*Visit http://www.supercrosslive.com/ to purchase tickets
2017 AMSOIL ARENACROSS SERIES
January 7-8…U.S. Bank Arena…Cincinnati, OH
January 13-15…Van Andel Arena…Grand Rapids, MI
January 20-22…Royal Farms Arena…Baltimore, MD
January 28-29…Bridgestone Arena…Nashville, TN
February 4-5…Freedom Hall…Louisville, KY
February 18-19…Sprint Center…Kansas City, MO
February 24-26…Georgia Dome…Atlanta, GA
March 3-5…Landers Center…Southaven, MS
March 11-12…Smoothie King Center…New Orleans, LA
March 18-19…Moda Center…Portland, OR
March 24-26…Livestock Events Center…Reno, NV
April 1-2…Golden I Center…Sacramento, CA
April 22-23…Denver Coliseum…Denver, CO
May 5-7…Orleans Arena…Las Vegas, NV
*Visit http://www.supercrosslive.com/ to purchase tickets
2017 LUCAS OIL PRO MOTOCROSS CHAMPIONSHIP
May 20…Hangtown…Sacramento, CA
May 27…Glen Helen…San Bernardino, CA
June 3…Thunder Valley…Lakewood, CO
June 17…High Point…Mount Morris, PA
June 24…Muddy Creek…Blountville, TN
July 1…Red Bud…Buchanan, MI
July 8…Southwick…Southwick, MA
July 22…Spring Creek…Millville, MN
July 29…Washougal…Washougal, WA
August 12…Unadilla…New Berlin, NY
August 19…Budds Creek…Mechanicsville, MD
August 26…Ironman…Crawfordsville, IN
2017 FIM MOTOCROSS WORLD CHAMPIONSHIP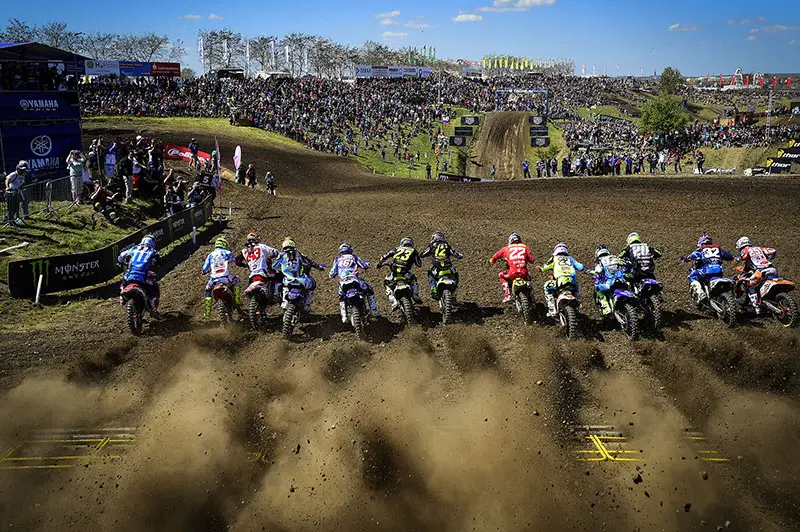 February 25…Losail…Qatar
March 5…Pangkal Pinang…Indonesia
March 19…Neuquen…Argentina
April 2…Leon…Mexico
April 16…Trentino…Italy
April 23…Valkenswaard…The Netherlands
May 7…Kegums…Latvia
May 21…Teutschenthal…Germany
May 28…Ernee…France
June 11…Orlyonok…Russia
June 25…Maggiora…Italy
July 2…Agueda…Portugal
July 23…Loket…Czech Republic
August 6…Lommel…Belgium
August 13…Frauenfeld…Switzerland
August 20…Uddevalla…Sweden
September 3…Charlotte…USA
September 10…Assen…The Netherlands
September 17…Villars sous Ecot…France