PRO TAPER PRESENTS MXA'S MID-WEEK REPORT #49 BY JOHN BASHER

#WHIPITWEDNESDAY

Rider: Brian Hsu
Location: Geneva Supercross
Date: December 3, 2016
Photographer: John Basher
Camera: Canon 5D Mark III
Lens: 70-200mm f/2.8
Focal length: 200mm
Exposure: 1/800 sec.
F-stop: 4.5
ISO: 4000
PRODUCT SPOTLIGHT: KAWASAKI 3 GREEN LINES HOODED SWEATSHIRT
[Press Release]
80% polyester 20% cotton, Water resistant fleece hoodie
Removable zip off hood with interior cadet collar
Thumbholes at cuffs
MP3 holder and eyelet in front welt pocket
Embroidered logo on chest and arm
Retail price: $77.95
Visit your local Kawasaki dealer to order.
TAKEAWAYS FROM THE GENEVA SUPERCROSS
There are four storylines resulting from the 2016 Geneva Supercross. Not surprisingly, every discussion point revolves around the four top riders–Marvin Musquin, Justin Brayton, Malcolm Stewart and Justin Barcia. The Geneva Supercross, like other offseason Supercross races overseas, is a lucrative venture for U.S.-based Supercross racers. They deal with long flights, jet lag, unfamiliar food and an odd schedule for the opportunity to make big money. The added benefit of track time and increasing one's popularity internationally are bonuses. Do you remember Larry Ward in the late 1990s? Anyone in Europe would have thought "Big Bird" was the greatest Supercross rider alive–even better than Jeremy McGrath. He made a lot of money traveling abroad and gained a legion of international fans.   
Here's the cool part about the Geneva Supercross. Justin Brayton and Marvin Musquin are Geneva regulars. They race the event for reasons other than money (although, let's face it, the money is certainly appealing). Brayton likes that Geneva gives him an opportunity to race during the offseason and stay sharp. He's a four-time King of Geneva. Marvin Musquin, on the other hand, grew up within driving distance of Geneva. Competing in the event affords him the opportunity to see old friends and race in front of a "home" crowd (home is in quotations because Musquin is from France, but Switzerland is a lot closer than Anaheim). So while money is a driving factor, it's not the sole reason. That realization makes Geneva one of the better offseason Supercross races. The racers are there to perform, rather than mail it in. This year didn't disappoint. On the opening night it was a four-way battle for first place. At one point you could have thrown a blanket over Musquin, Brayton, Stewart and Barcia, because they were that close. On night two Musquin walked away with the win, while Stewart and Barcia got into a slam fast. The crowd of nearly 15,000 loved it.
Marvin Musquin will win a 450 Supercross in 2017.
The biggest story line leaving Switzerland is that Marvin Musquin is legit. That's a general statement, given how the Red Bull KTM rider had five podium finishes in his rookie 450 Supercross season. Let me rephrase: Musquin will be a legitimate threat for race wins in 2017. Take a look at his offseason body of work.
Monster Cup: Third place. Musquin went 4-3-2 and beat teammate Ryan Dungey in the final moto.
Straight Rhythm: First place. Marvin beat Dungey in the final.
SMX Riders' Cup: Third place. Musquin finished 6-2-3 for third overall, beating Dungey in the second moto. He was also part of the winning team (KTM).
Lille Supercross: First place. The Frenchman was perfect all weekend.
Geneva Supercross: First place. Marvin disposed of Justin Brayton both nights in going 1-1.
Here's an interesting fact. If my math is correct, Marvin Musquin only missed one race during the normal 29 event schedule for 450 U.S. racers (Indianapolis). He wasn't selected by Team France for the Motocross des Nations, didn't race the Australian Supercross open or the two USGP rounds. However, he hit up every other major event possible. That puts his race tally at 33 races in 52 weeks. To compare, Eli Tomac raced 32 events (Supercross, Nationals, two USGPs and Monster Cup). It's fair to say that Musquin is the U.S.-based rider with the most races under his belt for 2016. Congrats, Marv, now take a break.
The competition better not take Justin Brayton lightly in 2017. 
Justin Brayton debuted on his MotoConcepts Honda at Geneva, although that's not really a close to accurate statement. He had the MotoConcepts logos on a borrowed 2016 Honda CRF450 that came from a Honda dealership in Geneva. Brayton's mechanic, Brent Duffe, brought a few gear bags full of factory parts that he threw on before the race. After the event concluded early Sunday morning Duffe swapped out the parts, gave the Geneva Honda dealer a bunch of swag, and flew out a few hours later for California.
Brayton will be a factory-backed 2017 Honda CRF450 once Anaheim 1 rolls around. In Geneva he had his back up against the wall. He was facing Marvin Musquin on a carbon copy bike of what Marv will be racing in 2017. It was factory power versus a slightly modified stocker. Justin gave 'er all he could, but Musquin and his factory KTM were too much. It would have been interesting to see how things would have played out had Justin not suffered clutch issues two-thirds of the way through the first night's main event. Regardless, Justin Brayton is in a good spot heading into 2017. The competition better not overlook the MCR Honda rider. He will be on factory equipment (although the number of parts wasn't discussed in my conversation with Justin). He likes the Honda, and he's doing Supercross only. Look out!
Malcolm Stewart hung it out in Geneva and scored a second place finish on the first night. The second night he was stalked by Justin Barcia (51), but disposed of the Suzuki rider as the race wore on. 
Malcolm Stewart still doesn't have a ride. The 2016 AMA 250 East Supercross Champion was riding a 2016 Honda CRF450 in Geneva. It didn't have the bells and whistles of Brayton's bike, but that didn't stop Malcolm from going all-out either night. He strung together a highly technical and dare-devilish rhythm section. That section began with a 65-foot triple that followed with a 96-foot quad and ended with a 96-foot quad. It was huge.
Does Malcolm Stewart deserve a ride? Yes, absolutely. He looks ready for one, too. Unlike his brother, James, who showed up to this year's Anaheim 1 Supercross unprepared, Malcolm has been doing his homework. He's thin, strong, and can go the distance. On Saturday night, when Justin Barcia was giving him the business, Malcolm kept his composure. He then pulled away. I can think of a lot of riders who are less deserving of a ride than Malcolm Stewart. Call me crazy, but wouldn't be great to see him end up with a spot at Rockstar Energy Husqvarna? It wouldn't hurt Husky to have a potential top-five threat on their 450 program, especially given the inherent dangers of Supercross. A third rider (a la Red Bull KTM) is a good idea. While I'm not sure what the agreement stipulations are between Rockstar Energy and Husqvarna with regard to fielding a certain number of sponsored riders per event, "Mookie" can be the insurance policy. Regardless of what happens for Stewart, it's a tough time to be a Pro.

Justin Barcia will need to iron out a few wrinkles before the 2017 season. The JGRMX team should be getting a bunch of factory parts in the coming week.
Justin Barcia was the headliner in Geneva. He was introduced last and came riding out on his JGRMX Suzuki RM-Z450. Generally speaking, the headliner is supposed to win; however, Justin was off the pace in Switzerland. There were a few good reasons as to why. His bike was basically stock–the same general setup that he raced with almost a month ago in Lille. JGRMX will be burning the midnight oil once Suzuki works parts arrive at JGR's North Carolina shop.   
Barcia's classic "Bam Bam" style was on display. He banged bars with several riders and gave Malcolm Stewart the business quite a few times (click HERE if you haven't seen it). Given the tight track contact made sense. Conversely, no one else went to those depths in an effort to pass. While exciting, Barcia's go-for-broke strategy didn't pay dividends. He finished fourth on Friday and fourth on Saturday.
Here's what to expect for the 2017 Supercross series after seeing the Geneva Supercross unfold. (1) Marvin Musquin will win a 450 Supercross. (2) Justin Brayton shouldn't be taken lightly. (3) Malcolm Stewart deserves an opportunity to show what he's capable of in the 450 class. (4) Justin Barcia is the big question mark. Time will tell if Geneva proved those theories true, or if it was merely an offseason money race for four of the sport's stars.
PRODUCT SPOTLIGHT: MATRIX CONCEPTS KC66 EDITION STAND
Matrix Concepts will be on hand at the fourth annual KC66 Foundation ride day at Glen Helen Raceway on December 10th.
We will be there in support of the event and will be selling special KC66 edition stands. All sale profits will be going to the Kurt Caselli Foundation. Make a stop by the Matrix Concepts booth and pick up a limited edition stand in support of a great cause!
We hope to see you at the event and look forward to supporting the important work that the Kurt Caselli Foundation does for off-road motorcycle racing safety.
If you don't make it to the event, the stands are also available online at http://www.matrixracingproducts.com/m64-elite-stand-kurt-caselli-66-edition/. All net profit proceeds will go directly to the foundation.
TWO-STROKE SPOTLIGHT: DOUG DUBACH'S 1983 YAMAHA YZ100
My two-stroke building brethren can take a week off, because "The Doctor" is in the house. Or, at least, his bike is. I urge you to continue sending your photos and stories of those coveted two-stroke machines (email me at [email protected]). However, this week belongs to Doug Dubach's 1983 Yamaha YZ100. Read below to find out why.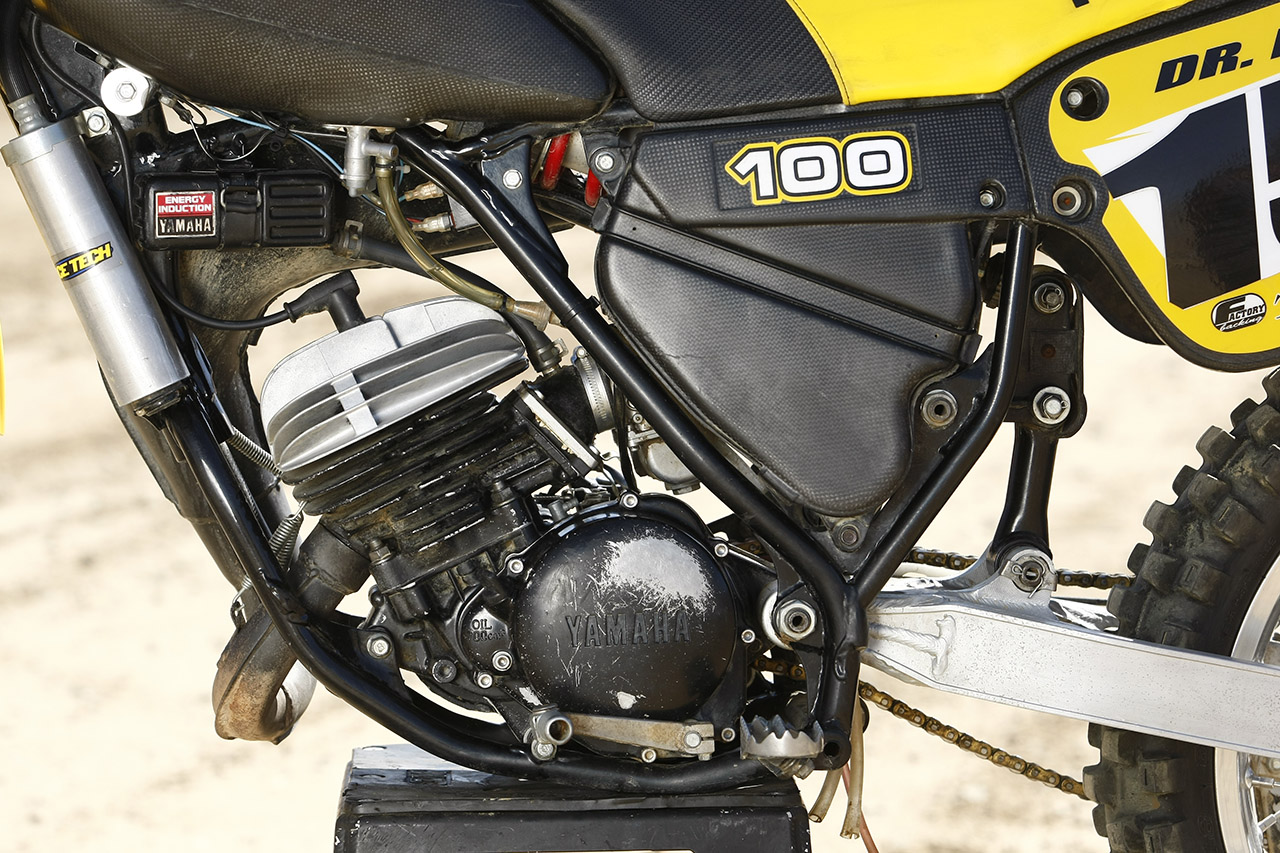 Back in the day, racetracks were filled with 100cc bikes, with everything from Novice to Pro classes. That time has long since passed, but 100cc two-strokes still have a place in racing, thanks to the Marty Tripes 100cc Works Revenge Series. The rules are rather basic: the engine must be 100cc (bored no more than 2mm over); no water cooling; the frame must be from 1983 or earlier. However, the frame can be modified or made from hand. Other than those few mini moto laws it's fair game for anything under the sun. Doug Dubach, with the help from his friends, crafted a ridiculously cool 1983 Yamaha YZ100.
The engine is stuffed with a Wiseco piston, REM-coated gearbox, Barnett clutch, Moto Tassinari reeds and 34mm Keihin PWK carburetor. A gusseted frame, CRF450 footpeg mounts, IMS pegs and an aluminum Yamaha IT175 swingarm are also on the YZ100 conversion. In my eyes the coolest parts on the bike are the hand molded carbon fiber gas tank, number plates, chain guide and airbox cover. What can I say, I'm a sucker for carbon fiber.
Dubach's 1983 Yamaha YZ100 was a blast to ride. You had to fight the urge of hitting the brakes for fear of slowing momentum, because the engine isn't a modern pony pusher. It was no surprise that Doug Dubach could fly around the track on his YZ100, just as long as the hills weren't too steep. Watching "The Doctor" tear around on 33 year old bike was like traveling back in time.
If you would like your bike to be featured in the "Two-Stroke Spotlight," please email me at [email protected] All I ask is that you give a breakdown of your bike and a detailed description of the build. Please also send a few photos of your steed. By submitting your bike for the "Two-Stroke Spotlight," you agree to release all ownership rights to the images and copy to MXA. Please don't email me spam or try selling me Taylor Swift concert tickets or email me spam. I already celebrate T-Swizzle's entire collective, and there will be "bad blood" if you send me junk mail. See what I did there? Happy submitting your smoker.
AERIAL PERSPECTIVE: GOAT FARM SUPERCROSS TRACKS

Last year I befriended Ricky Carmichael's buddy, Matt Solomon, who is a photo enthusiast and all-around good guy. He's actually a jack of all trades. I don't know anyone else who is involved in the production of gourmet foot sauce (click HERE to check out Sump'n Hot! sauce, which my dear wife swears by).

Matt has a drone helicopter that he uses to take aerial photos and videos of wildlife, landscapes and motocross. He ventured out while I was at Suzuki Camp Carmichael to shoot overview photos of Ricky's two Supercross tracks. The tracks are ridden daily by Joey Savatgy in his preparation for the upcoming 2017 Supercross series. Thanks for the photos, Matt!
CHASING PRO-AM POINTS: THE BOYS TAKE ON THE AZ OPEN
By Justin Muscutt
After a very long week of racing in Florida it was time to head to Arizona for the AZ Open at Arizona Cycle Park. With a renewed sense of excitement to turn our luck around, Brian Medeiros and I burned the midnight oil driving to Arizona. We stopped somewhere in Texas for the night before rolling into Buckeye, Arizona. It was a long drive.
Before I could get on with the practice day, I had to fix my mangled bike. No worries, though, because they were just broken parts. MXA had to call on the Wells family to bring some parts with them to fix the bike. About halfway through the day I was able to start practice and get a couple sessions. I was able to learn the track for the upcoming three days of racing.
Starting bright and early we set out to the track to get ready for the first day of racing. In 250 A Brian got a decent start and raced his Suzuki RM-Z250 to 14th place. The cards were not in my favor, as I got a horrible start and came away with a measly 16th place. We were not off to a great first day. We told ourselves that the next day would provide new opportunities, but not before our starter went out in the truck. 
After starting the truck with a screwdriver, we motored to the track. There was a schedule change, as the previous day's races take too long–even racing under the lights. They took away the sight laps before each moto to move things along. The second day would go better for both of us. Brian got another decent start and rode his way to 12th place. Looking to keep the momentum going, I got an okay start and made some quick passes early to set myself up for a 13th place finish on the day. 
For the last day we were looking to cap off the AZ Open with some outstanding results. Unfortunately, Brian's luck would run out completely. As he was warming his bike up before practice it locked up solid. We were not sure the cause of it, but we did know his day was over. I was hoping my luck would not be the same as I waited all day for moto 23. I got out to a decent start. After a bit of shuffling for positions I would end up in ninth place. With that finish it boosted my overall finish to 11th. That meant I earned seven points toward my pro license. Brian would end up with a 17th overall and get one point. We each need to get 60 points in order to secure our licenses.

It was a nice way to end the trip for me, but not so much for Brian. After waiting to collect my whopping $15 for 9th on the day, Brian and I loaded all of our belongings into the trailer and blazed a trail all the way back to the Knobby Shop South compound in Lake Elsinore, California.
The whole experience was eventful–from losing overdrive in the transmission, the trailer panel ripping off, the starter going out, the ignition shorting out, knocking myself out, to ending up with a blown-up bike, it was crazy. This wasn't the first, and won't be the last, road trip in our pursuit of obtaining our Pro licenses. 
2017 YAMAHA YZ250F PARTS LIST: THE TOTAL BILL
I never know how deep I'm in when building a bike until after the fact. That's partly due to ignorance, but more because I don't care. I throw a parts catalog at my project bike builds because I like to see what I can come up with. The goal is to show other bike project managers (which is what I was in this specific instance) what's possible. My last build–the 2005 Yamaha YZ125–was to the tune of around $14,500. Guess what? I blew past that number with my 2017 Yamaha YZ250F job. How much would have been spent in modifications if companies didn't graciously part with their wares for free? $19,945.35. Yowzers! Truth be told, I could have toppled that number if I opted to get a fully modified engine, went the titanium fastener route, and secured a carbon fiber gas tank and subframe from Europe. One day I'll go whole hog and make an obscene race bike that breaks the $30,000 barrier. Why do such a thing? Building project bikes has become a sickness of sorts. I just can't help myself. For now, my project 2017 YZ250F will have to do.
Below is a breakdown of the parts used for the project, the retail price of each, and company websites should you want to purchase the parts or learn more information.
KAYABA
AOS Factory Kit forks: $4500
Factory Kit shock: $2700
Xtrig triple clamps: $900
www.technicaltouchusa.com
JGRMX ENGINE MODS
Port and polished head with epoxy work: $695.00
Rimmed transmission: $395.00
Del West titanium valves: $719.95
JGR spec piston: $349.99
Carillo crankshaft rod: $279.95
GET secondary injector kit: $1475.00
www.jgrmx.com
JGRMX HARD PARTS
Adjustable subframe: $179.99
Carbon fiber skid plate: $299.95
Adjustable pull rod: $279.99
Carbon fiber exhaust heat shield: $99.95
Carbon fiber subframe right guard: $79.95
Carbon fiber subframe left guard: $49.95
Purple engine plug kit: $64.95
Axle blocks: $59.95
Brake hose clamp: $39.95
Rear brake clevis: $39.25
Spark plug cap retainer: $35.99
Front brake reservoir cap: $31.95
Carbon fiber rear caliper guard: $49.95
www.jgrmx.com
DUBYA USA
Wheel set: $1490
www.dubyausa.com
HINSON RACING
Complete Billetproof conventional clutch kit: $1119.99
www.hinsonracing.com
FMF RACING
Factory 4.1 RCT anodized exhaust system/carbon end cap: $1049.99
www.fmfracing.com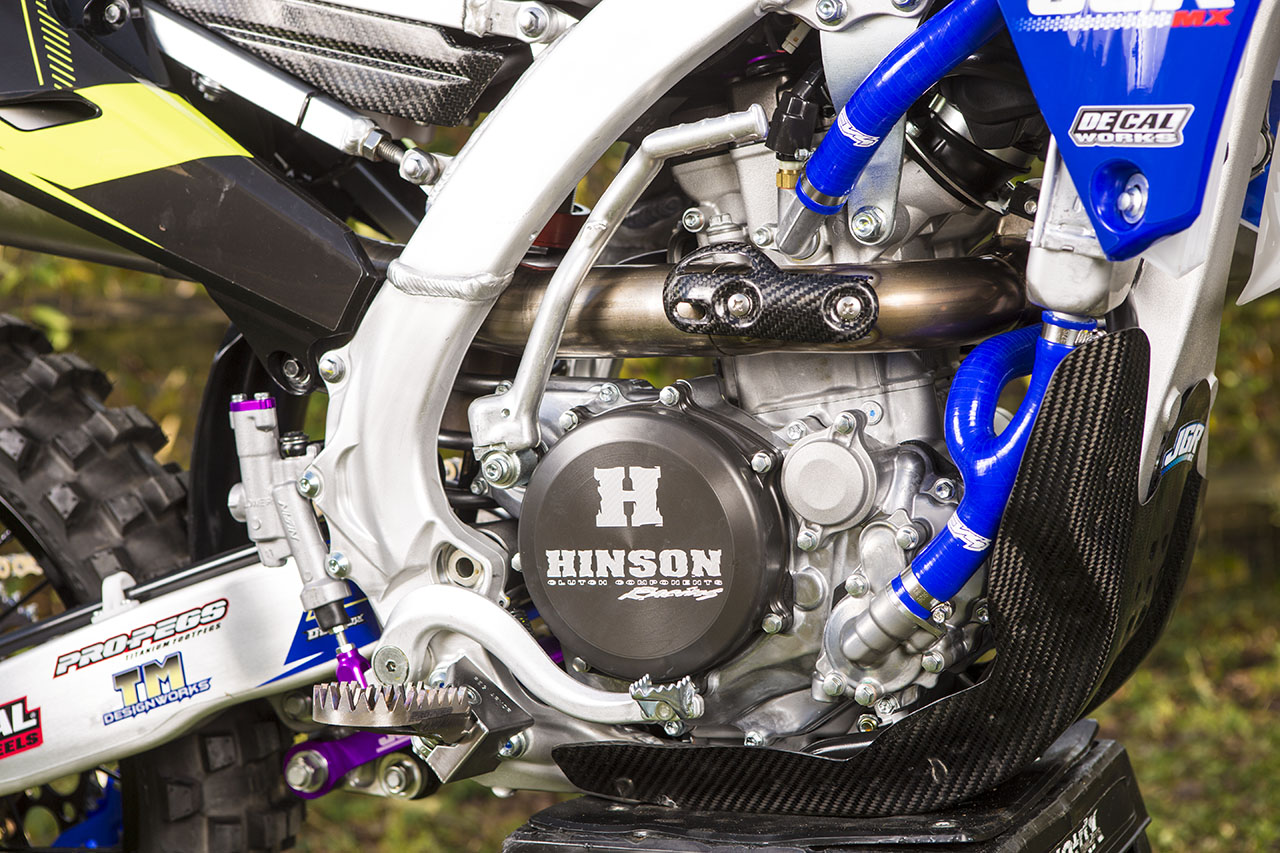 CYCRA RACING
Powerflow plastics kit: $257.95
www.cycraracing.com
RENTHAL
997 bend Twinwall handlebars: $119.95
Tapered Kevlar 1/2 waffle grips: $19.95
13 tooth countershaft sprocket: $25.95
50 tooth Ultralight rear sprocket: $69.95
R1 520 works chain: $91.95
SX blue handlebar pad: $19.95
www.renthal.com
WORKS CONNECTION
Forged brake lever: $37.95
Elite body assembly: $79.95
Elite thumbwheel assembly: $37.95
Elite lever: $37.95
Elite Perch titanium bolt kit: $27.50
Peg Armor: $59.95
Pro Launch holeshot device: $109.95
Rotating bar clamp: $27.50
Aluminum throttle tube: $49.95
Tach/Hour Meter: $44.95
Tach/Hour Meter mount: $14.95
www.worksconnection.com
TM DESIGNWORKS
Factory Edition 2-Stage chain Slide-N-Guide kit: $169.95
www.tmdesignworks.com
PRO PEGS
Titanium footpegs: $268.00
www.motostuff.com
CV PRODUCTS
Silicone radiator hose kit: $199.95
www.cycraracing.com
PIRELLI
MX32 front tire: $69.98
MX32 rear tire: $139.89
www.jgrmx.com
TWIN AIR
Air filter: $31.95
www.twinairusa.com
GALFER
270mm Superlight Tsunami Wave rotor: $320.00
Rear solid mount Wave disc: $133.00
Stainless steel front brake line: $59.00
Sintered front brake pads: $34.03
www.galferusa.com
MOTOSEAT
Ribbed Traction seat cover: $59.95
www.motoseat.com
DECAL WORKS
T-16 semi custom complete graphics kit: $268.95
Rad Louver DeCals: $69.90
www.decalmx.com
TOTAL BILL: $19,945.35
PRODUCT SPOTLIGHT: BOYESEN SUPERCOOLER FOR 2016-'17 KAWASAKI KX450F
Boyesen SuperCooler Water Pump Cover and Impeller Kits are specifically designed to enhance the performance of your Kawasaki KX450F engine's cooling system. These high-flow, hydrodynamic water pump kits have been tested and designed to flow more coolant. By increasing the flow, the engine will run cooler at a more constant temperature.
Internal engine heat, although needed for horsepower, is also extremely destructive to your engine if it is not managed properly. Internal-combustion engines burn fuel hotter than the melting temperature of engine materials. When an engine is operating out-of-balance with its cooling system's capacity, the internal temperatures often rise to levels that cause damage to the cylinder, piston, and valve-train components. If these parts become heated over the optimal operating upper limit range, component damage will begin to occur. Reduced to its common reasons for being essential in an internal combustion engine, cooling system efficiency can have a dramatic influence on the longevity of the internal working components of your bike's engine. These include the reduction of thermal stresses and strains caused by pre-ignition and detonation (particularly the latter), distorted cylinder bores, potential damage to pistons and rings, and damaged valve-train components.
HYDRODYNAMIC EFFICIENCY:
The Boyesen Supercooler will reduce engine temperatures by as much as ten degrees, as confirmed by Boyesen's coolant-flow Dyno testing. How does the Supercooler achieve this? Hydrodynamics. Boyesen's investment-cast aluminum water pump cover has bigger water inlets, a sculpted design, no casting seams, less restrictive corners, a more efficient impeller and less coolant cavitation.
AVAILABLE COLORS:
The Boyesen Supercooler is currently available in Black and Magnesium, as well as the ever-popular Spectra Series Race Blue color.
Black — WPK-18AB
Magnesium — WPK-18AM
Race Blue — WPK-18AL
RETAIL PRICE:
Boyesen's suggested retail price of the Black and Magnesium Supercooler is $189.95 (USD). Boyesen's suggested retail price of the Race Blue Supercooler's is $195.95 (USD).
APPLICATIONS:
2016 – 2017 Kawasaki KX450F
AVAILABILITY:
The Boyesen Supercooler's for KTM and Husqvarna's are available for order at your local dealer or popular web retailers. If your regional dealership has chosen not to stock this product, Boyesen also makes it available for purchase at our webstore. Visit www.boyesen.com for more information, and to make your purchase.
QUOTE OF THE WEEK: JUSTIN BRAYTON
"It's funny, I talk to people who have either retired and moved on from a job. They tell me that I'll just know when it's time, and I'm at the point where I just don't want to race outdoors anymore. It's not that I don't like it or don't enjoy it. I love the work ethic you have to put in to race the Nationals. I love all of the tracks. It's just the schedule is too hard for me. I feel like I'm better at Supercross, and I still feel like I can win a Supercross race. I don't feel like I could win a National, even on my best day."
Click HERE to read the interview with Honda's newest support rider.
2017 RACE SCHEDULES: BE THERE OR BE SQUARE
California is the richest race state in the union, with seven major events in 2017. Folks in Michigan should rejoice, as Supercross (Detroit), Arenacross (Grand Rapids) and the Lucas Oil Nationals (Red Bud) visit "The Great Lake State." And those residing in the Pacific Northwest will be happy hosting a bevy of events, from Supercross to the AMA Nationals.
2017 MONSTER ENERGY SUPERCROSS SERIES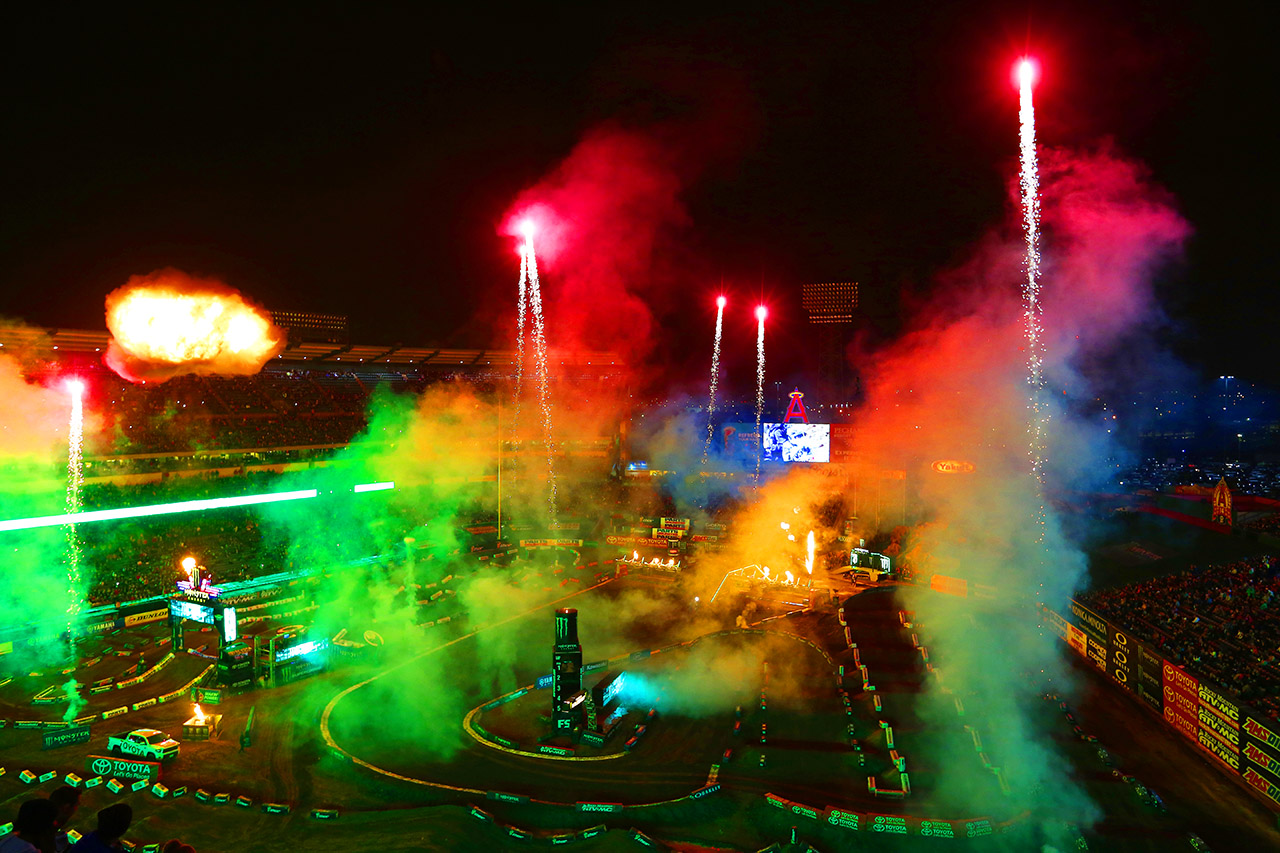 January 7…Angel Stadium…Anaheim, CA (West)
January 14…Petco Park…San Diego, CA (West)
January 21…Angel Stadium…Anaheim, CA (West)
January 28…University of Phoenix…Glendale, AZ (West)
February 4…Alameda Coliseum…Oakland, CA (West)
February 11…AT&T Stadium…Arlington, TX (West)
February 18…U.S. Bank Stadium…Minneapolis, MN (East)
February 25…Georgia Dome…Atlanta, GA (East)
March 4…Rogers Centre…Toronto, Canada (East)
March 11…Daytona Speedway…Daytona, FL (East)
March 18…Lucas Oil Stadium…Indianapolis, IN (East)
March 25…Ford Field…Detroit, MI (East)
April 1…America's Center…St. Louis, MO (East)
April 8…CenturyLink Field…Seattle, WA (West)
April 22…Rice-Eccles Stadium…Salt Lake City, UT (West)
April 29…MetLife Stadium…East Rutherford, NJ (East)
May 6…Sam Boyd Stadium…Las Vegas, NV (East/West)
*Visit http://www.supercrosslive.com/ to purchase tickets
2017 AMSOIL ARENACROSS SERIES
January 7-8…U.S. Bank Arena…Cincinnati, OH
January 13-15…Van Andel Arena…Grand Rapids, MI
January 20-22…Royal Farms Arena…Baltimore, MD
January 28-29…Bridgestone Arena…Nashville, TN
February 4-5…Freedom Hall…Louisville, KY
February 18-19…Sprint Center…Kansas City, MO
February 24-26…Georgia Dome…Atlanta, GA
March 3-5…Landers Center…Southaven, MS
March 11-12…Smoothie King Center…New Orleans, LA
March 18-19…Moda Center…Portland, OR
March 24-26…Livestock Events Center…Reno, NV
April 1-2…Golden I Center…Sacramento, CA
April 22-23…Denver Coliseum…Denver, CO
May 5-7…Orleans Arena…Las Vegas, NV
*Visit http://www.supercrosslive.com/ to purchase tickets
2017 LUCAS OIL PRO MOTOCROSS CHAMPIONSHIP
May 20…Hangtown…Sacramento, CA
May 27…Glen Helen…San Bernardino, CA
June 3…Thunder Valley…Lakewood, CO
June 17…High Point…Mount Morris, PA
June 24…Muddy Creek…Blountville, TN
July 1…Red Bud…Buchanan, MI
July 8…Southwick…Southwick, MA
July 22…Spring Creek…Millville, MN
July 29…Washougal…Washougal, WA
August 12…Unadilla…New Berlin, NY
August 19…Budds Creek…Mechanicsville, MD
August 26…Ironman…Crawfordsville, IN
* Visit www.promotocross.com/mx/tickets to buy tickets
2017 FIM MOTOCROSS WORLD CHAMPIONSHIP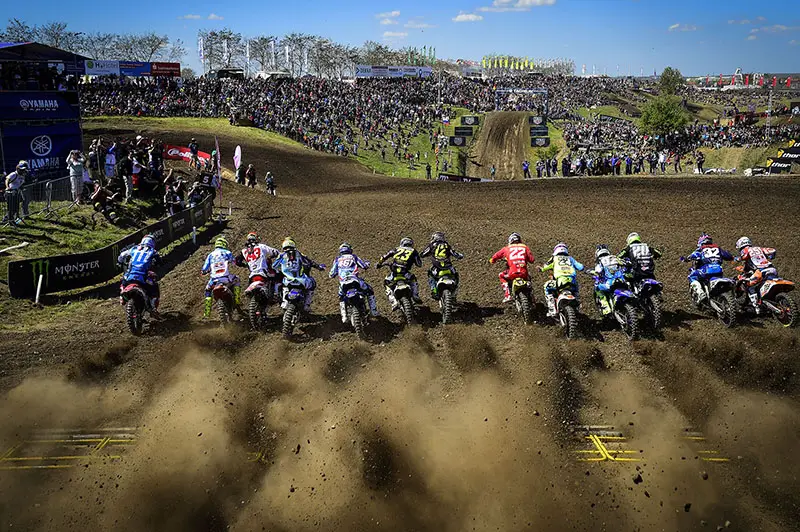 February 25…Losail…Qatar
March 5…Pangkal Pinang…Indonesia
March 19…Neuquen…Argentina
April 2…Leon…Mexico
April 16…Trentino…Italy
April 23…Valkenswaard…The Netherlands
May 7…Kegums…Latvia
May 21…Teutschenthal…Germany
May 28…Ernee…France
June 11…Orlyonok…Russia
June 25…Maggiora…Italy
July 2…Agueda…Portugal
July 23…Loket…Czech Republic
August 6…Lommel…Belgium
August 13…Frauenfeld…Switzerland
August 20…Uddevalla…Sweden
September 3…Charlotte…USA
September 10…Assen…The Netherlands
September 17…Villars sous Ecot…France