PRO TAPER PRESENTS MXA'S MID-WEEK REPORT #50 BY JOHN BASHER

#WHIPITWEDNESDAY
Rider: Axell Hodges
Location: Sam Boyd Stadium, Las Vegas
Date: October 17, 2016
Photographer: John Basher
Camera: Canon 5D Mark III
Lens: 70-200mm f/2.8
Focal length: 200mm
Exposure: 1/1000 sec.
F-stop: 4.5
ISO: 250
SNEAK PEEK: SEAN COLLIER'S KAWASAKI KX500
Real men ride 500cc two-strokes. Nay, four-strokes are the way to go. The AMA killed two-strokes. Not true; bike buyers wisely chose to purchase four-strokes. And the debate goes on and on, ad nauseam.
All I know is that riding a 500cc two-stroke has a way of unearthing sediment from the deepest bowels of my body. I look forward to my annual cleansing next week when I travel to Southern California for Christmas and throw a leg over Sean Collier's fierce Kawasaki KX500. The experience will be exhilarating yet scary, euphoric but also nightmarish. I can't wait. I'll take comfort in knowing that Collier's bike is outfitted with modern forks, so I should have a fighting chance when I get whiskey throttle off the first jump, kiss the stars, and come crashing down to earth. Stay tuned.   
MXA VIDEO: 2017 250 SHOOTOUT…WITH RESULTS!
TWO-STROKE SPOTLIGHT: DARYL ECKLUND'S HUSQVARNA TC250
When Jody Weisel, Daryl Ecklund, Dennis Stapleton and I sat down at the conference table back in March of last year to brainstorm ideas for the July 2015 issue of MXA, we decided to build our fleet of two-stroke project bikes. That decision was based on our collective desire to race the MTA Two-Stroke World Championship. As we threw out ideas–Dennis wanted to build a YZ250, Jody was all about the KTM 250SX and (no shock here) I requested the YZ125–Daryl sat there with a perplexed look on his visage. The MXA gang got the holeshot on poor Daryl. He wanted to race a 250 two-stroke, but the YZ250 and KTM 250SX were already spoken for. Ecklund got on the horn and, five minutes later, had secured a Husqvarna TC250. Not only that, but he talked Husqvarna's Andy Jefferson into building a factory-spec 250 two-stroke that would rival any of the best 250's in the land.
So while Dennis, Jody and I toiled away on our project bikes, Daryl kicked back and waited. Andy Jefferson did all of the legwork–ordering parts, securing special carbon fiber doodads, installing said parts, and polishing the TC250 to a sheen that could be seen from outer space. Jefferson even delivered the Husky to MXA's stately office. The bike build couldn't have been any easier for Ecklund.
What began as a 250 powerplant was pumped up to a 300, only for the engine to give up the ghost and once again become a 250. That's life in the fast lane.
Maybe it was pity that set in, or Daryl simply wanted to make his bike stand out from the crowd, but he wanted to wake up before dawn and shoot photos of his prized TC250. These days Ecklund is becoming quite the regular behind a camera lens, but in March of 2015 he was more photo rider than a rider who was fully invested in photography. Daryl talked me into shooting his white stallion in a location that was roosting distance from where he and Kurt Caselli grew up riding. We were in the middle of nowhere, standing in some desert field, surrounded by scrub brush, waiting for the sun to peak above the horizon.
Like sand through the hourglass, an orange glowing mass began its climb into the sky. My strobe flashes in position, I clicked away while Sting's "Fields of Gold" played in my mind. That tune was stuck in my head, partly due to the golden brush that was illuminated by the sun, and also because "Fields of Gold" is a trigger of a long ago memory from college when my art teacher played Sting's album while the class drew nude models. That's another story for another time. I'm sure counseling is in my future.
At the time of the Husqvarna TC250 bike build FMF had just introduced their Titanium 2 silencer. She was a real beauty. Check out the carbon fiber subframe.
What happened to Daryl Ecklund's factory Husqvarna TC250? Jody, Dennis and I had the last laugh. Daryl blew up the bike during practice (at that time it was punched out to a 300), so he drove down to Husqvarna and had Jefferson build it back into a 250. The 300 was too powerful, so the fact that the engine grenaded was a blessing in disguise. Still, the bike wore him down during the World Two-Stroke Championship to the point that he tossed his lunch after the first moto. He said it was due to the flu, but I like to pretend it was because he felt so guilty for having someone else build his bike while he sat back and scarfed down chocolate glazed donut holes.
If you'd like to read the full story on Daryl Ecklund's Husqvarna TC250, dig through the archives and pick up the July 2015 issue. In that magazine are a bevy of two-stroke builds. It's probably one of my favorite issues of MXA ever.
Please keep those submissions coming. If you would like your bike to be featured in the "Two-Stroke Spotlight," please email me at [email protected] All I ask is that you give a breakdown of your bike and a detailed description of the build. Please also send a few photos of your steed. By submitting your bike for the "Two-Stroke Spotlight," you agree to release all ownership rights to the images and copy to MXA. Please don't email me spam or try selling me Taylor Swift concert tickets or email me spam. I already celebrate T-Swizzle's entire collective, and there will be "bad blood" if you send me junk mail. See what I did there? Happy submitting your smoker.

PRODUCT SPOTLIGHT: RIDE ENGINEERING KTM/HUSQVARNA 23MM OFFSET CLAMPS
Ride Eng. KTM clamps have been designed with five goals in mind: 1) Dampening: to insulate the handlebars from vibration with Polyurethane Cones (included); 2) Flex: Not only are they made from 2024 Aluminum which is the same alloy the factory teams use but the whole area where the bottom clamp wraps around the forks has been designed to allow the forks to flex like stock for uncompromised suspension action; 3) Improve the handling by offering different offsets to suit the rider's needs; 4) Place the pinch bolts in the front to allow for different aftermarket handguard mounts. 5) Keep the bar mounts from twisting in a crash by increasing the bar mount mounting span to 100mm and utilizing Ride Eng.'s one-piece anti twist bar mount design (bar mounts sold separately & required (KX-BBM00-CA)). 23mm Offset recommended for Enduro (EN); Motocross (MX); Grand National Cross Country (GNCC); World Off-road Championship Series (WORCS) & Desert Racing (DR). This offset increases stability over rough terrain, best use 2016-17 SX & 2016-17 XC models with 4CS or AER forks (small front axle) (stock offset is 22mm on these models). Usually compatible with aftermarket stabilizers, call the manufacturer to confirm.
Included in kit: Top clamp, Bottom clamp, Polyurethane Cones, Nuts, Washers, Pressed in stem and Lower bearing.
Price: $599.90
Application: 2013-2017 KTM SX/SX-F/XC-F/XC all (except 65/85/105); 2012.5 Factory Edition & 2014 – 2017 EXC-F/XC-W
PN: KT-BTB34-GE
Contact: www.ride-engineering.com or (800) 805-1516
MINI-VIEW: WIL HAHN
By Jim Kimball
Explain your new role at Geico Honda.
I am still learning my role exactly, but it is becoming cooler and cooler by the day. I am trying to evaluate that and being the best I can be. It's really no different than racing. I'll be helping the amateurs, and then helping the Pros, as well.
Now that you're retired are you going to let loose a bit?
I am still very into training. I woke up this morning at 6:00 and went on a mountain bike ride before I went to work. I still take pride in that and I want to continue to stay in shape, but at the same time,I had a beer on the weekend. I did not feel that guilt as if I had been racing. I am not going out and getting drunk, but I enjoyed having a beer and relaxing on the weekend. It is a different change, and obviously it is going to take some time to get use to. I still pride myself in wanting to eat right and be a good example to the amateurs and the Pro team. I don't want to be a guy that they do not look up to. I want them to respect me, and for them to respect me I need to take pride in myself in kind of all aspects of my life.
Is racing a 450 more dangerous than racing on a 250?
Obviously the bike has more power and things can happen, but injuries can happen on any dirt bike. I am a little bit smaller on the 450, but that's how it goes. I got hurt on the 250, and I got hurt on the 450. Maybe the 450 is a bit more dangerous because of the power, but it's not to the point of being too much power.
You started your career at Star Racing Yamaha, which was a far different program back then that it is now.
At that time it was not a premiere race team. It was not bad, but it was not a premiere race team to ride for. Now they are one of the best out there. You put them up there with Pro Circuit, Geico Honda and Troy Lee Designs KTM. I think Star is very competitive. They have won a lot of championships last year and the year before. They are doing something right. The evolution of their racing is definitely a lot bigger since I was there. It is always cool to see that. The team started out not factory supported and ended up turning into a team that is now one of the best.
L.A. COUNTY RACEWAY SCHEDULE & NEWS
[Press Release]
This weekend will be your last chance to get LACR MX gift cards, hoodies, t-shirts, & hats before Christmas!
Saturday 12/17
Gates open at 8am
Open practice
9am-2pm
Main, Vet, & Mini track
$30 per rider & $10 per 50cc rider 
Sunday 12/18
Gates open at 8am
Open Practice
9am-2pm
Main, Vet, & Mini track
$30 per rider & $10 per 50cc rider 
We will be closed for Practice from December 24 thru January 6th, but we still have private rental dates available if you'd like to book a rental.
GENEVA SUPERCROSS OUT-TAKES
The 31st running of the Geneva Supercross has come and gone. Marvin Musquin won his third King of Geneva crown, his third in the past four years. Only Justin Brayton has more wins, at four. Malcolm Stewart rode a Seven-backed CRF450 to third overall, while Justin Barcia struggled to find the flow. He ended up fourth.
Ben Schiermeyer with Justin Barcia's JGR Suzuki RM-Z450. Notice the Dunlop tires (instead of Pirelli), Showa suspension (as opposed to Kayaba) and a Yoshimura exhaust (in place of FMF).
Malcolm Stewart had his game face on in Geneva. On a Seven-backed Honda CRF450 with Geico Honda support, Stewart went 2-3 for third overall. 
Justin Brayton (10) is rolling into 2017 with a good head of steam after winning the Australian Supercross title and finishing second overall in Geneva. 
Justin Barcia dragged a peg and the swingarm through a deep rut on the second night of racing.
Justin Brayton's mechanic, Brent Duffe, and the MotoConcepts Honda CRF450. Brent and Justin traded in the 2016 model for a 2017 a few days after this photo was taken. 
Marvin Musquin (25) shows Arnaud Tonus (4) the hot line through the whoops. Tonus is part of the Wilvo Yamaha 450 GP program for 2017.
Justin Barcia's new setup.
MOTO-MASTER UNVEILS NEW WEBSITE
[Press Release]
We are pleased to announce the release of our new website for 2017! The site features a new product presentation and is easier to navigate. All info about our championship winning products is just a few clicks away. Also, check out our riders at the new rider Instagram page.
For the USA, go to www.moto-masterusa.com
For Europe and the rest of the world, go to www.moto-master.com 
MOTOCROSS IN PARADISE: HAWAII FOR CHRISTMAS
By Brian Medeiros
At 6:00 am my alarm went off. It was time to head to San Diego International Airport from the Knobby Shop Compound for my flight back home to Kauai, Hawaii; also known as "The Garden Isle."
After long security lines, delays on the runway, and sprinting to make my connecting flight I finally made it home! Born and raised on Kauai, I lived here for 18 years before I bought myself a one-way ticket to California to chase the motocross dream.
Kauai is 552 square miles in size and has just one motocross track that is only open on the weekends and some holidays. The Wailua motocross track first opened 65 years ago. Every year over the Labor Day weekend they host their annual Hawaii State Championship races. In 2017 the track will celebrate the 63rd running of the event. Throughout the year they also host local races about once a month. Luckily I made it home in time to race the last local race of the year.
After finding a bike to ride, it was time to hit the track! Thanks to the typical overnight showers and the awesome work that the KMXA (Kauai Motocross Association) crew put in, the track was in prime condition for a day of racing. I was able to go 1-1 on the day in 450 A and had the most fun riding my dirt bike that I've had in a while. After the long 3-1/2 week journey chasing Pro-Am points it was nice to ride a no pressure race and get back to my roots here on Kauai. 
Now that it's all said and done, it's time to spend quality time with the family before heading back to Southern California to prepare for the 2017 season. I'd like to wish all the Motocross Action Magazine readers a happy and safe holiday season. I'll see you in 2017!
PRODUCT SPOTLIGHT: REKLUSE KC66 CLUTCH COVER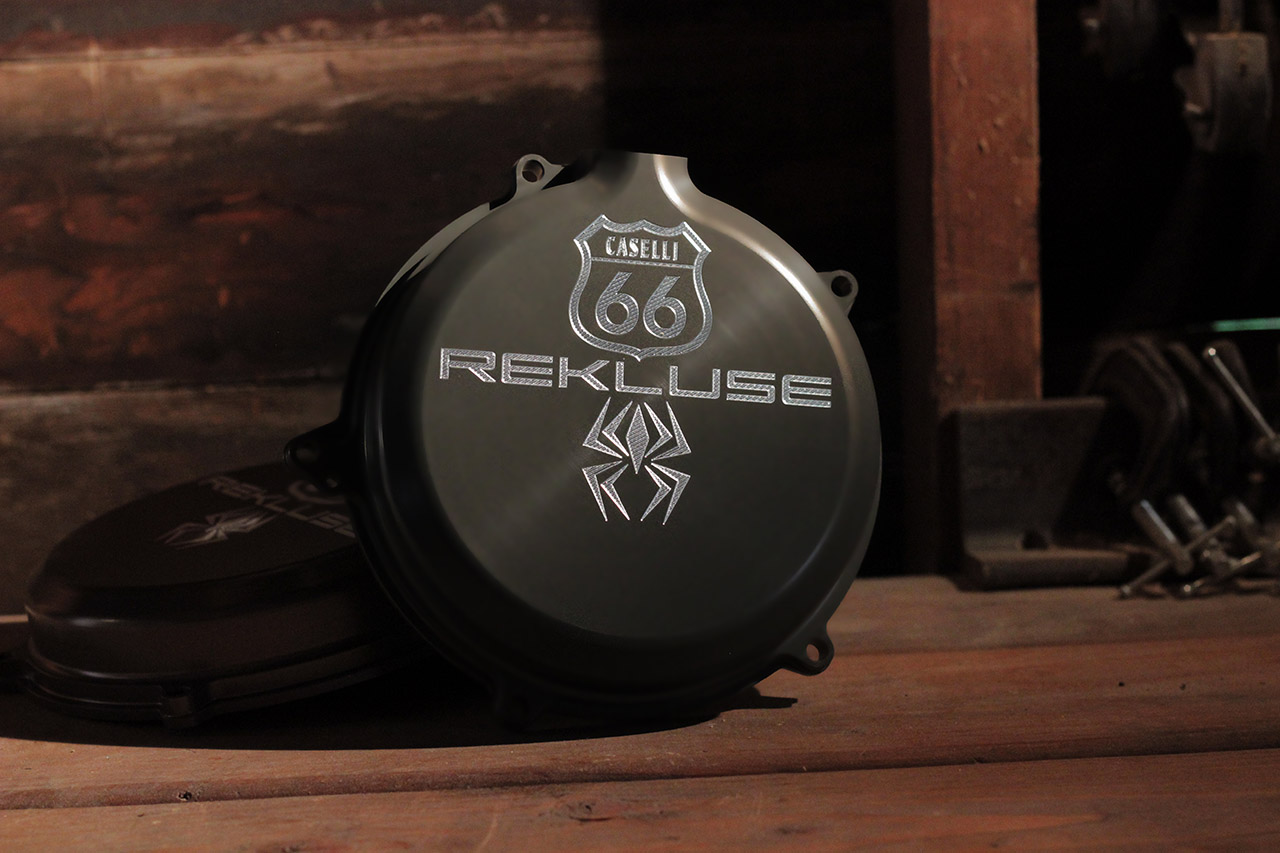 [Press Release]
To honor the life and legacy of Kurt Caselli, Rekluse has partnered with The Kurt Caselli Foundation to further its mission of promoting the safety of off-road motorcycle racers and riders.
Tragically, Kurt, who was one of the best off-road motorcycle racers ever, lost his life in a racing accident during the 2013 Baja 1000. Kurt was a long-time friend, partner and support rider for Rekluse and we are privileged to help benefit the foundation in his name.
Rekluse is offering a limited edition billet machined clutch cover featuring the foundation's "KC 66" logo. The partnership will raise awareness for the foundation to strengthen the focus of rider and racer safety throughout the off-road industry. Rekluse is honored to donate $125.00 for every clutch cover sold.
Limited edition "KC 66" covers will be available for most KTM, Husqvarna and Husaberg dirt bike models. If you have a different model of motorcycle and would like to purchase the cover, please SUBMIT A REQUEST listing your make, model and year.  Depending on demand, Rekluse will add additional clutch cover models to the program.
Order here https://rekluse.com/product/clutch-cover-kc/ or call the Rekluse Sales and Customer service team at (208) 426-0659. For more information about The Kurt Caselli Foundation, click HERE.
QUOTE OF THE WEEK: COLE SEELY
"I have always been the guy in the shadows, but that is fine by me. I don't mind being under the radar. I just do my own thing. I think people can kind of forget about me before every season, but then by the time the season rolls around I remind them who I am and why I am on factory Honda. As long as the important people know, that is all that really matters."
Click here to read the latest interview with HRC Honda's Cole Seely.
2017 RACE SCHEDULES: BE THERE OR BE SQUARE
California is the richest race state in the union, with seven major events in 2017. Folks in Michigan should rejoice, as Supercross (Detroit), Arenacross (Grand Rapids) and the Lucas Oil Nationals (Red Bud) visit "The Great Lake State." And those residing in the Pacific Northwest will be happy hosting a bevy of events, from Supercross to the AMA Nationals.
2017 MONSTER ENERGY SUPERCROSS SERIES
January 7…Angel Stadium…Anaheim, CA (West)
January 14…Petco Park…San Diego, CA (West)
January 21…Angel Stadium…Anaheim, CA (West)
January 28…University of Phoenix…Glendale, AZ (West)
February 4…Alameda Coliseum…Oakland, CA (West)
February 11…AT&T Stadium…Arlington, TX (West)
February 18…U.S. Bank Stadium…Minneapolis, MN (East)
February 25…Georgia Dome…Atlanta, GA (East)
March 4…Rogers Centre…Toronto, Canada (East)
March 11…Daytona Speedway…Daytona, FL (East)
March 18…Lucas Oil Stadium…Indianapolis, IN (East)
March 25…Ford Field…Detroit, MI (East)
April 1…America's Center…St. Louis, MO (East)
April 8…CenturyLink Field…Seattle, WA (West)
April 22…Rice-Eccles Stadium…Salt Lake City, UT (West)
April 29…MetLife Stadium…East Rutherford, NJ (East)
May 6…Sam Boyd Stadium…Las Vegas, NV (East/West)
*Visit http://www.supercrosslive.com/ to purchase tickets
2017 AMSOIL ARENACROSS SERIES
January 7-8…U.S. Bank Arena…Cincinnati, OH
January 13-15…Van Andel Arena…Grand Rapids, MI
January 20-22…Royal Farms Arena…Baltimore, MD
January 28-29…Bridgestone Arena…Nashville, TN
February 4-5…Freedom Hall…Louisville, KY
February 18-19…Sprint Center…Kansas City, MO
February 24-26…Georgia Dome…Atlanta, GA
March 3-5…Landers Center…Southaven, MS
March 11-12…Smoothie King Center…New Orleans, LA
March 18-19…Moda Center…Portland, OR
March 24-26…Livestock Events Center…Reno, NV
April 1-2…Golden I Center…Sacramento, CA
April 22-23…Denver Coliseum…Denver, CO
May 5-7…Orleans Arena…Las Vegas, NV
*Visit http://www.supercrosslive.com/ to purchase tickets
2017 LUCAS OIL PRO MOTOCROSS CHAMPIONSHIP
May 20…Hangtown…Sacramento, CA
May 27…Glen Helen…San Bernardino, CA
June 3…Thunder Valley…Lakewood, CO
June 17…High Point…Mount Morris, PA
June 24…Muddy Creek…Blountville, TN
July 1…Red Bud…Buchanan, MI
July 8…Southwick…Southwick, MA
July 22…Spring Creek…Millville, MN
July 29…Washougal…Washougal, WA
August 12…Unadilla…New Berlin, NY
August 19…Budds Creek…Mechanicsville, MD
August 26…Ironman…Crawfordsville, IN
2017 FIM MOTOCROSS WORLD CHAMPIONSHIP
February 25…Losail…Qatar
March 5…Pangkal Pinang…Indonesia
March 19…Neuquen…Argentina
April 2…Leon…Mexico
April 16…Trentino…Italy
April 23…Valkenswaard…The Netherlands
May 7…Kegums…Latvia
May 21…Teutschenthal…Germany
May 28…Ernee…France
June 11…Orlyonok…Russia
June 25…Maggiora…Italy
July 2…Agueda…Portugal
July 23…Loket…Czech Republic
August 6…Lommel…Belgium
August 13…Frauenfeld…Switzerland
August 20…Uddevalla…Sweden
September 3…Charlotte…USA
September 10…Assen…The Netherlands
September 17…Villars sous Ecot…France