PRO TAPER PRESENTS MXA'S MID-WEEK REPORT BY DARYL ECKLUND

FACEBOOK

PHOTO OF THE WEEK
You can see this yourself. Go out in the garage, fire up your bike and turn the lights off.

Four-stoke pipes  made with a thin sheet of metal can build up heat rather fast, especially when there is no air cooling them down. When the metal of the pipe heats up to a certain temperature it starts to glow in magnificat red, orange and purple colors. Not only is the metal changing color, the heat also makes the metal weak. If you took a screwdriver to the pipe it would push right in. Do not try at home!
To check out MXA's Facebook page click here
MXA TECHNIQUE CHECK
Cornering 101: Is it common knowledge when going through a corner good technique is having your inside leg out in front of you and off the ground. The pictures ahead are riders going through a tough right hand corner where they display many different techniques. Some bad, some good while others play a balancing act.
Here Eli Tomac shows textbook corner technique.
The very next lap Eli shows what not to do. Leg back inner elbow down from not re-gripping.
Austin Politelli rides around the corner with both feet on the pegs. This is the most difficult technique to perform through a corner.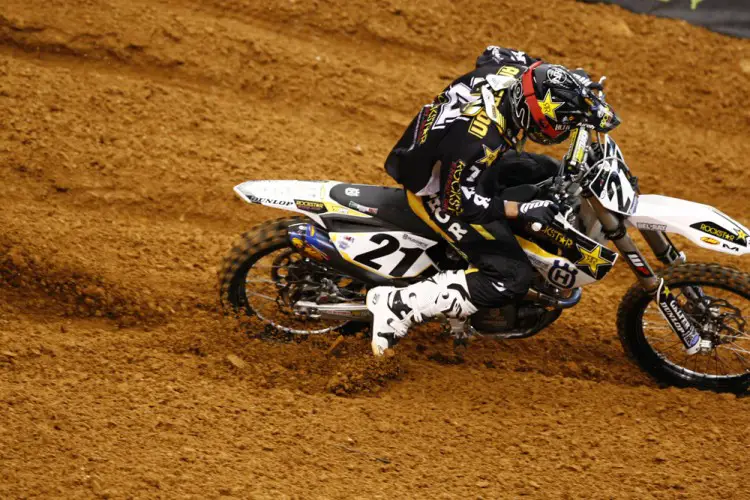 When the leg that is out hits the ground it can cause the rest of your body to become off balance. As you can see Jason Anderson's head and body are leaning in due to getting his leg stuck behind him.
Kenny gets through the corner without dabbing his foot, but as you can see it is in the danger zone only being a few inches from the ground.
#MXA

TALKS

INSTAGRAMS OF THE STARS


Ronnie Renner is loved by thousands of people from around the world. He is consistently on many forms of social media. Sponsor obligations, friends and fans keep him glued to his smartphone, but even a small break from his phone, Twitter or Instagram accounts make people think that Ronnie is too cool to get back to them. So, it is no surprise that many motorcycle racer would feel like they are trapped by their phones.
PRO TAPER'S PRO CLASS SPONSORSHIP FOR J-DAY RACERS
 
Press Release: ProTaper, market-leading manufacturer of off-road motorcycle controls, including handlebars, grips, sprockets, chains, levers, foot-pegs, brakes and much more, is excited to announce that they will be giving away free sponsorship product to selected MSR J-Day Series Pro Class racers. "We are very excited about this new sponsorship opportunity for off-road riders participating in the MSR J-Day Series," says ProTaper Brand Manager Paul Perebijnos. "ProTaper invented the oversized 1-1/8" handlebar without a cross-brace back in 1991, and the flex action and rider comfort our bars offer really lends itself to the varying terrain and obstacles riders encounter on a J-Day track layout."
There are a limited number of sponsorships available. If you are a J-Day Pro and would like to be considered for a sponsorship, please email your resume as soon as possible to ProTaper Rider Support Coordinator Jenn Garfinkle at: [email protected]. For more information about ProTaper, visit www.protaper.com and follow us on Facebook, Instagram and Twitter @protaperusa.
MXA INTERVIEW: PHIL NICOLETTI


Turning Pro back in 2008, New York Native Phil Nicoletti has had an interesting career with many smaller budget privateer teams. But in 2014 he joined the prestigious Auto Trader/Toyota/JGR Yamaha team as a fill in rider in the case that Justin Brayton, or Josh Grant were injured. A novel concept at the time, Nicoletti re-upped with the team for 2015, and has already put in many credible rides in Supercross by replacing the injured Justin Barcia. The cool news is that the recently turned 26 year old will be a full-time rider during the summer's outdoor Motocross Championship series.
By Jim Kimball
MXA: Phil, you came into 2015 Supercross similar to last year as a fill-in rider at JGR, and have been turning in some pretty decent rides. 

Phil: Yeah, as you said I came back for another year as a fill-in for Supercross, but full time for the outdoors. I'm super excited to be back here, the team is awesome and all the guys are great. When last year began I was scheduled for 3 Supercross races. This year I wasn't scheduled for any, but I have actually raced 11 of them. Supercross has been pretty good, and I have learned a lot but as an athlete you always want to do better.
I'm very interested in hearing how you can get the call to race, and adapt so quickly.
It is actually pretty difficult. You can practice all you want, but it's a lot different with the gate-drops. I came into Supercross at the fourth round in Oakland, so the guys already had three rounds under their belts. Oakland was basically my Anaheim 1. I had to get the program figured out, even with things like when to eat, when to rest, the times we signed posters. Obviously I had some pre-race jitters there, but it's been a lot easier now. I now have my day planned out well, and I have a lot more peace of mind. It's like anything, when you get into a routine, you follow that routine, and things have some plan. Every weekend you can make little adjustments, but overall you have your day planned. I've been improving, and the bike has been improving, so every weekend gets better and better.
And you are living in South Carolina right.
Yes that's right, I live about an hour from the shop, which is in North Carolina. It works out really well being that close to the shop. Plus, I'm originally from New York, so I like staying on the east coast. I'm not a fan of California, but it is the Mecca of the sport, and you have to go out there at times. But yes, it's awesome for me to be staying in South Carolina. I can see all the guys once or twice a week when I go up there and ride the test track. 'Obviously, most teams are based on the west coast, so its cool to have an east coast based team.
Weston works with Buddy Atunez, and Justin works with Johnny O'Mara; do you work with anyone?
Well I stay down at Club MX, and work with the coaches down there. This will be my third or fourth year with the guys there, and it's really my home away from home. The Club MX facility is awesome, and I have around 20 other guys to ride with. There are probably 5 or 6 elite riders there, so that definitely helps with getting your speed up. You can go to a track in California and ride on the track with other people, but you are not actually moto'ing together. At Club MX it could be Alex Martin, Justin Brayton, and Zach Osborne that you are duking it out with. We are all doing gate drops together. It's really a lot more enjoyable than just going out any burning laps by yourself – with your stopwatch. I feel like riding at Club MX with the guys brings up the intensity.
There's been a decent amount of bar banging, and rivalries in this year's Supercross series, but you seem to have avoided that.
Yeah for the most part I have, but obviously there are times when you get into some little tousles with another rider. It's racing, and you get hotheaded as athletes typically do. But you know I just think of it as "what goes around comes around". It's just like any other sport.
Some people have said that it appears that Justin Barcia has not really adapted to the Yamaha, but certainly it appears that Weston Peick, and you have.
It's hard to say; every rider has different likings about a motorcycle. Weston and I have pretty similar settings on our bikes. Obviously Justin was on a red bike for a very long time, so when you move to a different design, it takes a little while to get used to it. People may think he was struggling with the bike, but he really only raced 4 rounds. All the big guys, even with Chad Reed, take half a season to get a bike figured out – even though they may have been on it for some time. It's always easy for people on the outside to judge, but I think Justin was doing a great job. With him getting hurt that early, he didn't even have time to show what he can do. For people to say he was having a difficult time adapting to the bike is a little dramatic He will be back soon, and I am sure he will do well. Like I said earlier, out bikes are incredibly good.
Maybe the team's "star" is out injured, but you and Weston are showing what the bike is capable of.
Yeah, and that's been pretty cool. Obviously, Weston has had some injuries, but he is muscling through them. I've been working on really trying to get into a flow. I want to be in the top ten battling with the good guys. But I know that Justin wants to be out here racing, and the team wants to do well no matter what.
Finishing up, did you say you were racing the entire outdoor series?
Yes, I will race the full season. This is awesome for me, as I really like the outdoor series. Last year I only got in 3 outdoor races, so I'm pumped about doing the full series. Outdoors can be pretty grueling, and I am excited. Since I likely wont be doing any more Supercross this year, it will give me time to getting my settings for motocross.
MXA EXCLUSIVE:

CANARD, SEELY & TOMAC SHRED VILLOPOTO'S OLD STOMPING GROUNDS
Subscribe to the MXA YouTube. CLICK HERE  
START YOUR OWN REVOLUTION! WIN A HUSKY TC 250!


Enter the 2015 Two-Stroke Revolution contest brought to you by Boyesen, FMF Racing, Motocross Action Magazine, and Dirt Bike Magazine! Signup once for your chance to win a 2015 Husqvarna TC 250, or win over $2000 in monthly prizes from Boyesen, FMF Racing, PJ1, Torc 1 Racing, DP Brakes, Evans Cooling, Forma Boots USA, EKS Brand, Adventure Center Powersports, MotoSeat, MSR, Sunstar, Goldentyre USA, Decal Works, Darius Company!
Boyesen and FMF Racing both headline the 2015 Two-Stroke Revolution contest and have collaborated with other powerhouse brands like PJ1, Torc 1 Racing, DP Brakes, Evans Cooling, Forma Boots USA, EKS Brand, Adventure Center Powersports, MotoSeat, MSR, Sunstar, Goldentyre USA, Decal Works, and Darius Company to bring an awesome lineup of prizes directly to YOU each month! The 2 Stroke Revolution Contest lasts 5 months, leading up to the Grand Prize drawing to be held on July 31st, 2015. Each month, one winner will be randomly selected to win some of the coolest products on the market today. Simply go to the Two-Stroke Revolution signup page, and submit your entry! All monthly and grand prize winning entries will be announced first on Boyesen's Facebook page. Also look for winning announcements on https://motocrossactionmag.com and http://dirtbikemagazine.com, or any of the program sponsors Facebook Pages. As always… your privacy is important to us and will be protected at all times.
GRAND PRIZE: 2015 Husqvarna TC250 (with all of the monthly prizes below).
BOYESEN MONTHLY PRIZE: Rad Valve for your make/model/year machine. Factory Racing Clutch Cover for your make/model/year machine.
DP BRAKES MONTHLY PRIZE: SDP Pro-MX High Performance Sintered Brake Pads (Front or rear).
FMF RACING MONTHLY PRIZE: FMF Apparel Pack,  The Don Tee, Club Hat, Don Pullover Fleece.
EVANS COOLANT MONTHLY PRIZE: Two half gallon bottles of Evans Powersports Coolant. One gallon of Evans Prep Fluid.
MOTO SEAT MONTHLY PRIZE: Moto Seat Offroad Ribbed Stripe Traction Seat.
MSR MONTHLY PRIZE: MSR Ascent Xplorer Pant, MSR Ascent Xplorer Jersey and MSR Impact Gloves.
DECAL WORKS MONTHLY PRIZE: Decal Works T-15 Semi Custom Graphics Kit.
SUNSTAR MONTHLY PRIZE: Works Triplestar Rear Sprocket and a Powerdrive Countershaft Sprocket.
PJ1 MONTHLY PRIZE: PJ1 Supercleaner, PJ1 Black Label Chain Lube, PJ1 Aerosol Foam Filter Oil, PJ1 Filter Cleaner, PJ1 Spray-N-Wash, PJ1 Goldfire Pro Premix, PJ1 80wt Clutch Tuner and  PJ1 75wt Clutch Tuner.
TORC1 RACING MONTHLY PRIZE: Torc1 Racing Voltage Foot Pegs.
GOLDEN TYRE MONTHLY PRIZE: GT 216 Front Tire and GT 213 Rear Tire.
DARIUS MONTHLY PRIZE: Darius Mixin' Gas T-shirt.
EKS BRAND MONTHLY: GOX Fade Phantom Goggle (color of your choice), GOX Fade Phantom Goggle Replacement Lens and EKS Brand Grips (color of your choice).
FORMA BOOTS MONTHLY PRIZE: Pair of Forma Terrain EVO HPS motocross boots.
HOW TO SIGN UP FOR FREE!
www.boyesen.com/2strokerevolution.php for a chance to win every month!
SPY PHOTO: POTENTIAL 2016 KAWASAKI KX450F

A spyphoto of the 2016  KX450F has been floating around the internet. It doesn't look much different from the 2015 until you look closely to the 2015 KX450F pictured below. The most noticeable difference is the full plastic remodel. The seat is much flatter with the tank sitting lower for a better center of gravity. The engine looks more compact and the frame looks as if it went on a diet. Is this a glimpse of what to expect? Only time will tell.

THE MXA FUNNIES

When your kid won't stop asking for a dirt bike, but still has a few months until Christmas give him Moto-Dog.

Talk about hitting two birds with one stone!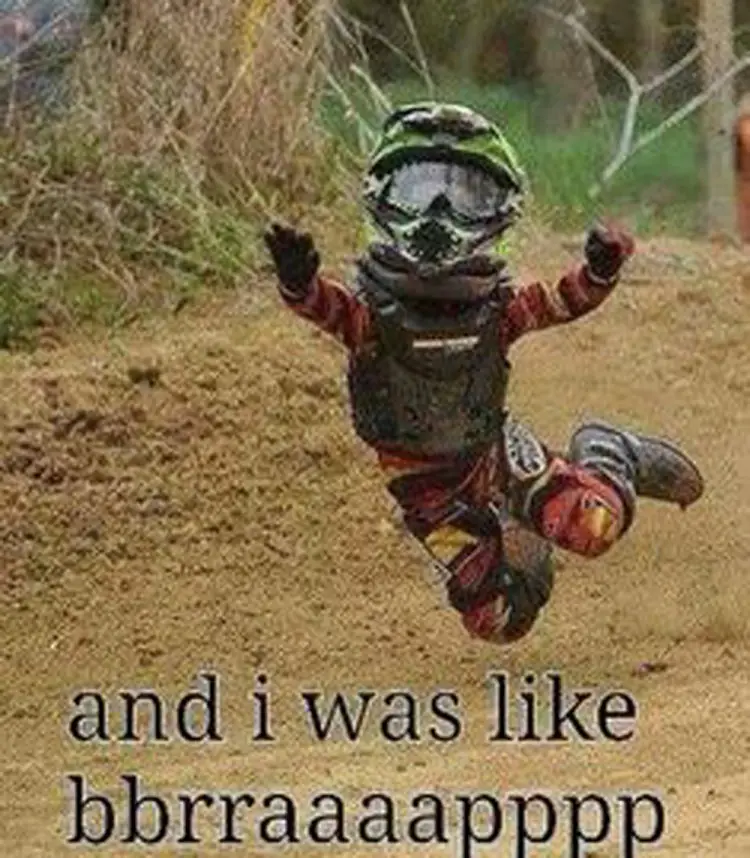 THE MXA ARCHIVE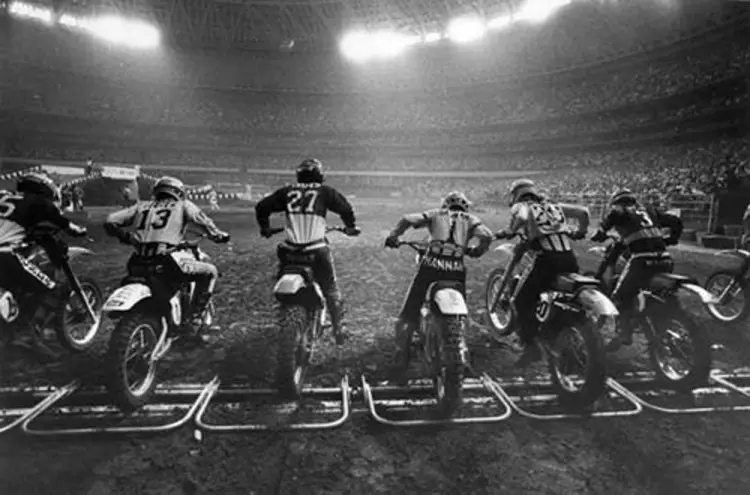 1978 Houston Supercross.