PRO TAPER PRESENTS MXA'S MID-WEEK REPORT BY JOHN BASHER
#WHIPITWEDNESDAY
Rider: Jeremy Lasater
Location: LACR
Date: November 4, 2015
Photographer: John Basher
Camera: Canon EOS-1D Mark III
Lens: 70-200mm
Exposure: 1/1250 sec.
F-stop: 6.3
ISO: 200
MXA'S 250 FOUR-STROKE SHOOTOUT: THE VIDEO
MXA'S 250 FOUR-STROKE SHOOTOUT: THE PHOTOS
WHERE TO BE: KURT CASELLI RIDE DAY

QUOTE OF THE WEEK: DOUG DUBACH
"The worst thing he [Damon Bradshaw] did was win a Supercross race in Japan when he was barely 16 years old. He beat Ricky Johnson, Jeff Ward, and a lot of the best guys in the sport. It set him up for failure in a sense. He had nowhere to go, and it was hard to continue that sort of dominance. He certainly had a few personality flaws. Damon's mental side was his strongest piece, as well as his worst attribute. He allowed himself to get too wrapped up and disturbed about things that were going on around him. It was great being Damon's teammate, because I was the anecdote to his chaos. I would try to keep his direction going on the right path."
Click here to read the interview.
A CLOSE-UP LOOK AT A 70-HORSEPOWER KTM TWO-STROKE

It's apparent that people's love for two-strokes is only exceeded by their fascination for exotic two-strokes. Thank Jeff Moffet for fulfilling a dream and sharing it with the world. The Oregon Motorcycle Adventures KTM co-owner envisioned a motocross bike where he would meld modern-day technology with unbridled power. Moffet succeeded, evidenced by the attention the bike received in the Glen Helen pits on Thursday when we were riding it, as well as on social media. In a matter of hours, the KTM drew thousands of likes on MXA's Instagram page, with nearly one thousand comments. Little did we know that shoving a 550cc two-stroke engine inside a 250SXF Factory Edition chassis would be such a hit. In fact, MXA received multiple calls from interested readers who inquired about purchasing the bike. Sorry, folks, but we don't think it's for sale.
How did Jeff Moffet produce the insanely cool KTM? Here's the short story. Moffet sold the 2015-1/2 KTM 250SXF Factory Edition engine to a guy who wanted it for a dirt race shifter Kart. Jeff had a rolling chassis, only without an engine to make it go. That's when he found a 1994 550MXC engine–a displacement KTM made for several years to target sidecar and offroad racers. With the pieces in place, Moffet enlisted the services of Tiginet Fabrication to shoehorn the massive engine into the frame. Tiginet fabricated the new frame down tubes. From there Moffet and crew reversed the rear wheel, as the drive train is on the right-side of the KTM 550MXC engine. They machined the swingarm for the left-side caliper, and used the stock caliper off the 1994 KTM 550MXC. The rear brake was moved to the outside of the frame and comes off a KTM LC4 640 supermoto bike. Moffet took the airbox and filter off the 550MXC and fit it on the 250SXF Factory Edition. That's not all Jeff had to do. He machined a wedge off the intake flange to move the carburetor in order to clear the rear shock. The team cut the reservoir off the rear shock and mounted it under the seat. They drilled and tapped and installed a braided line. Pacific Pipe Repair cleaned and restored the stock 550MXC pipe, while Moffet relied on a FMF Shorty silencer that was fitted by JENFAB Fabrication. Finally, Moffet used a 2016 KTM 150SX gas tank.
If you haven't been keeping track, Jeff Moffet's amalgamation uses parts off four different bikes. Another key piece of noteworthy information is this–the 1994 KTM 550MXC engine produces around 66 horsepower in stock trim. Impressive enough, but Moffet couldn't leave well enough alone. He had the engine modified for even more power. We're guessing the bike produces 70 ponies. A useful tidbit is how the bike had a left-side kick starter. We stood on the left side of the KTM and kicked with our right legs. It reminded us of the old days when a variety of motorcycle brands used left-side kick starters.
How did the bike run? Was it the coolest thing since sliced bread? For those answers you'll need to read the February 2016 issue of MXA. You can't always get the milk for free, friends. Sometimes you need to buy the cow. It will be the best $4.99 you ever spent.     
CRASH SEQUENCE: RIDER DOWN!
Braden O'Neal pushed the limits last week during MXA's 250 Four-Stroke Shootout. You'll see below why flexibility is important.

This was the only setback Braden O'Neal had all day long. Take a look at his picture-perfect form in the same corner below:
HE'S BACK: BEN TOWNLEY TO RACE MXGP SERIES
Press release: Former 250 World Champion, AMA 250SX East Coast Supercross champ and race winner in the Lucas Oil AMA Pro Nationals and the Motocross of Nations, Ben Townley, will join Kevin Strijbos on the works RM-Z450 and in the Suzuki World MXGP team for 2016.
The 30 year old from New Zealand recently came out of retirement to spectacular effect at the 2015 Motocross of Nations in France at the end of September and has stated his eagerness to strive for Grand Prix victory once more. "I retired two and a half years ago and had no intention of racing again but the desire to do it came back over the last six months and when this chance to ride for Suzuki and work with the people there came about I knew straight away it was the right opportunity to be world champion again," he said.
Townley first came to Europe and took part in Grand Prix as a teenager in 2001, entering the old 125cc category on an RM125. By 2002 he was already taking podium finishes and won the inaugural year of the FIM MX2 World Championship formula in 2004. He became the first rider in the modern history of the sport to own Grands Prix in both MX2 and MXGP (formerly MX1) classes in 2005.
His ride to second position in the third moto at Ernee several months ago proved that the Kiwi still has the focus and skill set to run with some of the fastest riders in the world and his experience, maturity and dedication to his passion caught the eye of the factory team based in Lommel. The opportunity to ride the RM-Z450 for the first time was a great chance for Townley – who had kept close links with the sport thanks to a role tutoring factory riders for another brand in Japan and young New Zealand talents like EMX125 star Josiah Natzke – to resurrect his career.
"Joining Suzuki is about many factors: the personnel, the team, the professionalism and of course the RM-Z450," he said. "It is everything that I need to be competitive. Being with Suzuki ticks every box in my opinion and leaves no question marks. In my mind it is the right choice."
Townley is now in the midst of preparations for 2016 that will involve 19 Grands Prix and a long campaign from February to September. He should start serious work with the Suzuki World MXGP camp in the first days and weeks of the New Year. "It's not totally confirmed yet and we are discussing timing now but I'll be over in early January," he commented. "The season starts much earlier now than when I was racing Grands Prix before so we'll need to get ready. I began training for the Motocross of Nations and never really stopped. It is about getting down to the nuts and bolts of it for me now."
"We talked a lot with Ben and I was impressed by the way that he wanted to make a strong connection with the team and really open his mind when it comes to working together and this is why I believed we'd be a good option for helping him with his comeback," commented Team Principal Sylvain Geboers. "Of course he has been away from Grand Prix for a couple of years and with his age some people say it is a 'risk' but I know how professional he can be and I think he still has some strong possibilities. Having Ben with the team is an interesting and strong combination."
LARS LINDSTROM LANDS A RIDE
Chad Reed's former mechanic will be back at Factory Honda for 2016 as he announced on his Instagram page.
DAVE MCCOY: 2015 EDISON DYE AWARD
6D HELMETS FLIGHT CREW SPONSORSHIP PROGRAM OPEN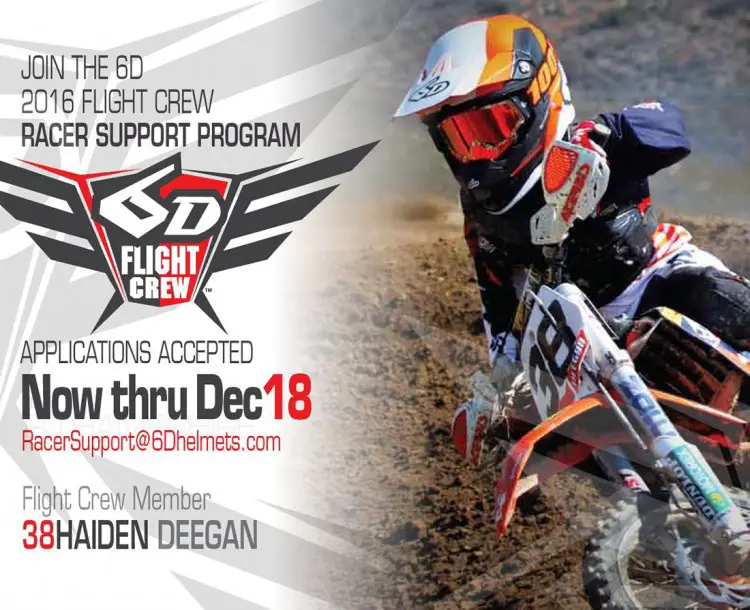 Press release:  6D Helmets is pleased to announce the return of our 6D Flight Crew Racer Support Program! This program is activated exclusively through 6D "Flight Crew" dealers. The 6D Flight Crew program is designed to help out the racer that is competing week in and week out at both the local and national level. 6D Helmets is the owner and exclusive brand incorporating the revolutionary patented Omni-Directional Suspension (ODS) technology. ODS reduces energy transfer to the brain by means of its 3-dimensional displacement capability of its suspended inner liner. This is something that no other helmet technology can offer. Learn more at 6DHelmets.com. Join today's fastest growing helmet brand and protect what matters most!
How "Flight Crew" works:
Athletes send their request for sponsorship & proposed 2016 racing schedule to [email protected]6dhelmets.com
Application Dates – Now through December 18th
Approved athletes will be connected to their nearest Flight Crew dealer, and provided with an approval certificate necessary to activate the Flight Crew racer Support discount
After helmet purchase and warranty registration, 6D will provide the athlete with an exclusive team apparel package and a spare visor
Email your resume to: [email protected]
INCLUDE:
All of your contact information (Full name, age, address, phone number, and main email)
Preferred dealer you shop with
List your class, skill level, and race/event schedule for upcoming season
Race results from the past year, and/or any media exposure you may have received
Maximum of 4 photos
Please include a mini-bio that describes yourself, and why you would be a good ambassador for 6D
School Report Card (if applicable)
Rider Benefits:
Discount on your 6D Helmet purchase
Free exclusive Flight Crew Team Hat and T-Shirt (supplied directly by 6D)
Free Spare Visor (supplied directly by 6D)
Priority for impact inspections and/or rebuilds

25% discount on rebuild service.

Exposure on the 6D website and social media (with content provided by the athlete)
Support is available for athletes in all forms of off-road competition