PRO TAPER PRESENTS MXA'S MID-WEEK REPORT BY JOHN BASHER
#WHIPITWEDNESDAY
Rider: Nick Wey
Location: Kawasaki Supercross test track
Date: December 22, 2011
Photographer: John Basher
Camera: Canon EOS-1D Mark III
Lens: 70-200mm f/2.8
Focal length: 98mm
Exposure: 1/250 sec.
Flash: Hensel Porty
F-stop: 8
ISO: 200
SUN CHASERS: IN SEARCH OF DRY LAND
SoCal residents take sunshine for granted. Only rarely does Mother Nature hit the "Golden State" with precipitation (although there are rumblings about El Nino this winter). In SoCal there are two seasons–sunny and hot, and sunny and windy. MXA testers adapt to high temperatures and breezy winds, because they can still get a nice farmer's tan. The near guarantee of a sunny day makes scheduling bike tests a breeze. We can throw a dart at our calendar and expect good weather on that day.
That's not the case elsewhere in the U.S. Speaking from experience, North Carolina isn't always sunny, especially in the winter. I'm quickly coming to that realization, as I've had to reschedule bike tests on several occasions. Living in the east coast (okay, the south) has its charms, and variable weather is one of them. However, it's a nuisance when motocross riding needs to be done.
Case in point, Eddie Ray (mechanic/Jessica Patterson's spouse/future Arenacross star) built up a stellar 2016 Suzuki RM-Z450. It's nearly on the same level as what the top Pro's would race with. Don't believe me? It has engine mods, a carbon fiber gas tank, Showa A-kit suspension, Moto Tassinari Air4orce, titanium fasteners, Ride Engineering 20mm offset triple clamps, FMF titanium exhaust, a throttle body off a KTM 450SXF Factory Edition (thanks to Jamie Ellis at Twisted Development), and a plethora of carbon fiber guards. The only problem? We couldn't buy a dry day to test the RM-Z450. Initially we planned to test the bike a month ago. Then the rains came. We rescheduled for two weeks later. Then more rain battered the southeast. Today was a last-ditch effort. Guess what? The rains came. Fortunately we planned on testing Eddie's bike at Club MX, and Ben Graves (who runs the Club MX practice track) manicured the Grand Prix-style sand track. No amount of water could wash away our plan.
How did it go? Better than expected! A minor monsoon hammered Chesterfield, South Carolina, but the storm quickly passed. It didn't dampen our fun while riding the gnarly Club MX sand track. By the way, if you're looking to improve your riding, then spin a few laps around Club's sand circuit. You'll either get thrown over the bars (lean back!), have weak legs after a moto (don't skip leg day, bro!), knife the front end in the deep stuff (find your balance!), or all of the above. I can guarantee that you'll have a great time regardless.
Eddie Ray's Suzuki RM-Z450 was better than expected. That sounds like I sold Eddie short in the lead-in to the test, but with the A-kit suspension and super tech doo-dads, I figured he left out the important parts, like a good engine and real-world suspension settings. It turns out that Eddie is very good at bike setup. You'll be able to read all about Eddie Ray's Suzuki in an upcoming issue. I can let you in on a little secret. If you own a Suzuki and are serious about getting the most out of your engine, then contact Jamie Ellis at Twisted Development and ask about his KTM throttle body trick. It's amazing. You can reach Ellis at (951) 698-7222.
Special thanks to Ben Graves and the Club MX crew for opening their doors to MXA. We weathered the storm and came away smiling. Job well done!   
450 SUPERCROSS PHOTO GALLERY
1. Ryan Dungey (Red Bull KTM)
3. Eli Tomac (Monster Energy Kawasaki)
7. James Stewart (Yoshimura Suzuki)
14. Cole Seely (HRC Honda)
15. Dean Wilson (Red Bull KTM)

20. Broc Tickle (RCH Suzuki)
21. Jason Anderson (Rockstar Energy Husqvarna)
25. Marvin Musquin (Red Bull KTM)

28. Weston Peick (JGR Yamaha)
41. Trey Canard (HRC Honda)
51. Justin Barcia (JGR Yamaha)
54. Wil Hahn (Monster Energy Kawasaki)
94. Ken Roczen (RCH Suzuki)
377. Christophe Pourcel (Rockstar Energy Husqvarna)
WHAT THE MXA WRECKING CREW HAS BEEN UP TO
While manufacturers began revealing their 2016 line of motocross bikes as long ago as May of 2015, the MXA wrecking crew is still busy testing new models. Case in point, last week we rode the 2016 TM MX 144. The Italian brand has been busy this year, and MXA is happy to try out the new offerings. Dennis Stapleton did the riding, while Daryl Ecklund shot the photos.
We also tested a 2016 Husqvarna FC450 done up by Dick Wilk, owner of Dick's Racing. There are several cool mods done to the bike, including MX1 Suspension (also Wilk's company). Look for a full review in a future issue.
A Dubya Yamaha YZ450F came rolling through the door a few days ago. The Yamaha 60th anniversary motif looks great, but it's under the hood that matters most. Dubya didn't go too wild on the build, instead focusing on improving handling and overall power. Of course, the gold Dubya wheels are a nice touch. JGR parts littered the bike, as well.
QUOTE OF THE WEEK: MARSHAL WELTIN
"I was living in South Carolina at ClubMX, and would go back and forth to Charlotte to JGR where they were doing my suspension. Also, I did a lot of mountain bike races in Charlotte during the week for training. I met Justin through mountain biking and cycling. I am very competitive, as he is, and I think that he liked that. He later came to ClubMX and rode a couple days. He must have seen something good in me, because he offered to help me out. Now he is going to help me out in 2016 Supercross. We kind of talked about me racing the West coast, but I am just not sure I would be ready, so I will do the East coast. I've been staying with Justin the past couple months training, and then going back and forth between his track in Florida, and the JGR track. Justin has definitely done a lot for me, and I appreciate it."
Click here to read the interview.
JOHNNY LEWIS MEETS BAD SANTA
The AMA Pro Flat Tracker shouldn't expect a friendly visit from Santa next year
YAMAHA'S BLU CRU 2016 TEAMS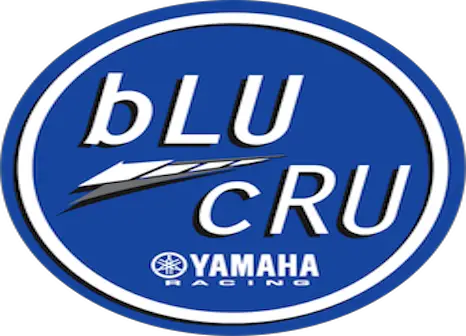 CycleTrader.com/Rock River/Yamaha
Returning for 2016, long-time bLU cRU support team CycleTrader.com/Rock River/Yamaha, which is led by team owner Mike DuClos and team manager Christina Denny, will compete in 450SX with Tommy Hahn, while Colt Nichols will race in 250SX West and Luke Renzland will race in 250SX East. Rock River will also continue to operate Yamaha's successful "Pro Parts" program, offering emergency OEM parts at a discount to all racers at all Supercross and Motocross events, including the Monster Energy Cup.
51FIFTY Energy Drink/Yamaha
With team owner Carlos Vieira, team director Terry Beal, and team manager Craig Monty at the helm, 51FIFTY Energy Drink/Yamaha also returns for 2016 and will compete in 250SX West with new riders Zach Bell and Australian Hayden Mellross.
Barn Pros Racing/Yamaha
Founded in 2011 by Barn Pros' Steve Oslund and managed by former pro racer Scot Steffy, the Barn Pros Racing/Yamaha team–with backing from Barn Pros, the nation's leading barn manufacturer, and Home Depot, the largest home improvement retailer in the U.S.–is another bLU cRU support team returning for 2016. They will compete in 250SX West with riders Scott Champion, Austin Politelli, and Cole Martinez.
Blue Buffalo/Slater Skins/Yamaha
Owned and operated by John Slater, founder of Slater Racing Products and the creator of "Slater Skins," the Blue Buffalo/Slater Skins/Yamaha team, managed by Larry Brooks, returns for 2016. The team's title sponsor, Blue Buffalo All-Natural Pet Food, is the #1 selling pet food at big-box pet supply retailers Petco and PetSmart. Riders for the team are Michael Leib, who will race in 250SX West, and 2015 AMA Horizon Award Winner Benny Bloss, who will race in 250SX East.
Strikt/U.S. Racing/Yamaha
Led by team owner Billy Urban and managed by three-time national motocross champion Marty Smith, Strikt/U.S.Racing/Yamaha, which is a new bLU cRU support team for 2016, will compete in 250SX West with Ryan Breece as its rider.
3D Racing/Yamaha
Bill Dill, team owner of new bLU cRU support team 3D Racing/Yamaha, will field Justin Rando in 250SX East.
BPRMX HOME DEPOT YAMAHA TEAM SHOOT
TUNE-IN ALERT: NITRO CIRCUS BIGGEST WEEK IN ACTION SPORTS
NBC will be airing a special television event chronicling seven days that changed action sports forever. The 90-minute program will be shown on Sunday, January 3rd at 4:30 p.m. EST (1:30 in the West). Why should you tune in? Maybe because Josh Sheehan will be shown doing a triple backflip, or because Jed Mildon and James Foster will be shown competing to do the first quadruple backflip on a BMX bike. Be sure to check it out.
Photos by John Basher, Daryl Ecklund, HRC Honda, Monster Kawasaki, Yoshimura Suzuki, Red Bull KTM, Rockstar Energy Husqvarna, JGR Yamaha and Martha Farmer/MEPMX