PRO TAPER PRESENTS MXA'S MID-WEEK REPORT BY JOHN BASHER
#WHIPITWEDNESDAY
Rider: Kevin Windham
Location: MX Heaven Supercross track
Date: December 15, 2009
Photographer: John Basher
Camera: Canon EOS-1D Mark II N
Lens: 70-200mm f/2.8
Focal length: 70mm
Exposure: 1/1000 sec.
F-stop: 5.6
ISO: 100
MXA VIDEO: JASON ANDERSON ON A SMOKER & A STROKER

ANAHEIM 1: THE ONLY WEATHER YOU CARE ABOUT



ANAHEIM 1: ON THE TUBE


Fox Sports carries all Supercross airing duties, aside from St. Louis and Foxborough, which will be aired on Fox. Fox Sports 1 is carried by more cable companies, although it's possible to shell out extra dough for Fox Sports 2. Currently most of the Supercross rounds will be shown live on Fox Sports 1(FS1), including Anaheim 1. Tune in to FS1 on Saturday at 10:00 p.m. ET (check your local listings) as Jeff Emig and Ralph Shaheen will call the race.
ANAHEIM 1: THE 250 WEST PLAYERS


Expect a packed field for the 250 West opener in Anaheim this weekend. However, only the fastest 40 will advance to the night program. From there, the field will be weeded down to 22. Let's be realistic. Those 22 don't have an equal shot of winning. Everyone is gunning for last year's 250 West Champ, Cooper Webb. The Yamalube Star Racing Yamaha rider is coming into the series with a full head of steam after a strong finish to the 250 Nationals, followed by several outstanding performances while racing a 450. History has proven that 250 riders who moonlight in the 450 class have a tendency to improve quickly. Thanks to a glorious run through the fall of 2015, Cooper Webb looks poised to carry that bright red plate through the winter months.
There are a small contingent capable of spooking Webb from his roosting spot atop the podium. Meet the contenders, with a nod to the dark horses:
THE CONTENDERS
1. Cooper Webb (Yamalube Star Racing Yamaha)
13. Jessy Nelson (Red Bull Troy Lee Designs KTM)
16. Zach Osborne (Rockstar Energy Husqvarna)
37. Joey Savatgy (Monster Energy Pro Circuit Kawasaki)
38. Christian Craig (Geico Honda)
THE DARK HORSES
26. Alex Martin (Yamalube Star Racing Yamaha)
35. Chris Alldredge (Monster Energy Pro Circuit Kawasaki)
39. Jordan Smith (Geico Honda)
58. Jimmy Decotis (Geico Honda)
QUOTE OF THE WEEK: KYLE REGAL

"At the end of the day we're racing, and your character reflects on the track with how you race. I didn't race anyone dirty last year, and I don't plan on doing that this year. People don't win championships by riding like that, but lots of championships have been lost that way. If he [Jacob Hayes] wants to race that way again then he'll finish second again."
Click here to read the interview.

MINI-VIEW: FOX RACING'S PETE FOX
Interview by Mike "Smooth Industries" Koger

It has been nearly 25 years since I last wrote for MXA. At the time, I was a twenty-something kid living a dream. Three years into my nearly five-year stint at the magazine, I had an idea for some kids pajamas that looked like the riding gear top pros at the time were wearing. Now, a quarter century later, those pajamas are among our top selling products and my company, Smooth Industries, is celebrating 15 years in business. I am still living the dream…only a slightly different one than before.
A huge part of my business is licensing, so the moment I heard about the Star Wars collaboration between Fox Head, Inc and Walt Disney and Lucasfilm on a Limited Edition R2-D2 inspired helmet, I was intrigued. Licensing and collaborations inside the moto industry using bike manufacturers or even energy drinks is popular, but partnering with a worldwide pop culture phenomenon like Star Wars is taking things to a whole new level, especially when you consider that Star Wars holds the Guinness World Records title for the most successful film merchandising franchise with more than $32 billion in overall sales (box-office, video games, DVD sales and merchandise). It is reported that for every dollar earned via the box-office, it has generated four dollars in revenue from other sources (including licensed merchandise).
I decided to reach out to my old friend Pete Fox to learn more about just how this whole thing came to fruition.
Was this your idea, and if so, are you a big Star Wars fan? I am a big Star Wars fan; especially of the first three movies. The newer episodes lost it for me. I have seen the new one (The Force Awakens) and I think it's the best one yet. I'm really excited that they have brought Star Wars back. The next few years are going to be awesome for Star Wars fans with more great films coming.

How long prior to the helmet being released did this collaboration actually start? We started this project about nine months ago.
Was Walt Disney and Lucasfilms open to the idea right away? Disney and Lucasfilms were very excited about this project. The key people knew the Fox brand and loved the idea.
How difficult was it to get final approval on the artwork for the R2-D2? I think our team totally nailed it. There were only a few small changes that Lucasfilms wanted to make to ensure the design was accurate to the character and had complete authenticity.

Did you or any of your designers get a chance to visit the set of the new movie or have a chance to spend some time with the actual R2-D2 robot/actor? Our senior designer, David, and I got to meet with the people at Walt Disney and Lucasfilms. We got to see some amazing stuff up at Lucas, including originals, but we didn't get to go to any sets for the new film.
Knowing your design history with Fox Head, Inc., did you play a part in the actual design yourself? I was part of the initial design direction, and then our helmet team finalized the graphics and detail.
Is there a reason why you went with R2-D2, as you could have gone with C-3PO or a storm trooper style helmet. R2 felt like the perfect first character.

Did initial plans include a coordinating line of gear, or was it strictly a helmet-only deal from the beginning? We have more to the Star Wars collaboration coming in 2016. 
Does anything special come with the Limited Edition V3 R2-D2 helmet? The collector's item comes with a certificate and a very special box. The box itself is a collectible. The paint and graphic application is also very premium.
Did you keep the very first R2-D2 helmet made at Fox as the ultimate collector's item for the company? Ha! No, a lucky customer has it now.
Is it true they are already sold out online? There was a very high interest in this project, and they sold really fast. I think a few dealers might still have a few, but you would have to search.
Were dealers limited to the number they could pre-book? Yes, only a few dealers got them, and the quantities were very limited. 
Will there be more available in the future or was this a one-time deal? If you are a Star Wars fan, but your favorite character isn't R2, then just wait…
$1,000 is a big price for a motocross helmet. Granted it is a very unique design, but were you confident you would have no problem with a $1,000 price tag (nearly twice the standard cost of a V3)? We felt confident that what we were offering was so unique and special that the price was a good value.
Did you get to go to "Star Wars: The Force Awakens" movie premiere in Hollywood? No, but a few of our design team and I went opening night. The movie is awesome!
Lastly, Fox has done so many collaborations over the years (ie: Monster, Rockstar Energy, etc); is there one collaboration in particular that you personally would like to do that you haven't yet? Star Wars was a childhood dream. I can't think of anything better.
NEW THREADS: FOX RACING & PRO CIRCUIT KAWASAKI
KYOSHI BECKER'S PHOTOS OF DAVI MILLSAPS' BTO SPORTS KTM 450SXF
2016 RED BULL KTM FACTORY TEAM INTRO
BERT'S MEGA SUPERCROSS EVENT
Press release: Do not miss Bert's Mega Supercross Event on Friday, January 8th 2016, at Bert's Mega Mall in Covina hosted by the famous Monster Energy Drink DJ! Get autographs and meet your favorite Supercross Riders! Bring the whole family and come hungry! A fleet of the most popular local gourmet food trucks will be there including G's Tacos, The Waffle Oh Truck, Scooters Italian Ice and Cupcakes, and Tomski Sausage. Join Bert's for giveaways (including hundreds of events t-shirts), play games, purchase your next round Supercross tickets, and check out the vendor booths! Check out the motocross, off road, & UTV Side X Side companies that will be there! Troy Lee Designs, Fly, Michelin Tires, Dunlop, Assault UTV, FMF Apparel, EVS, 7 MX, Thor, Scorpion, Spectrol Oil, Oakley, Big Gun Exhaust, BMM Customs, Glen Helen, K & N, Desert Works, MTA, Whip Tech, Acerbis, Giant RV, Smooth Industries, Bell Helmets, and more!

EVENT SCHEDULE:
Vendor Open House: 4:00 p.m. – 9:00 p.m.
Autograph Signing: 6:00 p.m. – 7:00 p.m.
Food Trucks: 4:00 p.m. – 9:00 p.m.
Giveaways Start At: 5:30 p.m.
Vendor Open House: 4:00 p.m. – 9:00 p.m.
Riders: Team Suzuki, Kawasaki (with members from the Monster Energy & Pro Circuit teams), Yamaha (with members from Autotrader.com- Toyota, Yamalube – Star, Cycletrader.com- Rock River, Strikt – US Racing, Barn Bros Racing, Blue Buffalo Slater Skins, and 51 Fifty Racing). More last minute teams and riders are being added.All Teams and Riders are tentatively scheduled to appear.
Where: Bert's Mega Mall in Covina, CA
When: Friday, January 8, 2016, from 4:00p.m.  – 9:00 p.m.
VIDEO: PASTRANALAND PIT BIKES
TOP QUOTES OF 2015
I waded through the dozens of interviews conducted by Jim Kimball, Massimo Zanzani and myself from 2015 in an effort to reveal the hot topics from this past year. It is an up front and honest portrayal of pressing matters occurring within the motorcycle industry. From four-strokes to teammates to reflections on the past, our esteemed subjects shed light on a variety of interesting topics. Look for more great quotes in our featured "Interview of the Week," which releases on MXA's website every Tuesday.
ADAM CIANCIARULO…ON PRACTICING WITH THE COMPETITION

Monster Energy Pro Circuit Kawasaki/250 class
MXA: Has Ryan Dungey taken you under his wing? It's more of a competition between all of us. I like to observe the strengths of the other riders and absorb as much of that information as I can. With Ryan, I'm trying to copy his positive attitude. It doesn't matter if the track is dry, if there's a tornado outside or it's pouring out. He always stays positive, and you can see that in his results. Jason always has such high intensity, and it doesn't matter if he's tired or banged up a little bit. As for Marvin, he's super precise and he takes good lines. He is someone that I can get behind at the beginning of the day, and watching where he goes helps me connect the track together. I try to learn every rider's strengths and make them my own.
BLAKE BAGGETT…ON PERSONAL INVESTMENT

Yoshimura Suzuki/450 class
MXA: You've heavily reinvested in yourself, buying a place in Florida. Was it a tough call to make? If you're going to gamble on something, then you might as well gamble on yourself. That's the goal behind buying property in Florida and investing in all that I have. I've been using it to my advantage. Fast guys come to ride, and it is becoming the ultimate training place. Sure, I put a lot of money into my ranch, but if it gets me the results then it will all be worth it. That's the plan, anyway.
CHAD WATTS…ON WORKING WITH RICKY CARMICHAEL

Ricky Carmichael's former mechanic at Pro Circuit Kawasaki, factory Kawasaki and factory Honda
MXA: How did you approach Ricky about his rather strange bike setup? He would roll the handlebars into his lap and have tons of rebound in his shock.  It's what worked for him. He looked at it this way–there are so many turns in a Supercross race, and only a small section of whoops. He would sacrifice in the whoops so that he could jump into a corner, land, and make one turn instead of the bike reacting. No, the bike didn't handle in the whoops. He had those low handlebars and a head stem height that was quirky, but he was used to riding a Kawasaki, so he rolled the bars back. Most people didn't agree with his setup, but they weren't riding the bike.
DAVE OSTERMAN…ON THE CHAD REED BLACK FLAG INCIDENT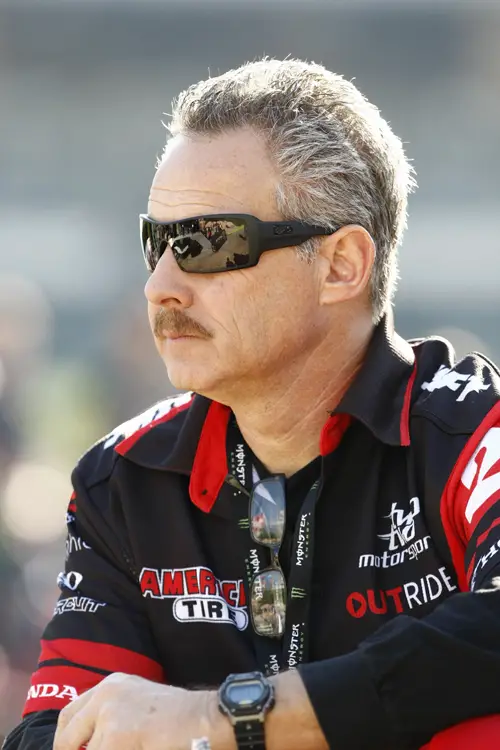 TwoTwo Motorsports former team manager
MXA: You're not afraid to speak your mind. You were vocal after Reed was black-flagged for his incident with Trey Canard this year at the Anaheim Supercross. Does talking get you into trouble?  Well, it either helps me or hurts me. I'm not afraid to throw a chair if that's what it takes. People have to remember that the unique thing about Chad Reed is that he could say or do whatever he wanted when he had his team. As for the black flag incident, it's still crazy to me. Yes, Chad shouldn't have done what he did, but at some point the AMA and FIM need to look into changing some of their rulings. That reminds me of the 360fly video camera helmet deal. Chad was kicking tires on how far he could push things. There shouldn't be a rule of any consequence that prevents teams from making money to go racing. There are fees for teams to race, and sponsors pay for exposure and representation at the races. At some point changes need to be mandated. The promoters should work to help teams keep going in order to get outside money for utilizing to go racing. Had Reedy been able to secure 360fly then I believe the team wouldn't have had to close down. Maybe a lot of other teams are in the same boat.
DOUG DUBACH…ON HOW THE SPORT HAS CHANGED

Former factory Yamaha 250 racer
MXA: Has the racing lifestyle changed?  The glamor is certainly bigger, because now there is the television package and outside sponsors. The part I don't see these days is the camaraderie of the riders. They pit themselves against one another on the race track, but they don't seem to talk much. I remember one year when I was racing the Hangtown National. It was back in the box van days. I was sitting on the bumper of Jeff Stanton's Honda box van talking to Jeff Ward and Broc Glover. We all interacted a lot more than today's racers. Now some of them have their personal motorhomes to hide in. There's a much different feel at the races these days. I always have to fight for my pass, and then I can't go some places. Obviously they have to polish things up for television, but something is lost along the way.
ELI TOMAC…ON THE HAVES AND HAVE-NOTS

Monster Energy Kawasaki/450 class
MXA: Can anything be done so that a mid-pack guy can be financially stable and reap the rewards of dedicating his life to racing motocross?  That would be really healthy for the sport if that 10th- or 15th-place guy could sustain himself. Looking at other sports, a 10th or 15th place guy is killing it. It could be in golf, baseball, or Formula 1. In motocross you have to finish in the top five or seven to be making good money. Otherwise you could easily go find a job that makes more money or go back to school. It's a bummer.
JESSICA PATTERSON…ON WOMEN RACING MEN

Multi-time Women's Motocross Champion
MXA: Vicky Golden reached a milestone for women's racing when she qualified for a night program in Supercross this year. Is it possible for a girl to make a Supercross main? An outdoor National program? It's more realistic for a girl to qualify for an outdoor National. I give Vicky all of the respect in the world for what she has done. When I was practicing Supercross for the X Games those years ago I realized how tough Supercross actually is. You can't have a bad day in Supercross or you'll end up in the hospital. I've ridden with a lot of guys, and the biggest difference between men and women racers is their level of strength. To race Supercross effectively you need to have man strength. It's something that we'll never have. In Supercross you need to be able to pull up on the jumps and be super strong through the whoops. The finesse isn't quite there, either. That's the major setback. Guys click up a gear going into the whoops and pin it. They can manhandle a bike. Women can do it, but not to that level. At the same time, all of the guys aren't as gnarly as Justin Barcia or Cooper Webb. Vicky definitely has a chance to make more of the night shows. She just needs more time. Most of the Supercross racers get on a new track and click off laps right away. They do all of the jumps without an issue. I would like to see Vicky get in the mix with the guys and give girls hope. She probably doesn't realize that she's showing other girls what is possible. I hope girls realize that.
JUSTIN BARCIA…ON TRAINING

JGRMX Yamaha/450 class
MXA: Has it been challenging in finding out what works for you in terms of training for motocross? Oh man, it has been really tough! I've been through quite a few different trainers and programs in figuring out what's best for me. What I've learned is that learning and knowing my body and doing things myself is best for me. I have a lot of people come up to me at the races and tell me that they can take me to the next level if I get on their program. I giggle inside, because I've been through everything. Now I know what my body needs. Obviously there are always things I can put in my program to make me better, but I know what I need to do. If I'm not fit then it's my fault and no one else's. I don't need to pay someone a ton of money to say, 'Hey, go ride your bicycle.' I can tell myself to do that now in this point in my career. Maybe when I was 16 years old it was tougher for me to make that choice, but now I know that if I'm not in really good shape then I'll suffer on the track.
LARS LARSSON…ON THE GREATEST RACER EVER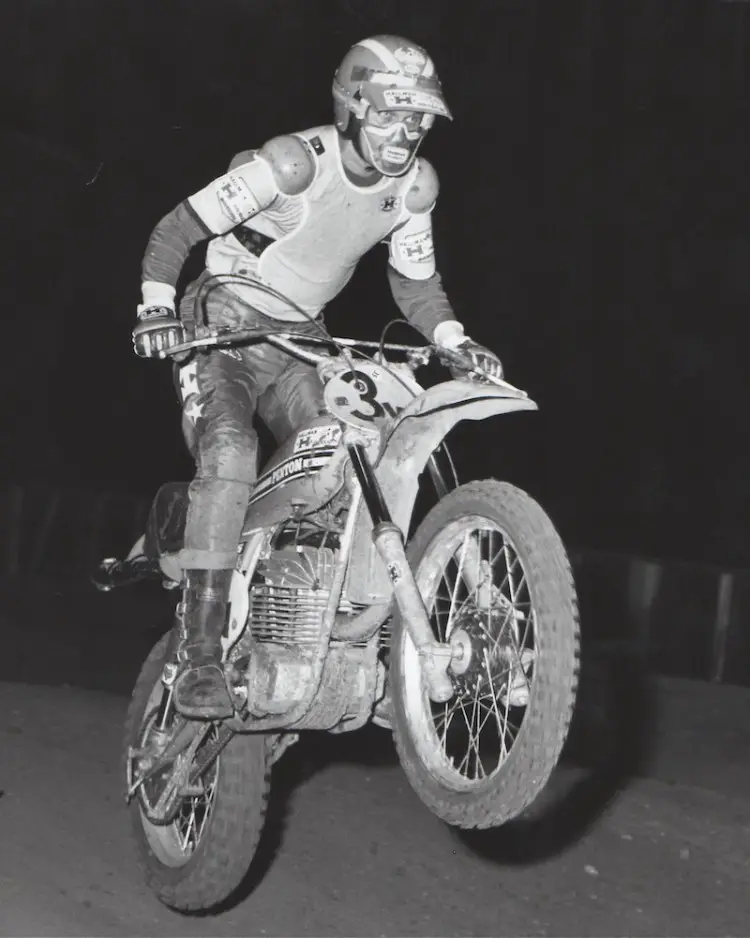 Early pioneer of motocross in America
MXA: Who is the greatest motocross racer of all-time? There are actually two racers that come to mind. The first is Joel Robert, and the second is Marty Tripes. Marty came out of the womb with handlebars in his hands. That kid had the most natural talent I've ever seen on a motorcycle. Sure, he had a few flaws, because otherwise he could have been the World Champion many times. In my opinion, Tripes was such an incredible talent, and that's why I rate him so highly. The same goes with Joel. The Europeans were extremely good in those days, but I have never seen anyone else do some of the things that Joel Robert could do. It's true there are faster racers, but Joel and Marty had the complete package. There are some amazing racers from the current generation, but in my mind Joel and Marty still stand out.
MALCOLM SMITH…ON THE TWO- VERSUS FOUR-STROKE DEBATE 

This man needs no introduction.
MXA: Do you look at four-strokes as a good change for the sport? It's a bad thing on the cost to keep them running, especially the 250 four-strokes. They rev so high and can blow up. Whereas a father and a son can buy a 125 two-stroke, get a new piston on a Saturday morning, do a top-end overhaul, and go race on Sunday. Now you see all these 250 four-strokes blown up and sitting in the back of a shop with a $2500 bill to fix the engine. It has pushed a lot of people out, because it's not so affordable anymore. A 250cc two-stroke will run forever, and it doesn't cost you a lot of money.
PHIL NICOLETTI…ON NEARLY WALKING AWAY

JGRMX Yamaha/450 class
MXA: Did you ever think about quitting? Yes. In 2013 I was on the N-Fab/TiLube team. I wasn't making any money, and I was riding for free. I always knew that I could do well, and they gave me that chance. There were a lot of pieces of the puzzle that I needed to put together. After 2012 I thought about going to college. Then I looked at how I invested 18 years of my life into the sport. I figured one more year wouldn't hurt. I'm glad I kept plugging away. It made things worth it.
RICKY CARMICHAEL…ON THE ONE THAT GOT AWAY

The "GOAT"
MXA: Describe your mindset during the 2002 and 2004 AMA Nationals when you were in the process of completing perfect seasons.  Our bike was so good those two years, especially in 2004. I really enjoyed riding that motorcycle. I had fun practicing every day on that bike, and I couldn't wait to go racing. The only time the pressure got to me was the last moto of the season. I thought about how I went down to the wire and hadn't lost a moto. That's when it hit me. I had gone so far, and I felt pressure to win and not throw it away. That's the only time it messed with my mind. Honestly, my biggest goal was to win the championship. Along with that came two undefeated seasons. Looking back, what frustrates me most is not going undefeated in 2005. I couldn't get the 24 straight motos, and only won 22 that year. I fell at Southwick in the first moto on my own, and then Bubba and I had the run-in at Unadilla. I was so close to being perfect in three National seasons. That season upsets me.
ROGER DECOSTER…ON HAVING TEAMMATES

"The Man"
MXA: Motocross is an individualistic sport. Would you say that having a teammate is good or bad?  I do think that having a teammate can work to your advantage, but it can also work against you. A few years ago Marvin was teammates with Ken Roczen, but Ken beat Marvin, so it wasn't a big deal. Even all the way back to my racing days, there were years when I had a teammate, and other years where I had no teammate. Sometimes racing against a teammate is more difficult than racing against outside teams, because the teammate knows exactly what you're doing. If it's a good team then the other rider has the same options on the bike. I don't think in this sport there's really a benefit for the individual rider to have a teammate, except for the development of the bike. It gives the team several riders to use for testing. Then once the gate drops I don't see the benefits of having a teammate.
TRAVIS PASTRANA…ON THE VALUE OF ENTERTAINMENT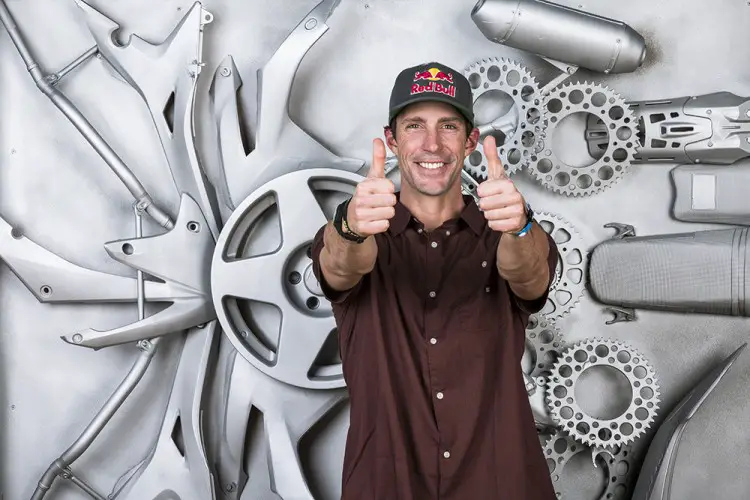 The most famous action sports athlete of our generation
MXA: You've always had a rather strange perspective on things, Travis. How can you laugh at people getting hurt?  Our job at the end of the day is to have as much fun as possible and make people smile. That's why the shows are so cool. Honestly, the Nitro Circus Tour is the highest-rated traveling show in the world. That's cool for us. We have the highest-rated show of all-time at the MGM Grand in Vegas. The more people that go to the shows, then the more people that come back. We'll go to Australia now and do four or five shows in one city. Every year we add another show to it, because the word of mouth travels. It's pretty inspiring. To see Aaron "Wheelz" Fotheringham launch the Giganta Ramp in his wheelchair is incredible. Nitro Circus is like a rock show. There's great music and great action. It's built for an ADD (Attention-Deficit Disorder) audience. Everyone is on their feet.
DEAN WILSON…ON STAYING OUT OF TROUBLE

Red Bull KTM/450 class
MXA: As a young kid making a lot of money, how did you avoid getting caught up in the party lifestyle? I believe that's due to my upbringing. I really had to work hard to get to where I am. It's definitely easy to get attracted to that kind of life when you are living in Southern California. There's always lots of stuff going on. Of course I like to have fun now and again, but at the same time I have seen lots of guys who get caught up in drugs and poor decisions. I stay clear of all that. I know that I have to work hard in racing. Sure, I like to have fun with my friends now and again, but I have stayed levelheaded. I learned that from my parents. They sort me out in a heartbeat if I stray or go off the path.
Photos by John Basher, Monster Energy Kawasaki, JGRMX Yamaha, Yoshimura Suzuki, Daryl Ecklund, Mark Chilson, Kyoshi Becker, John Ker, Amsoil Arenacross, Nitro Circus and KTM.