PRO TAPER PRESENTS MXA'S MID-WEEK REPORT BY JOHN BASHER

#WHIPITWEDNESDAY

Rider: Dean Wilson
Location: Angels Stadium of Anaheim
Date: January 9, 2016
Photographer: John Basher
Camera: Canon 5D Mark III
Lens: 300mm f/2.8
Focal length: 300mm
Exposure: 1/1000 sec.
F-stop: 4.5
ISO: 800
QUOTE OF THE WEEK: BRENT PRESNELL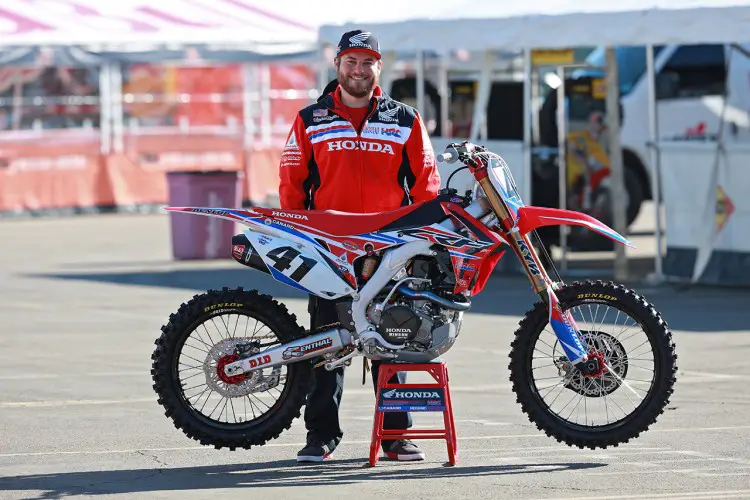 "[Trey Canard] has gotten to the point now where he wants all the power we can give him. The only thing is that he wants to the delivery to be smooth. Our bike produces serious power, but it's very smooth and rideable. If he can't ride the bike then it's useless. During Trey's first few seasons in the 450 class we were always detuning the engine. Now he wants full power, although we move the power curves around a little bit to make it easy for him to hang on."
Click here to read the full interview.
ANAHEIM 1 SUPERCROSS: AN OPINION PIECE

Story and photos by John Basher
Jason Anderson and Cooper Webb were victorious at the 2016 Supercross series opener in Anaheim. However, there were myriad subplots that took place on a wild and dramatic evening in
OPENING CEREMONIES: LEGENDS LAP
Forget the pyrotechnics, rider introductions, bad music and general theatrics of the opening ceremonies. Instead let's focus on the legends lap, which featured none other than Jeremy McGrath, Ryan Villopoto, Ryan Dungey, Chad Reed and James Stewart. It was awesome! Here's what I learned:
(1) Jeremy McGrath's signature nac-nac will never go out of style.
(2) Believe it or not, Chad Reed had better extension on his nac-nac than the "King of Supercross."
(3) It's nice to see that Ryan Villopoto doesn't hate dirt bikes anymore.
(4) Sure, there were only three showtime booters, but where did James Stewart's whip go? He used to throw nasty whips, but they were yawners at A1.
ANDERSON/SEELY LAP ANALYSIS

Cole Seely appeared to have the Anaheim 1 win in the bag. It would have been an unforgettable night for the local SoCal kid. Instead it was Jason Anderson's evening. Haven't we heard this before? You only need to look back two years ago and recall how Anderson clawed his way to the front and stole victory from Seely several times during the 2014 AMA 250 West Supercross series. Old habits die hard, because Jason cut Cole's big lead down to nothing on Saturday.

Take a look at the side-by-side lap-time analysis from the main event. Seely was modestly faster than Anderson in the opening laps, but Jason put on the afterburners from lap nine (when he set his fastest lap of the main) until the final two laps. During that time he didn't deviate much in lap times. His fastest was a 1:02.104 and slowest at a 1:03.547. Cole Seely logged a 1:02.169 on lap two–his fastest time– but he dropped down to a 1:06.451 towards the end of the main. More alarming is that Ryan Dungey caught and passed Seely on the last lap for second place. Lap times don't lie. Jason Anderson is comfortable on his new Husqvarna FC450 and fit to go 20 laps at a consistent pace. Cole Seely has the speed to win, but the drop off in lap times is cause for concern. I'll chalk it up to nerves and leading the 450 opener in front of the home crowd.
PEICK VS. FRIESE

You know it's serious when major news channels pick up on racing footage and air it for millions to see. Everyone, including your grandmother in Topeka, watched in awe when Chad Reed flew off his bike at Millville in 2011. And so it goes with the Weston Peick/Vince Friese incident on Saturday night. There's no point in rehashing the details of an event that has been talked about around water coolers and in watering holes throughout the country. Suffice it to say that two racers were in the wrong. My mother was apparently spot-on all those years ago, because in fact two wrongs don't make a right. They sure do make headlines, though!
Weston Peick picked himself off the ground (above) after the first time Vince Friese took him out. Unfortunately there was a second encounter.
Weston "Haymaker" Peick was slapped with a $5000 fine and one-race suspension. Vince Friese? The MotoConcepts rider escaped the swift hand of the law, even if he couldn't avoid Peick's knuckles. All puns aside, Weston's penalty seems fair. He lost his cool, and under no circumstances should a racer strike another racer. Peick's actions made Supercross look unprofessional. (Feld Motorsports and Fox Sports were likely high-fiving each other after the melee. It's all about ticket sales and ratings, folks.) Friese shouldn't be able to escape punishment, because he was riding dangerously all night long. Vince cross-jumped Dean Wilson, took out Weston Peick in the heat race, and poorly timed a second take-out on Peick in the semi.

What punishment should be handed down to Vince Friese (55)? A $5000 fine seems logical, with the funds going directly into the Asterisk Mobile Medical Unit's pockets.
This is what Weston had to say:

To My Friends, Fans and Sponsors,
While I have had some time to absorb my actions of this past Saturday night I felt it was important to apologize for the way I handled myself in the heat of battle. I must admit, I have been overwhelmed by the support I have received, but we know the race track is meant for just that, a place to race our motorcycles.

I can't ever remember a year where the depth of the racing field has been so strong. I'm looking forward to getting back to round three and racing the way I know how and representing my Sponsors and Fans to the very best of my ability. See you in Anaheim.
Sincerely,
Weston Peick
STEWART GOES DOWN

Let's make one thing clear. Ryan Dungey didn't intentionally try to knock down James Stewart. It's not fair to use the term "take-out," because I firmly believe Dungey wouldn't do such a thing. When in the history of the Dungey and Stewart chronicles has Dungey flat-out dropped Stewie? Well? So why, with two laps into the main event, would Ryan go for the kill shot on James? It makes no sense. Chalk it up to a racing incident, as unfortunate as it was. Stewart was guilty of cutting the corner off too early with obvious traffic behind him. It's one thing to go inside and protect the line, but another to start outside and make a drastic change to the inside in a corner following a high-speed rhythm section. Ryan Dungey is at fault because he didn't anticipate what Stewart was going to do. He committed to tripling the rhythm with the intent to cut inside James, and there likely would have been contact made. Oddly enough, Dungey tried the same move in the heat race and went down. He should have learned.
Stewart in better times.
To think that Ryan would maliciously knock down James is to be ignorant. Any Ryan Dungey haters that jumped on the bandwagon after what happened to James Stewart on Saturday night need to understand that it was a racing incident–nothing more, nothing less. Let's hope that Stewart is okay and can come back to the series once his noggin his healed. Supercross is much better with #7 on the gate.   
THE TAKE-OUT YOU DIDN'T SEE

Of all the drama that took place in the heat races and 450 main event, the Dean Wilson gaffe was likely unnoticed. And, if I wasn't so surprised by Wilson's blatant take-out of Tommy Hahn (above) in the last turn before the finish line, maybe I wouldn't share my account of what happened.
Dean Wilson had a great heat race going. He was challenging for the lead and made a run for the lead. Unfortunately he had to knock off Vince Friese, which as the night would prove didn't make for an easy position. Eli Tomac snuck by when Wilson got throttle happy entering the left-hand bowl corner before the finish line. The hesitation allowed Tomac by, while Dean frantically charged at Friese for second place. Of course you know the rest of the story. Friese cross-jumped in the rhythm section and caused Wilson to crash. In anger, Dean swung his fist before remounting his KTM.
It's easy to understand why Dean Wilson lost his cool and submarined Tommy Hahn before the checkers. Dean had a miserable 2015 campaign as the result of injury, and Anaheim 1 was his chance to prove himself by winning the 450 heat race. Instead he ended up on the ground and would be relegated to the semi race. Despite the backstory and the events that led to Wilson missing out on a transfer position, it doesn't make what he did right.
In the very last corner of the last lap, Dean charged up the inside of an unsuspecting Tommy Hahn. He plowed into Hahn and both riders went down. It was a blind act of desperation–after all, both were well out of a transfer spot. Hahn got up and pushed Wilson, and Dean retaliated by pushing Tommy back.
The next day I spoke with Tommy Hahn about the incident. He said, "I snapped a bit. Last corner for no reason. But he [Dean Wilson] admitted it was stupid and apologized 2 different times. That takes a man. We're good." Tommy has forgiven Dean for the transgression. Hopefully the Red Bull KTM factory rider learned from his mistake.
ROCZEN BOUNCES BACK

Here's an adage you've likely heard a hundred times. "You can't win the title in the first race, but you can certainly lose it." Things aren't looking good for James Stewart (knocked out in the main event) and Weston Peick (DNF at A1 and not allowed to race in San Diego). Ken Roczen narrowly escaped tragedy when he went tumbling through the first turn sans bike in the heat race. Kenny was pinched off by Justin Barcia. He ran into Barcia's rear wheel, shot to the right, and careened into an unsuspecting pack of riders. Roczen did a remarkable job of landing on his feet and tumbling across the ground like a gymnast before coming to a rest well off the track. Only then did the carnage catch up. He was tagged in the back by the front end of another bike and somehow managed to get up under his own power.
Records will show that Ken Roczen had an off night. While that's true, it could have been a lot worse. Roczen finished fifth place on Saturday, but he was in obvious pain. We'll see in a couple months from now whether the old racing adage rings true.
THE TUNNEL JUMP

Chad Reed complained that the whoops were too small at Anaheim 1. He was right. The whole track was relatively easy by Supercross standards. The faces of both triples were rather flat, and the long rhythm sections didn't require much thought. Easily the most intriguing obstacle was the tunnel jump, which carried over the starting line. Dirt Wurx built a small jump face up the tunnel, which allowed riders to clear the tabletop while staying low. The best approach was to stay inside and cut up the face, which Jason Anderson did time and again. Others, like Cole Seely, struggled in dealing with the big rut that developed on the face.

Was the tunnel jump a good idea? Yes and no. It helped separate out the pack on what was a routine track. Conversely, the tunnel jump split the starting gate in half. As a result, there were only a handful of decent starting spots. Trey Canard (41) and Eli Tomac (3), the 450 heat winners, had first pick at on the gate. They lined up sixth and ninth from the far right, respectively. Notice how Davi Millsaps isn't even visible in the above photo, despite being lined up on the far right. Millsaps never had a chance at getting the holeshot, because his starting gate pointed him towards the foam pads that demarcated the inside of the first turn. It would have taken a miracle for Millsaps to get the jump and push the field out wide.
Cole Seely gated best on the restart, with Justin Barcia following closely behind. Notice how no one from the left side of the tunnel jump split is in the picture above. Realistically there were only seven good spots on the gate. Guess what? Those seven riders–Dungey, Reed, Tomac, Barcia, Stewart, Canard and Seely–were up front on the start and also the restart. Only Justin Bogle managed to get up front while starting from the left side of the gate, and that was nullified when the race was red flagged.
DUNGEY GETS AGGRESSIVE
Ryan Dungey was assertive at Anaheim 1. In this photo he stands up Eli Tomac on his way to second place.
So many people (including me) have complained for years about Ryan Dungey's inability to pull the trigger and get aggressive. Sure, there have been times Ryan has done dirty work (remember his take-down of Broc Tickle at Anaheim a few years back?), but overall he has been "Mr. Nice Guy" throughout much of his storied career. Well a different Dungey showed up at Anaheim 1 on Saturday. He was assertive, aggressive and sure of himself. That much was made known when he cut inside Justin Bogle in the left-hand turn before the finish line in the heat race (Dungey fell in the melee). He again jumped inside in the main event, only Ryan stayed up while James Stewart went down in a heap. Then, in the late stages of the race, Dungey positioned his KTM to the inside of Eli Tomac entering the flat right-hand corner following the second triple. Ryan charged ahead of Tomac, pushed the Monster Kawasaki rider out to the tuff blox, and then proceeded to lightly tap the rear brake. It was enough to knock Tomac off his rhythm and assure Dungey that there would be no counterattack from Eli.
What lesson should be learned? People gripe when Ryan Dungey isn't aggressive, and then they lose their minds when he puts a wheel on another rider. Get a grip, folks.
SMALL TALK: MIKE GOSSELAAR

How did your deal to mechanic for Chad Reed at factory Yamaha come about? Things just happened, but I guess they worked out that way for a reason. I worked at factory Honda for ten years. I didn't think I would leave there, but circumstances came up, so I left for Suzuki. That worked out really well for me, but then Suzuki had some cutbacks. The day I was told by one of the people in upper management at Suzuki I should probably look for another job was the day Chad called me. I signed a deal with him right away. Then this deal with Chad and Yamaha popped up. Things keep falling into place.
How much longer do you want to wrench professionally? The problem is that I don't live in California anymore. A lot of the teams, with the way they're structured, they want somebody at their shop all of the time. This deal with Yamaha is perfect, because it's a Supercross-only contract. I was hoping this would happen, and it did.
MARK WORTH CRASH SEQUENCE & UPDATE

Motorcycle Superstore/Suzuki's Mark Worth planned on making waves in his rookie Supercross campaign, but the dream didn't last an entire lap. Worth led the very first practice of the 250 unseeded group and dropped his front end over the dragon's back. He torpedoed into the ground and his right leg got caught between the handlebars and footpeg. The impact resulted in a dislocated hip and a dislocated/fractured elbow. See the crash sequence below. Supercross giveth, and Supercross taketh away.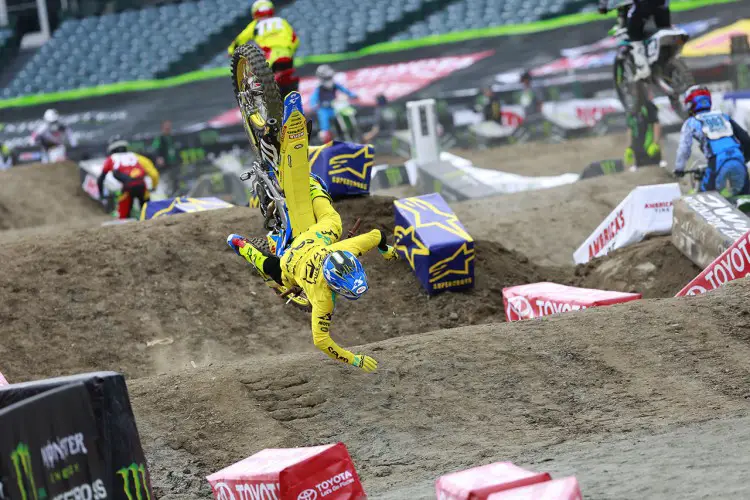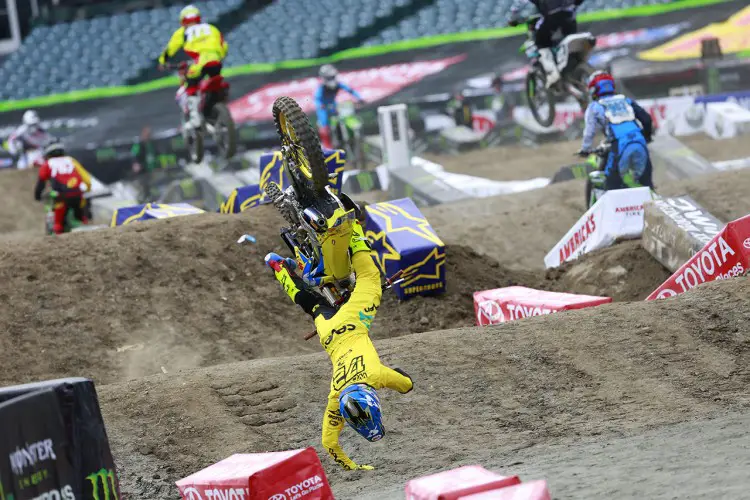 TWIN AIR ANNOUNCES 2016 RACE TEAMS

[Press Release]
Twin Air is proud to announce the signing of Star Racing Yamaha to the Twin Air Team for 2016. Star Racing Yamaha will equip their potent YZ250F machines with Twin Air PowerFlow kits and BIO Factory Pre-Oiled Air Filters for the 2016 race season.
2016 Sponsored Teams:
– American Honda
– Geico/Factory Connection Honda
– Red Bull KTM Racing
– Troy Lee Designs Lucas Oil Red Bull KTM
– Monster Energy Pro Circuit Kawasaki
– Yoshimura Suzuki
– RCH Racing Suzuki
– Star Racing Yamaha
– RSR Racing Honda
– Crossland Racing Honda
– Rocky Mountain ATV/MC Honda
– Ti Lube/ Tuf Racing Honda AX
Our complete list of championship winning riders is located on our newly designed website at:
http://www.twinair.com/world-champions-on-twin-air.html
AMSOIL ARENACROSS UPDATE: ROUND 1

Believe it or not, there was other racing going on aside from the Anaheim Supercross opener. The Amsoil Arenacross series kicked off in Cincinnati on Saturday evening, with Gavin Faith capturing the overall. Defending Champ, Kyle Regal, had an off night in Ohio, going 10-9 for eighth overall in the double main event format. However, Regal did save face by winning the head-to-head challenge. Last year's runner-up, Jacob Hayes, came from way back to finish fifth in the first main, and he squeaked out a win in the second main for second overall. Gared Steinke, best known for racing last year's 250 National series on a 125 two-stroke, showed promise in going 3-5 for fourth overall.
Round two of the Arenacross series will take place this weekend in Baltimore.
CINCINNATI ARENACROSS HIGHLIGHTS
HONDA RED RIDERS REWARD PROGRAM EXPANDS FOR 2016

[Press Release]
Honda kicked off the New Year by announcing that its Red Riders Rewards program has been improved and expanded for 2016, with nearly $7 million in earnings available to Honda racers. This contingency plan covers a number of racing disciplines including supercross, motocross, off-road, road racing, dirt track, trials and ATV, comprising more than 1,300 individual events at which Honda racers have the opportunity to earn payouts. Honda continues to focus on helping the privateer by paying down further in pro classes and increasing payout to those positions, as well as across more club and amateur organizations.
In addition, winnings are now issued via PayPal, streamlining the payment process. Participants simply link their PayPal accounts, and as soon as a race promoter posts results to the XTRM Performance Network, the payout is processed.
"We're very excited that Honda's Red Riders Rewards program is even bigger and better for this year," said Mike Snyder, Senior Manager of Powersports Marketing at American Honda. "We have been working hard to improve our program to better serve privateer pros and amateurs, across all racing organizations. Starting with this weekend's AMA Supercross opener in Anaheim, racers can begin earning awards, and there are many, many other opportunities throughout the year, from Hangtown to Elkhart Lake. Also, the addition of PayPal means that redeeming awards is more convenient and quicker than ever."
Highlights for for the 2016 season include:
AMA Supercross: Increased payouts focused on privateer positions.

AMA Motocross: Increased payouts, paying per moto down to 40th place.

Amateur Motocross: Increased payouts, as well as expanded trackside support at Loretta Lynn's and other select events.

MotoAmerica: Continued $10K for Superbike wins, all classes paid down to 10th place both days.

Arenacross: Increased payouts in all classes.
For program details and a list of all eligible units, visit HondaRedRiders.com. Honda Red Rider Rewards program inquiries may be directed to the info hotline at (310) 781-5111.