PRO TAPER PRESENTS MXA'S MID-WEEK REPORT BY JOHN BASHER

#WHIPITWEDNESDAY
Rider: Josh Grant
Location: Jeff Ward Racing Supercross test track
Date: April 30, 2012
Photographer: John Basher
Camera: Canon 1D Mark III
Lens: 300mm f/4L
Focal length: 300mm
Exposure: 1/2000 sec.
F-stop: 6.3
ISO: 640
SNEAK PEEK: 2016-1/2 KTM 450SXF FACTORY EDITION
KTM unveiled their 2016-1/2 KTM 450SXF Factory Edition last month. The biggest highlight on the Austrian iron is the WP AER air fork, which helps reduce the bike's overall weight by four pounds. To find out more specs on KTM's latest Factory Edition line simply click here. While we would have preferred to get our hands on the new 450SXF-FE right away, KTM's Tom Moen made us wait until just last week. Fortunately the day finally came, and MXA began testing the limited edition Katoom at various tracks around SoCal. You'll have to wait for an upcoming issue if you want to find our comprehensive review on the 2016-1/2 KTM 450SXF, but maybe these pretty pictures will hold you over.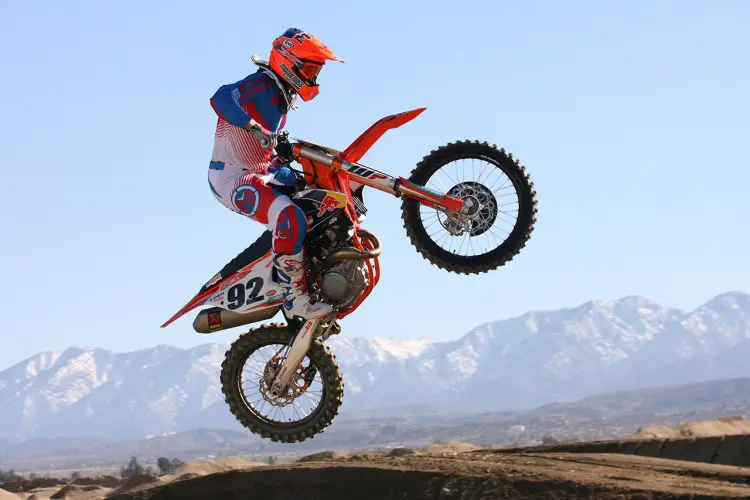 Photographer: Daryl Ecklund
Photo rider: Jeremy Lasater
Location: Los Angeles County Raceway
Date: January 12, 2016
QUOTE OF THE WEEK: BOBBY HEWITT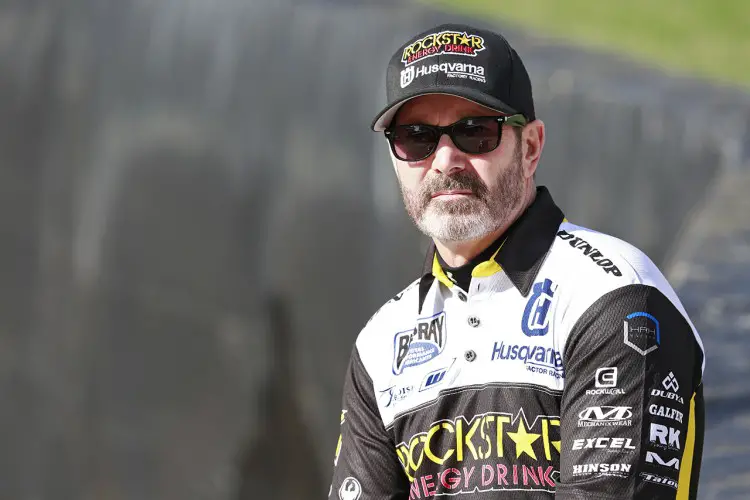 "Jason [Anderson] is the mod[ification] king. He wants his engine to have all the horsepower that is available. Christophe [Pourcel] is the opposite. I told him that the only way I could slow his bike down more and make it more like stock is if we went down to the dealer and bought one. They're that different. Both of them ride very well, and both are very competitive. It's just different riding styles and a different feel that they want. I think that's why we've had so much success with Davi [Millsaps] when we led the championship for most of the 2013 Supercross season and finished second in points. I built the bike around him, and he absolutely loved it. I didn't care what components or handlebars were on the bike. I didn't even care what kind of power he wanted. We did whatever made him happy."
Click here to read the interview.
FROM THE HORSE'S MOUTH: SAN DIEGO SUPERCROSS
Eli Tomac, Monster Energy Kawasaki
Cole Seely, HRC Honda
"I got off the gate to an okay start but was shuffled around and came around in seventh. The first two laps were so hectic with everyone jumping different lines, it was hard to make anything happen, so after things settled a few laps in, I knew I could put my head down and make some passes. I moved into third and was feeling really good, then I got into another heated battle with [Jason] Anderson. I knew he was back there but then all of a sudden he was right on me because he jumped on a red cross. He hit me pretty good in the corner, a little harder than I was expecting, but that's racing and what happens when you're lining up against such a stacked and talented field. I hate to be handed a position, but it is what it is."
Jordan Smith, Geico Honda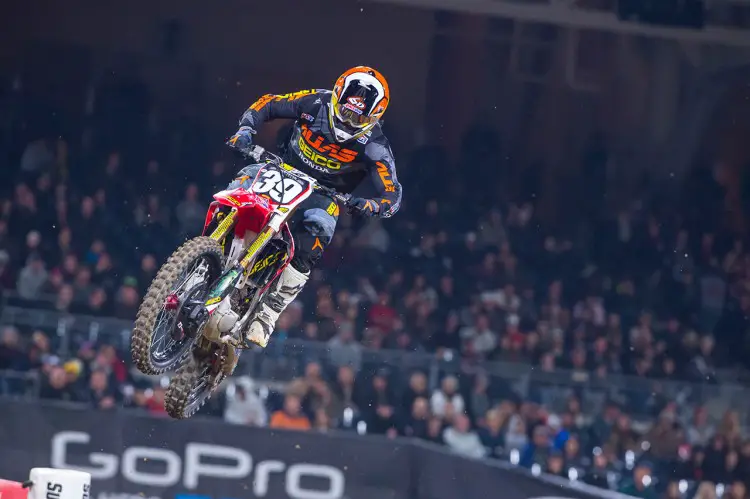 "My day went really well, I'm so happy. I felt comfortable all day throughout practice and into the night show. My Geico Honda pulled me to a really good start, and I was able to get out front early. Last week I got to experience racing toward the front, and I got to do that again here and learn how to lead. I tried to ride my own laps, but I got a little tight in the middle of the moto. I'm learning. I went back to third, but I'm happy I was able to pull it back together and got a strong podium! Overall it was a great night and now I can't wait for Anaheim 2!" 
Joey Savatgy, Pro Circuit Kawasaki
Ken Roczen, RCH Suzuki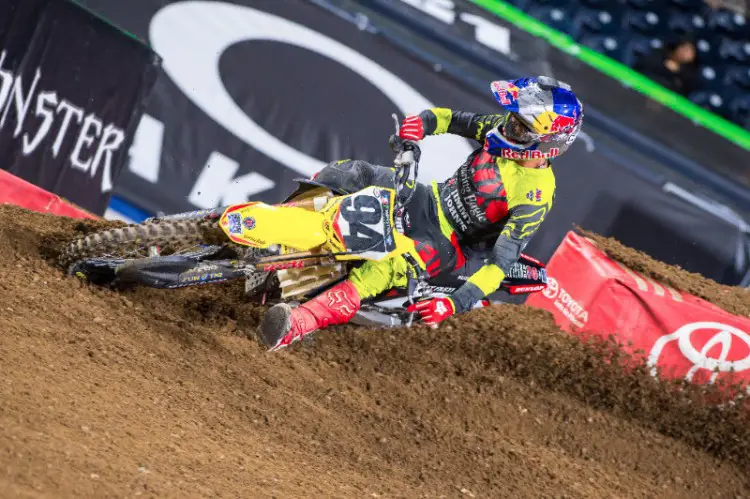 "I've been working really hard on my starts but we need to work on the consistency. We have a couple ideas to help me get better. I was running third in the main and felt great. I feel like I'm riding good. I'm fast. I'm super strong but I made a mistake, ran off the track and went down. So, once again, I had to come from deep in the field and unfortunately could only finish sixth. I think for us, it's just about putting a couple of things together on the track. We have the speed and fitness so everything is there. Obviously, I'm bummed that I didn't finish up front, but I guess I'd rather start off slow and pick it up than the other way around. It was a tiny mistake that cost us because I was in a good position, before I fell, to be able to make something happen and maybe have gotten a win. We're going to keep focusing. We're doing everything we can and doing it right so we'll see where it takes us next weekend."

Justin Bogle, Geico Honda
"The day went okay and I was feeling good. I was able to get the semi win again, which I was pretty pumped on. In the main I got a bad start and was feeling pretty good riding wise before a crash ended my night. That's about all I have to say about the main!"
Mitchell Oldenburg, Troy Lee Designs KTM
"Tonight didn't end how I thought, but we can learn from each weekend and make improvements for next week. I feel like we've made some great progress so far and I'm looking forward to Anaheim. I'm missing my buddy Jessy [Nelson], and hopefully I can hold it down for the team better next week." 
LEATT 2016 PRODUCT INTRO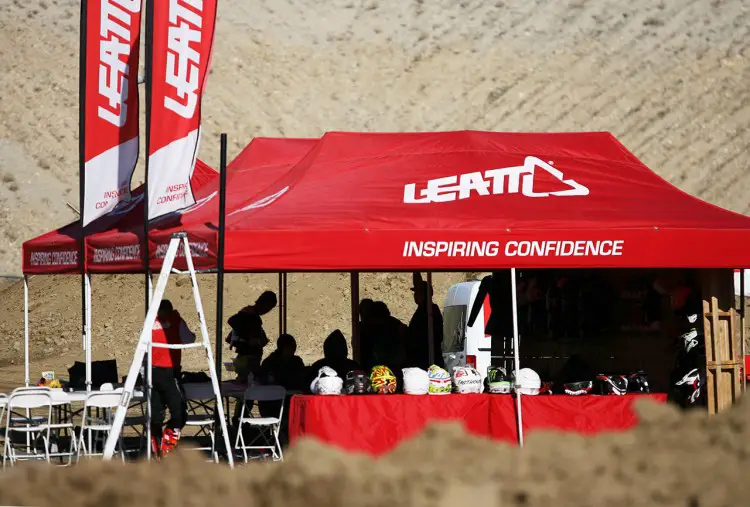 It never rains in California…unless you really need to get something done at the track. Case in point, Leatt scheduled their 2016 product line introduction for January 5th. Guess what? El Nino dumped buckets on SoCal, effectively washing away any hope for a ride day. I was bummed, given that I had flown to California that day from North Carolina (where it was dry, by the way) in the hope of trying out Leatt's new tech gear. The window quickly closed for any chance that I could ride during "Anaheim 1 insanity week." Leatt rescheduled their intro for the following Tuesday, which was the day I flew back to wild and wonderful eastern NC. Bummer! Fortunately our resident Managing Editor, Daryl Ecklund, was on hand to try Leatt's new GPX 6.5 carbon helmet, as well as an extensive line of gloves and the revised C-Frame knee brace. Leatt spokesman, Ryan Sipes, was on hand to show the media what Leatt products looked like as they traveled at lightspeed around LACR. The old Kentucky redneck still is quasar-fast.
Leatt's C-Frame knee brace is unique in that it uses one hinge on the outside of the knee.  
Leatt has a plethora of new gloves for the 2016 race season.  
Leatt's Steph Slattery made sure everything fit properly at the Leatt 2016 product intro. Steph always has the MXA wrecking crew dialed.  
Ryan Sipes still knows how to twist the throttle. It was good to see the Kentucky redneck back in SoCal.
To view Leatt's full line of new products, please visit www.leatt.com.
SMALL TALK: CARLOS RIVERA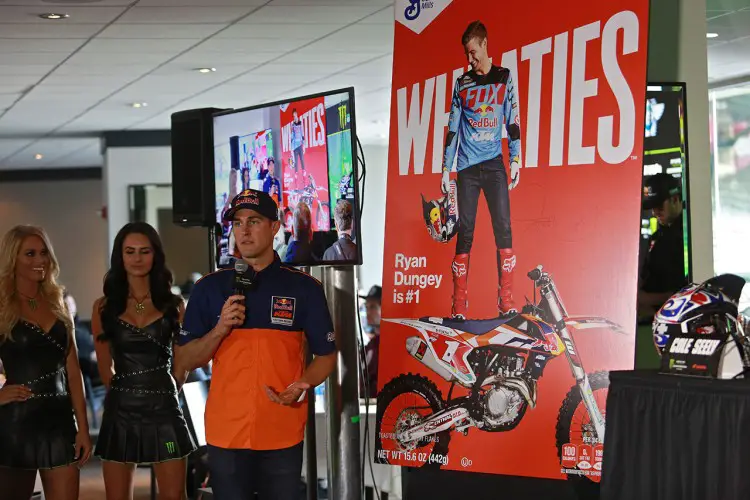 Carlos, as Ryan Dungey's mechanic, what are your thoughts on Ryan scoring the cover on a Wheaties cereal box? I'm stoked for Ryan, and also for the entire industry. It will be good to attract outside sponsors and bring more eyes to the sport. It's good for everyone to have Ryan's picture on that box of cereal.
PRODUCT SPOTLIGHT: NIHILO CONCEPTS CHAIN ADJUSTER BLOCKS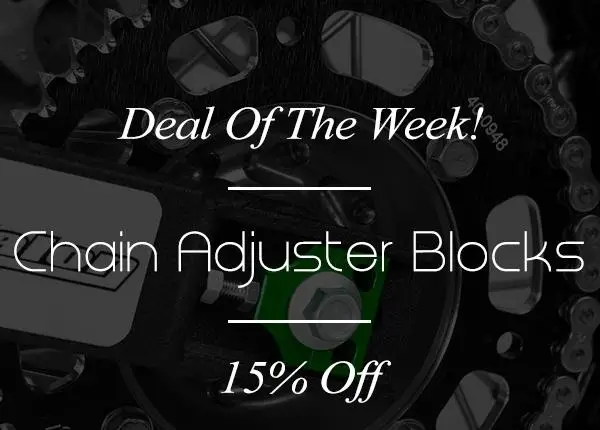 A MODEST PROPOSAL: JG33 TO JGRMX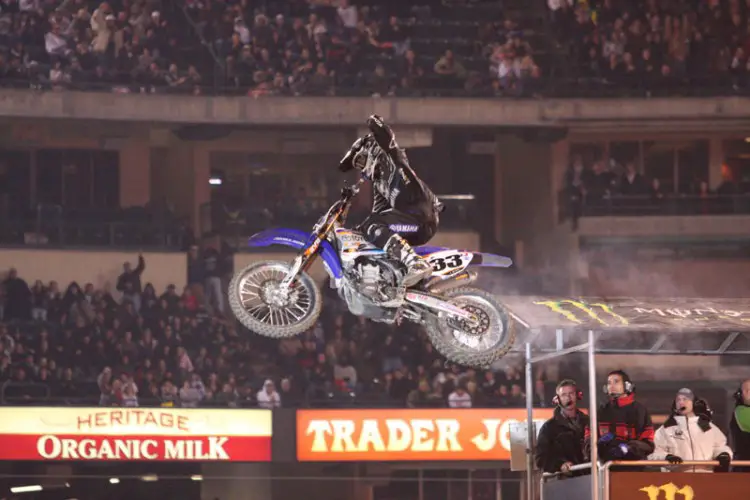 Josh Grant won JGRMX their first 450 Supercross race way back at Anaheim 1 in 2009. I bet Coy Gibbs was sitting in the rig on his computer when this photo was taken. 
The season is only two races young, and already James Stewart (concussion at Anaheim 1) and Justin Barcia (thumb injury leading up to Anaheim) are already down (Stewart) or out (Barcia) of the points chase. In the game of Supercross, nature supersedes nurture. Thankfully the field is deep enough to absorb the absence of two star-studded whoop-skimming stars. For factory Suzuki, Stewart was their only horse in the race after Blake Baggett crashed at Suzuki's Supercross test track and broke his collarbone, several ribs and his scapula. Bubba plans on returning to action at Anaheim 2, but the effects of a brutal concussion could keep him off the playbill on Saturday night. Given his history of concussions and how hard he knocked his head against the ground on January 9th, it's not out of the question to wonder whether Stewart will be able to go the distance this weekend. Meanwhile, Justin Barcia's Supercross season is kaput. He tore his ulnar collateral ligament before Anaheim 1 and decided to go under the knife to repair the painful injury. Phil Nicoletti, the fill-in rider at JGRMX for Supercross, got his wish to race Supercross in 2016. Nicoletti finished a less-than-stellar 21st in San Diego, but his results should improve with more seat time.
Meanwhile, Weston Peick will return to racing this weekend after getting slapped (or punched?) with a one-race ban after making a human punching bag out of Vince Friese at A1. With Peick and Nicoletti slated to race the remaining rounds–so it would seem–there's little room for error. JGRMX has done a masterful job of luring outside sponsors–Wienerschnitzel, Toyota, Auto Trader, Sport Clips, Interstate Batteries, St. Lawrence Radiology, KMC wheels, Strayer University–but those commitments require a return on investment. Supercross is an arduous sport, rife with peril at every turn (especially if it's a bowl turn with the #55 creeping up the inside). Maybe it would be a good idea if JGR phoned Josh Grant and asked what the racing outsider is doing this winter. After all, Grant put JGR on the map when they won the Anaheim 1 Supercross opener in 2009. Listen, JG33 won't win a Supercross in 2016 if he does get the call up, but he is capable of cracking the top ten on a regular basis. Grant is a good choice for a fill-in ride with JGRMX, especially if his contract is heavily based on performance clauses. It could be a win-win.
A1 REVISITED: STEWART & DUNGEY COLLIDE
It gets ugly at 2:05 into the video
SAN DIEGO REVISITED: TRAVIS FANT'S BEST FROM #SD1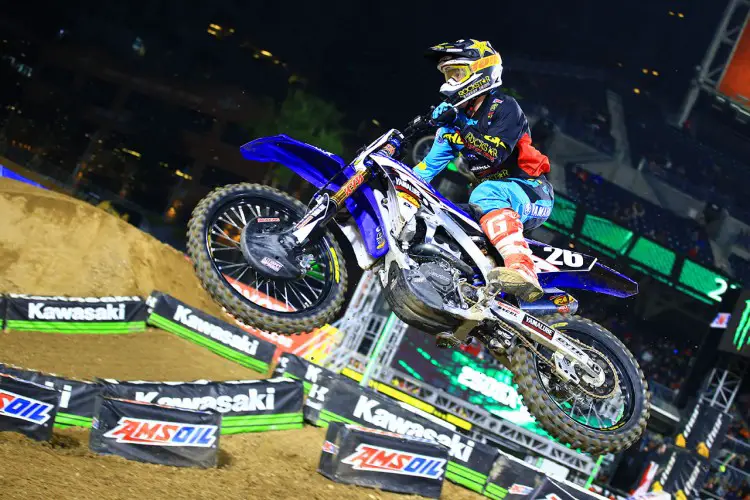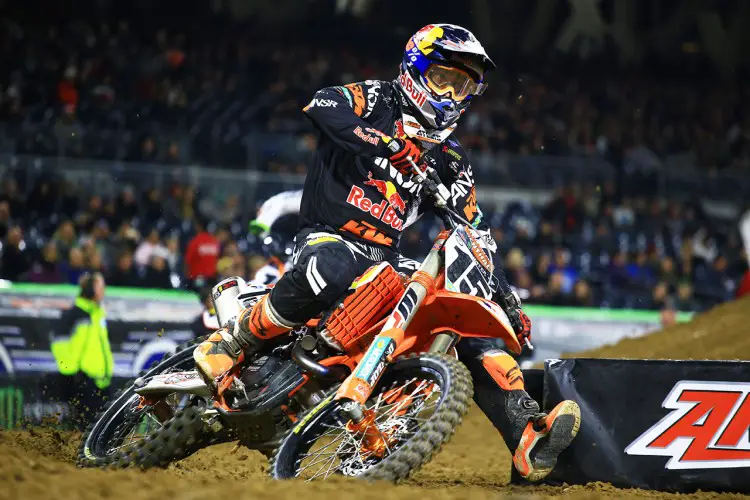 COBRA JOINS THE PARTY: A FACTORY (WORKS) EDITION OF THEIR OWN
[Press Release]
HILLSDALE, Mich.– Racers dream of having Mod class bike power in the Limited class. And in the 50cc class that's now become a reality as Cobra Moto today launched the new American-made CX50FWE – Factory Work Edition – competition minicycle.
"To say that the CX50FWE is going to solidify Cobra Moto's position as the dominant player in the 50cc Senior class is an understatement," said Cobra Moto President Sean Hilbert. "To put it bluntly; the CX50FWE is a game changer."
Power is paramount with Cobra Moto's new addition to the company's near two-decade position atop the upper echelon of amateur minicycle motocross racing. With the all-new Venom Series power plant, the CX50FWE churns out awe-inspiring torque down low in the deep loam and big bike ruts, then parlays that torque into top end speed on holeshots and down straights not only now better than the legendary Cobra Moto King 50, but certainly better than any bike in its class.
Controlling all this newfound power is, again, Cobra Moto's championship-proven chassis. With a further refined CARD cartridge fork, featuring MXT 'Smart Leg' technology, along with Cobra Moto's industry standard CARD three-way adjustable rear shock, the CX50FWE's masterfully engineered twin-spar frame holds the entire package together. This creates a perfect synergy between torsional and lateral stiffness while allowing ideal control for the class' most powerful bike.
"More power. More Torque. Less weight. Smaller package. The CX50FWE is better from every angle," added Hilbert.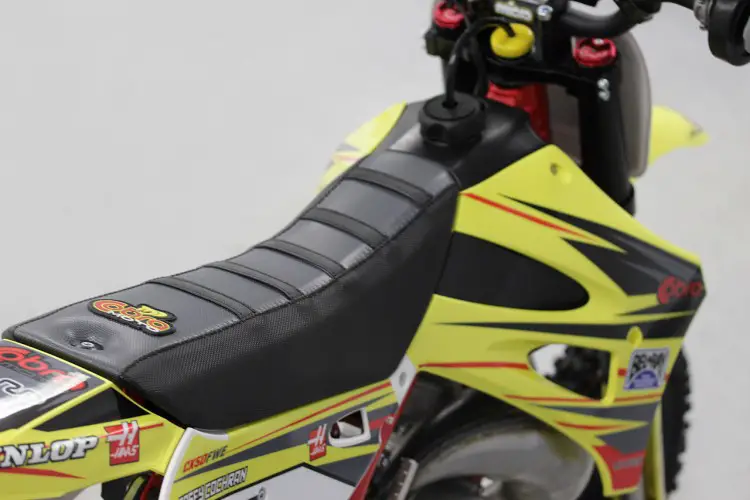 Cobra Moto CX50FWE features-at-a-glance include:
* 'No-compromise' torque curve – Massive amounts of low-end torque for launching off the gate and out of corners, AND classic Cobra over-rev that provides that '2nd gear' for wide open situations.
* New off-plane tuned expansion chamber. Features D-shaped header for minimal flow losses.
* Next generation 5Gx Freewheeling Clutch. Precision engagement, durable, freewheels for increased corner speed and easier starting.
* Cobra Friction Drive increases driveline durability and improves traction over rough terrain.
* Improved maintainability. Easier to do just about everything (top ends, drain coolant, check CFD, etc.).
In addition, Cobra Moto's MX industry partnership products that elevate the CX50 to Factory Works Edition status include Pro Taper's innovative Cobra Moto bend Micro Bars (optimizing the bike's feel and handling for small hands), a complete 'factory fill' of Bel-Ray products including everything from suspension fluids to air filter oil, and Dunlop's high quality MX52 tires (only tires on the market that can properly handle the CX50FWE's additional horsepower and torque). Other goodies that round out the tack-sharp Factory Works Edition look for the Cobra Moto CX50 include billet ignition and chain guide covers, a performance ribbed seat, black anodized hardware and full race graphics.
For more information on the Cobra Moto CX50FWE, including specs and price, please visit www.cobramoto.com
MXA VIDEO: INSIDE DEAN WILSON'S RED BULL KTM 450SXF
PEEP IT: STORIES YOU MIGHT'VE MISSED
Click on the links below:
We Ride Justin Barcia's JGRMX Yamaha YZ450F
Chad Reed, Ryan Dungey, Cole Seely & Cooper Webb talk
2016 MXA 450 Shootout
Favorite Goggles of the MXA Wrecking Crew
Bones Bacon on Suspension
BALTIMORE ARENACROSS RACE HIGHLIGHTS
Interview with Night One winner, Chris Blose:
Night Two: