PRO TAPER PRESENTS MXA'S MID-WEEK REPORT BY JOHN BASHER
#WHIPITWEDNESDAY
Rider: Ken Roczen
Location: Daytona International Speedway
Date: March 5, 2016
Photographer: John Basher
Camera: Canon 5D Mark III
Lens: 300mm
Exposure: 1/640 sec.
F-stop: 3.5
ISO: 8000
MXA VIDEO: 2016 YZ250X TWO-SMOKER
SECTION 1: DIXIELAND DELIGHT
SOUTHEAST SWING COMPLETE
The outdoor motocross track at Georgia Practice Facility in Cairo, Georgia.
Since Wednesday of last week, Dennis Stapleton and I covered more ground in Florida and southern Georgia. Somehow we avoided speeding tickets. Apparently a mini van is more unassuming to police officers than I originally thought. Or maybe luck was on our side. Either way, Dennis and I rocketed down interstates and along country roads en route to places like Millsaps Training Facility, Georgia Practice Facility, Baker's Factory, and finally Daytona. In total, we traveled to three training facilities, one public motocross track (Climax Motorsports Park), a practice facility, and the grandfather of all Supercrosses, Daytona International Speedway. The final three days were spent in Daytona, first covering the press day, then the Supercross race, and we ended by taking in some amateur racing at the Ricky Carmichael Amateur Supercross. On Sunday afternoon I dropped Dennis off at the airport and embarked on a 9-1/2 hour drive home to North Carolina. Who knew a Chrysler Town & Country was so spacious and smooth? Below is a pictorial perspective from our waning days in the southeast.
MILLSAPS TRAINING FACILITY
There are several outdoor tracks at MTF, as well as a few Supercross tracks. Foliage has been cut away so the riding coaches at the facility can always see their pupils.
MTF has grown by leaps and bounds in the past decade. The place was swarming with amateur kids as they prepared for the RC Amateur Supercross. The big building in this photo houses the Pro shop, working area for mechanics, a laundry room, offices and storage space for bikes.
Matthew Leblanc stretched out over the step-down double on the outdoor track. Leblanc would go on and win two titles at RCSX.
Ryder Difrancesco listens attentively as Gavin Gracyk, the former Professional racer, gives instruction.
Anthony Rodriguez has called MTF home for quite a few years. He was kind enough to take a break from training to do an impromptu photo shoot with MXA. Look for a video on A-Rod in the not-too-distant future.  
Rodriguez channeled his inner MXA photo rider skills and blew up this nice berm for the camera. Get that kid an orange helmet!
GEORGIA PRACTICE FACILITY
Josh Woods, the former Pro from Michigan, has been running Georgia Practice Facility (GPF) for over a decade. GPF is next door to MTF, but the two facilities are quite different. GPF is a riding destination for those with the winter time blues, and for those interesting in doing most of their training by themselves. Woods has a beautiful facility.
Among the myriad tracks on GPF is this Supercross track, which was being used by several privateers last week.
BAKER'S FACTORY
On Thursday we visited Aldon Baker's facility, known simply as Baker's Factory. Aldon trains Marvin Musquin (25), Ryan Dungey (1) and Jason Anderson (21).
Ryan Dungey stays low on a small section of the outdoor track, which was linked into one of the Supercross tracks in preparation for Daytona.
Marvin Musquin carries some sand via boot on his way into a gnarly whoop section.
Jason Anderson counter-steers his Husqvarna FC450 through the soft soil while trying to run away from his training partners. 
DAYTONA PRESS DAY
The day before the show began, Daytona held a media event. Riders were able to cruise through a section of track. It was a good opportunity to take photos of Ken Roczen, Chad Reed, Justin Bogle, Trey Canard, Cole Seely and several others.  
Chad Reed (22), Cole Seely (14) and Ricky Carmichael (4) talk shop, while Ken Roczen's mechanic, Oscar Wirdeman (black clothes) checks to see if he has any new Instagram followers.  
Chad Reed.
Cole Seely.
Ken Roczen.
RICKY CARMICHAEL AMATEUR SUPERCROSS
Jett Reynolds (79) won two titles this past weekend in the 85cc classes. 
Austin Forkner is heading to the AMA Nationals soon, but for now he's left cleaning house on the amateur scene. Forkner won two titles at RCSX.
Sean Cantrell didn't win any titles, but he sure did style for a while. 
Max Markolf won the highly competitive 250 B title. 
Michael Byrne is still racing. The Aussie went two-for-two at Daytona.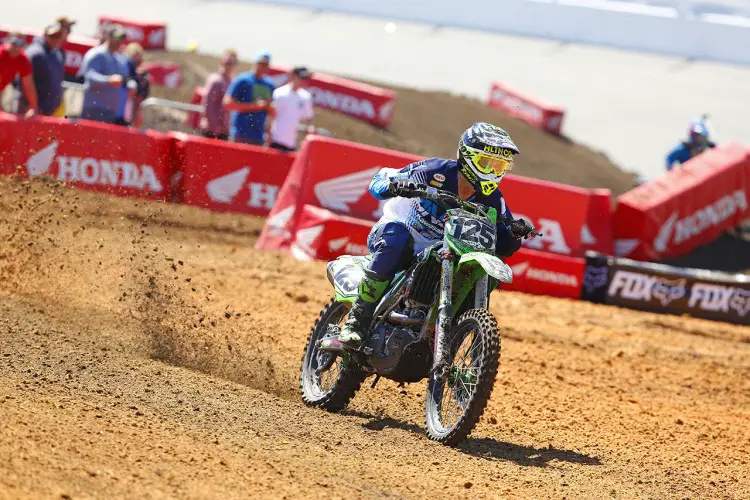 Our good friend, Paul Perebijnos, finished third in Junior (25+) while also holding down a desk job at Pro Taper. Way to crush it, Paul!
Matthew Leblanc carried the outside in the previous sweeper and managed to double this large gap on a KTM 65SX. It was incredible to watch.
THE CHAMPIONS: RCSX
Mitchell Falk (612) won 250 B Limited. 
250 A…Austin Forkner (Kaw)
250 All-Star A/B…Brad Taft (Yam)
250 B Limited…Mitchell Falk (KTM)
250 C Jr. (12-16)…Blake Hazen (Yam)
250 C Limited…Cole Harley (Hon)
450 C (14-20)…Justice Byrge (Hon)
450 C (21+)…Adam Rector (Yam)
51cc (4-8)…Diesel Thomas (Cobra)
85cc (9-11)…Jett Reynolds (Kaw)
85cc (9-12)…Jet Reynolds (Kaw)
College (16-24)…Egan Mastin (Hon)
Girls Sr (12-16)…Jordan Jarvis (Yam)
Mini Sr. 1 (12-13)…Stilez Robertson (Kaw)
Mini Sr. 2 (12-14)…Nathaniel Thrasher (KTM)
Open Pro Sport…Austin Forkner (Kaw)
Senior (40+)…John Grewe (Kaw)
Senior (45+)…Barry Carsten (Suz)
Super Mini (12-15)…Jo Shimoda (KTM)
Vet (35+)…Michael Byrne (Yam)
Vet B/C (30+)…Diego Tavares (Hon)
WMX (16+)…Kylie Fasnacht (Kaw)
Women Amateur (12+)…Jordan Jarvis (Yam)
450 B…Wilson Fleming (Yam)
250 B…Max Markolf (KTM)
250 C (17+)…William Ballard (Yam)
Junior (25+)…Michael Byrne (Yam)
Senior B/C (40+)…Lee Tatham
Masters (50+)…Barry McCarty (KTM)
51cc (4-6) Limited…Seth Dennis (Cobra)
51cc (7-8) Limited…Luke Fauser (Cobra)
65cc (7-9)…Aidan Dickens (KTM)
65cc (10-11)…Matthew Leblanc (KTM)
65cc (7-11)…Matthew Leblanc (KTM)
Schoolboy 1 (12-16)…Jalek Swoll (Husq)
Schoolboy 2 (13-16)…Pierce Brown (KTM)
Girls (9-13)…Katie Benson (KTM)
SECTION 2: PERSONALITIES
QUOTE OF THE WEEK: OLIVER STONE
"Some European riders can quickly adapt to the track conditions. Then again, you never see the Americans struggle at the Motocross des Nations, no matter where it's held. If you want to talk about track conditions, think about how Supercross riders need to learn a track in only eight minutes. In Europe you have a couple 40-minute sessions and then a qualifying heat, and that's a day before the motos go off. I'll say that all of the Pro riders are talented, regardless of which series they race."
Click here to read the entire interview.
PRESS RELEASE: AP BRAKES ACCEPTING RESUMES

[Press Release]
AP Brakes is reviewing and accepting applications for 2016 through MXSponsor.com.
"We look forward to connecting with the MxSponsor riders this year and know this is going to be a great step in building on our amateur program." Says Bill Samaduroff of AP Brakes. "We pride ourselves on the brands we are able give our members the opportunity to connect with on our platform and I know our members will be excited for the chance to connect with AP Brakes." Says Rich Maychrich CEO of MXSponsor. To be part of the AP Brakes rider support team, please fill out your profile with results, photos, videos and send electronically through MXSponsor.com.
How to Submit a Resume to AP Brakes:
To submit a sponsorship resume, riders must go to www.MXSponsor.com/ap-brakes where they can sign up for free. Once here, riders can build their online profile, upload action photos and videos, post race results and submit their profile/resume via MXSponsor.com to AP Brakes for review.
MINI-VIEW: RYDER DiFRANCESCO
Ryder DiFrancesco, the 10-year-old Team Green Kawasaki rider, has the distinction of being the youngest rider to ever win a Loretta Lynn's title. Not only that, but he belongs to a unique group of top amateur racers who live in the desert town of Bakersfield, California. Ryder, along with Jett Reynolds and Stilez Robertson, are growing up in the oil capital of California.
The shy kid with long blond locks is kind-natured off the track, but a ferocious competitor once the gate drops. DiFrancesco is splitting time between a KX65 and KX85, although he prefers the larger bore because, in his own words, "I can go over stuff way better." He's not kidding. Ryder was rocketing over a huge tabletop at Millsaps Training Facility in Cairo, Georgia, before pulling in to the pits for this interview. Keep in mind that Ryder just turned a decade old, so his answers are short and sweet.

Ryder: So how does this thing work?
MXA: You just talk into the recorder.What do you want to talk about?
You can steer the interview if you want. I don't know what to talk about.
Okay, then. I'll ask the questions. What's life like as one of the fastest mini cycle racers in the country? I think it's pretty cool to go out there and be one the fastest kids. To win is an awesome feeling.
How did you get so fast? I have done a lot of riding. I'm from Bakersfield, California. I started riding when I was three, and I'm 10 years old now.
How many Loretta Lynn's titles have you won in your career? Hmmm…let me think. I won three. I'm the youngest rider to win a Loretta's title. I was five when I won my first title in Tennessee.
How different would your life be if you didn't ride motocross? I couldn't imagine it. I don't know what I would do. I'm not really good at anything else [laughter]. Well, I do like to golf. And finish. Those things are pretty fun.
Why are there so many fast kids from Bakersfield, California? It has to be something in the water. Maybe it's from all of the riding spots in the hills. I'm friends with all of the other riders from my area. It's crazy that Jett [Reynolds], Stilez [Robertson] and I are from the same area.

You've traveled all around the country to race. What do you miss most about home when you're on long road trips? I miss my friends from home. Otherwise I try to bring everything I like with me on the road. Aside from my friends, I miss my dog and my bed at home. I have a pit bull and a weenie dog. Their names are Nikki and Arai.
Why did you choose to stop and ride at Millsaps Training Facility before racing the Daytona Amateur Supercross, rather than any other place in the southeast? My parents picked it for some reason. Well, there are a lot of good riders that come from this area, so that's probably why.
Who's your favorite Pro racer? Probably Chad Reed, because he's still riding. I think that's pretty cool.
Who is the last person that made you nervous? My dad. He gets on me about my training, and also doing well on the track.
You're sponsored by Jimmy John's. What's your favorite sandwich at Jimmy John's? My favorite sandwich is probably the number two with no lettuce or tomato. The number two is roast beef. It's really good.
The agency representing you is owned by Kevin Harvick, the famous NASCAR driver. Have you met him? Yeah. He's probably the coolest guy I ever met. I also met Danica Patrick. She was super nice to me. My dad thinks she's super hot [laughter].
I can't disagree with your dad. Is there anything your particular about with your bike setup? I always worry about running out of gas. Other than that, I'm not too particular. I'm not really that worried about my bars or levers.

Right now you're jumping back and forth between the Kawasaki KX65 and the KX85. Which bike do you prefer? I like the KX85. It has way more power and better suspension. I can go over stuff way better. I actually just learned turn-down whips a little bit. I do those for fun sometimes.
What else do you do for fun? I like to golf and ride dirt bikes. I'm not into video games or movies. I'm horrible at basketball, because I can't even make a hoop. I do like playing football, though.
Who do you think is going to win the 450 Supercross title? I hope that Ken Roczen wins.
Of all the big Amateur Nationals you do, which one is your favorite? I really like Mammoth. I like the track most of all. It's also cool up there. I fish quite a bit. I wish I could catch fish that were bigger than what Bones [Bacon, Pro Circuit] catches. Of all the Nationals, Loretta's is really tough. Mammoth is also hard, because the track is slick. You have to get the jetting right, or otherwise you can't even race.
Your dad and grandfather were professional flat track racers. Did you ever want to get into flat track? Nope. Not one piece of me wants to do that. I haven't tried it, but it doesn't look fun to me. I did learn most of my riding skills from my dad.
Who is backing your racing effort? Kawasaki Team Green, Pro Circuit, Jimmy John's, Traxxas, Thor, Dunlop, DC, Alpinestars, Renthal, Acerbis, RK, Morton Buildings and Bad Boy Buggys.
Thanks for the time, Ryder. I appreciate it.
ARENACROSS CHAT: GAVIN FAITH
MINI-VIEW: MTA TWO-STROKE WORLD CHAMPIONSHIP'S MARK KALPAKOFF
MXA: What is the significance of the MTA World Two-Stroke Championship in the grand scheme of motocross racing? This race has a very nostalgic feel to it because of the fact that our sport was originally carried on the back of the two-stroke motorcycle. The MTA World Two-Stroke Championships gives everyone a chance to feel like that once again. They can race on a track with just two-strokes. It's quite the scene! The sights, the smells, and even the racing lines on the track are totally different compared to if four-strokes were on the track. It's a new and refreshing racing experience, but classic at the same time.
Two-strokes are still very popular. In fact, they have a sort of cult following. Why? They are easy work on. I think that when someone races their dirt bike on the weekend, but then works on their bike during the week, they have a better relationship and passion with not only their bike but with the sport. 
Please outline the event details of the MTA World Two-Stroke Championship. The race is March 26th at Glen Helen, and the gates open at 6 a.m. Practice starts at 8 a.m., and racing kicks off at 9 a.m. There are classes for everyone, including vintage iron classes that will incorporate the 1960s, '70s and '80s. L.A. Sleeve is once again putting up the $10,000 Pro purse reflecting their core business values. L.A. Sleeve have been rebuilding two-strokes since 1965.  That's 50 years of two-stroke passion, so being a part of this race is very important to them.
You could win this brand-new Yamaha YZ125. All you have to do is race the MTA World Two-Stroke Championship. You don't even need to win your class! 
Is it true that MTA is giving away a brand new YZ125? Yes, which is a new step for this year. MTA is a dominant force in the distribution of tires, parts and accessories. They have stepped up big time by giving away a brand new Yamaha YZ125. MTA and its massive dealer network has been a proven supply stream of parts and accessories for the two-stroke, market so it only makes sense that they are the title sponsor.
This is the seventh year of the MTA World Two-Stroke Championship. What changes have you noticed in terms of rider participation and the bikes they ride? This is what makes this race so magical. From retired pros to offroad champions to guys like Beau Baron–who races WORCS both Pro ATV and Pro Side-by-Side–come out with their trusty two-stroke and bang bars for cash in the Pro class. It's the most fun Pro race to watch for me because all of us on the sidelines spend the first part of the race trying to figure out who is who. As for bikes, it's a toss up. There's everything from big-bores to vintage bikes to 500cc bikes, which made Sean Collier a hit the last few years. It's the Superbowl of two-strokes. MTA will provide a freestyle show, and there will be a ton prizes and giveaways. If you don't have a two-stroke then borrow one! This race is not to be missed.
MTA TWO-STROKE WORLD CHAMPIONSHIP PURSE
L.A. Sleeve $8000 Two-Stoke Open Pro Purse
1. $2700
2. $1200
3. $1100
4. $800
5. $600
6. $500
7. $400
8. $300
9. $200
10. $200
L.A. Sleeve $2000 Two-Stroke 125 Pro Purse
1. $800
2. $500
3. $300
4. $250
5. $150
SECTION 3: MXA PROJECT BIKES
BEAUTIFUL IRON: OUR TEST FLEET
Bud Racing built us a Kawasaki Super Mini that should be kept under a factory awning. 
How do you make a 44-horsepower Honda CRF250? Spend lots and lots and lots and lots of money.
How do you build a Honda CRF250 that's more than 44 horsepower, has Showa A-Kit air forks, factory Honda titanium footpegs, titanium fasteners throughout, powder-coated frame/subframe/swingarm and many top-of-the-line aftermarket parts? Spend lots and lots and lots and lots and lots and lots (and lots more) money.
Xceldyne, Cycra, and Joe Gibbs Racing joined forces and built MXA a Yamaha YZ450F. It was the Millennium Falcon dressed up in a hot red dress. 
MXA VIDEO: INSIDE TREY CANARD'S HRC HONDA CRF450
SECTION 4: THE FASTEST OF THE FAST
An ongoing list of the top qualifiers and holeshot winners from each round of the 2016 AMA Supercross Championship
FASTEST QUALIFIERS: 450 CLASS

Anaheim 1…Trey Canard
San Diego 1…Ryan Dungey
Anaheim 2…Ken Roczen
Oakland…Ryan Dungey
Glendale…Ryan Dungey
San Diego 2…Eli Tomac
Arlington…Ryan Dungey
Atlanta…Christophe Pourcel
Daytona…Eli Tomac
FASTEST QUALIFIERS: 250 CLASS

Anaheim 1…Cooper Webb
San Diego 1…Cooper Webb
Anaheim 2…Zach Osborne
Oakland…Cooper Webb
Glendale…Cooper Webb
San Diego 2…Zach Osborne
Arlington…Joey Savatgy
Atlanta…Malcolm Stewart
Daytona…Justin Hill
HOLESHOT AWARD: 450 CLASS

Anaheim 1…Cole Seely
San Diego 1…Chad Reed
Anaheim 2…Davi Millsaps
Oakland…Ryan Dungey
Glendale…Davi Millsaps
San Diego 2…Ryan Dungey
Arlington…Ken Roczen
Atlanta…Justin Brayton
Daytona…Ryan Dungey
HOLESHOT AWARD: 250 CLASS

Anaheim 1…Jessy Nelson (West)
San Diego 1…Jordan Smith (West)
Anaheim 2…Jimmy Decotis (West)
Oakland…Christian Craig (West)
Glendale…Jimmy Decotis (West)
San Diego 2…Jordan Smith (West)
Arlington…Christian Craig (West)
Atlanta…Shane McElrath (East)
Daytona…Malcolm Stewart (East)